Special welcome to everyone I met at the Poughkeepsie meeting Thursday. We'll have

PCR Greatest Hits

posted soon, easy to find. That was an inspiring meeting! Thank you for visiting, and for spreading the word about C19 News.

Welcome to Covid19 News, published by the nonprofit Chiron Return. We also publish Planet Waves FM. Our professional news gathering and reporting efforts are sponsored exclusively by our readers — not by corporate interests. If you in any way appreciate or depend on this service, please make a donation. Thank you for your participation and generosity. If you have something to report — news, science news, or a check-in from your local area — please send to editors@planetwaves.net. Stay in touch and help us out by sharing this resource with others.

---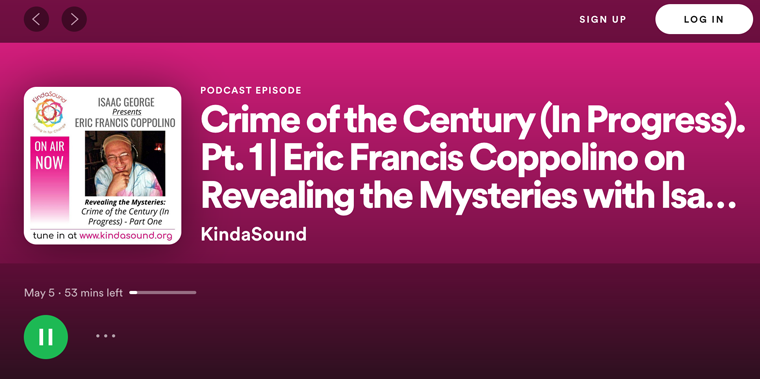 Revealing the Mysteries interview
Eric Francis Coppolino, co-editor of Covid19 News and editor of Planet Waves, appears this this week on Revealing the Mysteries radio with Isaac George. Eric talks about how he went from investigative journalism to writing horoscopes back to investigative journalism. This is part one of two. Listen here.

---
Michael Yeadon: Halt Vaccine Passports! | Added May 8
It is very important that people understand what is happening here. The intention is to introduce vaccine passports everywhere. But this is a disguise. It's a world's first digital common-format, globally-interoperable ID system with an editable health flag (vaccinated Y or N).
It makes no one safer. If you're vaccinated, you're protected & are not made safer by knowing others immune status.
As in Israel, you will be compelled to present a valid VaxPass in order to access defined facilities or access services. No VaxPass, you're denied.
This system only needs 50%+ of the adult population to start up because of its huge, coercive power on the unvaccinated.
It's illegal, medical apartheid.

---
NYT: Here's what it would take to vaccinate the whole world | Added May 8
More than 600 million people worldwide have been at least partly vaccinated against Covid-19 — meaning that more than seven billion have not. It is a striking achievement in the shadow of a staggering challenge.
Half of all the doses have gone into the arms of people in countries with one-seventh of the world's people, primarily the United States and European nations. Dozens of countries, particularly in Africa, have barely started their inoculation campaigns.
As wealthy countries envision the pandemic retreating within months — while poorer ones face the prospect of years of suffering — frustration has people around the world asking why more vaccine isn't available.
Nationalism and government actions do much to help explain the stark inequity between the world's haves and have-nots. So, for that matter, does government inaction. And the power of the pharmaceutical companies, which at times seem to hold all the cards, cannot be ignored.

---
NYT: The virus is an airborne threat, the C.D.C. acknowledges | Added May 8
Federal health officials on Friday updated public guidance about how the coronavirus spreads, emphasizing that transmission occurs by inhaling very fine respiratory droplets and aerosolized particles, as well as through contact with sprayed droplets or touching contaminated hands to one's mouth, nose or eyes.
The Centers for Disease Control and Prevention now states explicitly — in large, bold lettering — that airborne virus can be inhaled even when one is more than six feet away from an infected individual. The new language, posted online, is a change from the agency's previous position that most infections were acquired through "close contact, not airborne transmission."

---
Pfizer injection is authorized for adolescents in Canada; meanwhile, just nine of 24,400 deaths attributed to Covid-19 in Canada were of people under age 19 | Added May 7
Canada on Wednesday authorized the use of the Pfizer-BioNTech vaccine for children ages 12 to 15, a step hailed by officials as a "significant milestone" in the country's fight against the coronavirus.
The two-dose vaccine is the first to be greenlighted for use in that age group by Health Canada, the country's drug regulator. Pfizer has sought authorization for similar use in the United States, which the Food and Drug Administration is expected to do by early next week.
Supriya Sharma, chief medical adviser for Health Canada, said the agency reviewed the data from a Pfizer study in the United States involving more than 2,200 adolescents age 12 to 15. Half received the two-dose regimen administered to adults; the others were given a placebo.
The study found the vaccine was 100 percent effective in preventing infection among participants who received two doses, Sharma said during a news conference in Ottawa. There were 18 cases of covid-19 among those who received a placebo. The participants given the vaccine produced strong antibody responses, similar to those observed in young adults age 16 to 25.

---
University of San Diego study suggests Covid-19 is vascular, not respiratory, disease | Added May 7
The study, published in the journal Circulation Research, shows with precision how virus damages the cells of the vascular system.
It was already known that besides the various symptoms of COVID-19 that coincide with respiratory problems, there are other cardiovascular issues that affect other parts of the body.
What's new is the team conducting the study, which included scientists from the SALK Institute, showed the form in which the virus attacks the vascular or circulatory system.
AND
The discussion in the scientific community is still open, he adds. These problems are recurrent in intensive care units.
Máñez Mendiluce thinks this study does not call into question existing vaccines, although it should be better understood why the AstraZeneca and Johnson & Johnson vaccines have caused some rare cases of blood clotting.
The discovery has caused a stir. Some wonder whether it is dangerous for vaccines to inoculate precisely replicas of the S protein that appears to be capable of causing the disease.

---
NYC subway to reopen mid-May, as well as businesses in New York, New Jersey, and Connecticut | Added May 7
New York and its neighbors, New Jersey and Connecticut, will welcome back crowds on May 19, state officials said Monday, a major step for a region that was once a center of the coronavirus pandemic.
Restaurants, offices, retail stores, theaters, museums, barber shops, amusement parks and gyms and fitness centers will all be allowed to operate at full capacity for the first time since restrictions were adopted last year to prevent the spread of the virus.
Gov. Andrew M. Cuomo of New York announced the easing of pandemic restrictions on Monday as part of broader efforts to increase economic activities, including lifting curfews for food and beverage service. New York City will also return to 24-hour subway service on May 17.

---
By May 31 in Pennsylvania, masks will be only remaining Covid-19 restriction — not to be lifted until 70% of population has received shots | Added May 7
All statewide coronavirus-related capacity restrictions in Pennsylvania will be lifted in time for Memorial Day — with the exception of mask wearing in public — though Philadelphia health officials said the city would stay with its current plan for lifting restrictions.
The elimination of COVID capacity limits and other restrictions on gatherings, restaurants and other Pennsylvania businesses will go into effect just after midnight on May 31, the Wolf Administration announced Tuesday.
AND
Want to ditch the mask? Get the vaccine.
The lifting of restrictions, which was reached by the Wolf Administration and the COVID-19 Vaccine Joint Task Force, is predicated on the continued vaccination of most adults in the state.
Mandatory mask wearing in indoor and crowded outdoor spaces will remain in place until 70% of the adult population is full vaccinated. People who are fully vaccinated don't need to wear a mask in all situations, based on Centers for Disease Control and Prevention guidance.

---
This autumn in Britain, third Covid-19 shot to be offered to people over 50 | Added May 7
Everyone aged over 50 in Britain will be offered a third COVID-19 vaccination jab in the autumn in an attempt to eradicate the threat from the infection entirely by Christmas, The Times newspaper reported.
Trials of two options are under way, supervised by Chris Whitty, the chief medical officer for England, the newspaper said.
The first involves vaccines specifically modified to tackle new variants. The second is for a third shot of one of the three versions already in use: Pfizer-BioNTech (PFE.N), (22UAy.DE), Oxford-AstraZeneca (AZN.L) or Moderna (MRNA.O), the newspaper reported.

---
Singapore seeks to sway citizens wary of Covid-19 shots with celebrity endorsement in music video | Added May 7
"Low cases isn't no cases," he cries, after marching through a laboratory and vaccination centre in his trademark yellow boots, where he raps surprisingly detailed medical advice. "Singapore, don't wait and see. Better get your shot Steady Pom Pi Pi [stay calm]".
Singapore's inoculation campaign has run smoothly in recent months, with no disruptions to its supply of Pfizer-BioNTech and Moderna doses. Health experts say it is likely that vaccine hesitancy will become a greater problem once a significant proportion of the population has been reached.
The video seeks to dispel concerns that vaccines might not be safe for people with certain health conditions, or for older people.
Prof Dale Fisher, a senior consultant in infectious diseases at Singapore's National University Hospital, said: "In some countries people will be vocal and march the streets in protest. In Singapore, as this video alludes to, a lot of people are just saying I'd like to wait – I'll just wait a while."

---
Article removed from Medium — COVID Vaccines: Necessity, Efficacy and Safety | Added May 6
This paper was originally hosted on the Doctors for Covid Ethics Medium account, but the platform censored the expert group and removed the paper, claiming the post was "under investigation":
An archived version is still available here.
Abstract: COVID-19 vaccine manufacturers have been exempted from legal liability for vaccine-induced harm. It is therefore in the interests of all those authorising, enforcing and administering COVID-19 vaccinations to understand the evidence regarding the risks and benefits of these vaccines, since liability for harm will fall on them.
In short, the available evidence and science indicate that COVID-19 vaccines are unnecessary, ineffective and unsafe.

---
CDC deems injection reactions in 5 states to be caused by anxiety | Added May 6
It was anxiety — and not a problem with the shots — that caused reactions in dozens of people at coronavirus vaccine clinics in five states, U.S. health officials have concluded.
Experts say the clusters detailed Friday by the Centers for Disease Control and Prevention are an example of a phenomenon that's been chronicled for decades from a variety of different vaccines. Basically, some people get so freaked out by injections that their anxiety spurs a physical reaction.
"We knew we were going to see this" as mass Covid-19 vaccine clinics were set up around the world, said Dr. Noni MacDonald, a Canadian researcher who has studied similar incidents.
The CDC authors said the reports came in over three days, April 7 to 9, from clinics in California, Colorado, Georgia, Iowa and North Carolina. The investigation was based on interviews with, and reports by, clinic staff.
Many of the 64 people affected either fainted or reported dizziness. Some got nauseous or vomited, and a few had racing hearts, chest pain or other symptoms. None got seriously ill.
All received the Johnson & Johnson vaccine, and four of the the five clinics temporarily shut down as officials tried to sort out what was happening. Health officials at the time said they had no reason to suspect a problem with the vaccine itself.
Of the three Covid-19 vaccines authorized in the U.S., only J&J's requires just one dose. That probably makes it more appealing to people who are nervous about shots and might leave them "more highly predisposed to anxiety-related events," the CDC report said.

---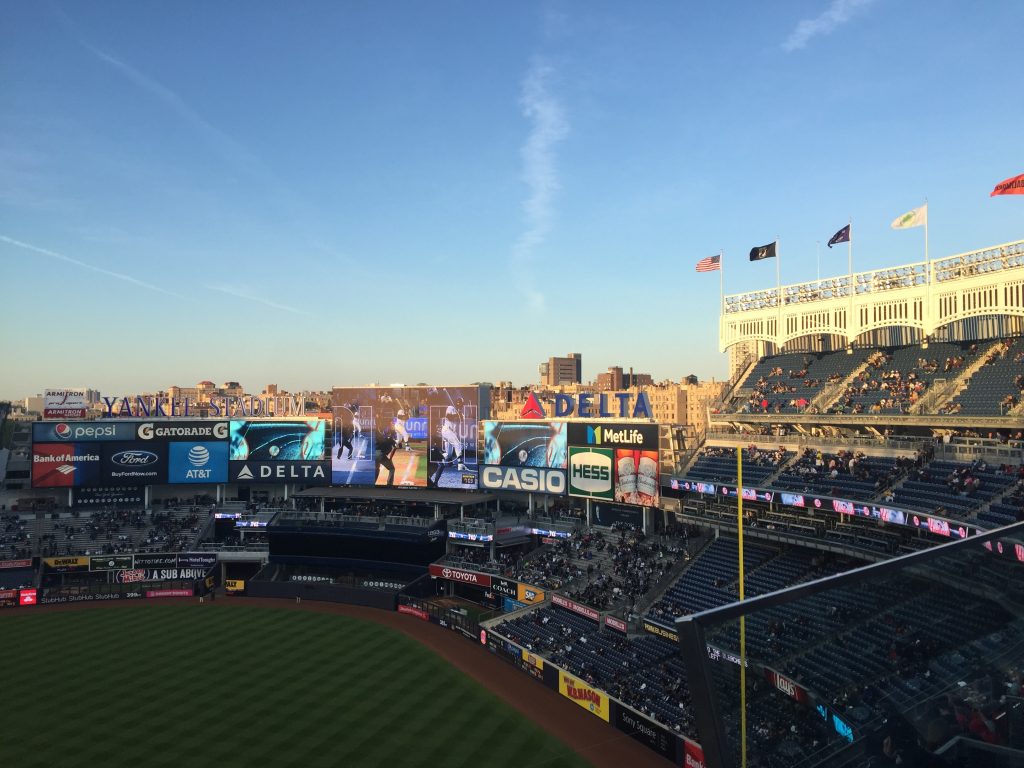 Yankees and Mets to offer free tickets to vaccinated — 'separate sections for unvaccinated guests' | Added May 6
The Yankees and Mets will offer free tickets to spectators who get vaccinated against COVID-19 at sites set up right at the game.
Fully vaccinated spectators will also be able to attend Yankees and Mets games in sections designated for 100% capacity starting this month, New York Governor Andrew Cuomo announced on Wednesday. Separate sections for unvaccinated guests will still enforce six feet of social distancing between parties, at 33% of total capacity.
The changes will go into effect on May 19.

---
WSJ: Next Generation of Covid-19 Vaccines Could Be Pill or Spray | Added May 6
The next generation of Covid-19 vaccines in development could come as a pill or a nasal spray and be easier to store and transport than the current handful of shots that form the backbone of the world-wide vaccination effort.
These newer vaccines, from U.S. government labs and companies including Sanofi SA, Altimmune Inc. and Gritstone Oncology Inc., also have the potential to provide longer-lasting immune responses and be more potent against newer and multiple viral variants, possibly helping to head off future pandemics, the companies say.
Vaccines currently authorized for use in the U.S. from Pfizer Inc. and its partner BioNTech SE, as well as Moderna Inc., must be transported and stored at low temperatures and require two doses administered weeks apart.
New vaccines could "constitute some improvement" over those limitations and more easily accommodate vaccination efforts in rural areas, said Gregory Poland, professor and vaccine researcher at the Mayo Clinic in Rochester, Minn. "You will see second-generation, third-generation vaccines," he said.

---
Axios: Federal judge overturns CDC's eviction moratorium | Added May 6
The Justice Department is appealing a federal judge's decision to vacate the Centers for Disease Control and Prevention's temporary federal eviction moratorium, which had been extended multiple times since being enacted by the Trump administration last fall.
Why it matters: The nationwide halt on most evictions due to the pandemic was seen as a temporary fix for millions of renters put at risk of losing their homes during the coronavirus pandemic.
The CDC under the Biden administration had sought to extend the eviction moratorium through June 30.
D.C. District Judge Dabney Friedrich ruled Wednesday on the side of the plaintiffs, who alleged that the CDC overstepped its authority by extending the eviction moratorium — which was first included in the March CARES Act passed by Congress — to all residential properties nationwide.

---
We've been warning about this for nearly a year | Added May 5

---
Come September, Pfizer hopes to have emergency use authorization of Covid-19 shot for kids 2 to 11 | Added May 5
Pfizer expects to file for full US Food and Drug Administration approval for its Covid-19 vaccine for people ages 16 to 85 this month, and will seek emergency use authorization for its vaccine for children ages 2 to 11 in September, the company said during an earnings call on Tuesday.
The company's vaccine safety and efficacy study in children age 6 months to 11 years old is still going.
"We expect to have definitive readouts and submit for an EUA for two cohorts, including children age 2-5 years of age and 5-11 years of age, in September," Pfizer CEO Albert Bourla said, adding that the readout and submission for children 6 months to 2 years is expected in the fourth quarter of 2021.
Pfizer has already applied for emergency use authorization for its coronavirus vaccine for teens and children ages 12 to 15. The FDA is poised to authorize Pfizer's coronavirus vaccine in that age group by early next week, a federal government official told CNN on Monday.

---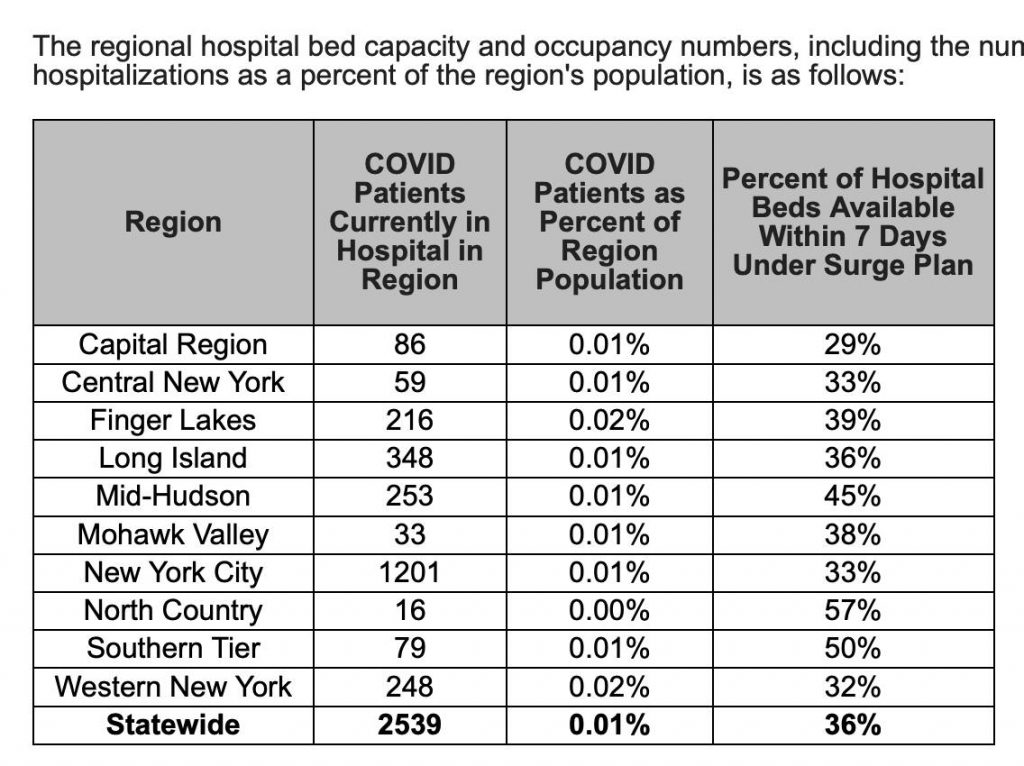 And in New York, the hospitals are empty and have been since October | Added May 5
As of now, 1 in 10,000 people is in the hospital with "covid," down from 2 in 10,000 in October. Apparently we are the only reporters who open these emails.

---
Data breach in contact-tracing through Insight Global involves information of 70,000 people; separately, Google is sued for contact-tracing tool | Added May 5
But Insight Global said Thursday that some personal information collected by those employees "may have been accessible to persons beyond authorized employees and public health officials." Neither the company nor the health department is aware of misuse of the information exposed, according to a statement from Insight Global.
The company didn't disclose how many people's personal information may have been compromised, but Pittsburgh's NBC affiliate, WPXI-TV, reported Thursday that 70,000 individuals are affected.
Insight Global said the information involved included names of individuals who may have been exposed to COVID-19, if they experienced symptoms, information about the number of members in their households and their emails and telephone numbers, and information needed for social-support services. Those individuals would've been contacted between September 2020 and April 21, 2021, Global Insight said, though it added that only a portion of individuals contacted during that time were affected by the breach.
AND
Also this week, Google LLC was hit with a suit over its contract-tracing tool, which consumers claim is exposing unwitting Android users' sensitive personal information to dozens of third parties due to an alleged "security flaw" that enables diagnoses to be linked to specific individuals.

---
OffGuardian: India's "COVID outbreak" & the need for scientific integrity – not sensationalism | Added May 5
Faulty PCR testing and misdiagnosis, says Tengra, combined with people who want to intervene early with the mildest symptoms, have been filling up the beds, preventing access to those who really need them.
Addressing the much-publicised shortage of oxygen, Tengra implies this too is a result of inept policies, with exports of oxygen having increased in recent times, resulting in inadequate back-up supplies when faced with a surge in demand.
According to Tengra, the case fatality rate for COVID-19 in India was over three per cent last year but has now dropped to below 1.5 per cent. The infection fatality rate is even lower, with serosurvey results showing them to be between 0.05 per cent to 0.1 per cent.
The directors of the All India Institute of Medical Science and the India Council of Medical Research have both come out and said that there is not much difference between the first and second wave and that there are many more asymptomatic cases this time than in the so-called 'first wave'.

---
Biden announces new distribution plan to reallocate Covid-19 shots from states where demand has decreased | Added May 5
The Biden administration said it would begin reallocating some Covid-19 vaccine doses to states with higher demand for shots and direct pharmacies to offer walk-in vaccinations, as the president aims to get 70% of the adult population at least one dose by July 4.
President Biden said Tuesday he also wants 160 million U.S. adults to have the full course of the vaccine by that point, which he said would mean administering about 100 million shots over the next 60 days. The U.S. administered about 220 million shots in Mr. Biden's first 100 days, but the pace of vaccinations has fallen in recent weeks, according to the Centers for Disease Control and Prevention. Roughly 56% of U.S. adults had received at least one dose as of Monday, according to the CDC.
The new goals are part of the next phase of the Biden administration's vaccination campaign, which will focus on addressing vaccine hesitancy and eliminating barriers that make it difficult for some Americans to access the shots, such as not knowing where to get the vaccine or difficulty signing up for appointments. The administration is also preparing to distribute shots to adolescents. The shift in policy regarding states' allocations is intended to account for the fact that demand is higher in some states than others.
AND
Many states are seeing vaccine appointments go unclaimed. Arkansas, Mississippi and dozens of counties in Iowa recently cut back on vaccination orders because of drops in demand. Iowa declined 75,280 of 105,300 doses offered to its counties for the week of May 10, a spokeswoman for the state's Department of Public Health said.

---
This is Compelling, from CHD: 18 Reasons I Won't Be Getting a COVID Vaccine | Added May 4
By Christian Elliot via Children's Health Defense
A few friends have asked my thoughts on the COVID jab(s) so I thought it was time to write an article on the topic.
Knowing how contentious this issue is, part of me would rather just write about something else. But I believe the discussion/news is so one-sided that I should speak up.
As I always strive to do, I promise to do my best to be level-headed and non-hysterical.
I'm not here to pick a fight with anyone, just to walk you through some of what I've read, my lingering questions and explain why I can't make sense of these COVID vaccines.
Three ground rules for discussion:
If you care to engage on this topic with me, excellent. Here are the rules. I am more than happy to correspond with you if:
You are respectful and treat me the way you would want to be treated.
You ask genuinely thoughtful questions about what makes sense to you.
You make your points using sound logic and don't hide behind links or the word "science."
If you do respond, and you break any of those rules, your comments will be ignored/deleted.
With that out of the way, let me say this: I don't know everything, but so far no one has been able to answer the objections below. So here are the reasons I'm opting out of the COVID vaccine:
1. Vaccine makers are immune from liability
The only industry in the world that bears no liability for injuries or deaths resulting from their products are vaccine makers.
As first established in 1986 with the National Childhood Vaccine Injury Act, and reinforced by the Public Readiness and Emergency Preparedness (PREP) Act, vaccine makers cannot be sued — even if they are shown to be negligent.
---
Denmark skips out on Johnson & Johnson shot over blood clots | Added May 4
Denmark will not use the Johnson & Johnson vaccine, the Danish Health Authority announced on Monday, saying in a statement that the country could make adequate progress using other vaccines and did not need to run the risk of a rare, dangerous blood clotting condition that may be linked to the Johnson & Johnson vaccine.
The country has halted administering the AstraZeneca vaccine for similar reasons, after two people died of blood clots after being given that vaccine.
Denmark had been planning to use the Johnson & Johnson single-dose vaccine before reports emerged about a possible link to the clotting condition, which seems to mainly affect younger women. Dropping the vaccine from its plans will set back the country's timetable for vaccinating adults under 40 by about a month, Danish officials said.
The United States temporarily suspended using the Johnson & Johnson vaccine, but the Food and Drug Administration announced on Friday that it would be made available again, with a warning about the possible clotting risk added to its label.

---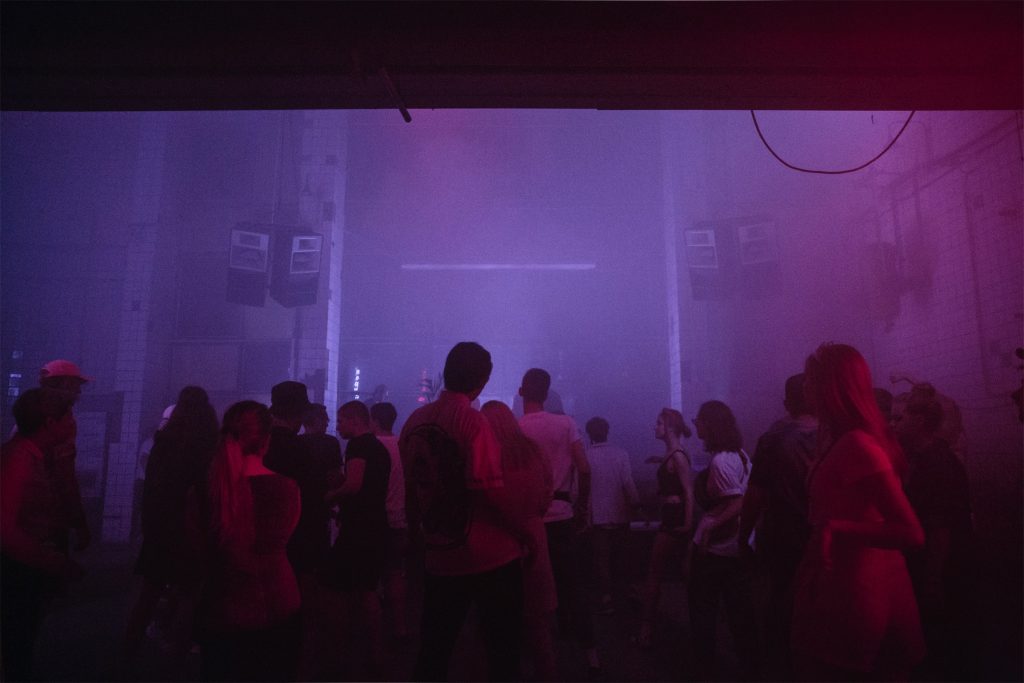 Futurism: Scientists Hold Mask-Less Rave to Test Whether It'll Spread COVID | Added May 4
It may sound like an egregious flaunting of COVID-19 rules — but this massive, mask-less rave without social distancing in Liverpool, England, was in fact government sanctioned.
The nightclub event, featuring a crowd of around 3,000 people aged 18 to 20 listening and dancing to live music, was an experiment put on by the UK government's Events Research Program (ERP).
The program is a scientific effort to understand how nightclubs and live events could make their long-awaited — and safe — return this summer, CNN reports.
"I went in and I was like, oh my goodness, there are people and they're together and they're dancing and they're smiling and this is actually happening," DJ Jayda G told the BBC. "You can feel it, like big energy."
"I thought I had my teenage years robbed from me but after that tonight, it was absolutely amazing," one clubber told BBC Radio 5.

---
Moderna has now been paid $6b for injection development by the US gov. | Added May 4
The federal government has now invested about $6 billion in the COVID-19 vaccine from Moderna, the Cambridge biotech that few outside the scientific and investment worlds had heard of a couple of years ago.
Moderna said in a filing with the Securities and Exchange Commission on Wednesday that under a change in its government contract on April 18, it will receive as much as $236 million in additional reimbursement for costs associated with its late-stage vaccine trial on about 30,000 volunteers, including safety monitoring.
The additional money is on top of the $5.75 billion that the government already poured into Moderna to help it develop, test, and manufacture the messenger RNA vaccine ― as well as to secure 300 million doses.

---
STAT News highlights doctors criticising the use of ventilators for Covid-19 | Added May 4
Further on in the article, even Dr. Cameron Kyle-Sidell, (whose videos we posted very early on last year), is interviewed on the issue.
Published April 8, From STAT News:
Even as hospitals and governors raise the alarm about a shortage of ventilators, some critical care physicians are questioning the widespread use of the breathing machines for Covid-19 patients, saying that large numbers of patients could instead be treated with less intensive respiratory support.
If the iconoclasts are right, putting coronavirus patients on ventilators could be of little benefit to many and even harmful to some.
What's driving this reassessment is a baffling observation about Covid-19: Many patients have blood oxygen levels so low they should be dead. But they're not gasping for air, their hearts aren't racing, and their brains show no signs of blinking off from lack of oxygen.
That is making critical care physicians suspect that blood levels of oxygen, which for decades have driven decisions about breathing support for patients with pneumonia and acute respiratory distress, might be misleading them about how to care for those with Covid-19. In particular, more and more are concerned about the use of intubation and mechanical ventilators. They argue that more patients could receive simpler, noninvasive respiratory support, such as the breathing masks used in sleep apnea, at least to start with and maybe for the duration of the illness.

---
In guidance to test for breakthrough cases of Covid-19, CDC lowers the cycle threshold for people who have received injections | Added May 3
This leaves the cycle threshold higher for people who have not received injections against Covid-19, which could be used as evidence that the "vaccine" works.
Ct 28 will be used for "vaccinated" and Ct 40 for "unvaccinated."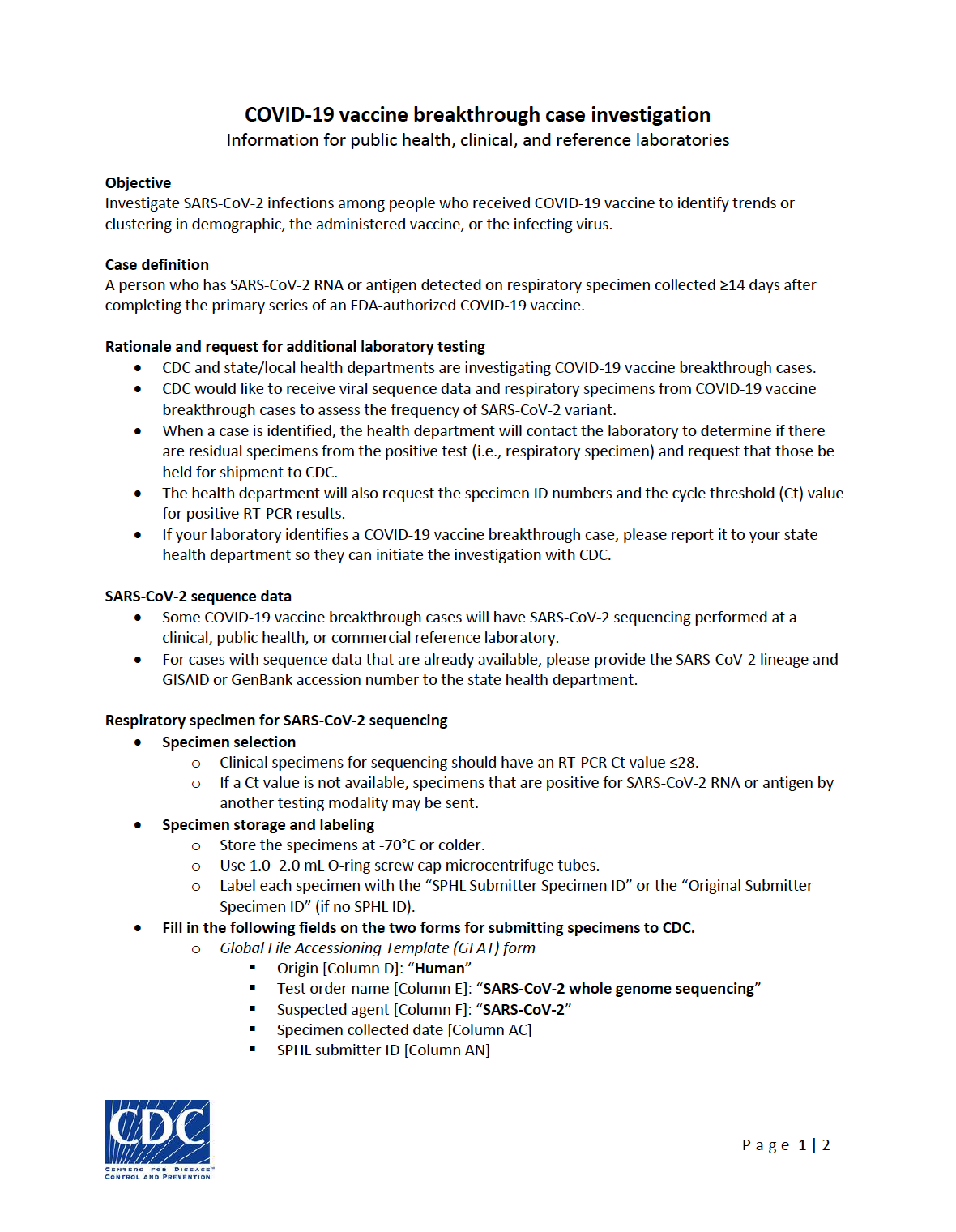 ---
CHD: Significant Jump This Week in Reported Injuries, Deaths After COVID Vaccine | Added May 3
From Children's Health Defense:
Data released today by the Centers for Disease Control and Prevention (CDC) on the number of injuries and deaths reported to the Vaccine Adverse Event Reporting System (VAERS) following COVID vaccines showed a significant jump in reports of injuries and deaths compared with last week's numbers.
VAERS is the primary government-funded system for reporting adverse vaccine reactions in the U.S. Reports submitted to VAERS require further investigation before a causal relationship can be confirmed.
Every Friday, VAERS makes public all vaccine injury reports received as of a specified date, usually about a week prior to the release date. Today's data show that between Dec. 14, 2020 and April 23, a total of 118,902 total adverse events were reported to VAERS, including 3,544 deaths — an increase of 358 over the previous week — and 12,619 serious injuries, up 2,467 since last week.

---
Mid-April, CDC reported 5,800 'breakthrough' cases of Covid-19 in people with full dosage of shots | Added May 3
The Centers for Disease Control and Prevention is "keeping a close eye" on Covid-19 cases in fully vaccinated people, agency Director Dr. Rochelle Walensky said Thursday during a hearing before the House Select Subcommittee on the Coronavirus Crisis.
On Thursday morning, the CDC said it had reports of approximately 5,800 so-called breakthrough infections, out of the nearly 77 million individuals in the United States who have been fully vaccinated.
Such cases are not unexpected; no vaccine is 100 percent effective against infection with the coronavirus. Even so, they are rare, and experts tell NBC News the data are largely reassuring.
AND
In an emailed statement, a CDC spokesperson said the majority of people with breakthrough infections were not hospitalized, and 29 percent had asymptomatic infections.
In addition, 65 percent of the cases were in women, and just over 40 percent were in people ages 60 and up. Seven percent of people were hospitalized, and 74 people died.
The data are not publicly available yet, but the CDC expects to start publishing information on breakthrough infections on its website regularly starting Monday. The agency also plans to collect additional data on the cases, including demographics, vaccine type, variant type, location and the amount of time since the individuals had completed their vaccinations.

---
TSA face mask requirements extended through September in United States | Added May 3
The Biden administration said on Friday it is extending face mask requirements across all U.S. transportation networks through Sept. 13 to address the spread of COVID-19.
The U.S. Transportation Security Administration (TSA) requirements that took effect on Feb. 1 were to set to expire on May 11. They cover workers and travelers at airports, on board commercial aircraft, on over-the-road buses, and on commuter bus and rail systems through Sept. 13.
The Centers for Disease Control and Prevention (CDC) issued the federal mask mandate in nearly all transportation modes in late January, including on ride-share vehicles. The order does not apply to private cars or commercial trucks being driven by a sole operator.
The decision was praised by airlines and airline unions.

---
Police departments criticized for officers' hesitancy to get Covid-19 injections, lack of mandate | Added May 3
"Police touch people," said Sharona Hoffman, a professor of law and bioethics at Case Western Reserve University. "Imagine having a child in the car who's not vaccinated. People would want to know if a police officer coming to their window is protected."
Police ambivalence about immunization finds a parallel among other front-line workers. Just 52 percent of health-care workers surveyed by The Washington Post and the Kaiser Family Foundation between Feb. 11 and March 7 said they had received at least one dose.
One solution is for departments to make vaccination compulsory, according to experts in bioethics and public health, just as some health-care settings and institutions of higher education have begun doing.
But department leaders and union officials said in interviews that such requirements could backfire or lead to lengthy litigation. Of more than 40 major metropolitan police departments contacted by The Post, none had made vaccination compulsory for employees.

---
OffGuardian: The Myth of Authority | Added May 3
Humans are incapable of looking after, organising, protecting or ruling themselves. They need someone or something in power to do it for them. This creed emanates from every pore of the owner, the professional, the state, the institution and the egoic, unconscious parent.
Often the message is an explicit exhortation, or order, to respect authority, obey the prince or know your place, but usually, in the highly developed system, The Myth of Authority is implicit, an unspoken assumption that a world which has the power to command you and I, is normal, right and natural.
Obedience is fostered and sustained by rewarding those who submit and by punishing those who rebel. Schools are structured to identify and filter out children who 'don't play well with others', who 'voice strong opinions', who are 'disruptive', 'insubordinate' or have 'a relaxed attitude'; admission panels of elite universities and interviewers for top jobs are hyper-sensitive to threats from those who might turn out to be intractable; records, references and even whispered reputations, increasingly systematised, follow trouble-makers to their grave; and if, somehow, someone who is resistant to authority finds their way through this minefield to a position of influence, they will be worn down, undermined and, eventually, ejected.

---
Perspectives on the Pandemic: "Blood Clots and Beyond" — watch from Journeyman Pictures | Added May 3
In February, 2021, Professor Sucharit Bhakdi, M.D. and a number of his colleagues warned the European Medicines Agency about the potential danger of blood clots and cerebral vein thrombosis in millions of people receiving experimental gene-based injections. Since then, two of the four injections have been suspended or recalled in Europe and the United States for just that reason. In this episode of Perspectives, Professor Bhakdi explains the science behind the problem, why it is not just limited to the products already suspended, and why in the long term we may be creating dangerously overactive immune systems in billions of unwitting subjects.

---
Jon Rappoport: Vaccinated people shedding and spreading genetic disaster to unvaccinated women? | Added May 1
MANY women are posting reports of disrupted and unusual menstrual cycles, heavy bleeding, and miscarriages.
What's more, some of these women haven't received the COVID vaccine, but they've been in close contact with others who have been vaccinated—leading to the question:
Can the COVID vaccine (which is actually an experimental genetic treatment) "shed" something harmful that can be passed from person to person?
Perhaps that sounds impossible, but in the world of genetics, much can go wrong.
In fact, for the past 25 years, we've had an illustration of shedding right in front of our eyes: GMO crops.
If you recall, Monsanto assured one and all that these crops—genetically engineered to survive the sprayed herbicide Roundup—would flourish, while weeds would succumb to the chemical.
So what actually happened? The weeds were resistant and became super-giants. And the Monsanto genes drifted from farm to farm, contaminating crops that were never meant to be engineered.
The Monsanto genes were "shed" and they spread.
This spread was not only the result of obvious cross-pollination. Bacteria in the soil, and in human digestive systems, also picked up and incorporated the Monsanto genes.
Why couldn't "shed and spread" occur with a genetic COVID vaccine?

---
WPXI: New concerns about possible side-effects from COVID-19 Vaccine | Added May 1
New concerns are rising about the available COVID-19 vaccines throughout the area.
However, doctors are stating it's still too early in the vaccination process to know whether the concerning symptoms are direct results of the vaccine or symptoms that would happen naturally in the general population.
Butler County resident John McCool said that he has been dealing with issues on the left side of his body since getting the shot about eight weeks ago.
"In the middle of the night, I woke up, and my arm felt like it was on fire," McCool explained. "I thought I had a heart attack. I was scared for my life at the time, and I did something I never thought I would do; I had my wife call an ambulance."

---
The Coronavirus Novel: Full Portfolio of
Original Articles, Videos and Audios by Eric Francis
Ongoing discussion of Covid issues happens every day on my Facebook timeline. Many of these articles are cross-posted.
---