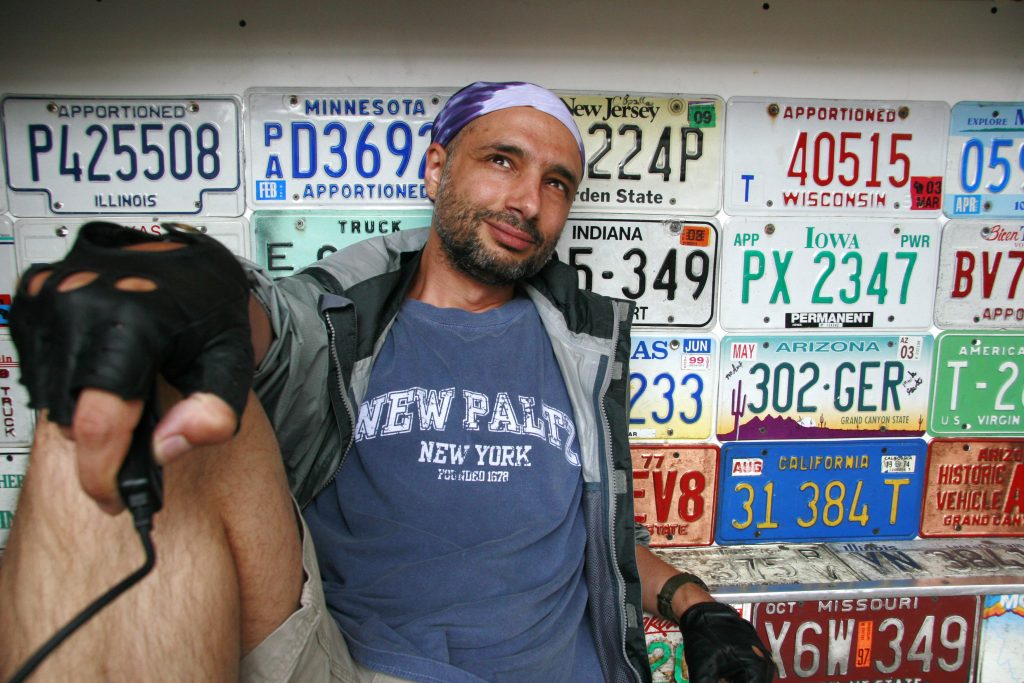 New! Press Room — International Coverage of Eric Francis
I am a horoscope writer — the kind who appears in the backs of magazines and next to the puzzles in the newspaper. That's one of those unusual jobs where someone might really wonder how you got into the work. Many people wonder whether it's even real, and hardly anyone has met a someone who writes them.
Astrology found me, in an interesting place. When I sat down at the Warren Township desk of the Echoes-Sentinel newspaper at age 23, my first professional job in the business, there was a calendar with planetary glyphs and the lunar phases hanging on the wall next to me.
I would stare at it while I typed articles about municipal development, wondering what it all meant. Flo Higgins, my editor, knew all about it.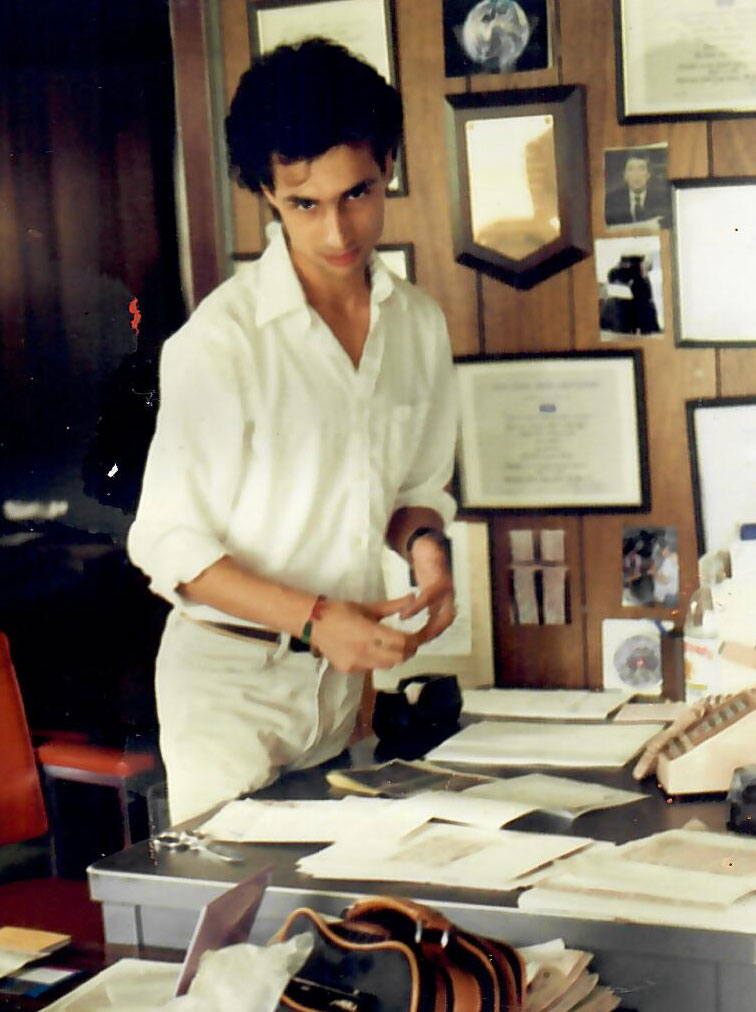 Her so-far 27 year run as editor had included lecturing and/or predicting turns of fate and fortune to a generation of young journalists. (As an astrologer, she was a little old school in her approach.)
By working for the Echoes, one had unwittingly subjected oneself to astrology 101, complete with Mercury retrograde, your upcoming Saturn return and tarot cards in the office. This was not the place one was trained to work when attending the Columbia School of Journalism.

Flo was an unusual blend of properties, principles and aura that one took for granted because it was just her. She could be brusque and chilly and bossy, but if you gave her some time you figured out she had a heart of gold and was in possession of some true wisdom.
There was no doubting the power of this force of human dominance, whose comportment blended a cigar chomping news editor, a football coach and the psychic at the end of the amusement park pier. In her purple lamé shawls, her high heels and slightly heavy set frame would vibrate the floor as she walked past my desk, invoking the gods.
Or telling me to call the cops. If you asked her a question, there was a 50/50 chance she would say, "Call the cops!" because they know everything. So the police dispatch desk served as a kind of personal Echoes-Sentinel municipal information concierge for everything from the time of events, to tracking down the mayor or whether a certain road was still closed.
An Ongoing Astrology Class
Two or three other reporters and I covered four towns: Warren, Stirling, Watchung and North Plainfield. If a word of astrology ever got in the newspaper, it was Ben Franklin who put it there; the only point of intersection between our duties as a newspaper and the constellations was in the office itself. Above ground, we were a newspaper; when out of public view, stargazers, whether skeptical or not.
There was no questioning the efficacy of astrology, if anyone was tempted, which was unlikely even if you thought it was ridiculous. She took it so seriously that you would feel stupid mot doing so. Reporters with no proclivity to woo woo (and there are plenty; we are a hardboiled lot) to the stuff at least had to listen and learn a bit of the jargon. In the spirit of newspaper reporting, I treated the subject as objectively as I did any other. Per the training and later experience of working with A Course in Miracles, you find out that quite a bit is possible that you didn't think or imagine was possible.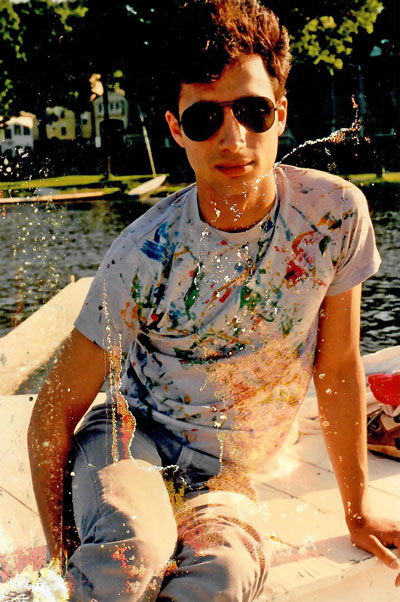 Flo spread the gospel of astrology throughout the newspaper group via the central office in Stirling where we all came to do final editing and production.
My reporting assignment was Warren, the biggest town with the most news in our area, a brand new interstate highway running through it and lots of big real estate action. I covered the Township Committee, the Planning Board, the Sewerage Authority, along with writing about traffic planning studies and the politics of major development projects. It was a serious job, where we had to produce about 80 column inches per week of high quality news journalism.
Our region of New Jersey at the time had one foot in its earlier agrarian and rural environment, and one in burgeoning suburbia and industrial development. It was still possible to feel the place it was for so long. At the far end of Main Street, a there was a dilapidated Egg-o-Mat vending machine, which looked hilarious and still worked.
It was in this environment where I learned to read runes and tarot cards, provided by Flo, who owned a book store in Rumson down by the shore.
I brought my own contribution to the mystical atmosphere of our gritty little news shop, with its heaps of reporters' notebooks and steno pads from yesteryears stashed in file drawers in the back.
At the time, I lived at Miracle Manor, a community based on A Course in Miracles located about half an hour away. A Course in Miracles is a thousand page course in spiritual psychology and healing first published in the late 1970s. It's designed to be practiced independently, though several people had formed a community
ACIM communities were so rare we may have been the only one. I lived there together with my girlfriend Ginger. She came along with me to the Echoes, as we had been working as a writing, design and photo team for years, at our university. She brought her stylish, down to earth personal style to both Miracle Manor and Echoland.
I loved my job — I found all that municipal government stuff truly interesting. And I once wrote a parody which included a feature article called "Making the Most of those Useless Gourds" as part of the autumn supplement.
Onto Greater Things

Shortly after Flo retired — something nobody thought would never happen, or rather, we were certain would never happen — I left the Echoes-Sentinel to become a national business reporter. I brought with me a lot of writing experience, a deck of tarot cards and a basic astrological education. Around the same time, the Miracle Manor experiment ended, and I moved into an apartment in Plainfield with Ginger.
My training in A Course in Miracles would be something I would use every day throughout my life, in every facet of my existence, whether personal or professional.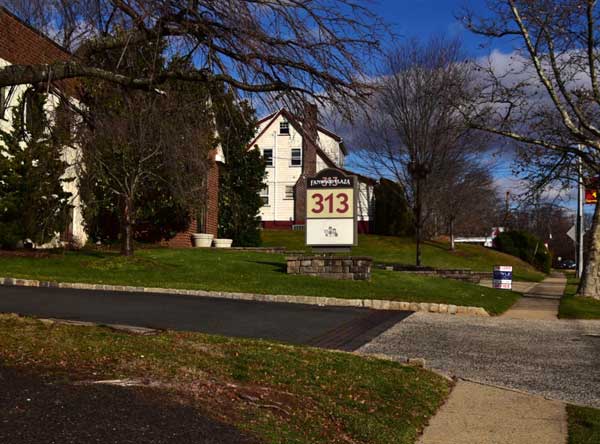 As for the tools I had been exposed to from knwong Tarot cards seemed useful; they are portable, easy to access, and don't require so many steps to get from the question to some concept of an answer.
Astrology is infinitely more complex, and I could not see the point, so at the time, I did not look into it much.
That worked out well, because learning tarot is a great way to study astrology, even if you don't know you're doing it. Tarot contains its own symbolism and then through the deck are interwoven many layers of astrology imagery and concept. This includes the 12 signs, major planetary archetypes, and even some combinations of the two.
Tarot contains references from many sources (particularly depending on the deck), though on one level tarot can be seen as a shorthand astrological system. So without recognizing it, by making a study of tarot I was learning astrology.
This fact came to the surface when I began working with The Book of Thoth by Aleister Crowley, which I consider the best book on the tarot. I say this because it's an excellent study in the most basic levels of the deck — the elements (which are the suits), the meaning of numbers (therefore basic numerology), the identity of the characters in the 22-card Major Arcana, and how each card in that part of the deck relates to every other (through a system called Kabala).
While Crowley is explaining tarot he's also explaining the foundations of astrology, making this an efficient way to learn both and to leverage one system off of the other. This by the way is the essence of Crowley's teaching — he works across the various esoteric systems and is for that reason an excellent author to study.
My new job was national business reporter, working for a company called Whitaker Newsletters in Fawood, New Jersey. I was the editor of Kane's Beverage Week, an industry newsletter that served executives of major liquor, wine and beer companies. I also edited Health Professions Report, a newsletter for medical and nursing school deans.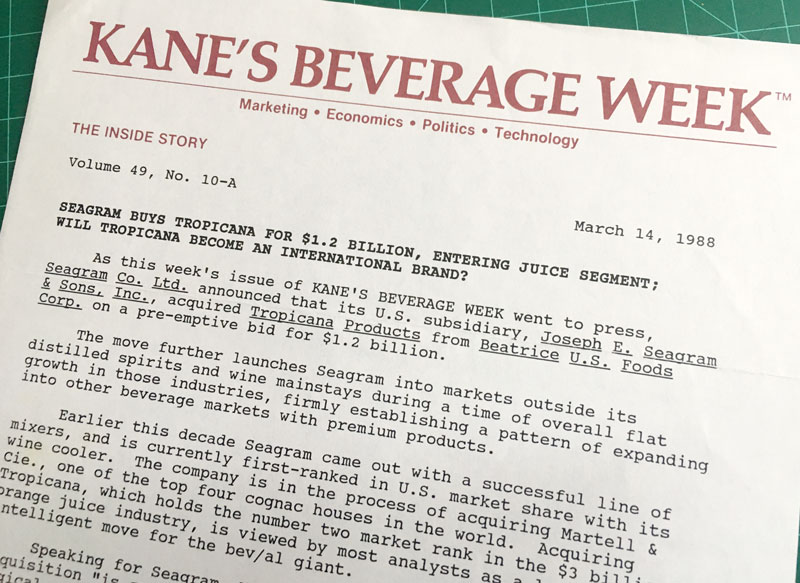 This job involved flying all over the country to cover conferences and trade shows, for very high priced industry newsletters. Looking back, it was an incredible opportunity for a 24 year old journalist.
Wherever I went, A Course in Miracles, my tarot cards and my notebook came with me. I was fully devoted to my work as a journalist, and my work as a spiritual seeker, and I was able to make the connections.
I understood that being a reporter was not separate from my spiritual training. Rather, my "work" was the main place where I would be applying my esoteric knowledge.
One day I was at the National Beer Wholesalers Association trade show in Anaheim. This was capitalism galore, with California beauties pouring beer throughout a football field sized trade show floor. I went to lunch in the Anheuser-Busch free restaurant (all the major companies had them).
On a whim, I spread my tarot cards on the table, and sat there in a business suit doing free readings for people attending the trade show — my first time ever reading for anyone in the public. It would not be the last. I loved it, and I was good at it.
As for astrology — I had no interest, or so I thought.
Onto New Paltz, New York
In the spring of 1989, there was a strike at campuses of the City University of New York. In the Whitaker Newsletter office, I watched on the little television as students were arrested, being dragged kicking and screaming. I recognized they had not had passive resistance training. In that moment, I knew I needed to get back into campus journalism of some kind.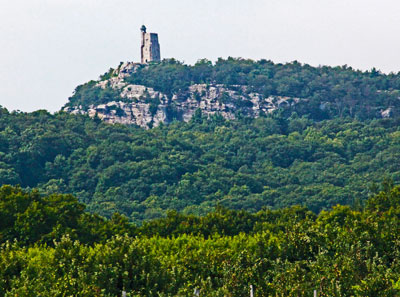 During my years at SUNY Buffalo, I had edited two different campus magazines and the student handbook. I loved covering educational issues. At Whitaker, I was also editor of the New York Education Law Report, but that was not nearly interesting enough. And mostly it dealt with state court rulings that affected K-12 schools.
That spring, I was following the Grateful Dead on tour to a few cities, and at the Pittsburgh show, I met a young lady named Kirsten. A moment later, she introduced me to a tall Japanese psychedelic artist named Mikio, who had hair down to his waist and who was born on my birthday. They both lived in a place called New Paltz.
I went to visit her one weekend, and decided that that was the place I wanted to be. The Paltz was a place unlike any other, with a history and splash of DNA to match San Francisco. It had a State University campus.
I applied to start a masters program midsummer, which is pretty much impossible because the admission period is over. However, someone who had been admitted died in a car accident, and I was given her her space as a student and the classes she was supposed to teach.
I never met her, but some of my teaching colleagues knew her as an undergrad. She seemed like a pure-hearted type and was an excellent poet — someone I would have loved to know. I owe her a debt of gratitude for the many, many unusual events that unfolded as a result of my going to New Paltz. I only know her pen name: B. Wisteria.
When I think about her, I feel a pang of longing, as if I miss an old friend — though I never met her.
My primary goal coming to New Paltz was to study English on the masters level, and write poetry, something I started doing around the time I graduated, and got deep into.
While I was working at Whitaker Newsletters, I self-published my poems in a series of four chapbooks that I printed on the huge copier used to create the newsletters we sent out. I did not know it at the time, but writing poems is excellent training. If you're working carefully, you're thinking about every
While I did plenty of poetry while I was in New Paltz, I soon discovered my true literary love, which was journalism. Using the publishing model I learned at Whitaker, I started a statewide professional newsletter called Student Leader News Service.
The Little Bang, the Big Bang and the Bigger Bang

Like many things in my life, particularly where my writing is concerned, I had no idea what I was getting into when I started Student Leader. I came up to New Paltz in possession of a superpower: a Mac II CX computer, then a state-of-the-art Apple. This provided a tool to publish high-quality publications, which when blended with my training as a journalist and pretty good writing, got some results.
The concept was that we would serve as a news gathering and distribution organization that served student newspapers and student governments throughout the State University system.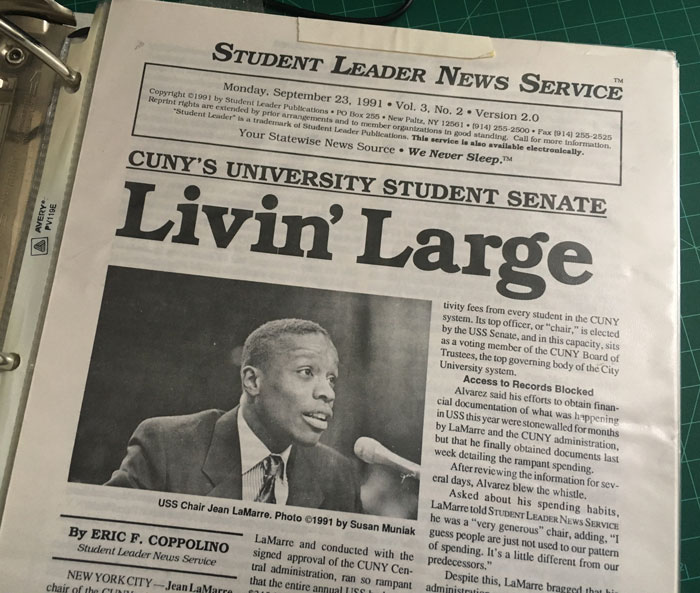 Pretty soon, we were drawing friends from down in the City University of New York system, who were excellent journalists.
I recruited some of my new friends to the project. Immediately, the Associated Press came to visit and a story on the statewide newswire. We were being taken seriously!
I secured New York State Capitol press credentials, and I learned the ropes of the Assembly Higher Education Committee and the central administrations. And that was it — we were in. I have unusually good luck when it comes to drawing relevant information, contacts and documents to me. Sometimes a little too good, but I choose my assignments carefully.
We had great fun and kept breaking bigger and bigger stories — all of them written in my living room, which had been converted to a newsroom with five telephone lines coming in: catchy ones like 255-2500 and for a fax number, 255-2525, which matched P.O. Box 255, New Paltz. We visited many SUNY and CUNY campuses and got to know the editors of the student newspapers there, spreading the gospel of gritty journalism.
One of our biggest stories involved busting the University Student Senate (USS), the City University system-wide student government, for blowing nearly $400,000 on banquets, limos with cell phones, a trip to the Ivory Coast and lots of other fun stuff. That played big in the New York City dailies, which we owned for a week.
Our coverage resulted in article in the New York Times, Post, Daily News and Newsday, some of which you can read here. It was the ultimate gotcha story, and moreover, it was students minding the affairs of our own business. At the time, this seemed like the big one, but really, it was the Little Bang.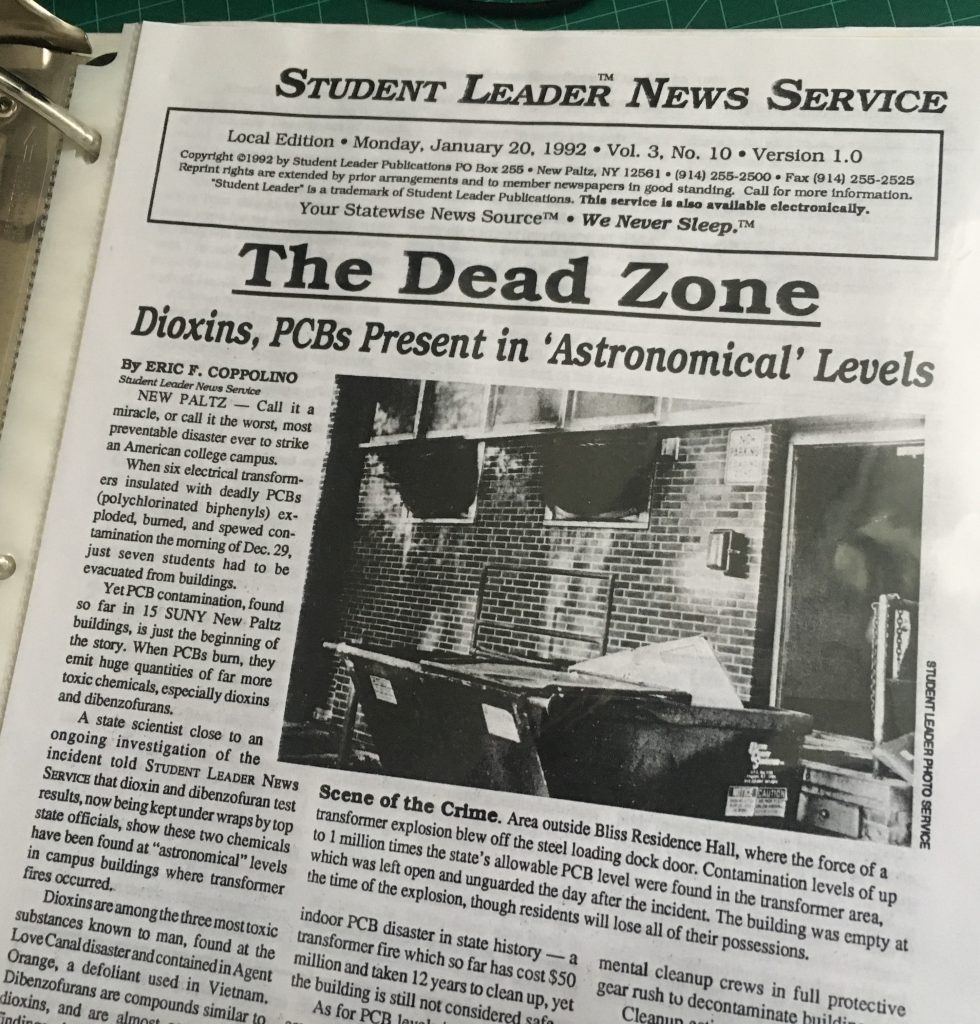 But that turned out to be child's play compared to what would happen next: the SUNY New Paltz PCB explosions. I'll summarize those here, though if you want to get to the full story, it has its own website — two words that should never go together: Dioxin Dorms.
The short version of the story is that from the 1930s through around 1980, a class of chemicals called PCBs (polychrloinated biphenyls) were used in electrical equipment worldwide.
This included the transformers placed inside of campus buildings at the local college campus. One morning in December 1991, a car skidded off a road outside of town, and hit a utility pole. This damaged the crossbars, the high-voltage wires touched, and an electrical surge was sent into the campus power system. The PCB transformers were supposed to absorb the blow, but due to defects, seven of them failed, ruptured, burned or exploded, contaminating six campus buildings, the air, the earth and the groundwater.
I knew I had to deal with this on a full-time basis. Soon after, I closed down Student Leader, and continued my career as an independent investigative reporter. Needless to say, I was not using my tarot cards much during this phase of my life; I was covering or rather uncovering the impact of the New Paltz disaster many hours a week.
Soon after, some attorneys representing the Nevada Power Company got hold of my reporting in our local newspaper, and reached out to me. They had information about how what happened at New Paltz had happened many places. In fact, PCB contamination was not just in the campus dorms but also in wildlife up at the Arctic Circle.
The New York Post and The New York Times
Investigative journalism presents a number of challenges: for one, people on both sides of the issue tend to hate you. Readers because you're telling them they're going to get poisoned, and the government because you're exposing this fact. Next, it's a miracle if you get paid, and while many miracles had happened in my life, at the time, that particular one wasn't going on. Third, it was psychologically very challenging, as these kinds of stories are dark and sinister. Uncovering lies means dealing with people who lie, and they are nothing but bad juju.
But the subject matter was really interesting, and suddenly the story was going national. I became connected with sources who were feeding me documents that proved that General Electric and Monsanto knew decades before that this kind of disaster would happen.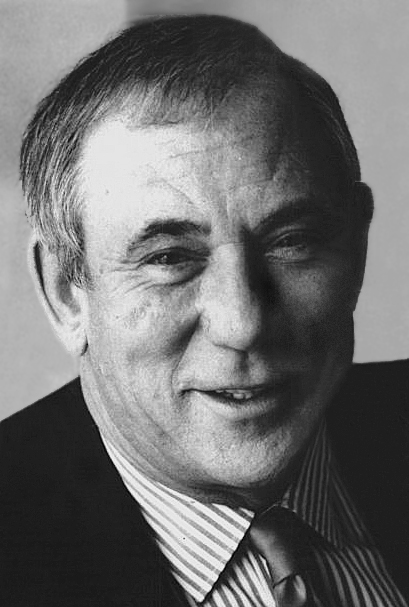 It was around this time that I began reading The New York Post horoscope. Some people knew I liked tarot cards, and someone — I wish I remember who — suggested that I would appreciate what the Post's astrologer was doing. Normally I would never read a horoscope, just like lots of sensible people. Like most people, I thought they were kind of dumb, and if the astrologer got it right, it was luck.
Right around then, a reporter for The New York Times has been working on a story about my coverage of the New Paltz dorms. I had no idea when or even if the story would run. It seemed too good to be true. But I knew it was possible, because I had already been covered by the Times and every other paper in the city — coverage I sent to Mike Winerip, the Times' columnist.
On Friday, January 29, 1993, I opened the Post, went to the horoscopes, and skipped down to Pisces, my birth sign. "What happens next will more than compensate for recent financial and personal disasters," the writer informed me matter of factly. This was the work of Patric Walker, born in New Jersey, raised in England, relocated to Greece, and, as I later discovered, the deacon of the horoscope column.
An hour after I read this, the phone rang. It was a writer from the Times, the polar opposite newspaper to the Post. The writer was Michael Winerip. He was calling to inform me that his article about my ongoing PCB coverage would be appearing in Sunday's edition — on page one of the Metro Section, no less. It was one of those "Hi, gotta run, bye" kind of phone calls, and he distinctly had the tone: get ready, your life is about to change.
A day and a half later, the story ran. It bestowed not instant success or wealth, but something more precious than both in the life of a reporter: credibility. That, and millions of people would soon find out what was happening in New Paltz. Because the Times is read worldwide, and by the entire newspaper industry, this was a real development. I was no longer just some freak with a Macintosh and a theory. I was about to be a Freak with a Portfolio.
The article was stunning.
"He has a gift for rooting out the disturbing fact from an otherwise orderly pile of documents," Winerip wrote. "In the tradition of investigative reporters, [he] draws strength from being disliked, blitzing officials with Freedom of Information Act requests."
Press coverage does not get better than this, really.
Of my prior work, he recalled some of my more impressive moments covering higher education, and added that I was "one of the few people not on the state payroll who understood the state budget."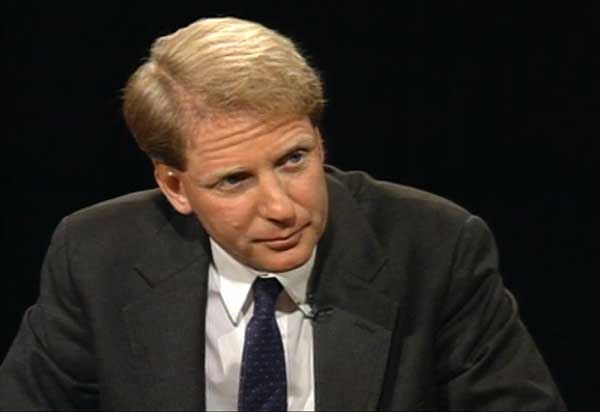 Now I suddenly had credibility, but astrology now had credibility as well. In one newspaper, someone who knew me pretty well was writing accurate things about my career; in another, someone who didn't even know I existed was writing arguably more accurate things, putting it all into context.
The Times article became my calling card. From that day onward, a fax of it went everywhere a story proposal went. Every single source, government official, and editor anywhere near the PCB issue now knew the Times was watching my work, and had good things to say about it.
This is quite helpful when people's main defense against an investigative report about their contaminated building or conniving corporation is to claim the reporter is a nut case. If I was one, then so was the Times, so I was in good company.
Soon, my writing about PCBs, which had expanded in scope to covering allegations of fraud committed by the manufacturers, was appearing on page one of The Las Vegas Sun, a major daily newspaper, then in the Village Voice, and soon after on the cover of Sierra magazine. The Sierra article reached a worldwide audience of environmentalists, scientists and academics. I was also adopted by Woodstock Times, which provided me with a base of operations and an excellent new editor — Parry Teasdale.
Studying Astrology from a Newspaper

In addition to investigating and tracking the progress of the New Paltz cleanup, I began to track Patric Walker's column carefully. I started to take in what I could about astrology from the clues he left in his writing: small, basic things like a planet changing signs, Mercury changing directions, or certain aspects he mentioned, often studied sitting on the curb in the parking lot of the local Mobil station where I often bought the paper.
Day after day, astrology seemed more astonishing: not merely the accuracy, but the relevance of the points he was making, and his insights into the actions of the people around me. It was interesting that a horoscope column could have this kind of clarity or soundness of advice. But it was also clear, direct writing. His attitude was a bit skeptical, like a friend watching over your shoulder. Patric was always on your side and whatever you were doing, he knew you could do it.
Patric was bold, and he could put words together. Your life has you feeling like "a dressmaker specializing in alterations," he once wrote for Pisces during a rather absurdly complicated period of change.
"What came to light recently has made you aware that there is no use doing things in your usual gentle manner, and the only way to bring others to their senses is by forcing a showdown," he wrote in the midst of one of the most confrontational weeks of my journalism career, where I had just forced a major showdown.
Astrology became more intriguing by the day. It also began to rekindle my interest in tarot, which had dwindled a bit when the guys in moonsuits showed up.
One night around this time, I was driving from Woodstock to New Paltz in upstate New York, returning from the home of a colleague who was planning to take me to Italy to research Tarot decks in the Vatican's library. It was a great offer — I love Tarot and grand libraries, and  it seemed amazing that the Vatican had a Tarot card collection — and I was also quite determined to visit someplace exotic for the first time.
But this woman was a bit flaky; she rarely came through with her plans. On the way home, I stopped in a gas station and picked up a copy of the Post and opened to the horoscope. It said, "You are obsessed with international travel, but do not put all your eggs in the basket of  someone who has let you down before."
Could a horoscope be any less vague or general?
One day, I had to find out how he did it. So I went into Esoterica Books in New Paltz, to get the one thing I knew I needed. "If you want to be an astrologer," Flo Higgins had told me (in her best Saturn Square the Sun tone of voice), "you need an ephemeris." This is a big thick book that lists the placements of the planets. It looks like a huge trigonometry table, about 1,000 pages, each covered with tiny numbers with the occasional astrological symbol thrown in for relevance. You look up the date in one column, and you see what's going on with the planets in the other ones. If you know the astrological glyphs it helps a lot.
From then on, when I read the Patric Walker column, I did so with the ephemeris open and a notebook out. The same day, I also acquired a pack of the Thoth Tarot by Aleister Crowley, which is rich with astrological signification and illustrations; this became my astrology picture book.
By day, I proceeded with my work as an investigative reporter, digging ever deeper into the conspiracy to poison the college dorms and the planet. By night, at my new girlfriend Hilary's house, I would analyze horoscope columns and sort out the Thoth Tarot. Once again, newspaper reporting and astrology were happening in the same place and time.
My articles about environmental toxins began to get more complex, and also more damning. I began taking my own samples and proving that the state was lying. That year, 1994, I won a first-place state award for my investigations.
I had also become involved in a federal First Amendment lawsuit against the campus, which had attempted to ban me from the premises in order to slow my progress covering their toxic buildings. The lawsuit had pressed on for a year. One day, seemingly out of nowhere, the state threw its cards down on the table and agreed to a $20,000 settlement (and a written apology). The New York Times did a second article. In the summer of 1994, one of my articles forced the state to do a partial cleanup of one of the dorms. Under the same extraordinary astrology — which I would not understand until a year later — the summer culminated when my Sierra magazine article came out, documenting the 50-year history of PCBs.
"What happens next will more than compensate for recent financial and personal disasters." To say the least.
Of the Jackie Stallone Psychic Circle 
Everyone's seen ads for those Psychic Hotlines on TV. They seem really weird, with a woman, sitting in a room full of candles and wearing a black gown, wisely advising a client on the phone. Have you ever called one? Would you ever? I wouldn't — but I once worked for one.
When I reached my limit on writing articles about environmental poisoning, it was late autumn of 1994. A few months earlier, I had answered a Village Voice classified ad for telephone Tarot-card operators, sent in my resume, passed the "reading test," was hired. But  it seemed like a really weird thing to do. After a few weeks, I forgot that I even had the pass-codes to connect my phone to the computer. But after months of refreshing my Tarot skills and studying astrology, I felt like I could at least try, and I needed something else to do. So I  dialed the codes into the telephone and activated my account.
Half an hour later, the phone rang.
First I heard a kind of audio trademark, a little puff of music followed by someone saying "Jackie Stallone Psychic Circle." Then the caller said they wanted a Tarot card reading. So I read the cards. It took about five minutes, and the person seemed happy and the reading seemed to help. I hung up, and then a little while later, the phone rang again, and it was another absolutely random person reaching my little apartment in the woods of Rosendale, New York.
Talking to absolute strangers who had no idea who they were talking to was odd enough. I knew that I could read Tarot cards, so I trusted myself to do it. The issue I had was that readings cost the caller $3.95 per minute. My pay was a 10% commission – actually, 35 cents per minute, around $21 per hour if I worked continuously, which seemed unlikely. I was quite uncomfortable about the price of the readings; a 15-minute reading cost the client nearly $60, which seemed outrageous, particularly compared to Flo Higgins getting what already seemed like an exorbitant $40 an hour. After taking a few calls, I could tell that the clientele consisted basically of poor people being lured in by television ads late at night.
The next day I called up the company and talked to the manager, a guy named Virgil, who explained how everything worked. What became obvious was that when a client dialed the phone, somebody somewhere was going to answer and provide them with some kind of advice. So, I decided that it might as well be somebody who could actually do the work honestly — that is, without playing tricks such as frightening people to make the calls longer.
I got along well with the manager, who happened to be a Pisces, something we had in common, and in exchange for being willing to work all night, I got my priority rating bumped up to the highest level. Now when I logged on, the calls came through quickly, sometimes with just a few moments between hanging up and the phone ringing again.
Suddenly I was making $400 a week, a lot more than I was making writing about PCBs, which seemed to run at a loss most of the time. I could afford all the astrology books and charts I wanted. Plus, not having to think about PCBs, dioxins and toxic dorms was an incredible relief.
I spent many nights working like this, studying astrology in the slow moments, and putting to work what I was learning with the constant stream of new clients who were seeking advice.
One night, I got confirmation that I had made the right choice in taking the job. The phone rang, and it was a very young woman, probably under the legal age to be calling. She was shaken up, and said she'd just gotten off the phone with another operator from my company who told her that she was pregnant with a space alien's child.
This might seem ridiculous, but I had to take it seriously. I was confronted with a scared person whose faith had been abused by an authority she trusted. And when many people seek advice from an oracle like Tarot or astrology, they may, consciously or not, consider it to be coming from a "divine" source, giving it all the more power.
I asked her basic questions: had she had sex with anyone lately? No. Did she remember any kind of an "alien abduction," even in a dream? No. With those facts out of the way, I read her cards. She was not frantic, just really nervous. She was willing to reason through the situation.
It was not difficult to straighten out. For one thing, her own intuition had told her to pick up the phone and call for a second opinion, so she was seeking reassurance of what she probably knew. I saw no suggestion of pregnancy in her cards, much less from some extraterrestrial being. In fact, I saw nothing amiss. I told her this, plain and professional. She seemed reassured, I told her nobody had the right to scare her like that and that I would report it to the phone line manager, who I knew — and the session ended.
This was the first in the genre of "read the cards again because somebody screwed up" sessions. Basically, any prediction that any caller did not like was a screw-up. The prediction would need to be replaced with the idea that we have the power to choose, and the cards can help us see the options. This is good reasoning, and even people who call insisting to be told the future can be reassured by this line of thought.
Many intense situations happened those long nights and early mornings. Once a woman in her 20s called, saying she was facing surgery for breast cancer. She was deeply shaken and fearing for her life, and facing the grief of losing her breasts at a young age. We worked with the cards for a few moments, but mostly we talked. We soon maxed out the 40-minute per-call limit, but clearly, we were not done. The call got cut off. It felt tragic just leaving her like that, and I hoped I had done the best I could.
Then the phone rang. It was her. Against significant odds, she dialed again and reached me a second time, and we completed our session.
A number of women called over those months describing the same situation: they were taking care of four or five kids by different men, and the latest man had left them. Others called facing numerous kinds of psychological, spiritual or emotional crises, or poverty, or sickness. Most of the clients were women, driven to pick up the phone by television commercials promising them information, love, money or relief from their pain.
I began to feel like I was working for some kind of bizarre national psychic health hotline, and was grateful for my Course in Miracles training, which I soon realized was the foundation of the work that I was doing. The Course provided me with a spiritual foundation as well as provided basic information for how to handle people in crisis.
And from doing three years of therapy, I had acquired some of the tools I needed to carry on the conversation in a helpful way. I knew the limits of my work in certain regards, but also knew that there were real openings for healing if I was willing to be present, pay attention, and use my skills as a card reader judiciously.
There seemed to be times when Tarot cards were not appropriate at all. One call came in from a young woman who wanted to know if it was okay if she got sexually involved with a much older, wealthy man who was promising her "diamonds and jewels." The obvious implication was that she'd be getting gifts in exchange for sex. I can still feel how excited she was about this, and how she pronounced the words "daaamonds and jew-els" with a southern drawl. This one threw me. I don't think I touched the Tarot deck. After pausing for a moment, I asked her if she felt she was doing the right thing, and she said yes.
"Well then, it seems like you've made up your mind. Good luck…"
One night the phone rang and the caller asked to speak to Jackie Stallone. I said that this was the name of a psychic hotline, but that she didn't actually work for us reading cards. I explained that I was just one operator among many and that I was in the middle of nowhere in the middle of night in upstate New York, and that Jackie was nowhere to be found. The woman insisted — paying $4 a minute for the privilege, in 1994 dollars.
The television commercial said that she could speak personally to Jackie. I said she wasn't here. She kept insisting. I looked around the house. "Well, she's not in the bathroom, she's not in the closet," and so on, which seemed to convince her. I might have thought it was a joke, had she not been so earnest and, well, naïve.
Eventually, I began to work astrology into the sessions. I did that using a little pocket planet calculator that I bought for a dollar at a junk store. It looked liked a normal calculator, only you would enter a birth date, such as "093066." Then the little screen would spaz out for about 10 seconds and you would get a row of four numbers between 1 and 12. These numbers each represented a sign of the zodiac. The four different numbers represented the Sun, Mercury, Venus and Mars, which would fall into one of the 12 signs. These are four of the most basic elements you can use to suss out a personality — what are called the personal planets.
Unfortunately the calculator did not give the position of the Moon, but you need the time of birth for that, since the Moon moves so fast.
A caller would say something like, "I'm having trouble with my husband," and I would ask for his birth date, and enter it into the little $1 calculator, listening to them talk. A moment later I would have the husband's personal planets and make up a little story. "Well, he seems like an intense, somewhat possessive person [Mars in Scorpio] but he's not really very emotional [Sun and Venus in Aquarius], and he seems to not say very much, though he's always scheming [Mercury in Capricorn], and…" Usually that would be a close enough description to actually seem plausible, because it was.
When astrology starts to work, it's a really strange feeling, because you know something that you really have no business knowing.
I got a lot of practice reading for people — and doing so quickly. There seemed to be two tricks to the work. The first was gaining the caller's confidence in the first 15 seconds, or else they might hang up. Hang-ups would drive the call average down and that could result in getting fired. So, really making a clear statement about the nature of the first card or two was essential, which took getting that flash of a message the instant the first card appeared in front of me — and saying the first thing that came into my mind.
The way many telephone operators do this is start with something really intriguing, such as being pregnant with the child of a space alien, or telling people that something bad might happen. Then you get their attention for sure. But it's not what you would call ethical.
The second was asking a clear question based on the cards, and thus getting the person talking about what was bothering them — then actually helping them based on that information. I realized that the cards and astrology were very powerful tools for asking the right questions, rather than just making statements. In other words, you can ask an accurate question and that's often a lot better for the client than making a potentially accurate statement.
Eventually, I learned to work these two techniques in the opposite order, and built an entire astrological technique on using the chart to make inquiries — which I'll explain soon.
In the process of all this, I was learning a lot about my tools, and about people. If the astrology was interesting, the people were far more so. Working for the hotline was like high-speed, decently paid, midnight astrology boot camp. In all over that winter I must have done  500 readings.
Yet it was strange work, in part because of the diversity of the calls, and in part because I was not accustomed to being so close to the problems that people were facing. And unlike my last project, investigative journalism, I didn't have to prove anything with reams of documents. I merely needed to make contact, listen and offer empathy and insight.
And I didn't have to stick my head inside contaminated air vents and take samples of toxins.
To Be Continued