We'll be keeping track of what we determine to be the most relevant updates on the coronavirus situation. New items will go at the top. If you have something to report — news, science news, or a check-in from your local area — please send to editors@planetwaves.net. Stay in touch and help us out by sharing this resource with others. This blog is published by Chiron Return, a 501(c)(3) nonprofit corporation, which is an affiliate of the Pacifica Radio Network.
This is an archive of the March 2021 entries for the Covid19 news feed. You may return to the current page here.
---
SCMP: Covid-19 vaccine visas risk dividing the world into East vs West 'vaccine blocs' | Added March 31
From South China Morning Post:
As of March 15, travellers to China can enjoy easier visa applications with fewer requirements, but only if they have received Chinese-made Covid-19 vaccines. The lack of international opposition to this and unusually muted diplomatic reactions signal that other countries could be considering similar or even stricter vaccine-specific entry requirements. The danger is that such actions could divide the world into vaccine blocs.
There has been no clear explanation of Beijing's decision, although some reasonable grounds can be inferred, such as consistency with domestic regulatory standards, equal standards for citizens and foreigners, and doctors' familiarity with specific vaccines, which means they are better able to predict and manage effectiveness and side effects.
Some have suggested that Beijing's decision could pressure other countries into approving or deploying Chinese-made vaccines, benefitting China in commercial, diplomatic or scientific prestige terms. While these cannot be ruled that, China will not be alone in entertaining these considerations.
---
Reuters: White House urges for 'second stage' in WHO study of COVID-19 origins | Added March 31
The White House on Tuesday urged the World Health Organization to take additional steps to determine the origins of COVID-19 after a report on the issue failed to meet expectations of the United States and its allies.
---
Human rights lawyer clarifies legal issues surrounding Covid vaccines | Added March 31
The efforts to require every American to be injected with an experimental vaccine for Covid-19 are based on the false notion that vaccination will protect recipients from becoming infected with SARS-Cov-2, the virus that causes Covid-19, or protect them from passing along the infection to other people.
The FDA, the CDC, the NIH and the pharmaceutical companies involved have all stated very clearly that there is no evidence to support this idea.
None of the three experimental Covid-19 vaccines now being distributed in the United States have been demonstrated to protect against infection with or transmission of the virus believed to cause Covid-19 (SARS-CoV-2), or even prevent symptoms of Covid-19 disease from developing.
This fact is indisputable, yet media, medical providers, and politicians continue to repeat the lie that vaccination provides "immunity to Covid" and even sources like the Mayo Clinic make irresponsible and unsubstantiated claims that vaccination "might prevent you from getting" or "spreading" Covid-19. The same lies are the basis for President Biden's hard press for mass vaccination to "make this Independence Day truly special."
---
Canadian advisory committee recommends provinces suspend AstraZeneca shots for those under 55 | Added March 31
Canada's National Advisory Committee on Immunization (NACI) is recommending provinces pause the use of the AstraZeneca-Oxford COVID-19 vaccine on those under the age of 55 because of safety concerns — guidance most provinces said today that they would follow.
The change comes following reports out of Europe of very rare instances of blood clots in some immunized patients — notably among younger women.
AND
The European Union's drug watchdog, the European Medicines Agency, has said it could not definitively rule out a link between the vaccine and rare types of blood clots associated with thrombocytopenia.
Specifically, it pointed to 18 cases of an extremely rare type of blood clot called cerebral venous sinus thrombosis (CVST), a condition that is much more common in women than men. Most of the cases occurred within 14 days of receiving the AstraZeneca shot, and the majority were in women under the age of 55.
Dr. Howard Njoo, Canada's deputy chief public health officer, said people who develop stroke-like medical symptoms after receiving the AstraZeneca vaccine — shortness of breath, chest pain, leg swelling, abdominal pain, sudden onset of headaches or blurred vision — should immediately seek medical attention. There is no risk for people who have not developed such symptoms 20 days post-vaccination.
---
Associated Press: MLB to relax virus protocols when 85% on field vaccinated | March 31
Card games, car pools and eating at restaurants may be back in the major leagues later this season. Trips to church and sponsor events may return, too.
Mask use would be dropped from dugouts and bullpens, and electronic tracing devices would be eliminated when 85% of major league players and primary field staff are vaccinated against the coronavirus. Communal clubhouse video would return before and after games. Pool tables would be restored, along with team saunas.
A three-page memorandum from Major League Baseball and the players' association sent to players and staff on Monday and obtained by The Associated Press also stated "all players and staff are strongly encouraged to receive one of the approved COVID-19 vaccines when eligible."
---
AwakenWithJP: 10 Reasons Freedom is Why Freedom is Dangerous | Added March 31
---
White House looks to private sector to develop vaccine-passports | Added March 30
The White House said it expected the private sector to take the lead on verification of COVID-19 vaccines, or so-called vaccine passports, and would not issue a federal mandate requiring everyone to obtain a single vaccination credential.
The Biden administration was reviewing the issue and would make recommendations, White House press secretary Jen Psaki said on Monday, but she added, "We believe it will be driven by the private sector."
Japan is gearing up to issue digital health certificates to citizens who have been vaccinated against the novel coronavirus, joining China, the European Union and others that have adopted similar measures aimed at opening up overseas travel, the Nikkei reported on Saturday.
Psaki said the White House was leading an inter-agency process looking at these issues, and would provide guidance in line with several key principles:
"There are a couple key principles that we are working from. One is that there will be no centralized universal federal vaccinations database, and no federal mandate requiring everyone to obtain a single vaccination credential," she said.
---
Further information on the development of American vaccine-passport program | Added March 30
The Biden administration is working on a vaccine-passport program that would allow people to prove they have received a coronavirus vaccination before entering venues that have been closed during the pandemic, such as offices or movie theatres, The Washington Post and CNN reported.
Five officials, who spoke anonymously, told The Post that the White House is pushing efforts by federal agencies and private companies to develop the program.
Vaccine passports have been widely touted around the world as a way for commerce to start returning to normal while reducing the risk of COVID-19 outbreaks. They could be required for entry to sports arenas, music venues, or restaurants, or to travel internationally.
The passports will likely take the form of a scannable code displayed on smartphones, private developers told The Post, while users without smartphones will be able to print codes onto paper.
---
The 'Unvaccinated' Question | Added March 30
So, the New Normals are discussing the Unvaccinated Question. What is to be done with us? No, not those who haven't been "vaccinated" yet. Us. The "Covidiots." The "Covid deniers." The "science deniers." The "reality deniers." Those who refuse to get "vaccinated," ever.
There is no place for us in New Normal society. The New Normals know this and so do we. To them, we are a suspicious, alien tribe of people. We do not share their ideological beliefs. We do not perform their loyalty rituals, or we do so only grudgingly, because they force us to do so.
We traffic in arcane "conspiracy theories," like "pre-March-2020 science," "natural herd immunity," "population-adjusted death rates," "Sweden," "Florida," and other heresies.
They do not trust us. We are strangers among them. They suspect we feel superior to them. They believe we are conspiring against them, that we want to deceive them, confuse them, cheat them, pervert their culture, abuse their children, contaminate their precious bodily fluids, and perpetrate God knows what other horrors.
---
New York judge rules all state prisoners to be offered vaccine immediately | Added March 30
The state of New York must immediately begin to offer Covid-19 vaccines to all incarcerated people in the state's prisons and jails, a judge ruled on Monday, making the state one of few in the nation to provide doses to such a broad population behind bars.
The order, the first involving any of the country's largest correctional systems, comes as the coronavirus continues to roar through facilities in New York. At least 1,100 people living behind prison walls have tested positive for the virus since the start of last month, and five have died.
But even as corrections staff and many other groups, including some who live in close-contact settings like group homes and homeless shelters, have gained access to the vaccines in recent weeks, most incarcerated people in New York have remained ineligible to receive doses.
Justice Alison Y. Tuitt of State Supreme Court in the Bronx wrote in her ruling on Monday afternoon that people in prisons and jails had been arbitrarily left out of the rollout and that doing so was "unfair and unjust" and an "abuse of discretion."
---
NYT: Biden pushes governors to reinstate mask mandates; C.D.C. director warns of 'impending doom.' | Added March 30
President Biden, facing a rise in coronavirus cases around the country, called on Monday for governors and mayors to reinstate mask mandates as the director of the Centers for Disease Control and Prevention warned of "impending doom" from a potential fourth surge of the pandemic.
The president's comments came only hours after the C.D.C. director, Dr. Rochelle Walensky, appeared to fight back tears as she pleaded with Americans to "hold on a little while longer" and continue following public health advice, like wearing masks and social distancing, to curb the virus's spread. The nation has "so much reason for hope," she added.
"But right now," she said, "I'm scared."
---
CDC Director warns that she feels 'impending doom' regarding cases | Added March 30
---
Reuters: Britain gives go-ahead to 20-second COVID-19 test, distributor says | Added March 29
A 20-second COVID-19 test will launch in Britain after regulators accepted its registration, the product's distributor said on Friday, heralding a testing system it said could be used in airports, sports venues and businesses.
Rapid tests are seen as a key plank of Prime Minister Boris Johnson's roadmap out of lockdown, but concerns have been expressed about the accuracy of existing lateral flow devices.
The Virolens test, which is made by British start-up iAbra and TT Electronics, has been piloted at Heathrow Airport, and uses swabs of saliva.
---
WaPo: 'Vaccine passports' are on the way, but developing them won't be easy | Added March 29
Public health and ethics experts agreed that the Biden administration needed to strike a careful balance: Encourage shots and support the private-sector initiatives but don't put too much federal emphasis on the looming passports.
"If it became a government mandate, it would go down a dark road very quickly," said Brian C. Castrucci, who leads the Bethesda, Md.-based de Beaumont Foundation, a public health group funding Luntz's research into why some Americans are balking at the vaccine. "It becomes a credential. It becomes a 'needing your papers,' if you will. That could be dangerous — and it could turn off people."
AND
Donald Rucker, who led the health IT office during the Trump administration, said myriad technical issues await the rollout of vaccine credentials, including how they are tracked, whether they are enforced and who pulls together the initial records of which Americans have gotten shots.
Rucker said keeping vaccine credentials could help officials better understand coronavirus vaccination, including possible long-term side effects, if the data is connected with the health information exchanges that states maintain.
"The tracking of vaccinations is not just simply for vaccine passports," Rucker said. "The tracking of vaccinations is a broader issue of 'we're giving a novel biologic agent to the entire country,' more or less."
---
Health officials raise concerns over "shockingly quiet flu season" without considering role of Covid-19 testing, suggest restrictions become a yearly practice | Added March 29
Concerns about the knock-on effects of the shockingly quiet flu season came to the fore earlier this month at a meeting of the Food and Drug Administration's independent vaccine advisory committee. While experts suggested there are lessons to be learned from last year's flu season that could help prevent high flu rates in future years, they also struggled to project what next winter could bring.
"What we asked them during that meeting was, 'Has there ever been a moment like this one?' Where there was very little flu circulating, which one can then make a judgement about what then happened the following year, but this really is unprecedented," said Paul Offit, a vaccine expert at the University of Pennsylvania and a member of the FDA vaccine advisory panel.
AND
Influenza was not the only winter respiratory virus to see low numbers this season. Rates of respiratory syncytial virus were also down, Offit said. The disappearance of winter respiratory viruses is causing health experts to wonder if the Covid-19 mitigation strategies could become a necessary tool to fight them off every year.
"I mean, could we reasonably in a winter month, wear masks just at least when we're outside in large crowds?" Offit said. "Did we learn that or are we willing to, or are we comfortable having hundreds of 1000s of cases of hospitalizations for flu and 10s of 1000s deaths? I suspect the answer is B. We're comfortable with that, we're willing to have that even though we just learned, there's a way to prevent it."
---
OffGuardian: "Making something out of nothing": PCR tests, CT values and false positives | Added March 29
The efficacy of the RT-PCR test used to identify infection by the SARS-CoV-2 virus and "cases" of the Covid-19 disease is widely disputed. In these discussions it is often maintained that the test produces 97% false positives. Reference for that claim is made to a study by a Marseille-based group who communicated their results in a letter to the editor on September 28th, 2020.[1]
The first author is R. Jaafar, so it is hereafter referred to as the Jaafar-paper. It represents an expanded data set compared to an earlier study[2] spearheaded by B. La Scola. This publication is referred to as the La Scola-paper.
In sum, the results presented in the Jaafar-paper do not provide a stand-alone proof for the test producing 97% false positives. The present comment is an attempt to distil the essential conclusions from their data.
---
NYT: Scientists plan to track possible virus spread in vaccinated U.S. college students | Added March 27
Can people immunized against the coronavirus still spread it to others? A new study will attempt to answer the question by tracking infections in vaccinated college students and their close contacts, researchers announced on Friday.
The results are likely to be of intense interest, because they may help determine how careful vaccinated people need to be — whether they can throw away their masks, for example, or must continue to wear them to protect unvaccinated people.
More than 87 million have received at least one dose of a coronavirus vaccine, according to a New York Times database. The Centers for Disease Control and Prevention has advised that fully vaccinated Americans may gather indoors in small groups without precautions, including masks, but should still wear masks in public.
The reason is that it's not yet certain that vaccinated people cannot briefly be infected and transmit the virus. Clinical trials of the vaccines were designed only to assess whether the vaccines prevent serious illness and death. The manufacturers are now collecting information on whether the vaccines can also thwart infections, swabbing volunteers' noses every two weeks.
---
CNBC: Amazon gets FDA authorization for at-home Covid-19 test | Added March 27
Amazon has received authorization from the Food and Drug Administration for a Covid-19 test that it hopes to use to bolster its employee screening program.
The test is being developed by Amazon subsidiary STS Lab Holdco, according to an FDA filing. The test is done via a nasal swab that individuals administer themselves, either under the supervision of a health-care professional or at home.
Amazon plans to use the test among its workforce as part of its Covid-19 preparedness and response program, according to a separate FDA document. Depending on their work schedule, employees may be scheduled for an on-site test or they'll be given a collection kit to administer the test at home, the document states.
It's unclear if Amazon intends to make the test available beyond its workforce or offer it commercially via its online marketplace. Representatives from Amazon didn't immediately respond to a request for comment.
---
474 people charged by Justice Dept. for trying to steal over $569 million in Covid fraud schemes | Added March 27
The Justice Department has charged 474 people over the past year with trying to swipe more than $569 million by using criminal fraud schemes connected to the coronavirus pandemic and seized at least $580 million in civil proceedings, officials announced Friday, demonstrating how taxpayer-funded programs meant to ease the economic burden of the crisis have become susceptible to scammers.
The department said it has seen fraud attempts connected to several government aid programs. The Criminal Division's Fraud Section, for example, has charged at least 120 people in connection with fraud of the Paycheck Protection Program, a taxpayer-subsidized loan program regulated by the Small Business Administration, which has long been of concern because of how program funds were disbursed with relatively little oversight.
The department said it had also seen immense fraud in connection with the Economic Injury Disaster Loans program, and, along with the Secret Service and U.S. attorney's office in Colorado, had seized $580 million of possibly stolen money from that program through administrative procedures. That money, authorities said, is separate from the funds explicitly tied to criminal charges.
Also, the Justice Department said it had found business owners inflating payroll expenses to get Paycheck Protection Program loans larger than what they would have qualified for, as well as "serial fraudsters" reviving defunct corporations or purchasing shell companies with no operations to apply for large loans.
---
NYT: More than two in five American adults reported recent symptoms of anxiety or depressive disorder | Added March 27
The number of American adults reporting recent bouts of anxiety or depression rose significantly between August and February, increasing to more than two in five adults in late January, federal health researchers said on Friday.
The largest increases were among young adults and those who never finished high school, but every demographic group — including all racial and ethnic groups, genders and ages — experienced some increase in symptoms, said Anjel Vahratian, an associate director at the National Center for Health Statistics and the report's lead author.
---
Texas health officials on the lookout for rise in cases — two weeks since full reopening | Added March 27
Over two weeks after Texas eased Covid-19 restrictions, the state has so far not witnessed a surge in new cases: Reported infections continue to decline statewide but have recently shown signs of leveling.
Gov. Greg Abbott lifted a statewide mask mandate and allowed businesses to operate at full capacity, with no limits, starting March 10. "It is now the time to open Texas 100%," the Republican said March 2 as he announced the changes. "State mandates are no longer needed."
On the day restrictions were lifted, the state's seven-day average of confirmed Covid-19 cases was around 4,900, according to a Wall Street Journal analysis of data compiled by Johns Hopkins University. The latest data shows a seven-day average of around 3,400 cases.
---
Angela Merkel apologizes and reverses Germany's Easter lockdown | Added March 26
Angela Merkel has taken the unusual step of issuing a personal apology to the nation as she performed a U-turn on plans to put Germany under a hard lockdown over Easter following a critical backlash.
Addressing the public at a press conference on Wednesday morning, the German chancellor said the plan to close churches and shops over a five-day period had been her mistake, "and mistakes should be called out as such".
The reversal came as Belgium reintroduced strict lockdown measures in response to a surge of new coronavirus infections. The government announced that schools would be closed on Monday and residents would have only limited access to non-essential businesses from Wednesday night. Non-essential shops will remain open but customers will need to book appointments. Hairdressers and beauty salons must close until 25 April.
---
Bloomberg: We Must Start Planning For a Permanent Pandemic | Added March 26
Comments from Eric:
There is no such thing as a "permanent pandemic" !
Has anyone looked up the word "pandemic" lately? It means a novel disease that spreads worldwide. This qualifies on neither case. They are trying to say that one case in Perth is "worldwide."
Most epidemics disappear once populations achieve herd immunity and the pathogen has too few vulnerable bodies available as hosts for its self-propagation. This herd protection comes about through the combination of natural immunity in people who've recovered from infection and vaccination of the remaining population.
In the case of SARS-CoV-2, however, recent developments suggest that we may never achieve herd immunity. Even the U.S., which leads most other countries in vaccinations and already had large outbreaks, won't get there. That's the upshot of an analysis by Christopher Murray at the University of Washington and Peter Piot at the London School of Hygiene and Tropical Medicine.
The main reason is the ongoing emergence of new variants that behave almost like new viruses. A clinical vaccine trial in South Africa showed that people in the placebo group who had previously been infected with one strain had no immunity against its mutated descendant and became reinfected. There are similar reports from parts of Brazil that had massive outbreaks and subsequently suffered renewed epidemics.
That leaves only vaccination as a path toward lasting herd immunity. And admittedly, some of the shots available today are still somewhat effective against some of the new variants. But over time they will become powerless against the coming mutations.
---
Reuters: Pfizer, BioNTech launch COVID-19 vaccine trial in kids under 12 | Added March 26
Pfizer Inc and German partner BioNTech SE began testing their COVID-19 vaccine in children under 12, with hopes of expanding vaccination to that age range by early 2022, the U.S. drugmaker said on Thursday.
The first volunteers in the early-stage trial were given their first injections on Wednesday, Pfizer spokesperson Sharon Castillo said.
The Pfizer/BioNTech vaccine was authorized by U.S. regulators in late December for people age 16 and older. Nearly 66 million doses of the vaccine had been administered in the United States as of Wednesday morning, according to data from the U.S. Centers for Disease Control and Prevention.
The pediatric trial, which will include children as young as 6 months, follows a similar one launched by Moderna Inc last week.
---
Rutgers Uni. to require students to receive Covid-19 vaccine prior to attending school | Added March 26
Rutgers will require students to be vaccinated against COVID-19 to attend classes this fall, the university's president said Thursday.
"In support of Rutgers' commitment to health and safety for all members of its community, the University will be updating its Immunization Requirements for Students to include the COVID-19 vaccine. This health policy update means that, with limited exceptions, all students planning to attend in the Fall 2021 semester must be fully vaccinated," Jonathan Holloway said in an open letter.
Holloway said students will be allowed to apply for medical or religious exemptions. Online-only students will not be required to be vaccinated.
A spokesperson for the university said anyone who refuses to be vaccinated, and does not provide an exemption request, can either move to an online-only program or withdraw.
---
LA Times: All California adults can get COVID-19 vaccine next month | Added March 26
California is dramatically expanding the eligibility for COVID-19 vaccines, offering the shots to virtually all residents 16 and over beginning next month, the state announced Thursday.
Residents who are at least 50 years old can get vaccines starting April 1, and all Californians 16 and up will be eligible starting April 15.
State officials said the dramatic move is based on expected increases in vaccine supply.
"There's not just light at the end of the tunnel; there's bright light at the end of the tunnel," Gov. Gavin Newsom said during a news conference in Santa Ana.
Among those who will become eligible starting next Thursday is Newsom himself.
"I look forward to getting the best shot — and the best vaccine is the next one available," Newsom, 53, said.
---
CDC guidance now says that 3 feet of physical distancing is okay in schools | Added March 26
In light of new data, the US Centers for Disease Control and Prevention on Friday relaxed its physical distancing guidelines for children in schools to recommend most students maintain at least 3 feet of distance. It had previously said schools should try to maintain at least 6 feet of distance between children.
The agency released three new studies on Friday that it says support distancing of 3 feet between students, so long as everyone is wearing a mask and other prevention measures are in place. Another study recently published in the journal Clinical Infectious Diseases found there was no difference in Covid-19 rates between Massachusetts schools that mandated 3 feet of physical distance compared with 6 feet.
---
Corbett Report: Flash Mobs for Freedom | Added March 26
---
WaPo: AstraZeneca says its vaccine is 76 percent effective in an updated company analysis released after earlier challenges of its data | Added March 25
An updated company analysis of the coronavirus vaccine developed by AstraZeneca and the University of Oxford showed that the two-shot regimen was robustly effective — 76 percent at preventing symptomatic illness — according to a news release from the drugmaker late Wednesday.
The finding, only slightly lower than results announced days earlier, underscores that the vaccine being widely used by many countries appears to be a powerful tool to help end the pandemic. No severe cases of illness were reported in study volunteers who received the vaccine. Among people 65 and older, the vaccine was 85 percent effective, the company reported.
The new data may not resolve challenges that the vaccine and the company face in the United States, because repeated missteps have sown confusion and distrust that may result in slower and closer scrutiny of the data.
---
Gov. Cuomo reported to have given family special access to early coronavirus tests | Added March 25
Gov. Andrew M. Cuomo's administration arranged special access to government-run coronavirus testing for members of his family and other influential people as the pandemic swept into New York last year, according to two people with direct knowledge of the matter.
Among those who benefited from the special treatment was the governor's brother, the CNN anchor Chris Cuomo, and his family, who were tested several times in the pandemic's early phase, this person said.
The Cuomo administration decision to, in effect, let well-connected people cut the line to get tested was first reported by The Times Union of Albany and The Washington Post.
---
Woman said to have received Covid nasal swab before leaking spinal fluid from nose | Added March 25
A San Antonio woman is still in shock after she says a Covid nasal swab test went horribly wrong.
"It hurt, it was an immediate instant migraine," says Chari Timm. "I've never had a migraine ever in my life."
Chari was in need of a heart diagnostic test and protocol states she had to test negative for Covid before they could run any tests. She says the swab was inserted in her nose and she instantly felt pain.
"It started from the back of my head and just extend it to the front of my head and my entire brain was an extreme pain," she says. "Instantly fluid just was leaking out of my nose."
Chari was leaking spinal fluid.
A neurologist from Methodist and an ear, nose and throat doctor diagnosed her with pneumocephalus days later.
Pneumocephalus is when there has been a rupture in the dural membrane, or the lining that's around the brain, which allows air to enter the space that's normally occupied by the head.
---
Lockdown One Year On – It doesn't work, it never worked & it wasn't supposed to work | Added March 25
And so we come to March 23rd, and lockdown's first birthday. Or, as we call it here, the longest two weeks in history.
1 year. 12 calendar months. 365 increasingly gruelling days.
It's a long time since "2 weeks to flatten the curve", became an obvious lie. Sometime in July it turned into a sick joke. The curve was flattened, the NHS protected and the clapping was hearty and meaningful.
…and none of it made any difference.
This was not a sacrifice for the "greater good". It was not a hard decision with arguments on both sides. It was not a risk-benefit scenario. The "risks" were in fact certainties, and the "benefits" entirely fictional.
Because Lockdowns don't work. It's really important to remember that.
---
PBS: These 'vaccine hunters' are chasing down appointments for people who need them most | Added March 25
In recent months, an unknown number of vaccine hunters have stepped up to bridge the gap and get more people connected. Some have built websites or Facebook groups where thousands have asked for or offered help to strangers in setting up vaccine appointments — a virtual assembly line of goodwill and civic duty. Others have helped friends and family who are particularly vulnerable to the virus, hoping each appointment and vaccination brings the nation and world one step closer to normal. More than 2,200 people responded to the callout from the PBS NewsHour asking to hear from people who had become defacto vaccine ambassadors. What follows are a handful of the stories we heard.
---
Diagnostics chief of Roche says rapid antigen tests will be less accurate as more become vaccinated, shifting market to PCR tests | Added March 24
Rapid COVID-19 tests that have become a key part of nations' COVID-19 detection strategies will grow less effective as more people get vaccinated, Roche diagnostics chief Thomas Schinecker said on Tuesday.
Rapid antigen tests are reasonably accurate in detecting COVID-19 infections, especially compared to the flu, since viral loads in respiratory passageways are higher, Schinecker said on an investor call.
But that will likely change as shots are rolled out and prevent severe infections with high viral loads, he said.
This could drive future COVID-19 testing business to more-accurate molecular, or PCR, testing. Roche has rapid antigen tests, via its South Korean partner SD Biosensor Inc, as well as its own PCR tests that compete with diagnostics from rivals including Abbott Laboratories.
---
Reality Police | Added March 24
So, according to Facebook and the Atlantic Council, I am now a "dangerous individual," you know, like a "terrorist," or a "serial murderer," or "human trafficker," or some other kind of "criminal." Or I've been praising "dangerous individuals," or disseminating their symbols, or otherwise attempting to "sow dissension" and cause "offline harm."
Actually, I'm not really clear what I'm guilty of, but I'm definitely some sort of horrible person you want absolutely nothing to do with, whose columns you do not want to read, whose books you do not want to purchase, and the sharing of whose Facebook posts might get your account immediately suspended. Or, at the very least, you'll be issued this warning:
[See photo
here
.]
Now, hold on, don't click away just yet. You're already on whatever website you're reading this "dangerous," "terrorist" column on (or you're reading it in an email, probably on your phone), which means you are already on the official "Readers of Mass-Murdering Content" watch-list. So you might as well take the whole ride at this point.
---
U.S. health officials question results from AstraZeneca's vaccine trial, less than a day after they're released — read from The New York Times | Added March 24
Only hours after AstraZeneca announced encouraging news about the effectiveness of its Covid-19 vaccine on Monday, a group of medical experts charged with monitoring the company's clinical trial made a highly unusual accusation: AstraZeneca had essentially cherry-picked data to make its vaccine look better.
The accusation, in a two-page letter sent Monday to the company and federal officials, was a fresh blow to the credibility of a vaccine whose low price and relatively easy storage have made it critical to the global fight against the pandemic.
The private letter, which was described by people who have read it, castigated AstraZeneca for jeopardizing the integrity of a closely watched clinical trial.
"Decisions like this are what erode public trust in the scientific process," the board wrote.
The letter prompted the National Institute of Allergy and Infectious Diseases to issue a sharply worded statement shortly after midnight on Tuesday, making public the panel's concerns.
---
With death toll increasing for those vaccinated, clinical trials with babies begin | Added March 24
If early statistics are any indication, we are facing the greatest public health calamity in modern history. No, I'm not talking about a third, fourth or fifth wave of COVID-19. I'm talking about the current vaccination campaign. I have no doubt that deaths caused by COVID-19 vaccines will end up far exceeding the number of actual COVID-19 deaths.
The greatest tragedy here is that while COVID-19 kills already unhealthy elderly individuals who are just years from their natural death, the vaccines are killing the young and healthy who typically have many more decades to live. From my perspective, there's simply no justification for this. There's no "greater good" argument that can ever make this type of tradeoff OK.
Equally unjustifiable is the fact that death within months of a positive SARS-CoV-2 test was automatically pegged as a COVID-19 death, whereas death within days or even hours of the vaccine is shrugged off as coincidental, no matter how many times it happens. It is reprehensibly inexcusable the way these deaths are being attributed.
Now, these experimental gene therapy "vaccines" are being tested on young children and even babies as young as 6 months old, the ramifications of which are wholly unknown.
---
Lancaster, PA schools cancel in-person classes early Monday morning due to recently vaccinated teachers experiencing side effects | Added March 24
From Pennsylvania Real Time News:
A large number of staff members in the School District of Lancaster are experiencing side effects from their COVID-19 vaccination, prompting a last-minute switch to a virtual instruction day.
The school district made the announcement Monday morning that all students in sixth through 12th grades will be learning virtually today.
"Many of our staff were vaccinated this weekend and are experiencing side effects," district officials wrote on the school's Facebook page. "We apologize for the late notice."
The notice was posted around 6:45 a.m., prompting some parent complaints that they had already prepared their children for school.
---
Irish Independent: Swine-flu vaccine side-effects so bad 'that children were like schizophrenics' | Added March 24
Children who developed narcolepsy after being given the swine flu vaccine were affected by such serious sleep-disorder related conditions that some were initially thought to be suffering from schizophrenia.
The revelation came as the solicitors acting for two-thirds of those now suing the State over having received the controversial vaccine Pandemrix warned that a redress scheme was simply not enough and that full accountability was required for what happened.
In severe cases, sufferers can fall asleep at any time – when they are eating, sitting watching TV or even while working in a school classroom.
Many suffer from cataplexy – loss of muscle tone – causing them to collapse like a puppet when experiencing extreme emotions. They also suffer from sleep paralysis, rendering them unable to move while they experience hallucinations.
In many cases, the severity of these dreams and nightmares, and their understandable consequences for young people, led doctors to suspect a form of schizophrenia before narcolepsy was finally diagnosed.
Solicitors Michael Boylan and Gillian O'Connor warned that those patients who developed narcolepsy from Pandemrix now suffered from a life-long condition.
---
Germany extends lockdown; citizens asked to stay home during Easter | Added March 23
German Chancellor Angela Merkel and state governors agreed to extend lockdown measures, asking Germans to stay home for five days during Easter holidays, in an effort to tame a spike in coronavirus cases.
The extension will last until April 18, according to the Reuters news agency, which cited the chancellor's statement after an overnight meeting with the heads of Germany's 16 states. Holy Week begins on Sunday.
Germany is the latest nation in Europe to tighten restrictions as more contagious virus variants spread and the continent struggles to vaccinate its citizens quickly enough. Poland, Italy and parts of France have ordered that residents stay home and many businesses have shut as Holy Week and Easter approach next week.
---
Georgian nurse dies after AstraZeneca vaccine; country moves to limit its use | Added March 23
Georgia's health ministry said after the death of a 27-year-old nurse that coronavirus vaccinations with the AstraZeneca shot would continue only in full-fledged medical centres, the TASS news agency reported on Friday.
The Interior Ministry also said it had opened an investigation after the nurse who had the AstraZeneca vaccine and suffered an anaphylactic shock died on Friday, the RIA news agency reported.
---
New coalition backed by Amazon Care and Intermountain lobbies for at-home care policy changes | Added March 23
The telehealth boom has made one thing clear: The era of health care provided exclusively within the confines of a clinic or hospital is over.
In the hopes of making the shift to virtual care more permanent, Washington, D.C.-based lobbying firm Sirona Strategies formed a coalition earlier this month called Moving Health Home. The organization's 10 members include virtual-first care company Amazon Care, hospital chains Ascension and Intermountain Health, and risk-based senior care group Landmark Health. Together, they plan to advocate for a suite of policy changes that would widen access to at-home care — and allow providers to be reimbursed more readily for those services.
---
The Guardian: Doctors suggest Covid-19 could cause diabetes — calls for an investigation | Added March 23
A cohort of scientists from across the world believe that there is a growing body of evidence that Covid-19 can cause diabetes in some patients.
Prof Francesco Rubino, from King's College London, is leading the call for a full investigation into a possible link between the two diseases. Having seen a rise in both type 1 and type 2 diabetes in people who have caught coronavirus, some doctors are even considering the possibility that the virus ‒ by disrupting sugar metabolism ‒ could be inducing an entirely new form of diabetes.
Rubino first realised the possibility of a link during a tea party with colleagues over Zoom where anecdotal cases were being exchanged.
---
WSJ: Scientists Say They Found Cause of Rare Blood Clotting Linked to AstraZeneca Vaccine | Added March 23
Scientists in Europe said they had identified a mechanism that could lead the AstraZeneca PLC vaccine to cause potentially deadly blood clots in rare instances as well as a possible treatment for it.
Two teams of medical researchers in Norway and Germany have independently found that the vaccine could trigger an autoimmune reaction causing blood to clot in the brain, which would offer an explanation for isolated incidents across Europe in recent weeks.
---
NYT: The W.H.O. and the head of the European Commission urge countries to keep using AstraZeneca vaccines, arguing benefits outweigh risks | Added March 23
The World Health Organization and the head of the European Commission urged European countries to use the AstraZeneca coronavirus vaccine and expressed confidence that it was safe, as investigations continue into unusual cases of side effects that led several countries to pause administering the shots.
The head of the W.H.O.'s vaccines department, Dr. Kate O'Brien, said cases of blood clots reported among millions of Europeans who have received the AstraZeneca vaccine were rare. And, she said, it was not unusual that some of those vaccinated should suffer blood clots resulting from other health conditions. No causative link has yet emerged between the vaccine and blood clots or severe bleeding.
"At this point the benefit-risk assessment is to continue with vaccination," Dr. O'Brien said, repeating the responses both organizations have offered as some member countries have paused administering doses of the AstraZeneca vaccine following some reports of fatal brain hemorrhaging, blood clots and unusual bleeding in a handful of people who received it.
---
Politico: Vaccine passports pose ethical thicket for Biden administration | Added March 22
The White House says the government shouldn't issue the credentials or store the data.
States, airlines and tech companies are pressuring the Biden administration to develop a federal standard for vaccine passports — a policy that could speed the economic recovery but might also discriminate against disadvantaged groups and jeopardize privacy.
Digital credentials showing proof of a person's Covid-19 test results and vaccination status are rapidly being embraced as a tool to redesign workplaces and jump start travel and tourism. New York State is trying out an "Excelsior Pass" to fast track reopening theaters and venues like Madison Square Garden. Hawai'i is developing a version that would let visitors skip the state's mandatory 10-day quarantine.
But without White House involvement, industry leaders say they'll be left with a confusing patchwork of unregulated and unreliable tracking tools that could invite fraud and raise troubling questions about risk and fairness.
---
Reuters special report on school closings and student mental health | Added March 22
A few weeks after San Francisco's school district moved to remote learning last year in hopes of halting the spread of the coronavirus, Kate Sullivan Morgan noticed her 11-year-old son was barely eating. He would spend days in bed staring at the ceiling.
The mother formed a pod with three other families so the students could log on to their online classes together. That helped, but her eldest remained withdrawn and showed little interest in his hobbies, such as playing piano and drawing. Then her younger son, then 8, started to spiral down.
"He would scream and cry multiple times per hour on Zoom," she said. "It was all really scary and not in keeping with his personality." She scaled back her job as a healthcare regulatory attorney to be there for her sons.
In December, with schools in San Francisco still closed, the family packed up and moved more than 1,700 miles, to Austin, Texas, so the children could attend school in person. "Kids are resilient, but there is a breaking point," Sullivan Morgan said.
With schools nationwide locked down amid the COVID-19 pandemic, the mental health consequences on students have come into a sharp focus.
---
The Atlantic: Don't Be Surprised When Vaccinated People Get Infected | Added March 22
It's hard to know when exactly the first cases appeared. But certainly by January's end, a slow trickle of post-vaccination infections had begun in the United States. They arose in the West, making headlines in Oregon; they sprouted in the Midwest and the South. Some of the latest reports have come out of Florida, Texas, and Hawaii. These breakthrough cases—discovered in people more than two weeks after they received their final COVID-19 shot—will continue to grow in number, everywhere. And that's absolutely no cause for concern.
Breakthrough infections, which occur when fully vaccinated people are infected by the pathogen that their shots were designed to protect against, are an entirely expected part of any vaccination process. They're the data points that keep vaccines from reaching 100 percent efficacy in trials; they're simple proof that no inoculation is a perfect preventative. And so far, the ones found after COVID-19 vaccination seem to be unextraordinary.
Since mid-December, when the rollout of the newly authorized vaccines began, nearly 40 million Americans have received the jabs they need for full immunization. A vanishingly small percentage of those people have gone on to test positive for the coronavirus. The post-shot sicknesses documented so far seem to be mostly mild, reaffirming the idea that inoculations are powerful weapons against serious disease, hospitalization, and death. This smattering of cases is a hazy portent of our future: Coronavirus infections will continue to occur, even as the masses join the ranks of the inoculated. The goal of vaccination isn't eradication, but a détente in which humans and viruses coexist, with the risk of disease at a tolerable low.
When breakthrough cases do arise, it's not always clear why. The trio of vaccines now circulating in the United States were all designed around the original coronavirus variant, and seem to be a bit less effective against some newer versions of the virus. These troublesome variants have yet to render any of our current vaccines obsolete. But "the more variants there are, the more concern you have for breakthrough cases," Saad Omer, a vaccine expert at Yale, told me. The circumstances of exposure to any version of the coronavirus will also make a difference. If vaccinated people are spending time with groups of unvaccinated people in places where the virus is running rampant, that still raises their chance of getting sick. Large doses of the virus can overwhelm the sturdiest of immune defenses, if given the chance.
---
CHD: Data Leak Shows Regulators Had Major Concerns About Pfizer's mRNA Vaccine | Added March 22
From Children's Health Defense:
Leaked documents show that some early commercial batches of Pfizer-BioNTech's COVID-19 vaccine had lower than expected levels of intact mRNA, prompting wider questions about how to assess this novel vaccine platform.
As it conducted its analysis of the Pfizer-BioNTech COVID-19 vaccine in December, the European Medicines Agency (EMA) was the victim of a cyberattack. More than 40 megabytes of classified information from the agency's review were published on the dark web, and several journalists — including from The BMJ — and academics worldwide were sent copies of the leaks. They came from anonymous email accounts and most efforts to interact with the senders were unsuccessful. None of the senders revealed their identity, and the EMA says it is pursuing a criminal investigation.
The BMJ has reviewed the documents, which show that regulators had major concerns over unexpectedly low quantities of intact mRNA in batches of the vaccine developed for commercial production.
EMA scientists tasked with ensuring manufacturing quality — the chemistry, manufacturing and control aspects of Pfizer's submission to the EMA — worried about "truncated and modified mRNA species present in the finished product." Among the many files leaked to The BMJ, an email dated Nov. 23 by a high ranking EMA official outlined a raft of issues. In short, commercial manufacturing was not producing vaccines to the specifications expected, and regulators were unsure of the implications. EMA responded by filing two "major objections" with Pfizer, along with a host of other questions it wanted addressed.
---
NPR: Tanzanian President John Magufuli, A COVID-19 Skeptic, Has Died | Added March 22
Tanzanian President John Magufuli has died at age 61. The news was announced Wednesday on state television by Vice President Samia Suluhu Hassan, who said the cause of death was heart failure.
Magufuli was a prominent skeptic of the coronavirus. He had not been seen in public since the end of February, fueling speculation he was ill and possibly incapacitated.
AND
Magufuli's main political rival, Tundu Lissu, has alleged that the president was suffering from COVID-19. Lissu said Wednesday, "This is a president whose denial of COVID-19, whose attempts to cover it up, whose adamant refusal to take any action to combat the pandemic, who has thumbed his nose to the world, refused any international or regional cooperation to deal with COVID-19 and now he goes down with COVID-19 — that is poetic justice to me."
---
WSJ: Scientists Say They Found Cause of Rare Blood Clotting Linked to AstraZeneca Vaccine | Added March 22
Scientists in Europe said they had identified a mechanism that could lead the AstraZeneca PLC vaccine to cause potentially deadly blood clots in rare instances as well as a possible treatment for it.
Two teams of medical researchers in Norway and Germany have independently found that the vaccine could trigger an autoimmune reaction causing blood to clot in the brain, which would offer an explanation for isolated incidents across Europe in recent weeks.
Several European countries briefly halted their rollouts of the vaccine this week after more than 30 recipients were diagnosed with the condition known as cerebral venous sinus thrombosis, or CVST. Most of the people affected were women under the age of 55.
The issue affected a tiny portion of those who had received the shot, however, and after investigating, the European drugs regulator ruled that the benefits outweighed the potential risks of the vaccine, and recommended vaccinations resume.
---
Founder of BioNTech looks to treat cancer with mRNA technology | Added March 20
The co-founder of German company BioNTech, which successfully delivered the first widely distributed coronavirus vaccine, said that the mRNA technology it used will soon be put to work tackling cancer.
Özlem Türeci, who started BioNTech alongside her husband, said in an interview with The Associated Press that she had been working to use the body's immune system to combat cancer tumors before the coronavirus pandemic stopped the world.
"We have several different cancer vaccines based on mRNA," Türeci, who is also BioNTech's chief medical officer, told the AP.
The coronavirus vaccine made by BioNTech and Pfizer, the AP noted, uses messenger RNA, or mRNA, to deliver instructions to the body to make proteins that will alert it to attack a certain virus. The same technology can in theory be used for cancer tumors.
---
CNN: The Covid-19 pandemic almost didn't happen, a new genetic dating study shows | Added March 20
The coronavirus pandemic almost didn't happen, a new study shows.
Researchers working to show when and how the virus first emerged in China calculate that it probably did not infect the first human being until October 2019 at the very earliest. And their models showed something else: It almost didn't make it as a pandemic virus.
Only bad luck and the packed conditions of the Huanan seafood market in Wuhan — the place the pandemic appears to have begun — gave the virus the edge it needed to explode around the globe, the researchers reported in the journal Science.
"It was a perfect storm — we know now that it had to catch a lucky break or two to actually firmly become established," Michael Worobey, a professor of evolutionary biology at the University of Arizona who worked on the study, told CNN.
---
Vice News sings the praises of immortal cell lines used in Covid vaccine development | Added March 20
Got vaccinated? Depending on which vaccine you received, you might have aborted human fetuses, monkey kidneys or hamster ovaries—and a large dose of science—to thank.
The development and production of the life-saving vaccines require the descendants of some special cells that were extracted and developed in laboratories decades ago.
Compared with primary cells taken directly from tissues, so-called cell lines have been multiplied in laboratories for generations. While most cells die after several divisions, these immortal cell lines can proliferate indefinitely due to natural or induced mutations.
These cell lines are commonly used in scientific research and drug development because they are easy to obtain and can be grown into large quantities.
---
France goes back into another lockdown amid 'third wave' of virus | Added March 20
France imposed a month-long lockdown on Paris and parts of the north after a faltering vaccine rollout and spread of highly contagious coronavirus variants forced President Emmanuel Macron to shift course.
Since late January, when he defied the calls of scientists and some in his government to lock the country down, Macron has said he would do whatever it took to keep the euro zone's second largest economy as open as possible.
However, this week he ran out of options just as France and other European countries briefly suspended use of the AstraZenca vaccine.
His prime minister, Jean Castex, said France was in the grip of a third wave, with the virulent variant first detected in Britain now accounting for some 75% of cases. Intensive care wards are under severe strain, notably in Paris where the incidence rate surpasses 400 infections in every 100,000 inhabitants.
"The epidemic is getting worse. Our responsibility now is to not let it escape our control," Castex told a news conference.
---
To save the summer tourist season, travel certificates are proposed in Europe | Added March 20
The European Union proposed a Covid-19 certificate on Wednesday that would allow people to travel more freely, a move aimed at saving the summer tourist season for member states that depend on it economically.
The proposed document, known as a Digital Green Certificate, would allow residents of member nations to travel at will within the bloc if they have proof of Covid-19 vaccination, a negative test result or a documented recovery from the coronavirus.
The certificates would be free and would be available in digital or paper format.
"The Digital Green Certificate will not be a precondition to free movement, and it will not discriminate in any way," said Didier Reynders, the bloc's top official for justice, adding that the aim was to "gradually restore free movement within the E.U. and avoid fragmentation."
---
National Geographic: Regulators declare the AstraZeneca vaccine safe | Added March 20
Regulators in the United Kingdom, the European Union, and the World Health Organization are moving quickly to restore faith in the AstraZeneca COVID-19 vaccine after reports of fatal blood clots briefly halted vaccinations in several European countries. The experts reassured the public that the vaccine was safe, and there was no indication that these severe blood clots had been caused by the shot.
But public health experts worry that it will be hard to restore shaken confidence in the vaccine's safety at a crucial stage of the pandemic. New infections are rising again in many European countries driven by new variants; the continent recorded more than 1.2 million new cases last week. Further disruptions in vaccinations could cost more lives.
"Once you scare people, it's hard to unscare them, so we need a careful review of these cases," says Paul Offit, a physician and director of the Vaccine Education Center at Children's Hospital of Philadelphia, who is also a professor of vaccinology at the Perelman School of Medicine at the University of Pennsylvania. "Sometimes, things occur in clusters and are meaningless. So we need to put this in context."
---
The First Year: Medical Doctors and Research Scientists Speak About Covid and SARS-CoV-2 on Planet Waves FM
Early in the Covid crisis, I said that it was difficult to get good sources for this story, because so few people were willing to go on the record. But knowledge is power, and the more I learned, the better sources I developed. And as my sources improved in quality and stature, so too did my guests on Planet Waves FM. Not bad for an astrology podcast! Please support our efforts to get to the bottom of this issue and bring you the truth. Thank you. — Eric Francis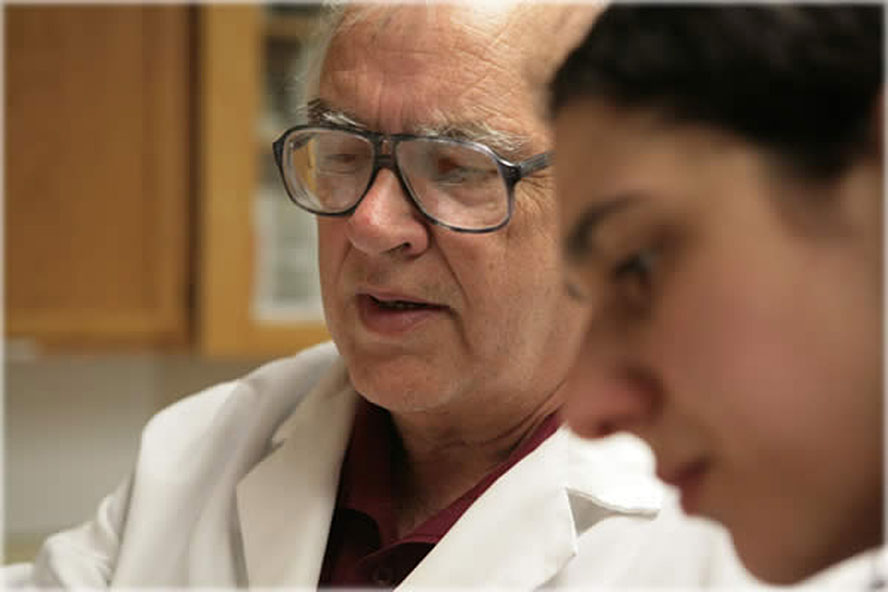 Ward B. Stone, who for 40 years served as New York State's venerated wildlife pathologist, pictured here with Planet Waves reporter Genevieve Salerno, in his laboratory in Delmar, NY, 2008. Photo by Eric Francis.
On March 18, 2020, just five days after the national emergency was declared, my guest was Dr. Ward B. Stone, the venerated former New York State Wildlife Pathologist, whom I knew from previous tours of duty covering PCBs and dioxins. Dr. Stone, the first to identify West Nile Virus in the United States, discussed the zoonotic theory of viral origin, though admitted he had to leave open the slight possibility of lab release.
On April 19, 2020, we hosted Stephanie Seneff, Ph.D., a Senior Research Scientist at MIT's Computer Science and Artificial Intelligence Laboratory in Cambridge, Massachusetts; and Jennifer Margulis, Ph.D. is an award-winning journalist, Fulbright grantee, and sought-after speaker. We discussed their original research leading to their hypothesis that Roundup exposure by way of biofuel was involved in early case clusters. They said more testing was necessary.
On May 10, 2020, we featured an interview with Dr. Judy Mikovits, who described the process of vaccine manufacture and how coronaviruses infiltrate and contaminate routinely sold products like the seasonal flu shot. A former researcher for the National Institutes of Health, her repertoire involves work in AIDS and also mouse viruses associated with autoimmune disorders. She has exposed the disgusting practice of making vaccines with fetal calf blood serum.
---
CHD: 20+ Countries Suspend Use of AstraZeneca Vaccine, But Regulators Insist 'Benefits Outweigh Risks' | Added March 19
From Children's Health Defense:
More than 20 countries have either suspended or said they will delay Oxford-AstraZeneca vaccinations based on reports of deaths or injuries — in most cases related to blood clots — in healthy people who received the vaccine.
Prosecutors in Northern Italy announced Monday they had seized a batch of 393,600 shots of the AstraZeneca COVID vaccine following the death of a 57-year-old man hours after he was vaccinated, reported Reuters.
Meanwhile the World Health Organization (WHO) is standing firm in its support of the vaccine. In a press conference today, WHO Director General Tedros Adhanom Ghebreyesus said, "This does not necessarily mean these events [deaths and injuries] are linked to the vaccine, but it's routine practice to investigate them, and it shows that the surveillance system works and effective controls are in place."
According to news reports, WHO's vaccine safety experts were meeting today to discuss the vaccine. WHO had previously said that an ongoing analysis by its vaccines advisory committee has not established a causal link between the vaccine and blood clots and countries should keep using it, reported The Telegraph.
---
Meanwhile in Canada — use of AstraZeneca vaccine expanded to seniors | Added March 19
Canada has expanded its rollout of Oxford-AstraZeneca's coronavirus vaccine, reversing an earlier recommendation that it not to be given to seniors, even as more European nations moved to suspend its use.
Citing recent real-world evidence from the United Kingdom, a Canadian expert advisory panel on Tuesday updated its recommendation on the vaccine to now include people over age 65.
The recommendation by the National Advisory Committee on Immunization (NACI) can be used by leaders of Canada's provinces and territories to decide how best to deploy the vaccine. The nation's health regulator had authorized the AstraZeneca vaccine for widespread use in late February, though until now the NACI did not recommend it for people 65 and older due to what it called an insufficient amount of evidence for that age group.
---
OffGuardian: When it comes to vaccines, suddenly "from vs with" matters again | Added March 19
In the last few weeks the media has demonstrated one of the clearest, most concise displays of true-life doublethink I've ever seen. It truly is the perfect exemplar.
The dichotomy is in "covid deaths" vs "vaccine related injuries".
As we all know by now, countries all around the world define "Covid deaths" as "people who die, of any cause, within 30 days of a positive test result" (the number of days changes by country, it's usually between 28 and 60). This trend was started in Italy last spring, and spread all around the world.
Globally, with a few notable exceptions, a "covid death" is a death "from any cause" following a positive test.
And when they say "any cause", they mean it. Up to, and including, shooting yourself in the head.
In one blackly hilarious case, a man "died of coronavirus" after being shot by the police, with his 7 gunshot wounds being listed as "complications".
That's how loosely defined "covid death" has become, it is more or less meaningless. However, Covid "vaccines", and possible related injuries or deaths, are a very different matter.
---
As of Tuesday, Mississippi vaccine eligibility is now open to all adults | Added March 19
Mississippi will become the second state to open Covid-19 vaccinations to all of its adult residents, following a call from President Biden for all states to do so by May 1.
Alaska opened its vaccination doors last week to anybody 16 or older who lives or works in the state. The change in Mississippi takes effect Tuesday.
"Get your shots, friends," Gov. Tate Reeves announced on Twitter. "And let's get back to normal!"
The pace of vaccinations in the United States has steadily increased as production has ramped up, from well under one million shots per day on Jan. 20, when Mr. Biden took office, to about 2.4 million doses per day on average, according to a New York Times database.
---
Woman rejects mask at a Texas bank — warrant issued for her arrest | Added March 19
An arrest warrant was issued for a woman who refused to wear a mask at a Texas bank, saying to a police officer: "What are you going to do, arrest me?"
Police have issued a warrant for the arrest of Terry Wright, 65, of Grants Pass, Oregon. The incident on Thursday at a Bank of America in Galveston was captured by the officer's body camera, The Galveston County Daily News reported.
Police say they've obtained an arrest warrant on resisting arrest and criminal trespassing charges.
Texas Gov. Greg Abbott on Wednesday ended statewide orders requiring people to wear face masks in public places, declaring that businesses should decide for themselves what COVID-19 precautions to take on their properties. Many businesses have kept their own mask rules in place.
Police said a bank manager called police after Wright refused to wear a mask while inside, and then refused to leave the building when asked.
---
SCMP: China research team finds 24 new bat coronaviruses within 2km radius | Added March 19
From South China Morning Post:
The search for the origin of the novel coronavirus behind the Covid-19 pandemic has turned up surprising results for an international team of scientists, according to a non-peer reviewed paper published on Monday.
The researchers found 24 previously unknown bat coronaviruses – four of them related to the strain which causes Covid-19 – all within a radius of less than 4km in southwestern China. One virus carried "a genomic backbone arguably the closest to SARS-CoV-2 identified to date", the research paper said, but none appeared to be a direct ancestor of the coronavirus responsible for the pandemic.
---
Some long-haul covid-19 patients say their symptoms are subsiding after getting vaccines — read from The Washington Post | Added March 19
Arianna Eisenberg endured long-haul covid-19 for eight months, a recurring nightmare of soaking sweats, crushing fatigue, insomnia, brain fog and muscle pain.
But Eisenberg's tale has a happy ending that neither she nor current medical science can explain. Thirty-six hours after her second shot of coronavirus vaccine last month, her symptoms were gone, and they haven't returned.
"I really felt back to myself," the 34-year-old Brooklyn therapist said, "to a way that I didn't think was possible when I was really sick."
Some people who have spent months suffering from long-haul covid-19 are taking to social media to report their delight at seeing their symptoms disappear after their vaccinations, leaving experts chasing yet another puzzling clinical development surrounding the disease caused by the coronavirus.
---
Here's a gem from KCRA: 'Don't freak out about 'weird' COVID-19 vaccine side effects. They may actually be a good sign' | Added March 19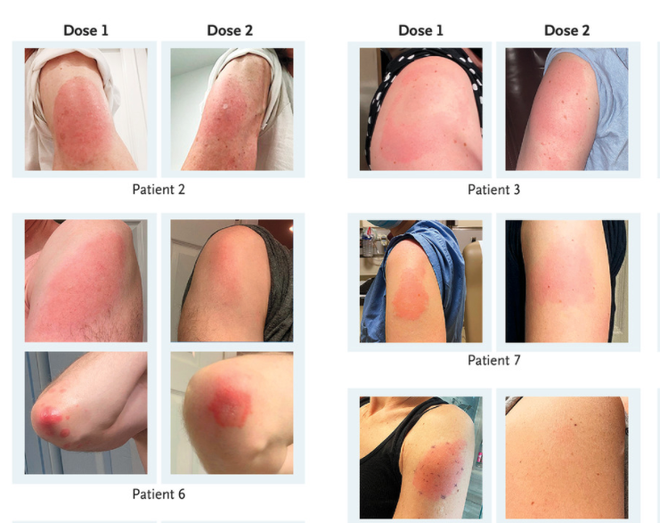 Dr. Peter Chin-Hong wants people to stop worrying so much about the myriad reports of side effects after getting the COVID-19 vaccine.
Chin-Hong, a professor of medicine at UCSF and the director of the school's immunocompromised host infectious diseases program, is concerned that people are paying too much attention to the side effects of the shot.
"Everybody's getting vaccinated now on such an unprecedented level," he told SFGATE, "so with a large population, you're going to see different things in different people. And then people are very keyed in to any side effect that occurs, so they're going to report it. And I think people are tuned in to that."
The numbers of people affected by adverse side effects are minuscule. An early Centers for Disease Control and Prevention report of the Pfizer vaccine rollout noted that of more than 1.8 million Americans who got the vaccine, only 4,300 total reported adverse effects. (That's one-fifth of a percent of the people who got doses.)
For clarity's sake, he's split the various side effects from the immunization into four categories: severe allergic reactions; less-severe, more common vaccine reactions, such as fever, fatigue, soreness, aches; "weird stuff"; and the ones that haven't been linked to the vaccine, like heart attacks and death. Common vaccine symptoms aren't anything to worry about, nor are the ones linked to misinformation about the vaccine. (Individuals with a history of allergic reactions to vaccines should speak to a physician before getting the shot.)
But Chin-Hong understands the "weird stuff" may be worrisome to most people. By "weird stuff," he's referring to the unexpected side effects that have emerged in recent weeks as the efforts to inoculate more people have ramped up.
That includes the so-called "Moderna arm," in which the New England Journal of Medicine found that some folks have reported a large, itchy rash at the injection site after getting the Moderna shot, and lymph node swelling, which has inadvertently resulted in concerns over swelling and lumps in the breast area.
Chin-Hong has also seen a phenomenon in which people with facial and lip fillers may get swelling at the site of the fillers after getting a vaccine.
These "weird" side effects may certainly sound worrisome. But none of them, he says, are a cause of concern.
---
Vaccinated woman reportedly passed on Covid antibodies to her newborn baby | Added March 18
A woman in south Florida who had received one dose of coronavirus vaccine while pregnant recently gave birth to the first known baby born with Covid-19 antibodies "after maternal vaccination", two pediatricians claimed.The doctors presented their finding in a preprint article, meaning this claim has yet to be peer-reviewed.
Drs Paul Gilbert and Chad Rudnick said the mother, a frontline healthcare worker, received her first dose of the Moderna vaccine in January, at 36 weeks pregnant.
The woman gave birth to a "vigorous, healthy" girl three weeks later. Researchers analyzed blood from the baby's umbilical cord and antibodies "were detected … at time of delivery", their paper said. "Thus, there is potential for protection and infection risk reduction from Sars-CoV-2 with maternal vaccination."
"To our knowledge, this was the first in the world that was reported of a baby being born with antibodies after a vaccination," Gilbert told the West Palm Beach ABC affiliate. "We tested the baby's cord to see if the antibodies in the mother passed to the baby, which is something we see happen with other vaccines given during pregnancy."
---
NYT: Moderna begins testing its vaccine in babies and young children | Added March 18
The drug company Moderna has begun a study that will test its Covid vaccine in children under 12, including babies as young as six months, the company said on Tuesday.
The study is expected to enroll 6,750 healthy children in the United States and Canada. Moderna declined to say how many had already signed up or received the first shots, according to a spokeswoman, Colleen Hussey.
"There's a huge demand to find out about vaccinating kids and what it does," said Dr. David Wohl, the medical director of the vaccine clinic at the University of North Carolina, who is not involved the study.
---
Donald Trump encourages Americans to go get vaccinated during Fox News interview| Added March 18
Former President Donald Trump on Tuesday recommended Americans get vaccinated to help fight the Covid pandemic, engaging on the issue after months of relative silence.
"I would recommend it," Trump said during an interview on Fox News with Maria Bartiromo. "And I would recommend it to a lot of people that don't want to get it and a lot of those people voted for me, frankly. But again, we have our freedoms and we have to live by that and I agree with that also. But it is a great vaccine. It is a safe vaccine and it is something that works."
Trump's direct appeal to Americans comes as some of his own supporters have exhibited skepticism about taking the coronavirus vaccine. Experts say his endorsement of vaccinations could help alleviate some of that skepticism.
---
Seattle wonders where flu mysteriously went | Added March 18
As its name suggests, the Seattle Flu Study was designed to monitor the virus that rolls in like clockwork every fall, trailing misery in its wake. But this season — for the first time — there hasn't been much to track.
Out of the more than 17,000 specimens the team has analyzed, fewer than a dozen tested positive for influenza. Dr. Helen Chu, a study leader and UW Medicine virologist, had to cancel a study on flu treatment in homeless shelters because there was no flu.
"In the last two decades, I've never seen anything like this," she said.
Nationwide, the Centers for Disease Control and Prevention says this has been the lowest flu season on record. Washington, which averages about 160 confirmed flu deaths a year, has recorded none.
And it's not just flu that's absent.
Chu and her colleagues test for 27 respiratory pathogens, and nearly all have been close to nonexistent.
---
White House launching $1.5 billion vaccine ad campaign targeting 'young Americans, people of color, and political conservatives' | Added March 18
The White House will soon launch a major $1.5 billion public relations campaign to promote COVID-19 vaccination and ease the concerns of Americans who are skeptical or hesitant to get their shots, STAT News reports.
The effort, which will kick of "within weeks," will use TV, radio, and digital means to target young Americans, people of color, and Republicans who may be more likely to be hesitant or ambivalent about getting vaccinated, the outlet said.
The campaign will also educate Americans on where and how they can get vaccinated, and is expected to deploy celebrities and "trusted local officials" who some Americans may trust more than messengers from the Biden administration.
The White House declined to specify any further when the effort will be launched in response to an inquiry from Insider.
---
SCMP: China research team finds 24 new bat coronaviruses within 2km radius | Added March 18
From South China Morning Post:
The search for the origin of the novel coronavirus behind the Covid-19 pandemic has turned up surprising results for an international team of scientists, according to a non-peer reviewed paper published on Monday.
The researchers found 24 previously unknown bat coronaviruses – four of them related to the strain which causes Covid-19 – all within a radius of less than 4km in southwestern China. One virus carried "a genomic backbone arguably the closest to SARS-CoV-2 identified to date", the research paper said, but none appeared to be a direct ancestor of the coronavirus responsible for the pandemic.
---
LA Times: Biden looks to 'shots in arms and money in pockets' to reignite faith in government | Added March 17
The primary goal of the week's events, Press Secretary Jen Psaki said Monday, is to explain to Americans "how they can benefit from the package" that Biden signed into law on Thursday. "When it's a package of this size, people don't always understand how they benefit," Psaki said.
Politics are never far from the surface in such travels, however, as can be seen by the locales Biden and Harris are scheduled to visit. All four states that one or both will visit have Senate races next year.
The Philadelphia suburbs, where the president is scheduled to be on Tuesday, and Atlanta, where the two are scheduled to hold a joint event on Friday, are areas that helped secure the Democrats' victory in November and remain critical for their hopes of maintaining control of Congress in the midterm elections next year. While those contests remain more than a year and a half away, the COVID-19 package has given the White House an early opportunity to begin cementing voters' loyalty.
Beyond the immediate political goals, Biden has said several times recently that he sees the possibility of a broader change in American attitudes toward government, reversing the decades-long decline in trust that has dominated politics since Ronald Reagan won in 1980.
"We have to prove to the American people that their government can deliver for them," Biden said.
---
Police in UK face scrutiny for using Covid-19 restrictions to forcefully disperse vigil of Sarah Everard | Added March 17
Police in London are facing mounting condemnation and a formal inquiry into the way officers broke up a Saturday vigil for Sarah Everard, a 33-year-old woman who was abducted from a city street in early March and found dead in woodland outside the U.K. capital.
Hundreds of people gathered outside the headquarters of London's Metropolitan Police on Sunday, protesting what they said was the heavy-handed manner in which law enforcement dispersed a gathering the night before and accusing the police force of protecting its own. A police officer has been charged with Ms. Everard's kidnapping and killing.
---
Nazi Healthcare Revived Across the Five Eyes — read from OffGuardian | Added March 17
The ill-conceived `love of thy neighbor' has to disappear, especially in relation to inferior or asocial creatures. It is the supreme duty of a national state to grant life and livelihood only to the healthy and hereditarily sound portion of the people in order to secure the maintenance of a hereditarily sound and racially pure folk for all eternity…"
Dr. Arthur Guett, Nazi Director of Public Health, 1935
The words spoken by Dr. Guett 85 years ago should send shivers down the spine of anyone following the radical transformations of healthcare policy now underway within the Five Eyes zone of influence.
As many people are now aware, embedded within the $1.9 trillion COVID relief package is a $40 billion program to revive and expand the corpse of Obama Care's enrollment protocols and the worst aspects of State directed medical resource allocation for the most vulnerable (and financially burdensome) of society.
While few details have been unveiled beyond a mass expansion of enrollment into the plan on a revived healthcare.gov, several red alarms have been raised which began with the appointment of Obama-care architect Ezekiel Emmanuel to Biden's COVID task force last year and the re-ascendency of hives of cost-cutting behaviorists to positions of power.
Before I proceed, a small disclaimer is in order.
---
Moderna and IBM Plan to Collaborate on COVID-19 Vaccine Supply Chain and Distribution Data Sharing — read from the IBM News Room | Added March 17
Organizations can use the solution to verify health credentials for employees, customers and travelers based on criteria specified by the organization, such as test results, vaccination records and temperature checks.
CAMBRIDGE, Mass. and ARMONK, N.Y., March 4, 2021 /PRNewswire/ — Today, Moderna (Nasdaq: MRNA) and IBM (NYSE: IBM) announced their intentions to explore technologies, including artificial intelligence, blockchain and hybrid cloud, that could help support smarter COVID-19 vaccine management. Central to the effort will be a pilot of open, standardized, technology-enabled vaccine distribution approaches aimed to improve supply chain visibility and foster near real-time tracking of vaccine administration.
The aim is to identify ways technology can be used to help accelerate secure, information sharing between governments, healthcare providers, life science organizations and individuals. In so doing, Moderna and IBM seek to improve confidence in vaccine programs and increase rates of vaccination, thereby reducing community spread.
Initial work is planned to focus on exploring the utility of IBM capabilities in the U.S. including:
Vaccine management solutions that provide end-to-end traceability to address potential supply chain disruptions. The solutions enable governments and healthcare providers to quickly and securely share data regarding individual vaccine batches as they travel through the complex COVID-19 supply chain, from manufacturing facilities to administration sites.
Digital Health Pass, built on blockchain technology, is a solution designed to help individuals maintain control of their personal health information and share it in a way that is secured, verifiable and trusted. Organizations can use the solution to verify health credentials for employees, customers and travelers based on criteria specified by the organization, such as test results, vaccination records and temperature checks.
---
AstraZeneca vaccine: EU regulator 'firmly convinced' benefits outweigh risks — read from BBC | Added March 17
The EU's medicines regulator has said it remains "firmly convinced" that the benefits of the Oxford-AstraZeneca Covid-19 jab outweigh the risks.
It reiterated that there was "no indication" the vaccine causes blood clots, after several leading EU states paused their rollouts.
European Medicines Agency (EMA) head Emer Cooke said the body stood by its decision to approve the vaccine.
An investigation into cases of clots in a handful of recipients is ongoing.
The World Health Organization has urged countries not to halt vaccinations.
---
NPR: Sweden, Venezuela Are Latest Countries To Question AstraZeneca Vaccine | Added March 17
Sweden is the latest European country to suspend the administration of a COVID-19 vaccine made by AstraZeneca following reports of abnormal blood clotting in recipients.
Venezuela on Monday announced it wouldn't authorize use of the vaccine in the country at all following those reports.
The Swedish Public Health Agency said early Tuesday that as a precautionary measure it would suspend use of the Oxford-AstraZeneca COVID-19 vaccine until the European Medicines Agency, or EMA, reveals findings from its ongoing investigation into reports of negative side effects in patients.
The country joins several other European nations including France, Germany, the Netherlands and Ireland that suspended administration of the vaccine this week.
---
Dr. Cowan revisits Koch's postulates | Added March 17
---
NPR: WHO Points To Wildlife Farms In Southern China As Likely Source Of Pandemic | Added March 16
A member of the World Health Organization investigative team says wildlife farms in southern China are the most likely source of the COVID-19 pandemic.
China shut down those wildlife farms in February 2020, says Peter Daszak, a disease ecologist with EcoHealth Alliance and a member of the WHO delegation that traveled to China this year. During that trip, Daszak says, the WHO team found new evidence that these wildlife farms were supplying vendors at the Huanan Seafood Wholesale Market in Wuhan with animals.
Daszak told NPR that the government response was a strong signal that the Chinese government thought those farms were the most probable pathway for a coronavirus in bats in southern China to reach humans in Wuhan.
Those wildlife farms, including ones in the Yunnan region, are part of a unique project that the Chinese government has been promoting for 20 years now.
"They take exotic animals, like civets, porcupines, pangolins, raccoon dogs and bamboo rats, and they breed them in captivity," says Daszak.
The agency is expected to release the team's investigative findings in the next two weeks. In the meantime, Daszak gave NPR a highlight of what the team figured out.
---
WHO investigating reports of blood clots stemming from AstraZeneca's coronavirus vaccine | Added March 16
The World Health Organization said Friday it is reviewing recent reports of blood clots in some people who received the AstraZeneca Covid-19 vaccine that have prompted a few countries to halt their rollout of the shots.
---
NYT: Germany, France, Spain and Italy are the latest to suspend use of AstraZeneca's vaccine | Added March 16
As a third wave of the pandemic crashes over Europe, questions about the safety of one of the continent's most commonly available vaccines led Germany, France, Italy and Spain to temporarily halt its use on Monday. The suspensions created further chaos in inoculation rollouts even as new coronavirus variants continue to spread.
The decisions followed reports that a handful of people who had received the vaccine, made by AstraZeneca, had developed fatal brain hemorrhages and blood clots.
The company has strongly defended its vaccine, saying that there is "no evidence" of increased risk of blood clots or hemorrhages among the more than 17 million people who have received the shot in the European Union and the United Kingdom.
---
Reuters: Hong Kong's tough COVID-19 rules see babies isolated, families cramped in tiny spaces | Added March 16
Families in Asia's financial hub of Hong Kong are suffering isolation and trauma after strict coronavirus rules have led to babies being separated from parents and those with newborns herded into tiny quarantine quarters for up to 14 days.
Hong Kong authorities have ordered that anyone testing positive for the virus must go to hospital, including babies, while all their close contacts, even those who test negative, are sent to makeshift quarantine camps.
"It's crazy," said one mother, who said she had to abruptly stop breastfeeding following separation from her seven-month-old son last week after she was diagnosed with COVID-19.
"I got fever last night because I have gone from breastfeeding to 100% pumping," said the woman, who asked not to be identified.
"So instead of dealing with COVID, I'm dealing with blocked sore breasts."
---
AstraZeneca attempts to defend its vaccine amid safety concerns | Added March 16
AstraZeneca Plc's vaccine for Covid-19, once expected to be a mainstay of protection for much of the world, remains shrouded in controversy as more countries limit its use even as scientists warn of the need for governments to tread carefully.
The Netherlands joined a growing list of about a dozen places, including northern Italy and Ireland, moving to suspend the shot over concerns about possible side effects from two batches. While regulators from Europe to Asia said there was no indication of any direct link with the vaccine, reports of serious blood clotting after inoculation triggered a spate of suspensions stretching as far as Thailand.
The safety scare emerged against a backdrop of supply woes, and continue a drumbeat of bad news that started with questions about its initial trials and now extends to its potential faltering efficacy against a novel variant. Even as some countries suspend its use, others like the U.S. are moving to protect their own stockpiles, blocking efforts to redistribute the shot's supply to places with urgent needs.
Astra has defended the vaccine, saying in a Sunday statement that more than 17 million doses have been administered in Europe and U.K., with no evidence that the shot increased the risk of blood clots. As of March 8, there have been 15 reports of clots in the legs, called deep vein thrombosis, and 22 cases where they reached the lungs, known as pulmonary embolism.
---
After Covid-19 package passes, Biden admin looks at long term economic program | Added March 16
The Biden administration is looking past its $1.9 trillion coronavirus relief bill and starting to consider how to pay for the next round of programs meant to bolster long-term economic growth with investments in infrastructure, clean energy and education.
The challenges are twofold. Officials face a decision over how much of the bill to pay for with tax increases and which policies to finance with more borrowing. In a narrowly divided Congress, they must also craft a bill that can win support from nearly every Democrat. The decision will help determine how much of President Biden's Build Back Better economic agenda he can advance in his first year in office.
Treasury Secretary Janet Yellen said Sunday that the Biden administration hasn't decided whether to pursue a wealth tax, and that while the administration intends to issue proposals to rein in deficits over time, U.S. borrowing costs are manageable right now. A group of progressive lawmakers including Sen. Elizabeth Warren (D., Mass.) recently proposed a so-called ultra-millionaire tax. The legislation would create a 2% annual tax on the net worth of households and trusts between $50 million and $1 billion and an additional 1% surtax on those above $1 billion.
---
Ireland suspends AstraZeneca Covid-19 vaccine, while Northern Ireland continues innoculations | Added March 15
Health officials in Northern Ireland will continue to use the Oxford-AstraZeneca vaccine after its suspension in the Republic of Ireland.
The country's National Immunisation Advisory Committee (NIAC) recommended the move after reports of serious blood clotting events in adults in Norway.
Ireland's Health Minister Stephen Donnelly said it was "precautionary".
AstraZeneca said there is no evidence of a link between the vaccine and increased risk of clotting.
On Sunday, the Netherlands became the latest country to suspend use of the vaccine. The Dutch government said the move, which will last until at least 29 March, was a precaution based on reports from Denmark and Norway of possible serious side effects.
The UK's Medicines and Healthcare products Regulatory Agency (MHRA) said it was aware of the suspension in Ireland and was "closely reviewing reports".
---
WSJ: South Africa's Drop in Covid-19 Cases Adds to Questions About Waves of Infections | Added March 15
Earlier this year, doctors and epidemiologists in South Africa's economic capital were bracing for the worst. A new coronavirus strain was surging across the country, thousands of holidaymakers were due to return from Covid-19 hot spots, and one in three coronavirus tests was coming back positive.
Then something unexpected happened: Covid-19 cases started dropping.
Since mid-January, confirmed Covid-19 infections in South Africa have fallen from a record of nearly 22,000 a day to around 1,000, without a large-scale vaccination campaign or stringent lockdown. Fewer than 5% of Covid-19 tests are finding traces of the virus, a sign that health agencies are missing fewer cases. The government has lifted most of its remaining virus restrictions for the country of 60 million people.
The cause of this steep decline in cases remains somewhat of a mystery. As in other countries that have at some point experienced surprising drops in Covid-19 cases—such as India, Pakistan and some parts of Brazil—epidemiologists and virologists are piecing together different explanations for why the outbreak in South Africa isn't following patterns set elsewhere.
---
CHD: Vaccine Secrets | Added March 15
See the video from Children's Health Defense:
Twenty years ago my son died from vaccine injury.
My name is Ryan. His name was Leo. I used to think vaccines were great, that they couldn't hurt anybody and they protected children. And then my son got vaccinated and died.
How is such a thing possible? I needed to understand why. So I spent the last two decades studying vaccines and their safety. What I'm about to share with you will shock you. It shocked me.
The first question I am often asked is: How can vaccines be dangerous?
---
On The Psychology Of The Conspiracy Denier — read from OffGuardian | Added March 15
So exactly what is it that conspiracy deniers refuse to acknowledge with such fervour, righteousness and condescension? Why, against all the evidence, do they sneeringly and contemptuously defend the crumbling illusion that 'the great and good' are up there somewhere, have everything in hand, have only our best interests at heart, and are scrupulous, wise and sincere? That the press serves the people and truth rather than the crooks? That injustice after injustice result from mistakes and oversights, and never from that dread word: conspiracy?
What reasonable person would continue to inhabit such a fantasy world?
The point of disagreement here is only on the matter of scale. Someone who is genuinely curious about the plans of powerful sociopaths won't limit the scope of their curiosity to, for example, one corporation, or one nation. Why would they? Such a person assumes that the same patterns on display locally are likely to be found all the way up the power food chain. But the conspiracy denier insists this is preposterous.
Why?
---
CNBC: Fauci points to Covid surge in Europe as warning against lifting U.S. restrictions right now | Added March 15
White House Chief Medical Advisor Dr. Anthony Fauci warned state leaders on Sunday that the nation's battle with the coronavirus is still "not in the end zone," and urged Americans to adhere to public health measures as Europeans experience new infection spikes.
"When I hear pulling back completely on public health measures, saying no more masks, no nothing like that, that is risky business," Fauci said during an interview with "Meet the Press."
"Don't spike the ball on the five-yard line. Wait until you get into the end zone. We are not in the end zone yet," he said, adding that prematurely pulling away from public health measures could prolong the pandemic.
On Fox News, Fauci explained that the recent spike in cases throughout Europe was due in part to a relaxation of safety measures.
---
Celebrating the Ronaversary | Added March 15
---
Italy going back under lockdown | Added March 13
Italy will be on lockdown for Easter as the country struggles to contain spiking COVID-19 cases.
Starting Monday, Italians in the most populated regions will be required to stay home except for work, health or other essential reasons.
The whole country will be locked down on Easter weekend for the second year in a row from April 3-5.
---
Business Insider: Thailand follows Denmark in suspending AstraZeneca's COVID-19 vaccine, pending an investigation into possible side effects | Added March 13
Thailand said on Friday that it had paused the use of AstraZeneca's COVID-19 vaccine while investigators looked into potential side effects and adverse reactions, becoming the first Asian country to make the move.
Denmark, Norway, and Iceland said on Thursday that they were suspending all use of the vaccine following several cases of blood clots among vaccinated people. Several other European countries, including Italy, have suspended a specific batch of the vaccine.
Thailand's health minister, Anutin Charnvirakul, said that Thailand's decision was based on foreign data and that authorities wanted to wait for more information. His statement did not mention blood clots or name other countries.
---
Globe and Mail: Canada refuses to support COVID-19 vaccine patent waiver at WTO meeting | Added March 13
Canada and other wealthy countries are continuing to stall a five-month-old proposal for a temporary waiver on COVID-19 vaccine patents, sparking criticism that they are defending pharmaceutical companies at the expense of poorer countries.
The proposal, supported by more than 100 countries in the developing world, was again blocked at a meeting of the World Trade Organization in Geneva this week. Further talks are scheduled for next month, but there are few signs that the wealthy countries will give in.
The proposal, originally put forward by South Africa and India last October, would loosen the restrictions on patents for COVID-19 products, including vaccines, so that production can be expanded. The vast majority of vaccinations so far have been in wealthy countries, while most poorer countries have vaccinated few or none of their people.Supporters of the patent waiver have suggested the proposal should at least be allowed to move to the next step of the WTO process, where a draft could be negotiated. The WTO meetings, however, usually operate by consensus, and there was no agreement this week to move to that step.
---
Tanzanian president who banned Covid test kits after papaya tested positive has disappeared | Added March 13
John Magufuli, President of Tanzania, has disappeared. He's not been seen in public for several weeks, and speculation is building as to where he might be.
The opposition has, at various times, accused the President of being hospitalised with "Covid19", either in Kenya or India, although there remains no evidence this is the case.
To add some context, John Magufuli is one of the "Covid denier" heads of state from Africa.
He famously had his office submit five unlabelled samples for testing – goat, motor oil, papaya, quail and jackfruit – and when four came back positive and one "inconclusive", he banned the testing kits and called for an investigation into their origin and manufacture.
In the past, he has also questioned the safety and efficacy of the supposed "covid vaccines", and has not permitted their use in Tanzania.
In the Western press Magufuli has been portrayed as "anti-science" and "populist", but it is not fair to suggest that the health of the people of Tanzania is a low priority for the President. In fact it's quite the opposite.
---
OffGuardian: Scientists and doctors pen open letter to European Medicines Agency warning of coronavirus vaccine dangers | Added March 13
A group of scientists and doctors has today issued an open letter calling on the European Medicines Agency (EMA) to answer urgent safety questions regarding COVID-19 vaccines, or withdraw the vaccines' authorisation.
The letter describes serious potential consequences of COVID-19 vaccine technology, warning of possible autoimmune reactions, blood clotting abnormalities, stroke and internal bleeding, "including in the brain, spinal cord and heart".
The authors request evidence that each medical danger outlined "was excluded in pre-clinical animal models with all three vaccines prior to their approval for use in humans by the EMA."
"Should all such evidence not be available", the authors write, "we demand that approval for use of the gene-based vaccines be withdrawn until all the above issues have been properly addressed by the exercise of due diligence by the EMA."
The letter is addressed to Emer Cooke, Executive Director of the EMA, and was sent on Monday 1 March 2021. The letter was copied to the President of the Council of Europe and the President of the European Commission.
---
WHO gives emergency authorization to Johnson & Johnson vaccine | Added March 13
The World Health Organization granted emergency authorization on Friday to Johnson & Johnson's Covid-19 vaccine, adding the first one-dose option to the W.H.O.'s global arsenal against the pandemic.
The designation makes the vaccine eligible for distribution through Covax, a global initiative to ensure that low- and middle-income countries have access to vaccines. Many of those countries have barely begun their vaccination campaigns.
---
On first anniversary of WHO declaring pandemic, Biden addresses nation with promise to make every adult in America eligible for Covid-19 vaccination by May 1 | Added March 12
Today, in his first prime time address, President Biden will announce the next phase of our war-time effort to vaccinate the U.S. population, with the goal of getting the nation closer to normal by July 4th, Independence Day.
The President launched a new, comprehensive strategy to beat this pandemic on January 21, 2021. In the subsequent 7 weeks, we've delivered over 81 million vaccinations to Americans — today, more people are once again able to visit their loved ones. There is more work to do and today, the President is outlining the next phase of his whole of government strategy to put the pandemic behind us.
Today, the President will announce that in the coming weeks, the Administration will:
Make every adult in the U.S. eligible for vaccination no later than May 1. Today, in the next phase of our vaccination effort, the President will announce that he will direct states, Tribes, and territories to make all adults eligible for the COVID-19 vaccine no later than May 1st. The White House COVID-19 Response Team has concluded that our accelerated vaccination efforts will enable prioritized vaccinations to be far enough along by end of April that all eligibility restrictions for vaccinations can be lifted by May 1st.
---
NYT marks the one year anniversary of the WHO declaring the world was in a pandemic | Added March 12
When the first cases of a mysterious, fast-spreading illness arose a little more than a year ago in China, the danger struck some around the world as contained, or at least containable.
But the virus responsible behind the outbreak moved with astonishing speed, crossing continents and bringing the novel coronavirus SARS-CoV-2 to doorsteps around the world seemingly instantaneously.
On March 11, 2020, the World Health Organization had declared a pandemic.
It was the beginning of a trail of death and suffering, the start of a succession of lockdowns across the globe that followed the first, tightly restricted one in China. A year later, more than 118 million cases have been reported around the world, with more than 2.6 million known dead, according to a New York Times database.
On Thursday, Dr. Anthony S. Fauci, the United States' top expert on infectious diseases, cast a somber look back at the past 12 months,"It was exactly one year ago this morning that I said, 'Things are going to get much worse before they get better,'" he said on ABC's "Good Morning America." "But I did not realize in my mind even anything close to more than a half a million people having died in this country."
---
Reuters: Canada says AstraZeneca vaccine is safe after Norway and Denmark suspend use | Added March 12
From Reuters:
Canada on Thursday said the AstraZeneca COVID-19 vaccine is safe after Denmark and Norway temporarily suspended its use amid reports that blood clots had formed in some who had received the shot.
"Health Canada is aware of reports of adverse events in Europe following immunization with the AstraZeneca COVID-19 vaccine, and would like to reassure Canadians that the benefits of the vaccine continue to outweigh its risks," the health department said in a statement.
"At this time, there is no indication that the vaccine caused these events," it said.
Canada received 500,000 AstraZeneca doses made at the Serum Institute of India last week, and expects to get 1.5 million more in by May.
"To date, no adverse events related to the AstraZeneca COVID-19 vaccine… have been reported to Health Canada or the Public Health Agency of Canada," the statement said.
---
Denmark leads other European countries in suspending Astrazeneca Covid-19 vaccine following reports of blot clots in those vaccinated | Added March 12
Denmark, Iceland and Norway have suspended use of the AstraZeneca COVID-19 vaccine as a precaution amid reports of blood clotting in some people who have received it.
The Danish health authority said that there was a reported death in the country but that "at present, it cannot be concluded whether there is a link between the vaccine and the blood clots."
Use of the vaccine will be suspended until further notice, the health authority said on Thursday, but the decision will be reviewed in two weeks' time.
Shortly after the Danish announcement, Iceland followed suit. Hours later, the Norwegian health authority also said they too would suspend vaccinations after the report from Denmark.
France and the UK have however ruled out the following suit for now, stressing the suspension in other countries "is a precautionary measure".
---
CALLED IT: WaPo calls anti-vaxxers "domestic terrorists" — read more at OffGuardian | Added March 12
Back in January I wrote about how the Capitol Hill "insurection" was laying the groundwork for Biden's administration to introduce a much-talked-about new "domestic terrorism" law.
The piece speculated that any definition of "domestic terrorism" will be very loose, and include essentially anybody the state finds problematic. Including those who spread "anti-vaccine misinformation" [emphasis added]:
What will "Domestic Terrorism" mean in this law? The answer to that is pretty much always "whatever they want it to mean."
It will probably be tied into the Covid "pandemic" in some way, too. After all, what is discouraging people from taking vaccines if not the very definition of "terrorism", right?
It took less than two months for the mainstream media to prove OffG right. Just last week the Washington Post ran an op-ed piece by California State Senator Richard Pam headlined:
Anti-vaccine extremism is akin to domestic terrorism
---
Indoor restaurants, gyms, movie theaters to reopen in Los Angeles county starting next week | Added March 12
Restaurants, gyms, museums and movie theaters in Los Angeles County will soon be allowed to reopen for indoor activity, according to a public health announcement made Thursday that marks the first major reopening of businesses in months.
The county will be eligible for the reopenings as soon as California reaches its goal of administering 2 million COVID-19 vaccine doses to residents in its most disadvantaged areas — which appears likely to happen Friday.
After clearing that hurdle, the state will relax the threshold for counties to move from the most restrictive purple category of its four-tier reopening blueprint, clearing a number of them — including Los Angeles — to advance into the less-restrictive red tier.
Indoor dining is off-limits entirely in the purple tier but allowed in the red at limited capacity. The milestone will also trigger expanded activity at retail and personal care services, which will be allowed to increase capacity to 50% with masking required for all services.
---
In 2018, no one listened to diplomats' warnings of risky coronavirus experiments | Added March 12
To some inside the government, the name of the laboratory was familiar. Its research on bat viruses had already drawn the attention of U.S. diplomats and officials at the Beijing Embassy in late 2017, prompting them to alert Washington that the lab's own scientists had reported "a serious shortage of appropriately trained technicians and investigators needed to safely operate this high-containment laboratory."
But their cables to Washington were ignored.
When I published the warnings from these cables in April 2020, they added fuel to a debate that had already gone from a scientific and forensic question to a hot-button political issue, as the previously internal U.S. government debate over the lab's possible connection spilled into public view. The next day, Trump said he was "investigating," and Secretary of State Mike Pompeo called on Beijing to "come clean" about the origin of the outbreak. Two weeks later, Pompeo said there was "enormous evidence" pointing to the lab, but he didn't provide any of said evidence. As Trump and Chinese President Xi Jinping's relationship unraveled and administration officials openly blamed the Wuhan lab, the U.S.-China relationship only went further downhill.
---
The Corbett Report: Episode 396 – Bioethics and the New Eugenics | Added March 12
More to be found from: The Corbett Report:
At first glance, bioethics might seem like just another branch of ethical philosophy where academics endlessly debate other academics about how many angels dance on the head of a pin in far-out, science fiction like scenarios. What many do not know, however, is that the seemingly benign academic study of bioethics has its roots in the dark history of eugenics. With that knowledge, the dangers inherent in entrusting some of the most important discussions about the life, death and health of humanity in the hands of a select few become even more apparent.
---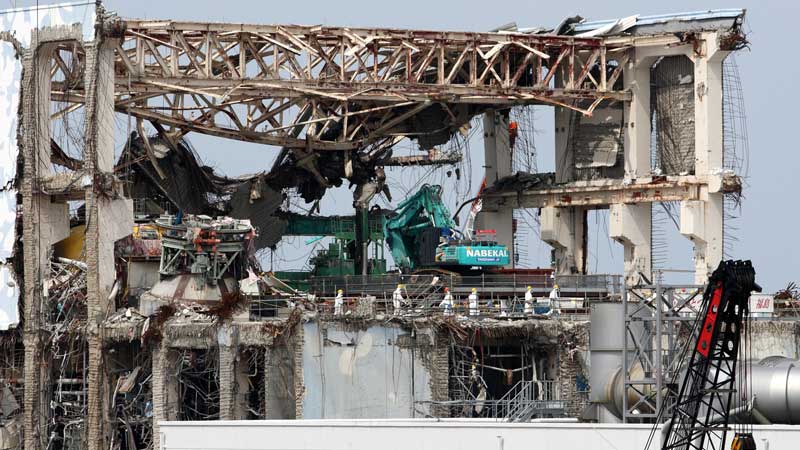 Planet Waves FM Special Edition | 10th Anniversary of Fukushima Meltdowns: Interviews with Prof. Karl Grossman and ABC-affiliate radio reporter Jeff Fisher on the history of nuclear power
Mobile device | Thank you for sponsoring Planet Waves FM | Live Music Stream by Vision Quest – Fabulous!
Tonight's special edition focuses on nuclear power. This is on the 10th anniversary of the Fukushima earthquake and nuclear power plant meltdowns.
Here is Notes From Downwind, my account of Fukushima and analysis of the chart and the Nuclear Axis (atom split) chart. Here is the first Planet Waves article ever, Thinking of You on Judgment Day, from 1998 — about the Cassini Space Probe.
Here are the full recordings of the interviews with Prof. Grossman, from April 2012, recorded at Karl's home in Sag Harbor, New York.
Prof. Grossman, Part One, from April 2012: History of Nuclear Power
Prof. Grossman, Part Two, from April 2012: The Closing of Shoreham
---
OffGuardian: No Safety Data? No Problem! | Added March 11
On March 4 and 5, Canada, the United Kingdom, Australia, Switzerland and Singapore released identical guidelines for fast-tracking release onto the market of vaccines for the new variants.
The countries issued the recommendations under the banner of the 'ACCESS Consortium.' ACCESS is an acronym based on the first letters of the five countries' names.
A few days earlier, on February 22, the US Food and Drug Administration (FDA) released a similar set of recommendations. They allow Emergency Use Authorizations (EUAs) for "investigational" vaccines for new variants, letting them be used on the general public without first showing evidence of safety or effectiveness.
The recommendations all state that companies don't need to conduct new clinical trials before putting the new-variant vaccines onto the market and potentially into millions of people's arms. Requiring new trials, the ACCESS document asserts, would cause "considerable delay" and "bears the risk that the virus is evolving even further, potentially making a new vaccine version outdated at the time of approval again."
Instead, the safety record of the currently used Covid vaccines can be used to judge the safety of the new ones, the countries' regulatory agencies declare.
---
Fact-Checking Facebook's Fact Checkers — read more at The Wall Street Journal | Added March 11
China last winter censored doctors who shared "dangerous" misinformation about the novel coronavirus on social media. Now America's self-anointed virus experts and social-media giants are also silencing doctors with contrarian views in an apparent effort to shut down scientific debate.
We're seeing this up close and personal. Facebook this week appended a Wall Street Journal op-ed "We'll Have Herd Immunity by April" by Johns Hopkins surgeon Marty Makary (Feb. 19) with the label "Missing Context. Independent fact-checkers say this information could mislead people." According to Facebook, "Once we have a rating from a fact-checking partner, we take action by ensuring that fewer people see that misinformation."
---
Virginia officials won't say why they didn't do autopsy of Gloucester woman who died after vaccine — read more at The Virginian-Pilot | Added March 11
The family of a woman who died shortly after receiving a coronavirus vaccine had a private autopsy performed on her last week because the state did not do one while investigating her death, her daughter said.
Drene Keyes, a 58-year-old Gloucester resident who died following a Pfizer shot, was buried Friday. Lisa Jones, Keyes' daughter, said they are waiting for the results from their own investigation, an expense they hope will shed light on her death and bring them closure. It was not certain whether the Virginia Office of the Chief Medical Examiner would incorporate the findings into the state's cause of death analysis, she said.
A comment in internal emails between state officials raises more questions.
State Health Commissioner Norman Oliver told public information officers in an email Feb. 5 that if reporters asked whether an autopsy was done, they should say "a full autopsy was not needed in order to ascertain whether the death was related to the vaccination."
---
Australian health minister vaccinated then hospitalized — hospitalization supposedly not linked to shot | Added March 11
Australian health minister Greg Hunt is expected to make a full recovery after being admitted to hospital with a suspected infection two days after taking a COVID-19 vaccine, his office said on Tuesday.
The previous day, Hunt said on Twitter that he had been inoculated at the weekend with AstraZeneca Plc's COVID-19 vaccine, one of two being distributed in the country.
Hunt, 55, will stay overnight for observation and is receiving antibiotics and fluid, his office said, without describing his symptoms or saying when he was admitted to hospital.
---
Indoor dining in New York City and New Jersey going to 50 percent on March 19 | Added March 11
Restaurants in New York City and New Jersey will be able to increase indoor dining to 50 percent of capacity starting March 19, the governors of New York and New Jersey said on Wednesday.
The announcement of the relaxed limits comes as New York and New Jersey continue to lead the nation in the rate of new coronavirus cases per capita. The states are both reporting a seven-day average of 37 new virus cases a day for every 100,000 residents, according to a New York Times database.
The change — which will take effect two days after St. Patrick's Day, traditionally a busy day for restaurants and bars — will bring both places into line with current dining limits in Connecticut and Pennsylvania.
Gov. Andrew M. Cuomo said that his decision to expand dining in New York City was made "in partnership" with Gov. Philip D. Murphy, a fellow Democrat.
---
The Intercept: India Targets Climate Activists With the Help of Big Tech | Added March 11
Though the international conspiracy case appears to be falling apart, Ravi's arrest has spotlighted a different kind of collusion, this one between the increasingly oppressive and anti-democratic Hindu nationalist government of Prime Minister Narendra Modi and the Silicon Valley companies whose tools and platforms have become the primary means for government forces to incite hatred against vulnerable minorities and critics — and for police to ensnare peaceful activists like Ravi in a high-tech digital web.
The case against Ravi and her "co-conspirators" hinges entirely on routine uses of well-known digital tools: WhatsApp groups, a collectively edited Google Doc, a private Zoom meeting, and several high-profile tweets, all of which have been weaponized into key pieces of alleged evidence in a state-sponsored and media-amplified activist hunt. At the same time, these very tools have been used in a coordinated pro-government messaging campaign to turn public sentiment against the young activists and the movement of farmers they came together to support, often in clear violation of the guardrails social media companies claim to have erected to prevent violent incitement on their platforms.
---
Awaken with JP: Facts about Fact Checkers | Added March 11
---
The Intercept: Drug Lobby Asks Biden to Punish Foreign Countries Pushing for Low-Cost Vaccines | Added March 10
President Joe Biden's administration is being asked to punish Hungary, Colombia, Chile, and other countries for seeking to ramp up the production of Covid-19 vaccines and therapeutics without express permission from pharmaceutical companies.
The sanctions are being urged by the drug industry, which has filed hundreds of pages of documents to the Office of the U.S. Trade Representative outlining the alleged threat posed by any effort to challenge "basic intellectual property protections" in the response to the coronavirus pandemic.
The drug industry has sharply criticized any attempt to share vaccine patents or the technological knowledge needed to manufacture them, despite global need. According to one estimate, wealthy countries representing just 16 percent of the world's population have already secured more than half of all Covid-19 vaccine contracts. And current projections show that much of the middle-income and developing world will not achieve widespread vaccinations for years. Some projections predict that low-income countries such as Mali, South Sudan, and Zimbabwe may not achieve significant levels of vaccination until early 2024.
---
The New York Times reports on China's digital vaccine passport release | Added March 10
China on Monday introduced a digital vaccine passport to track its citizens' medical history as they begin to travel abroad.
The health certificate, which runs on Tencent's WeChat messaging app, will include a user's Covid-19 test and vaccination history, and is intended to enable international travel, according to a report by the Chinese state-run news agency Xinhua. The service currently only works for Chinese citizens.
Europe and the United States have discussed their own versions of such systems in preparation for a likely boom in travel as ever more people get vaccinated. During a Group of 20 meeting last year, President Xi Jinping of China suggested that countries standardize services to facilitate movement across borders.
The Chinese pass offers an encrypted, scannable code that could allow other countries to process the data of travelers, according to the Xinhua report.
In China, health code software that tracks a user's location and can link them to hot spots and outbreaks have become de rigueur for daily life. A green code, which indicates a clean history, is required to do everything from entering a grocery store to taking public transportation.
---
NPR: 1 Shot Or 2 Shots? 'The Vaccine That's Available To You — Get That' | Added March 10
As the newest coronavirus vaccine makes its debut, the American public has a new set of deliberations before walking into their vaccine clinic — go with the new arrival or stick with the two vaccines that have already gone into the arms of more than 50 million Americans?
The Johnson & Johnson vaccine has a few distinct advantages: only one shot is required and it can hold up in a refrigerator for several months.
Most importantly, the J&J version does very well at keeping people from getting hospitalized and dying. It's 85% effective against severe forms of the disease, which rivals both the Moderna and Pfizer vaccines.
But there's also concern that another topline result may skew perceptions about the shot.
---
Vox: Why comparing Covid-19 vaccine efficacy numbers can be misleading | Added March 10
Three different Covid-19 vaccines are now being distributed across the United States, and all three are highly effective at the most important thing: preventing hospitalizations and deaths from Covid-19. But some people remain worried that Johnson & Johnson's vaccine is less effective at preventing disease to begin with.
Detroit Mayor Mike Duggan this week turned down 6,200 Johnson & Johnson vaccine doses for his city. "Johnson & Johnson is a very good vaccine. Moderna and Pfizer are the best," Duggan said in a news conference. "And I am going to do everything I can to make sure that residents of the city of Detroit get the best."
Scientists say that this is the wrong way to think about Covid-19 vaccines, and that judging the Johnson & Johnson vaccine as inferior based on its lower reported efficacy is misleading.
Such actions are especially worrying at the current stage of the pandemic. Covid-19 has killed more than 500,000 Americans, and while cases seem to be declining, the virus is still spreading, new variants are gaining ground, and some parts of the country are already relaxing precautions (which health officials warn could end up prolonging the pandemic).
Turning down vaccine doses while supplies of all Covid-19 vaccines are still stretched thin undermines the campaign to curb the pandemic.
---
SFGate: Pfizer plant boosting vaccines has repeat quality offenses | Added March 10
The factory that Pfizer Inc. plans to use to boost production of its covid-19 vaccine for the massive U.S. inoculation effort was cited by federal inspectors last year for repeated quality-control violations.
Food and Drug Administration inspectors visited the McPherson, Kansas, plant at the end of 2019 into January 2020, according to an inspection report obtained by Bloomberg via a Freedom of Information request. They found the drug giant released medications for sale after failing to thoroughly review quality issues that arose in routine testing, the report shows.
---
Pfizer/BioNTech COVID-19 vaccine neutralizes Brazil variant in lab study | Added March 10
The COVID-19 vaccine from Pfizer Inc and BioNTech SE was able to neutralize a new variant of the coronavirus spreading rapidly in Brazil, according to a laboratory study published in the New England Journal of Medicine on Monday.
Blood taken from people who had been given the vaccine neutralized an engineered version of the virus that contained the same mutations carried on the spike portion of the highly contagious P.1 variant first identified in Brazil, the study conducted by scientists from the companies and the University of Texas Medical Branch found.
---
The New Normal (Phase 2) — new article shared from OffGuardian| Added March 9
So, we're almost a year into the "New Normal" (a/k/a "pathologized totalitarianism") and things are still looking … well, pretty totalitarian.
Most of Western Europe is still in "lockdown," or "under curfew," or in some other state of "health emergency." Police are fining and arresting people for "being outdoors without a valid reason."
Protest is still banned. Dissent is still censored.
The official propaganda is relentless. Governments are ruling by edict, subjecting people to an ever-changing series of increasingly absurd restrictions of the most fundamental aspects of everyday life.
And now, the campaign to "vaccinate" the entirety of humanity against a virus that causes mild to moderate flu-like symptoms or, more commonly, no symptoms at all, in over 95% of those infected, and that over 99% of the infected survive (and that has no real effect on age-adjusted death rates, and the mortality profile of which is more or less identical to the normal mortality profile) is being waged with literally religious fervor.
"Vaccine passports" (which are definitely creepy, but which bear no resemblance to Aryan Ancestry Certificates, or any other fascistic apartheid-type documents, so don't even think about making such a comparison!) are in the pipeline in a number of countries. They have already been rolled out in Israel.
---
CDC gives green light on certain activities for those who've had Covid-19 shots, incentivizing vaccination | Added March 9
Specifically, the new guidance says, people who are fully vaccinated can visit indoors with other fully vaccinated people without wearing masks or social distancing. People are considered fully vaccinated two weeks after they have gotten the second shot of the Pfizer or Moderna vaccines (or two weeks after receiving the single-dose Johnson & Johnson vaccine).
Vaccinated people can also gather, unmasked, with people from another household who are not yet vaccinated, as long as those people are at low risk of serious illness from the virus. However, the agency said, vaccinated people should continue to mask when they're in public, avoid crowds and take other precautions when gathering with unvaccinated people who are at high risk of serious illness from COVID-19.
The CDC said this new guidance is a "first step" to returning to everyday activities. There's accumulating evidence to show that people who are fully vaccinated are less likely to become infected and also "potentially" less likely to spread the virus to others, agency officials wrote in a press release.
---
CNN: Some states are lifting coronavirus restrictions but keeping mask mandates in place | Added March 9
As coronavirus cases and deaths continue to fall in many states, political leaders are facing decisions on when to loosen restrictions meant to help curb the spread of Covid-19.
Texas Gov. Greg Abbott has said his state is reopening 100%, and as of next Wednesday people in the Lone Star State won't be required to wear a face covering. Mississippi, North Dakota, Iowa and Montana have also lifted, or will soon lift, mask mandates.
Some critics have said the moves are premature given the potential for more transmissible variants to prompt another surge and that the baseline number of coronavirus cases is still high.
California, home to some of the country's favorite amusement parks and sports teams, will allow parkgoers and fans to potentially go in beginning April 1.
---
Opinion piece equates 'anti-vaccine extremism' to domestic terrorism | Added March 9
Richard Pan is a pediatrician and California state senator. He is the honorary co-chair of ReadytoVaccinate.org.
Vaccines don't stop viruses. Vaccinations do. This common public health saying means a vaccine does no good if we can't get it into people's arms. Insufficient supplies, natural disasters and bureaucratic mistakes have slowed efforts, but the overall goal of vaccinating a large majority of the U.S. population may ultimately be hampered by the anti-vaccine movement unless steps are taken to limit its impact.
Otherwise, America may witness more scenes like the one in Los Angeles on Jan. 30, when a mob of anti-vaccine protesters stormed Dodger Stadium, one of the nation's largest vaccination centers. These extremists succeeded in temporarily shutting down the site, delaying patients, many of them elderly, from getting their shots. The anti-vaccine activists have told the Los Angeles Times that they intend to keep disrupting vaccination efforts.
This campaign to deny potentially lifesaving vaccines to those seeking them, and to poison public opinion against vaccinations, could result in countless American deaths. That is akin to domestic terrorism.
---
San Francisco, trailing other big cities in reopening schools, plans to resume in-person teaching in April — read more from The New York Times| Added March 9
San Francisco schools will start bringing elementary and high needs students back into classrooms on April 12, with a goal of restoring in-person teaching for all elementary school students by the end of the month, the district's superintendent said on Monday.
The district, whose 52,000 students have been studying almost entirely remotely for a year, is among the last large urban districts in the nation to announce plans to restore in-person instruction. It is, however, still ahead of Los Angeles, which remains in negotiations with its teachers' union on a reopening date.
New York City, where some elementary and middle school students are already back in classrooms, announced plans on Monday to bring back some high school students on March 22. Districts from Chicago and Boston to Miami and Houston have similarly already begun welcoming students back.
---
'Held to ransom': Pfizer demands governments gamble with state assets to secure vaccine deal — read more from The Bureau of Investigative Journalism | Added March 9
From The Bureau of Investigative Journalism:
Pfizer has been accused of "bullying" Latin American governments in Covid vaccine negotiations and has asked some countries to put up sovereign assets, such as embassy buildings and military bases, as a guarantee against the cost of any future legal cases, the Bureau of Investigative Journalism can reveal.
In the case of one country, demands made by the pharmaceutical giant led to a three-month delay in a vaccine deal being agreed. For Argentina and Brazil, no national deals were agreed at all. Any hold-up in countries receiving vaccines means more people contracting Covid-19 and potentially dying.
---
Dalai Lama receives Covidshield shot at hospital over weekend in offer to live like the average person | Added March 9
The Dalai Lama, the 85-year-old Tibetan spiritual leader, was administered the first shot of the coronavirus vaccine on Saturday at a hospital in the north Indian hill town of Dharmsala.
After receiving the injection, he urged people to come forward, be brave and get vaccinated.
"In order to prevent some serious problems, this injection is very, very helpful," he said.
Dr. G.D. Gupta of Zonal Hospital, where the shot was administered, told reporters that the Dalai Lama was observed for 30 minutes afterward. "He offered to come to the hospital like a common man to get himself vaccinated," he said.
---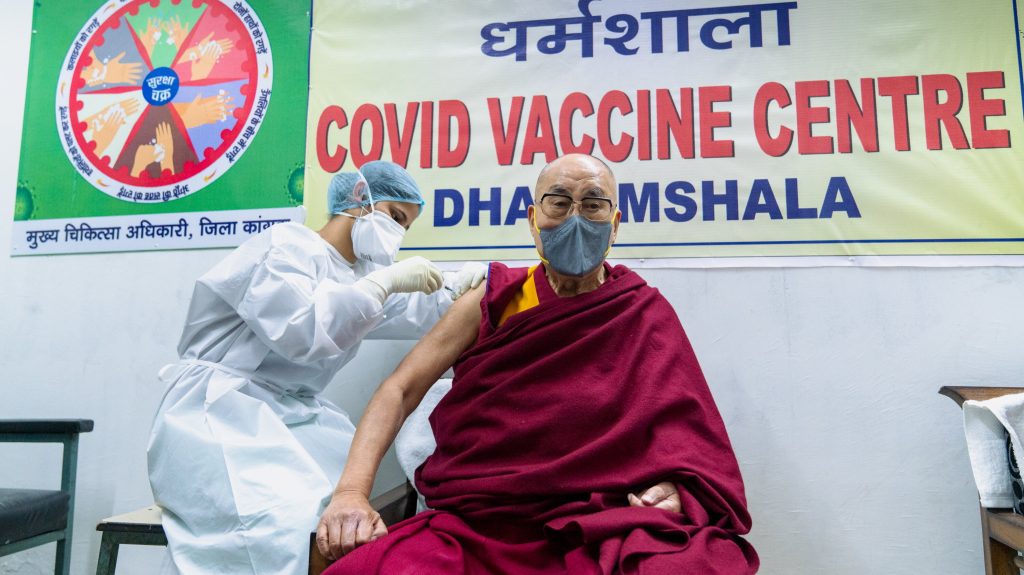 Here is an honest endorsement of the Covid vaccines | Added March 8
Statement from Eric Francis Coppolino
"In response to a health situation that it handled badly and has deceived the public about ongoing, the US government has approved several experimental medical devices for emergency use only. According to the manufacturers, they are designed to reduce the severity of the disease claimed to be caused by a virus. Most people who are said to be infected experience no symptoms whatsoever and infection fatality overall is around 0.2% rather than the originally claimed 3.5%.
"These devices, which we are incorrectly calling vaccines, do not prevent or interrupt transmission of the claimed virus. Only the symptoms are reduced. The purpose of a vaccine in the classical sense is to interrupt transmission.
Your healthy cells are taught to produce coronavirus biological products. Then, your immune system responds to these chemicals by creating antibodies against a chemical made by your own cells. This is not a normal immune response but rather an autoimmune response.
"Hence, these are not vaccines in any conventional or legally defined sense of the word. Classical vaccines introduce an antigen in the form of attenuated (deactivated) virus, to which the healthy immune system responds by producing antibodies, which, according to vaccine theory, create immunity.
"These new-style mRNA injections instruct your cells to produce the antigen, in the form of a coronavirus spike protein. In other words, your healthy cells are taught to produce coronavirus biological products. Then, your immune system responds to these chemicals by creating antibodies against a chemical made by your own cells. This is not a normal immune response but rather an autoimmune response. It is therefore especially dangerous for those with autoimmune disease.
"Medical science acknowledges that there are many classes of people for whom immunization injections are contra-indicated, including those who have already experienced vaccine injury or who have a sibling who has.
This is an untested method of dealing with a claimed virus. It is an uncontrolled experiment, in that it does not actually end until 2022 or 2023 depending on the trial. Any member of the public who takes this injection is part of an experiment.
"It is vital to state there is no OFF switch to the mRNA process. Once it begins, there is no way to stop it.
"This is an untested method of dealing with a claimed virus. It is an uncontrolled experiment, in that it does not actually end until 2022 or 2023 depending on the trial. Any member of the public who takes this injection is part of an experiment. The control groups are now being injected, which makes the safety and efficacy data irrelevant as there is no basis for comparison. Note that the control group is one of the most important elements of the scientific method.
"Be aware that as of mid-February, there were more than 600 **reported** deaths and 12,000 reported injuries following injection, which represents only a small portion of those killed or injured as it is believed that only 1% of deaths and injuries are reported into the voluntary system, called VAERS.
"Further, should you be injured, you cannot sue the manufacturer. You will need to sue in a special Covid mitigation measures court, bringing a case against the Department of Health and Human Services, where you are not entitled to legal discovery or a jury trial."
---
WaPo: Senate Dems announce deal on unemployment insurance, Biden bill moves forward | Added March 8
Senate Democratic leaders reached an agreement over unemployment benefits with moderate Democratic Sen. Joe Manchin III (W.Va.) late Friday, ending a nine-hour standoff that threatened to derail action on President Biden's $1.9 trillion coronavirus relief bill.
The agreement would extend the existing $300 weekly unemployment benefit through Sept. 6, as well as provide tax relief on up to $10,200 in unemployment benefits for households making under $150,000.
"We have reached a compromise that enables the economy to rebound quickly while also protecting those receiving unemployment benefits from being hit with [an] unexpected tax bill next year," Manchin said in a statement.
---
Anti-Asian hate crimes on the rise | Added March 8
Racially motivated harassment of Asian Americans is a longstanding issue in the U.S., but in the year since COVID-19 entered the country, incidents have been on the rise.
What has contributed to the surge in racism and hate crimes towards Asian Americans and Pacific Islanders, and how can the issue be addressed?
PBS NewsHour's Amna Nawaz, AAPI activist Helen Zia and Rise founder Amanda Nguyen took your questions and discussed the history of AAPI hate crimes and how communities are responding now.
Several studies point to the connection between hateful rhetoric and increased hate-motivated actions, and advocates and experts point to the way former President Donald Trump spoke about the COVID-19 virus as a direct contributor to the increased crime. But under the new Biden administration, the hate incidents have continued, prompting leaders and advocates to actively call for coalition building, better incident tracking and increased education about AAPI communities.
---
Scientific American: Masks Can Be Detrimental to Babies' Speech and Language Development | Added March 8
My daughter's friend was recently alarmed when she was told that her two-year-old must wear a mask in preschool. Her little girl already struggles to make herself understood, and her mother worries that the mask will make it harder for her daughter to be understood and that she will have trouble telling what her masked peers and teachers are saying.
Now that the face mask has become the essential accoutrement of our lives, the COVID pandemic has laid bare our fundamental need to see whole faces. Could it be that babies and young children, who must learn the meaning of the myriad communicative signals normally available in their social partners' faces, are especially vulnerable to their degradation in partially visible faces?
Faces are a complex and rich source of social, emotional and linguistic signals. We rely on all of these signals to communicate with one another through a complex and dynamic dance that depends on each partner being able to read the other's signals. Interestingly, even when we can see whole faces, we often have trouble telling what other people are feeling. For instance, as the psychologist Lisa Feldman Barrett has noted, we can interpret a smile as meaning "I'm happy," "I like you" or "I'm embarrassed". So, seeing partially visible faces robs us of a plethora of linguistic signals that are essential for communication.
---
Dr. Reid Sheftall Truth in Science — 'Don't Get the Vaccine Until You See This! PART 1'| Added March 8
---
Americans who've received Covid-19 vaccine are left without official guidance on exactly what vaccination allows them to do | Added March 6
More than 28 million Americans fully vaccinated against the coronavirus will have to keep waiting for guidance from federal health officials for what they should and shouldn't do.
The Biden administration said Friday it's focused on getting the guidance right and accommodating emerging science, but the delays add to the uncertainty around bringing about an end to the pandemic as the nation's virus fatigue grows.
"These are complex issues and the science is rapidly evolving," Centers for Disease Control and Prevention Director Dr. Rochelle Walensky said Friday. "We are making sure and taking time to get this right and we will be releasing this guidance soon."
Such guidance would address a flood of questions coming in from people who have been fully vaccinated against COVID-19: Do I still have to wear a mask? Can I go to a bar now? Can I finally see my grandchildren?
---
5 ways they're trying to trick you into taking the Covid "vaccine" — read more at OffGuardian | Added March 6
The vaccine rollout is in full flow now, the daily tickers have had "people vaccinated" added to their red counters, and the improbably large number grows more improbably large every day.
The sale of the century is very much on. The powers that be want every single person to be vaccinated, and they're pulling out all the stops to make sure it happens.
Here are the five main ways the establishment is trying to manufacture your consent.
---
Who does the WHO Support? Who does the WHO Answer To? Who Knows Who Actually Drives The Bus at the WHO…? | Added March 6
Thank you to Loreen Costa.
The Wall Street Journal is reporting that there will be further delay in the release of the official WHO report on the origins of the SARS-COV-2 virus as tensions mount over issues of access by the investigation team to full source information in Wuhan. The WSJ actually used the word "scrap" to describe the fate of this first official report. Much of the pressure seems to be the result of an open letter written by two dozen scientists calling for a new investigation.
"Their appeal comes as the U.S.—which recently reversed a decision to leave the WHO—lobbies for greater transparency in the investigation, saying it is waiting to scrutinize the report on the Wuhan mission, and urging China to release all relevant data, including on the first confirmed infections in December 2019, and potential earlier ones.
Beijing, meanwhile, is pressing for similar WHO-led missions to other countries, including the U.S., to investigate whether the virus could have originated outside China and spread to Wuhan via frozen food packaging."
A World Health Organization team investigating the origins of Covid-19 is planning to scrap an interim report on its recent mission to China amid mounting tensions between Beijing and Washington over the investigation and an appeal from one international group of scientists for a new probe.
The group of two dozen scientists is calling in an open letter on Thursday for a new international inquiry. They say the WHO team that last month completed a mission to Wuhan—the Chinese city where the first known cases were found—had insufficient access to adequately investigate possible sources of the new coronavirus, including whether it slipped from a laboratory.
---
NYT: Cuomo Aides Rewrote Nursing Home Report to Hide Higher Death Toll | Added March 6
Top aides to Gov. Andrew M. Cuomo were alarmed: A report written by state health officials had just landed, and it included a count of how many nursing home residents in New York had died in the pandemic.
The number — more than 9,000 by that point in June — was not public, and the governor's most senior aides wanted to keep it that way. They rewrote the report to take it out, according to interviews and documents reviewed by The New York Times.
The extraordinary intervention, which came just as Mr. Cuomo was starting to write a book on his pandemic achievements, was the earliest act yet known in what critics have called a monthslong effort by the governor and his aides to obscure the full scope of nursing home deaths.
---
Record Unemployment for Healthcare Workers — watch video from naturopath Pam Popper | Added March 6
---
The Washington Post: Welcome to the new normal. Let's see your immunity passport. | Added March 5
From the editorial board of the Washington Post:
AFTER 9/11, the nation adjusted. We didn't like it, but we got used to taking off our shoes and belts at the airport, because everyone's safety was at stake. A new normal will come after the coronavirus pandemic, too, and we'll adjust for the sake of our own health and our neighbors.
Even after a large swath of the U.S. population is vaccinated, the challenge of reducing viral transmission will remain, and so will the need to wear face masks, which like airport screening will be inconvenient but worthwhile. One open question is whether mandates to wear them will be necessary. Some social distancing will also be needed, and lockdowns to cope with fresh outbreaks, although hopefully not nearly as severe as over the past year.
In the new normal, the virus will not be eliminated. It likely will continue to circulate, mutating into new variants with different capabilities. This means vaccination may need to be regular, more like influenza than measles.
---
NYT: San Diego Zoo apes get an experimental animal vaccine against coronavirus. | Added March 5
The San Diego Zoo has given nine apes an experimental coronavirus vaccine developed by Zoetis, a major veterinary pharmaceuticals company.
In January, a troop of gorillas at the zoo's Safari Park tested positive for the virus. All are recovering, but even so, the zoo requested help from Zoetis in vaccinating other apes. The company provided an experimental vaccine that was initially developed for pets and is now being tested in mink.
Nadine Lamberski, a conservation and wildlife health officer at San Diego Zoo Global, said the zoo vaccinated four orangutans and five bonobos with the experimental vaccine, which is not designed for use in humans. Among the vaccinated orangutans was an ape named Karen, who made history in 1994 when she became the first orangutan to have open-heart surgery.
---
Mayor of Rio de Janeiro orders coronavirus curfew to avoid repeat of last year's Covid-19 'genocide' | Added March 5
The mayor of Rio de Janeiro has ordered a coronavirus "curfew" in the hope of sparing the seaside city a repeat of last year's Covid-19 "genocide" when it was pummeled by the disease.
The nighttime prohibition, which Mayor Eduardo Paes said would last from 11pm to 5am, was announced as hospitals across Brazil buckled under the strain of a crippling upsurge in infections and the South American country suffered its worst day of losses since the pandemic began.
In an open letter, Brazilian scientists urged the federal government to declare an immediate 14-day lockdown, claiming that was now the only way to avert a catastrophe of "despair and deaths".
---
Biden looking to have every 'educator, school staff member, child care worker to receive at least one shot by the end of the month of March' | Added March 5
President Joe Biden on Tuesday announced a plan to prioritize the vaccination of educators and related staff nationwide.
"We want every educator, school staff member, child care worker to receive at least one shot by the end of the month of March," Biden said.
He said that the Federal Pharmacy Program will be used to deliver the shots to pre-K through grade 12 teachers and staff, as well as child care workers.
Biden also announced that the U.S. expects to take delivery of enough coronavirus vaccines for all adult Americans by the end of May, two months earlier than previously anticipated.
"We're now on track to have enough vaccine supply for every adult in America by the end of May," said Biden, who likened the partnership between the two drug companies to the spirit of national cooperation during World War II.
---
Democrats narrow who gets $1,400 checks in COVID-19 relief bill — read more at LA Times | Added March 4
Senate Democratic leaders and President Biden have agreed to more narrowly target which Americans would be eligible for a $1,400 stimulus payment in the latest COVID-19 relief measure.
To ease the bill's way with moderate Senate Democrats, the proposed new version allows single filers with annual income under $75,000 to receive the full amount, phasing it out entirely for those with incomes of $80,000 and higher.
AND
As part of the new proposal, Senate Democrats would maintain the $400 weekly federal unemployment supplement Biden requested and the House passed, rather than dropping it to $300, as some moderates requested.
The other most notable change from the House version will be removing language to raise the federal minimum wage to $15 an hour. Senate Parliamentarian Elizabeth MacDonough advised last week that because Democrats are using a special budget reconciliation process to move the bill quickly without Republican support, they cannot include policy changes, such as raising the national minimum wage.
AND
The bill also includes billions of dollars for COVID-19 vaccines and coronavirus testing, as well as for schools and state and local governments; a quarter of a trillion in emergency jobless benefits; and targeted aid to the ailing restaurant and airline industries.
---
STAT News: Amazon Care's health provider has quietly filed paperwork to operate in 17 more states | Added March 4
The clinical provider for Amazon Care, the tech giant's virtual-first medical platform, is quietly gearing up to do business in 17 additional states, according to public documents viewed by STAT.
Since 2018, Amazon has contracted with a Washington-based medical practice called Care Medical to offer staff in Washington state a combination of virtual and in-person visits through Amazon Care. In February alone, Care Medical filed paperwork to start doing business in Georgia, Hawaii, Maine, Maryland, and Alaska, among other states.
---
Biden calls decision by Texas and Mississippi to lift mask mandate 'neanderthal thinking' | Added March 4
The White House is on a collision course with red state governors over mask mandates and other coronavirus restrictions, testing the bipartisan unity that President Joe Biden has tried to tap in curbing Covid.
Top administration officials on Wednesday pleaded with residents of Texas and Mississippi to remain vigilant, fearing that plans by those states' governors to lift public health precautions will seed a resurgence of the virus.
Biden later took on the decisions head on, describing them as "neanderthal thinking" that threatened to ruin steady progress toward beating back the pandemic.
It marked a rare public escalation of tensions between the White House and GOP governors that the administration has tried to tamp down for weeks, both to keep the pandemic response on track and in acknowledgment of the fact that there's little the administration can do legally to rein in states that go rogue.
---
After failing to produce effective Covid-19 vaccine, Merck enters $268.8 million deal with Biden administration to help make Johnson & Johnson vaccine | Added March 4
President Biden announced Tuesday that pharmaceutical giant Merck will help make Johnson & Johnson's single-shot coronavirus vaccine — an unusual pact between fierce rivals that is among several steps intended to boost supply as Biden pushes toward having enough shots for every adult by the end of May.
AND
The Merck deal is geared toward the second half of the year, an administration officials said. That's when the threat of variants could loom larger, requiring the manufacture of booster shots, and also when greater political attention will turn to supplying the developing world with vaccine.
The administration will pay $268.8 million to Merck to upgrade multiple plants to the necessary safety standards to produce Johnson & Johnson vaccine, from fermentation in vats to final finish and filling in vials. The Biden administration and the companies did not disclose the number of doses Merck would produce for Johnson & Johnson.
AND
Biden is wielding the powers of the Defense Production Act, a Korean War-era law, to give Merck priority in securing equipment it will need to upgrade its facilities for vaccine production, including the purchase of machinery, bags, tubing and filtration systems.
---
Texas Gov. Greg Abbott rescinds mask mandate; businesses allowed to open at 100% | Added March 3
From the Fort Worth Star-Telegram:
Abbott's regular updates on guidelines for business operations have slowed since October, when he issued an executive order permitting most businesses to operate at 75% capacity. There are some exceptions, such as salons, where there's no occupancy limit but there are health guidelines. Bars, which are open in Tarrant County, can operate at 50% capacity with county judge approval.
The rollback of business operations is triggered by an area's COVID hospitalization rate.
Effective March 10, "all businesses of any type" can open at full capacity, Abbott said Tuesday. The mask mandate will also be lifted March 10.
---
CNN: Biden now says US will have enough vaccine for every adult by the end of May | Added March 3
President Joe Biden said Tuesday the United States would have enough Covid-19 vaccine doses for every adult American by the end of May, dramatically accelerating his timeline but acknowledging the country must still be vigilant against the virus.
He also announced he would direct states to prioritize teachers in their vaccination plans, reemphasizing a commitment to returning students to classrooms amid a confusing administration stance on when and how classrooms can reopen.
The new date does not mean all Americans would receive shots by May 31; issues with distribution and personnel mean it could take much longer for all doses to be administered.
But the speedier estimate, helped along by a new partnership between major US drugmakers, makes for an optimistic target as millions of Americans wait to receive their first doses. The timeline speeds up by two months the administration's previous goal of having enough shots by the end of July.
---
Millions of unemployed US workers bereft of benefits as labor market continues to suffer | Added March 3
State unemployment systems continue experiencing long delays, backlogs of unemployed claims, errors and long arbitration periods that have left millions of workers in the US without any unemployment benefits while they are out of work due to the coronavirus pandemic.
An analysis of unemployed workers in January 2021 by the labor economist Eliza Forsythe at the University of Illinois at Urbana-Champaign, estimated unemployment systems are currently only reaching at most 30% of all unemployed workers, leaving an estimated 8 million unemployed Americans not receiving benefits.
Several states still have thousands of unemployed claims backlogged. Total initial weekly unemployment claims have declined in recent weeks but have remained higher than the worst week of the 2008 recession for 49 straight weeks. The US labor market currently has 9.9m fewer jobs than before the pandemic.
---
New Orleans Archdiocese deems Johnson & Johnson vaccine 'morally compromised' due to use of stem cells in its development | Added March 3
The Catholic Archdiocese of New Orleans urged Catholics on Friday against taking a vaccine for COVID-19 manufactured by Johnson & Johnson because the vaccine is developed from stem cells obtained from two abortions.
In a statement on the archdiocese's website, the organization argued that Johnson & Johnson's vaccine was "morally compromised."
"The archdiocese must instruct Catholics that the latest vaccine from Janssen/Johnson & Johnson is morally compromised as it uses the abortion-derived cell line in development and production of the vaccine as well as the testing," the statement read.
"We advise that if the Moderna or Pfizer vaccine is available, Catholics should choose to receive either of those vaccines rather than to receive the new Johnson & Johnson vaccine because of its extensive use of abortion-derived cell lines," the archdiocese continued.
A request for comment from Johnson & Johnson was not immediately returned.
---
ABC News: CDC director urges states not to reopen too soon as cases plateau | Added March 3
The U.S. has hit a plateau in coronavirus cases and deaths that signal a "potential shift in the trajectory of the pandemic," the director of the Centers for Disease Control and Prevention warned states on Monday not to loosen restrictions and get in front of the progress the country has made since it hit a monumental 300,000 cases a day in January, the worst point of the pandemic so far.
Over the last week, the daily number of cases and deaths, on average, has risen by about 2% compared to the week prior, CDC Director Rochelle Walensky said during a White House press briefing, to about 67,000 cases per day and 2,000 American lives lost to the virus each day. It's nearly a third of what the U.S. was seeing during its holiday surge, but still no better than what the U.S. saw during the summer peak.
"With these new statistics, I am really worried about reports that more states are rolling back the exact public health measures we have recommended to protect people from COVID-19," Walensky said. "I understand the temptation to do this — 70,000 cases a day seems good compared to where we were just a few months ago — but we cannot be resigned to 70,000 cases a day, 2,000 daily deaths."
AND
There is no single reason cases have leveled off, but infectious disease epidemiologist and ABC News contributor John Brownstein said it could be a combination of factors including relaxed mitigation efforts or complacency, but also a drop-off in testing that allows people to unknowingly spread the virus and perhaps the cold snap in southern states like Texas that prompted people to gather indoors.
Brownstein also pointed to the increasing prevalence of the B.1.1.7 variant, which originated in the U.K. and is about 50% more transmissible.
---
Coronavirus Fact-Check #10: Why "new cases" are plummeting — read more at OffGuardian | Added March 2
The scary red numbers are all going down. Check any newspaper or covid tracking website you want. Cases. Deaths. Hospitalisations. They're all going down, sharply, and have been for weeks, especially in the US and UK.
So, why would that be?
Pundits across the media world have made suggestions – from vaccines to lockdowns – but there's only one that makes any real sense.
---
What IS the truth about Covid deaths? — read more at Daily Mail | Added March 2
The most comprehensive figures, and the ones trusted by the medical establishment, are those published every week by the ONS (Office for National Statistics). They reflect what doctors responsible for a patient in their final illness write on death certificates to the 'best of [their] knowledge and belief' whether the deceased has tested positive for Covid or not. One reason for this wording is that some studies have found that one in five swabs may give false negatives; so everything depends on the doctor.
It is the area which is causing the most controversy, especially in care homes, which account for a quarter of all Covid deaths.
One of the reasons is because the rules surrounding certifying a death have been relaxed during the pandemic.
In the past, the certifying doctor needed to be treating the patient or know them and have seen them recently. But during this emergency period, when doctors are under increasing pressure — or self-isolating — there is no requirement for them to have examined the patient. A video-link consultation in the four weeks prior to death (extended from 14 days) is now sufficient for a death to be attributed to Covid.
It was an on-call doctor, not the regular care home doctor, remember, who said Jessie Wylde died from Covid, a clinical decision which her family successfully challenged by having her death certificate changed.
---
Reuters: Taking COVID-19 vaccine will not alter your DNA, Ghana president says | Added March 2
Ghanaian President Nana Akufo-Addo urged citizens of the West African state on Sunday to ignore conspiracy theories surrounding coronavirus vaccines ahead of the launch of its nationwide inoculation campaign against the virus on Tuesday.
"Fellow Ghanaians, I know there are still some who continue to express doubts about the vaccine, others have expressed reservations about its efficacy, with some taking sides with conspiracy theorists who believe the vaccine has been created to wipe out the African race. This is far from the truth," Akufo-Addo said in a nationwide address on Sunday night.
"Taking the vaccine will not alter your DNA, it will not embed a tracking device in your body, neither will it cause infertility in women or in men," he said.
---
CARE homes can can impose 'no jab, no job' contracts on new staff, the Justice Secretary has confirmed — read more at The Sun | Added March 2
Robert Buckland said care homes must have "obvious rationale" to require employees to be vaccinated.
He added that the Government would not be adopting a "blanket approach" to care homes imposing "no jabs, no jobs" policies.
Speaking to the BBC, he said: "Future contracts and contracts of employment are indeed matters between employers and employees.
"I think that where such conditions are imposed there needs to be a very clear rationale for them.
"In a care home, a closed environment where there are vulnerable residents, I would argue there does seem to be an obvious rationale.
---
Daily Star: Brits could be offered Covid vaccines as 'nasal sprays and tablets' to speed up rollout | Added March 2
Professor Sarah Gilbert, professor of vaccinology at the University of Oxford, discussed the research as she was quizzed by MPs on the Science and Technology Committee.
She said: "We are also thinking about second generation formulations of the vaccine.
"As you know all the vaccines have been given at the moment as intramuscular injections, and that is not necessarily the best way to provide protection against a respiratory virus infection, where we want the immune system to be active in the upper respiratory tract and then in the lower respiratory tract, which is where the virus is causing the infection.
"We have flu vaccines that are given by nasal spray and this could be a very good approach in the future to use vaccines against coronaviruses.
"It's also possible to consider oral vaccination where you take a tablet, that will give you that immunisation, and that would have a lot of benefits for vaccine rollout if you didn't have to use the needles and syringes."
Both of these approaches are in their early stages and a series of tests still need to be carried out.
---
Infants, newborns, and pregnant women will be included in Johnson & Johnson's next Covid vaccine trial | Added March 1
Johnson & Johnson plans to test its coronavirus vaccine in infants and even in newborns, as well as in pregnant women and in people who have compromised immune systems.
The bold plan for expanded clinical trials met with the approval of Dr. Ofer Levy, director of the Precision Vaccines Program at Harvard's Boston Children's Hospital and a member of the Food and Drug Administration advisory committee that reviewed the company's vaccine data.
When Dr. Levy saw the outlines of the planned trials, "they turned my head," he said. They were reported as part of the company's application to the F.D.A. for emergency use approval and discussed at the F.D.A. meeting.
---
New trial to study the efficacy of mixing and matching Covid vaccines | Added March 1
This month, a team of vaccinologists from Oxford University began recruiting 800 or so people age 50 or older for a complex study to see whether vaccine switching could actually work.
Using an eight-armed clinical trial, they'll test vaccine regimens using various combinations and intervals of the two vaccines currently being dispensed in Britain: one made by Pfizer and BioNTech, and another developed by Oxford and AstraZeneca.
---
WHO coronavirus origins investigation purports to have found potential patient zero infected in December…yet also suggests virus transmission started much earlier | Added March 1
The first official World Health Organization (WHO) coronavirus investigation wrapped up a few weeks ago, and the early conclusions did not provide a better explanation for the origins of COVID-19. After several months of controversial planning, the researchers found that the likeliest explanation for the COVID-19 pandemic is an animal-to-human transmission. It's unclear which animals might have spread the virus or when the jump to humans might have happened. In the process, WHO scientists spoke to a potential patient zero. If he was the first person to contract COVID-19, the location of the first covid case would shift to a food market in Wuhan rather than the infamous Huanan market. His story also indicates that COVID-19 transmission might have started well before late December 2019, when the first cases were announced to the world.
WHO officials met the presumed patient zero while visiting Wuhan, The Wall Street Journal reports. The man, an office worker in his 40s, is believed to have been infected on December 8th. He works for a private company and had no recent travel history.
---
Chronology has become a conspiracy theory | Added March 1