We'll be keeping track of what we determine to be the most relevant updates on the coronavirus situation. New items will go at the top. If you have something to report — news, science news, or a check-in from your local area — please send to editors@planetwaves.net. Stay in touch and help us out by sharing this resource with others. This blog is published by Chiron Return, a 501(c)(3) nonprofit corporation, which is an affiliate of the Pacifica Radio Network.
Released Pfizer data shows pregnant women should avoid 'covid' jabs to prevent miscarriages | added August 31
Since the rollout of the experimental covid-19 shots, U.S. health officials have adamantly claimed the shots are safe for pregnant women and have been urging all pregnant women to get the jab "to protect themselves and their babies." To this day, the Centers for Disease Control and Prevention (CDC) recommends the covid-19 shot for: "… people who are pregnant, breastfeeding, trying to get pregnant now, or might become pregnant in the future."
The CDC further recommends: "People who are pregnant should stay up to date with their covid-19 vaccines, including getting a covid-19 booster when it's time to get one." And claims: "Evidence continues to build showing that: covid-19 vaccination during pregnancy is safe and effective.
There is currently no evidence that any vaccines, including covid-19 vaccines, cause fertility problems in women or men."
All the while, they've had Pfizer data showing the shots cause shocking rates of miscarriage which, adding insult to injury, have been blatantly miscategorized as a "recovered/resolved" adverse effect.Who in their right mind would consider DEATH a resolved side effect unless they had a depopulation agenda in mind all along? I don't see how this could be described as anything but a criminal cover-up. The only reason we know any of this is because U.S. District Judge Mark Pittman ordered the U.S. Food and Drug Administration (FDA) to release Pfizer documents at a rate of 55,000 pages per month. The FDA and Pfizer had asked to release the documents at a pace of 500 pages per month, which meant it would take 75 years to disclose them all.
---
New policy will require unvaxed NBA players to take weekly 'covid' tests | added August 31
Unvaccinated NBA players and staff members will be required to test weekly for covid-19, said a league memo on Tuesday. The new policy had been developed for several weeks and it was agreed upon by the National Basketball Players Association. "It looks like we'll be on our normal track in terms of when the season starts, in terms of our protocols around the game, particularly around the health and safety of our players," NBA Commissioner Adam Silver said at the league's Board of Governors meeting in July.
"I have learned over the last two and a half years not to make any predictions when it comes to covid, but only to say we'll be prepared for anything that comes our way." Testing will not be required by vaccinated individuals unless directed by a team or league physician or by "government authority." Anyone exhibiting symptoms, regardless of vaccinations status, will have to report it and get tested. They also will have to report when someone in their household tests positive.
Face masks will not be required but will be recommended indoors if virus levels are high in a certain area. More than 95 percent of the league and its officials are vaccinated, and the league wants everyone to stay up to date with their vaccines. The memo said that there will be some exceptions for the unvaccinated, notably if someone is "recently recovered" from the virus.
---
China places millions under renewed lockdowns due to 'covid' outbreaks | added August 31
BEIJING — China has placed millions of its citizens under renewed lockdown following fresh outbreaks of covid-19, authorities reported Tuesday, as the government persists in its hard-line policy on containing the virus.
The measures affected about half of the 6 million residents of the port city of Dalian, along with an undisclosed number in Chengde and Shijiazhuang in Hebei province, both around three hours from the capital Beijing. Dalian's lockdown was due to last five days, although authorities have in past extended restrictions depending on the number of new cases.
Beijing has been relatively unaffected thus far, although travel in and out of the capital has been discouraged and residents are subject to testing on an almost daily basis. Partial lockdowns have also been imposed on cities such as Chengdu in the southwest, Shenyang in the northeast and Jishui in the southeast. Such measures are mandated under China's "zero-covid" policy, which contrasts starkly with moves by other nations to coexist with the virus through gradual easing of restrictions, vaccinations, improved therapeutics and voluntary isolation.
---
Life expectancy in U.S. continues to drop, according to CDC analysis | added August 31
Life expectancy in the U.S. fell in 2021, for the second year in a row. In 2019, someone born in the U.S. had a life expectancy of nearly 80 years. In 202o, because of the pandemic, that dropped to 77 years. In 2021 life-span dropped again — to 76.1 years. And for some Americans, life expectancy is even lower, according to a provisional analysis from the Centers for Disease Control and Prevention.
"The results of this study are very disturbing," says Dr. Steven Woolf, a professor of population health and health equity at Virginia Commonwealth University. "This shows that U.S. life expectancy in 2021 was even lower than in 2020," he says. Other high-income countries have seen a rebound in life expectancy, which Woolf says makes the U.S. results, "all the more tragic."
One of the most dramatic drops in life expectancy in 2021 was among American Indian and Alaskan Native people. Between 2020 and 2021 the life expectancy for this group fell by almost two years, from 67.1 in 2020 to 65.2 in 2021. "That's horrific," Woolf says. "The losses in the Native American population have been terrible during the covid-19 pandemic. And it reflects a lot of barriers that tribal communities face in getting access to care," he says.
---
Fauci says "We're not going to eradicate the virus from the face of the Earth" | added August 31
When White House Chief Medical Advisor Dr. Anthony Fauci warned in 2020 that living with the coronavirus was going to be our new normal, he meant it. "We're not going to eradicate the virus from the face of the Earth," Fauci told Yahoo Finance in an interview on Tuesday. "I don't believe we're even going to eliminate it from this country to the tune of getting zero cases."
Despite earlier estimates pointing to a possible end to the pandemic by 2024, along with assumptions that all countries would be fully vaccinated by then, poor adherence to vaccinations and public health mitigation measures has resulted in an ongoing pandemic that is nowhere near under control.
Just 67.4% of the U.S. population has been fully vaccinated, and only 48.5% of those fully vaccinated have received their first booster dose, according to the CDC's latest data. The constant mutation of the virus only exacerbated the issue as it continued to circulate the globe. Other viruses like measles, smallpox, and polio don't have such quick mutations even after decades — which is why it has been easy to keep them from spreading widely through childhood vaccinations.
---
Anti-viral drug pill Paxlovid cuts 'covid' deaths for people over 65 years old, Israeli study shows | added August 31
Paxlovid, the covid-19 treatment made by Pfizer, reduced hospitalizations and deaths in older patients during the omicron surge in Israel earlier this year, but made no difference for patients under 65 at high risk for severe disease, new research has found.
The study is one of the first published examinations of the real-life effectiveness of Paxlovid against the omicron variant, now the dominant version of the coronavirus. Pfizer's trials of Paxlovid were conducted during a surge of the Delta variant last year, and included only unvaccinated individuals.
There have been lingering questions about how effective the medication is against the omicron variant, and among patients who are vaccinated or have some immunity from a prior bout of covid. The drug has been available to Americans since December. The new study did not address another pressing mystery: how often patients experience "rebound" cases of covid after taking the drug. Jill Biden, the first lady, exited a second isolation period on Monday after her infection returned following a course of Paxlovid.
---
Facing the reality of Russia's 'covid'-driven Great Reset | added August 31
A reader recently alerted me to an intriguing article published by Thomas Röper, the curator of Anti-Spiegel. In it, Röper argues that Ernst Wolff—an authoritative voice on Great Reset shenanigans—is wrong to list Russia as an active participant in the covid-triggered New Normal.
I would like to offer a different perspective on this subject, particularly because many of the arguments put forward by Röper have become commonplace on Twitter, Telegram, and podcasts that nobody listens to. To Röper's credit, he took the time to actually write down his thoughts. Röper and I have exchanged "blog critiques" in the past; in December, he critiqued an article I wrote pointing to links between Davos and the financiers and developers behind Sputnik V. I then critiqued his critique. Blogging is very exciting.
I want to stress that this article is not meant as a personal attack on Röper; I'm only interested in exploring his ideas. Actually, I'm rather fond of Röper. He possesses a rare quality—he's open to dialogue. He even updated his December article to include my response to his critique. Quite sporting of him—practically unheard of in the age of ego-driven, vapid Internet Punditry.
---
Tennis star Novak Djokovic unable to enter U.S.A. and Canada due to unjabbed status | added August 31
NEW YORK — Novak Djokovic will not play in the U.S. Open, as expected, because he is not vaccinated against covid-19 and thus is not allowed to travel to the United States. Djokovic announced his withdrawal from the year's last Grand Slam tournament on Twitter on Thursday, hours before the draw for the event was revealed.
"Sadly, I will not be able to travel to NY this time for US Open," Djokovic wrote, wishing luck to his fellow players, and said he would "keep in good shape and positive spirit and wait for an opportunity to compete again." Play is scheduled to begin at Flushing Meadows on Monday. Djokovic is a 35-year-old from Serbia who owns 21 major championships, one behind Rafael Nadal for the men's record.
Three of Djokovic's Slam trophies came at the U.S. Open, in 2011, 2015 and 2018. He also was the runner-up there a half-dozen times, including last season, when his pursuit of the first calendar-year Grand Slam in men's tennis since 1969 ended with a loss in the final to Daniil Medvedev. Foreign citizens who have not been vaccinated against covid are currently unable to enter the U.S. or Canada, and Djokovic has said he won't get the shots, even if that prevents him from playing in certain tournaments.
---
South Korea eases border restrictions and lifts mandatory arrival 'covid' testing | added August 31
South Korea announced Wednesday that it will further relax its border measures and lift its pre-travel covid-19 test requirement for all arrivals beginning in September as the country's recent outbreak has stabilized. Second Vice Health Minister Lee Ki-il said that travelers will no longer be required to present a negative test result within 48 hours of departure for their travels into the country, but they will still need to take a covid-19 test within 24 hours of their arrival.
"All inbound travelers, whether our nationals or foreigners, arriving aboard a plane or ship will not need to hand in a negative PCR test starting midnight of Sept. 3," Lee said, Yonhap News Agency reported. The change follows a recommendation from an infectious disease advisory committee that the pre-travel covid-19 test requirement should be lifted, as the travel industry claimed that it was ineffective at containing the outbreak.
South Korea lifted its quarantine requirement for foreign arrivals regardless of vaccination status in June and scrapped its outdoor mask mandate in May. Japan made a similar move, lifting its pre-entry covid-19 test for foreign travelers, but only those who have been vaccinated three times. Japan has lifted most of its covid-19 measures, and in June, foreign tourists were once again allowed to visit the country if they were part of a package tour.
---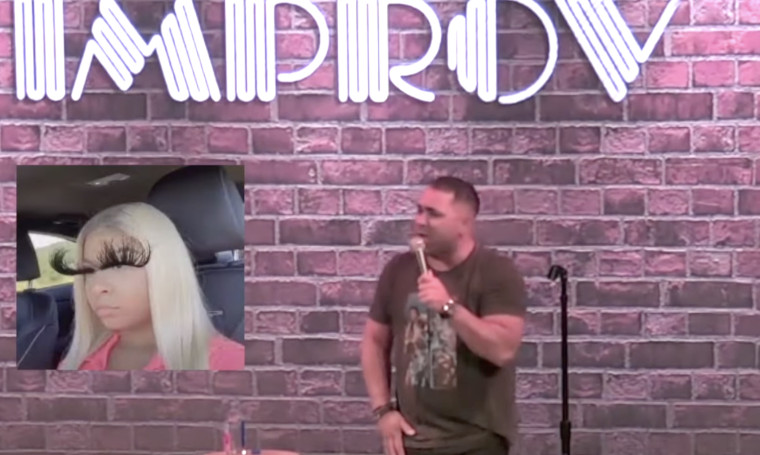 Enough with the Snuffleupagus eyelashes | added August 31
Those lashes are not what nature intended and are obviously a fraud, like 'Dr. Poornima Wagh'.
---
Charlatan's Web: Search for woman's scientific credentials in health freedom movement turns up nothing  | added August 30
SOMEONE CLAIMING TO HOLD TWO DOCTORATES from the world-renowned London School of Hygiene and Tropical Medicine is the latest sensation of the health freedom movement — distinctive because she claims to be an accredited virologist who states declaratively that SARS-CoV-2 does not exist.
Wagh claims to have participated in a massive laboratory project in early 2020 that attempted to sequence nearly 800 samples of lung fluid taken from supposedly "covid"-positive patients in California — only to find that none of them contained any such virus particles whatsoever. For the growing number of people who assert that SARS-CoV-2 has never been isolated and cannot be tested for, she is a dream come true — a scientific unicorn providing long sought-after vindication.
What is different here is that the "no virus" side of the discussion is generally stating that various genetic sequences have been falsely declared as belonging to "SARS-CoV-2" in computer simulations. These are hypothetical "genomes," called in silico sequences, that have never been shown to match an actual virus or cause disease. Wagh is saying that they couldn't even find those theoretical sequences in their hundreds of samples, much less whole virus particles.
---
Sonia Sotomayor rules in favor of unconstitutional medical mandate that forces all NYC municipal workers to receive experimental drugs | added August 30
U.S. Supreme Court Justice Sonia Sotomayor on Monday declined to block New York City from enforcing its mandate that all municipal workers be vaccinated against covid-19, rebuffing a police detective who challenged the public health policy. The liberal justice denied Detective Anthony Marciano's request for a stay of the vaccination requirement while an appeal over his claims continue in a lower court. A federal judge threw out Marciano's case in March.
Sotomayor is the justice designated by the court to act on some matters arising from New York and certain other states. Marciano argued that neither state nor federal law allows government officials to impose vaccines on adults without "informed consent," telling the justices in a legal filing that "he cannot and will not assume the health risks associated with an illegal, experimental" vaccine that he "does not need."
The covid-19 vaccines authorized by the U.S. Food and Drug Administration have been strongly recommended by federal health officials and public health experts and are not considered to be experimental. But many Americans have refused to get vaccinated. Marciano remains on active duty while he appeals the denial of his vaccine exemption request. The city's health department ordered the mandate in October 2021. In February of this year, 1,430 municipal workers were fired for failing to comply.
---
California approves bill to punish doctors spreading 'covid misinformation' | added August 30
Trying to strike a balance between free speech and public health, California's Legislature on Monday approved a bill that would allow regulators to punish doctors for spreading false information about covid-19 vaccinations and treatments.
The legislation, if signed by Gov. Gavin Newsom, would make the state the first to try to legislate a remedy to a problem that the American Medical Association, among other medical groups and experts, says has worsened the impact of the pandemic, resulting in thousands of unnecessary hospitalizations and deaths. The law would designate spreading false or misleading medical information to patients as "unprofessional conduct," subject to punishment by the agency that licenses doctors, the Medical Board of California. That could include suspending or revoking a doctor's license to practice medicine in the state.
While the legislation has raised concerns over freedom of speech, the bill's sponsors said the extensive harm caused by false information required holding incompetent or ill-intentioned doctors accountable.
"In order for a patient to give informed consent, they have to be well informed," said State Senator Richard Pan, a Democrat from Sacramento and a co-author of the bill. A pediatrician himself and a prominent proponent of stronger vaccination requirements, he said the law was intended to address "the most egregious cases" of deliberately misleading patients.
---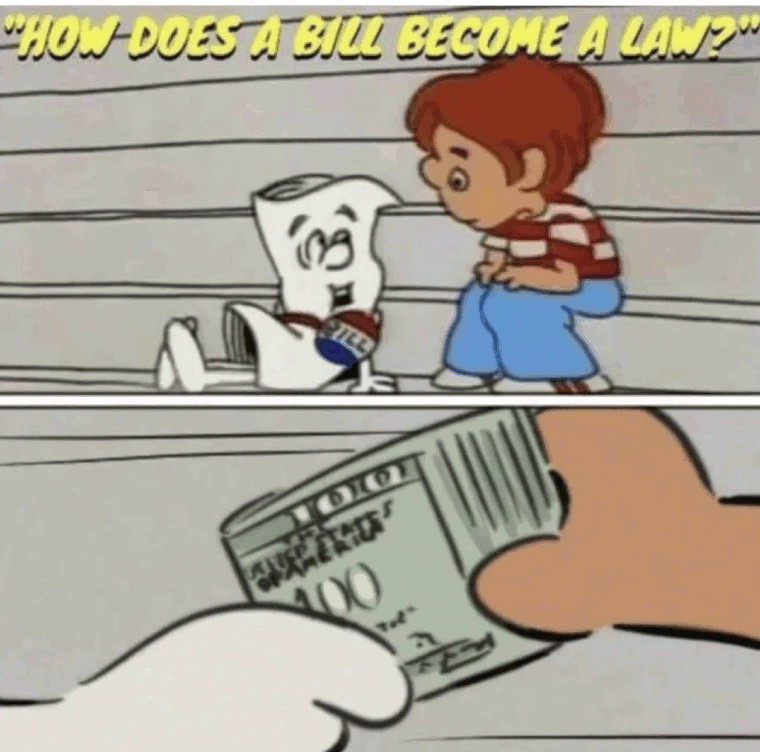 ---
Big Pharma-funded FDA expected to approve 'covid' booster jabs that target 'omicron' subvariants | added August 30
For those who've put off a covid vaccine booster in hopes of getting a shot tailor-made for the omicron subvariants that have ripped across the country, the wait may soon be over. The FDA is expected to authorize a pair of booster shots targeting what appear to be the virus' most contagious strains as soon as Wednesday, three people with knowledge of the matter told POLITICO.
The move would set the stage for the Biden administration to begin offering the reformulated vaccine shortly after Labor Day, in a bid to bolster Americans' protection against a potential covid resurgence later this year. The government plans to roll out a combined 175 million doses of the new boosters developed by Moderna and Pfizer-BioNTech, with Moderna's shot available to all adults and Pfizer's offered to those 12 and older, according to a federal planning guide published earlier this month.
The boosters, which officials hope will offer greater protection against the BA.4 and BA.5 omicron sub variants in addition to guarding against the coronavirus' original strain, come as the administration tries to get ahead of a fast-changing virus that continues to infect tens of thousands of Americans a day. The actual number is unknown since so many people self-test at home and don't report their cases to the government.
---
Free 'covid' testing for Americans to end as federal funds dry up | added August 30
With covid-19 funding drying up and no fresh cash infusion from Congress, the Biden administration says it will suspend its offer of free at-home rapid tests through covid.gov. The program will be put on pause later this week. "Ordering through this program will be suspended on Friday, September 2, because Congress hasn't provided additional funding to replenish the nation's stockpile of tests," a banner alert on the federal website said. The U.S. Postal Service's free test page also noted the impending halt to the program.
A senior administration official told ABC that the move to pause the program is "to preserve our limited remaining supply" — particularly, to have a reserve in case a potential new wave of the virus sweeps the country in the coming months — "so that we can ensure we have a limited supply of tests available in the fall, when we might face a new rise in infections and more acute need."
"The administration has been clear about our urgent covid-19 response funding needs. We have warned that congressional inaction would force unacceptable trade-offs and harm our overall covid-19 preparedness and response — and that the consequences would likely worsen over time," the senior administration official said. "We were also clear that failing to provide resources to be prepared would mean that if a surge were to come later, the cost to the American taxpayer would be even higher. Unfortunately, because of the limited funding we have to work with, we have had to make impossible choices about which tools and programs to invest in — and which ones we must downsize, pause or end altogether," the official said.
---
About face: Government officials in D.C. postpone unlawful mandatory 'covid' jab policy for all students age 12 and older | added August 30
In a significant about-face, government officials in Washington, D.C., on Aug. 26 postponed a policy that would have required proof of vaccination for covid-19 for all students age 12 and over for the new school year — just days after announcing the policy. This announcement comes on the face of a related development, just one day prior, when a D.C. Superior Court judge struck down the district's covid-19 vaccine mandate for government workers. The policy had been challenged by the D.C. Police Union earlier in the year.
In an Aug. 26 letter to school officials in the district, Deputy Mayor for Education Paul Kihn introduced a "staggered" approach for the implementation and enforcement of the district's school vaccine mandate. Under the new policy, students 12 and older now have a Jan. 3, 2023, deadline to receive the two-dose primary series of covid-19 vaccines, after which they would face expulsion.
According to Kihn, the aim of this new approach is to provide school administrators "additional time to prepare and for students to get their covid-19 vaccinations." Remarking on the postponement of the district's policy, Mary Holland, president and general counsel of Children's Health Defense (CHD), told The Defender: "The district imposed a back-to-school covid shot mandate that no other public school district in the country has imposed — and just walked it back to January 2023 from its proposed deadline in early September. "The district has enacted dangerous policies that deny people the informed consent to which they are entitled by law. I am pleased that the courts have played a constructive role in checking some of the district's worst abuses."
---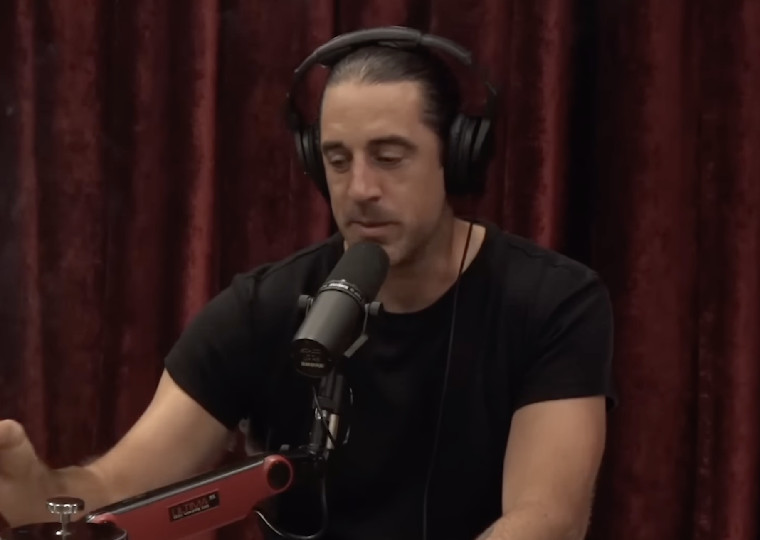 Aaron Rodgers on refusing covid shots | added August 30
Aaron Rodgers going on the Joe Rogan Experience to clear the air on "immunized" controversy against 'covid' and being discriminated against by NFL for refusing the jab.
---
NY Gov. Hochul admits it was a "mistake" to shut down schools during 'covid' pandemic | added August 30
New York Gov. Kathy Hochul on Friday said it was "a mistake" to close schools and move to remote learning during the covid-19 pandemic, citing the impact of resulting job losses on New Yorkers. In a wide-ranging speech at the University of Albany commemorating Women's Equality Day, Hochul, a Democrat, shared her aspirations "to get women back to where they were" before the onset of the pandemic two years ago.
This would start, she said, with a broad study of covid-19's impact on New York's women, employers, and "everybody" affected. "We're going to peel back every dynamic and let's look at, not just in the workplace, but what happened to women when the decisions were made to have all the kids go home and learn remotely," Hochul said. "Wow. Wow, what a mistake that was. What a mistake that was. Women couldn't go to their jobs. They lost their jobs. Or they thought they were back at their jobs and one child in a classroom tests positive, the whole class goes home for a week and a half."
The New York governor described the disrupted education delivery as "nothing short of chaos" and noted that "it just seems to have not ended." Hochul vowed to "get to the bottom" of what happened by holding hearings across the state to hear from New Yorkers, including women, employers, and "everybody," with an aim to avoid an "unfair" pandemic response that results in job losses.
---
Everybody please unclose your eyes: Four videos surface that reveal something is wrong with 'covid' | added August 30
A funeral director in Australia tells of the sharp uptick in his business—50% in the last seven months. And then there are these other recent videos. How many people, all around the world, have very similar stories?
---
British Government begins new revised compensation program for those injured by 'covid' shots | added August 30
The British government has launched a new financial compensation program for individuals and families of those harmed by the experimental covid-19 injections as the mainstream media continues to insist they're "safe and effective." The first payments of the Vaccine Damage Payment Scheme (VDPS), which amount to nearly $150,000, have already been made to family members of those maimed or killed by the covid vaccine.
As we reported in July, Vikki Spit was the first to receive the VDPS payment after the government determined her British rocker fiancée Zion died as a result of the AstraZeneca vaccine.The VDPS will compensate British citizens with a tax-free payment of up to £120,000 ($141,000) if they're found to have become severely disabled or injured as a result of taking the coronavirus vaccine.
Vaccines for about 20 diseases are eligible for payments under the program, and coronavirus was added to the British government's website between November 2020 and July 2021 — the height of the mRNA vaccine rollout. To receive a payment, the government must determine the individual to be at least 60% disabled as a result of taking the experimental shot. "This could be a mental or physical disablement and will be based on medical evidence from the doctors or hospitals involved in your treatment," explains the application guidelines.
---
This week in the 'new-normal': Stealth omicron and FDA approved brain-computer interfaces | added August 30
1. "STEALTH OMICRON" IS "THE MOST TRANSMISSIBLE YET"
For those of you not keeping up with the covid news, the latest variant just dropped. It's omicron BA.4…or maybe BA.5. Or both. Also known as the "stealth variant" it may be "the most transmissible yet", and can even bust through the "protection" granted by the "vaccines", according to new research:
Research published in Nature out of Columbia University suggests that BA.4 and BA.5 are four times more resistant to antibodies from vaccines than BA.2, a subvariant that became the dominant strain in the US in April, replacing the original strain that had driven the winter wave across the country.
It is absolutely real, and not just an ad hoc explanation for all those people who dutifully got "vaccinated" three four five times, but keep "testing positive" anyway. It's because of those pesky stealth variants – & NOT because the "test" is a meaningless lottery based on reactions to any minuscule fragment of junk it might happen to find in your system.
---
D.C. mayor confirms city will not be offering remote learning for unvaxed students | added August 27
Washington Mayor Muriel Bowser has confirmed that her city is not planning to allow remote learning for unvaccinated students, who will be blocked out of their classrooms when the new school year starts next week. Under the city's latest school attendance policy, children aged 12 years and older must show proof of covid-19 vaccination within the first 20 days of the new school year to continue learning in person. The policy applies to all public, private, and independent schools.
"If the student does not come into compliance within a 20-school day period, the school must remove the student from school until the immunization certification is secured by the school," the Office of the State Superintendent of Education (OSSE) states. When asked at a Thursday press briefing whether the city has a plan for those who are not compliant with the policy, Bowser replied that students must be vaccinated in order to attend school in person.
"They can go to school on Monday. But they need to get their vaccinations," the mayor said, "Their families will be alerted as to the dates." When pressed again about whether online instruction will be made available to unvaccinated students, Bowser said the city does not offer such an opportunity. "We're not offering remote learning for children, and families will need to comply with what is necessary to come to school," she said.
---
Judge rules Mayor Muriel Bowser's 'covid' vax mandate imposed on district employees is illegal | added August 27
WASHINGTON — A D.C. Superior Judge ruled Thursday that Mayor Muriel Bowser's vaccine mandate is unlawful. According to a press release from the DC Police Union, Judge Maurice Ross has issued an order ruling that Bowser's covid-19 mandate, which applies to all D.C. employees, is illegal.
In Aug. 2021, the mayor issued an order requiring all District employees to provide proof of vaccination by Sept. 19, 2021. The order also allowed exemptions to the vaccine rule on religious and medical grounds if the employee agreed to be tested weekly for covid. In Dec. 2021, Bowser issued another motion directing city administrators to create a new plan to remove the test-out option, according to court documents.
In early 2022, Bowser requested DC Council extend the emergency legislation requiring the vaccine mandate.
DC Council did not extend the measure and failed to pass any legislation extending the code that the mandate was in. In January, the D.C. Department of Human Resources informed employees that everyone would be required to be fully vaccinated against covid, including any booster shots when eligible by Feb. 15. Employees who did not follow the guidelines could be disciplined.
---
Georgetown University announces it will reinstate mandatory masks despite recent CDC updates | added August 27
Georgetown University (GU) in Washington, DC announced on Aug. 22 that masks would still be required in "indoor instructional settings, such as classrooms and teaching laboratories, on the Main and Medical Center campuses." The announcement reinforces GU's July message regarding mask mandates.
The mandates contradict the Center for Disease Control's (CDC) guidelines that suggest masks are optional during low periods of covid-19 cases. D.C.'s current rate is 89.6 cases per week. The university also informed students that they would be conducting wastewater testing for covid-19 to "help assess public health conditions on campus in the coming weeks."
The CDC states, "People infected with SARS-CoV-2 can shed the virus in their feces, even if they don't have symptoms. The virus can then be detected in wastewater, enabling wastewater surveillance to capture [the] presence of SARS-CoV-2 shed by people with and without symptoms." The current announcement indicated Georgetown will continue to require students and faculty to have the covid-19 vaccine and booster shots to attend in-person on campus. An exception is made for those with approved religious and medical exemptions. The announcement also links to a monkeypox website which includes a summary of possible symptoms of the disease. The website also has a list of frequently asked questions students and staff are referred to.
---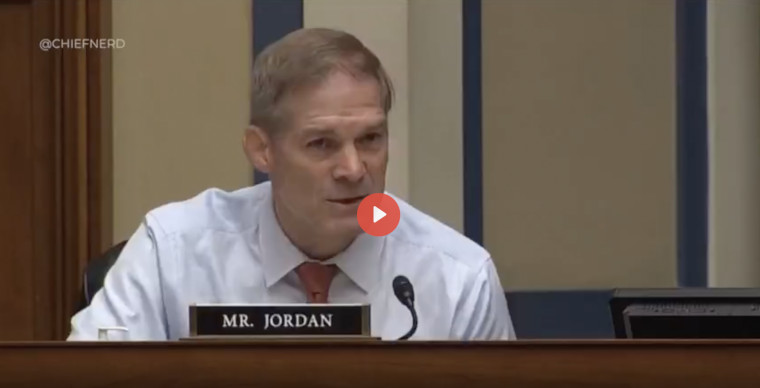 Dr. Deborah Birx admits Biden was 'hoping' not trusting the science on covid vax efficacy | added August 27
STUNNING: Dr. Deborah Birx at a recent congressional hearing admits the Biden Administration's vaccine efficacy claims were based on 'hope' not science.
---
U.S. Secret Service recovers $286 million in 'covid' relief funds siphoned off by conspirators | added August 27
The Secret Service said Friday that it has recovered $286 million in covid relief funds that were meant for small businesses but were siphoned off by fraudsters using thousands of stolen or fake identities. The conspirators used fake identities to apply for covid relief funds known as Economic Injury Disaster Loans (EIDL), and created 15,000 accounts at Green Dot Bank, an online institution in Texas, to try to access the money using debit cards. Green Dot notified the Secret Service when it discovered suspicious accounts, and the EIDL money was returned to the Small Business Administration, which had administered the relief funds.
Assistant Special Agent in Charge Roy Dotson, the lead pandemic fraud investigator for the Secret Service, said at a news conference Friday that there are "many actors" and a "myriad of potential suspects behind the fraud," and believes there could be domestic and international co-conspirators. "This is not going to be a quick fix," said Dotson, speaking of the broad sweep of covid relief fraud. "This is one case. …It's going to be a long process."
As federal and state governments raced to get money out the door to keep the economy afloat, many safeguards were overlooked. Estimates of the total amount of fraudulently obtained federal, state and local covid relief money start at about $100 billion and top $500 billion. Experts say will likely take years to account for the full scope of the fraud.
---
Google employees frustrated over company's return-to-office policy amid recent 'covid' outbreaks | added August 27
Google employees are receiving regular notifications from management of covid-19 infections, causing some to question the company's return-to-office mandates. The employees, who spoke with CNBC on the condition of anonymity, said since they have been asked to return to offices, infections notifications pop up in their email inboxes regularly. Employees are reacting with frustration and memes.
The company began requiring most employees to return to physical offices at least three days a week in April. Since then, staffers have pushed back on the mandate after they worked efficiently for so long at home while the company enjoyed some of its fastest revenue growth in 15 years. Google has offered full-time employees the option to request permanent remote work, but it's unclear how many workers have been approved.
Google's covid-19 outbreak in Los Angeles is currently the largest of any employer in LA., according to the city's public health dashboard. Deadline.com first reported that the tech giant's trendy Silicon Beach campus in Venice, Calif., recorded 145 infections while 135 cases were recorded at the company's large Playa Vista campus.
---
NYS Department of Health offers free 'covid' jabs every day at state fair in Syracuse | added August 27
ALBANY, N.Y. [August 23, 2022] – The New York State Department of Health will be operating a covid-19 vaccination clinic on the grounds of the Great New York State Fair in Syracuse during its entire 13-day run, beginning August 24. The clinic will be open from 10:00 A.M. to 6:00 P.M. every day of the fair, inside the Exposition Center. Access to the clinic is included with Fair admission. There is no charge for the vaccines or boosters and insurance is not required.
"We want to ensure that every New Yorker has ample opportunities to protect themselves and their loved ones from the covid-19 virus, regardless of whether they have a regular health care provider," State Health Commissioner Dr. Mary T. Bassett said. "As we prepare for a potential covid-19 surge in the fall as schools begin, we know how to best limit serious illness from covid-19: students and staff should get vaccinated and boosted. It's that simple." The State Department of Health and the Centers for Disease Control and Prevention (CDC) recommend all eligible adults, adolescents and children down to 6 months old get fully vaccinated. In addition, all those eligible should receive a covid-19 booster or additional dose.
Great New York State Fair Interim Director Sean Hennessey said, "The Great New York State Fair is honored to host the Department of Health's covid-19 vaccination clinic at the Exposition Center and provide New Yorkers with tools to stay healthy. The New York State Fair is known for being a place that celebrates community. That's demonstrated through showcasing the best of New York agriculture and providing top-quality entertainment, but also in serving as an information and resource hub to help our neighbors."
---
Infant hospitalized with 'monkeypox' being treated with experimental drug TPOXX  | added August 27
Although thousands of Americans have tested positive for monkeypox since the outbreak began, this past spring, only a handful of pediatric monkeypox cases have been identified across the U.S. Across the country, at least 18 children in 10 states have now tested positive for monkeypox, according to state and local health officials, and little is known about most of these cases, due to concerns over patient privacy.
One of these cases has been identified in King County, Washington, where local officials recently confirmed that an infant in their community had tested positive for the monkeypox virus. The child has been hospitalized and receiving treatment for the virus in recent days after being exposed to monkeypox through an infected family member, officials said. The child did not become infected in a school, child care, or other public setting.
Officials from Seattle Children's Hospital confirmed to ABC News that their teams are currently caring for the infected baby, who is under the age of 1. Dr. Danielle Zerr, medical director of infection prevention at Seattle Children's Hospital, told ABC News that although the infant is still hospitalized, the patient is doing better, and officials are currently creating a discharge plan. The patient has been in the hospital for several days, according to Zerr.
---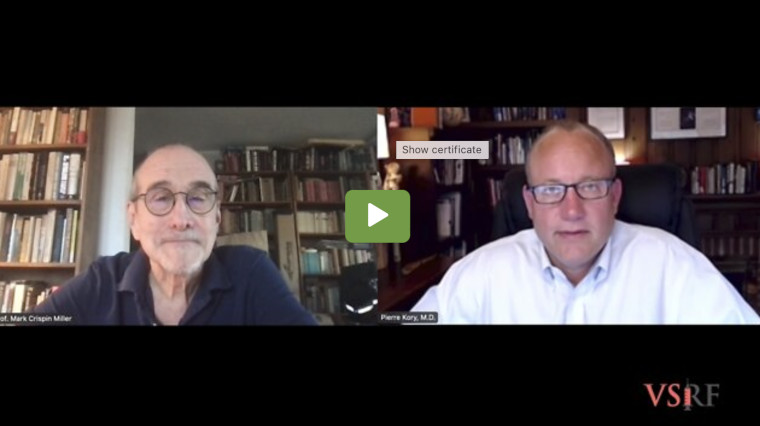 Mark Crispin Miller speaks with Dr. Pierre Kory about pandemic propaganda and how to stop it | added August 27
This global plague is REALLY doing what "the coronavirus" NEVER did. FLCCC founder, Dr. Pierre Kory, MD will interview NYU Professor of Media, Culture, & Communication, Mark Crispin Miller. Professor Miller's research interests include: modern propaganda, history and tactics of advertising, American film, and media ownership. Books include Boxed In: The Culture of TV; Seeing Through Movies, ed.; Mad Scientists: The Secret History of Modern Propaganda; Spectacle: Operation Desert Storm and the Triumph of Illusion; and The Bush Dyslexicon. His newest book is Cruel and Unusual: Bush/Cheney's New World Order.
---
New military whistleblower report signed by nine officers across five branches urge Congress to take action against DOD's illegal 'covid' shot mandate | added August 27
A new whistleblower report signed by nine officers across five branches of the military claims the Department of Defense's covid-19 vaccine mandate is unlawful. The report was sent to Congress urging an investigation into what it called illegal and fraudulent activity by the DOD. The memorandum was published by Liberty Council, a nonprofit legal group that in January maintained there was no legal covid-19 vaccine available despite the U.S. Food and Drug Administration saying there was.
The officers alleged in the Aug. 15 memorandum that the DOD has unlawfully administered emergency use authorized (EUA) products as if they were fully licensed FDA-approved products. Military regulations state service members have a legal right to refuse EUA products. Although the FDA issued approval for Pfizer's Comirnaty vaccine in August 2021, none of the FDA-approved vaccines were available. FDA documents dated November 2021 stated: "In the U.S., there are no licensed vaccines or antiviral drugs for the prevention of covid-19."
Furthermore, the FDA said the EUA-authorized Pfizer vaccines were "legally distinct" from the FDA-approved Comirnaty vaccines that were unavailable for service members in the U.S. "The licensed vaccine has the same formulation as the EUA-authorized vaccine and the products can be used interchangeably to provide the vaccination series without presenting any safety or effectiveness concerns. The products are legally distinct with certain differences that do not impact safety or effectiveness," the FDA said.
---
Tech giant Google tests more "pre-bunking" strategies to combat online 'misinformation' | added August 27
Tech giant Google is testing out "prebunking" strategies aimed at "inoculating people against manipulation" and misinformation online. In a paper published Wednesday in the journal Science Advances, researchers from Google and Cambridge University in the United Kingdom teamed up to conduct experiments that involved five short videos aimed at "inoculating people against manipulation techniques commonly used in misinformation."
The study, titled, "Psychological Inoculation Improves Resilience Against Misinformation on Social Media," involved nearly 30,000 participants. Other authors included researchers at the University of Bristol in the United Kingdom and the University of Western Australia. Researchers say the manipulation techniques commonly used in misinformation are "emotionally manipulative language, incoherence, false dichotomies, scapegoating, and ad hominem attacks."
Specifically, researchers showed 90-second videos aimed at familiarizing watchers with manipulation techniques such as scapegoating and deliberate incoherence. The videos introduce concepts from the "misinformation playbook," according to researchers, and explained to viewers in simple terms some of the most common manipulation techniques using fictional characters as opposed to real political or media figures.
---
The utopia that never was | added August 27
About three years ago, before this covid swill was poured down our throats, my wife pointed out an article in the Toronto Star about a proposal to have cars fitted with bumper cameras, or some other nonsense intended to cut down on illegal parking, hit and run offenses, and various other "bad" things that if recorded on video would make all of our lives better.
Surely anything that would lessen the crime rate was a good thing. "Can you believe this bullshit!" I blurted out, as my defiant shrew ire flared up. "I think it's a good idea," piped in my wife. Picture the familiar cartoon of a man clenching his teeth with the black cloud over his head—maybe with some thunderbolts cracking out of it.
So why would this bother me so much? That seemed obvious, the old "what if this gets in the wrong hands" mantra went through my head—really? "It just isn't right!" I silently exclaimed. First of all, it was rather fishy that these things would just come with a new car and you wouldn't have a choice. Then of course it is quite obvious it is an infringement on privacy—there are many ways that such a thing could be "used against you."
---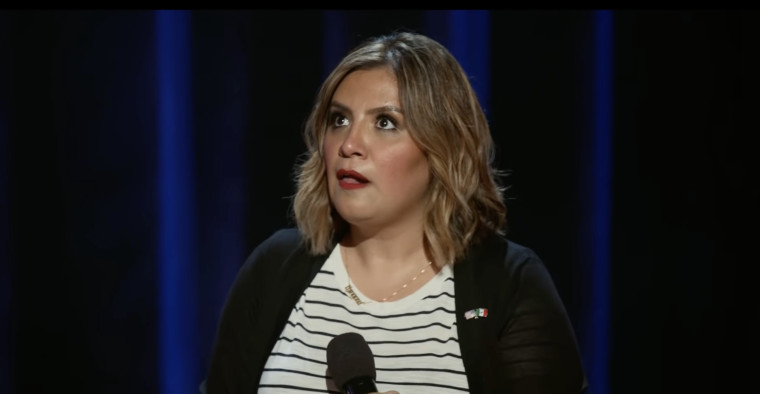 Let's remember to exercise | added August 27
Sour patch kids, Budweiser beers and Krispy Kreme incentives after covid jabs are probably not the best for health, according to common sense. Happy Weekend.
---
Moderna sues Pfizer | added August 26
Good morning all,
A fraud lawyer from the dioxin era once said to me, "You know you've got them when they start shooting each other."
(The last time I wrote that in an article, Dick Cheney shot Harry Whittington in the face a few days later.)
In a world where it seems like everyone sues everyone, one might think: big deal. My take is that we have a significant development (link is to Times article).
Yesterday's post covered the forthcoming New Moon at 4:17 am Saturday. I know you're not all students of news astrology, however, this is rich. We are, today, in the extreme balsamic phrase of the Moon — hence, "endgame" stuff, and also a seed moment for the next stage of events.
Here is the what the Times has published a few minutes ago: Moderna on Friday sued Pfizer and BioNTech, claiming that their Covid vaccine copied its groundbreaking technology. Moderna said in a statement that Pfizer and BioNTech infringed on patents filed between 2010 and 2016 that covered its mRNA technology. Moderna, which is based in Cambridge, Mass., sued in U.S. District Court in Massachusetts and the Regional Court of Düsseldorf in Germany, where BioNTech is based.
---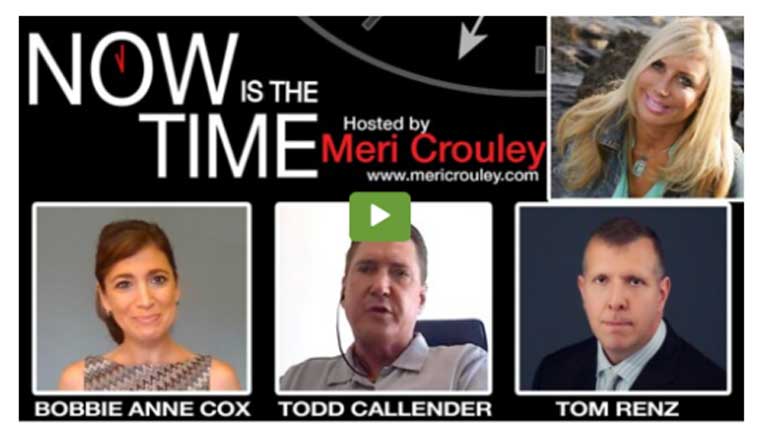 Now Is The Time presents medical freedom intel from America's front-line lawyers | added August 26
Meri interviews 3 attorneys who are on the front lines of this battle against the covid-19 mandates and jabs. Hear their courageous testimonies of how they have stood up against tyranny. Bobbie Anne Flower Cox from Uniting NYS discusses recent lawsuit victory in New York state that banned Gov. Hochul's quarantines.
---
Experts say recent polio detection in wastewater should be no surprise, it's been around | added August 26
The fact that poliovirus was detected in New York City wastewater samples as far back as April of this year shouldn't be surprising, as the virus likely has been circulating for longer and more widely than previously believed, several experts told MedPage Today. "I think you're gonna see over the next weeks more and more reports of poliovirus in wastewater elsewhere," said Vincent Racaniello, PhD, a virologist at Columbia University in New York City.
Poliovirus probably still circulated in the U.S. after 2000, when officials stopped giving the oral polio vaccine, he said. That version protects against paralysis and provides short-term protection against intestinal infection from poliovirus. The transition to injectable polio vaccine, which is equally as effective against paralysis but not against intestinal infection, meant that the U.S. population was more susceptible to transmitting vaccine-associated poliovirus, he explained.
This circulation is likely occasional and sporadic, he said, but the threat to vulnerable populations is still high. "Here's the thing: polio is here in the U.S. It's not gone," Racaniello said. "It's in the wastewater. It could contaminate you, so if you're not vaccinated, that could be a problem." Racaniello said there's value in learning more about the circulation of the virus, especially for communities with low vaccination rates.
---
U.S. suspends Chinese airlines over 'covid' control measures | added August 26
BEIJING — The U.S. government is suspending 26 flights by Chinese airlines from the United States to China in a dispute over anti-virus controls after Beijing suspended flights by American carriers. The Department of Transportation on Thursday complained Beijing violated an air travel agreement and treated airlines unfairly under a system that requires them to suspend flights if passengers test positive for covid-19.
U.S. regulators suspended seven flights by Air China Ltd. from New York City and a total of 19 flights from Los Angeles by Air China, China Eastern Airlines Ltd., China Southern Airlines Ltd. and Xiamen Airlines Ltd., according to the Department of Transportation. It said that was equal to the number of flights United Airlines, American Airlines and Delta Air Lines were required to cancel under Beijing's "circuit-breaker" system.
The ruling Communist Party's "zero covid" strategy aims to keep the virus out of China while other governments are shifting to living with the disease. That has kept case numbers low but disrupted travel, manufacturing and trade. Beijing is easing travel curbs, but most foreign visitors still are barred from China. Until Aug. 7, if up to nine passengers on a flight tested positive, a carrier could suspend a flight for two weeks or reduce the passengers it carried to 40% of the possible total, according to DoT. It said that since Aug. 7 airlines have been required to suspend a flight if the number of positive tests reaches 4% of passengers on one flight.
---
WEF claims there are rational reasons to consider implanting children with microchips | added August 26
Claiming "augmented reality" technology "has the ability to transform society and individual lives," the World Economic Forum (WEF) recently suggested there are "solid," "rational" and "ethical" reasons to consider implanting children with microchips. According to an article published this month on the WEF website, "Implant technologies could become the norm in the future" and they "form part of a natural evolution that wearables once underwent."
The article's author, Kathleen Philips, said there are "compelling" arguments in favor of microchipping humans. For example, implant technologies could supplant the role currently played by ingestible pharmaceutical products, could help dyslexic children or could "sniff out" food allergens or illnesses such as covid-19, Philips said.
The potential benefits of these "amazing technologies," Philips said, are endless — limited only by "ethical arguments" rather than "scientific capacity." Philips is vice president of research and development for imec, a Belgian company that describes itself as "the world-leading R&D and innovation hub in nanoelectronics and digital electronics." According to the WEF, Philips' article has been "intentionally misrepresented on sites that spread false information," adding that "misrepresenting content diminishes open conversations."
---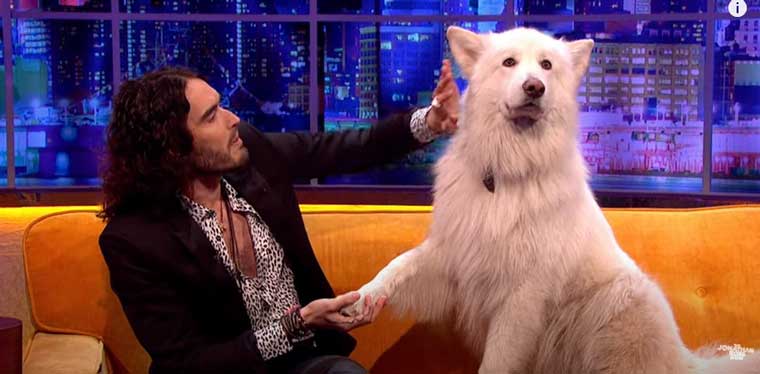 Pup break: Russ. B and Brian the pup on The Jonathan Ross Show | added August 26
Russ. B discusses his time with the very noble Brian the pup.
---
New Israeli study shows Pfizer's Paxlovid antiviral drug pill provides little to no benefit for adolescents | added August 26
A new study has found that Pfizer's covid-19 oral antiviral pill Paxlovid appears to provide little or no benefit for younger adults. Researchers in the Israel-based study, which was published in the New England Journal of Medicine on Wednesday, examined over 109,000 patients between Jan. 9 and March 31 of this year.
During the study period, the omicron variant was the dominant strain in Israel. Patients in the study were separated into a group with acquired previous immunity due to vaccinations or prior infections and a group with no previous immunity, defined as being unvaccinated or vaccinated with only one mRNA vaccine dose and having no previous documented covid-19 infection, according to researchers.
Pfizer's Paxlovid pill consists of two different antiviral drugs—nirmatrelvir and ritonavir. It is taken twice per day for five days and is best within five days of symptoms onset. The pill is currently authorized for conditional or emergency use in more than 60 countries to treat covid-19 patients who are at high risk of severe illness due to conditions like obesity, diabetes, and heart disease. Among the 109,254 patients in the study 3,902 (4 percent) received at least one dose of nirmatrelvir during the study period, including 2,484 of 42,821 patients (6 percent) who were 65 years of age or older and deemed high risk and 1,418 of 66,433 patients (2 percent) who were 40 to 64 years of age.
---
'Monkeypox' appears to suddenly be declining in New York City and around the globe | added August 26
Monkeypox cases are declining in New York City and globally as more people get vaccinated and as they change their sexual behavior in response to the outbreak, health officials said this week.
New York City on Thursday reported that 2,885 monkeypox cases had been identified in the city since the first case in the city was identified in May. In mid-August, about 50 new monkeypox cases were being detected each day, a drop from the 70 or so new daily cases emerging in late July and early August, according to city data.
"In recent days, we have begun to see cases fall and transmission slow," said Dr. Ashwin Vasan, the New York City health commissioner, during a City Council meeting on Wednesday. Monkeypox infections are also declining in parts of California and in Europe, which at one point had 90 percent of the world's cases. The World Health Organization on Thursday reported that monkeypox cases globally dropped 21 percent last week. But the overall trend masked rising cases in other parts of the world, including Latin America and Africa.
---
Moderna's updated RNA 'omicron' shot manufactured by CIA linked company | added August 26
Earlier this week, the United Kingdom became the first country to approve Moderna's reformulated version of its covid-19 vaccine, which claims to provide protection against both the original form of the virus and the significantly less lethal but more transmissible omicron variant. The product was approved by the UK's Medicines and Healthcare Products Regulatory Agency (MHRA) with the support of the UK government's Commission on Human Medicines.
Described by UK officials as a "sharpened tool" in the nation's continued vaccination campaign, the reformulated vaccine combines the previously approved covid-19 vaccine with a "vaccine candidate" targeting the omicron variant BA.1. That vaccine candidate has never been previously approved and has not been the subject of independent study. The MHRA approved the vaccine based on a single, incomplete human trial currently being conducted by Moderna.
The company promoted incomplete data from that trial in company press releases in June and July. The study has yet to be published in a medical journal or peer reviewed. No concerns have been raised by any regulatory agency, including the MHRA, regarding Moderna's past history of engaging in suspect and likely illegal activity in past product trials, including for its original covid-19 vaccine.
---
MSM publishes British Journal of Sports Medicine study that finds physical exercise can reduce risk of catching 'covid' | added August 26
Regular daily fitness may curve risk of severe covid-19 infections, hospitalization, and even death from the disease, according to a new study. Approximately 20 minutes of daily exercise may protect against covid-19 along with its severe symptoms, according to a new study published Monday in the British Journal of Sports Medicine. Researchers indicate that a total of 150 minutes of moderate exercise as well as intense physical activity is a healthy defense against the disease.
However, researchers noted that the study should be read with caution due to its limitations. The team quantified the minutes of necessary physical exercise by analyzing global data from sixteen different studies completed between November 2019 and March 2022. The total number of participants from the examined data included 1.8 million people, with an average age of 53. The pooled data showed that regularly exercised individuals had an 11% lower risk of catching covid-19. Moreover, they had a 36% lower likelihood of being hospitalized, a 44% lower chance of developing serious symptoms, and a 43% fewer chance of death.
"Regular physical activity seems to be related to a lower likelihood of adverse covid-19 outcomes," the study states. "Our analysis reveals that individuals who engage in regular physical activity have a lower likelihood of Sars-CoV-2 infection, covid-19 hospitalization, severe covid-19 illness and covid-19-related death than physically inactive individuals, independent of design and instrument used."
---
First man tests HIV, monkeypox and covid positive at the same time | added August 25
A man from Italy has tested positive for covid-19, monkeypox, and HIV all at the same time after returning from a short trip in Spain, according to researchers from the University of Catania in Italy. The scientists stated in the Journal of Infection that the 36-year-old man, who has not been identified, developed fever, a sore throat, fatigue, and headache as a result of the co-infection.
There are 632.4 million people living with the three viruses individually. The Journal of Infection report pointed out the continuing dominance of covid-19 and monkeypox in the world as they published details about the man's co-infection. The Italian man reportedly spent five days in Spain in June and developed the symptoms nine days after returning from his trip.
As for covid, the patient received two doses of the covid vaccine and had already contracted the virus in January, but he tested positive for covid-19 on July 2 and began developing a rash on his left arm on the same day. The next day, small, painful vesicles that surrounded a rash appeared on the patient's torso, lower limbs, face and glutes. The vesicles continued to spread on July 5 and developed into pustules, which prompted him to go to the emergency department at the University Hospital in Catania where he was transferred to the Infectious Diseases Unit.
---
Georgia elementary school student tests 'monkeypox' positive, unclear if experiencing symptoms | added August 25
A student at an Atlanta-area elementary school has tested positive for monkeypox, according to a Georgia school district. Newton County Schools officials were alerted Tuesday, Aug. 24, that a student at Mansfield Elementary School tested positive for the virus, according to a news release posted on the district's website. A student at Flint Hill Elementary School also is being tested for the virus, officials said.
"NCSS facilities employees will thoroughly clean and disinfect classrooms and other areas at both schools this afternoon to ensure ongoing safe and healthy learning and work environments for students and staff," according to the release. Officials have released few other details but said the schools will remain open as of Wednesday, Aug. 24. The child case comes more than two months after the Peach State confirmed its first case of the virus in June.
There were more than 15,900 confirmed monkeypox cases in the U.S. as of Tuesday, Aug. 23, as health officials across several states work to address the virus, according to the Centers for Disease Control and Prevention. Of those cases, at least 17 are among children aged between 0 and 15 years old, data shows. The Georgia Department of Public Health's latest monkeypox case count shows 1,033 cases in the state as of Aug. 17. So far, the state has only recorded one pediatric case of the virus back in June.
---
First Lady Jill Biden rebounds with 'covid' after multiple negative tests | added August 25
First lady Dr. Jill Biden has tested positive for a rebound case of covid-19, her deputy communications director Kelsey Donohue confirmed to CNN. Biden, who is currently in Rehoboth Beach, Delaware, tested positive again for covid-19 with an antigen test on Wednesday. She tested negative during a routine test on Tuesday.
Donohue says the first lady has not had a reemergence of symptoms. She added that a "small number of close contacts" with whom Biden had recent contact have been notified. Biden first tested positive on August 15 while vacationing in Kiawah Island, South Carolina. The first lady had "cold-like symptoms," according to Alexander, and was put on a cycle of the antiviral drug Paxlovid, which can trigger a rebound case of covid-19 in some people several days after a negative test result.
Biden had two consecutive negative tests on Sunday and traveled from South Carolina to join President Joe Biden in Delaware.
President Biden tested negative Wednesday, a White House official told CNN. Following US Centers for Disease Control and Prevention guidelines, the President will mask for 10 days indoors because he is considered a close contact, the official said.
---
Seven year Monsanto legal battle speeds up as plaintiff faces debilitating cancer | added August 25
Cancer has taken an unrelenting toll on 72-year-old Mike Langford. After being diagnosed with non-Hodgkin lymphoma (NHL) in 2007 he suffered through five recurrences despite multiple rounds of chemotherapy and a stem cell transplant. Now he struggles with chemo-related neuropathy in his arms and legs, and new tests show the cancer is back.
Langford blames his cancer on his longtime use of the popular weed-killing product Roundup, which he applied countless times over decades using a backpack sprayer around his five-acre California property and a vacation lake home. He alleges in a lawsuit that Monsanto, the longtime Roundup maker now owned by the German company Bayer AG, should have warned of a cancer risk.
Last month, a San Francisco judge ruled that Langford's health is so poor that he is entitled to a speedy hearing of his claims. A trial is set for Nov. 7 in San Francisco County Superior Court. "I've had it so long. I'm very angry," Langford said in an interview, a day after doctors biopsied an enlarged lymph node. "The future doesn't look too terribly promising," he said, trying to hold back tears.
---
Senators demand NIH, HHS preserve all Fauci's communications to conduct investigations | added August 25
Sen. Roger Marshall (R-Kan.) on Aug. 23 sent a letter (pdf) to U.S. Department of Health and Human Services (HHS) Secretary Xavier Becerra, demanding that he take immediate steps to preserve all records and information related to Dr. Anthony Fauci and Dr. Francis Collins. The request came a day after Fauci's announcement that he would step down from his leadership position at the National Institutes of Health (NIH). Collins is NIH Director, while Fauci is the director of the National Institute of Allergy and Infectious Diseases (NIAID).
Marshall sought "all documents, records, memoranda, research, correspondence, or other communication or any portion thereof relevant to any involvement of Dr. Fauci or Dr. Collins," according to the letter. Marshall also called on the agency to ensure that its staff would collect, retain, and preserve all related documents, communications, and other records.
"I ask that you immediately confirm that HHS is preserving these records by providing all orders, notices, and guidance given to all HHS staff regarding preservation of information related to these matters and individuals," the senator stated in the letter. He asked the health agency to warn its staff against concealing or destroying the requested records, noting that this could result in a fine and imprisonment for up to three years.
---
New England Journal of Medicine publishes new study claiming that Paxlovid anti-viral pills prevent death by 81 percent | added August 25
A study by Clalit Health Services on the success of treating at-risk covid-19 patients with the anti-viral drug Paxlovid has shown an impressive 81% reduction in the risk of death from complications of the virus and a 73% decrease in hospitalizations among those aged 65 and older, compared to a control group who did not want to take the medication.
Generically known as nirmatrelvir/ritonavir, the oral protease inhibitor was granted emergency use authorization by the US Food and Drug Administration (FDA) in December 2021. It was authorized for treatment of mild-to-moderate covid-19 in people aged 12 years of age and older weighing at least 40 kilograms with positive results of direct SARS-CoV-2 testing, and who are at high risk for progression to severe covid-19, including hospitalization or death. It should be taken within five days of the onset of symptoms.
Published in the prestigious New England Journal of Medicine under the title "Nirmatrelvir Use and Severe Covid-19 Outcomes during the Omicron Surge," the latest study is one of the most comprehensive ones published so far regarding the efficacy of Paxlovid. The Clalit team, who looked at at-risk covid patients aged 40+, analyzed the data on the prevention of death and hospitalization using advanced statistical data.
---
More fear mongering over recent 'covid and 'monkeypox' outbreaks as scientists and doctors claim everyone is at risk | added August 25
With the emergence of covid-19 and the recent surge in monkeypox cases, scientists and doctors who specialize in infectious disease are issuing increasingly dire warnings, saying wealthy countries can no longer afford to ignore small outbreaks abroad. For decades, diseases that primarily affected lower and lower-middle income countries were relegated as "neglected" diseases, having less funding, fewer resources and little attention. Monkeypox, for example, has been smoldering quietly in Western Africa since 2017. Now, scientists are increasingly warning that global infectious disease outbreaks could become the new normal.
"I think it's very clear that we're living in a new age of pandemics," said Dr. Jay Varma, a professor of population health sciences at Weill Cornell Medicine. "We've been dealing with infectious diseases since we appeared on this planet," said Dr. Amesh Adalja, a senior scholar at Johns Hopkins Center for Health Security. Although the advent of antibiotics, vaccines and basic sanitation measures have helped control infectious diseases, the acceleration of international travel in recent decades has unleashed viruses that may have otherwise been contained in one region.
"What's occurring in one geographic area may not remain in that geographic area [because] a pathogen can travel by the speed of a jetliner," says Adalja. Experts say people tend to focus on problems closer to home, and tend to be unaware of diseases spreading beyond their borders. "There's sort of this false sense of security, that when something is spreading somewhere where you don't live and don't know anyone, it's easy to think that it will just sort of continue that way," says Stephen Kissler, Ph.D., a research fellow at the Harvard Department of Immunology and Infectious Diseases.
---
Unvaxed Australian teachers face further "disciplinary measure" of up to five months reduced pay | added August 25
Hundreds of unvaccinated teachers in the Australian state of Queensland are facing up to five months of reduced pay as a "disciplinary measure" for refusing to be "vaccinated" against covid19. Queensland introduced rules mandating covid "vaccines" for all teachers in December of 2021. Those who would not comply were placed on unpaid leave and "investigated":
In December 2021, unvaccinated teachers were suspended without pay and investigated for failing to obey a direction from the Department of Education. The mandate was reversed in June of this year, but teachers returning to work will now face further "discipline" – 18 weeks of pay reduction. That's right, having already faced months of suspension without pay, the teachers now face further punitive measures for refusing to comply with a rule that isn't even in place anymore.
Australia has recorded nearly 10 million covid "cases", and just over 13,000 covid "deaths" – a case fatality ration of just 0.1%. Nevertheless a letter sent out to unvaccinated teachers claims their suspension "mitigated" the possible harm done by their "failure to comply": Your conduct in failing to comply with the direction posed a risk to the health and safety of your co-workers, students and members of the public which was mitigated only by the steps taken by the department to suspend you from duty."
---
Bootleg abortion pills on the rise since Supreme Court struck down Roe v. Wade | added August 25
Ever since the Supreme Court struck down Roe v. Wade in June, dozens of websites have popped up which are illegally shipping abortion drugs anywhere in the US without a prescription – which violates Food and Drug Administration rules.
The operator of one website says that the demand for abortion pills has skyrocketed since the June decision, according to the Wall Street Journal, which notes that some of the websites are registered overseas – and are different from US-based telehealth operators that prescribe and sometimes ship the pills to patients who live in states where the procedure is legal.
Sites are charging as much as $500 per pack of abortion pills, and hold themselves out as providing access to pills for those who can't reach a clinic – or who live in states where abortion telehealth is illegal. The unregulated market creates risks, according to abortion-rights advocates, including that the pills may arrive too late to be used effectively. What's more, those buying abortion pills online without a prescription in states where it's illegal could face criminal charges, legal experts advise.
---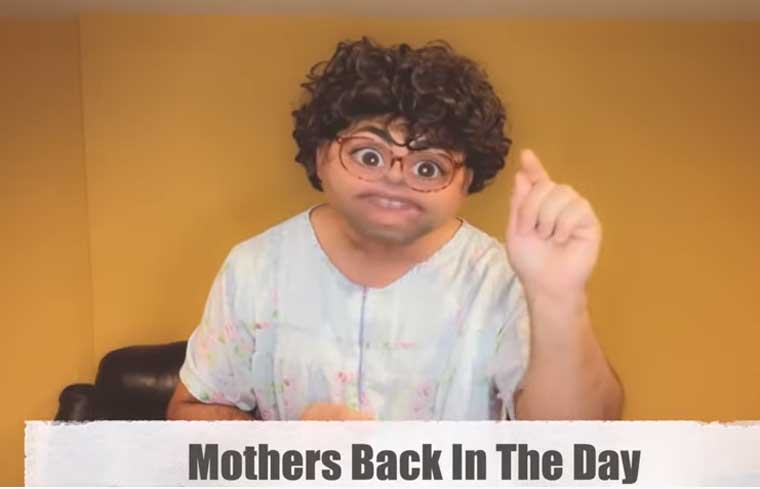 Throwback Thursday | added August 25
Mothers today vs. back in the day. Regardless, respect your mama.
---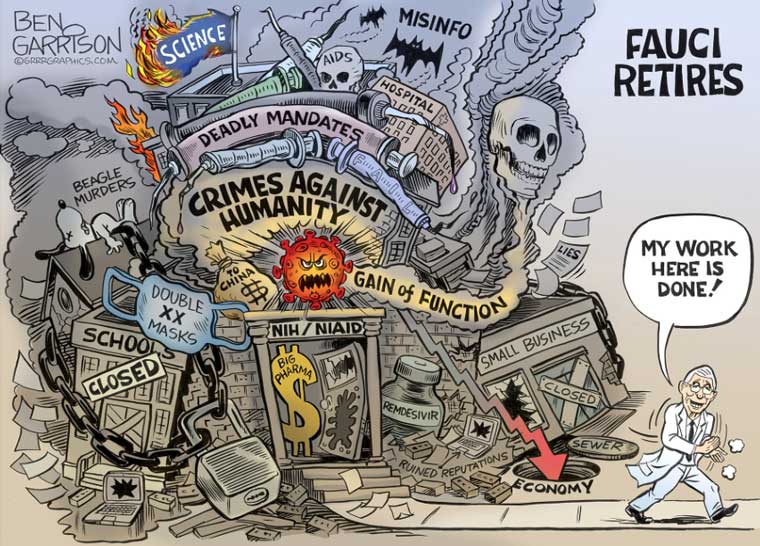 ---
Moderna submits FDA approval application of 'covid' bivalent booster jab for people 18 years and older | added August 24
Moderna submitted its application to the US Food and Drug Administration for emergency use authorization of its updated covid-19 vaccine booster for use in people age 18 and older the company said in a news release on Tuesday. This updated formulation is a bivalent vaccine that will combine the original vaccine with one that targets omicron sublineages BA.4 and BA.5, and would be administered as a 50 microgram dose.
The company says a Phase 2/3 clinical trial on these boosters is now underway. The data they have submitted to the FDA comes from experiments in mice as well as data from humans using a different booster which was updated to protect against the BA.1 strain of omicron. "We have worked closely with the FDA to ensure that Americans will have access to Moderna's updated, bivalent booster, which, if authorized, may offer higher, broader, and more durable protection against covid-19 compared to the currently authorized booster," said Stephane Bancel, chief executive officer of Moderna.
The announcement comes one day after Pfizer and BioNTech said they submitted their application to the FDA for emergency use authorization of their bivalent covid-19 booster for use in people age 12 and older. The FDA will now evaluate the data from Moderna and Pfizer. "FDA will be using the totality of the available evidence to authorize the fall bivalent boosters," FDA spokesperson Abigail Capobianco said in a statement emailed to CNN last week.
---
Japan announces plans to ease 'covid' border controls in early September for triple-jabbed travelers | added August 24
TOKYO — Japanese Prime Minister Fumio Kishida on Wednesday announced plans to ease border controls from early September by eliminating requirements for pre-departure covid-19 tests for travelers who have received at least three vaccine doses, and he will also consider increasing daily entry caps as soon as next month.
Japan, which has imposed some of the toughest border measures for the coronavirus, currently requires negative PCR test results within 72 hours of departure for all entrants, a practice that has been criticized as cumbersome. Kishida, after holding virtual meetings with government ministers and medical advisors earlier Wednesday, told reporters in an online news conference that entrants who have received at least one booster vaccine can waive the pre-entry test beginning Sept. 7.
"We plan to gradually ease border controls to allow entry procedures to be as smooth as those of other Group of Seven countries," Kishida said from his official residence, where he has been on duty while isolating after testing positive for covid-19 on Sunday. Kishida said his government also plans to increase the daily cap for incoming travelers, currently set at 20,000, "as soon as possible." Media reports say the government is considering more than doubling the daily cap to 50,000 as early as next month.
---
Biden administration plans to offer 'next generation covid booster jabs' soon after Labor Day | added August 24
WASHINGTON — The Biden administration plans to offer the next generation of coronavirus booster shots to Americans 12 and older soon after Labor Day, a campaign that federal officials hope will reduce deaths from covid-19 and protect against an expected winter surge. Dr. Peter Marks, the top vaccine regulator for the Food and Drug Administration, said in an interview on Tuesday that while he could not discuss timing, his team was close to authorizing updated doses that would target the versions of the virus now circulating.
Even though those formulations have not been tested in humans, he said, the agency has "extremely good" data showing that the shots are safe and will be effective. "How confident am I?" he said. "I'm extremely confident." This week, both Moderna and Pfizer-BioNTech finalized their submissions to the F.D.A. asking for emergency authorization of booster shots aimed at BA.5 and another subvariant of omicron that together account for most coronavirus cases in the United States.
Federal health officials say they are eager to offer the updated boosters as quickly as possible, pointing to a death toll that now averages about 450 Americans per day and could rise in the coming months as people spend more time indoors. "We have really got to do better to protect the American public," Dr. Anthony S. Fauci, President Biden's chief medical adviser, said in an interview on Tuesday. "We are in the middle of a BA.5 outbreak here, and we are nowhere near where we want to be."
---
Three courts rule California Gov. Gavin Newson may have illegally overstepped authority with mandatory 'covid' lockdown | added August 24
The third California court in a week has ruled in favor of the people of California and the United States Constitution, against the government over state ordered covid lockdowns. California courts are ruling that the government may have overstepped its authority when they followed Gavin Newsom's shut down orders, according to Constitutional Attorney and U.S. Senate candidate Mark Meuser. The cases can move forward and begin discovery.
The Globe spoke with Meuser about these three groundbreaking judicial decisions. "Any one of these cases is interesting," Meuser told the Globe. "But three in one week is huge!" Meuser said the in the San Jose Calvary Chapel case, the 1st court ruled that courts can't sanction a church for refusing to shut down since it was later determined that Newsom overstepped his constitutional authority in shutting down churches. Meuser said the Governor and state government never had the authority to shut down churches.
In the Orange County nail salon case, the 2nd court ruled that since Newsom picked which businesses were allowed to remain open in order to "flatten the curve," the government may be liable for the damages those businesses suffered as a result of following the governor's order. Meuser said the nail salon lawsuit used the "commandeering law" to address when the government seizes a business. If government made the decision to use your property and fight the emergency, the government has to pay fair market value for it. When Gov. Newsom decided which businesses would be locked down and which were not, that was commandeering the locked down businesses.
---
Dr. Robert Malone files defamation lawsuit against the Washington Post over 'covid' shots | added August 24
Dr. Robert Malone on Aug. 19 sued the Washington Post, alleging statements in an article about him were defamatory. The Jan. 24 article says Malone offered "misinformation" when he said during a speech that the covid-19 vaccines "are not working" against the omicron virus variant. As proof, the paper linked to studies by the U.S. Centers for Disease Control and Prevention from January that found a booster shot on top of a primary series was protecting well against severe disease.
The studies were published in the agency's quasi-journal, which has a stated goal of being aligned with the agency's messaging. The centers have repeatedly promoted covid-19 vaccination during the pandemic. Later in the speech, Malone said that the vaccines "do not prevent omicron infection, viral replication, or spread to others."
That quote was not included in the Post's article. "I said nothing about disease and death at that point in time," Malone told The Epoch Times, accusing the Post of taking a "selective misquote" and using the CDC study to contest an assertion he never made. The Post did not respond to a request for comment while an automatic message from the article's author, Timothy Bella, said he's on parental leave until December. Bella provided no evidence in the article that the vaccines were protecting against omicron infection.
---
Vandana Shiva speaks with RFK Jr. about addressing global hunger with sustainable farming practices that don't deplete nature | added August 24
Agroecology — sustainable farming that works with nature, rather than depleting nature — is the answer urgently needed to address global hunger, poverty and climate change, according to Vandana Shiva, Ph.D., environmental activist, author and founder of Navdanya International. Shiva told Robert F. Kennedy, Jr., on a recent episode of "RFK Jr. The Defender Podcast":
"Asset management companies go to an indebted company and say, 'Give us your forest and your mountains, and here's the money to pay your debt.' "Because we are in a debt crisis, this kind of new enslavement will increase unless we rise up and say, 'Nature's not for sale.'" Shiva's latest book, "Agroecology and Regenerative Agriculture: Sustainable Solutions for Hunger, Poverty, and Climate Change," provides evidence-based solutions for pressing crises in global ecology, agriculture and public health.
She told Kennedy she became an environmentalist when she realized corporations that sold chemicals and "poisons" wanted to own seeds and were promoting GMOs (genetically modified organisms) in order to patent the seeds. "I happened to be at a meeting where they were talking about this 1987," she said. "That's when I said, 'No, the seed must be saved. We cannot allow the poison cartel to be the owners of life and take royalties from the farmers.' Shiva and Kennedy discussed how the Rockefeller Foundation and the Bill & Melinda Gates Foundation pushed industrial agriculture on Indian farmers under the "so-called 'green revolution,' which really means "chemical farming," Shiva said.
---
CNN medical analyst calls for a drop against mask mandates claiming it harmed son's development | added August 24
CNN medical analyst Dr. Leana Wen, who for two years was one of the strongest advocates for masks and masks in schools, now admits that forcing her child to wear one harmed his development. As we previously noted, Wen started to admit some months ago that masks don't work in stopping the spread of covid, further declaring that "the decision to wear a mask should shift from a government mandate to an individual choice."
As recently as two months prior to that, Wen was advocating for the Biden administration to "further restrict the activities of the unvaccinated." Wen also previously entrenched a segregated society when she blamed people who hadn't taken the jab for a covid-19 "surge" while asserting "we can't trust the unvaccinated."
Wen also called for making it "hard for people to remain unvaccinated" by restricting their social freedoms. She asserted that, "It needs to be hard for people to remain unvaccinated," claiming that it wasn't currently difficult (despite the group being demonized and discriminated against on a daily basis). Wen also previously stated that children returning to school need to be forced to wear industrial grade face masks and should be subjected to weekly covid tests until they are fully vaccinated. Now, however, Wen says that masking kids has too many downsides.
---
Sixty-three percent of New Yorkers reported catching 'covid', half have chosen booster jabs | added August 24
Only half of New York City residents have received a covid-19 booster shot even as nearly two-thirds reported catching the virus since the outbreak first arrived in the Big Apple in 2020, a new health survey released Tuesday reveals. The rate of full vaccine and booster coverage across the five boroughs ranged from a high of 60% in Manhattan to a low of 34% in the Bronx, according to the poll of 2,500 adults conducted by the CUNY Graduate School of Public Health by Emerson College.
The survey found that 86% of residents received at least one covid jab and 60% of parents had their kids vaccinated. There was a big disparity by borough in the number of New Yorkers who were sick with covid-19 who received approved medical treatments — ranging from 30% in Manhattan to only 6% in Staten Island and 12% in The Bronx.
There's another troubling new finding: 22% of people said they or a family member had suffered from "long covid," lingering illnesses or symptoms lasting weeks or months after recovery. "Sixty-three percent reporting having covid-19 is a big number," said Dr. Ayman El-Mohandes, dean of CUNY's School of Public Health and co-leader of the Pandemic Response Institute.
---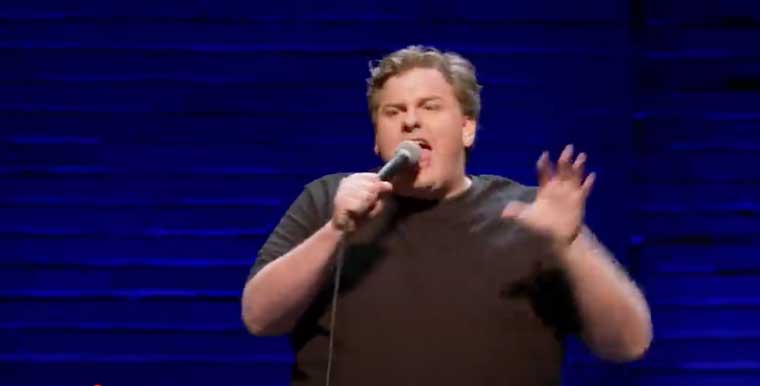 Tim Dillon on being a real hero | added August 24
Tim weighs in on 'covid' pandemic, fast food and more.
---
Fauci announces he will be stepping down from NIAID in December to focus on mentoring next generation of scientific leaders | added August 23
The nation's top infectious disease expert, Dr. Anthony Fauci, plans to step down from his roles running the National Institute of Allergy and Infectious Diseases and advising the White House as its chief medical advisor at the end of the year, he announced Monday.
Fauci has become a household fixture during the covid-19 pandemic, battling back misinformation — sometimes from the highest levels of government. His steadfast commitment to science, challenging former President Donald Trump on everything from the use of hydroxychloroquine to mask mandates, made him a quasi-celebrity in the process.
The 81-year-old has advised seven U.S. presidents, starting with Ronald Reagan through the HIV/AIDS epidemic, West Nile virus, the 2001 anthrax attacks, pandemic influenza, various bird influenza threats, Ebola, Zika and, most recently, covid and monkeypox. Fauci, who also runs the NIAID Laboratory of Immunoregulation, said he has no intentions of retiring.
---
Gov. Hochul to ease 'covid' rules for schools in the fall, no masking and mandatory testing requirements | added August 23
New York state will ease its covid -19 rules for schools this fall as students and teachers return to the classroom in the coming weeks, Gov. Kathy Hochul said Monday. Officials plan to align New York's pandemic rules for schools and other areas with updated guidelines released earlier this month by the Centers for Disease Control and Prevention.
The development means students will no longer have to "test to stay" if exposed to covid-19. Classrooms with covid exposure will not be sent home. Students with covid symptoms will still be advised to test and wear a mask. Schools also expect to receive covid tests to aid with the reopening of districts this fall. Officials at the same time also do not expect the state to require masking indoors when schools reopen.
All told, about 14 million tests are expected to be distributed to the more than 600 school districts in the state as classrooms work to return to a semblance of normalcy after more than two years of the pandemic. Hochul, at a news conference Monday, acknowledged the toll of remote learning on students, especially lower-income kids, during the pandemic and that it is something officials do not want to repeat.
---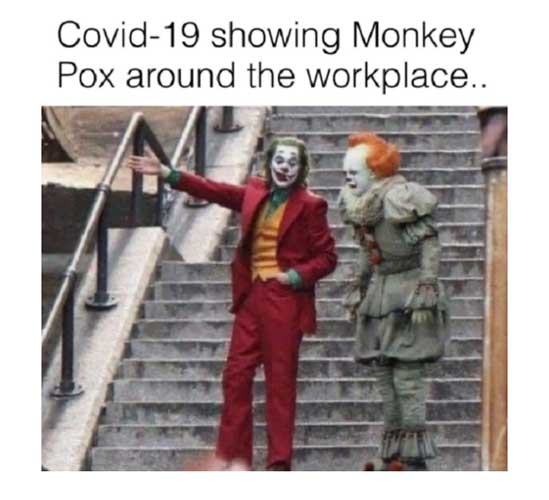 So, what's next then, Fauci?
---
Pfizer and BioNTech submit FDA application for emergency use authorization of bivalent 'covid' shot  | added August 23
Pfizer and BioNTech have submitted their application to the US Food and Drug Administration for emergency use authorization of their bivalent covid-19 vaccine for use in people age 12 and older, the companies said in a statement on Monday.
This updated formulation will combine the original vaccine with one that targets omicron sublineages BA.4 and BA.5, and would be administered as a 30 microgram dose. The companies say they are following "guidance from the FDA" and are including clinical data of their bivalent BA.1 vaccine and pre-clinical and manufacturing data from the bivalent BA.4/5 vaccine for the submission.
"FDA will be using the totality of the available evidence to authorize the fall bivalent boosters," FDA spokesperson Abigail Capobianco said in a statement emailed to CNN last week. "There are data on many millions of individuals who have received the prototype component as a booster. As for the BA.4/5 component, a combination of nonclinical data obtained in mice, data from prior variant vaccines (including those to beta, delta, and omicron BA.1), along with our extensive knowledge of the safety and efficacy of the mRNA platforms will be used for this decision-making."
---
Deadly PFAS chemicals found in drinking water from fracking | added August 23
For more than a decade, Bryan Latkanich has discussed his concerns about fracking chemicals contaminating the water and air near his home with anyone who would listen. Latkanich is a resident of Washington County, Pennsylvania, one of the state's most heavily fracked regions. In 2020, an Environmental Health News (EHN) investigation found evidence that Latkanich and his son Ryan had been exposed to harmful chemicals like benzene, toluene and styrene.
Now, researchers have uncovered more harmful substances in Latkanich's tap water — "forever chemicals." Last year it was revealed that these chemicals, collectively referred to as PFAS (per-and polyfluoroalkyl substances), have been used in U.S. oil and gas wells for decades. As far as the experts we spoke with know, this is the first time PFAS that may be linked to fracking have been detected in household drinking water.
The chemicals don't break down naturally, so they linger in the environment and human bodies. Exposure is linked to health problems including kidney and testicular cancer, liver and thyroid problems, reproductive problems, lowered vaccine efficacy in children and increased risk of birth defects, among others.
---
Prime Minister Anthony Albanese says Royal Commission to investigate Australia's handling of 'covid' pandemic "as soon as practicable" | added August 23
Prime Minister (PM) Anthony Albanese says a Royal Commission will investigate Australia's handling of the covid-19 pandemic "as soon as practicable," but the government will first deal with the current wave of the virus. Speaking to Sky News Australia on Aug. 21, Albanese said that while both federal and state government responses need to be looked at, the main focus would be on the former Liberal-National Coalition government's handling of the pandemic.
However, the senator for South Australia, Alex Antic, has stressed that a Royal Commission is an "absolute necessity," but needed to look into the response of the states, who were responsible for lockdowns, mandates (for masks and vaccines), and quarantine policies—most states and territories are run by the centre-left Labor Party.
PM Albanese revealed that the Royal Commission—a broad independent investigation—would look at the interaction between federal and state-level authorities. "Primarily, it would be about the federal government, that's what we have responsibility for. But the interaction between the different levels of government of course were critical to the response to the covid pandemic," Albanese said.
---
In Memoriam: The Nuremberg Code 1947-2022 after Supreme Court refused action against vax mandates | added August 23
The Nuremberg Code just died after a lengthy illness. Covid has been identified as the official cause of death, but pundits claim that the Code was actually struggling with terminal illness for the past three years, even before the Wuhan virus made its debut.
Numerous factors contributed to the Code's demise, but metastatic tyranny is the underlying condition chiefly responsible for the Code's slow and torturous death. In fact, the Code was on life support ever since lockdowns and mask mandates were imposed in 2020.
After years of systematic abuse and gang rape by the WHO, CDC, and world governments, the Nuremberg Code finally succumbed to her wounds and was pronounced dead on June 30, 2022, when the Supreme Court refused to take action against vaccine mandates that could have effectively resuscitated the Code. The Court claimed that a DNR (do not resuscitate) order had been placed on the late Nuremberg Code, and that only palliative care would have been allowed.
---
Five Salvadorans suddenly drop dead and 92 fresh graves found in New Zealand | added August 23
Remember all those scary images from China back in January, 2020, of people "dropping dead of covid" in the street? While used to justify the CCP's ferocious lockdown over there, that opening blast of visual terror-propaganda also helped, immeasurably, to spread the fear worldwide—to Italy (the first European country to lock down), then New Zealand (hailed by the WHO for quickly emulating China), then elsewhere the world over (the Chinese story having been terroristically retold throughout the British press).
Thus many millions were traumatically convinced that they too might drop dead at any moment, killed by "the coronavirus," which, they readily believed, was just as deadly as "the Spanish flu" and/or Black Death—despite the fact (embarrassing in retrospect) that nobody in China had "dropped dead of covid in the street." That propaganda fantasy was far more lethal than "the virus," as it convinced those terror-stricken masses to lock down and mask up—"measures" that themselves variously killed off millions all around the world, from April, 2020 through that dark year, and beyond.
And that was just the start; for then came the "vaccines"—which, for some 20 months, have actually been doing what "the virus" was alleged to do, but never did. Now (literally) countless people, all throughout the world, are dropping dead while walking on the street (or on the job, or at the wheel, or on the playing-field, or at the store, or home in bed): a stark fact overwhelmingly confirmed by evidence of every kind—and yet those millions cannot see it, even when their "vaccinated" loved ones drop dead, too, or they themselves collapse (because—they think—of "covid").
---
United States registers largest global surge of 'monkeypox' after being declared in all 50 states, according to recent CDC data | added August 23
The first documented case of the monkeypox virus was in Boston, Massachusetts, on 19 May 2022. The United States became the fourth country, outside the African continent where the virus is endemic, to experience the outbreak in 2022, declaring it a public health emergency on 4 August.
As of 22 August, the monkeypox virus has spread to all 50 states in the United States, according to data from the Centers for Disease Control and Prevention (CDC). Wyoming became the final state in the country to report a case of the virus on Monday. The single case of monkeypox is from a male resident in Laramie County, according to a news release by the Wyoming Department of Health (WDH). The WDH added that state public health representatives have been monitoring the infected individual's contacts.
Monkeypox symptoms are initially flu-like, including a fever, headache, chills, muscle aches, tiredness and swollen lymph nodes, which are then followed by a widespread rash. Although rarely fatal, it can cause serious illness in some people. According to the World Health Organization (WHO), over the past week, the US saw the largest increase in monkeypox infections of any country.
---
Scientists worried about dog in France catching 'monkeypox', claiming the possibility of no eradication if more animals are exposed | added August 23
In 2003, 47 people across six Midwestern states caught monkeypox from pet prairie dogs that were infected after they were housed with rodents imported from Ghana, Africa. Today's outbreak, which has already infected more than 14,100 people in the U.S. and more than 41,000 across the globe, is spreading mostly through close human contact among gay and bisexual men.
But scientists reported the first presumed human-to-pet transmission in a dog in France this month, prompting U.S. and global health officials to step up warnings to ensure the virus doesn't spread to other pets and animals. The recommendation stems from concerns that monkeypox could spill into wildlife or rodent populations as the human outbreak grows, allowing the virus to pass back-and-forth between humans and animals and giving the virus a permanent foothold in countries where it hasn't historically circulated.
Prior to the global outbreak this year, monkeypox spread primarily in remote parts of West and Central Africa where people caught the virus after exposure to infected animals. The 2003 outbreak, which was contained, was the first documented case of humans catching the virus outside Africa.
---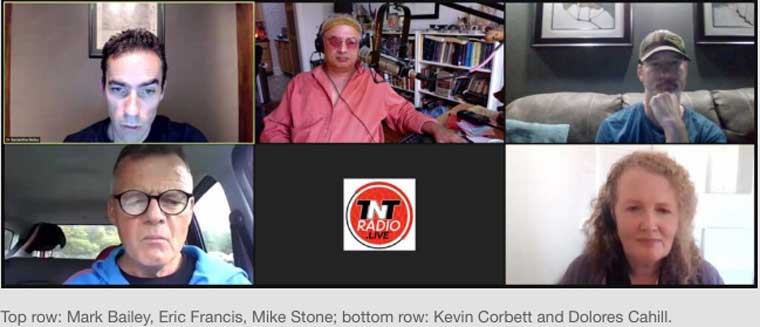 Dolores Cahill program out of Ireland hosts special radio edition on 'covid' fraud | added August 22
Eric Coppolino participates in a special radio broadcast of the Dolores Cahill program out of Ireland. The guest host is Kevin Corbett, who has made many appearances on Planet Waves FM, as well as Dr. Mark Bailey from New Zealand and Mike Stone, author of ViroLIEgy.com and recent guest on Planet Waves FM.
---
Tweaked 'covid' booster jabs that specifically target 'omicron' are weeks away from hitting market | added August 22
Newly updated covid booster shots designed to target omicron's BA.5 subvariant should be available within in the next three weeks. That begs an important question: Who's going to be eligible to get them?
The short answer: Anyone ages 12 and up who has completed a primary vaccination series, a Centers for Disease Control and Prevention spokesperson tells CNBC Make It. It's unlikely to matter whether you've received any other booster doses or not before, the spokesperson says — but if you're unvaccinated, you won't eligible for the updated formula until you complete a primary series with the existing covid vaccines.
The longer answer is somewhat more complex, because it depends on which booster shots get approved and when. Pfizer's "bivalent" shot, which targets both the original covid strain and omicron's BA.5 subvariant, is expected to authorized first. The CDC says it'll likely come with a wide eligibility swath: The full group of vaccinated Americans ages 12 and up.
---
Evidence of scientific and regulatory fraud found in Moderna's non-clinical testing of Spikevax, according to FDA guidance documents | added August 22
In my previous article, I reviewed Pfizer's BNT162 non-clinical summary obtained via a successful freedom of information lawsuit by Judicial Watch. Recently, an analogous set of materials became available for Moderna's SPIKEVAX. Non-clinical testing is part of the drug or vaccine development process during which the product is tested in cell lines and animals.
The FDA Guidance documents for gene therapy platforms available prior to 2020 are 2013 (nonclinical Guidance) and 2015 (clinical Guidance), however, the FDA has been publishing guidance documents for cellular and gene therapies starting in 1998. Therefore, an extensive body of regulatory knowledge regarding non-clinical and clinical testing requirements for this product class has been available for the past 20+ years.
These materials documented many serious risks, including death, potential to promote cancer, uncontrollable expression of proteins, genotoxicity, reproductive harm, and potential for transmission through "shedding," among many others. The manufacturers and regulators both were expected to anticipate these risks and design testing programs to exclude or fully characterize them.
---
New Lancet study connects 'covid' infections with increased risk of neurological disorders | added August 22
A study published on Wednesday shows a history of covid-19 infection is associated with an increased risk of neurological aftereffects.
"Covid-19 is associated with increased risks of neurological and psychiatric sequelae in the weeks and months thereafter," reads the study, titled "Neurological and psychiatric risk trajectories after SARS-CoV-2 infection: an analysis of 2-year retrospective cohort studies including 1,284,437 patients."
Sequelae are conditions resulting from a prior illness or incident. "How long these risks remain, whether they affect children and adults similarly, and whether SARS-CoV-2 variants differ in their risk profiles remains unclear," the study, published in The Lancet Psychiatry journal, continues.
---
CDC 'covid' data tracking shows most Minnesota kids have been exposed but nationwide survey doesn't include vax-induced | added August 22
The percentage of people with antibodies against a virus in their blood is known as seroprevalence. This nationwide seroprevalence survey provides estimates of the proportion of the U.S. pediatric population (ages 6 months to 17 years) with evidence of at least one resolving or past infection with SARS-CoV-2, the virus that causes covid-19. Reinfections are not included.
The information does not measure antibodies produced by vaccination, so cannot be used to estimate vaccination rates. Starting in March 2022, estimates will cover 8-week information collection periods; historical monthly data for the U.S. pediatric population between September 2021 and February 2022 are provided for context.
This survey estimates the percentage of children and adolescents with detectable antibodies showing past infection with SARS-CoV-2, but not the total amount of antibody against SARS-CoV-2 in their blood. The estimates do not necessarily show how many people have enough antibodies to protect them against reinfection, severe outcomes, and/or covid-19-related complications.
---
Despite billions of administered 'covid' drug shots, China reports worsening outbreaks in mostly high tourism locations | added August 22
China reported 2,181 new covid-19 cases, as conditions worsen in the country's biggest outbreak since the lockdown of Shanghai earlier this year. About 553 people were confirmed to be infected and there were another 1,628 asymptomatic cases as of Saturday, according to a statement released by the National Health Commission.
In a separate statement, the NHC said the country has administered 3.43 billion doses of covid vaccines as of Aug. 20. Infections have surged to a three-month high, with tourist destinations worst hit among the current round of flareups. The southern island of Hainan reported almost 1,100 confirmed and asymptomatic cases for Saturday, the most among all provinces. That was followed by Tibet with 600 and Xinjiang, which recorded more than 200 infections.
The current wave of infections is testing Beijing's Covid Zero policy as the government seeks to strike a balance between containing the virus and maintaining economic growth. Disruption from potential lockdowns is a major uncertainty for the economy, which is also facing a property crisis, record-high youth unemployment and more recently, severe drought.
---
New study claims the majority of people infected with 'omicron' had no idea they had it | added August 22
The majority of people likely infected with the omicron variant that causes covid-19 were not aware they contracted the virus, which likely played a role in the rapid spread of omicron, according to a study published this week.
Researchers at Cedars-Sinai, a nonprofit health organization based in Los Angeles, examined the infectious status of individuals during the omicron surge in the U.S.
Omicron was first detected in November 2021 and has become the most dominant strain of covid-19. Common symptoms are typically less severe than other variants and include cough, headache, fatigue, sore throat and a runny nose, according to the researchers.
---
U.K. rock singer Zion died from "vaccine-induced immune thrombotic thrombocytopenia" after receiving AstraZeneca 'covid' shot | added August 22
A U.K. rock singer who goes by the name Zion died from a "catastrophic brain injury" caused by the AstraZeneca covid-19 vaccine, an inquest concluded. The 48-year-old man from Alston in Cumbria, a county in North West England, developed an "excruciating" headache on May 13, 2021, eight days after receiving the AstraZeneca vaccine.
Although he took painkillers, Zion's headaches increased in severity and four days later, his speech was impaired and he started having seizures. Zion died May 19, 2021, despite emergency surgery to try to treat his "vaccine-induced immune thrombotic thrombocytopenia," which causes swelling and bleeding in the brain.
After his death, his fiancée, 39-year-old Vikki Spit, said she had spent only one night apart from him in their 21 years together and that her life was "smashed into a million pieces" by his death, according to the Daily Mail.
---
WEF publishes opinion article proposing that artificial intelligence could be the solution for monitoring online abuse | added August 22
With 63% of the world's population online, the internet is a mirror of society: it speaks all languages, contains every opinion and hosts a wide range of (sometimes unsavoury) individuals.
As the internet has evolved, so has the dark world of online harms. Trust and safety teams (the teams typically found within online platforms responsible for removing abusive content and enforcing platform policies) are challenged by an ever-growing list of abuses, such as child abuse, extremism, disinformation, hate speech and fraud; and increasingly advanced actors misusing platforms in unique ways.
The solution, however, is not as simple as hiring another roomful of content moderators or building yet another block list. Without a profound familiarity with different types of abuse, an understanding of hate group verbiage, fluency in terrorist languages and nuanced comprehension of disinformation campaigns, trust and safety teams can only scratch the surface.
---
Los Angeles Public Health Department faces criticism over free 'covid' testing for animals | added August 22
The Los Angeles Public Health Department is facing growing criticism over its decision to offer free covid-19 testing for animals, despite there being no positive cases reported among animals in the area.
LA Public Health announced the initiative on Aug. 20 and said it has received funding from the Council of State and Territorial Epidemiologists and the Centers for Disease Control and Prevention (CDC) to monitor covid-19 in animals in Los Angeles County. "This project will help us to learn more about covid-19 from a One Health perspective, meaning that we can learn more about the significance of covid-19 in human, animal, and environmental relationships," the public health body said.
"Some of the funds will support local testing of animals for SARS-CoV-2. We will partner with and offer free testing to various animal care facilities and agencies throughout LA County. Our goal is to test many different species of animals including wildlife (deer, bats, raccoons), pets (dogs, cats, hamsters, pocket pets), marine mammals (seals), and more," LA Public Health stated.
---
U.S. congresswoman calls on Canada to stop causing "misguided burdens" and drop mandated use of ArriveCAN app  | added August 22
In a letter directed to Kirsten Hillman, Canada's ambassador to the US, and Public Safety Minister Marco Mendicino, Elise Stefanik says the app continues to negatively affect US and Canadian border communities.
"The US and Canada's unique partnership is critical to the success of the communities on both sides of our border and dependent on valuing and maximizing the people-to-people relationship," wrote the Republican rep for New York's 21st Congressional District.
"We should be working to further develop our partnership, not inhibit its success with misguided burdens such as the Canadian government's mandated use of the ArriveCAN app."
---
New York's Department of Health reports first case of 'monkeypox' in a minor | added August 22
New York state has reported its first monkeypox case in a minor under 18, according to a weekly summary from the state's Department of Health.
Few other details are provided in the report, covering the week ending on Wednesday and published on Friday, in order to protect the patient family's privacy. It is known that the child lives outside New York City – a hotspot of the outbreak. There have been nine other cases reported in children in the US.
Monkeypox has thus far been largely concentrated among gay men with multiple sex partners – the CDC reported last week that 99% of patients were men, with 94% of those having recently had sex with men. However, the latest figures from New York include two women, as well as three identified as transgender or nonbinary and three listed as simply "unknown."
---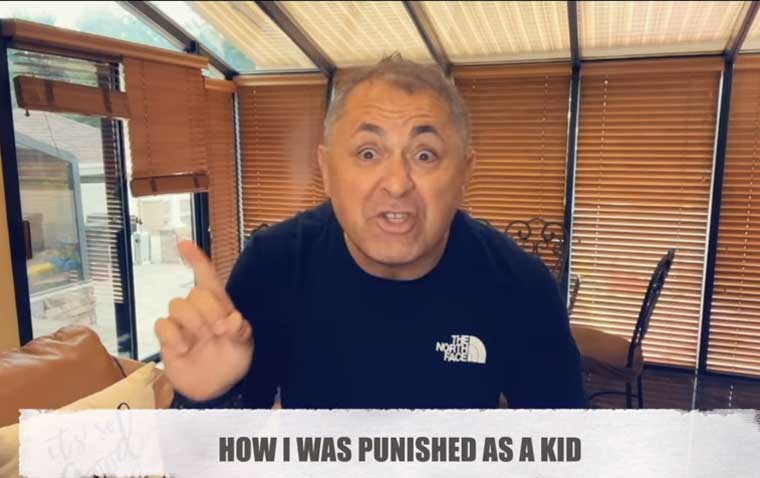 How punishment has changed growing up | added August 22
Anthony enforces parental discipline to actually go play outside and have fun. What a concept.
---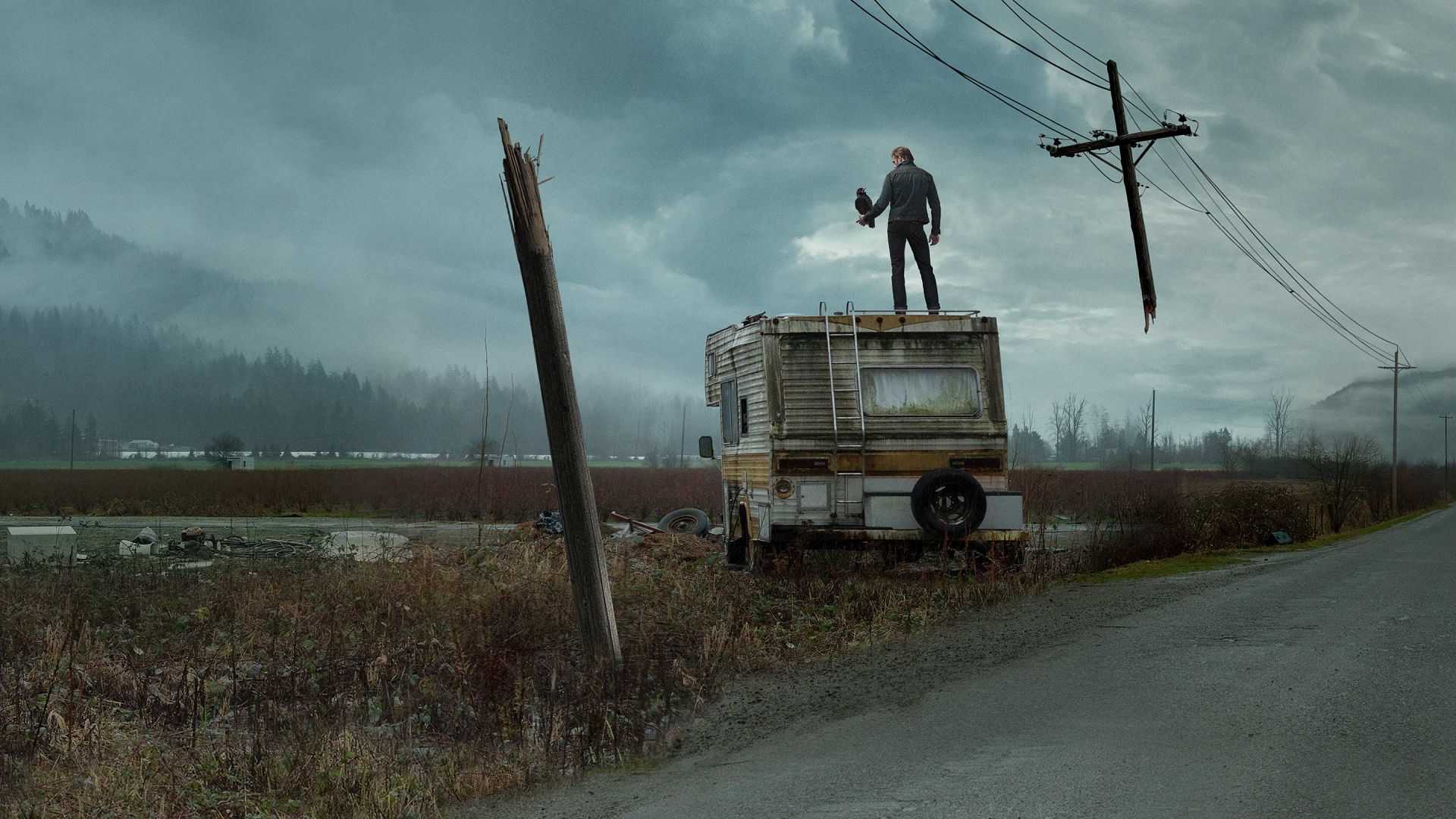 We have been covering the 'covid' scam for 900 days. Eric Francis describes what he has witnessed | added August 18
THE SCIENCE FICTION GENRE is brimming with tales of biological weapons getting loose, of plagues and other outbreaks that kill everyone. And people love them.
The Andromeda Strain by Michael Chrichton (1969) addresses such an outbreak of extraterrestrial origin. The Stand by Stephen King (1978) describes the release of a biological weapon that kills 99.9% of the population and follows the stories of the survivors.
The genre has its probable origins with Mary Shelly's The Last Man (1824, ridiculed at the time of its publication) and possibly Daniel Defoe's Journal of a Plague Year (1722). A World of Women by J.D. Beresford (1913) is the story of a disease that wipes out nearly all of the men. Society or most of humanity getting wiped out by a disease is a topic of persistent fascination throughout history and literature.
But I do not know of one story that describes the claim of a plague where there was none, supported by bogus "scientific" evidence, pumped up by the media, endorsed by nearly all the technologists, scientists and doctors, believed by billions, and used as an excuse to take over the world.
Imagine a story where the anxiety is driven so high that when the government comes out with the "solution" to the outbreak — a deadly "vaccine" — people not only line up for it, but even bring their children in to get the shot — despite being told repeatedly that kids are not at risk.
Even as the toll mounts by the day, people refuse to look at the evidence that the only deadly elements are the lies and the "medical" interventions that people so willingly accept. Many who go into the hospital with minor symptoms — and never come home. It's as if they are living out a fictional scenario they are certain is real.
---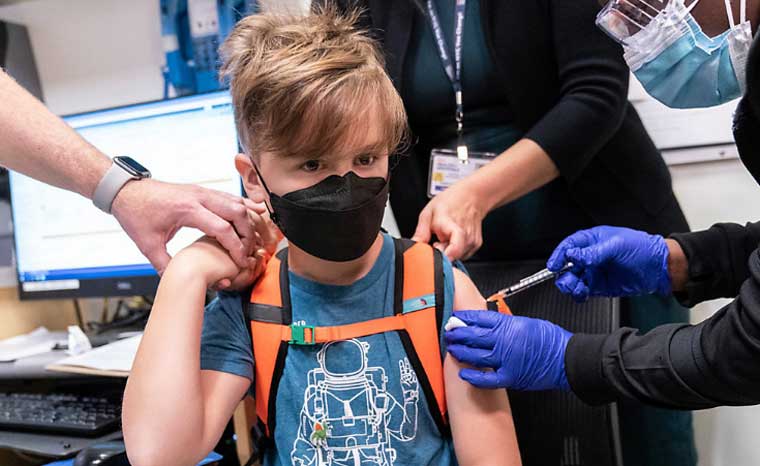 Gov. Hochul announces a relaunch of statewide #VaxtoSchool campaign targeted at getting more school children inoculated for 'covid' | added August 18
Gov. Kathy Hochul on Wednesday announced her administration will relaunch its statewide #VaxtoSchool campaign, an initiative aimed at increasing covid-19 vaccination rates among school-aged New Yorkers as they prepare to head back into classrooms.
"As we prepare for the beginning of the school year and the fall season, it is important that we do all we can to protect our youngest New Yorkers," Hochul said in a statement. "By breaking down barriers to vaccine access, these partnerships will allow New York State to continue to protect the health and safety of our most vulnerable community members and keep our schools open."
"As children can catch covid-19 and develop severe disease, and vaccination remains their best protection against the virus and its variants, I urge all parents and guardians to get their children vaccinated before they head back to school," Dr. Mary Bassett, the state's health commissioner, added.
---
CDC director announces "reset" to improve new health threat responses amid pandemic criticism | added August 18
The director of the U.S. Centers for Disease Control and Prevention on Wednesday announced a "reset" that will focus on making the organization quicker at responding to new health threats amid criticism of its response to the covid-19 pandemic.
The CDC's director, Dr. Rochelle Walensky, told the agency's staff about the changes, which include internal staffing moves and steps to speed up data releases.
"For 75 years, CDC and public health have been preparing for covid-19, and in our big moment, our performance did not reliably meet expectations," she said in a statement obtained by The Washington Post. "My goal is a new, public health action-oriented culture at CDC that emphasizes accountability, collaboration, communication, and timeliness."
---
Biden administration announces it will halt purchasing 'covid' shots as early as this fall | added August 18
The Biden administration has been planning for how to get past the crisis phase of the covid-19 pandemic and will stop buying vaccines, treatments and tests as early as this fall, White House Covid-19 Response Coordinator Dr. Ashish Jha said on Tuesday.
"One of the things we've spent a lot of time thinking about in the last many months — and we're going to continue this work, and you'll hear more from the administration on this — is getting us out of that acute emergency phase where the US government is buying the vaccines, buying the treatments, buying the diagnostic tests," Jha said at an event sponsored by the US Chamber of Commerce Foundation.
"My hope is that in 2023, you're going to see the commercialization of almost all of these products. Some of that is actually going to begin this fall, in the days and weeks ahead. You're going to see commercialization of some of these things," he said.
---
Novavax seeks FDA Emergency Use Authorization for its 'covid' booster jab despite low inoculation numbers of primary shot | added August 18
Novavax has submitted an application to the Food and Drug Administration for Emergency Use Authorization of its covid-19 vaccine as a booster in adults that can be used on top of its primary vaccine series or to mix and match with a different primary series, the company announced.
"It's important for people to have a choice as they evaluate how to stay protected against covid-19, and boosters are an invaluable tool to build upon immunity obtained from previous vaccinations," Stanley C. Erck, President and Chief Executive Officer of Novavax, said in a statement on Monday.
"Based on the data presented to the FDA's VRBPAC and the CDC ACIP, we believe our vaccine offers a broad, long-lasting immune response against a range of variants," Erck said. Although half a million doses of Novavax's vaccine have now been distributed to states, following its authorization last month, just 9,700 doses of Novavax's covid-19 vaccine have been administered across the country, according to federal data.
---
BMJ concludes based on Canadian study that 'covid' shots do not pose a high pregnancy risk | added August 18
Vaccination against covid-19 during pregnancy is not associated with a higher risk of preterm birth, small for gestational age at birth, or stillbirth, concludes a large study from Canada published by The BMJ today. These findings can help inform evidence based decision making about the risks and benefits of covid-19 vaccination during pregnancy, say the researchers.
Covid-19 infection during pregnancy has been associated with higher risks of complications, including admission to hospital and death for pregnant individuals, as well as preterm birth and stillbirth. Covid-19 vaccination during pregnancy has been shown to be effective against covid-19 in pregnant individuals as well as their newborns, but evidence about pregnancy outcomes after covid-19 vaccination during pregnancy from large studies is limited.
To address this, researchers set out to assess the risk of preterm birth, small for gestational age at birth, and stillbirth after covid-19 vaccination during pregnancy. They used a population-based birth registry to identify all liveborn and stillborn infants with a gestational age of at least 20 weeks or birth weight of at least 500g in Ontario, Canada between 1 May and 31 December 2021.
---
'Long term covid symptoms' study implicates a host of blood abnormalities in patients | added August 18
An ambitious study of people with long covid, the mysterious, disabling symptoms that can trail a SARS-CoV-2 infection, has turned up a host of abnormalities in their blood. The clues add to a body of evidence hinting at drivers of the condition and potential treatments worth testing. They also suggest that, as many scientists and patients have suspected, long covid shares certain features with myalgic encephalomyelitis/chronic fatigue syndrome (ME/CFS), another condition thought to follow an infection.
The new study, posted as a preprint last week, was modest in size, examining just 99 people with long covid. "But it went very deep, it went into granular aspects of the T cells, the antibody response," says Eric Topol, director of the Scripps Research Translational Institute, who was not involved in the work. "This is exploratory, but it's the foundation for much bigger studies."
The long covid patients, most of them struggling with intense fatigue, brain fog, and other symptoms, had low levels of cortisol, a stress hormone that helps the body control inflammation, glucose, sleep cycles, and more. Features of their T cells indicated their immune system was battling unidentified invaders, perhaps a reservoir of SARS-CoV-2 or a reactivated pathogen such as Epstein-Barr virus.
---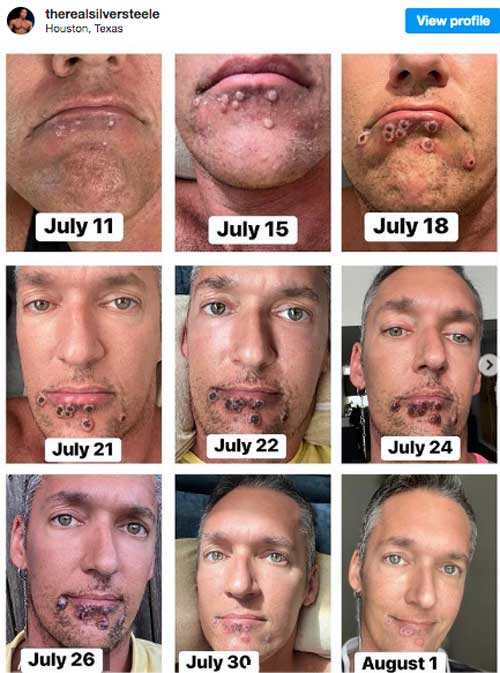 Monkeypox patients share infection photos across social media platforms | added August 18
As monkeypox cases continue to rise worldwide, some people who have gotten infected are sharing photos and videos on social media to help spread awareness about the symptoms, show what the rash can actually look like and educate others about the disease.
One person who goes by the name Silver Steele on social media posted a photo timeline on Instagram of how his monkeypox lesions progressed over three weeks, which has since gone viral. The 40-year-old Houston, Texas, resident became infected with monkeypox in early July, Steele told TODAY in an interview. In the caption of the now-viral collage of selfies, he wrote: "My goal with this is not to gross anyone out, but to educate."
"Not everyone displays symptoms the exact same way but I've been told by more than one professional that my case is a 'clinically perfect' example and it's being used in CDC demonstrations and medical journals," Steele added. It took seven to eight days for Steele's symptoms to appear after being exposed to the virus, Steele wrote in a response to a comment on the Instagram post. In another comment, Steele remarked on feeling "nothing" in the affected area of his face before the lesions appeared.
---
U.S. District Judge green lights lawsuit over San Diego's 'covid' vax mandate for municipal employees | added August 18
A lawsuit challenging San Diego's covid-19 vaccine mandate for municipal employees will move forward after a federal judge on Tuesday rejected the city's request to dismiss the complaint. U.S. District Judge Gonzalo Curiel said the city's motion to dismiss did not address recent developments in case law and public health guidance pertaining to covid-19 public health measures, restrictions and requirements.
The San Diego City Council on Nov. 29, 2021, voted 8-1 in favor of approving the mandate. The subsequent ordinance required current and newly hired or appointed city employees, elected officials, board members and volunteers to be "fully" vaccinated for covid-19. ReOpen San Diego, a nonprofit citizens group, in February filed the suit alleging the mandate kept "an entire category of individuals from meaningful participation in city government" by barring the unvaccinated from entering city buildings or attending municipal meetings.
The city's motion to dismiss cited the U.S. Supreme Court's decision in 1905 in Jacobson v. Massachusetts, a case that pertained to mandatory smallpox vaccinations, which held that local governments have the authority to implement laws and ordinances in response to public health threats.
---
'Covid' vax injury support groups face uprising of censorship across social media | added August 18
Nick started a public vaccine injury support group on social media about a year ago after receiving his one and only Pfizer shot for covid-19. That was back in April 2021 and he began suffering almost immediate neurological reactions after the injection, including temporary paralysis.
"I've had my entire life shattered by this vaccine," Nick said, asking that his last name not be used. "It took me about nine months to get to a doctor willing to help me. They throw you under the bus. They leave you for dead." Nick launched the vaccine injury support group hoping to find answers and share practical solutions to help others like himself deal with lasting physical effects associated with covid injections.
The "absurd" part, he said, was the way that members used code to avoid being flagged or deleted. Words like "vaccine," "injury," and "Pfizer" had to be avoided. "Basically, [Facebook has] filters set up. I'm at the point where I'm certain that the federal government and Big Tech, and Pfizer are all intertwined. It's quite disgusting."
---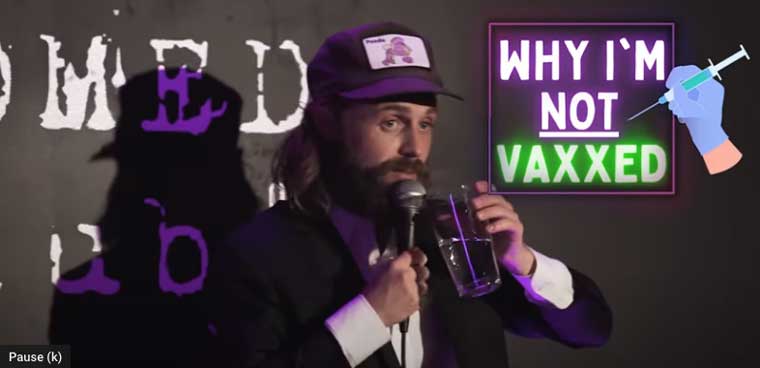 Why I am not vaxed | added August 18
Tyler weighs in on why he decided not to get inoculated for 'covid'. Well, it's not for everyone that's for sure.
---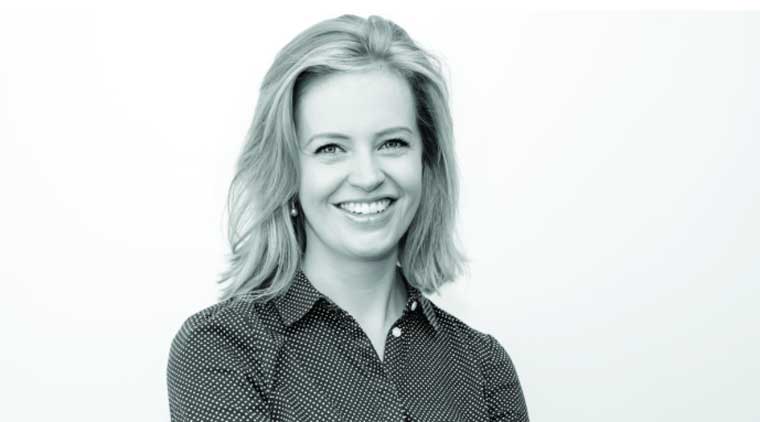 Elementary, My Dear Watson
Country Squire magazine goes after "the usual suspects" — its list of alleged virus deniers. What's going on inside this controversy you may not have heard about? Planet Waves FM reports.
What started as a split in the "covid truth" movement has revealed a fault-line running through the middle of modern medical science, and by extension, all of science. Most people don't know that the question is being asked, but it is: Do viruses exist in the way we were told they do, as invisible disease bombs that freely jump from one person to another, wreaking havoc on individual lives and on society?
This is the most significant question that has, after 900 days of living with "covid" terrorism, lockdowns and "vaccines," finally bubbled to the surface. People are asking because we now know that 200 governments and institutions around the world have denied that they have a sample of SARS-CoV-2 taken from a human patient.
None can point to a published paper showing such a specimen exists, and this has virus-lovers flailing. The same is true with all of the early papers out of China, the United States and elsewhere, allegedly proving that SARS-CoV-2 exists.
---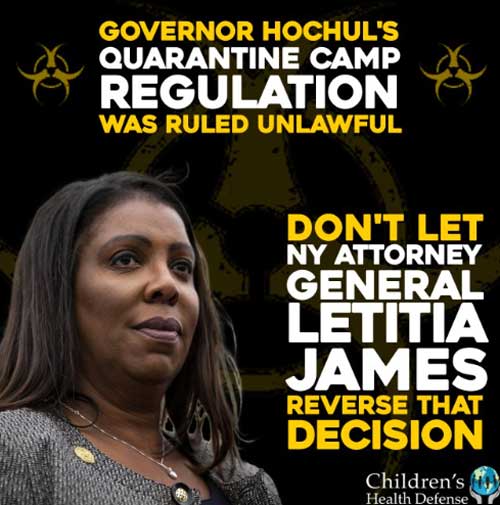 Call To Action: New York City rally against unconstitutional quarantine and isolation measures | added August 17
Children's Health Defense & CHD NY will be holding a rally in front of New York Attorney General Letitia James' office in Harlem NYC to let her and Governor Kathy Hochul know that New Yorkers say NO to the unconstitutional quarantine and isolation measures they are trying to get reinstated.
In July, Attorney Bobbie Anne Cox was successful in overturning an illegal health regulation enacted by Governor Kathy Hochul. The regulation allowed for a massive expansion of powers to force isolate and quarantine New Yorkers with no due process or evidence of illness. Even though Hochul lost in court, she is appealing the decision.
The overturned regulation allowed for the detention and quarantine of any individual suspected of having contracted a communicable disease, with no due process, no evidence, detained for as long as the state sees fit, and within any facility the state desires. An individual could be isolated and quarantined in a prison cell, in a hospital, in their own home, or any location the state deems acceptable.
---
Quadruple vaxed First lady Jill Biden prescribed Paxlovid drug pills after testing 'covid' positive | added August 17
When President Joe Biden returned from vacation and arrived at Joint Base Andrews Tuesday afternoon, he told reporters that his wife is "feeling well."
"She has to quarantine, then she'll be home," he added. Jill Biden, who is double vaccinated and twice boosted, has "mild symptoms," Alexander said. Jill Biden been prescribed the antiviral treatment Paxlovid, which President Biden also took after testing positive last month.
President Biden first tested positive for covid-19 on July 21, experiencing symptoms including a cough and sore throat. He isolated and completed a five-day course of Paxlovid before testing negative. He then experienced a rebound infection, testing positive again. On Aug. 6, the president's doctor said Biden had received a negative test and was clear to break his isolation.
---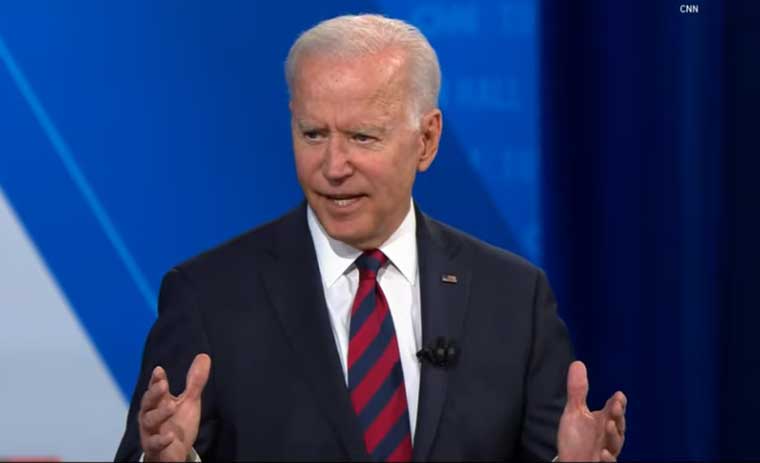 Remembering when Joe Biden said "you're not gonna get covid if you have these vaccinations" | added August 17
Well that's funny, considering the quadruple vaxed president just had 'covid' again and now the First lady…
---
Fines against California church that defied 'covid' regulations dropped after two year battle | added August 17
A California church that continued to hold services in defiance of county health orders that it close down during the covid-19 pandemic has had its fines dropped after a nearly two-year battle.
"This is a significant victory for churches and pastors across this country," Robert Tyler, president of Advocates for Faith & Freedom, said in a press release after the California Court of Appeal reversed an injunction against Calvary Chapel San Jose. "We are honored to represent pastors and churches who are willing to take the heat in defense of liberty because it benefits everyone."
At issue was the church's refusal to comply with health officials in Santa Clara County, who obtained a temporary restraining order and injunction in November 2020 against Calvary Chapel and two pastors, Mike McClure and Carson Atherly, after the church failed to follow pandemic health orders that included restrictions on in-person services, mask mandates, and a submission to the county of the church's social distancing protocols.
---
Canadian government partners with WEF to develop new federal "Digital Identity Program" | added August 17
The Canadian government, building on a partnership with the World Economic Forum (WEF), is developing a new federal "Digital Identity Program."
The aim of the new initiative is to develop a digital proof-of-identity document, which could be used across different systems and environments ranging from government services to airports and border control, according to Slay News. Officials revealed details of the program in the government's sprawling "Canada's Digital Ambition 2022" report, published Aug. 4.
According to the report, the "Digital Identity Program" is part of Priority 2.2 of Canada's "Digital Ambition," which seeks to "build and use common solutions for digital service delivery." "Our next step in enabling digital government is adopting a 'government as a platform' service delivery model," the report states. The federal Digital Identity Program is the "next step in making services more convenient to access."
---
A 'universal covid' shot that protects against all variants may be available by 2024 | added August 17
In the mid 1980s, Jonathan Heeney was a PhD student at the US National Institutes of Health (NIH), Maryland, when he was told to fly to Oregon – on the opposite side of the country – to investigate a mysterious new disease which was causing a surge of sudden deaths in a group of captive cheetahs.
For Heeney, it proved to be his first known encounter with a coronavirus. "We eventually determined that this was a coronavirus which had jumped from domestic cats into these cheetahs," he says. "And because cheetahs were a new host, it caused a lot of death and destruction. So that was my introduction to them."
Four decades on and Heeney is at the helm of DIOSynVax, a biotechnology company based in Cambridge, UK, who recently received a $42m (£34m/€41m) grant from the Coalition for Epidemic Preparedness Innovations (CEPI), the foundation backed by Bill and Melinda Gates, the Indian and Norwegian governments, and the World Economic Forum, among others. Heeney and colleagues face a challenge that has long proved insurmountable for scientists: to develop vaccines that can not only protect against a single coronavirus, but multiple strains, varieties, and perhaps even entire families of them.
---
U.S. government pours money into space nuclear power development | added August 17
"The New Space Race is Going Nuclear" was the title of a recent hour webinar presented by the American Nuclear Society. The U.S. government is pouring money into the development of space nuclear power—for commercial, exploratory and military purposes—as described in the panel discussion featuring five very enthusiastic advocates of using atomic energy in space.
"So, it's really an exciting time," said the moderator for the American Nuclear Society, Jeffrey King, a professor of nuclear engineering and director of the Nuclear Science and Engineering Center at the Colorado School of Mines, and also past chair of the society's Aerospace Nuclear Science and Technology Division.
"It's actually a time I didn't expect that we'd end up seeing in my lifetime," King said. "But we have now multiple companies—everything from government to the large contractors, small companies to start-up companies all interested in space nuclear power and different aspects of space nuclear power. It's truly an exciting renaissance time for the field."
---
Charity promoting constitutional rights through litigation successfully defends a charged Freedom Convoy protestor | added August 17
A charity that promotes constitutional rights through litigation says it has successfully defended a Freedom Convoy protester who faced multiple offences, including up to 45 days in jail if convicted.
In a press release on Aug. 15, The Democracy Fund (TDF) said its legal team succeeded in having multiple charges suspended for a client who attended the Freedom Convoy protest in Ottawa in January.
The Freedom Convoy, which began on Jan. 29 and ended on Feb. 20, started out as a demonstration by truck drivers opposing the federal covid-19 vaccine mandates for cross-border travel but grew exponentially when supporters from across the country joined in to call for an end to various covid-19 mandates and restrictions.
"The client was peacefully exercising his rights in Ottawa when he was arrested and charged with mischief under $5,000, disobeying a court order, and obstructing a peace officer," the charity said.
---
The horrendous dangers of concealing truth through censorship | added August 17
There has always been a hunger for new discoveries and revelations of the truth, but often, in the past, it took great effort to get past the "agenda"—there has always been one.
Think of the Daniel Ellsberg exposure of The Pentagon Papers as well as many pieces coming out of Viet Nam during the '60s by a group of idealist journalists covering the war there. None of these were popular publications with the editors (or the powers that be), and had their difficulty getting published, but they were not altogether censored.
Then jump a few decades ahead and think of Julian Assange, still being held against his will for his revealing publications in WikiLeaks on war crimes committed by the United States. And we certainly must not forget the courageous work of Edward Snowden who exposed illegal CIA surveillance in the summer of 2013 having The Guardian, in the UK, and The Washington Post, in the US, publish his story.
---
U.S. colleges ease 'covid' restrictions as millions of students prepare for fall semester | added August 16
Millions of students are heading back to college for their third full academic year since the covid pandemic hit. But as students move into their dorms and sign up for classes this year, things are different.
On many campuses, the masking restrictions are gone. Classes are being held in-person, testing requirements are loosening, and quarantine and isolation dorms have been returned to regular housing. College officials say the goal of easing these restrictions is to try and get students back to a more typical college experience.
"I don't think we can just forget about covid at all," says Lisa Pearlman, the director of student health services at Worcester Polytechnic Institute (WPI) in Massachusetts. "But I do think we can kind of live with covid for the first time and still do all of the other normal things. And that feels really different about this year than the past two."
---
Pfizer CEO Albert Bourla tests 'covid' positive and claims he is experiencing very mild symptoms | added August 16
Pfizer CEO Albert Bourla said on Monday he had tested positive for covid-19 and was experiencing very mild symptoms. Bourla, 60, said he had started a course of the company's oral covid-19 antiviral treatment, Paxlovid, and was isolating and following all public health precautions.
"I am confident that I will have a speedy recovery," Bourla said in a statement. Several public figures have tested positive for the infectious disease in the past few months including President Joe Biden and his chief medical adviser, Dr. Anthony Fauci.
Biden spent more than two weeks isolated in the White House after two bouts with covid-19. The second instance is believed to be a "rebound" experienced by some covid patients who take Paxlovid. Paxlovid is an antiviral medication that is used to treat high-risk people, such as older patients.
---
Ikea shoppers in Shanghai rush for exits when store orders mandatory lockdown due to a 'covid' contact traced to the location | added August 16
Panicked shoppers rushed for the exits at an Ikea branch in Shanghai on Saturday after city health authorities ordered the store to lock down after a close contact of a covid-19 case was traced to the location.
Multiple videos on social media showed customers yelling and pushing each other in an attempt to escape the building before the doors closed. In a press briefing Sunday, Zhao Dandan, deputy director of the Shanghai Health Commission, said the "store and affected area" would be under "closed loop" management for two days. People inside the loop must undergo two days of quarantine at a government facility and five days of health surveillance.
On Monday, city health authorities reported six locally transmitted covid-19 cases in Shanghai, of which five were asymptomatic. The Ikea store in Shanghai's Xuhui district was temporarily closed on Sunday and Monday in response to "epidemic prevention guidelines" from the authorities and will reopen Tuesday, Ikea's China communications team told CNN.
---
Recent study shows 94 percent of baby food contains toxic heavy metals | added August 16
Almost all of the baby foods that parents in the United States feed their children, whether purchased at the store or prepared at home, contain detectable amounts of toxic heavy metals that can impair brain development, according to new research published last week, which led to renewed demands for improved regulation.
A previous study by Health Babies Bright Futures (HBBF) found that 95% of pre-packaged baby foods tested were contaminated with toxic heavy metals including lead, arsenic, cadmium and mercury, sparking a congressional investigation and conversations about whether homemade baby foods are a safer alternative.
In an effort "to determine if homemade purees and foods purchased outside the baby food aisle have lower heavy metal levels than pre-made, store-bought baby food," the donor-funded alliance of scientists and nonprofits recently tested 288 foods and examined more than 7,000 additional food tests from published studies.
---
Washington decides to split 'monkeypox' shots in order to stretch state's drug supply | added August 16
Washington health care providers are splitting doses of monkeypox vaccine to stretch the state's limited supply, but it still may not be enough to inoculate everyone at high risk of infection.
Why it matters: Public health officials estimate roughly 77,000 people statewide are at high risk of contracting monkeypox — yet the state's vaccine allotment from the federal government so far is about 24,000 doses.
The latest: Health providers in Washington have started dividing doses and injecting them under the top layer of skin, following an emergency use authorization issued by the U.S. Food and Drug Administration last week. The shallower, intradermal injection "will increase the total number of doses available for use by up to five-fold," according to the FDA.
---
SAG-AFTRA president Fran Drescher calls on Hollywood to drop tyrannical 'covid' vax mandates | added August 16
SAG-AFTRA president Fran Drescher, saying that Hollywood's covid vaccination mandate "walks the razor's edge of compromising religious, disability and body sovereignty freedoms," is urging the guild's national board to review the most up-to-date science on the effectiveness of vaccines on the spread of the virus' latest variant, before agreeing to extend the industry's vaccination mandate.
The industry's covid protocol of employment, which include a narrowly defined provision that allows employers to require vaccinations as a condition of employment, expire on September 30. The mandates, however, are "subject to reasonable accommodations as required by law for individuals who cannot be vaccinated due to disability or a sincerely held religious belief, practice, or observance," though opponents argue that those exceptions are too rarely allowed.
Drescher made a similar plea at a contentious board meeting last month, when members of the guild's political factions that supported her election last year reportedly yelled at her during the meeting, claiming that she was "misinformed" about some aspects of the effectiveness of the vaccine.
---
New Jersey ends mandatory 'covid' testing for unvaxed day care and school workers | added August 16
The change will apply to school districts and child care settings immediately, and to state contractors as of September 1. The ending of the testing mandate comes after recent updates to covid-19 guidelines from the CDC in advance of the upcoming school year.
"Today's executive order follows guidance from public health officials at the CDC regarding responsible steps states can take as we continue to adjust to the endemic reality of covid-19," Murphy said. "With children as young as 6 months old now eligible for vaccines and millions of New Jerseyans vaccinated and boosted, more of our residents are safe from severe illness due to covid-19.
As always, I encourage everyone to stay up-to-date on their vaccination and take other precautions as necessary to protect themselves and their loved ones from this virus." As of June 17, 2022, anyone aged 6 months or older is eligible for the covid-19 vaccine.
---
A look at how lingering 'covid' symptoms could be a result of increased exposure to chemicals in masks | added August 16
A lingering disorder that can last for months or years is affecting an increasing proportion of the workforce. The symptoms that contribute to long covid could be a result of pandemic measures and masking in particular. Increased exposure to microplastics, nanoparticles, chemicals in masks, and nasopharyngeal tests parallel many of the symptoms that define long covid.
Surveys among thousands of people suggest 7 percent to 30 percent of people who tested positive for SARS-CoV-2 virus experienced one or more symptoms for a period longer than 12 weeks. Some people who got covid-19 early in the pandemic still haven't recovered.
The syndrome long covid is complex as symptoms may fluctuate and people go through different stages. Symptoms have been protracted by patients at ICU and those with organ damage, but also occurred in people with only a mild infection.
---
This week in the 'new normal': yearly 'covid' jab upgrades and FBI raids on former presidents | added August 16
1. YEARLY COVID VACCINE UPDATES "LIKE NEW IPHONES"
The CEO of Moderna gave an interview with CNN this week where he claimed the company is working on releasing a single yearly booster vaccine capable of targeting covid variants, flu strains and all other common viruses.
It's a remarkable claim – considering that Moderna's covid "vaccine" was (alongside Pfizer's jab) the first EVER coronavirus vaccine OR mRNA vaccine to be approved for use on people, despite years of research on both. Indeed, before covid Moderna had existed for over a decade and never successfully brought a single product of any kind to market.
Yet now they are confident in bringing out a new "safe and effective" mRNA vaccine every year, and not just against covid but against pretty much every respiratory virus you can name.
---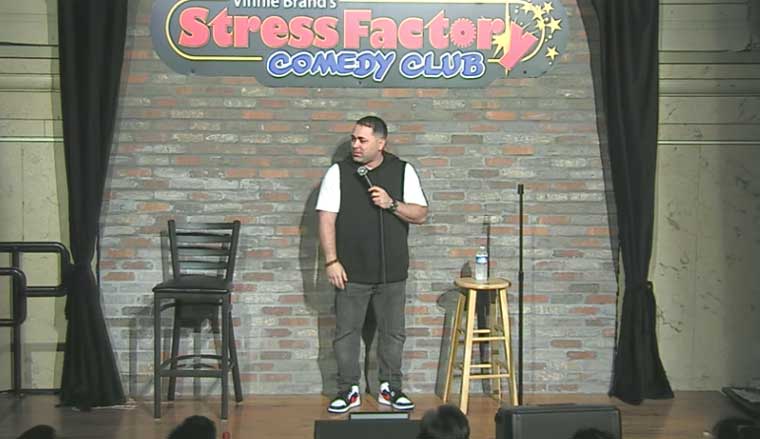 The good 'ol days when parents didn't sugar coat everything | added August 16
Sometimes its best to just tell it how it is. No BS
---
Nurses speak out about "brutal" hospital 'covid' treatment protocols and why they quit | added August 15
Nurses who witnessed "brutal" hospital covid-19 treatment protocols kill patients paint a bleak picture of what is taking place in state and federally funded health care systems."They're horrific, and they're all in lockstep," Staci Kay, a nurse practitioner with the North Carolina Physicians for Freedom who left the hospital system to start her own early treatment private practice, told The Epoch Times.
"They will not consider protocols outside of what's given to them by the CDC (Centers for Disease Control and Prevention) and the NIH (National Institute of Health). And nobody is asking why." Fueled by cognitive dissonance amid an array of red flags, Kay said hospital staff is ignoring blatantly problematic treatments that performed poorly in clinical trials, such as remdesivir, and protocols such as keeping the patient isolated, just to adhere to the federal canon.
"I've seen people die with their family watching via iPad on Facetime," Kay said. "It was brutal." As a former nurse in intensive care, Kay said she had seen her share of tragedy, but how she saw covid patients being treated "had me waking up in the middle of the night in a cold sweat with chest pains."
---
'Covid' allegedly surged in Marshall Islands shortly after declaring its first local spread of 'virus' | added August 15
Covid-19 infection numbers have surged in the Marshall Islands, just days after the Pacific nation recorded its first local spread of the virus. In the capital city of Majuro, total cases have nearly doubled since Friday. These latest figures mean one in ten of the city's residents have been infected in recent days. On Sunday, Health Secretary Jack Niedenthal said about 75% of tests across the country were returning positive results.
A number of Pacific islands had success with keeping coronavirus at bay early in the pandemic through stringent restrictions. The Marshall Islands, which has a population of 59,000, was one of the last nations in the world to be untouched by covid-19, before two cases were identified in October 2020.
The pair had arrived from the US and were isolated from others. As recently as one week ago, it had seen no community transmission of the virus – meaning that covid had not been detected passing from person to person. But on Monday, the first local spread was confirmed. The government responded by declaring a "state of health disaster", closing schools and introducing a range of public health measures.
---
British health authorities approve Moderna's 'updated fall covid booster jab' to protect against original strain and 'omicron' variant | added August 15
LONDON — British health authorities have authorized an updated version of Moderna's coronavirus vaccine that aims to protect against the original virus and the omicron variant. In a statement on Monday, the Medicines and Healthcare Regulatory Agency said it had given the green light to Moderna's combination "bivalent" vaccine, which will be used as an adult booster shot.
Each dose of the booster shot will target both the original covid-19 virus that was first detected in late 2019 and the omicron BA.1 variant that was first seen in November. British regulators said the side effects were similar to those seen for Moderna's original booster shot and were typically "mild and self-resolving."
"What this (combination) vaccine gives us is a sharpened tool in our armoury to help protect us against this disease as the virus continues to evolve," said Dr June Raine, the head of Britain's health care and medicines regulator.
---
Dog allegedly infected with 'monkeypox' passed on from non-monogamous gay couple | added August 15
An Italian greyhound owned by a gay couple has been infected with monkeypox in the first reported case passed from a human to their pet. The French couple, involved in a non-monogamous relationship, are believed to have contracted monkeypox following sexual contact with other men.
They said they noticed pustules on their dog's stomach. A PCR test later confirmed the pooch had contracted the virus. The animal had shared a bed with the two men and had licked at least one of them before licking itself, according to the Lancet Medical Journal.
Both men, ages 44 and 27, suffered from extensive ulcers and rashes since their cases were confirmed in June. And just 12 days after their symptoms began, the dog began showing signs it had contracted the virus. The couple said they had been careful to keep their dog isolated from other pets or humans from the onset of their own symptoms. Officials have said those infected with the virus should quarantine away from their pets to reduce transmission.
---
United Nations declares globalist technocratic takeover 'conspiracy theorists' a public enemy | added August 15
There's clear coordination, globally, of censorship. With few exceptions, countries have taken action to criminalize free speech, and they have done so in lockstep with each other. It began in earnest with censorship of theories about the origins of SARS-CoV-2, and grew from there to include anything covid related.
Still, the truth could not be contained. People started abandoning mainstream media in droves — which have clearly been lying to us on behalf of the globalist cabal — flocking instead to alternative news sources. In response to the growing truth movement that warns against a technocratic, anti-human takeover, the United Nations has now declared war on "conspiracy theories" that suggest world governments are anything but honest and ethical, and have published a comprehensive guide on how to debunk and strike down claims to the contrary.
Not surprisingly, a story only qualifies as truthful if "the sources are backed by fact-checking sites." As detailed in other articles, so-called "fact checking" organizations are all bought and paid for by the same cabal that is conspiring to create a One World Government through a "Great Reset." So, no wonder they're designated as the sole arbiters of truthfulness. They're part and parcel of the propaganda machine. How convenient for the globalists.
---
North Carolina to officially end 'covid' state of emergency after more than two years | added August 15
CHARLOTTE, N.C. — North Carolina's covid-19 state of emergency will end Monday, more than two years after the onset of the pandemic. While most people likely won't notice a difference in their daily lives, the covid-19 state of emergency has helped the state get through the pandemic over the last two-and-a-half years.
Some measures that protected people during the pandemic will finally come to an end. And when most people think of a state of emergency, things like masks, vaccines and social distancing may come to mind. But North Carolina's order did so much more than that. Let's connect the dots.
Back in March 2020, Gov. Roy Cooper declared a state of emergency over a new virus that was slowly spreading across the U.S. and Carolinas. The order provided some consumer protections, banning price gouging during the pandemic. It also allowed truck drivers to work longer hours to help deliver critical medical supplies to the front lines. Health care systems also benefited from the order with greater staff flexibility.
---
More parents are questioning the safety and efficacy of inoculating their children with 'vaccines' | added August 15
In 2020, government orders to stay home — along with lockdown-produced job losses, public fear of covid-19 and other factors — led to dramatic declines in in-person utilization of healthcare services among adults and children, both in the United States and globally.
"Well-baby" and "well-child" visits were some of the noteworthy casualties. In the U.S., children's and teen's vaccination rates plummeted dramatically, falling that year by as much as 91% depending on the age group, including a noticeably lower uptake of diphtheria, tetanus and pertussis vaccines (DTaP or DTP), meningitis shots and human papillomavirus (HPV) vaccines.
Public health officials expected this "pandemic hangover" to dissipate by 2021, but instead, the change in parents' vaccine-seeking behavior for their kids persisted. Internationally, 6 million fewer children worldwide got at least one dose of DTP vaccine in 2021 versus 2019, causing the head of UNICEF to lament "the largest sustained drop in childhood immunization in a generation."
---
NHS preparations for fall 'covid and flu' campaign present misleading "safety" reports  | added August 15
As (misleadingly) reported in the Independent yesterday (scroll down), the NHS is going all-out "to boost capacity ahead of what is expected to be a busy winter," what with the looming "combination of covid and flu." The plan is to "create thousands more beds," and take on thousands of new staffers, (ostensibly) to make the NHS a more efficient guardian of the British people's health.
To that end, they're hiring scads of call workers (including "mental health professionals"), "extra social prescribing link workers" (whatever those are) and "health and wellbeing coaches," all to be devoted to a vast improvement in NHS services, so as to keep the British people "safe."
Thus the Independent gives its readers the impression that the NHS wants more than anything to better its performance for the greater good. The only hint that something else is in the works comes way down in the 13th paragraph, as an innocuous aside: Planning is also under way for an autumn covid-19 booster programme as well as the annual flu campaign.
---
WHO health officials agree to rename 'monkeypox' variants | added August 15
A group of global experts convened by WHO has agreed on new names for monkeypox virus variants, as part of ongoing efforts to align the names of the monkeypox disease, virus and variants—or clades—with current best practices. The experts agreed to name the clades using Roman numerals.
The monkeypox virus was named upon first discovery in 1958, before current best practices in naming diseases and viruses were adopted. Similarly for the name of the disease it causes. Major variants were identified by the geographic regions where they were known to circulate. Current best practise is that newly-identified viruses, related disease, and virus variants should be given names with the aim to avoid causing offense to any cultural, social, national, regional, professional, or ethnic groups, and minimize any negative impact on trade, travel, tourism or animal welfare.
Disease: Assigning new names to existing diseases is the responsibility of WHO under the International Classification of Diseases and the WHO Family of International Health Related Classifications (WHO-FIC). WHO is holding an open consultation for a new disease name for monkeypox. Anyone wishing to propose new names can do so here (see ICD-11, Add proposals).
---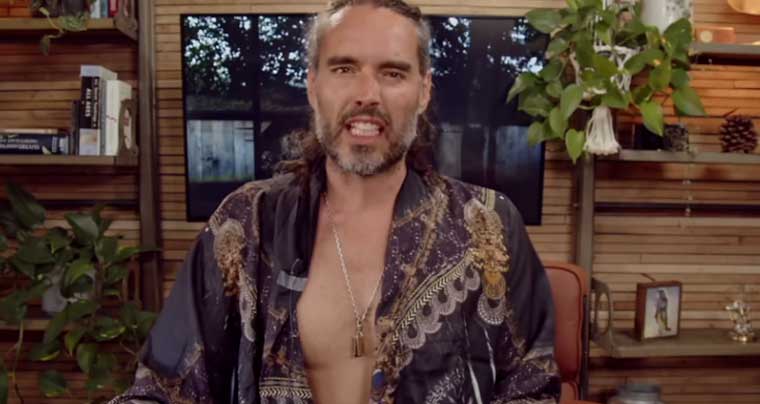 Can you believe this pancake party? | added August 15
While Trudeau has great hair and looks good as a pancake eating cowboy, nothing about his hypocrisies is okay…
---
Colorado clinic patients who received improperly stored 'covid' shots are being asked to get jabbed again | added August 13
COLORADO, USA — Patients who received a covid-19 vaccine at two Colorado clinics are being asked to get vaccinated again after vaccine doses were not properly stored.
Up to 190 patients who received a covid-19 vaccine between Feb. 3 and June 28, 2022, at the Wheat Ridge-based Colorado Family Clinic, at 4990 Kipling Street, and 594 patients who were vaccinated between Oct. 9, 2021, and April 24, 2022, at Denver-based Servicios de la Raza, at 3131 W. 14th Avenue, are being asked by the Colorado Department of Public Health and Environment (CDPHE) to get vaccinated again after the clinics failed to properly store vaccines.
CDPHE said there are no negative side effects or safety concerns of taking a covid-19 vaccine that has not been properly stored; however, the vaccine may not offer protection against the virus. Colorado Family Clinic received 190 doses of Pfizer vaccine but did not maintain the required temperature data, according to CDPHE.
---
China reports 'covid' cases top 2,000 despite strict lockdowns or "static management" | added August 13
China reported more than 2,000 local covid-19 cases on Friday as infections in the southern Hainan island edged higher despite stricter curbs imposed earlier this week.
The southern province, a popular tourist destination, reported 1,426 cases. More than 1,230 of them were in the beach resort city of Sanya, where more restrictions were added on Thursday. Hainan's authorities had aimed to eliminate community transmission by Aug. 12.
Korla city in the western Xinjiang region announced the imposition of "static management" starting 8 a.m. Saturday and lasting for at least five to seven days, according to a statement from the local government. The term is commonly used when referring to lockdowns. The city reported seven infections on Friday, while the case count for the whole Xinjiang region dropped to 336 from more than 400 a day earlier, according to state broadcaster CCTV.
---
New Yorkers weigh in on relaxed CDC over guidelines saying "I feel good about it" | added August 13
NEW YORK — The Centers for Disease Control and Prevention announced Thursday it's easing its covid safety guidelines, a move welcomed by many New Yorkers who spoke to CBS2's Astrid Martinez.
What a difference a couple of years make — from empty pandemic streets to closed parks, and forget about getting close to people. Remember all those social distancing signs? "I think New York is coming back to the times where it was free and very happy times," Uptown Manhattan resident Marina Tselnik said.
Those reminders of a covid-19 shutdown will now be a thing of the past, and many New Yorkers are looking toward the future. "I got used to the guidelines, but I feel good about it. Very good. Very positive," Tselnik said. While the pandemic is not over, the CDC says it no longer can severely disrupt our daily lives.
---
Twenty-eight year old male employee at Six Flags Georgia says he got 'monkeypox' from an infected surface | added August 13
It's a diagnosis a 28-year-old Georgia resident, who didn't want to be identified, says he's still wrapping his head around. "I couldn't believe I got it," he said. He spoke to Channel 2 Action News's Ashli Lincoln exclusively through Zoom after being diagnosed with the monkeypox virus by doctors at Emory. "Now I'm here, and now I have to get treated," he said. He says he suspects he got the virus from his job at Six Flags Over Georgia.
"It's just the fact that there are a lot of people that work there. There are a lot of guests that come in and out of the park every day that we operate," he said. Channel 2 confirmed the man is, in fact, an employee with Six Flags Over Georgia. He says the park has done a great job with sanitizing in recent months, but he suspects he touched a surface or object after a co-worker who appeared to have the monkeypox virus.
"On the back side of his neck, you can see it. I didn't touch him. I was just walking next to him; I was near him. Is it that contagious? Is it on surfaces? Like, where is it?" he said. Transmission of monkeypox typically takes skin-to-skin or other close contact to transmit, according to the Georgia Department of Health.
---
Recent FDA annual testing program data finds pesticide residues on 59 percent of U.S. food samples | added August 13
Pesticide residues were detected in 59% of U.S. food samples tested by the U.S. Food and Drug Administration (FDA) in its most recently completed annual testing program, the agency revealed in a new report. Roughly 77% of domestic fruits, 60% of U.S. vegetables and about 53% of U.S. grains sampled showed residues.
The agency said overall it analyzed 2,078 human food samples, finding that 51.6% of imported foods contained pesticide residues compared to 59.2% of domestic U.S. foods. It is common for conventional farmers to use a range of pesticides, including herbicides, insecticides and fungicides on their fields, and sometimes apply the chemicals directly onto their crops, as a means to fight weeds, bugs and plant diseases.
Residues of these chemicals are found not only in food but often in drinking water as well. Both the FDA and the U.S. Department of Agriculture have been tracking levels of pesticide residues in foods for decades, reporting their findings annually. The FDA said its 2020 sampling was reduced by the covid-19 pandemic. It did not include U.S. milk or dairy products this year in its sampling.
---
Tennis star Novak Djokovic pulls out of Cincinnati tournament over refusal of 'covid' shot mandate | added August 13
CINCINNATI (AP) — Novak Djokovic pulled out of next week's hard-court tournament in Cincinnati on Friday because he has not gotten any covid-19 vaccine shots and so is not allowed to travel to the United States. That is also why Djokovic is not expected to be able to enter the U.S. Open, the year's last Grand Slam tournament, which begins in New York on Aug. 29.
Djokovic is a 35-year-old from Serbia who owns 21 major championships, one behind Rafael Nadal for the men's record. Djokovic has said he won't get vaccinated against the illness caused by the coronavirus, even if that prevents him from playing in certain tournaments. He missed the Australian Open in January after being deported from that country and needed to sit out two events in the United States earlier this year, along with a tournament in Montreal this week.
Unvaccinated foreign citizens can't go to Canada or the U.S. currently; the Cincinnati tournament's news release announcing Djokovic's withdrawal cited "travel restrictions."
---
Zolgensma gene therapy drug kills two children sparking major liver safety concerns | added August 13
Novartis has recorded two deaths after treatment with its spinal muscular atrophy gene therapy Zolgensma, once again bringing gene therapy's safety into attention.
Two children in Russia and Kazakhstan died about five to six weeks after receiving Zolgensma, Novartis confirmed to Fierce Pharma. Both patients died of acute liver failure, a known side effect of Zolgensma that's included in a boxed warning on the one-time therapy's label. Both had received corticosteroids to restore liver function.
While serious liver injury is a known risk of Zolgensma, these two are the first reports of fatal cases, Novartis said. The deaths were first reported by Stat. Novartis will ask regulators, including the FDA, to update Zolgensma's labeling to specify that fatal acute liver failure has been reported, Novartis said in a statement.
---
UK cancer research facility apologizes for rejecting Russian applicant based on war in Ukraine | added August 13
A UK cancer research facility has apologized for telling a student that her PhD application had been rejected because she is Russian. The controversy erupted when student Alisa Iakupova tweeted on Tuesday that her friend had been denied a PhD place at the Beatson Institute for Cancer Research, which is based in Glasgow, Scotland.
Iakupova posted a screenshot of what she said was a response from the institute, which said: "I am afraid that I have to withdraw my offer. I have just been told that very recently Beatson has established a new policy upon which I am unable to appoint you because you are Russian."
The letter did not elaborate on Beatson's decision-making process but went on to say: "I find it so unfair that what is going on in Russia affects very talented young scientists like you." The letter apparently alluded to Russia's military operation in Ukraine, which prompted many countries, including the UK, to impose sweeping sanctions on Moscow, and many Western institutions to abruptly cut ties with Russia.
---
Organization for Economic Co-operation and Development 2019 data reveals Americans spent much more on pharmaceutical drugs than any other industrialized nation | added August 13
When it comes to the expenditure on pharmaceuticals across OECD countries, the United States spends much more than other industrialized nations that are part of the organization. In 2019, the average American racks up costs of $1,376 for medications after adjusting for purchasing power parity, almost 2.5 times the OECD average of $571 and still 47 percent more than the next biggest spender, Germany.
Canada and Japan followed in third and fourth place, both with spending that was around 40 percent higher than average, at $811 and $803, respectively. The OECD members with the least spending on pharmaceuticals and were Mexico and Costa Rica, while spending was also below average in many Eastern European and Scandinavia nations.
Prescription drugs made up the bulk of pharmaceutical spending in most countries. English-speaking nations on the list, including the United States, Canada, Australia and the UK, shared the characteristic of above-average spending on over-the-counter meds despite their overall expenditure levels diverging quite a bit.
---
'The new normal' with Tyler Fischer | added August 13
Nothing about this is 'normal'… happy weekend., stay free.
---
New Planet Waves FM show is posted — a day ahead of schedule | added August 12
Planet Waves FM is part of Chiron Return, along with the Comprehensive Chronology (the only forensic record of its kind) — and Covid19 News (a fantastic, hand-curated selection of news from all viewpoints, published daily since March 3, 2020). This magnificent creature of modern media is funded from the toes up by our subscribers, donors and clients. I invite you to be one of them. It feels good and we are grateful for your involvement and generosity. Thank you for tuning in. w/love — efc
I'm posting the new program early — 'tis done. It's a super laidback journey through time, space and the issues, and includes our annual tribute to the Woodstock Festival (see more below), Thursday night's Aquarius Full Moon, and an interview with naturopathic doctor Amandha Vollmer.
---
CDC loosens 'covid' mitigation guidelines claiming that 'covid' is here to stay | added August 12
The Centers for Disease Control and Prevention loosened covid-19 guidelines on Thursday, freeing schools and businesses from the onus of requiring unvaccinated people exposed to the virus to quarantine at home.
The changes are a sharp move away from measures such as social distancing requirements and quarantining, which had polarized much of the country, and effectively acknowledge the way many Americans have been navigating the pandemic for some time. The agency's action comes as children across the country return to school and many offices have reopened.
"We know that covid-19 is here to stay," Greta Massetti, a C.D.C. epidemiologist, said at a news briefing on Thursday. "High levels of population immunity due to vaccination and previous infection, and the many tools that we have available to protect people from severe illness and death, have put us in a different place."
---
FDA announces people should undergo three at-home 'covid' tests after being exposed, citing research that taking two misses "too many infections" | added August 12
FRIDAY, Aug. 12, 2022 (HealthDay News) — People who test at home after being exposed to covid-19 should take the test three, not two, times to make sure they're not infected, the U.S. Food and Drug Administration said Thursday.
In issuing its new safety communication, the agency said the latest research suggests that taking just two antigen tests misses too many infections and could result in people inadvertently spreading the virus to others, especially if they don't develop symptoms.
In its announcement, the agency pointed to a preliminary government study that found adding a third test improved accuracy from 62% to 79%. "The FDA's new recommendations for at-home covid-19 antigen tests underscore the importance of repeat testing after a negative test result in order to increase the chances of detecting an infection," said Dr. Jeff Shuren, director of the FDA's Center for Devices and Radiological Health, said in an agency news release on the recommendation. The FDA recommended taking the three tests every 48 hours, until you have a negative test and no symptoms.
---
WHO believes people are poisoning monkeys amid 'monkeypox' mania and urges against attacks | added August 12
The World Health Organization is urging the public not to attack monkeys amid the monkeypox outbreak, following reports that primates have been poisoned and killed in Brazil.
"What people need to know is that the transmission we are seeing is happening between humans," WHO spokesperson Dr. Margaret Harris said Tuesday at a press briefing in Geneva. At least 10 monkeys in Brazil, a combination of marmosets and capuchins, were rescued showing signs of intoxication or having been harmed, the Brazilian news outlet G1 reported Sunday. Seven of them died and the others were being monitored at a zoo in São José do Rio Preto, in the state of São Paolo.
The Environmental Military Police in Brazil believe the poisonings were perpetrated by people, out of a fear of monkeypox, G1 reported. In response, the police have reinforced patrolling in woods. Civil police in Brazil, meanwhile, are investigating whether the cases are criminal. Some of the animals' organs are also being studied to determine their cause of death, according to G1.
---
"Stunning" link between myocarditis in adolescents and Pfizer-BioNTech shot | added August 12
A prospective study in Thailand conducted during the country's national covid-19 vaccination campaign for adolescents showed what one physician described as a "stunning" association between myocarditis and the Pfizer-BioNTech vaccine.
The preprint, accepted for publication in a peer-reviewed journal, involved 314 participants ages 13-18 who were healthy and without abnormal symptoms after receiving their first vaccine dose. Participants with a history of cardiomyopathy, tuberculous pericarditis or constrictive pericarditis and severe allergic reaction to the covid-19 vaccine were excluded from the study.
Although the study included 314 adolescents, 13 were excluded from the findings as they were "lost to follow-up." Of the 301 remaining participants, 202 (67.1%) were male. Researchers found that 18% of the 301 teens analyzed had an abnormal electrocardiogram, or EKG after receiving their second dose of Pfizer, 3.5% of males developed myopericarditis or subclinical myocarditis, two were hospitalized and one was admitted to the ICU for heart problems.
---
Former Washington State football coach files $25 million wrongful termination claim against university over refusing 'covid' shots | added August 12
Former Washington State football coach Nick Rolovich, fired last year because he refused the covid-19 vaccine, has filed a claim against the university seeking $25 million for wrongful termination. Rolovich was denied a religious exemption from Gov. Jay Inslee's mandate requiring state employees to get the vaccine.
The university fired Rolovich "for cause" in October 2021 after he had coached just 11 games with the Cougars. Rolovich's attorney, Brian Fahling of Kenmore, indicated at the time that Rolovich would take legal action, claiming religious discrimination. Rolovich is Catholic.
A $25 million tort claim was filed on Rolovich's behalf with the state's Office of Risk Management on April 27. A tort claim is a prerequisite to filing a lawsuit against a state agency, said Brionna Aho, spokesperson for the Office of Attorney General Bob Ferguson. After a tort claim is filed, there is a 60-day period before a claimant can file a lawsuit. As of Tuesday, Rolovich has not filed a lawsuit against the university, Aho said.
---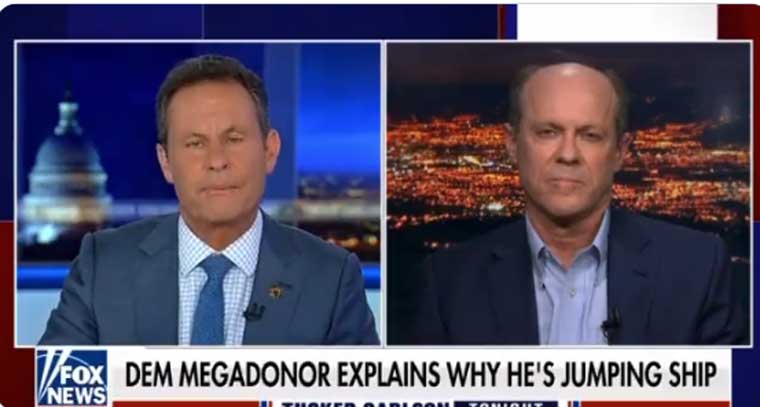 Democrat mega donor Steve Kirsch explains why he is leaving the party over deadly 'covid' shots and lack of transparency | added August 12
Democrat mega donor Steve Kirsch explains why he's jumping ship from the Democrat party on Fox with Tucker: "My friends are dying. The most dangerous vaccine ever created by man."
---
Fauci at Fred Hutchinson Cancer Center blatantly decries reports of 'covid' shots killing and seriously injuring people | added August 12
Dr. Anthony Fauci this week urged people to vote out members of Congress who are spreading "total lies" about covid-19, but made a false claim himself about covid-19 vaccines. Fauci, speaking at the Fred Hutchinson Cancer Center in Seattle on Aug. 9, was asked how the scientific community can deal with congressional leaders "who promulgate unscientific ideas yet control funding for public institutions."
"Vote," Fauci responded, drawing applause from the room. In commencement speeches he's given this year, Fauci urged graduates, "Don't accept the normalization of untruths." "Because there's so much preposterous lying that goes on, and including, unfortunately it's true … that members in our own Congress, in our own Senate, who just get up and say things that are total lies," added Fauci, the longtime head of the National Institute of Allergy and Infectious Diseases (NIAID).
"'Vaccines kill people, that kind of thing.' It's so much untruths that people who have a lot of other things in their lives that they have to worry about, they kind of start accepting it and all of a sudden, lying becomes normal."
---
In memory of those who "died suddenly" from August 2-8 | added August 12
Ninety three died in Canada; actors in the US (two), UK, Italy, Turkey, Russia, India (two)and the Philippines; 28 died in "vaxxidents" in the US, Mexico, Spain, Italy, Israel and Australia; & all too many more.
UNITED STATES: Albert Woodfox, Angola 3 member, 'Solitary' author, dies at 75 on August 4, 2022. Albert Woodfox, the prison activist and member of the Angola 3 whose memoir "Solitary" was a finalist for the National Book Award and the Pulitzer Prize, died Thursday (Aug. 4) at Ochsner Baptist Hospital after contracting the covid-19 virus. He was 75. The death was confirmed by his brother.
Woodfox, who was released six years ago, spent nearly 44 years in solitary confinement at the Louisiana State Penitentiary at Angola, much of it based on a dubious conviction in the death of a prison guard. Woodfox's time in solitary is said to be the longest span endured by anyone on Earth. For years, even while he lived in his 6-foot-by-9-foot cell, under lockdown 23 hours a day, Woodfox worked to ensure that no one else would suffer the same fate. . . .
---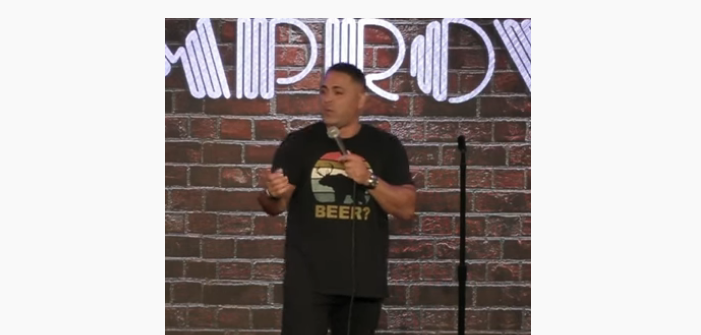 Buying a pool during a pandemic | added August 12
When protocols are dropped left and right under the guise of a pandemic, we shall persevere.
---
Part II: The Steve Kirsch debate on the existence of a 'covid' virus | added August 11
I'm moving on from Part 1 into a completely different area. There is lab work in the sciences that crucially affects populations. Two examples: virologists claiming they've isolated SARS-CoV-2; and researchers deciding they've found a way to adapt RNA technology to produce a covid vaccine.
In the first case, the purported discovery of SARS-CoV-2 enabled the launch of the global pandemic announcement, which eventually led to the lockdowns and the crashing of economies. In the second case, the RNA-vaccine "breakthrough" led to the vaccination of billions of people, and massive numbers of injuries and deaths.
These are crucial effects, to say the least. And yet, those on the outside, who have no access to these labs AS THE WORK IS BEING DONE, those who are independent scientists and analysts and can only read the studies once they are published—This is an unconscionable situation, when you stop and think about it. The whole world is changed by the research, but we can't watch it IN PROGRESS.
People have been brainwashed into thinking this lack of access to labs is normal. Standard. Non-official persons entering these labs and tracking the work step by step would amount to a criminal invasion. That's what we're supposed to believe.
---
FDA bypasses clinical trials to authorize 'modified monkeypox shots' under emergency use authorization | added August 11
Today, the U.S. Food and Drug Administration issued an emergency use authorization (EUA) for the JYNNEOS vaccine to allow healthcare providers to use the vaccine by intradermal injection for individuals 18 years of age and older who are determined to be at high risk for monkeypox infection. This will increase the total number of doses available for use by up to five-fold. The EUA also allows for use of the vaccine in individuals younger than 18 years of age determined to be at high risk of monkeypox infection; in these individuals JYNNEOS is administered by subcutaneous injection.
"In recent weeks the monkeypox virus has continued to spread at a rate that has made it clear our current vaccine supply will not meet the current demand," said FDA Commissioner Robert M. Califf, M.D. "The FDA quickly explored other scientifically appropriate options to facilitate access to the vaccine for all impacted individuals. By increasing the number of available doses, more individuals who want to be vaccinated against monkeypox will now have the opportunity to do so."
JYNNEOS, the Modified Vaccinia Ankara (MVA) vaccine, was approved in 2019 for prevention of smallpox and monkeypox disease in adults 18 years of age and older determined to be at high risk for smallpox or monkeypox infection. JYNNEOS is administered beneath the skin (subcutaneously) as two doses, four weeks (28 days) apart. For individuals 18 years of age and older determined to be at high risk of monkeypox infection, the EUA now allows for a fraction of the JYNNEOS dose to be administered between the layers of the skin (intradermally).
---
Are aliens hiding in plain sight? Scientists contemplate what defines life | added August 11
In July, three unmanned missions blasted off to Mars – from China (Tianwen-1), the US (Nasa's Mars 2020 Perseverance Rover) and the United Arab Emirates (Hope). The Chinese and American missions have lander craft that will seek signs of current or past life on Mars.
Nasa is also planning to send its Europa Clipper probe to survey Jupiter's moon Europa, and the robotic lander Dragonfly to Saturn's moon Titan. Both moons are widely thought to be promising hunting grounds for life in our solar system – as are the underground oceans of Saturn's icy moon Enceladus.
Meanwhile, we can now glimpse the chemical makeup of atmospheres of planets that orbit other stars (exoplanets), of which more than 4,000 are now known. Some hope these studies might disclose possible signatures of life. But can any of these searches do their job properly unless we have a clear idea of what "life" is? Nasa's unofficial working definition is "a self-sustaining chemical system capable of Darwinian evolution".
---
North Korea claims victory over 'covid' outbreaks despite lacking credible mass testing measures | added August 11
SEOUL, Aug 11 (Reuters) – North Korean leader Kim Jong Un has declared victory over covid-19 and his sister indicated that he too caught the virus, while vowing "deadly retaliation" against South Korea, which the North blames for causing the outbreak.
Kim ordered the lifting of maximum anti-epidemic measures imposed in May though adding that North Korea must maintain a "steel-strong anti-epidemic barrier and intensifying the anti-epidemic work until the end of the global health crisis", North Korea's KCNA news agency reported on Thursday.
North Korea has never confirmed how many people caught covid, apparently because it lacks the means to conduct widespread testing. Instead, it has reported daily numbers of patients with fever, a tally that rose to some 4.77 million. But it has registered no new such cases since July 29.
---
New Delhi reinstates mask mandates as 'covid' cases reportedly continue to rise | added August 11
NEW DELHI (AP) — The Indian capital reintroduced public mask mandates on Thursday as covid-19 cases continue to rise across the country. The New Delhi government reinstituted a fine of 500 rupees ($6) for anyone caught not wearing a mask or face covering in public.
India's Health Ministry said 16,299 new cases were recorded in the past 24 hours nationwide, with a positivity rate of 4.58%. Nearly 2,150 infections were reported in New Delhi. On Wednesday, New Delhi reported eight deaths due to the coronavirus, the highest in nearly six months. People in most parts of the country began discarding face masks as infections dropped following two devastating earlier waves of covid-19.
New Delhi's top elected official, Arvind Kejriwal, said that covid-19 cases were on the rise but there was no need to panic because most of the new cases were mild. India started vaccinating people in January 2021 and has administered over 2.04 billion doses, including first, second and booster doses. More than 94% of the eligible population (12 years and older) has received at least one shot, and 86% are fully vaccinated.
---
Mainstream media outlet claims U.S. has hit 'covid' plateau with more than 400 'covid' deaths a day | added August 11
(CNN) The United States seems to have hit a covid-19 plateau, with more than 40,000 people hospitalized and more than 400 deaths a day consistently over the past month or so. It's a dramatic improvement from this winter — there were four times as many hospitalizations and nearly six times as many deaths at the peak of the first omicron wave — but still stubbornly high numbers.
And there are big question marks around what might happen next, as the coronavirus' evolution remains quite elusive 2½ years into the pandemic. "We've never really cracked that: why these surges go up and down, how long it stays up and how fast it comes down," said Dr. Eric Topol, a cardiologist and professor of molecular medicine at Scripps Research. "All these things are still somewhat of a mystery."
BA.5 remains the dominant subvariant in the US for now, causing most new cases as it has since the last week of June. Data from the US Centers for Disease Control and Prevention, published Tuesday, shows that the omicron offshoot accounted for 87% of new cases in the first week of August, inching up a few percentage points from the week before.
---
Two whistleblowers allege military is using Pfizer's Comirnaty-labeled experimental shots produced at facility not approved by FDA | added August 11
A U.S. Coast Guard (USCG) service member alleges the U.S. Department of Defense (DOD) is administering covid-19 vaccines from vials of Pfizer's Comirnaty-labeled vaccines that are not produced at U.S. Food and Drug Administration (FDA)-approved manufacturing facility.
Lt. Chad R. Coppin, in a July 30 declaration submitted with Sen. Ron Johnson (R-Wis.) under penalty of perjury, detailed his personal investigation into the availability and origin of Comirnaty-labeled covid-19 vaccine vials at U.S. military facilities. Coppin also relayed his concerns in an interview with The Defender, as did Holly Freincle, the wife of a U.S. military service member stationed at Fort Detrick, Maryland, who corroborated Coppin's claims that Comirnaty-labeled vaccine vials are appearing at military service facilities.
Freincle told The Defender Comirnaty-labeled vaccines are being administered at Fort Detrick and that her husband's retirement is currently in jeopardy if he does not accept vaccination with this "FDA-approved" vaccine. Until now, the DOD has claimed the Pfizer-BioNTech covid-19 vaccine, administered under an FDA-issued Emergency Use Authorization (EUA), is "interchangeable" with the fully licensed Pfizer Comirnaty vaccine — which until recently, was said to be unavailable at military facilities.
---
Australian College of General Practitioners warn against pharmaceutical push for over the counter 'covid' treatments | added August 11
A push to allow access to covid-19 treatments without a prescription could jeopardise patient safety, warns the Royal Australian College of General Practitioners (RACGP) warns. There are two oral antivirals available in Australia, and while early treatment is critical to lessen the effects of the virus, access is restricted.
All Australians over 70 and people over 50 at risk of severe disease from covid-19 are eligible to access the treatments, and patients need a prescription from a GP or a nurse practitioner. Australia's pharmacy body is asking the federal government to consider allowing the medications to be supplied over the counter to allow people to have faster access to them upon infection.
Pharmacy Guild president Trent Twomey told the ABC patients were frustrated with wait times for GP appointments which led to delays in being able to access the treatments. However, patient safety must always be prioritised, the RACGP has countered.
---
More disturbing videos of people dying suddenly in Thailand, India and Spain | added August 11
Twitter, or whoever really runs it, has decided that no one should see the video, which I and others posted yesterday, of Mohammed Al-Qahtani dropping dead mid-speech in Cairo. (He was a Saudi businessman, not an ambassador.)
Here's another, less dramatic video of the same collapse, which happens at the very end. (It's also on Twitter, so watch it now, and download it if you can.)
Thai woman, 55, collapses during group dance—a video (amazingly!) reported on Thai TV news. It's 25 seconds in. On Telegram: Indian ex-serviceman drops dead during playing of the national anthem and a Spanish man has heart attack while renewing his ID.
---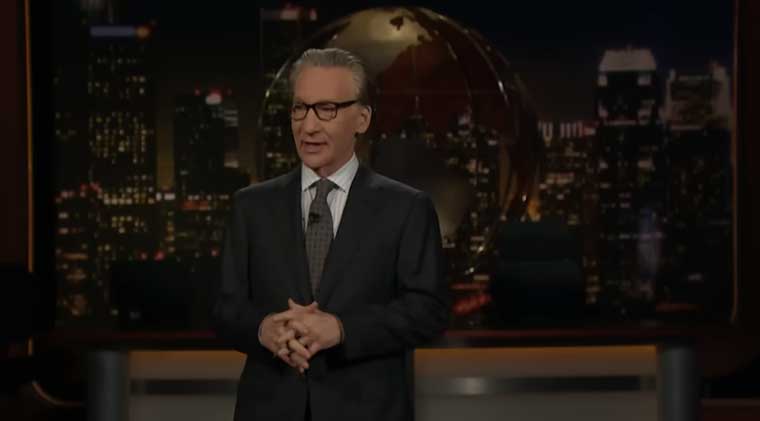 Biden gets 'covid' again and has the best week of presidency | added August 11
Bill reacts to top stories, including Biden's legislative hot streak.
---
Informed Consent Network: Grassroots organization against school 'covid' vax mandates in California prompts superintendents to take action | added August 10
Supporters of ICAN know that actions taken at the grassroots level can have a big impact on public health policy. A recent example of this took place in Shasta County, California, when, on October 18, 2021, 45% of families across Shasta County public schools kept their students at home in order to demonstrate their opposition to covid-19 vaccine mandates for school children. What's more, 80% of families in the community expressed their hesitation to covid-19 vaccines for their children, even voicing their plans to withdraw their children if covid-19 vaccines were to be mandated.
After ICAN's attorneys submitted a records request to the California Health and Human Services Agency, ICAN discovered that those parents' small action – merely keeping their children home and voicing their objection to a proposed mandate – had a big impact. Just weeks later, the superintendents of 21 out of a total of 25 school districts in Shasta County, in addition to the Superintendent of the Shasta County Office of Education, wrote Governor Newsom and other California public health officials, urging them not to move forward with covid-19 vaccine legislation in order to leave intact parents' option for a personal belief exemption.
The letter noted that the county's public schools otherwise stood to lose up to 70% of their students. When the California Department of Public Health's Director received the letter, he shared it internally with Mark Ghaly, Secretary of the California Health and Human Services Agency, and the agency's Undersecretary, Marko Mijic. Notably, the state of California has not yet mandated that students receive a covid-19 vaccine.
---
Weak demand for Novavax's protein-based shot plunges shares | added August 10
Shares of covid-19 vaccine maker Novavax cratered Tuesday as the U.S. biotech company slashed its sales forecast due to a slump in demand for its shots. The company's stock dived 31% after it cut its 2022 sales outlook in half.
Novavax's protein-based vaccine was a latecomer to the market. It was authorized by the Food and Drug Administration for use by adults in the U.S. only last month, long after a majority of adults had already been vaccinated with Pfizer, Moderna or Johnson & Johnson shots. Only 7,381 Novavax vaccine doses have been administered in the U.S., government data shows.
The company alluded to softening demand for the covid-19 vaccine in its earnings call Monday. Novavax CEO Stanley Erck said that hurdles in getting approval to administer booster shots and first doses to younger Americans have also hurt sales, as these applications are the company's best bet for finding a market. The Novavax covid-19 vaccine has not been authorized by the FDA for use as a booster vaccination.
---
Millennial net worth doubled during first months of 'covid' pandemic, according to new data | added August 10
Although the covid-19 pandemic had devastating effects on the U.S. economy, one key demographic was able to benefit during that time: Millennials. Millennials, who are defined by the Federal Reserve as people born between 1981 and 1996 (meaning roughly those between the ages of 26 and 41 in 2022), saw their total net worth double since the first quarter of 2020, when it was at $4.55 trillion, according to a recent report by MagnifyMoney.
That number has since surged 106.2% to $9.38 trillion during the first quarter of 2022. Meanwhile, millennials' average net worth doubled as well. In the first quarter of 2022, millennials held an average of $127,793 versus $62,578 in the first quarter of 2020 — a whopping 103.2% jump.
"There's not one specific reason for the substantial increase in millennials," MagnifyMoney Executive Director Ismat Mangla told Yahoo Finance. "It was a perfect storm of factors that has led to to the significant increase in total net worth." These factors include taking advantage of the housing market, the student loan payment pause, and even "side hustles."
---
Massachusetts Institute of Technology claims to have developed two new blood tests that can predict 'covid' immunity | added August 10
MIT has a new blood test that can potentially predict covid-19 immunity, while Harvard has a different test that uses saliva to detect both the virus and the antibodies. Most people in the United States at this point have some degree of immunity against the coronavirus. That could be from the vaccine, a recent infection, or a combination of both. But it's tough to tell how much protection you actually have.
Researchers at MIT use a small blood sample to get that answer. They developed an easy to use, 10 minute test which uses the same type of lateral flow technology as the rapid tests many people have relied on throughout the pandemic. This new test from MIT measures the level of antibodies that target the covid-19 virus in your blood. Different viral proteins can be swapped in to this test, which allows them to test for different variants of the virus as well.
Experts say this type of easy access to immunity testing can help people figure out what kind of precautions they need to take. It could also be a gamechanger for people receiving chemotherapy, have an autoimmune disease and the elderly, who are at greater risk for the coronavirus.
---
Pfizer launches final testing for experimental Lyme disease vaccine | added August 10
Pfizer on Monday said it launched the final phase of testing for an experimental vaccine to prevent Lyme disease. The company plans to create a seasonal vaccine that people age 5 and older can get during the months when ticks are most active.
If approved, the vaccine could be the first human vaccine available for Lyme disease in the U.S. in more than two decades after LYMERix, manufactured by GlaxoSmithKline, was withdrawn from the market in 2002, due to lawsuits, safety concerns and dwindling sales. According to a press release, Pfizer and French partner Valneva are enlisting 6,000 participants ages 5 and older for a late-stage clinical trial that will test the vaccine, VLA15, against the tick-borne illness.
According to ClinicalTrials.gov, "18,000 healthy participants 5 years and older" were recruited for the study. In its press release, Pfizer did not explain the discrepancy in the number of trial participants. VLA15 is a "multivalent protein subunit vaccine" targeting "the outer surface protein A (OspA) of Borrelia," the bacteria that causes Lyme disease. The vaccine is supposed to protect against six forms of the protein expressed by the bacterial species present in North America and Europe.
---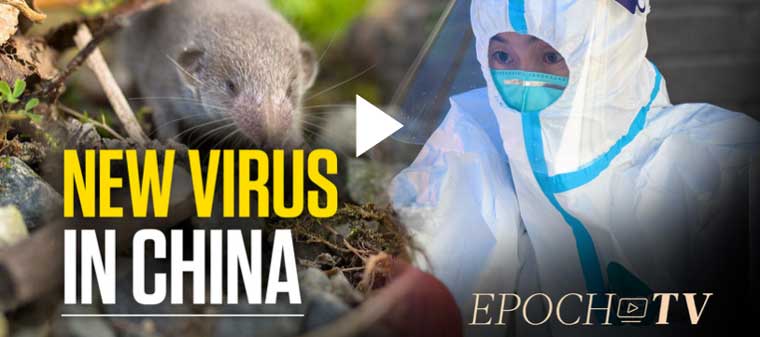 China: A new zoonotic virus has surfaced | added August 10
Taiwan's top diplomat worries China may launch a war against Taiwan. But he adds that Beijing's threats to Taiwan—with the Chinese military extending drills and encircling the island—are achieving the opposite effect.
A new lockdown mandate is in place for China—this time in a tourist destination. Tens of thousands of travelers are stuck in one of the country's top vacation hubs.
At the same time, a new virus has emerged in China. Research shows it's transmitted from animals to humans. Experts believe it could be lethal, though no death reports have come up so far.
---
Controversial 'WHO Pandemic Treaty' continues the push for approval with 'amendments' | added August 10
THE CONTROVERSIAL WHO PANDEMIC TREATY IS TO UNDERGO A PROCESS OF AMENDMENTS AFTER A NUMBER OF COUNTRIES VOICED THEIR CONCERNS OVER THE PROPOSED DOCUMENT.
Foremost among those opposing the treaty in its current form were Russia, China, Brazil, India and a block of 47 African nations led by Botswana. The treaty would give the WHO complete control over the global response to future pandemics, and the power to determine what a 'pandemic' was.
In this video independent US journalist Kim Iverson summarises the situation, where an amended treaty text is proposed for consideration by member states in 2024.
---
Part II: The breakdown of BBC's "Unvaccinated" documentary | added August 10
Part II of Iain's series breaking down the BBC's "Unvaccinated" documentary – Read Part I here.
I speculated in a previous article that the BBC would attempt to establish a narrative that would promote and support the UK government's proposed Online Safety Act. And that is precisely what it did in its would-be documentary, "Unvaccinated with Hannah Fry."
As presenter of the show, Prof. Fry got the relevant propaganda ball rolling when she introduced the segment that supported the UK government's censorship agenda. She said: I am really starting to realise that the problem here isn't so much about a lack of information as it is about this ocean of misinformation that is incredibly hard to wade through. [. . .]
The question is how do you possibly tell, when you see things like this, how do you possibly distinguish fact from fiction. How indeed. Next, the BBC filmmakers turned their attention to Will Moy, who hammered home the same message when he spoke directly to the participants on the show. Moy is the founder and CEO of the online fact-checking service Full Fact.
---
Saudi businessman suddenly drops dread while giving a speech in Cairo | added August 10
The Saudi businessman was giving a speech at the conference in "support of the achievements of [Egyptian] President Abdel Fattah Al-Sisi" when he collapsed and reportedly died on Monday, August 8.
Al-Qahtani, Chairman of the Board of Directors of Al-Salam Holding Company, described Abdel Fattah Al-Sisi, as the dean of humanity and a man of peace, before he fell to the ground, as reported by arabi21.com. Other reports suggested that he was praising the President of the Emirates, Mohammed bin Zayed when he collapsed.
Abdullah Elshrif wrote on Twitter that Al-Qahtani died in the house of border guards at the Arab-African Conference, which was attended by representatives of international, regional and Arab bodies and organisations, as well as a number of ambassadors and Arab personalities. He was also believed to be at the conference with his Emirati wife, Aisha Al-Jabri.
---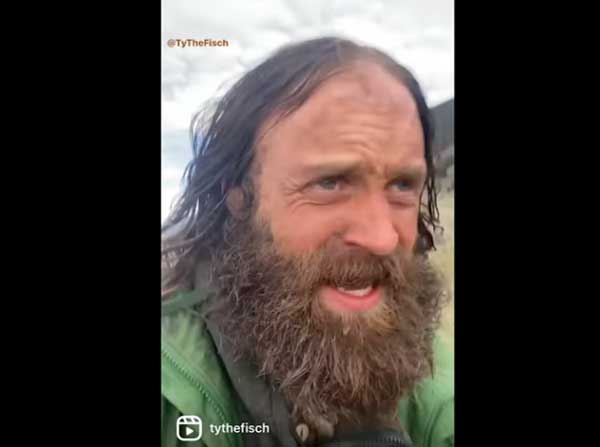 Man walks from NYC to Mexico for benefits | added August 10
Ludicrous what some people do for 'benefits'.
---
Plaintiffs await trial after judicial panel orders consolidation of over 31 lawsuits against Merck & Co. for HPV vax injuries | added August 9
A judicial panel on Aug. 4 issued an order consolidating more than 31 lawsuits brought against Merck & Co. for injuries allegedly caused by its Gardasil human papillomavirus (HPV) vaccine. The panel was "not persuaded" by Merck's argument that consolidating the cases would increase vaccine hesitancy and cause a flood of "meritless" vaccine injury claims.
The lawsuits against Merck allege the pharmaceutical giant fast-tracked Gardasil through the U.S. Food and Drug Administration's approval process and deceptively conducted clinical trials to mask serious side effects and exaggerate the vaccine's effectiveness.
The U.S. Judicial Panel on Multidistrict Litigation said the individual lawsuits involve common questions of fact, and that "centralization in the Western District of North Carolina will serve the convenience of the parties and witnesses and promote the just and efficient conduct of the litigation."
---
Fully vaxed and boosted Michigan Gov. Gretchen Whitmer tests positive for 'covid', encourages more shots | added August 9
LANSING, Mich. (AP) — Michigan Gov. Gretchen Whitmer has tested positive for covid-19. The Democratic governor said in a statement that she tested positive for the virus Monday evening and is experiencing mild symptoms. Whitmer said she plans to follow proper guidance and protocols, while maintaining a remote schedule.
Whitmer said all of her close contacts from Monday will be notified. "I am grateful for the support of my family, my staff, and the vaccine for offering me robust protection against the virus," Whitmer said. "I look forward to getting back to work in person, meeting with constituents, and keeping Michigan on the move."
Whitmer said she is fully vaccinated and has received two booster shots. "I encourage my fellow Michiganders to get vaccinated and boosted," Whitmer said.
---
Top epidemiologist warns there is an increased risk for long-term 'covid' conditions if children and teenagers get inoculated | added August 9
A top epidemiologist voiced his concerns about a new study published by the U.S. Centers for Disease Control and Prevention (CDC) that alleges there is an increased risk for post-covid-19 conditions for children and teenagers who are seeking medical care.
In the CDC's Morbidity and Mortality Weekly Report (MMWR) on Aug. 5, researchers say that children aged 17 and younger with previous bouts of covid-19 had higher rates of uncommon conditions such as myocarditis, cardiomyopathy, renal failure, type 1 diabetes, and other conditions. The study cited specific disease codes between March 2020 and January 2022.
In conclusion, the agency said that all children, even 6-month-olds, should get covid-19 vaccines. "Covid-19 prevention strategies, including vaccination for all eligible persons aged ≥6 months, are critical to preventing SARS-CoV-2 infection and subsequent illness, and reducing the public health impact of post-covid symptoms and conditions among persons aged 0–17 years," the CDC wrote.
---
Chair of 'covid' commission at leading medical journal the Lancet believes alleged virus came from a lab researching dangerous biotechnology | added August 9
Prof. Jeffrey Sachs is the Director of the Center for Sustainable Development at Columbia University and the President of the UN Sustainable Development Solutions Network. He has also served as the chair of the covid-19 commission for leading medical journal the Lancet.
Through his investigations as the head of the covid-19 commission, Prof. Sachs has come to the conclusion that there is extremely dangerous biotechnology research being kept from public view, that the United States was supporting much of this research, and that it is very possible that SARS-CoV-2, the virus responsible for covid-19, originated through dangerous virus research gone awry.
Prof. Sachs recently co-authored a paper in the Proceedings of the National Academy of Sciences calling for an independent inquiry into the virus's origins. He believes that there is clear proof that the National Institutes of Health and many members of the scientific community have been impeding a serious investigation of the origins of covid-19 and deflecting attention away from the hypothesis that risky U.S.-supported research may have led to millions of deaths.
---
Environmental and occupational use of poisonous insecticides linked to male infertility | added August 9
According to the World Health Organization (WHO), infertility is a disease of the reproductive system defined by the failure to achieve pregnancy after 12 months or more of regular unprotected sexual intercourse, affecting up to 15% of couples, and the etiology is attributable to men in one-third of the cases.
The environment plays a key role in male infertility, changing the incidence in various populations. Hence, the identification of these exogenous factors is pivotal to reduce exposure and, consequently, improve semen quality. Doubtless, pesticides are one of the most studied risk factors. Pesticides prevent, destroy, or control harmful organisms (pests) or diseases; they protect plants or plant products during production, storage, and transport.
Their use has increased over the past 50 years as global arable land has increased. Although pesticides are essential for crop protection, food maintenance, and vector-borne disease prevention, they remain biocides with harmful effects on humans. Absorption can occur through different methods: ingestion, inhalation, dermal contact, and through the placenta.
---
Revisited: The "unvaxed" question, with a look at history | added August 9
On 1 September, 1941, Chief of Reich Security Reinhard Heydrich, one of the most fanatical, mass-murdering Nazis, issued a now notorious decree ordering Jews above the age of six to wear an identifying badge in public. The Jewish Badge, a yellow Star of David with the word "Jew" inscribed inside the star, was meant to stigmatize and humiliate the Jews and was also used to segregate them and monitor and control their movements. Nothing like that is happening currently, especially not in New Normal Germany.
This repeatedly revised "Infection Protection Act" — which has granted the government of New Normal Germany the authority to order lockdowns, curfews, the outlawing of protests against the New Normal, the mandatory wearing of medical-looking masks, the segregation and persecution of "the Unvaccinated," etc. — is of course in no way remotely comparable to the "Enabling Act of 1933," which granted the government of Nazi Germany the authority to issue whatever decrees it wanted under the guise of "remedying the distress of the people."
What is happening currently in New Normal Germany is the fascist fanatics in control of the government are rewriting the "Infection Protection Act," again — as they have been doing repeatedly for the last two years — in order to allow themselves to continue to violate the German constitution (the "Grundgesetz") and rule the nation by arbitrary decree under the guise of "protecting the public health."
---
Domestic military response in N.Y. state for 'covid' marks longest mission in U.S. history | added August 9
The ongoing domestic military response to covid-19 in New York state, which includes assistance to nursing facilities, is the largest in U.S history by length of mission, number of deployed military and diversity of missions, investigators report.
Operation Covid-19 mobilized forces including the National Guard, State Guard and Naval Militia, with an assist from the Army Corps of Engineers, in early March 2020. To date, more than 7,000 service members have served across 200 mission sites. In nursing homes, for example, these forces worked to provide staffing and medical support, including testing and full-time labor.
To date, these forces have administered over 4 million vaccines, produced more than 35 million testing kits, delivered over 54 million meals and administered over 1.5 million tests, reported service member Kai Ruggeri, PhD, of Columbia University School of Public Health. "Perhaps more so than ever, 2020 was the year that every soldier, guardswoman, guardsman, sailor, marine, airman [and] airwoman had the potential to become a public health professional," Ruggeri said in a statement.
---
China's "zero-covid policy" closes Tibet's Potala Palace amid small 'covid' outbreak | added August 9
Chinese authorities have closed Tibet's Potala Palace after a small outbreak of covid cases in the Himalayan autonomous region, the Associated Press reported Tuesday. The action underscores China's continued adherence to its "zero-covid" policy, mandating lockdowns, routine testing, quarantines and travel restrictions, even while most other countries have reopened.
China says its hardline policy has been successful in preventing large-scale hospitalizations and deaths, while critics, including the World Health Organization, have decried its impact on the economy and society and said it is out of step with the changing nature of the virus and new methods of prevention and treatment.
China announced 828 new cases of domestic transmission on Tuesday, 22 of them in Tibet. The majority of those cases reportedly were asymptomatic. Meanwhile, more than 80,000 travelers remain stranded on the southern resort island of Hainan under requirements that they consistently test negative for the virus in coming days before being allowed to leave.
---
Censorship is real and knowledge is power | added August 9
We are in an information war. I think that is obvious. The mainstream media is no longer a reliable source of information. They only tell one side of the story. It's not only pathetic, it's dangerous. He who controls the narrative, controls the people.
I grew up during the Cold War, near its end, and as a competitive figure skater (a sport in which the Soviets dominated for decades), I had a number of friends from the Soviet Union. I can remember the stories their parents and grandparents would tell us about living in the USSR before they were able to "defect" and escape to the USA. It seemed truly unbelievable to hear them talk about food shortages, bread lines, eating the same stale food for days in a row, sleeping in their coats because it was freezing outside and their apartment buildings didn't have heat that worked.
It wasn't because they were so poor. It was because it was all government controlled. They explained how the radio only had a couple of stations, and those were government controlled, so all day and night, all they really heard was propaganda. The Soviet people didn't know they were being fed lies. How could they? There was no "dissent" allowed to be spoken. There was only ever one side. And so, they believed it.
---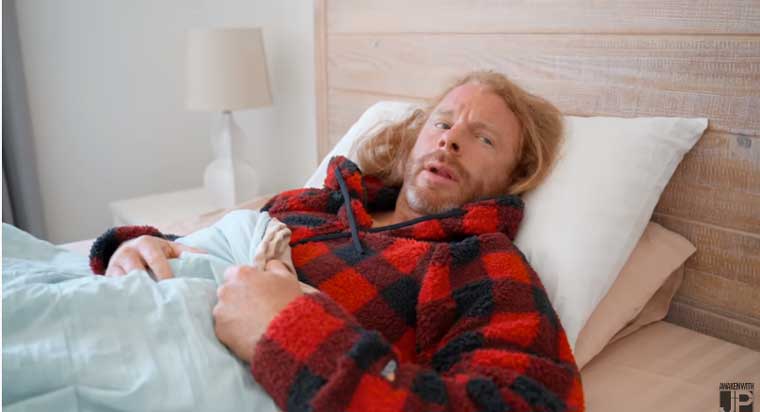 Waking up from a coma in 2022 | added August 9
Wait, men can get pregnant? There's suppression of free speech? Let's stay awake.
---
Nearly 30,000 deaths reported on VAERS after 'covid' injections, according to recent data | added August 8
The Centers for Disease Control and Prevention (CDC) today released new data showing a total of 1,371,474 reports of adverse events following covid-19 vaccines were submitted between Dec. 14, 2020, and July 29, 2022, to the Vaccine Adverse Event Reporting System (VAERS). That's an increase of 13,534 adverse events over the previous week.
VAERS is the primary government-funded system for reporting adverse vaccine reactions in the U.S. The data included a total of 29,981 reports of deaths — an increase of 191 over the previous week — and 249,116 serious injuries, including deaths, during the same time period — up 1,430 compared with the previous week.
Of the 29,981 reported deaths, 19,348 cases are attributed to Pfizer's covid-19 vaccine, 7,981 cases to Moderna, 2,603 cases to Johnson & Johnson (J&J) and no cases yet reported for Novavax. Excluding "foreign reports" to VAERS, 851,372 adverse events, including 13,894 deaths and 87,050 serious injuries, were reported in the U.S. between Dec. 14, 2020, and July 29, 2022.
---
China's tourism-dependent Hainan Island locks down due to its "worst covid outbreak" | added August 8
BEIJING/SHANGHAI, Aug 8 (Reuters) – China's Hainan, an island province dependent on tourism, locked down more areas on Monday, state media reported, as it battles its worst covid-19 outbreak after seeing very few cases in the past two years compared with many other regions in the country.
The province, which recorded just two local symptomatic covid cases last year, has reported more than 1,500 domestically transmitted infections this month, including over 1,000 symptomatic ones. Although that is low by global standards, it is Hainan's biggest outbreak since the virus was first reported in the central Chinese city of Wuhan in late 2019.
The sharp increase in cases comes as interest in tourism picks up after China slightly eased curbs aimed at domestic travel, accounting for the shorter quarantine time facilitated by the shorter incubation period of the omicron variant. However, the curbs in Hainan, in line with China's "dynamic covid-zero" policy that aims to stamp out outbreaks as soon as possible, point to persistent uncertainty shrouding travel and may further dampen confidence in the tourism and hospitality sectors.
---
University of Texas Medical Branch admits it may have signed unlawful contract with Wuhan Lab | added August 8
A top U.S. biosecurity lab is taking responsibility for signing "poorly drafted" agreements with three high-level biosecurity labs in China that they concede may have broken the law. The three contracts, including one with the Wuhan Institute of Virology (WIV), gave the Chinese labs the power to destroy "secret files" from any stage of their collaboration.
"The party is entitled to ask the other to destroy and/or return the secret files, materials, and equipment without any backups," reads the 2017 memorandum of understanding (MOU) that the University of Texas Medical Branch (UTMB) signed with the Wuhan lab, which was revealed in April.
The broad confidentiality obligation, renewable every five years, applies to "all cooperation and exchange documents, data, details and materials," according to the document. Located in the city where covid-19 began its spread, the WIV, which for years conducted coronavirus research with U.S. funding, has attracted global attention as a possible source of the virus.
---
Joe Biden finally tests negative after multiple rebound 'covid' infections | added August 8
President Biden tested negative for covid-19 on Saturday, one week after he first tested positive with a "rebound" case of the virus. Kevin O'Connor, the White House physician, said in a letter that Biden "continues to feel very well," but he will not leave isolation until he has a second negative test.
"In an abundance of caution, the President will continue his strict isolation measures pending a second negative test as previously described," O'Connor wrote.
Biden first tested positive for covid-19 on July 21 and had some symptoms, including a cough, body aches and a slightly elevated temperature at one point. After taking the antiviral drug Paxlovid, Biden tested negative five days after his first positive test.
---
Australia's hypocrisy in fielding 'covid' positive cricketer sparks public controversy over pandemic lockdowns | added August 8
Australia's decision to field a cricketer with covid-19 at the Commonwealth Games has sparked controversy and claims of hypocrisy given the country's hard line on lockdowns during the pandemic – and their decision to deport Novak Djokovic over his vaccination status.
Tahlia McGrath was permitted to play at Edgbaston in Birmingham yesterday despite testing positive. She bowled and batted in the match and also took the catch that dismissed India's star opener Shafali Verma as the Southern Stars took gold.
She batted at No4 without a mask before she was dismissed after scoring just two runs off four balls. McGrath then bowled two overs for 24 runs and also took a catch, when she held up her hands to warn her fellow players not to come and celebrate with her. But when they won the game, McGrath jumped into the huddle and hugged her teammates. Australian bowler Megan Schutt said afterwards: 'If we get covid, so be it'.
---
Hundreds of 'covid' survivors march across Brooklyn Bridge to raise urgent awareness of pandemic needs | added August 8
Covid-19 survivors, long haulers and families who have lost loved ones to the virus marched across the Brooklyn Bridge on Saturday in solidarity to raise awareness about urgent pandemic needs. This year marks the second annual Covid March to Remember, a national event of remembrance that is held across dozens of cities, such as New York City, Atlanta, Houston and San Juan, Puerto Rico.
The purpose of the walk is to issue a call to action on elected officials to strengthen covid-19 prevention measures, ensure mental health services are readily available and advance funding for long covid research and treatment options. The event is hosted by various organizations, including Covid Survivors for Change, Yellow Heart Memorial, Faces of Covid Victims and others. Those who plan to march are encouraged to wear yellow, the color of covid loss and survival.
"Compared to last year, there is definitely a feeling that society has moved on. The scale of loss that people have experienced, the millions that are living with long covid, the nearly 250,000 children that have been orphaned, lost a parent or primary caretaker — for them, covid is very much not over," executive director of Covid Survivors for Change Christopher Kocher told News 4 in an interview.
---
'Covid' vaxed animals are 'dying suddenly' in zoos from cardiac arrest and other side effects | added August 8
JoJo the silverback gorilla is dead following emergency medical procedure at Brookfield Zoo. The beloved gorilla JoJo died Sunday at Brookfield Zoo. The silverback western lowland gorilla went into cardiac arrest during an emergency veterinary procedure prompted by an acute illness, according to the Chicago Zoological Society, which runs the suburban zoo.
31-year-old chimp Kirk dies at Dallas Zoo due to surprise heart disease. August 27, 2021. This article also notes this prior sudden death at Dallas Zoo (along with many others prior to the "vaccine" rollouts): Keeya, a 6-year-old Hartmann's mountain zebra, died in March 2021 due to a mysterious unexplained head injury.
3 Snow Leopards Die from covid Complications at Nebraska Zoo: 'Truly Heartbreaking'. November 13, 2021. And, from Liverpool, news of a female jaguar "dying suddenly":
Heartbreak as animal dies overnight at Chester Zoo
---
John Leake's new book, "The Courage to Face Covid" chronicles 'covid' fraud and propaganda | added August 8
John Leake is a best-selling an "experienced non-fiction, true crime author". Having just read what must be described as an extraordinary 'telling' of the covid-19 saga, this book is the narration of true crime on a scale that could top the list in the history of 'man's inhumanity to man'.
The book chronicles the unique role of national governments across the world and their health agencies, led by the USA and WHO, which followed an agenda that led to completely avoidable fatalities numbering several million. The question is why?
The usual culprits are money and power. But to ascribe cause to these two is woefully insufficient. The sheer magnitude of the 'dark agenda' – coordinated and played out by governments, health agencies, the medical establishment (hospitals, doctors and chemists) and the massive and deliberate disinformation by the legacy media – defies such easy explanations. As one journalist on Leake's team put it, "but this is evil".
---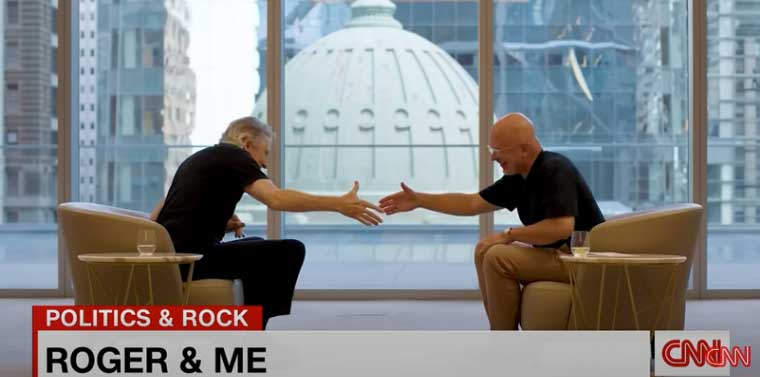 Pink Floyd's Roger Waters weighs in on Ukrainian war propaganda and importance of communicating with the opposition | added August 8
Pink Floyd's co-founder Roger Waters warns fans on his solo tour that if they can't stand his politics, "F off to the bar." His show includes calling President Biden a war criminal, and firing a fake semi-automatic weapon into the crowd. CNN's Michael Smerconish finds him just as passionate offstage.
---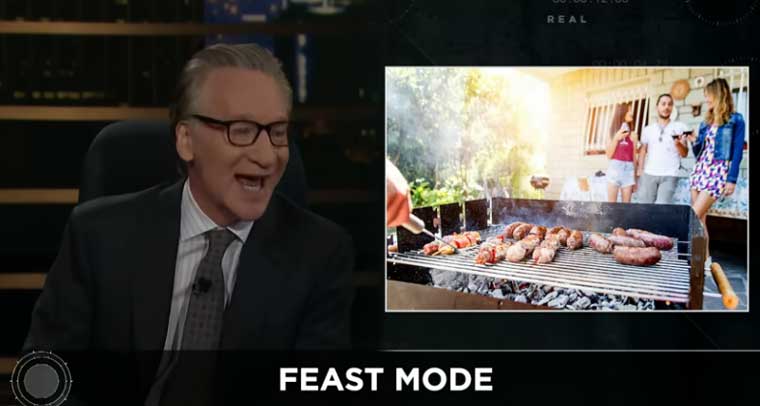 Bill Maher on fat acceptance | added August 8
Funny how mainstream media and health experts don't raise concerns on obesity being a 'public health crisis'…
---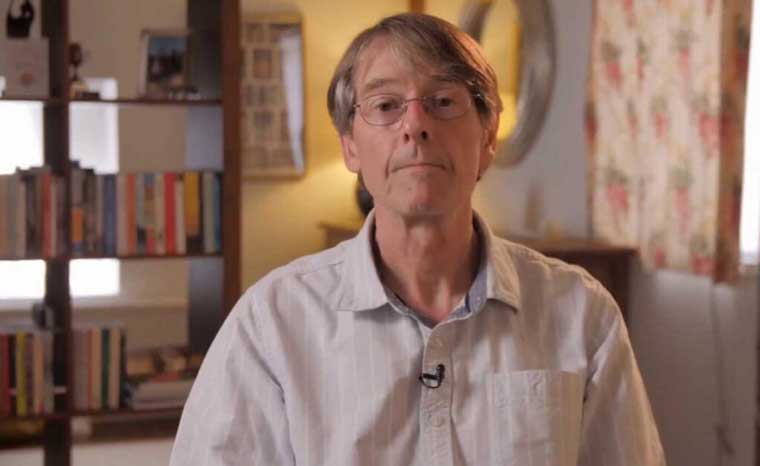 The benefit of the doubt: Pfizer's retired vice president and chief scientist Mike Yeadon | added August 6
Last night I listened to an interview with Mike Yeadon, retired vice president and chief scientist for Pfizer's respiratory division — and I was astonished. Originally broadcast earlier this week on Hearts of Oak, I will be replaying the entire conversation on tonight's Planet Waves FM. The interview was conducted by Peter Mcilvenna.
The full program usually posts before its scheduled time of 10 pm EDT. However, I plan to have the Mike Yeadon segment on this page by about 2 pm EDT.
Yeadon's role at Pfizer was to supervise research and development of respiratory drugs worldwide (among other projects). In this interview, he talks about natural pandemics, the fraudulent use of the PCR device as a "diagnostic tool," the nature vaccine design and in particular the use of spike proteins, and how his fellow scientists felt when Pfizer was convicted of crimes several years ago.
---
Biden continues to follow "strict isolation measures" after testing 'covid' positive for weeks on end | added August 6
President Biden is still testing positive for covid-19 and will continue his "strict isolation measures," the White House physician said Friday.
Dr. Kevin C. O'Connor said the president "continues to feel very well," and said his cough has "almost completely resolved." "His temperature, pulse, blood pressure, respiratory rate and oxygen saturation remain entirely normal," he said, adding that his lungs "remain clear."
"Given his rebound positivity which we reported Saturday, we have continued daily monitoring," O'Connor explained. "This morning, his SARS-CoV-2 antigen testing remained positive." O'Connor said Biden will continue to conduct "the business of the American people from the Executive Residence," and that the president "continues to be very specifically conscientious to protect any of the Executive Residence, White House, Secret Service and other staff whose duties require any (albeit socially distanced) proximity to him."
---
Biden signs into law bills aimed at holding individuals accountable for 'covid' relief fraud | added August 6
President Joe Biden signed into law two bipartisan bills on Friday aimed at holding accountable individuals who commit fraud under pandemic relief programs.
The two new laws will extend the time period prosecutors have to prosecute individuals who committed fraud through the Paycheck Protection Program or Covid-19 Economic Injury Disaster Loan program, extending the statute of limitations for criminal and civil enforcement against a borrower to 10 years.
During a signing event held on the balcony of the White House on Friday, Biden underscored that it was "essential to extend the statute of limitations for certain pandemic fraud … to 10 years to make sure fraudsters can't run out the clock." "My message to those cheats out there is this: You can't hide. We're going to find you. We're going to make you pay back what you stole and hold you accountable under the law," the President said.
---
Thousands of tourists stranded in Chinese beach resort after authorities declare 'covid' hotspot and impose lockdown | added August 6
BEIJING — Some 80,000 tourists are stranded in the southern Chinese beach resort of Sanya, after authorities declared it a covid-19 hot spot and imposed a lockdown.
The restrictions came into force on Saturday morning, as authorities sought to stem the spread of covid-19 in the city on tropical Hainan Island. There were 229 confirmed cases on Friday and an additional 129 on Saturday.
China's ruling Communist Party sticks steadfastly to a "zero-covid" approach that is increasingly at odds with the rest of the world. A recent outbreak in Shanghai spread so widely that authorities locked down the entire city, China's largest, for two months, trapping millions of people and dealing a blow to the national economy.
---
Three 'covid' vax-injured victims share stories of physical and emotional pains after inoculation | added August 6
"My heart was breaking to watch so many people suffering just to get information and help and I could not stand by and continue watching them go through this," said Catherine "Cat" Parker, who in April 2021, was injured by Johnson & Johnson's (J&J) covid-19 vaccine.
Wanting to help others enduring similar experiences, the 49-year-old Minnesotan — whose story The Defender featured earlier this week — founded the Vaccine Injury/Side Effects Support Group
Within two weeks, the group attracted 200 members from all over the world "with stories that are heartbreaking, but also [inspire] resiliency to keep going through this," Parker said. The Defender interviewed three members of the group. Here are their stories. Donna Zuk Adley: 'I feel like a voodoo doll where someone keeps taking turns stabbing me in my different body systems'
---
Children allegedly exposed to 'monkeypox' at Illinois day care center after employee tests positive | added August 6
A person who works at a day care in Illinois has tested positive for monkeypox and potentially exposed children, who are at higher risk for severe outcomes from the virus, state officials announced Friday.
Officials are screening children and others who were potentially exposed for symptoms, and the Food and Drug Administration is allowing the children to receive the Jynneos vaccine, which is authorized only for adults. The vaccine can prevent infection or reduce the severity of symptoms after exposure.
Authorities said no one else has tested positive. Illinois health officials had determined that between 40 and 50 people, many of whom are children, had been potentially exposed to the day-care worker directly or to items that had been handled by the person, officials said. "We are casting a wide net," Julie Pryde, administrator of the Champaign-Urbana Public Health District, wrote in a text message Friday night. Pryde said that several dozen children had been offered vaccines, pending their guardians' approval.
---
Rushed contracting for 'covid' medical supplies cost Canadian taxpayers over $106 million dollars | added August 6
The Department of Public Works is promising to disclose what it did to verify the credibility of federal covid-19 suppliers. Records show that rushed contracting for medical supplies along with theft cost Canadian taxpayers over $106 million, according to Blacklock's Reporter.
"While the department established processes at the outset of the pandemic aimed at ensuring oversight and due diligence, the department recognizes procurement processes can always be improved," staff wrote in documents submitted to the House of Commons public accounts committee, Blacklock's reported.
"In the context of advance payments this includes undertaking financial checks such as validating suppliers' financial capability in an emergency situation." The public accounts committee had requested a formal report from the Public Works Department "explaining how its internal processes for conducting checks verify the financial strength of suppliers before awarding contracts that involve advance payments," to be submitted by Sept. 30. The department said it would comply.
---
The 'covid' shell game of a deadly "new virus" | added August 6
The 'covid' scam was/is a shell game with three parts.
The alleged "new virus"
The alleged test for the "new virus"
The alleged "new disease" caused by the "new virus".
Deft manipulation of these three concepts – like the cups in a carnival sideshow game of pea-and-thimble – is how so many people were convinced they were looking at something undeniably real.
What few realized was the apparent connection was only alleged, imaginary. A kind of pareidolia. There was NEVER any actual connection between these three things. They even tell us so in the official narrative – if you pay attention. The illusion of connection is just the quickness of the propaganda deceiving the eye. Let's break it down.
---
The importance of remembering those who died from 'covid' shots | added August 6
First, a range of stories, most from this past month, variously telling us that we are now going through another, vastly more destructive Holocaust—this one targeting not just the Jews and some few other hated peoples, but most of humankind itself (Jews included—as the ongoing catastrophe in Israel makes clear—along with Poles, Russians, gays and every other group that Hitler wanted to erase).
Thus we are now getting ever clearer glimpses of the awful truth—glimpses we don't get from "our free press," just as the Western press (1) blacked out or downplayed reports of Germany's extermination drive (the New York Times meticulously buried it), and (2) blacked out or downplayed the carnage under Stalin, including the terror-famine in Ukraine (which the New York Times's man in Moscow, Walter Duranty, pointedly denied in his dispatches, later privately admitting that the famine had been worse than people thought).
These glimpses of the global toll of "covid vaccination"—what Bill Gates once indiscreetly called "the Final Solution," on national TV—are all from outlets so remote or marginal that one must know to look for them. And following those glimpses of the ongoing global democide are just a few of those who must eventually answer for it, whether at an actual tribunal, or, if they should somehow escape that reckoning, in the court of public opinion.
---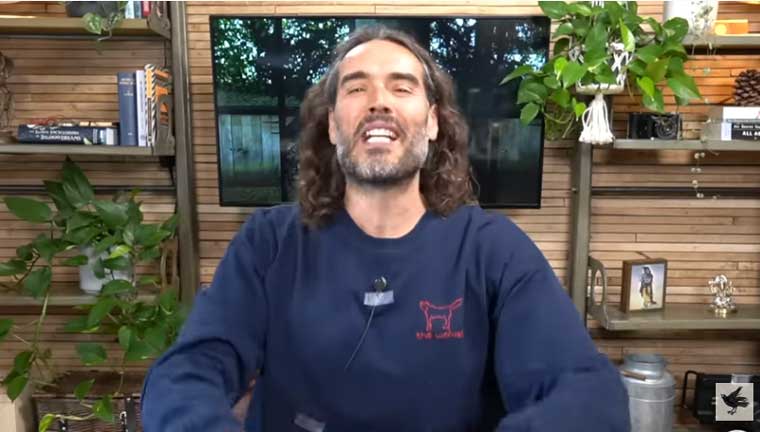 Is this a joke? | added August 6
Are members of congress like Nancy Pelosi getting rich because they're lucky or because they have inside information that they give to their partners who then make millions on the stock market?
---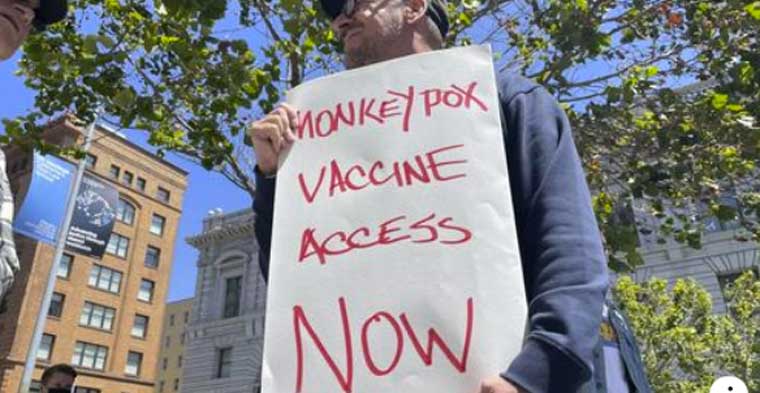 The Wedge | added August 5
Why in woke 2022 are we suddenly being confronted by another fictional "gay virus"? It's a political maneuver designed to split the left-meets-right anti-lockdown and health freedom movements.
Dear Friend and Reader:
AS YOU MAY KNOW, New York and California have declared "monkeypox emergencies," attempting to raise a panic over a fictional virus and a claimed disease with no documented cases of human-to-human transmission reported in any prior medical literature.
And I think I've figured out why this is happening now, which I will get to toward the end of this analysis.
I briefly tuned into CBS News Thursday morning, and learned that suddenly, "vaccination" centers are opening up in New York City. I am not sure where this "vaccine" came from, as three months ago there was only a smallpox injection that could double as a monkeypox "vaccine." People are being made to worry, and also being told that symptoms of this nondescript mystery illness resolve in three weeks without intervention.
The words "gay men" were used repeatedly during the broadcast and all others that I have seen. There was, of course, no mention of skin pustules being the body's effort to clear toxicity, including chemicals introduced by prior injections.
---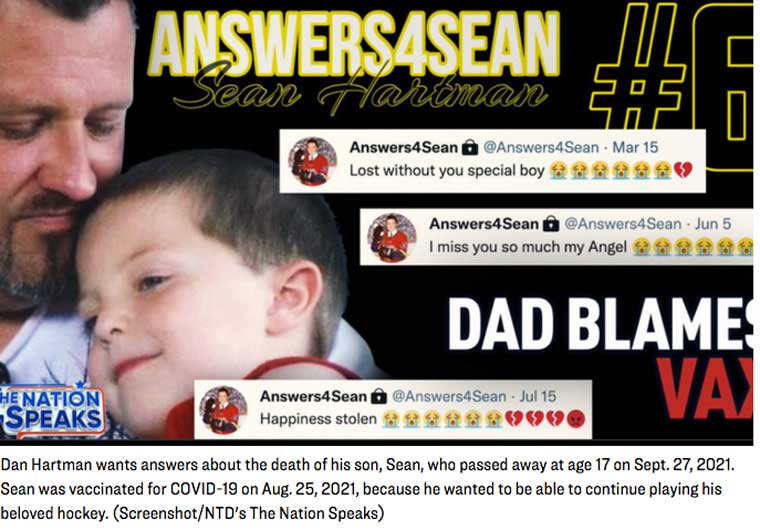 Heartbroken dad whose son died after receiving 'covid' shot in order to play hockey seeks truth | added August 5
Dan Hartman is sure that his hockey-loving son died from a covid vaccination, but he's being told very little about what happened. The Ontario dad says he wants answers about the sudden death of 17-year-old Sean. "I cannot grieve him properly without the truth. It's different if someone dies in a car accident or disease or suicide. This is none of them—this is unknown," said Hartman in an interview on NTD's "The Nation Speaks" program aired on July 30.
According to the Beeton Athletic Association Cash Draw's tribute to Sean, he began playing hockey at age 5 and went on to play for the TNT Tornadoes in New Tecumseth, Ontario, for three years before returning to his hometown of Beeton in his major Bantam year. Due to the covid-19 pandemic, the Ontario Minor Hockey Association implemented a policy that required players aged 12 and over to be vaccinated or risk not being able to play.
Hartman said that Sean decided to get the shot last August in order to continue playing, as hockey was his passion. In Ontario, there is no minimum age of consent under the Health Care Consent Act, which means youth of Sean's age can get vaccinated without parental consent.
---
Toronto Blue Jay Whit Merrifield gets 'covid' jab to play Toronto games | added August 5
Newest Toronto Blue Jay Whit Merrifield got a covid-19 vaccine and can now play in his team's home games. Canada does not allow unvaccinated people into the country, which has prevented dozens of MLB players from playing against the Blue Jays at Rogers Centre in Toronto, including Merrifield in July.
The country's vaccination mandates may or may not have played a role in who the Blue Jays looked to acquire at the trade deadline. But it seemed Merrifield understood the possibility and wanted to be playing in his team's most important games as the postseason approaches. "For a couple of weeks now, I've understood that this might be a possibility. I'll be in Toronto when the team goes there," Merrifield said, via MLB.com. In July, Merrifield said he thought hard about vaccines and concluded he wouldn't get one. But he said he had always kept his mind open, citing playing in important games in Canada.
"It's what, based on the experiences and conversations and what I've seen, this is the conclusion I've come to," Merrifield said at the time. "Right or wrong, I didn't do it on a whim. It's been a long thought process because, again, I understand what Canada has in place right now. That's the only reason I would think about getting it at this point. To go to Canada.
---
Georgia shows hesitancy in 'covid' jabs for school children and remains among lowest vax rated state | added August 5
This week, for the first time during the pandemic, the school year starts in Georgia with all children being eligible for the covid-19 vaccine, including preschoolers. Nonetheless, the state ranks nears the bottom nationwide in vaccination rates for children and teens, according to the most recent American Academy of Pediatrics (AAP) report on the subject. With the highly-contagious BA.5 variant driving high community transmission levels across Georgia, large numbers of unvaccinated children going back to school together could lead to outbreaks, some experts warn.
"It's a terrible situation," said Dr. Sean O'Leary, chairman of the committee on infectious diseases at the AAP. "We will almost certainly see more cases of covid in places that have low vaccination coverage like Georgia," he said. "No school will go untouched."
Dr. O'Leary said the state's low pediatric vaccination rates are in line with the South as a region, which he called "striking," particularly among 5- to 11-year-old children. Only 23% of children these ages in Georgia have received at least one dose of the vaccine, according to the July 27 report, based on CDC data. Nationwide, 37% of 5-11-year-olds have received at least one dose.
---
Twitter censors senior Israeli physician-scientist over questioning possible link between mRNA injections and 'monkeypox' | added August 5
Twitter last week censored Shmuel Shapira, M.D., MPH, for suggesting a connection between the monkeypox outbreak and mRNA covid-19 vaccines, according to a Kanekoa's Newsletter Substack post published Wednesday. Shapira, who said he was injured after receiving his third dose of the Pfizer covid-19 vaccine, said Twitter demanded he remove a tweet that said:
"Monkey pox cases were rare for years. During the last years a single case was documented in Israel. It is well established the mRNA vaccines affect the natural immune system. A monkey pox outbreak following massive covid vaccination: *Is not a coincidence."
Shapira is a full professor of medical administration at Hebrew University and served as director of Israel's Institute for Biological Research from 2013-2021. According to the author of the Kanekoa Newsletter, Shapira might be "the most senior ranking medical-scientist in the world to openly criticize the covid vaccines."
---
Lead vaccinologist based in Netherlands reports 'covid' vax boosters killing one person per 800 doses, should be withdrawn immediately | added August 5
Covid vaccine boosters in older people are killing one person for every 800 doses administered and should be withdrawn from use immediately, a leading vaccine scientist has said.
Dr. Theo Schetters, a vaccinologist based in the Netherlands who has played a leading role in the development of a number of vaccines, has analysed the official data from the Dutch Government and found a very close correlation between when fourth vaccine doses were administered in the country and the number of excess deaths, as shown in the chart below. Importantly, in the Netherlands the booster rollout in different regions was staggered over a number of weeks allowing an analysis by region, which confirms the effect.
Dr. Schetters, who is a recipient of the Medal of Honour of the Faculty of Pharmacy at the University of Montpellier in France, told Dr. Robert Malone, an inventor of mRNA vaccine technology, that medical doctors are currently seeing "all sorts of symptoms that they do not know what it is" and that "in the Netherlands now it's very clear that there is a good correlation between the number of vaccinations that are given to people and the number of people that die within a week after that". It is essential to look at all-cause mortality, he said, as the vaccine "potentially affects all organs".
---
'Long covid symptoms' could be the "next public health disaster" | added August 5
There's no test for long covid. There's no specific drug to take or exercises to do to ease its symptoms. There isn't a consensus on what long covid symptoms are, and some doctors even doubt that it's real. Yet with vast numbers of people having had covid-19, and estimates ranging from 7.7 million to 23 million long covid patients in the US alone, researchers say it has the potential to be "the next public health disaster in the making."
The Biden administration released two reports this week to initiate a whole-government effort to prevent, detect and treat long covid. Two new studies also try to gather some of the small pieces of the puzzle that is long covid.
President Joe Biden said in April that long covid was a priority for his administration and ordered two reports: one that lays out a research agenda for the country and one that sketches out the federally funded services and support available for people in the US with long Covid. A total of 14 government departments and agencies worked together to create these new long covid plans.
---
North Korea reports 'covid' recovery based on zero "fever cases" | added August 5
On Friday state media reported zero fever cases for a seventh straight day. North Korea refers to "fever" rather than "covid" patients due to a lack of testing equipment.
The country announced its first covid outbreak in May and has reported fever infections and deaths since. But there is widespread doubt over the data, especially the number of deaths. "No new fever cases were reported during the past week and all those receiving treatment have recovered across the country," the Korean Central News Agency (KCNA) reported on Friday.
North Korea has entered a phase of "stability", it added, but the country would "redouble efforts to maintain perfection in the execution of state anti-epidemic policies". Pyongyang has not confirmed how many people tested positive for covid. But state media said around 4.77 million fever patients have fully recovered and 74 have died since late April, which is a fatality rate of 0.002% – the lowest in the world. Many experts find these statistics hard to believe.
---
How one NYC woman's choice to not comply with medical mandates changed her life for the better | added August 5
I did not comply with the unjust and tyrannical vaccine mandates imposed by politicians in New York, and as a result my life has dramatically changed, mostly for the better.
As soon as the mandates were announced, I knew compliance would not be an option for me and that I would lose my job. I also knew that I would be unable to get another job in my field in New York due to the mandates and that I could not afford to live in New York City without a job.
Consequently, I immediately worked on an exit plan and ultimately relocated to a more free locale. Life has been so much better since leaving New York City, where the climate is still oppressive with covid hysteria. The people who claim that New York City today is back to normal are proof of how normalized the covid culture has become in that city, even among the critics. Sure, New York City is "normal" compared to everything being shut down by the government in spring 2020, but it is nowhere near what it used to be.
---
Off the boat misunderstandings | added August 5
It's easy to get it twisted when heard through the grapevines. Happy Friday.
---
South African health officials confirm first 'covid' shot related death after woman developed GBS | added August 4
A patient who had received the Johnson & Johnson covid-19 vaccine has died after developing Guillain-Barré syndrome (GBS) and a prolonged hospital stay. To protect patient confidentiality, and because it is such a rare disease, Professor Hannelie Meyer from the National Immunisation Safety Committee said no patient details, not even the province where the death occurred, will be made public.
She has confirmed that they have positively linked the cause of death to the vaccine. "It is a very rare event," she said. "The person presented with the symptoms shortly after vaccination and this had led to prolonged hospitalisation, mechanical ventilation and further infections." GBS has been identified before as a possible side-effect of the vaccine. It has also been identified as a post-infection complication of covid-19.
On 13 July, the American Food and Drug Administration revised its fact sheets for the J&J covid-19 vaccine to include information pertaining to an observed increased risk of GBS following vaccination. At the time there were about 100 preliminary reports of GBS in the US related to 12.5 million doses of the J&J vaccine. Of these, 95 were serious and required hospital admission. There was one reported death.
---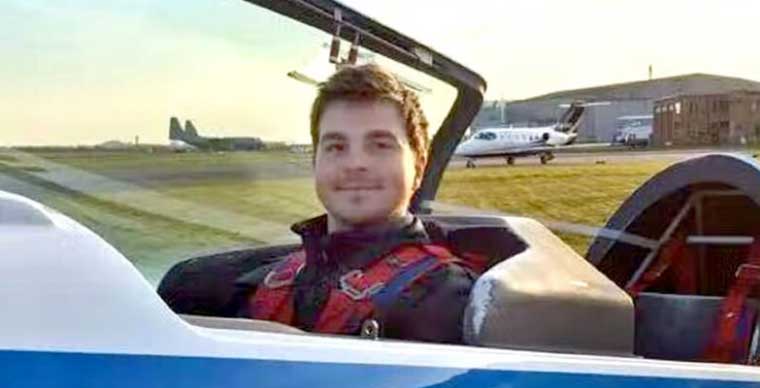 Family of 27-year-old who died after AstraZeneca shot considers legal action over son's death | added August 4
The U.K. family of a 27-year-old engineer who died from catastrophic brain bleeds after receiving AstraZeneca's covid-19 vaccine is eyeing legal action, pending an upcoming preliminary review of their son's case. Jack Last, who was vaccinated March 30, 2021, died three weeks after receiving the AstraZeneca jab.
A CT scan on April 10, 2021, revealed Last had developed a cerebral venous sinus thrombosis (CVST), which occurs when a blood clot forms in the brain's venous sinuses and prevents blood from draining out of the brain. CVST causes blood cells to break and leak blood into the brain tissues, forming a hemorrhage. Last died at Addenbrooke's Hospital in Cambridge, U.K., on April 20, 2021 — 11 days after he sought medical treatment for severe headaches.
His family retained legal counsel after raising concerns about the circumstances leading to Jack's death, the East Anglian Daily Times reported. In a statement to the media, Michael Portman-Hann, an attorney with FBC Manby Bowdler's clinical negligence team, said: "Concerns about the risk of blood clots in under-30s who had the Astra Zeneca vaccine were already being aired in health circles, and just a week after Jack had his vaccine, it was withdrawn from use in this age group… Due to the family's concerns about Jack's treatment after the vaccine, we are supporting them to find some answers."
---
CDC expected to ease 'covid' guidelines in school as the 'science' changes | added August 4
The US Centers for Disease Control and Prevention is expected to update its guidance for covid-19 control in the community, including in schools, in the coming days, according to sources familiar with the plan. A preview of the plans obtained by CNN shows that the updated recommendations are expected to ease quarantine recommendations for people exposed to the virus and de-emphasize 6 feet of social distancing.
The agency is also expected to de-emphasize regular screening testing for covid-19 in schools as a way to monitor the spread of the virus, according to sources who were briefed on the agency's plans but were not authorized to speak to a reporter. Instead, it says it may be more useful to base testing on covid-19 community levels and whether settings are higher-risk, such as nursing homes or prisons.
The changes, which may be publicly released as early as this week, were previewed to educators and public health officials. They are still being deliberated and are not final. In a statement to CNN, the agency said, "The CDC is always evaluating our guidance as science changes and will update the public as it occurs."
---
European Union says Novavax's 'covid' jab should carry a warning for heart inflammation | added August 4
LONDON (Reuters) -The European Medicines Agency (EMA) is recommending Novavax's covid-19 vaccine carry a warning of the possibility of two types of heart inflammation, an added burden for a shot that has so far failed to win wide uptake. The heart conditions – myocarditis and pericarditis – should be listed as new side effects in the product information for the vaccine, Nuvaxovid, based on a small number of reported cases, the EMA said on Wednesday.
Novavax said no concerns about heart inflammations were raised during the clinical trials of Nuvaxovid and that more data would be gathered, adding that the most common cause of myocarditis is viral infections. "We will work with the relevant regulators to assure our product information is consistent with our common interpretation of the incoming data," U.S. vaccine developer Novavax added.
In June, the U.S. Food and Drug Administration flagged a risk of heart inflammation from the Novavax vaccine. Myocarditis and pericarditis were previously identified as rare side effects, mostly seen in young men, from groundbreaking messenger RNA (mRNA) vaccines made by Moderna and the Pfizer and BioNTech alliance, with the vast majority of those affected recovering fully. The EMA said on Wednesday it had asked Novavax to provide additional data on the risk of these side effects.
---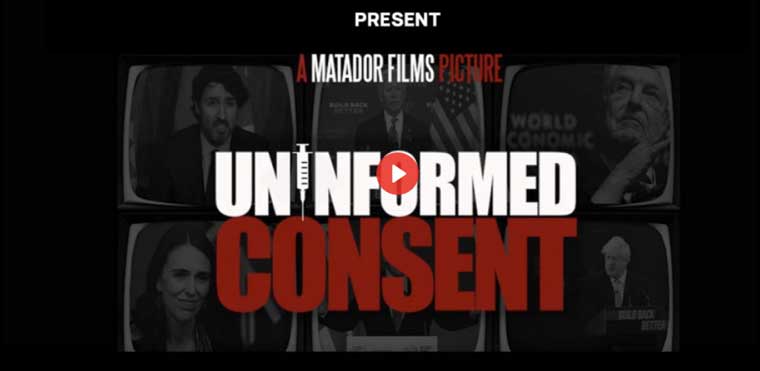 "Uniformed Consent" documentary | added August 4
Watch the official public release of Matador Films new "Uninformed Consent" documentary, presented by Librti.com and Vaccine Choice Canada.
An in-depth look into the covid 19 narrative, who's controlling it, and how it's being used to inject an untested, new technology into almost every person on the planet.
---
Nursing homes struggle to replace underpaid staff who quit during severe 'covid' outbreaks | added August 4
Nursing home staffs shrunk in the weeks and months after severe covid-19 outbreaks, according to a new study, and federal data shows most facilities lost more than half their nurses and aides in the past year.
The study found facilities have struggled to refill openings, particularly among certified nursing assistants, who provide most bedside care – findings that both complicate and underscore the need for President Joe Biden's push to establish nationwide staffing-level requirements. "Will they come back? Or is this going to be a permanent shock to the caregiving workforce?" asked Karen Shen, the health economist who led the study.
Increased nurse staffing is linked to better health outcomes for nursing-home residents, with registered nurses playing a particularly important role in managing the spread of infectious diseases. That reality gained broader significance during the covid-19 pandemic, which increased public awareness of nursing-home shortfalls.
---
'Monkeypox' cases may exceed vaccine supply as all states confirm presence except Montana and Wyoming, according to CDC | added August 4
As of Wednesday, 6,326 monkeypox cases have been confirmed in all states except Montana and Wyoming, according to the U.S. Centers for Disease Control and Prevention. No American has died from the virus, according to health officials. There have been 25,391 cases worldwide as of Wednesday, according to the CDC.
Hotez said the current monkeypox vaccine, JYNNEOS, is effective, but said the current supply may not be enough. "It's not dire yet, but the feeling is unless we work pretty quickly we could get there," he told ABC News. Monkeypox is spread through skin-to-skin contact, and although most known cases in the current outbreak are among people who identify as gay or bisexual, anyone can get it, Hotez said. As of Wednesday, five children have contracted the virus, the CDC said.
Hotez said the small supply of the vaccine, which was commissioned a decade ago, is the result of U.S. health officials letting a stockpile expire "inexplicably" and doing nothing to replenish it. "When the outbreak began we only had a few thousands doses and we're playing catchup ever since," Hotez said.
---
New Zogby survey finds fifteen percent of Americans diagnosed with new medical condition after 'covid' shots | added August 4
A new Zogby survey found 15% of American adult respondents said they were diagnosed with a new medical condition after taking one or more doses of a covid vaccine. More than two years after Operation Warp Speed began, Children's Health Defense (CHD) commissioned John Zogby Strategies to conduct two surveys (see here and here) about attitudes and the overall health of American adults.
Key highlights from the survey of 1,038 adults. The survey found that 67% of respondents received one or more covid-19 vaccines, while 33% are unvaccinated. Furthermore, among those vaccinated, 6% received one dose, 28% received two doses, 21% received three doses, and 12% took four or more. Of those receiving a covid-19 vaccine, 15% say they've been diagnosed by a medical practitioner with a new condition within a matter of weeks to several months after taking the vaccine.
"The fact that the Centers for Disease Control and Prevention (CDC) reports more than 232 million Americans ages 18-65 have taken at least one dose of the covid-19 vaccine, and 15% of those surveyed report a newly diagnosed condition is concerning and needs further study," said Children's Health Defense (CHD) executive director Laura Bono. "The mRNA vaccine technology is new and clinical trials naturally have no long-term data. CHD believes this survey points to the need for further study."
---
Moscow to expand "safe and convenient" biometric payment system where you pay with your face | added August 4
Your Still-Very-Stranded-In-Tbilisi Correspondent mused at the end of June that the West's never-ending barrage of sanctions might disrupt digital cattle-tagging efforts in Russia.
This is probably true in "backwards" regions that can't boast a single Smart or Safe City—how embarrassing. But it is definitely not true in Moscow, which is lorded over by a dancing Boston Dynamics robot named Sergey Sobyanin. Last week, Sobyanin's robo-deputy, Maxim Liksutov, who is also a friendly automaton, announced Moscow would be expanding its "safe and convenient" Face Pay system.
"What is Face Pay?" maybe you are asking. It's when you pay with your face. Sobyanin began installing his homebrewed biometric payment system in Metro stations last year. What kind of feedback has Sobyanin's safe and convenient payment method received, according to trustworthy and reliable data cited by Moscow City Hall? As Liksutov explained in his recent op-ed for Vedomosti, Muscovites love Face Pay, because it's safe and convenient.
---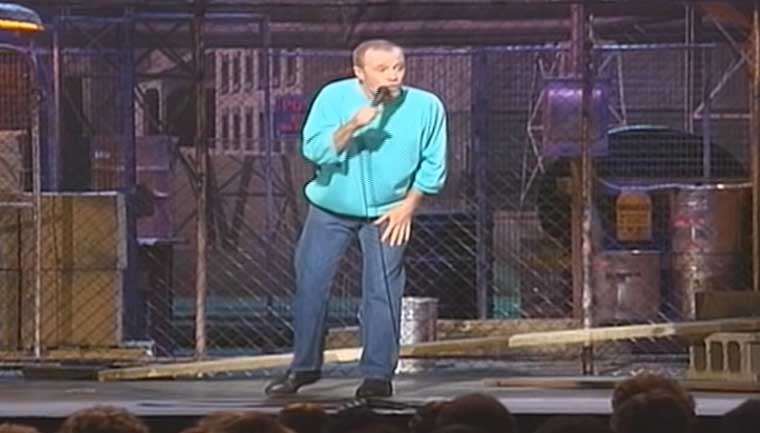 Some of Carlin's funniest bits | added August 4
Throwing it back on a Thursday. George Carlin weighs in on keeping people "on their toes".
---
Blame Canada! Two hundred governments and health institutions admit they don't have a human sample of SARS Cov-2 | added August 3
In a recent Substack post, Steve Kirsch has bet a million dollars against anyone who can prove that viruses don't exist. He's upset about a lady in Canada who sends letters to governments asking them if they have a sample of the claimed SARS-CoV-2 virus taken from a human subject. Two hundred national, federal, state, and provincial governments in more than 38 countries have all said they do not.
Christine Massey, the letter writer, didn't just get a response from Mahwah, New Jersey. They all say no — everywhere. And poor Steve is so upset, he's taken out a $1 million contract offered to anyone who can assassinate her reputation. Let's try to figure out why. Kirsch writes:
Why am I doing this? Is this a scam for me to make money?
Nope. It is to solve what I call the "Christine Massey problem" in an efficient manner.
Christine has a bunch of followers who she misleads into believing the virus doesn't exist. And she thinks I'm a bad person and won't talk to me.
---

Infertility: A Diabolical Agenda
This documentary explores the dramatic rise in women's infertility rate over the recent years and how environmental factors and vaccines are linked to the increase.
---
More than 130 Coast Guard members file class action lawsuit over denied religious exemptions from 'covid' injections | added August 3
More than 130 U.S. Coast Guard members filed a class action lawsuit alleging the religious exemptions they filed in response to the Biden administration's covid-19 vaccine mandate for military service members were unlawfully denied. The lawsuit, filed July 25 in the U.S. District Court for the Southern District of Texas — Galveston Division, also challenges the constitutionality of the mandate. The number of plaintiffs exceeds 130 and will likely end up surpassing 200, according to Dale Saran, one of the attorneys representing the service members.
The suit names four defendants: Alejandro Mayorkas, secretary of the U.S. Department of Homeland Security (DHS); Linda L. Fagan, commandant of the Coast Guard; Lloyd Austin, secretary of the U.S. Department of Defense (DOD) and Dr. Janet Woodcock, acting commissioner of the U.S. Food and Drug Administration (FDA). Plaintiffs are either active-duty or reserve members of the Coast Guard, and all "have sincerely held religious beliefs that prohibit them from receiving the covid-19 vaccine."
According to the complaint, under the August 24, 2021, DOD vaccine mandate, the military theoretically offers "medical, administrative, and Religious Accommodation Requests (RARs) to the mandate," while the Coast Guard's vaccine mandate, issued two days later, "incorporates the provisions of the DOD mandate."
---
'Covid' can rebound in people regardless if they took Paxlovid anti-viral pills, according to a new study | added August 3
Around a third of people with covid-19 will experience a rebound of their symptoms, regardless of whether they've been treated with the antiviral Paxlovid, according to a study posted online Tuesday. The preprint study — meaning it hasn't been published in a peer-reviewed journal — found that 27% of people with covid-19 saw a rebound in their symptoms after they had initially improved.
"It happens all the time. People who are untreated with covid who then feel better can get symptoms afterward," said study co-author Dr. Davey Smith, chief of infectious diseases and global public health at the University of California, San Diego School of Medicine. Still, Smith noted the that 27% finding was higher than what he'd expected based on anecdotal evidence.
The study also found that 12% of people with covid-19 had a "viral rebound," meaning they tested positive again several days after testing negative. This has been documented among people who have taken Paxlovid and is referred to as Paxlovid rebound, but the study found that viral rebound occurred regardless of whether a person had taken the antiviral treatment.
---
Veteran NYC epidemiologist criticizes NYC handling of 'monkeypox', believes people should instead practice abstinence | added August 3
A New York City Department of Health senior epidemiologist who was reassigned within the department after speaking out about the city's politically correct messaging on the monkeypox outbreak doubled down on his criticisms and also took aim at the city's coronavirus response.
"There is little chance that I will be reinstated with the Bureau of Communicable Disease. And I believe the department would prefer that I depart quietly. Like Navalny is to Putin, I am perceived as a threat to power. I can see that the emperor isn't wearing any clothes and I am not afraid to say it. That's my first amendment right," Dr. Don Weiss, who served as the director of surveillance for the New York City Health Department's Bureau of Communicable Disease, wrote in a post on his personal website on Sunday.
Weiss had spoken to the New York Times on July 18, arguing that the city's guidance suggesting people infected with monkeypox could have safer sex if they avoid kissing and covered their sores. Monkeypox has overwhelmingly affected gay and bisexual men in the city, and Weiss told the outlet that New York officials should instead advise people at risk of being infected to temporarily decrease their number of sexual partners or practice abstinence.
---
California declares 'monkeypox' state of emergency behind N.Y. and Illinois | added August 3
California Gov. Gavin Newsom declared a state of emergency over the rapidly spreading monkeypox outbreak on Monday, the third U.S. state to do so in a matter of days. Newsom said the emergency declaration would help support the state's vaccination efforts. Demand for the vaccines has outstripped supply as infections rise. Staff at sexual health clinics and other sites have struggled to keep up with the influx of people seeking the shots.
California is mobilizing personnel from its Emergency Medical Services to help administer the vaccines. Newsom said the state is working across all levels of government to slow the spread through testing, contract tracing and community outreach.
California's declaration comes after Illinois declared a public health emergency earlier Monday. New York declared a state disaster emergency in response to the outbreak late Friday.
---
WHO warns summer festivals and mass gatherings could increase spread of 'monkeypox' | added August 3
The WHO is warning that summer festivals and mass gatherings could accelerate the spread of monkeypox in the first indication that health technocrats may once again attempt to impose restrictions in the name of stopping the spread of a virus. Monkeypox cases in the UK, where the virus first arrived thanks to someone traveling back from Nigeria, have more than doubled, it was revealed earlier today. At least nine other countries around the world have also reported suspected cases of the virus, which can cause severe illness in young children, pregnant women, and individuals who are immunocompromised.
Clusters of cases have been observed amongst homosexual men, who are more at risk of catching the virus from sexual partners. According to Sky News, "Exactly what is driving the UK's largest outbreak is a mystery," especially as health experts previously asserted that monkeypox wasn't very transmissible amongst humans, with some speculating it has mutated.
Now the World Health Organization is warning that summer festivals and mass gatherings could accelerate the spread of monkeypox. "As we enter the summer season in the European region, with mass gatherings, festivals and parties, I am concerned that transmission could accelerate, as the cases currently being detected are among those engaging in sexual activity, and the symptoms are unfamiliar to many," said Dr Hans Kluge, WHO regional director for Europe.
---

Legit Pfizer ad with side effects | added August 3
This ad showcases the real Pfizer jab including the side effects. Let's spread the word and make it go viral.
---
Moderna writes off 500 million dollars in expired 'covid' shots while quarterly earnings exceed expectations | added August 3
Moderna on Wednesday reported second quarter results that beat earnings and revenue expectations driven $4.5 billion in sales from its covid-19 vaccine, but it's still the company's only commercially available product and it took a big hit on expiring shots.
The Boston biotech company's costs rose to $1.4 billion, or 30% of the revenue generated from its vaccine. Moderna took a nearly $500 million hit on write-downs for vaccines that have expired or are expected to expire before they can be used.
Moderna also lost $184 million in vaccine purchase commitments and had $131 million in expenses for unused manufacturing capacity. These charges are due to substantial reductions in expected vaccine deliveries to Covax, an international alliance that purchases shots for poorer countries. Deliveries have also been deferred for major customers such as the European Union.
---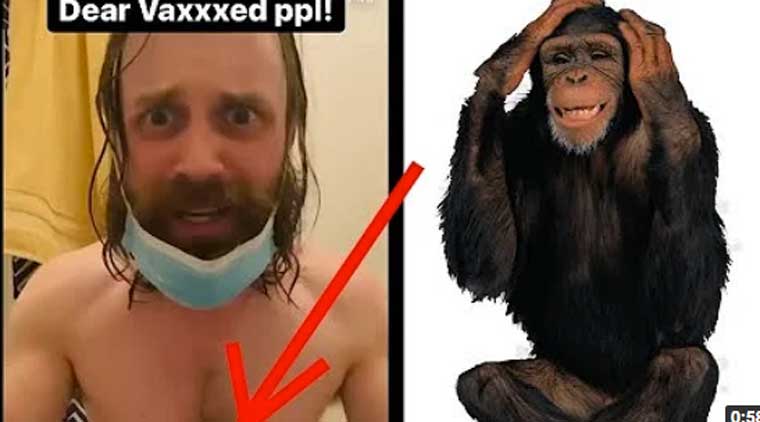 Man reminds us about 'monkeypox' droplets | added August 3
How bizarre.
---
Why are people getting sick? | added August 2
Hi all,
On a more solemn note — I am getting some queries into "what was making people sick if it wasn't a virus?" This is a question worth asking thoughtfully. It is not a simple thing.
My role as a journalist is to investigate the claims of government policymakers and corporate actors. I am not a doctor and do not diagnose individual cases of illness. Based on our 30-month investigation, neither the government nor WHO can sustain their claim of a viral cause of illness in 2020 and beyond. Their PCR test is not valid; and nobody has a sample of SARS-CoV-2 taken from a human host, with 200 countries and institutions giving official responses in the negative.
Mike Yeadon, former longtime vice president and chief scientist for Pfizer's respiratory division, said to me in a May 29, 2022 email: "It's definitely eyebrow-raising that nobody has a sample of this alleged virus."
Meanwhile, how do we know there were really excess deaths in 2020? A study out of Johns Hopkins in November 2020 said there were no increases in any age category in the United States (see article, which covers two other critical developments from that era).
---
Proof of 'covid' vax still required as New Zealand 'fully' opens all borders for first time since March 2020 | added August 2
New Zealand fully has reopened its borders for the first time since the covid-19 pandemic hit, making it the final Western country to do so. The reopening, which went into effect at midnight local time Sunday, means tourists from all over the world and international students will be allowed to enter the country. Cruise ships and foreign yachts will also be able to dock at ports.
Those not required to show proof of vaccination include New Zealand citizens and permanent residents; Australian citizens living in New Zealand; children aged 16 and under; refugees; people arriving from Antarctica; citizens of Afghanistan being evacuated; and those who can't be vaccinated for medical reasons.
During a speech at the China Business Summit in Auckland Monday, Prime Minister Jacinda Ardern called the reopening an "enormous moment," saying it had been "a staged and cautious process." "We, alongside the rest of the world, continue to manage a very live global pandemic, while keeping our people safe," Ardern said. "But keeping people safe extends to incomes and wellbeing too."
---
Hong Kong to rollout only Sinovac Biotech 'covid' shots for infants | added August 2
Hong Kong will initially offer only one choice when it expands covid-19 vaccine access to some of its youngest residents: CoronaVac from China's Sinovac Biotech Ltd. Children six months to three years of age will become eligible for the Sinovac shot from Thursday, health care officials said at a press briefing on Tuesday.
While a panel of medical advisers recommended that an immunization from Germany's BioNTech SE should also be available, the government doesn't yet have access to the proper dose, said Chuang Shuk-kwan, an official at the Health Department's Center for Health Protection. The issue is getting intense scrutiny in Hong Kong following the death of a 22-month-old girl who contracted covid and developed seizures. A 35-month-old boy who was in intensive care earlier this week with seizures after testing positive for the virus is improving, officials said.
It would be "impractical" to launch BioNTech shots for infants since Hong Kong doesn't have a supply of the pediatric formula, which comes in a smaller dose, Chuang said. The government is currently talking with pharmaceutical companies to get access to it, she said.
---
Japanese health ministry compensates family of woman who died from allergic shock response after getting 'covid' shot | added August 2
A Japanese health ministry committee awarded a compensation payment to the family of a woman who died after suffering an allergic response and sudden heart attack after receiving a covid-19 vaccine.
Japan's Ministry of Health, Labor, and Welfare said the woman was 91 when she received the shot and had preexisting health conditions including a history of transient ischemic attacks, local Japanese media reported. It's not clear what vaccine the woman received. After receiving the vaccine, the unnamed woman suffered a severe allergic reaction and an acute myocardial infarction before dying, the panel said.
A panel spokesperson told the Japan Times last week, in confirming the payment, that "a scientifically rigorous causal relationship is not necessary" in finding out whether the family is eligible to receive damages. The panel added that a link between the covid-19 vaccine and the woman's death can't be ruled out. The agency is slated to pay about 44.2 million yen (around $324,000) to the woman's family, according to The Mainichi newspaper.
---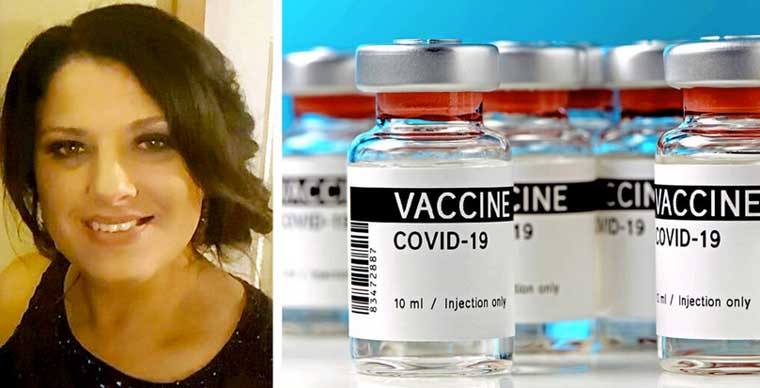 Woman injured after 'covid' shot says she feels "like the walking dead" | added August 2
At age 48, Catherine "Cat" Parker had a complete and fulfilling life: two young adult children, a job as a manager of a construction company and work as a freelance photographer and photojournalist specializing in concert and music photography — a passion that allowed the Minnesotan to spend time on the road with her boyfriend, a guitar tech.
However, Parker's life came crashing to a near-halt soon after she received the Johnson & Johnson covid-19 vaccine on April 1, 2021. "Within two weeks after receiving the first vaccine, I began to have chronic fatigue and insomnia," Parker told The Defender. "I went to a couple of doctors … and they just said it was menopause that was causing it."
Parker's symptoms worsened significantly after she received the Pfizer booster on Nov. 9, 2021. "Within 2-3 weeks after the booster, my hair began falling out and I started having severe brain fog and chronic fatigue," Parker said. "I started having uncontrollable tremors, shaking and spasms, migraines, brain fog … to a point where I couldn't communicate and couldn't walk," she added.
---
NYC declares 'monkeypox' a 'state of emergency' due to recent outbreaks | added August 2
NEW YORK – New York City Mayor Eric Adams has declared a state of emergency due to the monkeypox outbreak. The city estimates that 150,000 people, mostly men who have sex with other men, are at risk.
The city has more than 1,200 reported cases of monkeypox, about 25 percent of all cases in the United States. "We are continuing to see the numbers rise," Mayor Adams said in a statement. "This order will bolster our existing efforts to educate, vaccinate, test, and treat as many New Yorkers as possible and ensure a whole-of-government response to this outbreak."
The governor had already issued a state of emergency for the entire state. The city's Department of Health and Mental Hygiene had declared the outbreak a public health emergency on Saturday. Monday's emergency executive order allows the mayor to suspend local laws, and enact new health rules. The city is facing a drastic shortage of monkeypox vaccines with appointments filling up just minutes after they're released. The city expects to get around 80,000 monkeypox vaccine doses in the coming days.
---
Chemical poisons with long lasting health impacts linked to billions of dollars in U.S. medical costs, could undermine economy | added August 2
Accelerating evidence confirms the contribution of per- and polyfluoroalkyl substances (PFAS) to disease burden and disability across the lifespan. Given that policy makers raise the high cost of remediation and of substituting PFAS with safer alternatives in consumer products as barriers to confronting adverse health outcomes associated with PFAS exposure, it is important to document the costs of inaction even in the presence of uncertainty.
We therefore quantified disease burdens and related economic costs due to legacy PFAS exposures in the US in 2018. We leveraged systematic reviews and used meta-analytic inputs whenever possible, identified previously published exposure–response relationships, and calculated PFOA- and PFOS-attributable increases in 13 conditions.
These increments were then applied to census data to determine total annual PFOA- and PFOS-attributable cases of disease, from which we calculated economic costs due to medical care and lost productivity using previously published cost-of-illness data. We identified PFAS-attributable disease costs in the US of $5.52 billion across five primary disease endpoints shown to be associated with PFAS exposure in meta-analyses.
---
The importance of keeping a watchful eye on digital authoritarianism | added August 2
Nothing is private. We teeter on the cusp of a cultural, technological and societal revolution the likes of which have never been seen before. While the political Left and Right continue to make abortion the face of the debate over the right to privacy in America, the government and its corporate partners, aided by rapidly advancing technology, are reshaping the world into one in which there is no privacy at all.
Nothing that was once private is protected. We have not even begun to register the fallout from the tsunami bearing down upon us in the form of AI (artificial intelligence) surveillance, and yet it is already re-orienting our world into one in which freedom is almost unrecognizable.
AI surveillance harnesses the power of artificial intelligence and widespread surveillance technology to do what the police state lacks the manpower and resources to do efficiently or effectively: be everywhere, watch everyone and everything, monitor, identify, catalogue, cross-check, cross-reference, and collude.
---
Crippling vax injuries wreak havoc on pilots' health and people worldwide | added August 2
Former 'American Pickers' Star Suffers Stroke
July 22, 2022
Original member of the hit reality show "American Pickers" Frank Fritz has been hospitalized after suffering a stroke, his former costar Mike Wolfe revealed. Wolfe asked people to "pray for my friend" following a falling out between the two. The 58-year-old TV host took to his Instagram Thursday and shared the news about Fritz being in the hospital and how he was praying for his 56-year-old buddy to make it through.
Near Her Newborn in NICU. It Shook Her Fiancé: 'Want to Get Married Tomorrow?'
July 27, 2022
Brittany Butner recalls the moment she felt her chest tighten while visiting her newborn Faylynn Hope in the NICU. "They had just handed her to me, and I felt intense chest pain shooting down my right arm and I had shortness of breath," Butner, 29, tells PEOPLE in an exclusive interview.
---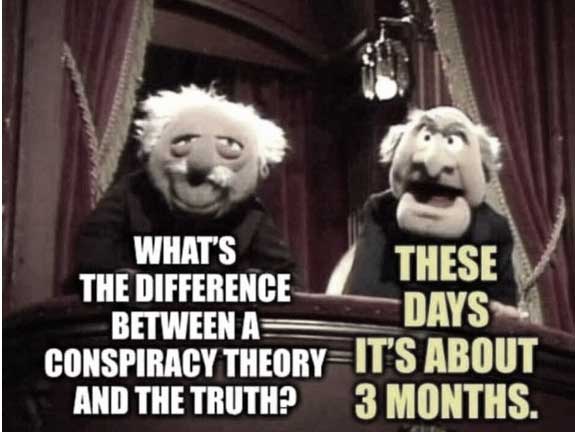 Remember when they said, 'covid' shots were safe and effective? Or how about, once you get jabbed you won't get sick with 'covid'? When Biden lied and said 'covid' shots won't be mandatory? Well, we remember.
---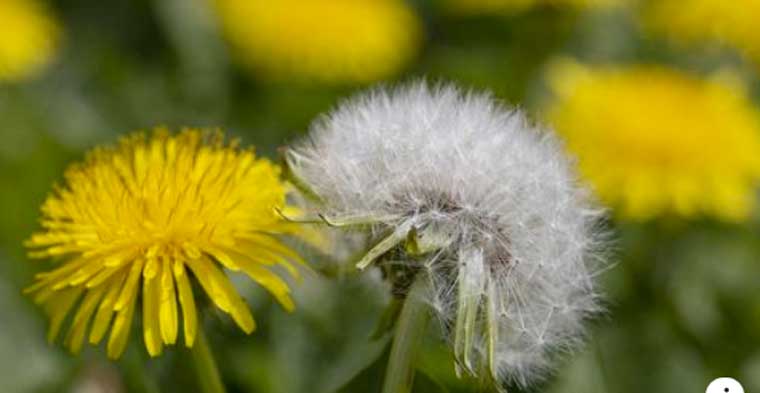 Dandelions and virology | added August 1
EVERY CHILD UNDERSTANDS how dandelions work. Every child except maybe a few desert-dwelling bedouins has seen them, because they grow anywhere there's relatively moist soil, from New Zealand to Alaska. They are a flowering plant that goes to seed in the form of a light gray puff of fibers connected to seeds (called a blowball, because people like to blow the fibers to the wind).
The fibers are little tiny kites that go for a ride through the air, carrying the seed, which lands somewhere and creates another dandelion plant. Everyone knows where dandelions come from, and they're right.
You could take a few of those seeds and send them to labs in any country, recreate the easy conditions needed for them to grow, and you would get a genetically identical plant that could be identified by many different methods — as a dandelion. This is a repeatable experiment that anyone can do. The results are verifiable. You don't plant a dandelion seed and get a salami. You get a yellow flower that makes more seeds.
---
NYC concerned over lawsuits after release of memos revealing warnings of toxic air post 9/11 attacks | added August 1
Editor's Note: By around Sept. 13, 2001, Planet Waves had a warning at the top of the website about toxins in the debris pile, including dioxins and asbestos — and when they are present, you know there is much else going on. The buildings were built of steel frosted with asbestos, and contained thousands of plastics including many PVC items that will make dioxins and furans when burned. — efc
New York City will release a treasure trove of memos about what the city knew about the toxic air at the World Trade Center site — only if federal lawmakers can help protect the city from lawsuits after the documents are made public, the Daily News has learned.
City attorneys met with Reps. Jerrold Nadler (D-N.Y.) and Carolyn Maloney's (D-N.Y.) staffers earlier this month, at the invitation of Mayor Adams, to talk about releasing the secret 9/11-related documents that have been under lock and key since planes destroyed the twin towers, congressional sources said.
The municipal attorneys said they might release the undisclosed material, but only if the lawmakers met three eyebrow-raising demands: Let the city keep $300 million remaining in a federally funded litigation account, fund a new lawsuit protection plan, and pass a federal law shielding the city from any further responsibility, the sources said.
---
Asymptomatic Biden rebounds with 'covid' after taking Paxlovid pills and will be isolating yet again | added August 1
President Joe Biden tested positive for covid-19 again Saturday morning, per a letter from presidential physician Dr. Kevin O'Connor, in what is likely a "rebound" covid-19 positivity that the doctor noted is "observed in a small percentage of patients treated with Paxlovid."
Biden has experienced "no reemergence of symptoms, and continues to feel quite well" and will, as a result, not resume treatment, the White House said. O'Connor said the President tested negative on Tuesday evening, Wednesday morning, Thursday morning and Friday morning before testing positive on Saturday morning.
"However, given his positive antigen test, he will reinitiate strict isolation procedures," the doctor noted. Biden ceased isolating on Wednesday after testing negative on successive antigen tests, celebrating his return in remarks from the White House Rose Garden. Biden's physician said the President is not experiencing any symptoms but that he will isolate at the White House. He canceled plans to travel to his home in Delaware Sunday and to Michigan, where he was expected on Tuesday to tout the recently passed bill aimed at boosting US semiconductor production, the White House said Saturday.
---
India confirms first 'monkeypox' related death and twenty close contacts enter isolation | added August 1
India has confirmed its first death caused by monkeypox in the southern state of Kerala. A 22-year-old man, who had recently travelled to the state from the United Arab Emirates, died on Saturday. Kerala Health Minister Veena George said the man had initially tested positive for the virus abroad. Samples tested after his death also detected the virus, she said on Monday.
This is the fourth monkeypox death reported globally, outside of Africa. Twenty close contacts of the man have been categorised as "high risk" and isolated, the minister told reporters. These include his friends, family and nine people he recently played football with. The illness is caused by the monkeypox virus, a member of the same family of viruses as smallpox, although it is much less severe and experts say chances of infection are low.
The World Health Organization (WHO) declared the monkeypox outbreak a global health emergency last month. Following the man's death in Kerala, the state government formed a high-level committee to look into his medical reports, Ms George said. The young man had developed fever and had swollen lymph nodes when he was admitted to a private hospital on 27 July, Ms George told the news website The NewsMinute on Sunday.
---

Docuseries exposes 'The Great Reset' | added August 1
In this docuseries by Kian Simone, Lewis Brackpool and Dave Shrigley, we explore the book The Great Reset, co-authored by Klaus Schwab and published in June 2020, just a few months after covid-19 began shaping our world.
In the first half of a two-part episode, we examine what Schwab calls the Technological Reset and the Fourth Industrial Revolution, along with some of the key figures and pieces of technology that are shifting the world as we know it.
Since the World Health Organization declared covid-19 a global pandemic, a highly-influential organization known as the World Economic Forum (WEF) has been under scrutiny for using the global crisis as a means of advancing its own agenda.
---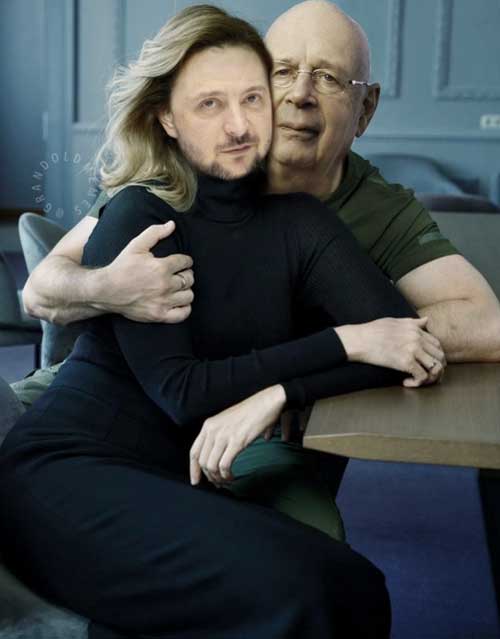 Maybe you saw (if you read This Week in the New Normal) Zelensky's Vogue photoshoot, but I bet you didn't see the one they chose not to publish.
---
LA school district faces lawsuit over bribing student into taking a 'covid' shot | added August 1
LOS ANGELES, Calif.—Los Angeles Unified School District (LAUSD), the second largest school district in the United States, is facing a lawsuit from a family. A mother says her 13-year-old son was bribed to receive a covid-19 vaccine at school without her consent.
Maribel Duarte, who is suing the Los Angeles Unified School District, held a press conference on July 27 with her attorney to complain about the side effects her son is currently suffering from the vaccine. "This is painful for me, because my son's health … it's not good," Duarte said. "He's lacking the rest. He doesn't sleep well. He doesn't exercise the way he did. He's not normal to me."
Duarte added that her son has had bleeding disorders and asthma since he was a child, so doctors recommended against him receiving a covid-19 vaccine. She said her son's condition worsened after getting a vaccine, with breathing difficulties and other symptoms such as depression and anxiety. All of this happened without the school's initial consent, according to Duarte.
---
Hong Kong 'covid' advisory board recommends shots for infants, claiming they are 'safe and effective' | added August 1
Hong Kong should make covid-19 vaccines available for children under the age of three as soon as possible, as shots from BioNTech SE and Sinovac Biotech Ltd. safely and effectively protect them against the virus, a vaccination adviser to the government said.
Hong Kong's covid-19 expert advisory panel will discuss toddler vaccination next week, said Lau Yu-lung, who is the chairman of the Scientific Committee on Vaccine Preventable Diseases. While the issue needs to be thoroughly discussed by the panel, he said he plans to do his best to convey his opinion.
"Hong Kong is still in a dangerous situation with kids under three not vaccinated," Lau said during a press conference on Thursday. "I certainly personally am inclined to give parents a choice quickly." The issue gained additional attention and urgency after city health officials reported details about a 22-month-old who developed seizures after contracting the virus, and subsequently was airlifted to the hospital from an outlying island. She's currently in critical condition and receiving intensive care.
---
Drug regulators hired by industry continue to raise concerns over biased agendas | added August 1
Over the past decades, regulatory agencies have seen large proportions of their budgets funded by the industry they are sworn to regulate.
In 1992, the US Congress passed the Prescription Drug User Fee Act (PDUFA), allowing industry to fund the US Food and Drug Administration (FDA) directly through "user fees" intended to support the cost of swiftly reviewing drug applications. With the act, the FDA moved from a fully taxpayer funded entity to one supplemented by industry money. Net PDUFA fees collected have increased 30 fold—from around $29m in 1993 to $884m in 2016. In Europe, industry fees funded 20% of the new EU-wide regulator, the European Medicines Agency (EMA), in 1995. By 2010 that had risen to 75%; today it is 89%.
In 2005 in the UK, the House of Commons' health committee evaluated the influence of the drug industry on health policy, including the Medicines and Healthcare Products Regulatory Agency (MHRA). The committee was concerned that industry funding could lead the agency to "lose sight of the need to protect and promote public health above all else as it seeks to win fee income from the companies." But nearly two decades on, little has changed, and industry funding of drug regulators has become the international norm.
---
All smart men find things out for themselves: a talk on propaganda | added August 1
On May 14, I gave a talk in Reykjavik, at the invitation of my friend Gunnar Kjeld, who is affiliated with the health freedom community in Iceland—a small community in that small nation (pop. 370,000); and Gunnar is among those Icelanders intent on growing it, through public presentations such as mine.
Although most Icelanders—like the people in so many other countries—fell hard for the Covidian line, with all too many "vaccinated," Iceland could henceforth become the heart of an international health freedom movement. Situated between North America and Europe, Iceland is not a NATO member, as the people have no interest in such violent entanglements, or in war per se: Iceland famously, and proudly, boasts no military (a unique national feature celebrated in its anthem).
Uniquely unsusceptible to the allure of outright war propaganda, Icelanders are likelier than other peoples to think critically about belligerent propaganda drives of other kinds, if they are properly engaged, and told what their "free press" is hiding, which—as here, and everywhere throughout the West—is everything that matters.