We'll be keeping track of what we determine to be the most relevant updates on the coronavirus situation. New items will go at the top. If you have something to report — news, science news, or a check-in from your local area — please send to editors@planetwaves.net. Stay in touch and help us out by sharing this resource with others. This blog is published by Chiron Return, a 501(c)(3) nonprofit corporation, which is an affiliate of the Pacifica Radio Network.
This is an archive of the July 2021 entries for the Covid19 news feed. You may return to the current page here.
---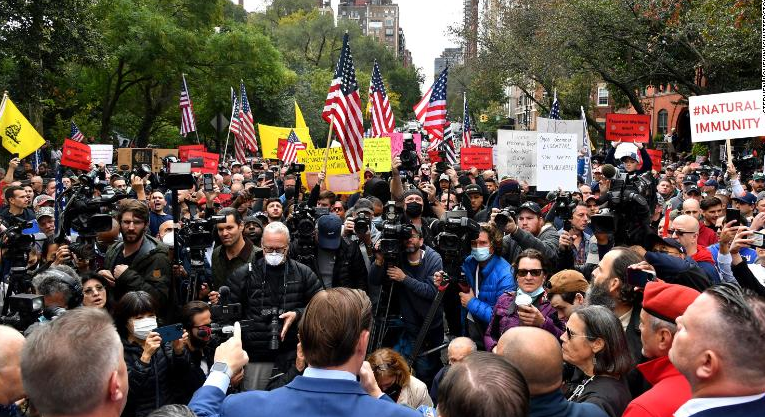 New York City Fire Department members protest vax mandates | added October 29
(CNN) Members of the New York City Fire Department gathered Thursday to protest the city's looming Covid-19 vaccine mandate as officials brace for possible mass staffing shortages.
According to the mandate, members of the fire department, the New York Police Department and other city workers have until 5 p.m. Friday to have proof that they've received at least one dose of vaccine or be placed on unpaid leave.
On Thursday, members of the FDNY opposed to the mandate crowded outside Gracie Mansion, the mayor's official residence, to demonstrate, with some attendees carrying signs that read, "Essential Workers aren't Disposable Heros (sic)," "My Body My Choice," and "#Natural Immunity."
---
Inhumane treatment of Covid-19 hospital patients exposed | added October 29
In a shocking departure from traditional hospital policies, admission to a hospital has become like reporting to prison. Prisoners in America's jails have more visitation rights than do COVID patients in America's hospitals.
One family member, a professional psychologist with a career focus treating victims of trauma, said that in many hospitals COVID patients are treated "little better than animals."
In a shocking departure from traditional hospital policies, admission to a hospital has become like reporting to prison. Prisoners in America's jails have more visitation rights than do COVID patients in America's hospitals.
---
Legality concerns on Israeli Covid-19 data presented to FDA by scientists and physicians | added October 29
[October 22] An independent Israeli group of physicians, lawyers, scientists, and researchers called the Professional Ethics Front today advised the U.S. Food and Drug Administration (FDA) regarding the upcoming FDA discussion on administering COVID-19 vaccines to children aged 5-11, expressing "severe concerns" regarding the reliability and legality of official Israeli COVID vaccine data.
The letter is signed by Dr. Sorin Schapira, MBA, Eitan Marchand, Dr. Moran Kronenberg, Dr. Sergei Bianover, Ph.D, Prof. Alon Warburg, Dr. Boaz Ilan, Prof. Eti Einhorn, Dr. Daniel Mishori, Adv. Orly Yaron, Prof. Natti Ronel, Dr. Ety Elisha, Adv. Dana Kovalskiy, Adv. Galit Polatchek, Adv. Yoram Morim, Dr. Yaffa Shir-Raz, Adv. Yossi Bitton, Adv. Valentina Nelin, Dr. Ilan Makover, MD, Osnat Navon, Dr. Itsik Vorgaft, and Dr. Yael Stein, MD.
"We are aware that the state of Israel is perceived as 'the world laboratory' regarding the safety and efficacy of the Pfizer-BioNTech COVID-19 vaccine, as reflected by statements made by Dr. Albert Bourla, Dr. Anthony Fauci, and other senior figures in leading health authorities throughout the world," the letter reads.
---
About 12,000 Air Force personnel reject the jab and vaccine mandates | added October 29
About 12,000 Air Force personnel have declined to get vaccinated for COVID-19, causing many officials to question how to address the considerable opposition without causing significant challenges and setbacks within the military, The Washington Post reported.
Officials had warned that if military personnel do not receive the COVID-19 vaccination, they will be subjected to punishment, including possible dismissal from service or receiving a charge from the military justice system, the Post wrote. The deadline for complying with the mandate is Tuesday.
However, with such a significant amount of service members rejecting the vaccine mandate, officials are faced with a dilemma: take action against those who rejected the mandate and possibly face serious setbacks within units that should be ready for a crisis, or go back on a wide-scale requirement established in August by the top military leaders.
---
Florida sues Biden and NASA over vax mandate for federal contractors | added October 29
EXCLUSIVE: The state of Florida is suing President Biden, NASA and a number of officials and agencies within the Biden administration over its "unlawful" COVID-19 vaccine mandates requiring government contractors to get vaccinated, saying the rule interferes with Florida's employment policies and "threaten" the state's economy.
Florida Attorney General Ashley Moody and Gov. Ron DeSantis filed the lawsuit, first obtained by Fox News, against Biden, NASA, NASA Administrator Bill Nelson, and officials within the White House Office of Management and Budget and the Department of Defense over the mandates, which require all workers in the executive branch be vaccinated against COVID-19, and require federal contractors to mandate vaccinations and ensure workers are fully vaccinated by Dec. 8.
Florida's lawsuit, filed in U.S. District Court in the middle district of Florida's Tampa division Thursday morning, argues that NASA, and others "frequently contracts with Florida, has current contractual relationships with Florida, and is and will continue to seek to impose the Biden administration's unlawful requirements to Florida."
---
NIH Director gets grilled in CNN interview over funding risky gain of function testing | added October 29
In what ZeroHedge described as a "blistering" interview, National Institutes of Health (NIH) Director Dr. Francis Collins was "absolutely grilled" by CNN's Pamela Brown, who repeatedly held Collins to the wall as she pressed for cogent answers on why the NIH was funding dangerous gain-of-function (GOF) research.
Collins resigned from the NIH in early October, as the media homed in on the agency's research through grants it gave to EcoHealth Alliance, which in turn used the money to work with the Wuhan Institute of Virology with very little, if any, oversight on NIH's part.
Collins said he will step down by the end of the year.
---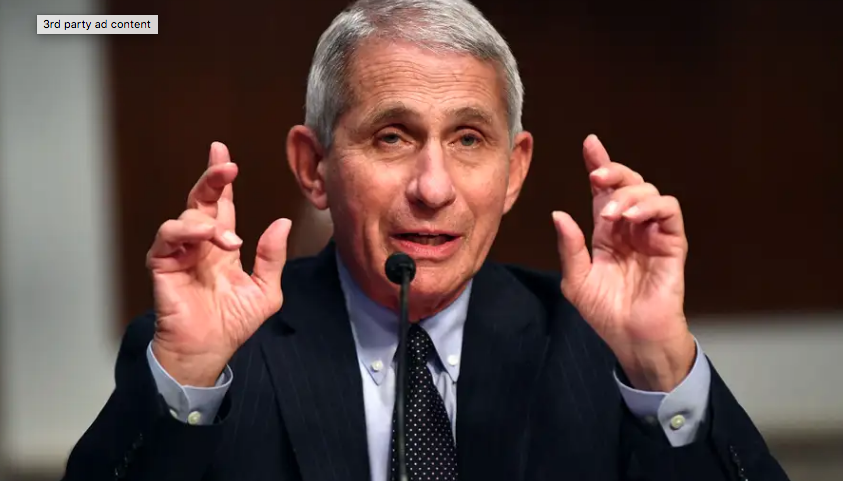 Fauci discusses how he plans to usher in a new pandemic | added October 28
Fauci: I'm glad you asked, because it's not so simple as releasing deadly viral pathogens into the air or water. Pandemics are created over time, as a result of millions of discrete decisions to, say, systematically deprive your population of functional healthcare, or encourage people to believe misinformation to the extent that a massive part of the population won't believe anything an authority tells them. So in that case, the Covid epidemic took a while to prepare, but fortunately all the conditions that made this pandemic so successful are getting even better—for the next pandemic, that is.
---
Fauci tries to sell the drug jabs for children saying he would vax his three daughters 'in a second' | added October 28
Anthony Fauci said in a new interview that he would vaccinate his three daughters against the coronavirus "in a second" if they were children.
In the interview with Axios, Fauci urged parents to get their children vaccinated, despite the low chances of young kids getting seriously sick.
"I sure as hell wouldn't want them to get COVID-19. I would vaccinate them in a second," Fauci said of his three adult daughters.
---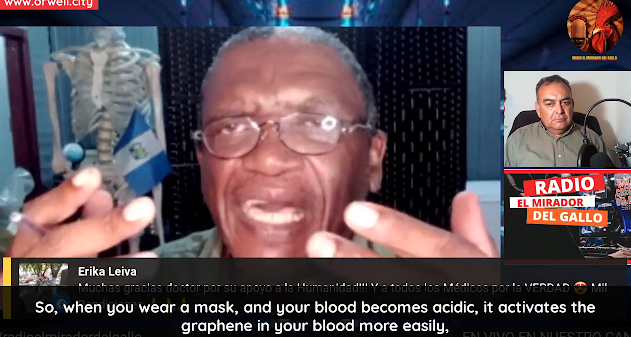 Dr. Wilfredo Stokes talks about how masks effect graphene oxide in the blood | added October 28
In a new exclusive presentation for the program Dirección Correcta on Radio El Mirador del Gallo, Guatemalan doctor and researcher Wilfredo Stokes revealed the real reason behind the imposition of the mandatory use of masks in this false pandemic.
In short, breathing foul air acidifies the blood and this acidity causes the graphene oxide circulating in the body to become reduced graphene oxide. In other words, prolonged use of face masks allows the graphene oxide to do more damage more quickly.
---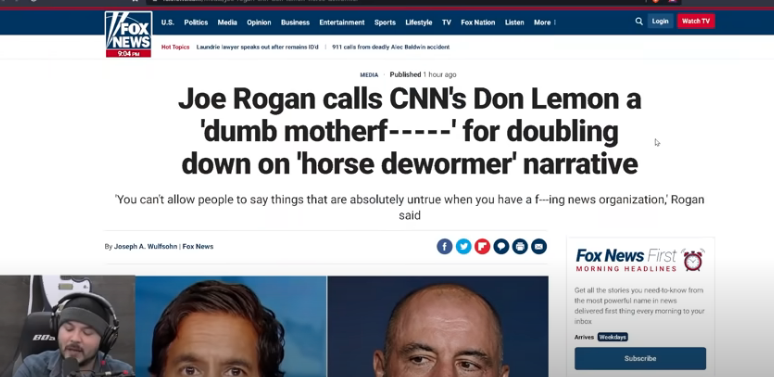 Joe Rogan calls out CNN for lying about Ivermectin and should sue for libel | added October 28
---
Scientist tells FDA not to give vax to kids after his wife was injured | added October 28
The U.S. Food and Drug Administration's (FDA) advisory committee on Tuesday endorsed Pfizer's COVID vaccine for children ages 5 to 11, despite strong objections raised during the meeting by multiple scientists and physicians.
Brian Dressen, Ph.D., is one of the scientists who testified during the 8-hour hearing.
Dressen is also the husband of Brianne Dressen, who developed a severe neurological injury during the Utah-based portion of the U.S. AstraZeneca COVID vaccine trial in 2020. After being injured by the first dose, Brianne withdrew from the trial.
---
A cheap and generic anti-depressant drug may reduce severe Covid-19 symptoms | added October 28
(CNN) A cheap, generically available anti-depressant may reduce the risk of severe Covid-19 disease by close to a third in people at high risk, researchers reported Wednesday.
A trial among about 1,500 patients in Brazil showed those who took the drug, known as fluvoxamine, were less likely to progress to severe disease and to require hospitalization.
The drug, sold under the brand name Luvox, is a selective serotonin reuptake inhibitor (SSRI) most often used to treat obsessive compulsive disorder (OCD) and depression. But it can affect inflammation, said Dr. Angela Reiersen, an associate professor of psychiatry at Washington University in St. Louis who worked on the study, published in The Lancet Global Health.
---
'Hybrid Immunity' should at least be considered in vaccine mandate policies | added October 28
Op-Ed: As a physician in a Covid-19 care unit, I celebrate the vaccines as one of medicine's greatest triumphs. They provide extraordinary protection against severe disease and death, and are the world's best option for returning to a more normal life. As a scientist and lead investigator for a study on Covid-19 immunity, I have also come to appreciate the significance of so-called natural immunity acquired by those who have had Covid-19, and the power of "hybrid immunity" — the protection gained when such people also get vaccinated.
While the concept of natural immunity has often been misused by people opposed to vaccine mandates, public health officials and scientists should be open to the evidence. Research, including my team's study of the immune responses of nearly 2,150 health care workers in Sweden after infection with SARS-CoV-2 — the virus that causes Covid-19 — and vaccination, suggests that the protection gained from infection is long-lasting and that it can be significantly bolstered by a single Covid-19 vaccine dose.
---
Federal workers and contractors may soon see some flexibility from the White House over vax mandates | added October 28
The White House coronavirus response coordinator, Jeff Zients, indicated that the Biden administration could be flexible as it enforces the president's executive order requiring federal workers and government contractors to vaccinate their workers.
The vaccine mandate aims to protect as many people from the coronavirus as possible — not to punish them by getting them fired from their jobs should they be unvaccinated by the due dates, Zients said Wednesday.
Federal agencies and contractors are expected to educate, counsel and accommodate their unvaccinated workers even after the deadline to persuade them to receive vaccine doses before terminating them, he added. Federal employees face a vaccination deadline of Nov. 22; contractors have a Dec. 8 deadline.
---
This is why some parents are not rushing their children to get injected | added October 28
Sarah Beth Burwick, a lawyer in Los Angeles, said she and her husband both got their Covid-19 vaccinations at "the earliest possible opportunity" and their two children received all of their childhood vaccinations "on the schedule, without even questioning it."
But she's not planning to rush out to get the children, ages 5 and 2, vaccinated against Covid, even though one of them could be eligible as soon as next week.
"There would need to be information out there to convince us it was necessary first," Burwick, 37, said. "I would say I think it's unnecessary. And I'm uncomfortable with how quickly it's rolling out with such a small study."
---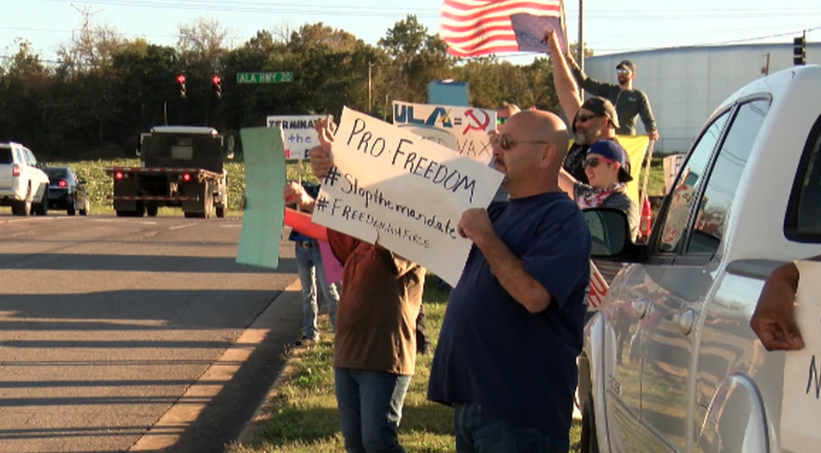 Federal contractors for United walk off the job to protest against vax mandates | added October 27
We talked to federal contractors who work for United Launch Alliance in Decatur.
They are furious. Many of these workers say they applied for religious exemptions or medical exemptions to the mandate and some learned last Friday, they were denied.
"I'm sick and tired of being walked on. I'm an American, my family has fought for this country. It feels like a birthright has been taken from me," Hunter Creger said.
Hunter Creger has been working as a federal contractor for United Launch Alliance for the last two years.
---
NYC Police union sues the city over vaccine mandates | added October 27
New York City's largest police union filed a lawsuit against the city Monday in an effort to overturn a COVID-19 vaccine mandate for its members.
The Police Benevolent Association (PBA) filed the suit in Staten Island Supreme Court and plans to file a request for a temporary injunction preventing the city from imposing the mandate while the lawsuit is pending.
The PBA said the mandate violates its members' right to make their own medical decisions.
---
Washington state federal judge rejects bid to halt vax mandates | added October 27
SPOKANE, Wash. (AP) — A federal judge in Eastern Washington on Monday denied a bid by firefighters, state troopers and others to halt Washington's COVID-19 vaccine mandate for state workers and emergency responders.
A group of workers is suing Gov. Jay Inslee, Spokane Fire Chief Brian Schaeffer, Washington State Patrol Chief John Batiste and others. The workers say their civil rights are being violated by the requirement they get vaccinated to continue in their jobs.
The plaintiffs filed a motion for a temporary restraining order, but KXLY reports U.S. District Court Judge Thomas Rice denied the motion.
---
Federal employees join coalition to sue Biden over vaccine mandates | added October 27
More than 50 federal employees from across the U.S. government have banded together to sue the Biden administration over coronavirus vaccine mandates, according to court documents.
The Washington-based Federal Practice Group filed the complaint against President Joe Biden and top agency officials in the U.S. District Court for the District of Columbia on Oct. 19 on behalf of the dozens of federal workers and submitted an amended version on Oct. 20.
The Department of Homeland Security has 20 employees listed in the lawsuit, more than any other federal department or independent agency. All federal workers face a Nov. 22 deadline to be fully vaccinated, which is considered complete two weeks after the second dose of the Pfizer-BioNTech or Moderna vaccines, or one dose of the Johnson & Johnson shot.
---
The evolving battle over vax mandates continues as resistance to get jabbed increases | added October 27
Welcome to the autumn of the vaccine mandate showdowns. Let's survey the shifting battleground.
A government-imposed vaccine mandate for all citizens remains off the table, at least for now. Requirements that government employees get a shot seem to have a stronger legal basis, but resistance is bubbling among the ranks of municipal police and fire departments. Even the military has heard some grumbles.
Some of the largest private companies that established a vaccine requirement are feeling the heat of pushback. Most notable are the airlines — the holiday travel season is now threatened by pilot and flight crew protests that could ground significant portions of their flying fleets.
---
Rutgers University requires all 25,600 employees to get the drug jab | added October 27
Rutgers University is now telling all of its employees, from tenured professors to dining hall workers, that they must be fully vaccinated against coronavirus by Dec. 8 or risk being fired from their jobs.
"President Biden's executive order supersedes other state or local rules, regulations, laws or executive orders. It does not allow for a regular testing option for those employees who choose not to be vaccinated," announced Rutgers Chief Operating Officer Antonio Calcado.
While Rutgers will consider requests for medical/religious exemptions,"providing proof of full vaccination by Dec. 8 is not optional," Calcado continued. "Failure to provide proof of full vaccination or receive a University-approved exemption by Dec. 8 will result in disciplinary action up to and including termination."
---
Unvaxed Maine health care workers ask the Supreme Court not to violate their religious liberty rights | added October 27
A group of unvaccinated Maine health care workers are asking the Supreme Court to block a state rule that mandates certain healthcare facilities require their employees to be fully vaccinated, arguing that the requirement violates their religious liberty rights.
So far, the justices have declined invitations to strike down vaccine mandates at Indiana University and New York City schools, but the Maine dispute could be different. That's because the workers are making religious claims that could attract some of the justices.
The case is reminiscent of religious liberty disputes that arose in the early days of the coronavirus pandemic when states passed strict rules seeking to combat the spread of the virus. The court's conservative majority ruled in favor of houses of worship in those disputes.
---
Chicago police union boss is no longer denied freedom of speech about resisting the drug jab | added October 27
Chicago police union head John Catanzara is no longer prohibited from publicly encouraging his members to disobey the city's COVID-19 vaccine mandate, which expired Monday after a judge refused to extend it.
Cook County Judge Cecilia Horan denied city attorneys' request for the order to be extended and expanded in a written ruling, saying the situation since the first injunction had "materially changed."
Catanzara has directed members to defy the city's requirement and been outspoken in recent days on social media and in person. He spoke Monday to dozens of protesters gathered outside Chicago's City Hall and during a City Council meeting where he vowed there'd be "hundreds" of officers defying the order.
---
Traveling this holiday season? The recent strikes on vax mandates by American Airlines employees may effect your jet setting plans | added October 27
CHARLOTTE, N.C. — If you plan on traveling for the holidays, experts warn there may not be the usual staff on hand for your flight. Piedmont Airlines flight attendants voted to authorize a strike last week, and pilots for several airlines are pushing back on vaccination requirements with deadlines looming next month.
This is all ahead of a season that typically sees more fliers than others.
"We are flying more in the winter according to American than we flew in the summer," Captain Dennis Tajer, a spokesperson for the Allied Pilots Association representing American Airlines pilots, said.
Tajer said more travelers is good for revenue, there's just one problem.
---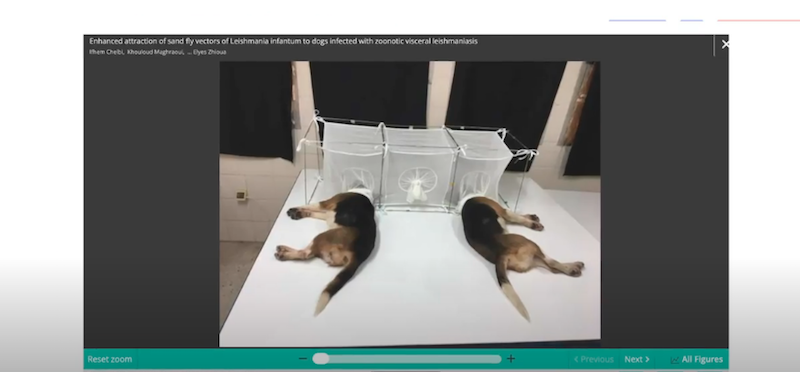 Bipartisan legislators demand Fauci explain the funding of inhumane animal testing | added October 26
Editor's Note: Exposing this story raises the questions: If we treat our fellow animal brothers and sisters like commodities, an inhumane experiment funded in secrecy, then how can we as a human species expect to be treated otherwise? Is it a wonder we find ourselves sick with discrimination and greed and unwilling to respect people's freedoms and rights? The vicious cycle of ignorance and cruelty must end. — mmd
A bipartisan letter demands answers from the director of the National Institute of Allergy and Infectious Diseases and President Biden's chief medical adviser.
The White Coat Waste Project, the nonprofit organization that first pointed out that U.S. taxpayers were being used to fund the controversial Wuhan Institute of Virology, have now turned its sights on Anthony Fauci on another animal-testing-related matter — infecting dozens of beagles with disease-causing parasites to test an experimental drug on them.
According to the White Coat Waste Project, the Food and Drug Administration does not require drugs to be tested on dogs, so the group is asking why the need for such testing.
---
Moderna reports drug jab is safe for kids; Unvaxed Americans may soon find it harder to re-enter the country | added October 26
Moderna's vaccine for kids ages 6 through 11 shows a "robust" immune response in a study of more than 4,500 youths, the Massachusetts-based pharmaceutical company said Monday.
Moderna said it plans to submit the data to the U.S. Food and Drug Administration "in the near term." The randomized, observer-blind, placebo-controlled expansion study involved a two-dose vaccine. The dosage is half that of the adult vaccine.
The majority of adverse events were mild or moderate in severity, the company said, with the most common ones being fatigue, headache, fever and pain in the injection site.
---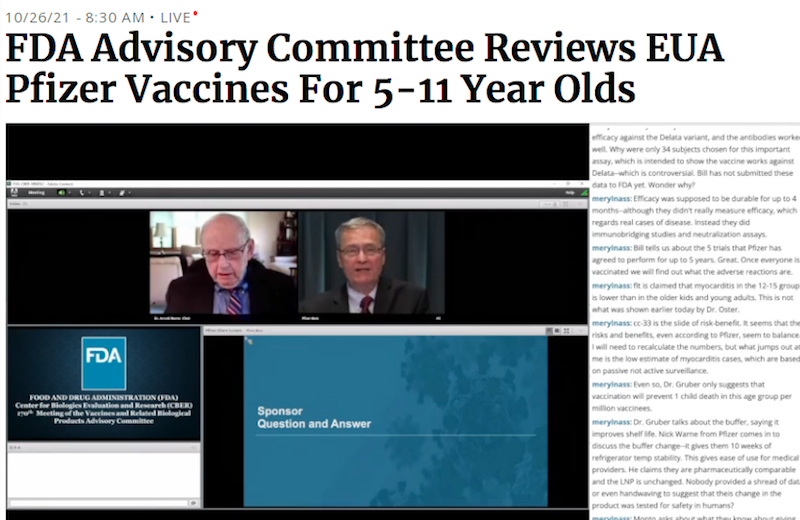 Live on CHD TV: FDA Advisory Committee reviews Pfizer vax for children | added October 26
---
Vaccinated Green Bay Packers football player tests positive for covid-19 | added October 26
GREEN BAY – The Packers are planning to be without defensive coordinator Joe Barry for Thursday night's game at Arizona.
Barry has tested positive for COVID-19, which has put the team into advanced protocols, forcing all the coaches' game-planning meetings Monday to be virtual, and for all football players and staff in the facility to wear masks at all times, regardless of vaccination status.
Barry is vaccinated, so he is eligible to resume regular contact with the team once he has consecutive negative tests, but LaFleur did not expect that to occur before Thursday.
---
CDC moves Ukraine to highest level of travel risk | added October 26
(CNN) — The US Centers for Disease Control and Prevention has added just one new location to its list of "very high" risk travel destinations this week.
On Monday afternoon, architecturally rich Ukraine, the second-largest nation in Europe in land area, was moved up from Level 3, or "high" risk for Covid-19, to Level 4, the agency's highest risk category.
It's the second week in a row that the CDC has moved only one new nation to the Level 4 ranks. Last week, it was the modern city-state of Singapore.
These last two updates in October are a far cry from the situation in early August, when the CDC added 16 destinations in one week to Level 4, and Delta variant cases were rising rapidly across much of the planet.
---
Alabama Gov. Kay Ivey signs executive order not to impose penalties on the unvaccinated | added October 26
ALABAMA – Monday, Alabama Governor Kay Ivey signed an executive order regarding COVID-19 vaccine mandates.
The executive order calls for the State of Alabama to not impose penalties on businesses or individuals who don't abide by federal COVID-19 vaccine mandates.
However, the order also said federal penalties may still apply; the state will be required to inform affected businesses or individuals that the state doesn't approve, condone, or endorse the penalty.
---
A central New York school districts plans to trust an FDA approval of drug jab for children | added October 26
SYRACUSE, N.Y. (WSYR-TV) — As we wait for the final approval from the Food & Drug Administration (FDA) to decide whether to recommend the low-dose Pfizer COVID-19 vaccine for children 5 to 11-years old, some school districts are already figuring out ways to give the shots on school property.
Dr. Donna Desiato, Superintendent of East Syracuse Minoa Central Schools, is already asking parents and families in her district if they want their children 5 to 11-years-old to get the COVID-19 vaccine when it's approved by the FDA.
Dr. Desiato said she and her administration are sorting out the details of hosting a vaccine clinic on school property for the younger children, but when the vaccine is approved, she says they'll be ready.
---
Delta variant outpaces all other variants in New York | added October 26
ALBANY, N.Y. (NEWS10)- Nearly 100% of COVID-19 cases sampled between September 26 and October 9, by New Yorks Wadsworth Center were positive for the Delta variant. The variant has outpaced all other variants diminishing their existence steadily since late May when a mere 3.5% of cases tested positive for Delta.
New York recently updated its COVID websites sharing additional information on COVID including breakthrough cases, variant information, hospitalization summaries, and positive tests over time with a seven-day positive testing rate per 1,000 people which can be broken down to the county level.
The Alpha variant was the most prevalent on May 22 (53.4%) and the second most prevalent was the Iota variant (24.4%). The Alpha along with the Beta and Gamma variants were the top three strains at the beginning of the pandemic, according to the Centers for Disease Control and Prevention (CDC). The Iota variant was identified in late February of this year.
---
Florida Gov. Ron DeSantis plans to offer $5,000 bonuses to unvaxed out of state police | added October 26
The Republican governor of Florida, Ron DeSantis, plans to offer $5,000 bonuses to lure police officers from other states who resist vaccine mandates.
"We're actually actively working to recruit out-of-state law enforcement," DeSantis told Fox News.
Many US cities and government agencies have introduced vaccination mandates for public employees. Resistance among police officers and other first responders has been widely picked up by rightwing media figures and politicians using opposition to Covid public health measures to attack the Biden administration and other Democratic authorities.
---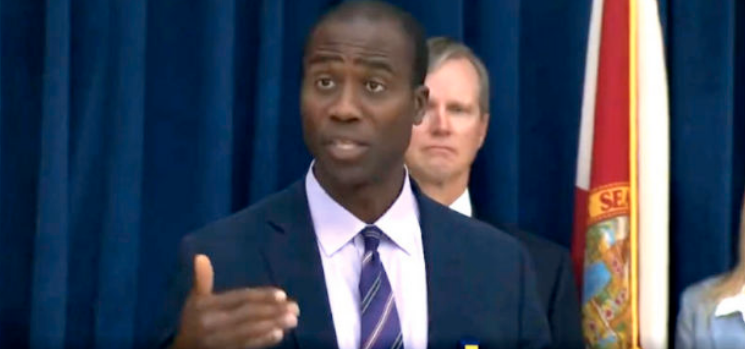 Dr. Joseph Ladapo, Florida's new Surgeon General, exposes truth about mask mandates | added October 25
Dr. Joseph Ladapo, Florida's new Surgeon General, shut down the lies being pushed by the Left and exposed the truth to the public regarding the data and the benefit of masking children.
In short, he explained, there is none.
He begins by advising people to take a step back from what they are seeing on television and then goes on to say that the evidence for masking youngsters is "very weak." According to Lapado, there is a significant disconnect between the quality of the data demonstrating any benefit from masking and what we're hearing from public health professionals in other states and around the country.
---
California apparently has the lowest covid-19 cases due to strict mask and vax mandates | added October 25
With the lowest COVID-19 infection rate among all states as of Friday, California, which has some of the strictest mask and vaccination mandates in the country, has managed to flip the script as the former U.S. epicenter of the pandemic.
"They've been very much forward-thinking in terms of policies around vaccination requirements and mandates," said epidemiologist Dr. John Brownstein, chief innovation officer at Boston Children's Hospital and an ABC News contributor.
As of Friday evening, California had an infection rate of 61.1 cases per 100,000 over the past week, according to data from the Centers for Disease Control and Prevention. The state was briefly the only to be classified with a "moderate" rate of transmission — 10 to 49.99 cases per 100,000 over seven days — before it went back up to "substantial," meaning 50 to 99.99 cases per 100,000 over seven days.
---
China locksdown as reports of covid-19 supposedly spreads to 11 provinces | added October 25
Hong Kong (CNN) Authorities in northern China are reimposing lockdowns and other emergency measures to curb the spread of coronavirus, with health officials warning of a worsening outbreak after the country recorded more than 100 cases across 11 provinces over the last week.
"Since October 17, there have been multiple scattered local outbreaks in China, and they're expanding rapidly," Mi Feng, a spokesman at the National Health Commission (NHC), said at a news conference Sunday. "There is an increasing risk that the outbreak will spread even further."
The rapid spread comes despite about 75% of China's population — or more than a billion people — being fully vaccinated, according to Mi.
---
FDA to possibly authorize the covid-19 drug jab for kids by end of this week | added October 25
(CNN) As the number of new daily cases of Covid-19 continues to fall in the US, the country awaits a major milestone that could provide another critical tool in the fight against the pandemic — the first vaccine for 5 to 11-year-olds.
And former US Food and Drug Administration (FDA) commissioner and Pfizer Board member, Dr. Scott Gottlieb, said the company is ready to ship out doses for children as soon as the agency signs off.
The FDA's independent vaccine advisory board will meet Tuesday to discuss whether the Pfizer-BioNTech Covid-19 vaccine should be authorized for younger kids.
---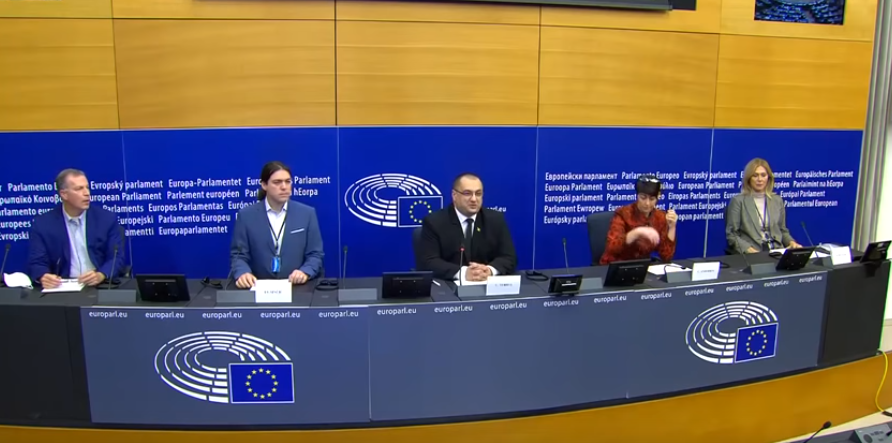 European Parliament meets to discuss the abusive use of Green Certifcate | added October 25
---
Feds pay Temple University $750K to stop the reporting of "negative unintended outcomes" | added October 25
Researchers at Temple University received $750,000 from the National Science Foundation (NSF) to develop a tool that warns journalists that they are about to publish polarizing content. The NSF is a federal government agency focused on supporting research and education in non-medical fields of engineering and science.
The initiative is part of NSF's "Trust & Authenticity in Communication Systems." It is called the "America's Fourth Estate at Risk: A System for Mapping the (local) Journalism Life Cycle to Rebuild the Nation's News Trust."
The focus of the project, according to a report on Campus Reform, is creating a system that alerts journalists that the content they are about to publish might have "negative unintended outcomes" such as "the triggering of uncivil, polarizing discourse, audience misinterpretation, the production of misinformation, and the perpetuation of false narratives."
---
Covid-19 battle in US turns a corner as borders open and mask mandates drop | added October 25
When U.S. borders open to foreign travelers on Nov. 8, the country will have lifted one of the longest-standing restrictions imposed 19 months ago at the start of the pandemic, signaling a new phase of guarded optimism in the nation's battle with Covid-19.
With the Delta variant surge easing and vaccinations opening to more age groups, many places are dropping mask mandates or other restrictions on vaccinated people. The pullback represents a bet that the most recent surge could be the last.
San Francisco recently eased mask mandates for offices, gyms and other places where fewer than 100 people gather and proof of vaccination is required. Illinois Gov. J.B. Pritzker said he is hoping to ease some mask requirements for the holidays as long as case numbers continue to fall. Hawaii will begin to welcome visitors Nov. 1 after asking them in August to voluntarily delay their trips.
---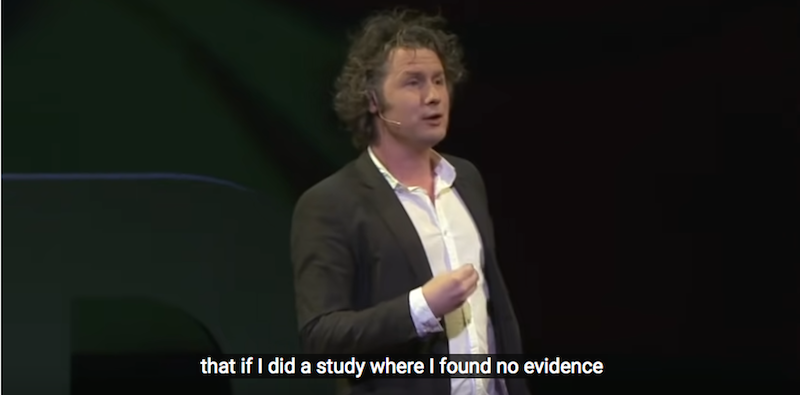 What doctors don't know about the drugs they prescribe | added October 22
Editor's Note: Interestingly enough, TED MED discontinued their shows when the proposed covid-19 pandemic broke out and claims to be working on the reinvention of how medical news is shared. Meanwhile, now more than ever is the time when medical news and innovation must be discussed and reported so we can make informed decisions and evolve. — mmd
---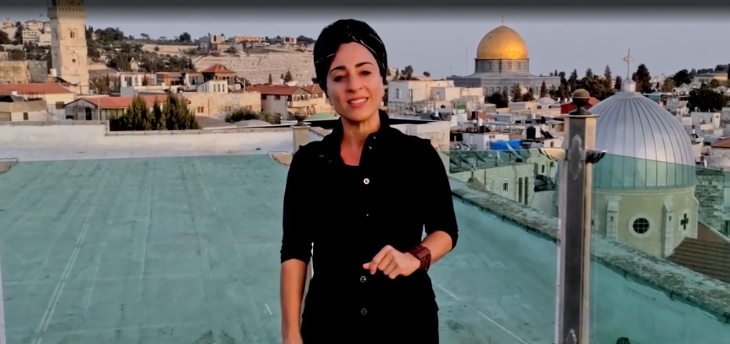 Live report on totalitarian control in Jerusalem every Friday with Ilana Rachel Daniel | added October 22
---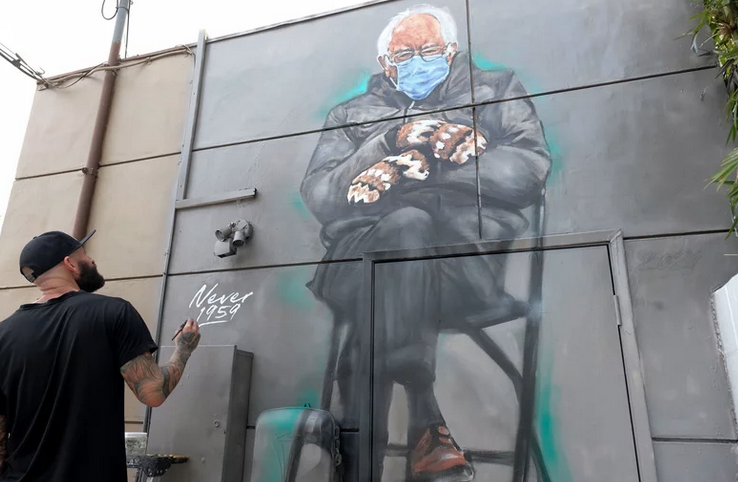 Joking away the stress of a presumed pandemic with memes | added October 22
Does a meme a day keep the doctor away? Not quite, but it looks like it might help, according to one recent study.
Researchers with Pennsylvania State University and the University of California Santa Barbara found that memes helped people cope with life during the COVID-19 pandemic, according to a study published this week in the Psychology of Popular Media journal. Researchers found that those who viewed memes — a type of humor they described as funny or cute pictures that reference pop culture — reported "higher levels of humor" and more positive feelings, according to a news release from the American Psychological Association, which publishes the journal.
They surveyed 748 people online last December: 72% of those who responded were white, 54% identified as women, 63% didn't hold a college degree, and their ages ranged from 18 to 88, the release states. They were shown a variety of meme types, with different kinds of photos and captions, and asked to rate the cuteness, humor and emotional responses prompted by the materials, as well as how much the memes in question made them think about COVID-19.
---
Mexico's high court says no way to Monsanto's GMO corn | added October 22
Bayer/Monsanto suffered another in a long string of setbacks in its battle to grow genetically modified (GM) corn in Mexico when the country's highest court on October 13 refused to overturn a precautionary injunction restricting the cultivation of GM corn. In its unanimous decision, the court agreed with the citizen petitioners who sought the injunction in 2013 that cultivation of GM corn poses a credible threat to Mexico's rich store of native corn biodiversity through uncontrolled cross-pollination.
The Demanda Colectiva, the citizen group that brought the original lawsuit, in a statement said that the unanimous decision strongly supports "the collective rights of peasant and indigenous communities and of the consumers of corn."
The chemical and seed companies who sought to overturn the injunction, including Bayer-Monsanto, Syngenta, and Corteva (formerly Dow and DuPont), criticized the decision, saying that GM organisms (GMOs) "have not produced a single case of threat or risk to the environment."
---
UK doctor's union accuses government of negligence over covid-19 mitigation measures | added October 22
London (CNN) Britain's doctors' union has accused Boris Johnson's government of being "willfully negligent" in its handling of the latest wave of the Covid-19 pandemic, as ministers refuse to introduce mitigation measures despite the country recording more than 50,000 new infections on Thursday.
The United Kingdom has recently registered far more cases than most of Europe, and its rates of hospitalizations and deaths have failed to substantially decline since the summer, when the country lifted almost all of its remaining restrictions.
On Thursday it reported 52,009 new infections, the highest mark since July.
The government has nonetheless ruled out moving to its "Plan B" approach, which would see the introduction of vaccine passports and mandates in line with many European countries.
---
Pfizer claims their drug shot is a go for children and here's why | added October 22
(CNN) In a new document posted ahead of a key meeting of the US Food and Drug Administration's vaccine advisers, Pfizer says its vaccine is safe and 90.7% effective against symptomatic Covid-19 in children ages 5 to 11.
In the trial, which included around 2,000 children, there were three Covid-19 cases among the group that received the vaccine and 16 cases in the placebo group. In the trial, twice as many children received the vaccine as the placebo.
Pfizer/BioNTech are seeking FDA emergency use authorization of a two-dose regimen of their 10-microgram dose for children ages 5 to 11. The two doses would be administered three weeks apart.
---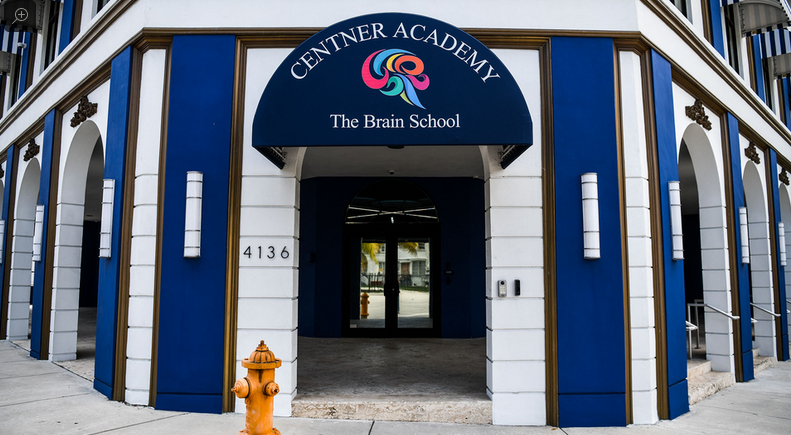 Florida school revises covid-19 guidelines based on the latest misinformation | added October 21
MIAMI—Promising to remain current on any recommendations that might gain traction on social media or receive a platform on right-wing news outlets, officials at Miami's Centner Academy stated Tuesday that they always revised their Covid guidelines to reflect the latest misinformation.
"Rest assured, before we decide whether to permit students and faculty to wear masks or receive a vaccine, we follow dozens of links to random online forums and read plenty of tweets from people who have absolutely no background in immunology," said Leila Centner, CEO and co-founder of the private school, noting that administrators were in the process of implementing a new program of contract-tracing to keep track of students who may have been in close physical proximity to a vaccinated person.
---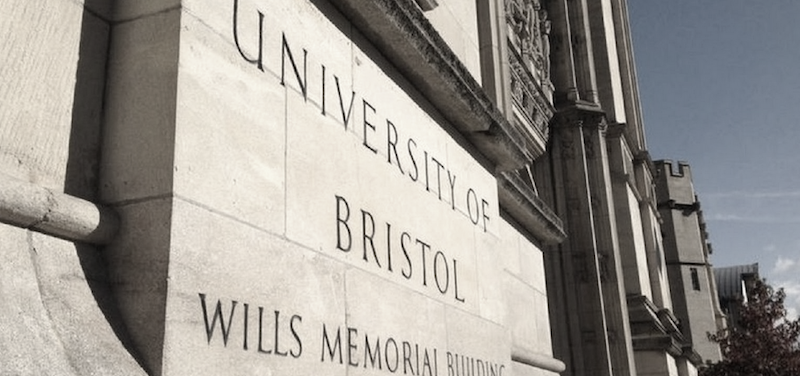 Prof. David Miller and his intellectual work on understanding propaganda | added October 21
On October 1st 2021, the University of Bristol decided to buckle in the face of a near 3 year-long pro-Israel lobby campaign and fire Professor David Miller.
I have worked with David for many years now, co-published work on the theory of propaganda, researched and written about the UK FCO propaganda operation (ongoing) that has sought to overthrow the Syrian government, and developed the fledgling Organisation for Propaganda Studies.
David was, is, and will continue to be, a major intellectual force with respect to our understanding of propaganda, and his integrity, particularly in relation to the Israel-Palestine issue, is now cemented in history. He became a voice for the Palestinians, highlighting the ways in which propaganda has worked in order to simultaneously suppress public understanding of the nefarious actions of the Israeli government against them and erase awareness of their plight.
---
Secret vaccine contracts reveal how Pfizer maximizes profits | added October 21
Pfizer has used its position as a producer of one of the leading COVID-19 vaccines to "silence governments, throttle supply, shift risk, and maximize profits" through secret contracts with countries around the world, according to a Public Citizen report published Tuesday.
"Behind closed doors, Pfizer wields its power to extract a series of concerning concessions from governments," report author Zain Rizvi, law and policy researcher at Public Citizen's Access to Medicines program, said in a statement. "The global community cannot allow pharmaceutical corporations to keep calling the shots."
The new report begins by noting February reporting about accusations of Pfizer — an American pharmaceutical giant that developed its mRNA vaccine with the German firm BioNTech — "bullying" Latin American governments during contract negotiations for doses.
---
NYC sets ultimatum for municipal workers: get jabbed or stay at home unpaid | added October 21
NEW YORK (AP) — New York City will require its entire municipal workforce to be vaccinated against COVID-19 or be placed on unpaid leave, Mayor Bill de Blasio said Wednesday, an ultimatum that ensures a fight with some unions representing employees, including police officers and firefighters, who have refused the shots.
The Democrat gave approximately 46,000 unvaccinated city employees until Nov. 1 to get their first vaccine dose, and he offered an incentive: City workers who get a shot by Oct. 29 at a city-run vaccination site will get an extra $500 in their paycheck.
"My job as your mayor is to keep this city safe, keep this city healthy. And vaccination is the way," he said.
Several unions castigated the mandates as unfair and vowed to sue.
---
Russia reports its worst-ever phase of the pandemic and issues a 10-day lockdown in Moscow | added October 21
Moscow (CNN) Moscow will impose a 10-day lockdown from next week in an effort to curb soaring Covid-19 cases, the city's mayor has said, as Russia endures its worst-ever phase of the pandemic.
"In the coming days, we will reach historic peaks in Covid cases," Sergey Sobyanin wrote in his blog, before announcing strict restrictions from October 28 to November 7.
"During this period, the work of all enterprises and organizations on the territory of the city of Moscow should be suspended," he said, before outlining a few limited exemptions.
---
U.K. investigates a new delta variant mutation and worries about the undermining of covid-19 jab | added October 21
LONDON — A newly-discovered mutation of the delta variant is being investigated in the U.K. amid worries that it could make the virus even more transmissible and undermine Covid-19 vaccines further.
Still, there are many unknowns surrounding this descendent or subtype of the delta variant — formally known as AY.4.2 — which some are dubbing the new "delta plus" variant.
U.K. government health officials have said it's too early to tell whether the mutation poses a greater risk to public health than the delta variant, which itself is significantly more infectious than the original Covid-19 strain (and its successor, the alpha variant).
---
To mix and match, or not to mix and match? That is the CDC drug shot question of the day | added October 21
Advisers to the Centers for Disease Control and Prevention are meeting Thursday to vote on recommendations about mixing and matching booster doses of all three coronavirus vaccines authorized in the United States.
The all-day meeting of the Advisory Committee on Immunization Practices comes after the Food and Drug Administration authorized boosters of the Johnson & Johnson, Moderna and Pfizer-BioNTech coronavirus vaccines for different populations and on different timelines.
The FDA authorized a third shot of Moderna or Pfizer-BioNTech for anyone age 65 and older, or any adult at risk of severe illness because of underlying conditions or exposure on the job, who has gone at least six months since their second dose of the two-shot regimens. Meanwhile, the agency said anyone 18 and over who has gone at least two months since getting the single-shot Johnson & Johnson vaccine can get a booster dose — broad eligibility criteria reflecting the lower protection afforded by that vaccine compared with the others.
---
Southwest Airlines scraps plan to not pay unvaccinated employees by December 8 deadline | added October 21
[October 19] Southwest Airlines has scrapped a plan to put unvaccinated employees who have applied for but haven't received a religious or medical exemption on unpaid leave as of a federal deadline in December.
Southwest Airlines and American Airlines are among the carriers that are federal contractors and subject to a Biden administration requirement that their employees are vaccinated against Covid-19 by Dec. 8 unless they are exempt for medical or religious reasons.
Rules for federal contractors are stricter than those expected from the Biden administration for large companies, which will allow for regular Covid testing as an alternative to a vaccination.
---
Here's a fun one | added October 20
---
White House rolls out plan to vaccinate 28 million children ages 5-11 | added October 20
The Biden administration said Wednesday that it has obtained enough coronavirus vaccine and is ready to quickly and equitably distribute doses for the nation's 28 million children ages 5-11 once federal authorization is obtained.
The Pfizer-BioNTech vaccine for 5- to 11-year-olds could win authorization in a couple weeks, White House Coronavirus Response Coordinator Jeff Zients said at a briefing Wednesday. He said 15 million vaccines would then be shipped in the first week alone.
Vaccines for youths will be the focus of the Food and Drug Administration's independent advisory committee meeting Oct. 26 and the Centers for Disease Control and Prevention's independent panel meeting Nov. 2-3.
---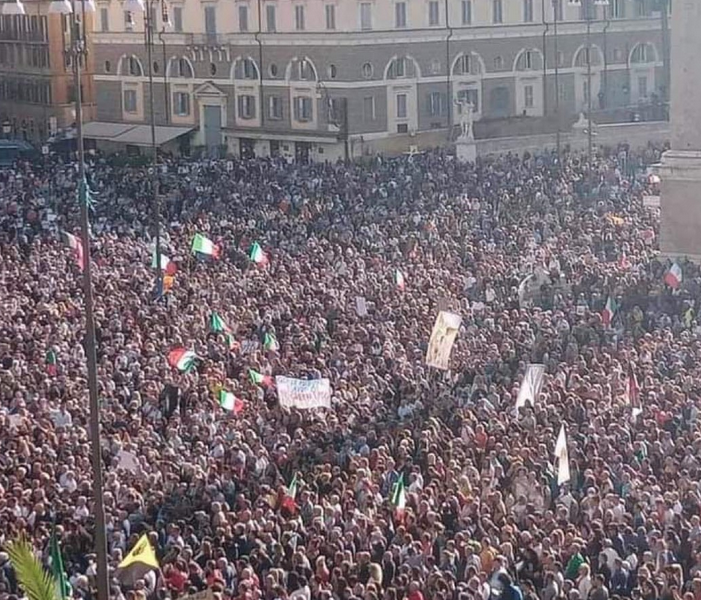 Vaccine mandate protests in Trieste, Italy has been non-stop all week | added October 20
---
Businesses face heavy fines for not requiring covid-19 shots | added October 20
Buried in the massive $3.5 trillion "reconciliation" bill is an unconstitutional vaccine enforcement mechanism that threatens to bankrupt businesses unless they force their employees to get a COVID-19 injection. If the measure is enacted into law, even employers that respect their employees' rights to health freedom and informed consent would be left with an impossible decision — mandate COVID-19 jabs or essentially go out of business due to unbearable fines.
The White House announced in September 2021 that companies with 100 or more employees would have to ensure staff have gotten a COVID-19 injection or were tested regularly for COVID-19. The Labor Department's Occupational Safety and Health Administration (OSHA) is to be in charge of enforcing the rule, which will affect more than 80 million U.S. workers.
In order to carry out this draconian measure, OSHA plans to use an Emergency Temporary Standard (ETS) — a drastic measure used to accelerate new orders that has only been attempted 10 times in the agency's 50-year history. OSHA would also be able to enforce fines of up to $13,600 per violation of the rules — but the new measure tucked into the reconciliation bill raises the fines for noncompliance astronomically.
---
Pandemic created 130 billionaires while millions suffer | added October 20
American billionaires grew in number and expanded their collective fortunes by $2.1 trillion since COVID-19 sparked a worldwide pandemic 19 months ago, according to a new analysis unveiled Monday.
An overall 70% surge of wealth among the nation's richest individuals since March of 2020 has resulted in approximately 130 new billionaires, found the new report released by Americans for Tax Fairness (ATF) and the Institute for Policy Studies (IPS). In a statement, the groups noted that there are now 745 people with "10-figure bank accounts" compared to the 614 that existed when the pandemic first hit.
In total, those 745 billionaires now hold $5 trillion in collective wealth, which the groups note is "two-thirds more than the $3 trillion in wealth held by the bottom 50% of U.S. households."
---
Research studies show natural immunity superior to vaccine immunity | added October 20
We should not force COVID vaccines on anyone when the evidence shows that naturally acquired immunity is equal to or more robust and superior to existing vaccines. Instead, we should respect the right of the bodily integrity of individuals to decide for themselves.
Public health officials and the medical establishment with the help of the politicized media are misleading the public with assertions that the COVID-19 shots provide greater protection than natural immunity.
Centers for Disease Control and Prevention (CDC) Director Rochelle Walensky, for example, was deceptive in her October 2020 published LANCET statement that "there is no evidence for lasting protective immunity to SARS-CoV-2 following natural infection" and that "the consequence of waning immunity would present a risk to vulnerable populations for the indefinite future."
---
Feds run tests to prepare for bio-attack with gases released in NYC subways and parks | added October 20
New York City's response plans for a chemical or biological attack will be put to the test starting Monday as part of a federal preparedness study.
The MTA says the Department of Homeland Security working alongside a team of researchers and city agencies will deploy a non-toxic gas on five separate days between Oct. 18 and 29 at about 120 locations across the city, including transit.
Most of the locations will be above ground, including some parks. A number of below-ground subway stations will also be included, though details on which ones weren't known.
---
Protests over vaccine mandates heard around the world | added October 19
During a recent segment of The Hill's "Rising," journalist and political commentator Kim Iversen covered the worldwide protest movement against national vaccine mandates and vaccine passport requirements, a story Iversen argued is getting "almost zero coverage in the American mainstream media."
Iversen began her tour around the world in Italy, where thousands are protesting the COVID Green Pass.
"The pass is needed for all types of public transportation, including busses and trains," she said. "It's required for all workers in the entire country and has recently been mandated for any parent entering their child's school. Protesters have been met with water cannons and rubber bullets."
---
Where exactly does the fetal tissue used in the covid-19 vaccine come from? | added October 19
With the release of COVID vaccines, and then the mandates, we've seen a new resurgence of people attempting to gain religious exemptions.
Many of these attempts focus on fetal tissue obtained through abortion.
On January 19, 2021, AnnaMaria Cardinalli published an explosive article in Crisis Magazine, headlined, "Catholic Conscience and the COVID-19 Vaccine."
Cardinalli details the collection of fetal tissue for the cell line named HEK 293. This cell line was used for "testing" the Moderna and Pfizer vaccines.
---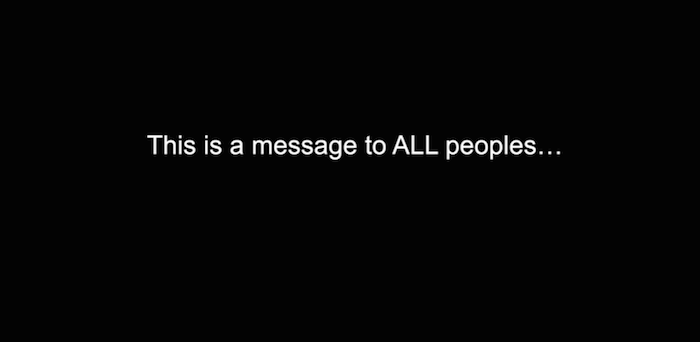 Indigenous communities across Australia share a message about the importance of medical freedom | added October 19
---
Nebraska AG calls out FDA saying Ivermectin and HCQ are legal to prescribe for covid-19 | added October 19
Few subjects have been more controversial than ivermectin and hydroxychloroquine — two long-established, inexpensive medications widely and successfully used in many parts of the world for the prevention and treatment of COVID.
By contrast, the use of both medications against COVID has been largely suppressed in the U.S, where doctors have been threatened and punished for prescribing them.
On Oct. 15, Nebraska Attorney General (AG) Doug Peterson issued a legal opinion that Nebraska healthcare providers can legally prescribe off-label medications like ivermectin and hydroxychloroquine for the treatment of COVID, so long as they obtain informed consent from the patient.
---
Washington State looses head football coach and four assistants for refusing the jab | added October 19
(CNN) Washington State University's head football coach, Nick Rolovich, and four assistant coaches are losing their jobs because of not complying with the state's Covid-19 vaccine mandate, the university's athletics department said Monday.
"Due to the requirements set forth in Washington Governor Jay Inslee's Proclamation 21-14.1, Nick Rolovich is no longer able to fulfill the duties as the football head coach at Washington State University," the department said in a news release.
Defensive coordinator Jake Dickert will become acting head coach, it said.
---
FDA plans to allow a mix and match cocktail of drug booster shots | added October 19
WASHINGTON — The Food and Drug Administration is planning to allow Americans to receive a different Covid-19 vaccine as a booster from the one they initially received, a move that could reduce the appeal of the Johnson & Johnson vaccine and provide flexibility to doctors and other vaccinators.
The government would not recommend one shot over another, and it might note that using the same vaccine as a booster when possible is preferable, people familiar with the agency's planning said. But vaccine providers could use their discretion to offer a different brand, a freedom that state health officials have been requesting for weeks.
The approach was foreshadowed on Friday, when researchers presented the findings of a federally funded "mix and match" study to an expert committee that advises the Food and Drug Administration. The study found that recipients of Johnson & Johnson's single-dose shot who received a Moderna booster saw their antibody levels rise 76-fold in 15 days, compared with only a fourfold increase after an extra dose of Johnson & Johnson.
---
Police departments continue to question the legality of enforcing vaccine mandates | added October 19
As COVID-19 vaccine mandate deadlines loom over police departments nationwide, law enforcement leaders and politicians must weigh whether defiant officers can keep their jobs amid an already-depleted police force.
In Chicago, the police union and mayor have publicly feuded over a citywide vaccine mandate. The deadline for city employees to report their vaccination status was last Friday. More than one-third of Chicago police officers didn't do so, according to city data.
A "very small number" of Chicago police officers declined additional opportunities to report their vaccination status Monday, Mayor Lori Lightfoot said. They were sent home without pay and could face disciplinary action.
---
Over 100 staff members reportedly fired from RWJBarnabas Health for not complying with vax mandates | added October 19
More than 100 staff members at RWJBarnabas Health have been fired after not complying with the COVID-19 vaccination mandate.
Of the staff at the supervisory level and above, 99.7% were fully vaccinated, or had received medical and religious exemptions or a deferral.
Staff members and physicians who are not at the supervisory level and above had a vaccination deadline of Oct. 15. Most complied by the deadline, although 118 employees did not
According to Becker's Hospital Review, RWJBarnabas said 62 of the 118 staff members who were fired were per diem employees who worked occasional shifts. Six staff members at the supervisory level and above did not comply with the mandate and were terminated.
---
Colin Powell dead from many causes, but blamed on covid-19 complications | added October 18
Former Secretary of State Colin Powell, the first Black American to serve in the post, died on Monday at the age of 84 due to complications from COVID-19, his family announced in a statement.
The family said the former chairman of the Joint Chiefs of Staff had been fully vaccinated and was receiving treatment at Walter Reed National Medical Center.
"General Colin L. Powell, former U.S. Secretary of State and Chairman of the Joint Chiefs of Staff, passed away this morning due to complications from Covid 19. He was fully vaccinated. We want to thank the medical staff at Walter Reed National Medical Center for their caring treatment," the Powell family said in a statement posted to Facebook.
---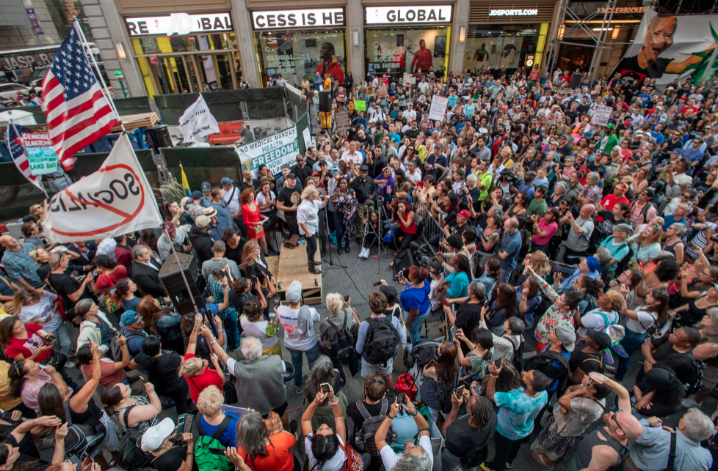 RFK JR. speaks with thousands at NYC protest for medical freedom over the weekend | added October 18
---
Long time ESPN reporter Allison Williams will leave network over vax mandate | added October 18
Longtime ESPN college football and basketball reporter Allison Williams said over the weekend that she will be leaving the network over its Covid-19 vaccine mandate.
"I have been denied my request for accommodation" to not get the vaccine, Williams, 37, said in a video posted Friday to Instagram. "Effective next week I will be separated from the company."
The Walt Disney Company, which co-owns ESPN, announced in late July that it would require all salaried and nonunion hourly employees to be vaccinated within 60 days. ESPN had told its 5,500 traveling employees in May that they would need to be vaccinated by Aug. 1.
---
Japan suddenly becomes overnight covid-19 success story without high mask and vax mandates | added October 18
TOKYO (AP) — Almost overnight, Japan has become a stunning, and somewhat mysterious, coronavirus success story.
Daily new COVID-19 cases have plummeted from a mid-August peak of nearly 6,000 in Tokyo, with caseloads in the densely populated capital now routinely below 100, an 11-month low.
The bars are packed, the trains are crowded, and the mood is celebratory, despite a general bafflement over what, exactly, is behind the sharp drop.
---
NYC black communities protest vaccine mandates | added October 18
As mandatory COVID-19 vaccine mandates took effect this week in New York City, many teachers and others suddenly found themselves out of work as the Supreme Court refused to step in and stop the mandates last week.
Teachers, educators and many others took to the streets of New York this week to protest, led by Blacks. Less than 30% of the Blacks in New York City have given in to mandatory shots, and Hispanics are close behind in their refusal to obey government mandates for COVID-19 shots.
Angela Stanton-King, the niece of Dr. Martin Luther King, and a former NBA #1 draft pick were among those who took to the streets of New York this week to protest and warn others about the abuse of civil rights with New York's mandatory vaccination mandates.
---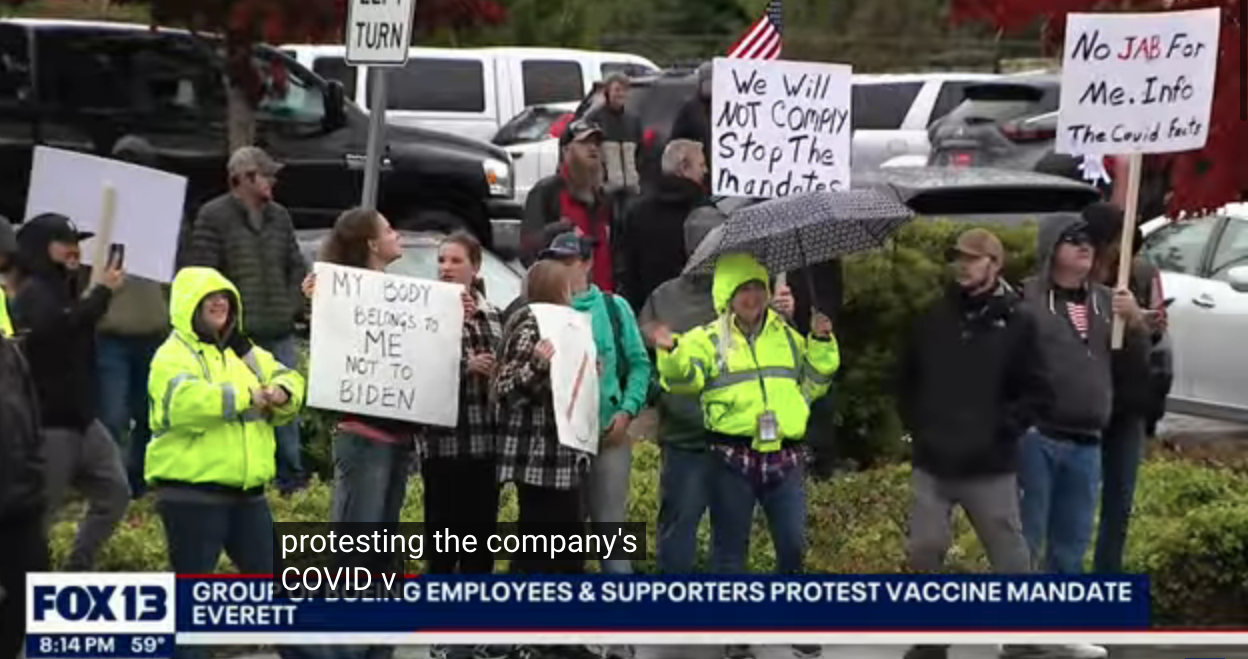 Boeing workers protest vaccine mandates | added October 18
---
Fauci reminds public it's in their capability to prevent covid-19 with a drug jab | added October 18
(CNN) The optimistic turn in Covid-19 cases, hospitalizations and deaths could end in another spike in infections, Dr. Anthony Fauci said Sunday. But the US could still prevent that spike with higher vaccination rates.
"If we don't do very well in that regard, there's always the danger that there will be enough circulating virus that you can have a stalling of the diminishing of the number of cases, and when that happens, as we've seen in the past with other waves that we've been through, there's the danger of resurgence," said Fauci, the director of the National Institute of Allergy and Infectious Diseases and chief medical adviser to President Joe Biden, on Fox News Sunday
Although cases still remain high, with an average of about 85,000 new infections a day as of Sunday, they are down by more than 8,000 from a week prior, according to data from Johns Hopkins University. Deaths are down an average of more than 200 a day from the start of the month.
---
NATO devises a plan to hack your brain | added October 18
NATO is developing new forms of warfare to wage a "battle for the brain," as the military alliance put it.
The US-led NATO military cartel has tested novel modes of hybrid warfare against its self-declared adversaries, including economic warfare, cyber warfare, information warfare, and psychological warfare.
Now, NATO is spinning out an entirely new kind of combat it has branded cognitive warfare. Described as the "weaponization of brain sciences," the new method involves "hacking the individual" by exploiting "the vulnerabilities of the human brain" in order to implement more sophisticated "social engineering."
---
Massachusetts vaccine mandate in effect for state workers | added October 18
BOSTON — Sunday was the deadline for thousands of Massachusetts state workers to get vaccinated against COVID-19 or risk being suspended or fired.
The vaccine mandate applies to about 44,000 employees and contractors working within the state's executive branch, regardless of whether they work in-person or remote.
Some workers are eligible for medical or religious exemptions, but the deadline to request those exemptions has passed. There's no option to get tested instead.
Gov. Charlie Baker's office will start contacting non-compliant workers Monday.
---
A patent issued for contact tracing all vaccinated humans | added October 18
"What I'm suggesting is the inoculation is a guise to literally put in metallic materials, that are potentially magnetic, to interact with satellites or cell towers with the human body. In other words, rather than using a cell phone you can use your body and your cell phone for remotely testing, let's say, blood sugars or blood pressure or oxygen levels. And this is what the patent actually suggests that Pfizer took out, that was awarded just last month, 31 August of this year.
Dr. Young was referring to patent US11107588 B2: Methods and Systems of Prioritizing Treatments, Vaccination, Testing And / Or Activities While Protecting the Privacy of Individuals.
The patent applicants and inventors are Gal Ehrlich and Maier Fenster of Ehrlich & Fenster, a firm of patent and trademark attorneys in Israel. Dr. Young states the patent was issued to Pfizer. We were unable to find the relationship between the patent attorneys and Pfizer to share here. However, we did find the video clip below which indicates Pfizer aims to become more than simply a drug manufacturing organisation.
---
CDC urges eligible people to get vaxed for the holiday season | added October 18
New holiday COVID-19 guidance from the Centers for Disease Control and Prevention urges eligible people to get vaccinated against the virus and wear masks — in some cases — when gathering.
"Because many generations tend to gather to celebrate holidays, the best way to minimize COVID-19 risk and keep your family and friends safer is to get vaccinated if you're eligible," the CDC says in its guidance, issued on Friday.
Children in the United States who are 11 years old and younger are not yet eligible for the COVID-19 vaccine.
---
Fauci urges police officers to get the covid-19 vax | added October 18
Anthony S. Fauci, the United States' top infectious-disease expert, is urging police officers to get vaccinated against the coronavirus — saying the resistance "doesn't make any sense" as "more police officers die of covid than they do in other causes of death."
Police departments are facing an infection crisis, as departments around the country seeking to mandate vaccines clash with police unions and officers who oppose the requirements.
Law enforcement officers are considered to be at higher risk because they are exposed to more people in the line of duty. Fauci urged Americans in critical jobs to consider "the implications of not getting vaccinated." He added: "I'm not comfortable with telling people what they should do under normal circumstances, but we are not in normal circumstances right now."
---
New drug orders to treat covid-19 are placed in asian countries where the poor miss out | added October 18
(CNN) During the global scramble to secure vaccines, many countries in Asia-Pacific were slow off the mark. This time, they're not making the same mistake.
Countries around the region are rushing to place orders for the latest weapon against Covid-19: an antiviral pill that isn't even authorized for use yet.
Molnupiravir — produced by US pharmaceutical company Merck — is being heralded as a potential pandemic game changer, especially for those unable to get vaccinated. Merck is seeking US Food and Drug Administration emergency use authorization for the drug — and if it's granted, the capsule will become the first oral antiviral treatment against Covid-19.
---
King county set to roll out covid-19 verification program next week | added October 18
SEATTLE — Starting next week, people who live in or visit King County will need to show proof of vaccination or a negative COVID-19 test in order to enter bars, restaurants, gyms and entertainment venues.
The county issued the order in September saying it was necessary to lessen the load on area hospitals.
The order, which goes into effect on October 25, requires establishments to check for vaccine verification or show proof of a negative PCR COVID-19 test in the last 72 hours, or a negative rapid test result from a testing provider conducted on-site at an event or establishment just before entry.
---
Are anti-vaxers really who you think they are? | added October 18
Back when a viral pandemic killing millions around the world was just the plot of a scary movie, the film "Contagion" was lauded for how accurately it depicted the way such an outbreak would occur.
On the science of viral contagion, it was quite sharp, clearly explaining things like R0 (the measure of how widely one infection could spread to others, on average).
Of the human dimension of contagion, it did not prove as prescient. In the movie, fearful nurses walked off the job at the start of the pandemic, which begins to end as soon as vaccines become available, with people lining up eagerly for their turn.
---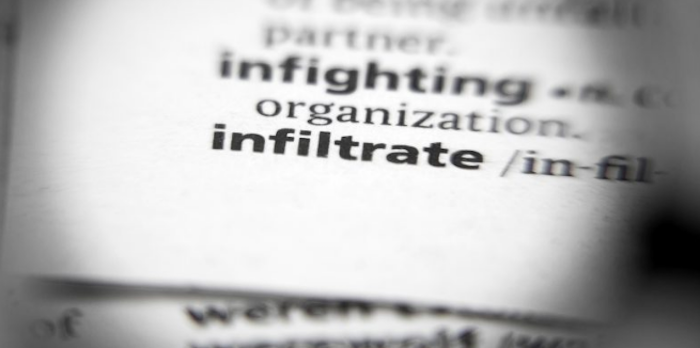 Health Freedom movement faces disruptive infiltrators, according to new report | added October 15
The Citizens' Commission to Safeguard Freedom released a report which lays out detailed evidence of disruptive infiltrators who introduce top-down organizational structures that limit discourse and push well-intentioned health freedom groups towards right-wing extremism
The Defender is experiencing censorship on many social channels. Be sure to stay in touch with the news that matters by subscribing to our top news of the day. It's free.
"First they ignore you. Then they laugh at you. Then they fight you. And then you win."
Whether or not Mahatma Gandhi actually said the above words, they're an astute observation on the birth of meaningful change.
As history repeats itself, both tragically and triumphantly, the health freedom movement now finds itself at phase III. With each new study and Freedom of Information Act document release, it becomes increasingly clear that those who were initially dismissed as "conspiracy theorists" were simply bearers of inconvenient truth.
---
U.S. Navy without exemption must be vaccinated by Nov. 28 | added October 15
All active-duty Navy personnel must be vaccinated by Nov. 28 or face separation, according to a Navy administrative message released Wednesday.
Any active-duty Navy service members who do not get fully vaccinated or do not have an approved or pending exemption will be processed for an honorable separation without involuntary separation, according to NAVADMIN 225/21, released by Vice Chief of Naval Operations Adm. William Lescher and Chief of Naval Personnel Vice Adm. John Nowell.
Service members in the Ready Reserve Navy will need to be fully vaccinated by Dec. 28.
---
Moderna COVID-19 booster shot unanimously recommended by FDA panel for at risk adults | added October 15
A key Food and Drug Administration advisory committee on Thursday unanimously recommended giving booster shots of Moderna's Covid-19 vaccine to people ages 65 and older and other vulnerable Americans. The vote was a crucial step before the U.S. can start administering third shots to some of the more than 69 million people who originally received that vaccine.
The nonbinding decision by the FDA's Vaccines and Related Biological Products Advisory Committee would bring guidelines for Moderna in line with third shots of the Pfizer-BioNTech vaccine. Those shots were authorized less than a month ago to a wide array of Americans, including the elderly, adults with underlying medical conditions and those who work or live in high-risk settings, such as health-care and grocery workers.
---
Inaccurate COVID-19 tests recalled by Abbott Laboratories | added October 15
[Oct 14] (Reuters) – A unit of Abbott Laboratories (ABT.N) is recalling two COVID-19 laboratory test kits as they can potentially issue false positive results, the U.S. Food and Drug Administration (FDA) said on Thursday.
The regulator has identified the recall of the Alinity m SARS-CoV-2 AMP and the Alinity m Resp-4-Plex AMP test kits by unit Abbott Molecular Inc as a Class 1 recall, the most serious type.
The agency in September issued a letter cautioning healthcare providers and clinical laboratories of a potential for false positive results with the two tests, and recommended they consider retesting positive patient samples with another authorized COVID-19 test
---
Wolverhamptom lab suspended over false positives for COVID-19 | October 15
About 43,000 people in England and Wales may have been wrongly told their Covid-19 test was negative because of errors at a private laboratory.
Testing at the Wolverhampton lab has been suspended following an investigation by NHS Test and Trace.
The head of the UK Health Security Agency has has ordered an investigation into why it took a month to identify the failures.
Those still infectious are being asked to take another Covid test.
Concerns were raised when people had positive lateral flow tests, but negative follow-up PCR results from the lab – most affected live in the South West of England.
---
Tuberculosis on the rise for the first time in over a decade | added October 15
The number of deaths from tuberculosis rose last year for the first time in more than a decade, the World Health Organization said Thursday.
Why it matters: The data underscores the COVID-19 pandemic's toll on tackling other, preventable diseases worldwide.
Driving the news: The WHO said the uptick in deaths from tuberculosis is largely driven by fewer people getting tested and treated for the disease due to the health care system's focus on fighting the COVID-19 pandemic
---
Major music venues no longer require covid-19 vaccinations for entry | added October 15
COACHELLA VALLEY (KUSI) – Major concert venues are taking notice of the massive unpopularity of COVID-19 vaccine mandates.
Coachella and Stagecoach Music Festivals both announced they will no longer impose the mandates for entry to their 2022 events.
Goldenvoice, the company behind both festivals, said in a statement, "after seeing first-hand how the low transmission data and successful implementation of safety protocols at our other festivals this past month, we feel confident that we can upgrade our health policy."
---
U.S. lifts land border restrictions with Canada and Mexico for the fully vaccinated | October 14
The United States will lift restrictions at its land borders with Canada and Mexico for fully vaccinated foreign nationals in early November, ending historic curbs on non-essential travelers in place since March 2020 to address the COVID-19 pandemic.
U.S. Homeland Security Secretary Alejandro Mayorkas said in a statement the administration next month "will begin allowing travelers from Mexico and Canada who are fully vaccinated for COVID-19 to enter the United States for non-essential purposes, including to visit friends and family or for tourism, via land and ferry border crossings."
The new rules are similar but not identical to planned requirements announced last month for international air travelers, U.S. officials said in a call earlier with reporters.
---
Catholic U.S. military troops should be allowed to reject COVID-19 vax says Archbishop | added October 14
Catholic U.S. troops should be allowed to reject the COVID-19 vaccine if taking it "would violate the sanctity" of their conscience, said Archbishop for the Military Services Timothy Broglio in a statement out Tuesday.
Why it matters: Broglio encouraged troops to get the vaccine, but acknowledged that some people have questioned whether the church's position encouraging the shot "precludes an individual from forming a sincerely held religious belief that receiving the vaccine would violate his conscience."
---
Gov. Hochul will appeal N.Y. religious exemption on COVID-19 vaccine mandates | October 14
Gov. Kathy Hochul says New York will appeal a judge's ruling granting a preliminary injunction to health care workers claiming a religious exemption from the COVID-19 vaccine.
Hochul made the announcement Wednesday, saying she stands behind the vaccine mandate.
"They need to know that the person taking care of them will not pass on this deadly virus to them or their family members and that has been the whole objective," Hochul said.
The ruling issued Tuesday by Judge David Hurd blocks New York state health officials from retaliating against health care workers who refuse to receive a COVID-19 vaccination on religious grounds.
---
President Biden set to address COVID-19 vaccinations today while a federal committee discusses their safety | October 14
President Joe Biden on Thursday is set to address the public on COVID-19 vaccinations as a federal advisory committee meets to discuss the safety and need for a booster shot for people who received Moderna's or Johnson & Johnson's vaccine.
The Food and Drug Administration's Vaccines and Related Biological Products Advisory Committee is to vote Thursday on Moderna boosters and Friday on J&J boosters.
While booster doses of Pfizer-BioNTech's vaccine were first authorized for some Americans in August, those who received Moderna and J&J as their first shots have been told to wait before receiving another round.
---
A new study links COVID-19 vaccine to birth defects and infertility | added October 14
Professor Dr. Hervé Seligmann examined fertility in countries that have high rates of Covid injection uptake compared to those that have not. He published his report on 28 September 2021 which concludes that women's fertility decreases the more women are "vaccinated."
Plus, Covid-19 injections were never tested on pregnant women in the clinical studies because it is unethical to put pregnant women through such abuse. As a result, the study designs did not test for mutagenic or reproductive defects.
An article published by America's Frontline Doctors, 'Study concludes women's fertility harmed in vaccinating countries', reports a summary of Dr. Seligmann's findings.
---
The mysterious origins of COVID-19 probed by a new WHO taskforce | October 14
The World Health Organization (WHO) says a new taskforce may be the last chance to find the origins of Covid-19.
It has nominated 26 experts to join the body, the Scientific Advisory Group on the Origins of Novel Pathogens (Sago).
More than a year-and-a-half since the virus was detected in the Chinese city of Wuhan, the question of how it first emerged remains unclear.
The team will consider if the virus jumped from animals to humans in Wuhan markets or leaked in a lab accident.
China has strongly refuted the second theory
---
Top NY officials will consider adding COVID-19 vaccine to list of required shots for students | added October 14
NEW YORK — Gov. Kathy Hochul and top state officials will consider adding the COVID-19 vaccine to the state's list of required inoculations for students attending New York school districts as federal regulators are expected to approve the shot for children ages 5 to 11 this month.
Hochul spoke with White House coronavirus response coordinator Dr. Jeff Zients on Wednesday. Zients called on all U.S. governors to start registering pediatricians in their respective states to prepare for vaccinating children younger than 12 against COVID-19 when approved by the U.S. Centers for Disease Control and Prevention and the Food and Drug Administration.
---
Nets' Kyrie Irving says he will not be retiring or getting the COVID-19 jab | added October 14
The Kyrie Irving saga continued on Wednesday night, when the Brooklyn Nets guard went on Instagram Live to discuss his current situation. Most notably, Irving confirmed that he is unvaccinated, said that he will not be retiring and claimed that he was promised an exemption from the COVID-19 vaccine.
Earlier this week, the Nets announced that Irving will not be allowed to participate with the team as a part-time player. Citing a desire to build chemistry and "remain true to our long-established values of togetherness and sacrifice," the Nets said Irving "will not play or practice with the team until he is eligible to be a full participant."
Irving is unvaccinated against COVID-19, and under New York City's current health mandates, that means he would not be allowed to play in the Nets' home games at Barclays Center. He was able to practice with the team after their facility was deemed an office building, and under the NBA's rules, could potentially play in most road games. The Nets, however, decided not to accommodate him in that manner.
---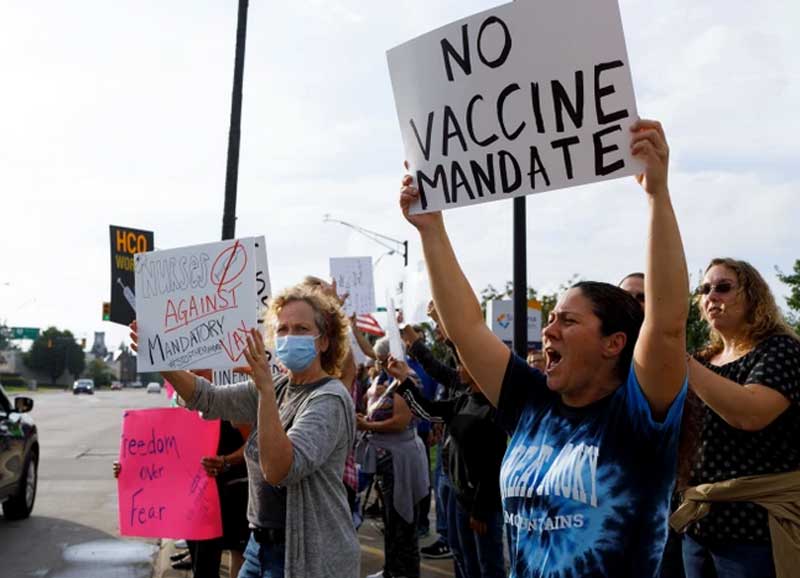 Federal Judge grants religious exemption to NY Gov. Kathy Hochul's vaccine mandate | added October 13
ALBANY — An upstate New York federal judge granted a preliminary injunction against Gov. Kathy Hochul's COVID-19 vaccine mandate, barring the state Department of Health from enforcing the requirement on healthcare workers who claim religious exemptions while the case is being decided.
"Upon review, plaintiffs have established at this early stage of the litigation that they are likely to succeed on the merits of this constitutional claim," wrote Utica federal Judge David Hurd Tuesday.
---
Delta denies Pilot's death from COVID-19 vaccine | added October 13
Delta Airlines has disavowed reports of a pilot who died from a COVID-19 vaccine in the middle of a flight.
"Delta is aware of reports suggesting one of the airline's pilots passed away from vaccine complications while operating a flight, resulting in an emergency landing. All of these allegations are false," the company's statement, released Tuesday evening, said.
"The pandemic has been an incredibly tragic time for many, and our hearts go out to the hundreds of thousands of families who have passed away from the horrific virus," the statement concluded.
---
Thousands of blood samples will be tested in COVID-19 Chinese probe | added October 13
China is preparing to test tens of thousands of blood bank samples from the city of Wuhan as part of a probe into the origins of Covid-19, according to a Chinese official. The move comes amid increasing calls for transparency over the emergence of the virus.
The store of up to 200,000 samples, including those from the closing months of 2019 were pinpointed in February this year by the World Health Organization's panel of investigators as a possible source of key information that could help determine when and where the virus first crossed into humans.
The samples are kept in the Wuhan Blood Center, and are thought to span 2019, providing real-time tissue samples from a wide swathe of the population in the Chinese city where SARS-CoV-2 is thought to have first infected humans
---
WHO Chief says COVID-19 booster shots are "immoral" and "unfair" | added October 13
Distributing Covid-19 vaccine booster shots in some countries while inoculations across Africa lag is "immoral," according to the director general of the World Health Organization (WHO).
The increasing use of boosters is "immoral, unfair and unjust and it has to stop," WHO chief Tedros Adhanom Ghebreyesus told CNN's Becky Anderson on Tuesday.
"To start boosters is really the worst we can do as a global community. It is unjust and also unfair because we will not stop the pandemic by ignoring a whole continent, and the continent that doesn't have any manufacturing capacity of other means," he said.
---
COVID-19 jab mistakenly given to 4 and 5 year olds by Walgreens pharmacist | added October 13
A couple in Indiana claim a Walgreens pharmacy mistakenly gave their 4- and 5-year-old children adult doses of the COVID-19 vaccine instead of flu shots, local news outlet WFIE reported.
Alexandra and Joshua Price said they took their children to Walgreens on October 4 to get their flu shots, but instead they received doses of the Pfizer COVID-19 vaccine.
The Pfizer vaccine is authorized for use in children 12 and older and is seeking approval by the Food and Drug Administration for children ages 5 to 11. They have not requested eligibility for children under the age of five.
---
NY at the center of ivermectin's legality for COVID-19 treatment | October 13
New York state is on the frontline of a national legal battle over the use of an anti-parasitic drug, ivermectin, to treat COVID-19 patients, despite it lacking federal approval for treating the respiratory disease.
At least 14 lawsuits have sought to force New York hospitals to administer the drug to severely ill COVID-19 patients, including hospitals in the cities of Rochester and Poughkeepsie, court records show.
In most cases, family members of the COVID-19 patients, many of them kept alive by breathing machines while in medically induced comas, sued hospitals to try to use ivermectin to save their parent or spouse after other drugs and treatments failed.
---
FDA indecisive about when to administer J&J booster shots | added October 13
WASHINGTON (AP) — The Food and Drug Administration said Wednesday it is wrestling with whether and when recipients of the single-shot Johnson & Johnson COVID-19 vaccine need another dose — at six months or as early as two months.
In an online review, FDA scientists didn't reach a firm conclusion, citing shortcomings with J&J's data, including little information on protection against the extra-contagious delta variant of the coronavirus.
The review comes ahead of meetings Thursday and Friday when an FDA advisory panel will recommend whether to back booster doses of both the J&J and Moderna vaccines. That's one step in the government's vaccine review process: Next week, the FDA will make a final decision on authorizing those boosters and then the Centers for Disease Control and Prevention will debate who actually should get them.
---
Highly vaccinated Israel faces a surge of COVID-19 | October 13
Israel was the first country on Earth to fully vaccinate a majority of its citizens against COVID-19. Now it has one of the world's highest daily infection rates — an average of nearly 7,500 confirmed cases a day, double what it was two weeks ago. Nearly one in every 150 people in Israel today has the virus.
What happened, and what can be learned about the vaccine's impact on a highly vaccinated country? Here are six lessons learned — and one looming question for the future of the pandemic.
---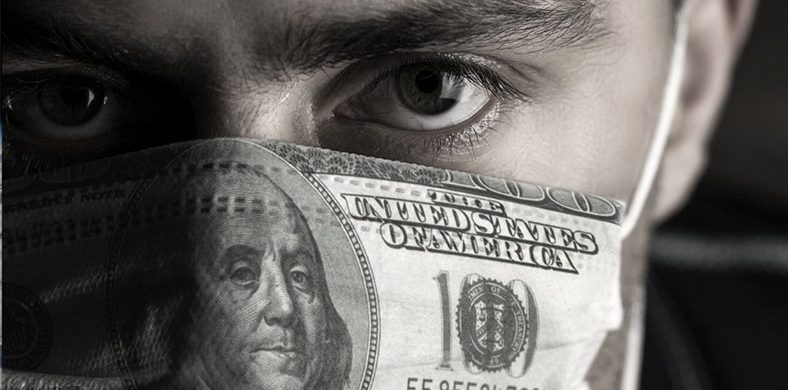 In The Guise of A Fear Pandemic | added October 12
Editor's note: On the Planet Waves Covid-19 timeline we mention professor Fabio Vighi's critical theory on the economic reset. — mmd
In October 2019, in a speech at an International Monetary Fund conference, former Bank of England governor Mervyn King warned that the world was sleepwalking towards a fresh economic and financial crisis that would have devastating consequences for what he called the "democratic market system".
According to King, the global economy was stuck in a low growth trap and recovery from the crisis of 2008 was weaker than that after the Great Depression. He concluded that it was time for the Federal Reserve and other central banks to begin talks behind closed doors with politicians.
In the repurchase agreement (repo) market, interest rates soared on 16 September. The Federal Reserve stepped in by intervening to the tune of $75 billion per day over four days, a sum not seen since the 2008 crisis.
---
Texas Gov. bans enforcement of COVID-19 vaccine mandates | added October 12
Texas Gov. Greg Abbott issued an executive order banning "any entity" in the state from enforcing a COVID-19 vaccine mandate.
"The COVID-19 vaccine is safe, effective, and our best defense against the virus, but should remain voluntary and never forced," Abbott said in a press release Monday.
Abbott's executive order prohibits "any entity" in the state from compelling an individual to receive a COVID-19 vaccine "who objects to such vaccination for any reason of personal conscience."
---
New York health care workers await approval of religious exemption from vax mandate | added October 12
ROCHESTER, N.Y. — Thousands of unvaccinated New York health care employees who are still on the job with a religious exemption are expected to find out their fate on Tuesday.
The state has until Oct. 12 to respond to a federal judge who's considering whether New York's COVID vaccination mandate must accommodate requests for religious exemptions.
One of those employees is Krista Michael of Greece. She has spent more than three decades devoting her life to being a nurse. She has stepped up, along with her colleagues, when needed, even during the pandemic.
---
FDA declines to take a stance on Moderna booster shots | added October 12
Food and Drug Administration scientists on Tuesday declined to take a stance on whether to back booster shots of Moderna's Covid-19 vaccine, saying data shows two doses are still enough to protect against severe disease and death in the U.S.
"Some real world effectiveness studies have suggested declining efficacy of Moderna COVID-19 Vaccine over time against symptomatic infection or against the Delta variant, while others have not," they wrote in a 45-page document published on the agency's website. "However, overall, data indicate that currently US-licensed or authorized COVID-19 vaccines still afford protection against severe COVID-19 disease and death in the United States."
---
Southwest Airlines stabilize after weekend chaos | added October 12
Southwest Airlines canceled 87 flights, or 2% of its schedule, on Tuesday, a sign the carrier is stabilizing its operation after chaos over the weekend disrupted the travel plans of tens of thousands of customers.
"When an airline gets behind, it's really hard to catch up," Southwest Airlines CEO Gary Kelly told CNBC's "Squawk on the Street" on Tuesday.
The Dallas-based airline since Saturday has canceled close to 2,400 flights, according to flight-tracking site FlightAware. The airline said bad weather and air traffic control issues in Florida kicked off the problems, which snowballed due to its own staffing shortfall, particularly with backup pilots and flight attendants to step in when things go wrong. Other airlines had relatively minor cancellations
---
Staff at a rural Missouri hospital refuse to take the COVID-19 jab | added October 12
Dr. Randy Tobler, CEO of Scotland County Hospital in Memphis, Missouri, has struggled to retain staff during the Covid-19 pandemic, losing 10 of his 57 nurses in the main hospital and three rural health clinics.
So Tobler can't afford to alienate any more health care workers, but he believes a Covid-19 vaccine mandate could do just that. Such a requirement won't make his unvaccinated staff get the shot, he says. It will make them quit.
"Our reality is we need staff to work. And in return for your working, we're not going to ask you to get a vaccine mandate," he told CNN. "There were people in the hospital that freely shared that if the vaccine mandate happened on our account or on anyone else's, they would not work here. That's just something they weren't going to put in their body."
---
Parents continue to sue school districts over COVID-19 mitigation efforts | October 12
Wisconsin parents are suing two school districts over their Covid-19 mitigation efforts, arguing that the systems failed to protect their children from getting infected.
The first lawsuit was filed in federal court last week by Shannon Jensen against the Waukesha School District, the Waukesha Board of Education, a number of school board members and district employees, according to the court documents.
Then Monday, Gina Kildahl filed a separate complaint against the Fall Creek School District, the board, its superintendent and individual board members for "recklessly refusing" to implement Covid-19 mitigation strategies recommended by the CDC, according to the complaint.
---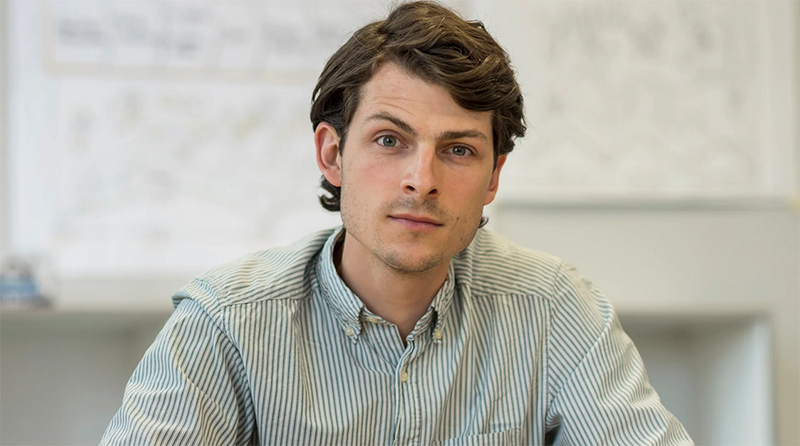 Colorado Man Posts 'We Can All Get Through This Together!' And Gets Kicked Off Facebook | added October 11
COLORADO SPRINGS, CO—After violating the company's terms of service with his factually inaccurate message, local man Mitch Pennington, who posted the words "We can all get through this together!" on Facebook, was reportedly kicked off the social media platform Thursday for spreading a Covid-19 hoax. "We have taken immediate action to suspend Mr. Pennington's account after he knowingly and willfully disseminated misinformation that suggests Americans are capable of joining together to overcome this disease," said Facebook spokesperson Jessica Brodich
---
WMU Student Athletes win in Federal appeals court over vaccine mandates | added October 11
KALAMAZOO, Mich. — A federal appeals court ruled Thursday in favor of Western Michigan University athletes, after they won a lawsuit to play sports without getting the COVID-19 vaccine.
WMU does not require students get vaccinated against COVID-19 but the university did try to mandate it for student athletes. David Kallman, the attorney for WMU student athletes and senior legal counsel with the Great Lakes Justice Center, said they're thrilled about the ruling Thursday.
"They're going to be very pleased that now they can continue playing for the foreseeable future," Kallman said.
---
Southwest Airline cancels more than 2,000 flights over the weekend | added October 11
The long weekend got a bit longer for Southwest customers after the airline canceled more than 2,000 flights Friday through Sunday.
The world's largest low-cost carrier canceled three of every 10 departures it had scheduled on Sunday and the disruption continued into Monday, a federal holiday, with 337 flights — or about one in 10 — canceled so far, according to the aviation tracking website FlightAware.
The company blamed the cancellations on air traffic control problems and limited staffing in Florida as well as bad weather. It told CNN late Sunday that getting operations back to normal was "more difficult and prolonged" because of schedule and staffing reductions made during the pandemic
---
RFK Jr. helps Binghamton NY hospital workers challenge vaccine mandate | added October 11
ALBANY – Health care workers who have been suspended from their jobs at a Binghamton hospital are now suing New York Gov. Kathy Hochul over the state's COVID-19 vaccine mandate with the help of Robert F. Kennedy Jr.
Kennedy, a longtime promoter of scientifically challenged anti-vaccine material, is listed as a supporting attorney for the lawsuit filed in Albany federal court Friday by four anonymous health care workers at Lourdes Hospital.
Lourdes, which is owned by the Ascension health care system, placed the four workers — two doctors, a nurse and a scientist, all of whom are Catholic — on unpaid leave after the state's mandate went into place last week, rejecting their claim for a religious exemption, according to the lawsuit.
---
Protesters storm Italy's biggest labor union against tough vaccine mandates | added October 11
Rome — Central Rome was gripped with violence this weekend as thousands of protesters marched against the toughest new vaccine mandates in the world. All Italians will soon be required to show a coronavirus "Green Pass," proving either vaccination, recovery in the past six months, or a negative COVID-19 test from the past 48 hours to enter their workplaces.
What started off as a restless but peaceful demonstration against the looming measure in Rome's Piazza del Popolo ended up sparking a tinderbox when an offshoot of protesters stormed the headquarters of CGIL, Italy's oldest and biggest labor union.
When they marched toward the prime minister's office, police responded with water cannon and tear gas. Dozens of police officers were hurt in the melee.
---
Over 96 percent of healthcare union workers vote to strike against Kaiser for fair wages | October 11
SAN DIEGO — Over 96 percent of the 18,000 union members voted to authorize a strike amongst Kaiser Permanente employees.
18,209 members of the AFSCME-affiliated UNAC/UHCP (United Nurses Associations of California/Union of Health Care Professionals) voted online between October 1 and October 10—voter turnout was 86%.
The 31,000 members who would strike include 24,000 registered nurses, pharmacists, midwives, physical therapists and occupational therapists, optometrists, and others at Kaiser Permanente Southern California. It would also include 7,000 United Steel Workers health care workers at Kaiser Permanente Southern California.
---
Merck requests emergency use for experimental anti-viral pill | added October 11
Pharmaceutical giant Merck has asked the Food and Drug Administration to grant emergency use authorization to its experimental covid-19 antiviral treatment — an oral medication that could be promising in the global fight against the coronavirus pandemic.
The treatment, a pill named molnupiravir that cut hospitalizations and deaths by about half in early trials, could be an especially important tool in poor countries, where vaccine supply is low.
---
AstraZeneca announces its experimental COVID-19 treatment has been found effective | added October 11
AstraZeneca announced on Monday that its experimental COVID-19 treatment has been found to be effective in late-stage trials at preventing severe illness or death.
When compared to a placebo, AstraZeneca's antibody treatment, called AZD7442, reduced the risk of developing severe COVID-19 or death by 67 percent, the company said in a press release.
"These important results for AZD7442, our long-acting antibody combination, add to the growing body of evidence for use of this therapy in both prevention and treatment of COVID-19. An early intervention with our antibody can give a significant reduction in progression to severe disease, with continued protection for more than six months," said AstraZeneca's executive vice president, Mene Pangalos.
---
Scientists are now saying there is no rush to get a booster jab | October 11
People who both had Covid-19 and are vaccinated don't need to rush to get the boosters now rolling out across the U.S., health experts say.
Millions of Americans who have received Pfizer Inc. and partner BioNTech SE's Covid-19 vaccine now qualify for an additional dose, under the Centers for Disease Control and Prevention's recommendation of shots for seniors and certain at-risk adults. Some of those who qualify are people who have been infected with the disease, either before they were vaccinated or after.
Several studies suggest that people who have had Covid-19 and were fully vaccinated have strong protection, including against variants, and probably don't need the boost, though the research is preliminary and data is incomplete, according to scientists who specialize in vaccines and immunology.
---
China records no new COVID-19 cases in the last 24 hours | added October 11
China has recorded no new cases in the last 24 hours, even though there have been recent outbreaks in multiple regions, and a major public holiday has just passed.
Over the last couple of weeks, there have been recorded cases in north-west Xinjiang, north-east Heilongjiang and south-east Fujian.
It has been routine for regions to swiftly lock down communities as soon as cases are detected. Transport links are suspended, and citywide testing drives are carried out to identify any potential "silent carriers".
---
Fauci says 'Go out there and enjoy Halloween' among a rise of COVID-19 cases | added October 11
Despite the wide availability of Covid-19 vaccines, not all Halloween parades have been safe from virus-related cancellations this year.
In Westchester County, N.Y., for example, the Tarrytown Halloween Parade was canceled out of concern, the organizers said, for "our most precious attendees, our children," many of whom are not yet eligible for vaccines. And in nearby Rockland County, Nyack's Halloween parade was canceled, too. The National Zoo also canceled its popular Boo at the Zoo because it didn't feel it could keep visitors or animals safe from the virus.
---
Moderna limits vaccine access to wealthy nations | added October 11
Editor's note: If the proposed Covid-19 pandemic is so horrible and the vaccines are being mandated as the only possibility of eliminating viral spread, then why are we limiting access to only wealthy nations? — mmd
Moderna, whose coronavirus vaccine appears to be the world's best defense against COVID-19, has been supplying its shots almost exclusively to wealthy nations, keeping poorer countries waiting and earning billions in profit.
After developing a breakthrough vaccine with the financial and scientific support of the U.S. government, Moderna has shipped a greater share of its doses to wealthy countries than any other vaccine manufacturer, according to Airfinity, a data firm that tracks vaccine shipments.
About 1 million doses of Moderna's vaccine have gone to countries that the World Bank classifies as low income. By contrast, 8.4 million Pfizer doses and about 25 million single-shot Johnson & Johnson doses have gone to those countries.
---
Corbett's New World Next Week: Focus on banks and money | added October 8
Editor's Note: A global view of the controlled demolition of the financial systems. — pcg
Story #1: Banks Around World Are Suffering Big Outages, Leaving Millions Of Customers In Lurch At Worst Possible Time
Story #2: China's Belt and Road Faces Growing Opposition From Participating Countries as Debts Mount
Story #3: Yellen Defends IRS Rule Requiring Banks to Report All Transactions Over $600
---
Tucker Carlson on fake vax cards | added October 8
Editor's Note: In his courageous broadcast, Tucker Carlson raises serious ethical questions. Carlson: "Buying a fake vaccination card is an act of desperation by decent, law-abiding Americans who have been forced into a corner by tyrants." — pcg
Editor's Note: Two different friends have reached out to me for assistance in this regard the past few days; I could not help them. I agree with Tucker, and apart from someone like myself who has taken a public position that reflects my deepest commitment to medical ethics, I have no problem with people getting fake cards, as the vaccines and the card are illegal, disgusting, and immoral. — efc
Buying a fake vaccination card is not a, quote, serious crime. It's not even close to a serious crime. Buying a fake vaccination card is an act of desperation by decent, law-abiding Americans who have been forced into a corner by tyrants. You know what's a serious crime? Forcing Americans to take drugs they don't need or want. That's a very serious crime. And let's hope, in the end, someone is punished for it, severely.
---
17,000 home health aides expected to walk | added October 8
Editor's Note: But it's about health — cm
NEW YORK (WABC) — Home health care agencies across New York are bracing for possible staffing shortages as another COVID-19 vaccine mandate takes effect.
Workers in adult care facilities, home health agencies, long-term home health care programs, and hospice care have until Thursday night to get their first COVID shot.
There are about 250,000 home health aides statewide, and it is estimated that one in five is not vaccinated. That means as many as 50,000 will not be able to work Friday.
---
Moderna founders make Forbes list of wealthiest people in the US | added October 8
Editor's Note: To become part of the 1% all you have to do is collude with the federal government to kill people. Noam Chomsky points this out in The Culture of Terrorism, in which he says to get a lot of money from Congress, just show them how many people you kill. — cm
Two founders of Moderna and one top investor made it on Forbes's list of the wealthiest people in the United States, following the company's development of one of the initial COVID-19 vaccines distributed worldwide.
Moderna's co-founder and chairman Noubar Afeyan, co-founder and board member Robert Langer, and Moderna investor Timothy Springer were featured on the prestigious Forbes 400 list.
---
Whitney Webb: Moderna: A Company "In Need Of A Hail Mary" | added October 8
Those analyzing the COVID-19 crisis and its effects have mostly focused on how its disruptive nature has led to major shifts and recalibrations throughout society and the economy. Such disruption has also lent itself to a variety of agendas that had required an event of "reset" potential in order to be realized. In the case of the vaccine industry, COVID-19 has led to dramatic changes in how federal agencies manage the approval of medical countermeasures during a declared crisis, how trials for vaccine candidates are conducted, how the public perceives vaccination, and even how the term "vaccine" is defined.
Such shifts, though obvious, have provoked praise from some and sharp criticism from others, with the latter category being largely censored from public discourse on television, in print, and online. However, in objectively analyzing such seismic changes, it's clear that most of these shifts in vaccine development and vaccine policy dramatically favor speed and the implementation of new and experimental technology at the expense of safety and thorough study. In the case of vaccines, it can be argued that no one benefitted more from these changes than the developers of the COVID-19 vaccines themselves, particularly the pharmaceutical and biotechnology company Moderna.
---
COVID-19 doctors and scientists privately ask Biden to drop booster shot plans | added October 8
A group of doctors and scientists is urging President Joe Biden's administration to drop its plans to distribute coronavirus booster shots to fully vaccinated adults, Politico reported.
The experts urged officials on a September 27 call to administer the booster shots only to the people who are most at risk of severe COVID-19, Politico reported, citing five people familiar with the call.
They said that this would better reduce hospitalizations and deaths, and said that current US data does not justify using a widespread booster campaign to try and slow the spread of the virus, Politico reported
---
Air pollution linked to 6 Million Premature Births | added October 8
Every year, an estimated seven million people die from air pollution across the globe. Now, new research shows that air pollution is not only a health threat to everyone in the world, but also to those who have not yet arrived.
The study, published Sept. 29 in the journal PLOS Medicine, looked into the pernicious impact of air pollution on birth outcomes worldwide.
After analyzing available data from all inhabited continents, the researchers estimated that exposure to PM2.5 — pollutant particles with widths 30 times smaller than a human hair — was linked to almost six million premature births and roughly three million underweight babies across the world in 2019.
---
France proposes bill for all citizens to receive COVID-19 jab by January 1, 2022 | added October 8
The Social Affairs Committee of the French Senate has introduced a bill making the Covid-19 vaccine mandatory for all French citizens from January 1st, 2022. If successful, this would make France the first country in the world to make the jabs compulsory for all citizens.
Over the past year, France has introduced strict Covid-19 vaccine mandates including making the jab compulsory for all health workers and introducing a vaccine passport, which is required to enter public spaces including restaurants, bars, entertainment venues and even hospitals. The restrictions have faced a significant amount of criticism, leading to much of the French population taking part in protests across the country.
The proposed vaccine mandate was introduced on October 4th by Senator Bernard Jomier. Senator Jomier, who introduced the bill, is the Vice-Chairman of the Social Affairs Committee and is also a member of the Parliamentary Office for the Evaluation of Scientific and Technological Choices, Social Security Assessment and Control Mission, and is an ecologist. The member of the Socialist Party, along with his fellow senators had initially introduced the premise of a nationwide vaccine mandate to the French Senate on August 31st.
---
General Summit Global Boycott of COVID-19 | added October 8
[September 2021] On 22 September 2021, President Joe Biden held a virtual Global Summit on Covid-19 on the sidelines of the 76th United Nations General Assembly.
He had predicted the presence of at least 100 states and 100 organizations. In fact, only a handful of developed countries allied to the United States plus a number of assorted organizations showed up.
President Biden has pledged to distribute an additional 500 million doses of vaccines to ensure that 70% of the population in every country is fully vaccinated
---
COVID-19 vaccine efficacy fading fast| added October 8
A study appeared in the Lancet this week confirming that vaccine effectiveness against infection is fading fast.
The study involved 3,436,957 people over the age of 12 who are members of the healthcare organisation Kaiser Permanente Southern California. It sought to assess the effectiveness of the Pfizer vaccine against SARS-CoV-2 infections and COVID-19-related hospital admissions for up to six months, with a study period covering December 14th, 2020, to August 8th, 2021.
Comparing fully vaccinated to unvaccinated, and controlling for confounders such as prior infection, the researchers found that effectiveness against infection plummeted from 88% (95% confidence interval 86-89%) during the first month after double-vaccination to 47% (43-51%) after five months. The variation by age (depicted above) was largely within the margins of error.
---
Indian drug lawmakers want to end Merck's anti-viral pill | added October 8
BENGALURU (Reuters) -Two Indian drugmakers have requested permission to end their late-stage trials on Merck & Co's experimental antiviral drug molnupiravir in moderate COVID-19 patients
The two Indian drugmakers, Aurobindo Pharma Ltd and MSN Laboratories plan to continue late-stage trails of the drug for those with mild COVID-19, the Indian drug regulator's expert committee said on Friday. The two companies separately sought permission to end trials in the case of moderate COVID-19 patients after having submitted interim clinical trial data around the effectiveness of the drug in treating this category of patients, the committee disclosed, throwing into question the efficacy of the experimental drug in improving outcomes for patients with moderate cases of COVID-19.
Separately, a senior source at India's drug regulator told Reuters that molnupiravir had shown no "significant efficacy" against moderate COVID-19 cases
---
Unrealistic vaccine deadline for thousands of New York home healthcare workers | added October 8
NEW YORK – Thousands of workers tasked with the complicated care of some of New York's most vulnerable could be out of a job Friday as the second phase of Gov. Kathy Hochul's vaccine mandate takes effect.
Some 250,000 home healthcare workers had until Midnight to provide proof of at least one dose of the COVID shot or face the threat of unemployment.
"This burden of this mandate to get everyone vaccinated by today is unrealistic," said Joe Pecora, Vice President, Home Healthcare Workers of America.
The union represents some 32,000 home health aides across the state, 90% of which are women of color.
---
Pfizer targets Children 5 to 11 for the COVID-19 Injection | added October 8
WASHINGTON — Pfizer and BioNTech asked federal regulators on Thursday to authorize emergency use of their coronavirus vaccine for children ages 5 to 11, a move that could help protect more than 28 million people in the United States.
The companies say they are submitting data supporting the change to the Food and Drug Administration. The agency has promised to move quickly on the request and has tentatively scheduled a meeting on Oct. 26 to consider it. An F.D.A. ruling is expected as early as Halloween.
A meeting of expert advisers to the Centers for Disease Control and Prevention has been scheduled for Nov. 2 and 3, according to people familiar with the planning. The C.D.C.'s recommendations are typically the federal government's last word on vaccine policy.
---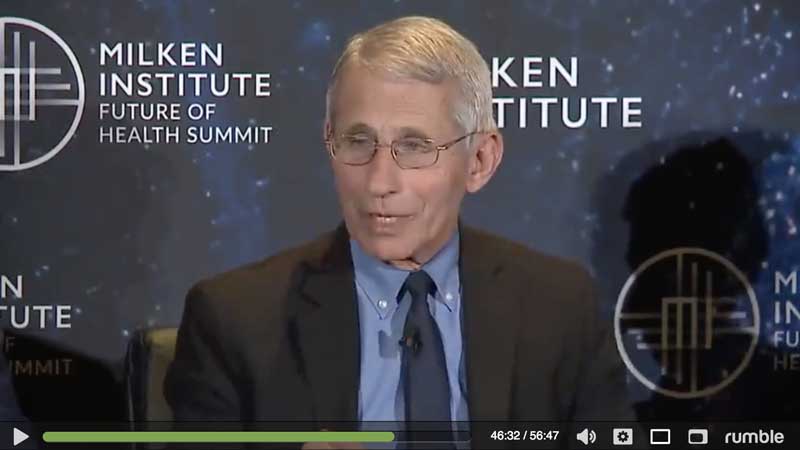 'Universal flu vaccine' planned in October 2019 became COVID-19 injection | added October 7
Stunning video revealed by Alex Jones on Tuesday shows a full-on plan to repackage "the flu" into something presenters called more frightening, deadlier and yes, sexier. Some coverage is available on Health Impact News.
This panel discussion was essentially a marketing committee meeting or focus group, preserved on C-Span, which describes the method by which a new pandemic will be sold to the public. The purpose is to increase sales of a presumably yet-to-be-developed mRNA injection as a next-generation vaccine not made in eggs.
The meeting took place just 10 days after the staging of Event 201, a "pandemic response exercise" — a high-level dramatization played out by bankers, NGOs, and others, held in New York City Oct. 19.
The Oct. 29 flu rebranding panel took place at the Milkin Institute, a massive, allegedly charitable fund, and occurred just 33 days before the first official case of "Covid" surfaced in Wuhan on Dec. 1.
Many have pointed out that nearly all cases of "Covid" resemble what was previously called influenza, and that flu levels disappeared in 2020. We can see direct statements by planners that this was an orchestrated marketing tactic.
Here is a quote from Fauci's presentation on the panel:
"There's this perception (about the flu), if it's so serious, how come people get the flu each year and it isn't a catastrophe?
"When you're dealing with a disease like HIV, if you get HIV, it's serious. Whether you're young, whether you're middle aged, or whether you're old. If you get cancer, that's bad. Whether you're young, whether it's intermediate… whereas if it's influenza, some people, they go throughout life and it doesn't impact them at all.
"There isn't anyone who is afraid of influenza. You go into a focus group and you say: Are you afraid of getting HIV if you're at risk? Oh, absolutely.
"Are you afraid of getting cancer? Absolutely. Are you afraid of the flu? Don't bother me.
"That's the reality of how people perceive flu.
"And it is going to be very difficult to change that, unless you do it from within and say, I don't care what your perception is, we're going to address the problem, in a disruptive way."
---
Global Slavery: The facade for the new Totalitarianism is "Health Care" | added October 7
Editor's Note: Though this has been online since August – it merits a read. – pcg
Take any multinational (transnational) corporation. Say Power Corporation of Canada, for example. Or Google. Or any one you choose. That company has hundreds of thousands of employees worldwide and very successfully controls them by controlling management.
Your government has how many members? A handful in the executive, a few hundred in the legislature. If multinational corporations, including Big Pharma, chose to control your government, this new form of "foreign power" could easily overthrow your country. In fact, it appears to have been done. We seem to be laboring under a global coup d'état.
Every western government has been pushing "Build Back Better", a slogan of the Great Reset, a program for world government sponsored by the World Economic Forum that also sponsored Event 201 that "predicted" the "Covid-19" "pandemic" quite conveniently, shortly before it was announced by the WHO, owned and financed in conflict of interest by Bill Gates.
---
Biden's smoke and mirrors vaxx mandate | added October 7
Yes, we've heard all about Joe Biden's alleged vaccine mandate for private companies employing 100 or more people. It was all over the news even before he announced it on September 9. His announcement has jeopardized the employment of millions of Americans and increased worker shortages in critical domains such as health care.
There's only one problem. It's all a mirage. Biden's so-called vaccine mandate doesn't exist — at least, not yet. So far, all we have is his press conference and other such made-for-media huff-puffing. No such rule even claiming to be legally binding has been issued yet.
That's why nearly two dozen Republican attorneys general who have publicly voiced their opposition to the clearly unconstitutional and illegal mandate haven't yet filed suit against it, the Office of the Indiana Attorney General confirmed for me. There is no mandate to haul into court. And that may be part of the plan.
According to several sources, so far it appears no such mandate has been sent to the White House's Office of Information and Regulatory Affairs yet for approval. The White House, the Occupational Safety and Health Administration (OSHA), and the Department of Labor haven't released any official guidance for the alleged mandate. There is no executive order. There's nothing but press statements.
---
Black community leads as New Yorkers are united against vaxx mandates | added October 7
videos and complete text at zeromandatoryvaxx.com
"As mandatory COVID-19 vaccine mandates took effect this week in New York City, many teachers and others suddenly found themselves out of work as the Supreme Court refused to step in and stop the mandates last week.
Teachers, educators and many others took to the streets of New York this week to protest, led by Blacks. Less than 30% of the Blacks in New York City have given in to mandatory shots, and Hispanics are close behind in their refusal to obey government mandates for COVID-19 shots.
Angela Stanton-King, the niece of Dr. Martin Luther King, and a former NBA #1 draft pick were among those who took to the streets of New York this week to protest and warn others about the abuse of civil rights with New York's mandatory vaccination mandates.
Many of the protesters in NYC carried flags of Australia, showing their solidarity with their Aussie brothers and sisters who are suffering the most under tyranny right now."
---
The WEF and the pandemic | added October 7
How is the Davos World Economic Forum involved in the coronavirus pandemic?
The Davos World Economic Forum (WEF) is a premier forum for governments, global corporations and international entrepreneurs. Founded in 1971 by engineer and economist Klaus Schwab, the WEF describes its mission as "shaping global, regional and industry agendas" and "improving the state of the world". According to its website, "moral and intellectual integrity is at the heart of everything it does."
The WEF has been involved in the coronavirus pandemic in several ways.
First, the WEF was, together with the Gates Foundation, a sponsor of the prescient "Event 201" coronavirus pandemic simulation exercise, held in New York City on October 18, 2019 – the same day as the opening of the Wuhan Military World Games, seen by some as "ground zero" of the global pandemic. China itself has argued that US military athletes may have brought the virus to Wuhan.
Second, the WEF has been a leading proponent of digital biometric identity systems, arguing that they will make societies and industries more efficient, more productive and more secure. In July 2019, the WEF started a project to "shape the future of travel with biometric-enabled digital traveler identity management". In addition, the WEF collaborates with the ID2020 alliance, which is funded by the Gates and Rockefeller foundations and runs a program to "provide digital ID with vaccines". In particular, ID2020 sees the vaccination of children as "an entry point for digital identity."
Third, …
---
LA County COVID vaccine mandate for large events goes into effect tonight | added October 7
LOS ANGELES (CNS) — A new county health order will take effect late Thursday night requiring anyone aged 12 and over attending a large-scale outdoor event in Los Angeles County with 10,000 people or more — such as college and pro-football games — to show proof of full vaccination against COVID-19 or a negative test taken within 72 hours.
The mandate will apply to any ticketed, outdoor gathering of 10,000 people or more, including sporting events, concerts and theme parks such as Six Flags Magic Mountain and Universal Studios.
All attendees, regardless of vaccination status, must wear a face covering at events.
The county health order mandating the vaccination proof is set to take effect at 11:59 p.m.
Mayor Eric Garcetti signed an ordinance Wednesday that will require people in the city of Los Angeles to show proof of full vaccination before entering indoor restaurants, bars, gyms, shopping centers, entertainment venues and personal care establishments. The mayor's approval came just hours after the Los Angeles City Council passed the measure considered one of the strictest in the nation.
---
Keyword Warrants – Feds secretly ordered Google to identify anyone searching certain information | added October 7
An accidentally unsealed court document reveals that the federal government secretly ordered Google to provide data on people searching specific search words or phrases, otherwise known as "keyword warrants," according to Forbes.
According to the report, the Justice Department inadvertently unsealed the documents in September (which were promptly re-sealed), which were reviewed by Forbes. In several instances, law enforcement investigators asked Google to identify anyone searching for specific keywords.
The first case was in 2019 when federal investigators were on the hunt for men they believed sex-trafficked a minor. According to a search warrant, the minor went missing but reappeared a year later and claimed to have been kidnapped and sexually assaulted. Investigators asked Google if anyone had searched the minor's name. The tech giant responded and provided law enforcement agents with Google accounts and IP addresses of those who made the searches.
There have been other rare examples of so-called keyword warrants, such as in 2020 when police asked Google if anyone searched for the address of an arson victim in the government's racketeering case against singer R Kelly. Then in 2017, a Minnesota judge requested Google to provide information on anyone who searched for a fraud victim's name.
---
California bans PFAS 'Forever Chemicals' in products for infants, children | added October 7
Editor's Note: While mandating other poisons… – cm
In a major victory for consumers, Gov. Gavin Newsom on Tuesday signed legislation to protect infants and children from the toxic "forever chemicals" known as PFAS by banning the compounds in cribs, playpens and many other products. The ban takes effect on July 1, 2023.
Authored by Assemblymember Laura Friedman (D-Glendale), the law bans the use of PFAS in a wide range of "juvenile" products, as defined in the law.
"As a mother, it's hard for me to think of a greater priority than the safety and well-being of my child," said Friedman. "PFAS have been linked to serious health problems, including hormone disruption, kidney and liver damage, thyroid disease and immune system disruption.
"This new law ends the use of PFAS in products meant for our children," she said.
PFAS are a class of thousands of chemicals linked to increased risk of cancer, harm to fetal development and reduced vaccine effectiveness. They are known as forever chemicals because they do not break down in the environment and build up in our blood and organs.
---
Chinese PCR Test purchases spiked just before C19 hit | added October 6
The Chinese province that was the initial epicenter of the Covid-19 outbreak made significant purchases of equipment used to test for infectious diseases months before Beijing notified international authorities of the emergence of a new coronavirus, according to research by a cybersecurity company.
The province's purchase of polymerase chain reaction, or PCR, testing equipment, which allows scientists to amplify DNA samples to test for infectious disease or other genetic material, shot upward in 2019, with most of the increase coming in the second half of the year, the Australian-U.S. firm Internet 2.0 found.
---
Pfizer scientist directly involved with C19 vaccine says natural immunity is more effective | added October 6
[NEW YORK – Oct. 4, 2021] Project Veritas released the fourth video in its COVID vaccine investigative series today which exposed three Pfizer officials saying that antibodies lead to equal, if not better, protection against the virus compared to the vaccine.
Nick Karl, a scientist who is directly involved in the production of Pfizer's COVID vaccine, said that natural immunity is more effective than the very vaccine he works on, and Pfizer produces.
"When somebody is naturally immune — like they got COVID — they probably have more antibodies against the virus…When you actually get the virus, you're going to start producing antibodies against multiple pieces of the virus…So, your antibodies are probably better at that point than the [COVID] vaccination," Karl said. Notwithstanding, Karl still believes that vaccine mandates are positive for society.
---
Israel to require Pfizer booster shots for 'green pass' | added October 6
[October 3] Those who have received two vaccine doses, and those who have recovered from coronavirus, will be issued passes valid for six months after the date of their third booster shot or recovery.
From this week, store owners and event organizers will be required to scan a customer's digital barcode before allowing entry, but museums and libraries are among the few that are exempt.
---
C19 may be developing diabetes in some people after infection | added October 6
The coronavirus could be harming vital cells in the pancreas and leaving people with diabetes, according to new research being pursued by scientists.
The relationship between COVID-19 and diabetes is poorly understood and scientists don't yet have definitive answers.
But as the pandemic progressed, a growing number of reports suggested that people who caught COVID-19 were noticing diabetes symptoms for the first time. It is too soon to say whether the condition is permanent.
---
Sweden and Denmark pause giving children Moderna vaccine due to possible side effects | added October 6
After reports of possible rare side effects, Denmark and Sweden have halted the use of Moderna's mRNA COVID-19 vaccine on Wednesday.
Recent data points to an increase in the inflammation of the heart mucle (myocarditis) and inflammation of the pericardium (pericarditis).
"The connection is especially clear when it comes to Moderna's vaccine Spikevax, especially after the second dose," Sweden's health agency said in a statement. It added that "the risk of being affected is very small."
---
Colorado hospital will not perform transplants for unvaccinated patients | October 6
A hospital system in Colorado says it will not perform transplant surgery for unvaccinated patients in most cases. UCHealth said it implemented the policy to protect its patients, CBS Denver reports.
"For transplant patients who contract COVID-19, the mortality rate ranges from about 20% to more than 30%," UCHealth said in a statement to CBS Denver. "This shows the extreme risk that COVID-19 poses to transplant recipients after their surgeries."
Studies show the COVID-19 vaccines available in the U.S. are highly effective at preventing illness. In the U.S., 186 million people have been fully vaccinated – 56.68% of the population – according to Johns Hopkins University.
---
AstraZeneca seeks U.S. approval for drug cocktail to prevent COVID | added October 6
Editor's Note: The big pharma money making machine has no end – cm
Oct 5 (Reuters) – AstraZeneca (AZN.L) has requested emergency approval from U.S. regulators for its antibody cocktail, the first protective shot other than vaccines against COVID-19, another potential major step in the global fight to combat the virus.
While vaccines rely on an intact immune system to develop targeted antibodies and infection-fighting cells, Astra's biotech compound known as AZD7442 contains lab-made antibodies designed to linger in the body for months to contain the virus in case of an infection.
COVID-19 therapies based on the same class of monoclonal antibodies are sold by rivals Regeneron (REGN.O), Eli Lilly (LLY.N) and GlaxoSmithKline (GSK.L) and its partner Vir (VIR.O) to stop the disease from worsening during early, milder stages of the infection.
The AstraZeneca therapy, designed to last several months to a year, could protect people who do not have a strong enough immune response to COVID-19 vaccines due to, for instance, chemotherapy or anti-rejection drugs after organ transplants.
---
At-home COVID tests being recalled due to false-positive results | added October 6
In a statement, Ellume, the manufacturer of the tests, said, "In recent weeks, we noted an increased chance that Ellume COVID-19 Home Tests from specific lots may provide an incorrect positive result. Following a thorough investigation, we isolated the cause and confirmed that this incidence of false positives is limited to specific lots."
According to Ellume, the company has worked with the U.S. Food and Drug Administration (FDA) to issue the voluntary recall and remove the affected at-home test kits from the market. The statement said that the tests included in the recall were distributed from April 2021 to August 2021.
"Importantly, the reliability of negative results is unaffected by this issue and are not included within this recall," the company's statement said.
Ellume did not announce the specific number of tests that are included in the recall, but a full list of lot numbers that have been recalled can be found here.
In a statement, Ellume CEO and Founder Sean Parsons said, "At Ellume, we understand that trust is central to fulfilling our purpose as a company, and we recognize that this incident may have shaken the confidence of some of those who trusted Ellume to help them manage their health and to take back a bit of control of their lives during this pandemic."
---
McKinsey never told FDA it was working for opioid makers Purdue and J&J while also working for the Agency | added October 6
Editor's Note: Another example of 'conflict of interest', for which the world seems to have run out of flags for the field, no longer a foul needing attention. – pcg
Since 2008, McKinsey & Company has regularly advised the U.S. Food and Drug Administration's (FDA) drug-regulation division, according to agency records.
The consulting giant has had its hand in a range of important FDA projects, from revamping drug-approval processes to implementing new tools for monitoring the pharmaceutical industry.
During that same decade-plus span, as emerged in 2019, McKinsey counted among its clients many of the country's biggest drug companies — not least those responsible for making, distributing and selling the opioids that have ravaged communities across the United States, such as Purdue Pharma and Johnson & Johnson.
At times, McKinsey consultants helped those drugmaker clients fend off costly FDA oversight — even as McKinsey colleagues assigned to the FDA were working to bolster the agency's regulation of the pharmaceutical market.
---
On vaccines, lies, and Auschwitz | added October 6
Editor's Note: Vaccines make you free – cm
More from Alex Berenson Substack
In the fall of 2008, I visited Auschwitz.
I was in Poland to talk about my novels, and I'm Jewish, and it seemed wrong not to go to the site, to try to understand what is impossible to understand.
I remember two things most clearly. The first is how big the camp was. There's essentially nothing left of it, of course. But the open field where the bunks and gas chambers and everything else had stood seemed enormous. But then it had to be. The Nazis killed over a million people there, nearly all Jews. They killed with precision and method. They needed machinery, and machinery needs space.
But the Poles around the site must have known. As the Jews came in but did not leave. As the ghettos and villages emptied out month by month. They must have known. The Germans too. Such a large place, so many people involved. Even if the Nazis had wanted to keep the secret – and they didn't, not really, they didn't care – sooner or later everyone in Germany and Poland must have known. Many knew without knowing, perhaps, without letting themselves know, but they all knew.
And I thought, looking at that vast field, Who thought this was a good idea?
---
Pfizer submits data to FDA, seeking to use its COVID vaccine for children ages 5 to 11 | added October 6
Editor's Note: This post written as if it makes sense. The young are 'not as protected' as the older adolescents. Not as protected. – pcg
After successful trials of their COVID-19 vaccine on children ages 5 to 11, Pfizer-BioNTech plans to request Emergency Use Authorization from the Food and Drug Administration to administer doses in the coming weeks.
Data from the company suggests the vaccine targeted towards this younger age group is safe and also created a "well tolerated" and "robust" antibody response among children.
In trials which tested 2,268 participants ages 5 to less than 12 years, children received two smaller doses of the vaccine compared to the one given to older individuals. The results produced comparable antibody responses to those ages 16 to 25, according to the company. Similar side effects as those experienced by adults were also reported, including sore arms or fatigue.
Pfizer is currently the only COVID vaccine available to those under 18 years old in the United States.
While children are at a lower risk of severe disease, many young people returned to school this fall unvaccinated and therefore not as protected as older adolescents.
---
Update from Israel, Ilana Rachel | added October 5
Editor's Note: This activist pleas with viewers to look at how to combat the atrocities all over the world, to back up and grasp the big picture in order to put a halt to the progress of the agenda. – pcg
---
More Project Veritas spilling the beans | added October 5
Editor's Note: Whether this was obtained ethically or not is up in the air, but the Pfizer scientists seem in the mood to talk. – pcg
Nick Karl, a scientist who is directly involved in the production of Pfizer's COVID vaccine, said that natural immunity is more effective than the very vaccine he works on, and Pfizer produces.
"When somebody is naturally immune — like they got COVID — they probably have more antibodies against the virus…When you actually get the virus, you're going to start producing antibodies against multiple pieces of the virus…So, your antibodies are probably better at that point than the [COVID] vaccination," Karl said. Notwithstanding, Karl still believes that vaccine mandates are positive for society.
"The city [of New York] needs like vax cards and everything. It's just about making it so inconvenient for unvaccinated people to the point where they're just like, 'F*ck it. I'll get it.' You know?"
---
NY Associate Court of Appeals Judge barred from courtroom | added October 5
Editor's Note: It would be intersting to hear what Judge Jenny Rivera has to say regarding this story, as she is the one in charge of the courtroom. – pcg
One of the state's most senior judges has refused to get vaccinated or seek a medical exemption — and can no longer enter the courthouse, The Post has learned.
Associate Court of Appeals Judge Jenny Rivera is the only state jurist out of a total of approximately 1,300 who declined the jab and failed to apply for a medical or religious waiver.
The Columbia University School of Law graduate was barred from entering any court facilities — including her chambers — beginning Sept. 27 at 5 p.m. when the state Unified Court System's vaccine mandate went into effect for all staffers.
"Currently, there is only one state-paid judge statewide out of compliance with our vaccine mandate policies," said Unified Court System spokesman Lucian Chalfen.
---
Dr. Sam Bailey on NAC (N-acetyl-cysteine) | added October 5
Editor's Note: The benefits of NAC are discussed, though it is becoming harder to find – and it helps us synthesize glutothione when it is absorbed properly. – pcg
---
Whistle-blower unites democrats and republicans in calling for regulation of Facebook | added October 5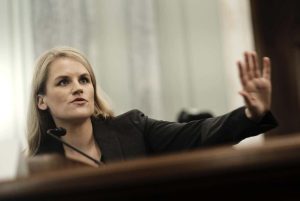 Frances Haugen spent hours detailing to lawmakers how the social network harms young people. Facebook disagreed with her testimony but said new rules for the internet were long overdue: 'It is time for Congress to act.'
---
Vaccine exempt United Airlines employees challenge policy with a federal lawsuit in Texas | added October 5
United Airlines (UAL) began firing some unvaccinated U.S.-based workers on Tuesday. However, the airline agreed to postpone plans to put another group of unvaccinated workers on mostly unpaid leave after they'd applied for medical or religious exemptions to its mandatory COVID-19 vaccination policy.
Six of those exempted workers are challenging United's policy in a federal lawsuit in Texas, which employment lawyers say is likely to turn on the nature of the alternatives that United offered to employees who sought exemptions.
"You can have a mandatory vaccination policy; however, employees may be entitled to a reasonable accommodation based on either a sincerely held religious belief and or a disability, if it doesn't cause an undue burden on the employer," LaKeisha Caton, an attorney with Pryor Cashman, told Yahoo Finance.
---
Australia to buy 300,000 of experimental antiviral pill by Merck & Co. | added October 5
SYDNEY, Oct 5 (Reuters) – Australia will buy 300,000 courses of Merck & Co's experimental antiviral pill, Prime Minister Scott Morrison said on Tuesday, as Victoria logged the highest number of daily COVID-19 infections of any state in the country since the pandemic began.
Molnupiravir, which would be the first oral antiviral medication for COVID-19 if it gets regulatory approval, could halve the chances of dying or being hospitalised for people most at risk of contracting severe COVID-19, according to experts.
"These treatments mean that we are going to be able to live with the virus," Prime Minister Scott Morrison told Nine News on Tuesday as Australia aims to reopen its borders next month for fully vaccinated citizens and permanent residents.
---
Essential workers take Victorian health officials to court over vaccine mandates | added October 5
A casual relief teacher is taking Victorian health officials to court over mandatory Covid vaccines, arguing there is no legal or ethical justification for making workers get the jab.
Separately, in New South Wales, a group of essential workers has argued in court that state's health orders regarding vaccines are an attempt to coerce them into being inoculated.
Belinda Cetnar and her husband, Jack Cetnar, have filed a case against the state of Victoria arguing that forcing all childcare and school staff to have a first dose of a vaccine by 18 October is discriminatory and a breach of their human rights.
---
C19 home tests recalled after False-Positives | added October 5
PORTLAND, Ore. (KOIN) – A number of Ellume brand at-home COVID-19 test kits are being recalled after an increased number of false-positive test results.
The company said it worked with the U.S. Food and Drug Administration to remove the affected tests from the market. Ellume has also said it has isolated the cause and confirmed this incidence of false positives is limited to specific lot numbers.
When asked what caused the recall, an Ellume spokesperson said, "The increase in false positives was the result of a supply chain issue with one of the test components. Because of the proprietary information involved in the manufacturing process, we cannot offer more specifics."
---
Double Vaccinated Emmy winner, Marc Pilcher dies with C19 Diagnosis | added October 5
Marc Pilcher, the award-winning hair stylist and makeup designer who won an Emmy for his work on the hit Netflix show "Bridgerton," has died of Covid-19 at the age of 53, weeks after winning the award.
Pilcher's agency Curtis Brown confirmed the news to CNN on Tuesday, referring to a statement the agency gave to Variety, by friends and family.
According to the statement, Pilcher was "double vaccinated" and had no underlying health conditions. He took multiple Covid-19 tests and tested negative to make the trip to the US for the Emmy's ceremony and back to the UK.
---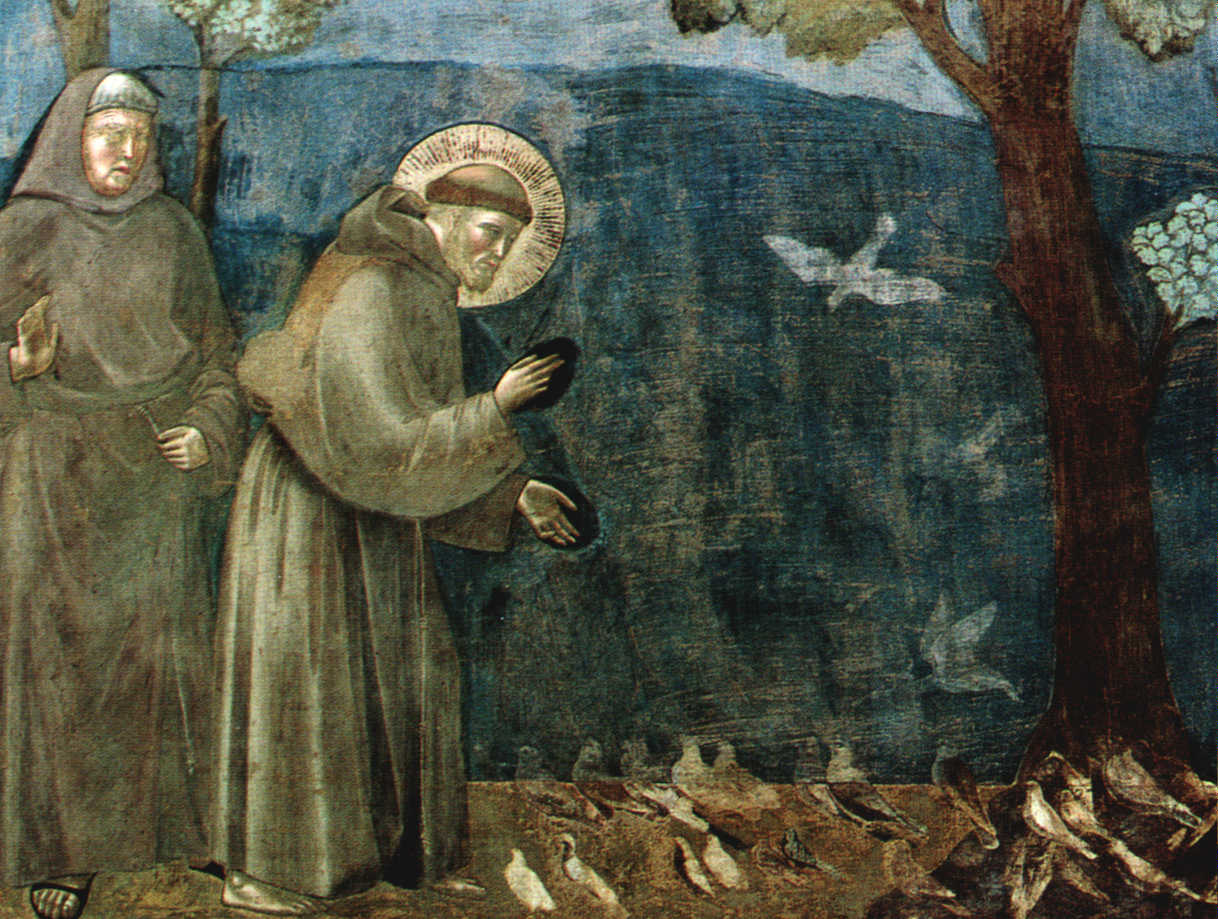 Today is St. Francis Day.
---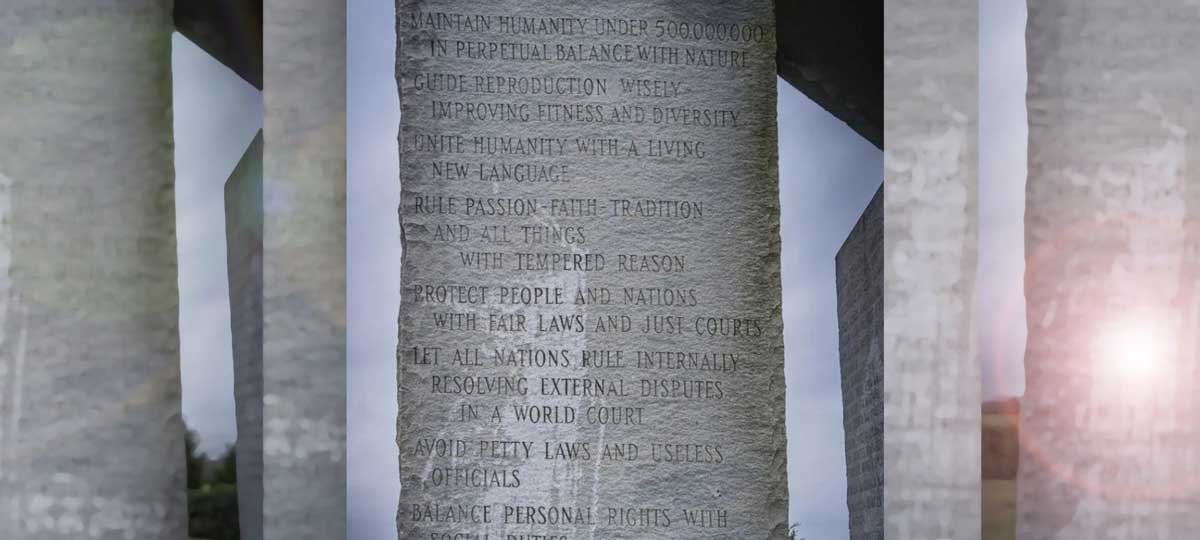 Taking a stand for Human Freedoms as Covid-1984 meets the Brave New Normal | added October 4
In an age of angst, animus and anomie, 'controversy' still rages on all things Covid. Yet many scientists, researchers, health-care providers and medical professionals—even former pharmaceutical executives and senior staffers—bravely stand fast against the toxic tide of this new tyranny.
This alone is clear evidence something is decidedly wrong with the official narrative. My feature length essay on the subject earlier this year — "The Psychic Dangers of Infected Minds (With a Lie this Large)" — posited in fact the notion the real "virus" was of a different, less tangible, yet far more insidious, perhaps even incurable, kind.
Since publishing it, the "minds" have become ever more infected, our responses more 'Pavlovian'; the lies larger, more frequent, contradictory, absurd. And more widely spread. With the truth becoming more distorted, fragmented, censored. And soon to be perhaps punishable by law, a statement which is not by any stretch hyperbole. Oh that were the case.
---
Vaccine mandate results in 18,000 new shots to New York City school employees | added October 4
New York's requirement that virtually everyone who works in the city's public schools be vaccinated against the coronavirus compelled thousands of Department of Education employees to get at least one dose of a vaccine in the past week, leading to extremely high vaccination rates among educators, according to preliminary data released on Friday
At least 98 percent of principals and 93 percent of teachers as well as 90 percent of non-education staff members had been vaccinated by Friday, city officials said. The figures are likely to change by Monday, the deadline for meeting the requirement, because more employees are very likely get shots or provide proof of vaccination over the weekend.
The Department of Education reported that more than 18,000 shots had been given to staff members since Sept. 24.
---
Supreme Court Justice Sotomayor refuses to block vaccine mandate for N.Y.C teachers | added October 4
Supreme Court Justice Sonia Sotomayor late Friday refused to block an order requiring New York teachers to have at least one Covid vaccine dose before returning to the classroom Monday.
Without comment, Sotomayor denied an emergency application filed by the teachers Thursday. She acted on her own, without referring the case to the full court or seeking a reply from New York.
The teachers said thousands of public school employees would be forced out of work by the vaccine mandate, violating their fundamental right to pursue an occupation.
---
Fauci says it's still too early to let down our guard against Covid-19 and vaccination remains the key | added October 4
The US is "turning the corner" on its current Covid-19 surge but vaccination remains key to ensuring cases continue trending downward ahead of the holiday season, Dr. Anthony Fauci said Sunday.
The US is averaging around 107,000 new infections every day, according to Johns Hopkins University — down from more than 150,000 just last month. Rates of hospitalizations and deaths have also been on the decline.
But Fauci, director of the National Institute of Allergy and Infectious Diseases, told ABC's "This Week" that over nearly 20 months of the pandemic, Covid surges have subsided only to come back again.
---
Alaska starts to fact check case trends with Covid-19 death rates and masks | added October 4
Alaska is at a critical point in the pandemic. Twenty health care facilities across the state are now operating under crisis standards of care, a reflection of the added pressure facing hospitals that are contending with scarce resources and high COVID-19 patient counts — and bracing for worse. Alaska's recent per-capita case rate is the highest in the U.S., and higher than that of any country in the world.
At the same time, recent statements from public officials paint a much different picture of the pandemic, warranting closer scrutiny.
In Anchorage over the past week, a divided city debated whether to implement a mask mandate, and Mayor Dave Bronson touted a debunked medical treatment, pointed to data that he said showed Alaska's case counts were actually declining and questioned the effectiveness of masks
---
Warrior Andrew Wiggins receives Covid-19 jab after being denied religious exemption | added October 4
Warriors coach Steve Kerr made the revelation on Sunday after practice. The team was getting ready to head up to Portland to play a preseason game against the Trail Blazers. Wiggins will be eligible to play in all games and will not have to forfeit any money for missing games over his vaccination status.
Wiggins' media day was a bit contentious as he was getting peppered with questions about his vaccination status.
"I'm just going to keep all that private right now. … Anything that has to do with my status, vaccination, I'm going to keep it personal, private," he said, via The Athletic. "Back is definitely against the wall. I'm gonna keep fighting for what I believe. What's right to one person isn't right to the other and vice versa."
---
Union asks for extension to Gov. Lamont's Monday night deadline on vaccine mandates  | added October 4
The state employee union wants a 20-day extension of Governor Ned Lamont's mandate. Lamont's office says the negotiations will continue, but if no agreement is reached, the mandate will be enforced.
RELATED: Frontline state employees request extension of Lamont's vaccine mandate Monday deadline
A warning letter has been sent to 8,000 workers that they will be furloughed without pay if they don't comply by Tuesday.
As of 4 p.m. on Sunday, Lamont's office said about 23,000 are fully vaccinated, which is about three-fourths of the state workforce, about 5,000, or 15 percent, will get tested weekly, and only about 3,000 aren't complying with the mandate at this time.
---
California doctor sounds alarm on new vaccine mandate that targets school-age children | added October 4
A California doctor sounded the alarm Monday on Governor Gavin Newsom's new vaccine mandate targeting school-age children, saying his decision was "not based on clinical evidence" but fueled by politics.
"The decision that the governor made is one that's really based on his personal beliefs that's based in politics," said Dr. Houman Hemmati on "Fox & Friends First."
"As a physician, the one thing that I'm taught, the one thing that we should all practice is evidence-based medicine, and the evidence-based decisions need to not just extend to the doctor-patient relationship, but also to policies that are made by politicians and public health boards."
---
New Zealand lifts pandemic restrictions after lockdown fails to halt the spread of virus | added October 4
WELLINGTON, New Zealand—New Zealand is ending its effort to keep Covid-19 out of the remote South Pacific country as the economic costs mount and after its latest lockdown failed to halt the spread of the virus.
Pandemic restrictions in the country's largest city, Auckland—in place after a Covid-19 outbreak in mid-August—will be eased in stages starting this week, New Zealand Prime Minister Jacinda Ardern said Monday.
New Zealand, with a population of around five million, was an early success story of the pandemic, adopting a version of China's aggressive lockdowns and closing its border, which initially halted the spread of the virus.
---
More college students withdraw from school even amidst vaccine incentives  | added October 4
For some college students, the Covid vaccine is a price they are not willing to pay for a degree.
Justin Mishler, a 29-year-old junior at Northern Illinois University, is one of them. After serving in the U.S. Marine Corps, Mishler enrolled in the state school in 2016 through the GI Bill, which helps cover the cost of tuition, books and housing.
During the pandemic, he took time off to work rather than attend school remotely.
---
J&J prepares to seek authorization for booster shot vaccine | added October 4
The report follows an FDA announcement on Friday indicating its Vaccines and Related Biological Products Advisory Committee (VRBPAC) on Oct. 15 will discuss the administration of the J&J COVID-19 booster shot for individuals 18 years and older, a day after similar discussions are planned for the Moderna COVID-19 booster shot among people ages 18 and older.
J&J did not immediately respond to FOX Business' request for comment.
---
People are nervous about mid-October. They are not astrologers. | added October 3
---
News from Podunk: EDITORIAL: The coddling of COVID deniers is finally over | added October
With broad vaccine mandates now imposed by the federal government and New York state, those of us who've done the right thing during the COVID-19 pandemic can breathe a little easier, knowing that the burden of the pandemic now falls more directly onto those who insist on perpetuating it.
Many have already noted that unlike the last great national crisis — the 2008 economic meltdown, wherein reckless subprime lenders and derivatives traders who caused the crisis later sought government bailouts — the pandemic has no moral hazard. The restaurants, airlines, tourist attractions and other industries disproportionately affected were innocent victims of a botched government response. The death toll measures only a fraction of the suffering, with livelihoods destroyed and families torn apart by a nihilist political movement that turned public health into a political football.
In 2021, lives are still being destroyed by COVID. It's still sad, but much of the damage we're seeing now is self-inflicted. The unvaccinated now make up nearly all of new deaths from COVID. A less drastic example is the fate of the small-but-overhyped fringe of health care workers across New York whose hard-headed insistence on violating their Hippocratic Oath led them to quit their jobs rather than take vaccines that have repeatedly, consistently been proven safe.
---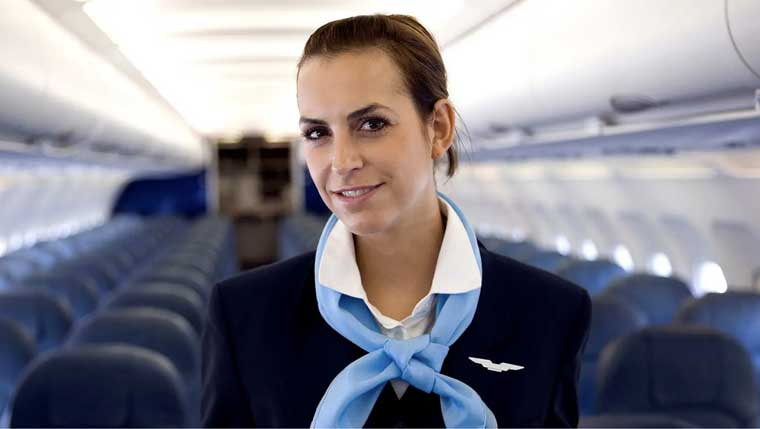 Breaking News


Unvaccinated United flight attendant confident she can get work on medieval plague ship
BOSTON—Explaining that she felt more firm standing by her principles given the healthy job market, unvaccinated United Airlines flight attendant Erin Collins told reporters Thursday that she was confident she could get work drifting between European ports aboard a medieval plague ship. "Yeah, I figure all I need to do is learn how to drain blood and work some animal cures and I'll be a shoo-in for a position on a quarantined merchant ship overrun with the Black Death," said Collins, stressing that her easy-going personality and mastery of Italian and French meant she would be "very simpatico" with the bird-mask wearing plague doctors, barbers, and physicians as they fumigated bad air, balanced humours, and administered poultices to the heaped bodies of the sickly and dying.
---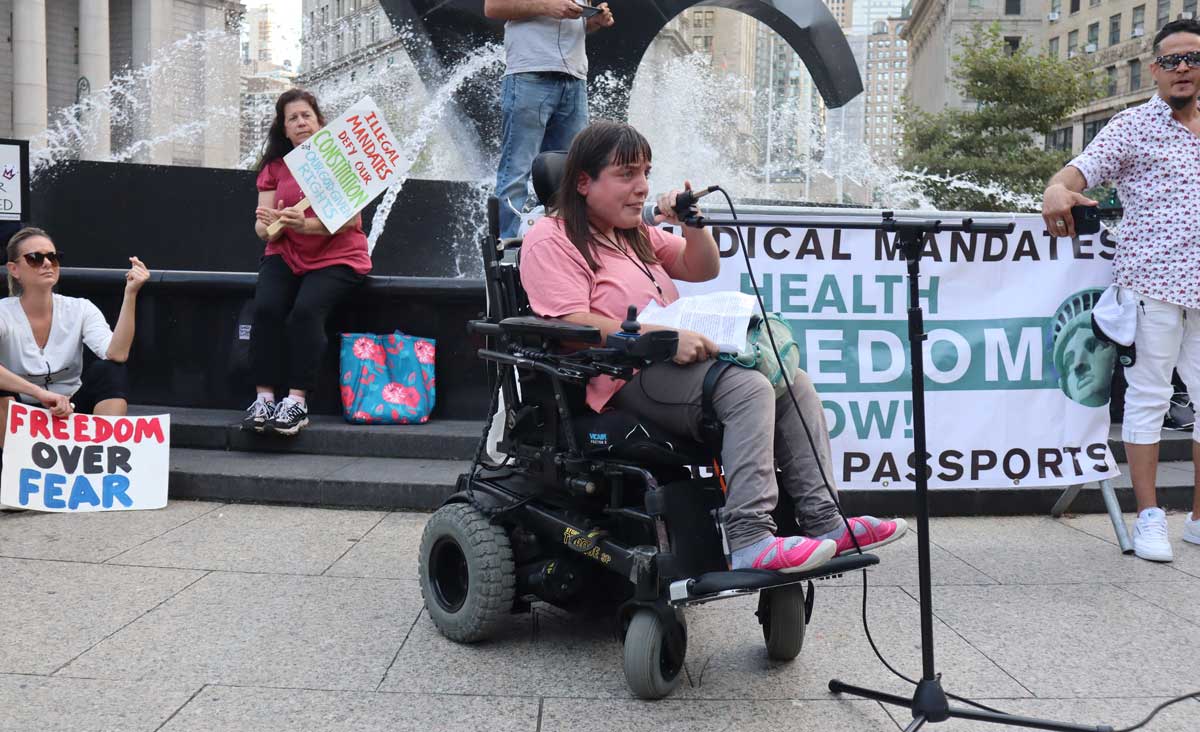 The Collapse and Rebirth of the American Idea: Remember the United States Pluto Return | added October 1
Why is a New Yorker with cerebral palsy my nomination for the face of the United States Pluto return? And what is that transit? Meet Julie Maury. In my view, she is the Paul Revere of the New American Revolution. Her "midnight ride" was aboard an electric wheel chair Monday in Foley Square Park.
Until recently, we all agreed that society needed to make accommodations for people with disabilities. We all agreed that there should be ramps and wheelchair-friendly bathrooms and doors. That's because someone with cerebral palsy is a person too. We didn't used to think so, as a society; it was just too darned bad if you couldn't walk up one step and get into the store, or fit your wheel chair in the bathroom stall.
Society slowly changed. Now we all understand why we must protect the rights of those whose bodies are not up to the task of the old-style urban environment. Maybe only 1 in 100 bus riders needed wheelchair access: I don't know anyone who would say they should not have it.
In her presentation, Julie says that everyone she knows, with or without cerebral palsy, has had an adverse reaction to the injection. But they still have to take it in order to enter a restaurant and many other public accommodations in New York City: in order to eat. No exceptions are being granted. Doctors are having their licenses threatened for advocating on behalf of their patients.
---
US mask guidance for children is the strictest in the world | added October 2
God bless the New York Post for spotlighting America's bizarre embrace of this sadistic practice. Where's "the science" backing it? Nowhere, because there isn't any. As those who've actually looked into it are well-aware, the uselessness of masking against respiratory viruses, and the serious health risks of protracted masking, especially (though not only) for young children, are both well-established scientific facts, now reconfirmed by scores of solid studies, whereas the more recent (and less rigorous) studies claiming that masks are effective barriers about "the virus"—particularly one in PNAS, which "our free press" obediently trumpeted in June of 2020—have either been debunked (for real) or just forgotten.
(For a more detailed discussion of "the science" on masking as of September and November, 2020, see my essay "Masking Ourselves to Death," and Mark Mallett's "Unmasking the Facts," links below.)
With no scientific basis whatsoever, mask mandates for children (like those for all the rest of us) are clearly driven from on high, as one more way to stupefy the young, dulling their minds (through hypoxia), and teaching them abject compliance with the rules, however stupid or destructive they may be; and those parents and educators who support it are doing so out of fear and ignorance.
In short, there's no excuse for those barbaric mandates, or for any media that approves them, or fails to tell the truth about them.
---
Draymond Green gives his thoughts on Wiggins' COVID-19 vaccination status | added October 2
Editor's Note: In response to Kareem's video found here:
Draymond Green responds:
---
Unvaccinated medical examiner forces Rensselaer County's autopsies to change venue | added October 2
Editor's Note: Does anyone ask him why he has chosen not to get vaccinated? Wouldn't a chief medical examiner have an interesting pandemic perspective that could inform us of the situation from a coroners view? – pcg
TROY – Rensselaer County's chief medical examiner, Dr. Michael Sikirica, has refused to get vaccinated for COVID-19, forcing the county to send bodies for autopsies to Glens Falls Hospital instead of Albany Medical Center Hospital, county officials confirmed Friday. The autopsies Sikirica does for the county typically are done at Albany Med, which requires vaccinations for those working at its facilities.
"It started today. Albany Med is requiring vaccinations. We're transporting (bodies) all the way to Glens Falls," said Richard Crist, the county director of operations and spokesman.
"Dr. Sikirica is not employed by Albany Med, but consistent with our policy, physicians who do provide services on our campus must be vaccinated," said Matt Markham, vice president for communications for the hospital.
Sikirica is probably the Capital Region's best-known pathologist: He is relied upon by area district attorneys as an expert witness at murder trials to describe how homicide victims were killed. In the past, he has performed autopsies in Albany, Schenectady, Saratoga, Warren and Washington counties.
---
Dr Carrie Madej: First US lab examines 'vaccine' vials, horrific findings revealed | added October 2
Editor's Note: Dr. Madej examines some vaccine samples and finds some surprising content there. – pcg
Dr Carrie Madej joins Stew Peters to describe the incredibly creepy things she found when she put the contents of the vials from three different batches of the Moderna and the Johnson & Johnson vaccines under a microscope.
Dr Madej describes what appeared to be self-assembling synthetic biology and these horrific, seemingly sentient microscopic tentacled organisms and brilliant colors emanating from some of these graphene-like structures, which nanotechnology experts told her may be indicative of a superconducting material.
If it is so that the vaxx contents are superconductive, then based on what she was told at these shady "business owner" meetings that she was invited to attend in Atlanta and based on what she's read about a project Bill Gates is currently orchestrating in West Africa, through GAVI, MasterCard and TrustStamp, an AI-powered biometrics company, they are building out a system that ties your vaccine status and medical records to a digital ID and a digital currency system, that they're calling the "Wellness Pass".
https://www.reuters.com/world/us/us-supreme-courts-sotomayor-lets-new-york-school-vaccine-mandate-remain-2021-10-01/
---
U.S. Supreme Court's Sotomayor allows New York school vaccine mandate | added October 2
Editor's Note: In keeping with the style of Justice Amy Coney Barrett, another Supreme Court justice decision made with no legal explanation. – pcg
Oct 1 (Reuters) – U.S. Supreme Court Justice Sonia Sotomayor on Friday refused to block New York City's requirement that its public school teachers and employees be vaccinated against COVID-19.
Sotomayor denied a challenge by four teachers and teaching assistants who sought to halt enforcement of the vaccine mandate while their lawsuit challenging the policy continues in lower courts. Public school system workers were ordered to be vaccinated by 5 p.m. EDT (2100 GMT) on Friday or face being placed on unpaid leave until September 2022.
Some governments and private employers have embraced vaccine mandates to guard against the spread of COVID-19 in the workplace as they try to return to some degree of normalcy after coronavirus pandemic-related disruptions that began last year. Such mandates have become a flash point in the United States, with opponents including those in New York City saying their constitutional rights are being violated.
New York City Mayor Bill De Blasio, a Democrat, announced on Aug. 23 that all 148,000 staff in the largest U.S. school district would be required to submit proof of at least one dose of a COVID-19 vaccine. After a lower court temporarily blocked the measure – an order since lifted – the deadline was pushed to Oct. 1.
Around 1 million students attend the city's public schools.
---
Next Thing: Merck Covid pill! | added October 1
Merck announced Friday that an experimental pill it developed to treat covid-19 reduced the risk of hospitalization and death by nearly half in a clinical trial.
An independent board of experts monitoring the trial recommended the study be stopped early because of the positive results, a significant and telling step in a pharmaceutical study.
Merck and partner Ridgeback Biotherapeutics said in a news release they would apply for emergency use authorization for the drug, molnupiravir, in the United States as soon as possible. It would be the first antiviral pill for covid-19.
---
New York Times claims Covid has killed as many as Spanish Flu | added October 1
Nearly 700,000 people across the United States have now died of the coronavirus, a milestone that few experts had anticipated months ago when vaccines became widely available to the American public.
An overwhelming majority of Americans who have died in recent months, a period in which the country has offered broad access to shots, were unvaccinated. The United States has had one of the highest recent death rates of any country with an ample supply of vaccines.
The new and alarming surge of deaths this summer means that the coronavirus pandemic has become the deadliest in American history, overtaking the toll from the influenza pandemic of 1918 and 1919, which killed about 675,000 people.
---