We'll be keeping track of what we determine to be the most relevant updates on the coronavirus situation. New items will go at the top. If you have something to report — news, science news, or a check-in from your local area — please send to editors@planetwaves.net. Stay in touch and help us out by sharing this resource with others. This blog is published by Chiron Return, a 501(c)(3) nonprofit corporation, which is an affiliate of the Pacifica Radio Network.
This is an archive of the February 2021 entries for the Covid19 news feed. You may return to the current page here.
---
CityAM: Covid-19 vaccine refusers may face different life insurance policies | Added February 27
Those who refuse to have the coronavirus vaccine, should one become widely available, could be offered different life insurance terms to those who have had the vaccine.
Reassured director of corporate sales Phil Jeynes told City A.M. that the existence of a coronavirus vaccine could mean customers who have had the vaccine are offered different terms to those who have not, based upon the increased risk for those who have not had the vaccine
Jeynes explained that since the early days of the pandemic insurers introduced two or three additional underwriting questions designed to establish whether the applicant presented a major risk of coronavirus, such as 'have you had or come into contact with someone who's had coronavirus?'
"For customers with, or at high risk of contracting covid, insurers have tended to apply a postponement period and then asked the customer to come back and confirm they're recovered or have had a negative test result," Jeynes continued. "If the customer doesn't have any covid symptoms or contact, it's been business as usual for life insurance – same products, same prices.
"A vaccine therefore presents the opportunity to remove those extra questions and make underwriting slightly faster again, but otherwise won't have much impact. It's possible insurers would start to ask whether clients have received the vaccine once it becomes commonplace, and that could be used to offer different terms based on the increased risk for people who choose not to be vaccinated, but that's some way off and would obviously be weighed alongside myriad other factors and risks, such as other medical conditions, BMI level, age, and so on."
---
FDA panel endorses Johnson & Johnson's vaccine, with distribution scheduled for next week | Added February 27
Johnson & Johnson's Covid-19 vaccine was endorsed on Friday by a panel of experts advising the Food and Drug Administration, clearing the last hurdle before a formal authorization expected on Saturday, according to two people familiar with the agency's plans. The nation's first shipments will go out in the days after that.
It will be the third shot made available to the United States in the year since the first surge of coronavirus cases began washing over the country, and it will be the first vaccine to require just one dose instead of two.
Johnson & Johnson's formulation worked well in clinical trials, particularly against severe disease and hospitalizations, even though it did not match the sky-high efficacy rates of the first two vaccines made by Pfizer-BioNTech and Moderna.
The panel, made up of independent infectious disease experts, statisticians and epidemiologists, voted unanimously in favor of authorizing the vaccine.
---
Law adopted in Israel that allows the names of unvaccinated to be shared | Added February 27
Via Yahoo News:
Israel's parliament passed a law Wednesday allowing the government to share the identities of people not vaccinated against the coronavirus with other authorities, raising privacy concerns for those opting out of inoculation.
The measure, which passed with 30 votes for and 13 against, gives local governments, the director general of the education ministry and some in the welfare ministry the right to receive the names, addresses and phone numbers of unvaccinated citizens.
The objective of the measure — valid for three months or until the Covid-19 pandemic is declared over — is "to enable these bodies to encourage people to vaccinate by personally addressing them", a parliament statement said.
---
Dr. Cowan & Alison McDowell | Added February 27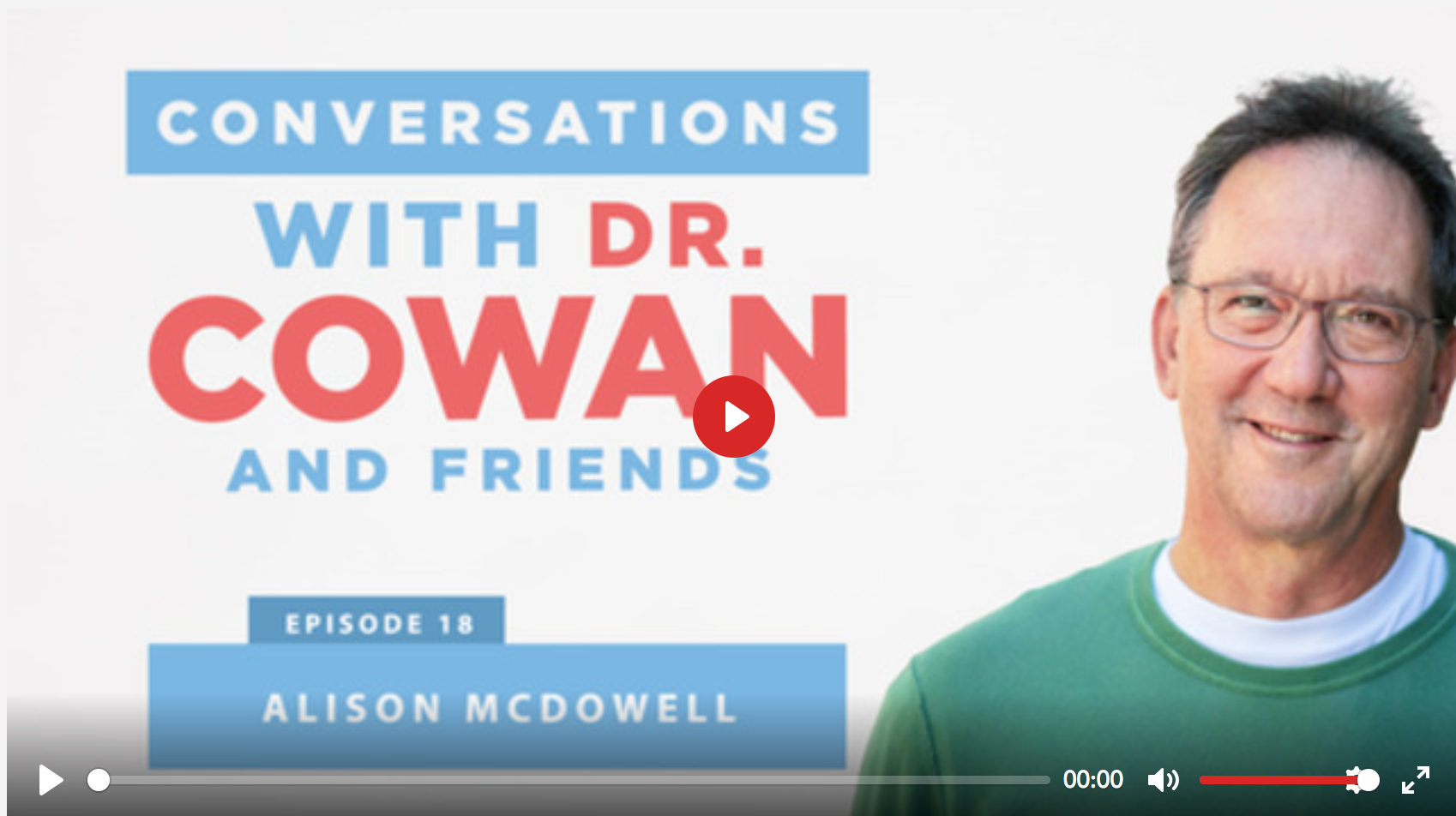 In this week's "Conversations with Dr. Cowan and Friends," I was honored to welcome Alison McDowell. As I have described, I think it's possible that humanity is living through a grand chess match at this time, a massive "game" that has its own rules and parameters. If this is the case, as in any game setting, to succeed, one needs to become intimately familiar with the rules. Otherwise, the situation is hopeless.
---
STAT News: Federal law prohibits employers and others from requiring vaccination with a Covid-19 vaccine distributed under an EUA | Added February 26
Ever since the Food and Drug Administration granted emergency use authorization for two new vaccines, employers, schools, and other organizations are grappling with whether to require Covid-19 vaccination.
While organizations are certainly free to encourage their employees, students, and other members to be vaccinated, federal law provides that, at least until the vaccine is licensed, individuals must have the option to accept or decline to be vaccinated.
Knowing what an organization can or cannot do with respect to Covid-19 vaccines can help them keep their employees, students, and members safe and also save the them from costly and time-consuming litigation.
Much remains unknown about the safety and efficacy of the vaccine
Even though the FDA granted emergency use authorizations for the Pfizer/BioNTech and Moderna vaccines in December 2020, the clinical trials the FDA will rely upon to ultimately decide whether to license these vaccines are still underway and are designed to last for approximately two years to collect adequate data to establish if these vaccines are safe and effective enough for the FDA to license.
The abbreviated timelines for the emergency use applications and authorizations means there is much the FDA does not know about these products even as it authorizes them for emergency use, including their effectiveness against asymptomatic infection, death, and transmission of SARS-CoV-2, the virus that causes the disease.
Given the uncertainty about the two vaccines, their EUAs are explicit that each is "an investigational vaccine not licensed for any indication" and require that all "promotional material relating to the Covid-19 Vaccine clearly and conspicuously … state that this product has not been approved or licensed by the FDA, but has been authorized for emergency use by FDA" (emphasis added).
---
Moderna announces Covid-19 vaccines modified to target South African variant are ready for testing | Added February 26
Cambridge-based pharmaceutical Moderna has announced it has created the first batch its new COVID-19 vaccine that protects people against a deadly variant of the virus that was first identified in South Africa, The Wall Street Journal reports.
The batch has already been shipped to the National Institute of Health to be used in its first human study, which is set to commence within weeks.
Moderna's existing COVID-19 vaccine is one of three American-made vaccines that have shown to be effective at giving people protection against COVID-19.
Now, the company could become the first to finish lab work of a new shot designed to target new variants of the virus, according to the Journal. That's in large part thanks to the messenger RNA technology behind the vaccines, allowing scientists to make design and manufacturing changes on the fly.
---
European leaders begin more serious push for vaccine passports | Added February 26
European leaders, deeply concerned that another summer's lucrative tourism trade could be lost to the pandemic, are escalating calls for the European Union to introduce a common system that would allow borders to reopen to people who have been inoculated against the virus.
Even as Europe's vaccination program contends with long delays and one senior European Union official admitting it would be "difficult" to reach the bloc's goal of vaccinating 70 percent of adults by the end of summer, the idea of a European Union-wide vaccine passport system has become a hotly discussed topic.
Senior officials in Greece and Spain — countries heavily reliant on tourism — are among those who have supported proposals for a program of so-called vaccine passports.
They argue that requiring people to show a certificate proving they have received a coronavirus shot would restore the bloc's pillar of free movement, help draw in summer holidaymakers and allow business trips to return.
---
SCMP: Beijing denies making US diplomats take anal swab tests | Added February 26
From South China Morning Post:
Beijing has denied claims that American diplomats working in China were made to undergo anal swab coronavirus tests.
Foreign ministry spokesman Zhao Lijian issued a statement on Thursday after a spokesperson said that some US State Department staff had been subjected to the tests and Washington had described the practice as undignified, according to reports by Vice News and The Washington Post.
Beijing told Washington the test was given "in error" and that diplomatic staff were exempt, and US diplomats had been instructed to decline the test if it was asked of them, the reports said.
A diplomat from a European country working in Beijing who wished to remain anonymous said embassy and consulate workers were asked by health workers during quarantine to take the rectal test but had the option to refuse.
---
On the heels of new California variant, reports of a New York coronavirus variant come in | Added February 25
A coronavirus variant spreading in New York City, the U.S. epicenter of the virus last spring, may be more resistant to vaccines, The New York Times reported Wednesday.
The B.1.526 variant is detectable in samples going back to at least November. Researchers at Caltech and Columbia University have conducted studies on the variant, although neither has yet been peer-reviewed or published.
Michel Nussenzweig, an immunologist at Rockefeller University who was not involved in either study, told the Times he considered the variant more worrisome than another detected in California.
---
U.S. Defense Secretary urges military members to accept Covid-19 vaccinations | Added February 25
Defense Secretary Lloyd Austin on Wednesday urged American troops to accept Covid-19 vaccinations when they are offered, part of an effort from the Biden administration to address skepticism about vaccines across the military.
In a video message to the Defense Department on Wednesday, Mr. Austin said members of the armed forces and their families should be aware that the federal Centers for Disease Control and Prevention has determined the vaccines are safe and effective.
"You know, I've taken it myself," Mr. Austin said. "I believed it was the right thing to do."
Some American commanders have reported as many as 30 percent of their eligible personnel had declined to take the vaccine when offered.
Officials with the Biden administration hope that Mr. Austin, as the most senior Black man in the Cabinet, can help address the skepticism that many members of the Black community have toward vaccines. That skepticism is rooted in a history of federal agencies conducting medical experimentation on African-American people.
---
Angela Merkel talks of potential 'third wave' in Germany | Added February 25
New variants of COVID-19 risk a third wave of infections in Germany and the country must proceed with great care so that a new nationwide shutdown does not become necessary, Chancellor Angela Merkel told the Frankfurter Allgemeine Zeitung.
The number of new daily infections has stagnated over the past week with the seven-day incidence rate hovering at around 60 cases per 100,000. On Wednesday, Germany reported 8,007 new infections and 422 further deaths.
"Because of (variants), we are entering a new phase of the pandemic, from which a third wave may emerge," Merkel said. "So we must proceed wisely and carefully so that a third wave does not necessitate a new complete shutdown throughout Germany."
Merkel and state premiers in Germany, Europe's most populous country and largest economy, have agreed to extend restrictions to curb the spread of the coronavirus until March 7.
---
White House to send 25 million masks to 'food banks and community health centers in low-income neighborhoods' next month | Added February 25
The Biden administration plans to send more than 25 million masks to food banks and community health centers in low-income neighborhoods across the country next month as part of its push to deliver equitable care during the pandemic and "level the playing field," Jeffrey D. Zients, the White House coronavirus response coordinator, said on Wednesday.
"Not all Americans are wearing masks regularly. Not all Americans have access, and not all masks are equal," Mr. Zients said during a news briefing. The masks, he said, will be made in the United States in compliance with guidance from the Centers for Disease Control and Prevention. They will also be reusable, available in adult and child sizes, and free at 60,000 food banks and 1,300 community centers in areas that have suffered deeply during the pandemic.
The initiative, which costs $86 million, combines two of President Biden's top efforts to fight the pandemic: His call for all Americans to wear masks, mandating face coverings on federal property; and his pledge to ensure that underserved communities have what they need to protect themselves from the virus.
---
Bill passes in North Dakota House of Representatives preventing mask mandates | Added February 24
The North Dakota House has passed a bill to prevent governments from imposing mask mandates.
The bill's sponsor, Rep. Jeff Hoverson (R-Minot), told the House he has received a lot of e-mails — virtually all were for his bill and against mask mandates.
"They do not want North Dakota to get sucked into what is becoming obvious," Hoverson said. "The mask is a part of a larger apparatus of a movement of unelected, wealthy bureaucrats, who are robbing our freedoms and perpetuating lies."
---
Synthetic mRNA Covid vaccines: A Risk-Benefit Analysis — read more at OffGuardian | February 24
Amidst the plethora of Covid-related issues, the Covid injections are the most imminent. Two formulations have received interim approval from the FDA, and Health Canada: Pfizer/BioNtech and Moderna.
Both these injections are employing the same technology, synthetic gene therapy (SGT), which is being dispensed to the populace for the first time in human history.
Medications are given to sick people to treat disease. Vaccines are given to healthy people to prevent an infection. Therefore consideration of risk-benefit analysis is paramount.
---
Google/Youtube removes video of attorney testifying to the Ohio legislature as 'misinformation' | Added February 24
Legislative testimony made Wednesday in support of a GOP-backed effort to limit public health orders made by Ohio's governor was removed from YouTube after the service deemed it contained COVID-19 misinformation.
The Google-owned platform said it removed content that was uploaded this week to The Ohio Advocates for Medical Freedom channel for violating the company's terms of services.
The video showed Thomas Renz, an attorney for Ohio Stands Up, a citizen group, make the opening testimony during a House committee hearing on a bill that would allow lawmakers to vote down public health orders during the pandemic.
---
Two studies confirm a new variant in California is more contagious, but the scale of its threat is unclear — read more from the NYT| Added February 24
A variant first discovered in California in December is more contagious than earlier forms of the coronavirus, two new studies have shown, fueling concerns that emerging mutants like this one could hamper the sharp decline in cases over all in the state and perhaps elsewhere.
In one of the new studies, researchers found that the variant has spread rapidly in a San Francisco neighborhood in the past couple of months. The other report confirmed that the variant has surged across the state, and revealed that it produces twice as many viral particles inside a person's body as other variants do. That study also hinted that the variant may be better than others at evading the immune system — and vaccines.
"I wish I had better news to give you — that this variant is not significant at all," said Dr. Charles Chiu, a virologist at the University of California, San Francisco. "But unfortunately, we just follow the science."
Neither study has yet been published in a scientific journal. And experts don't know how much of a public health threat this variant poses compared with others that are also spreading in California.
---
Warning from doctors on covid vaccines | Added February 24
In an effort to combat Big Pharma Corporate Media and Big Tech censorship, doctors around the world are frantically trying to warn the masses of the devastating effects of the experimental COVID vaccines about to be mass injected into the unsuspecting public assisted by military forces around the world.
What could possibly motivate these doctors, nurses, scientists, and other health professionals to make such an impassioned plea? What do they have to gain by taking the time to educate the public on the hidden dangers of a new class of vaccine about to be inflicted upon the citizens of countries around the world?
---
Pregnant physician pens opinion piece, planning to take vaccine | Added February 24
The arrival of Covid-19 vaccines at the hospital where I work felt like a glimmer of hope, a small reprieve from the daily anxiety of feeling exposed and vulnerable while taking care of patients.
When the time came for my appointment, though, I wavered. As a physician, I understand and respect the privilege of being among the first group in the United States to be offered the vaccine. But as a pregnant woman, I was left trying to interpret vague guidelines developed without data from clinical trials about people like me. I ultimately decided to get the vaccine, like other pregnant health care workers, despite feeling anxious about making this decision without adequate information about its effectiveness and safety for both me and my baby.
The first Covid-19 vaccine trials excluded pregnant people, as do most clinical trials, ostensibly to protect against possible unknown harms to the person or fetus. The FDA also requires additional testing in order to study a treatment in pregnancy, so excluding pregnant people becomes a matter of expediency. However, the default of excluding pregnant people from clinical trials forces them to make treatment decisions without necessary information.
---

---
Big tech and others to fund a national campaign encouraging Americans to uptake Google and Apple's phone based 'virus-tracing systems' | Added February 23
Tech titans are teaming up to remind Americans that their phones could be used to prevent the spread of the coronavirus.
Apple, Google, nonprofit organizations, venture capitalists and others are funding the first national campaign to encourage people to turn on smartphone tools notifying them if they've been exposed to someone who has tested positive for the virus. The campaign could bring renewed attention to Apple and Google's virus-tracing system, which has not yet gained widespread U.S. traction.
The "Connect and Protect" ad campaign uses a combination of celebrities and local influencers to raise awareness about the availability of the tech tools, which are now available in 24 states, territories and D.C. The campaign is launching as more U.S. states are planning launch apps based on the Apple and Google tools and there is some evidence such tools have been more effective abroad where they were adopted more broadly.
"We now have evidence that it's effective, we now have critical mass and we now have an administration that is responding to the pandemic at a national level," said Kameka Dempsey, a member of the COVID-19 Technology Task Force, the nonprofit running the Connect and Protect campaign. "It feels like the timing is right."
And
The campaign is specifically designed to focus on Black and Latino communities, which have been particularly hard hit by the pandemic.
---
Reuters: WHO agrees compensation fund for serious COVAX vaccine side effects | Added February 23
The World Health Organization has agreed a no-fault compensation plan for claims of serious side effects in people in 92 poorer countries due to get COVID-19 vaccines via the COVAX sharing scheme, resolving a big concern among recipient governments.
The programme, which the WHO said was the first and only vaccine injury compensation mechanism operating on an international scale, will offer eligible people "a fast, fair, robust and transparent process", the WHO said in a statement.
"By providing a no-fault lump-sum compensation in full and final settlement of any claims, the COVAX programme aims to significantly reduce the need for recourse to the law courts, a potentially lengthy and costly process," the statement said.
Questions of how compensation claims would be handled in the event of any serious COVID-19 vaccine side effects, which are likely to be very rare, had been a worry for countries due to get COVID-19 shots via the COVAX plan.
---
No Vax, No Food? UK Supermarkets may Require Vax Passport | Added February 23
---
Angela Merkel: "the pandemic is not over until all people in the world have been vaccinated." | Added February 23
Germany and other wealthy countries may need to give some of their own stock of vaccines to developing countries in addition to money, since only vaccinating the whole world will end the coronavirus pandemic, Chancellor Angela Merkel said on Friday.
Speaking after a video conference of leaders of the G7 group of large developed economies, Merkel said they had not discussed specific percentages of their vaccine stocks that should be given to poorer countries.
But she told journalists: "I stressed in my intervention that the pandemic is not over until all people in the world have been vaccinated."
---
FDA clears vaccine makers to adapt their vaccines for virus variants without 'lengthy' trials | Added February 23
The Food and Drug Administration said on Monday that vaccine developers would not need to conduct lengthy randomized controlled trials to evaluate vaccines that have been adapted to target concerning coronavirus variants.
The recommendations, which call for small trials more like what's required for annual flu vaccines, would greatly accelerate the review process at a time when scientists are increasingly anxious about how the variants might slow or reverse progress made against the virus.
The guidance was part of a slate of new documents the agency released on Monday, including others addressing how antibody treatments and diagnostic tests might need to be retooled to respond to the virus variants. Together, they amounted to the federal government's most detailed acknowledgment of the threat the variants pose to existing vaccines, treatments and tests for the coronavirus and come weeks after the F.D.A.'s acting commissioner, Dr. Janet Woodcock, said the agency was developing a plan.
"We want the American public to know that we are using every tool in our toolbox to fight this pandemic, including pivoting as the virus adapts," Dr. Woodcock said in a statement Monday.
---
Vice: Erotic Scented Face Masks Are the Hot New Pandemic Fetish Item | Added February 23
If you see someone wearing a mask who seems particularly delighted, it might be because they paid for the pleasure of wearing a mask that smells like someone else's genitals or feet.
"Imagine browsing the aisles at a store and enjoying my scent," Cat's listing on Snifffr, the worn panty-selling site, says. "I'll make your mask-wearing more enjoyable!"
For fetish item sellers, the pandemic is an opportunity for a new kind of item: pussy masks.
---
Statement on virus isolation from Sally Morell, Tom Cowan, and Andrew Kaufman | Added February 22
Below is an excerpt of a statement on virus isolation which can be found at Dr. Cowan's website. You may also read the statement here, at Dr. Kaufman's website where you are able to sign the statement as a show of support.
Statement On Virus Isolation (SOVI)
Isolation: The action of isolating; the fact or condition of being isolated or standing alone; separation from other things or persons; solitariness.
The controversy over whether the SARS-CoV-2 virus has ever been isolated or purified continues. However, using the above definition, common sense, the laws of logic and the dictates of science, any unbiased person must come to the conclusion that the SARS-CoV-2 virus has never been isolated or purified. As a result, no confirmation of the virus' existence can be found. The logical, common sense, and scientific consequences of this fact are:
the structure and composition of something not shown to exist can't be known, including the presence, structure, and function of any hypothetical spike or other proteins;
the genetic sequence of something that has never been found can't be known;
"variants" of something that hasn't been shown to exist can't be known;
it's impossible to demonstrate that SARS-CoV-2 causes a disease called Covid-19.
In as concise terms as possible, here's the proper way to isolate, characterize and demonstrate a new virus. First, one takes samples (blood, sputum, secretions) from many people (e.g. 500) with symptoms which are unique and specific enough to characterize an illness. Without mixing these samples with ANY tissue or products that also contain genetic material, the virologist macerates, filters and ultracentrifuges i.e. purifies the specimen. This common virology technique, done for decades to isolate bacteriophages1 and so-called giant viruses in every virology lab, then allows the virologist to demonstrate with electron microscopy thousands of identically sized and shaped particles. These particles are the isolated and purified virus.
---
Times Union: FBI, U.S. attorney in Brooklyn probing Cuomo administration on nursing homes | Added February 22
The FBI and the U.S. attorney's office in Brooklyn have launched an investigation that is examining, at least in part, the actions of Gov. Andrew M. Cuomo's coronavirus task force in its handling of nursing homes and other long-term care facilities during the pandemic, the Times Union has learned.
The probe by the U.S. attorney's office in the Eastern District of New York is apparently in its early stages and is focusing on the work of some of the senior members of the governor's task force, according to a person with direct knowledge of the matter who is not authorized to comment publicly.
---
ANH-Intl Feature: Are we lighting the fuse of an autoimmune time bomb? | Added February 22
From Alliance for Natural Health:
There's been increasing concern voiced by world-leading immunologists that we could soon witness a devastating super-epidemic of autoimmune diseases. Some think it's our exposure to the SARS-CoV-2 virus that's the major concern. While others are more worried about the novel, still experimental vaccines, delivered at an unprecedented scale. But could it be both? In this piece, we aim to get under the covers of this complex area that's been getting very little airtime in the mainstream media.
Autoimmune 101
Autoimmune diseases represent a diverse group of over 100 diseases including type 1 diabetes, multiple sclerosis, lupus, psoriasis, coeliac disease, Crohn's disease, ulcerative colitis, Addison's disease, rheumatoid arthritis, pancreatitis, Graves disease, Hashimoto's, fibromyalgia, and many other common diseases.
The underlying mechanism that links all these diseases is the loss of self-tolerance. As a result, the body starts to attack healthy cells or parts of itself, leading to the characteristic symptoms of one of the myriad autoimmune diseases.
---
CHD report on EPA's recent approval of chemical air treatment against Covid | Added February 22
From Children's Health Defense:
In mid-January, the U.S. Environmental Protection Agency (EPA) approved requests from two southern states (Georgia and Tennessee) asking for an emergency exemption that would allow them to aerosolize selected indoor spaces with an antiviral "air treatment" called Grignard Pure.
Grignard Pure is a nanoparticle-based product. Its active ingredient is a substance called triethylene glycol (TEG).
The EPA's approval slid in under Section 18 of the Federal Insecticide, Fungicide and Rodenticide Act (FIFRA), which allows the agency to green-light pesticides for unregistered uses in defined geographic areas for up to a year during public health emergencies deemed "urgent" and "non-routine."
---
Reuters: U.S. extends travel restrictions at land borders with Canada, Mexico through March 21 | Added February 22
U.S. land borders with Canada and Mexico will remain closed to non-essential travel until at least March 21, the one-year anniversary of the restrictions to address COVID-19 transmission concerns, the U.S. government said Friday.
The new 30-day extension is the first announced under President Joe Biden and comes as the White House has been holding meetings about potentially tightening requirements for crossing at U.S. land borders in North America, officials said.
Canada has shown little interest in lifting the restrictions and recently imposed new COVID-19 testing requirements for some Canadians returning by land crossings.
---
As Ebola reemerges in Africa, White House says swift action is needed to stop the outbreaks | Added February 22
The two burgeoning Ebola outbreaks in the Democratic Republic of the Congo and Guinea require swift action "to avoid catastrophic consequences," White House press secretary Jen Psaki said Tuesday.
It's the first official statement from the White House on the reemergence of Ebola in the two African countries. Psaki said President Joe Biden has been briefed on the situations in Central and West Africa.
"While the world is reeling from the ongoing COVID-19 pandemic, Ebola has again emerged, simultaneously, in both Central and West Africa. The world cannot afford to turn the other way," Psaki wrote in the statement.
"We must do everything in our power to respond quickly, effectively, and with commensurate resources to stop these outbreaks before they become largescale epidemics."
---
FDA issues warning that pulse oximeters have 'limitations' but fails to mention racial bias as a factor | Added February 22
Two months after Democratic lawmakers expressed concern about potential racial disparities in pulse oximeter readings — calling the issue a matter of "life or death" — the Food and Drug Administration on Friday issued a public warning about the devices, acknowledging they had "limitations."
The alert comes decades after researchers first identified potential inaccuracies with the devices when used on people of color and months after a series of new studies produced fresh data underlining the problem. Most recently, researchers at the University of Michigan published a December 2020 letter in the New England Journal of Medicine that found oximeters were nearly three times as likely to miss hypoxemia in Black patients compared with white patients.
"Be aware that multiple factors can affect the accuracy of a pulse oximeter reading, such as poor circulation, skin pigmentation, skin thickness, skin temperature, current tobacco use, and use of fingernail polish," the FDA's alert reads.
It does not explicitly mention racial disparities in the accuracy of the devices, likely disappointing clinicians and patients who have sought to draw attention to the issue.
---
Great, now they're attributing 'strange eye growths' to severe cases of covid | Added February 22
When they were examining the brain scans of COVID-19 patients hospitalized for particularly severe infections, French doctors found something unusual: inflamed growths called nodules directly behind their eyes.
The University of Paris scientists studied 129 patient MRIs and found nodules behind the eyes of nine of them, eight of whom had nodules behind both eyes, Live Science reports. The discovery, while still surrounded by unanswered questions, serves as a warning that some coronavirus symptoms might be flying under the radar as doctors focus on the more urgent, life-threatening problems caused by COVID-19.
"The eye problems we found can be potentially very serious because they occur in the… macular region, which is the region responsible for giving us clear vision and the ability to see fine detail," study lead author Dr. Augustin Lecler told Live Science. "If persisting, it might potentially lead to severe vision loss or even blindness."
---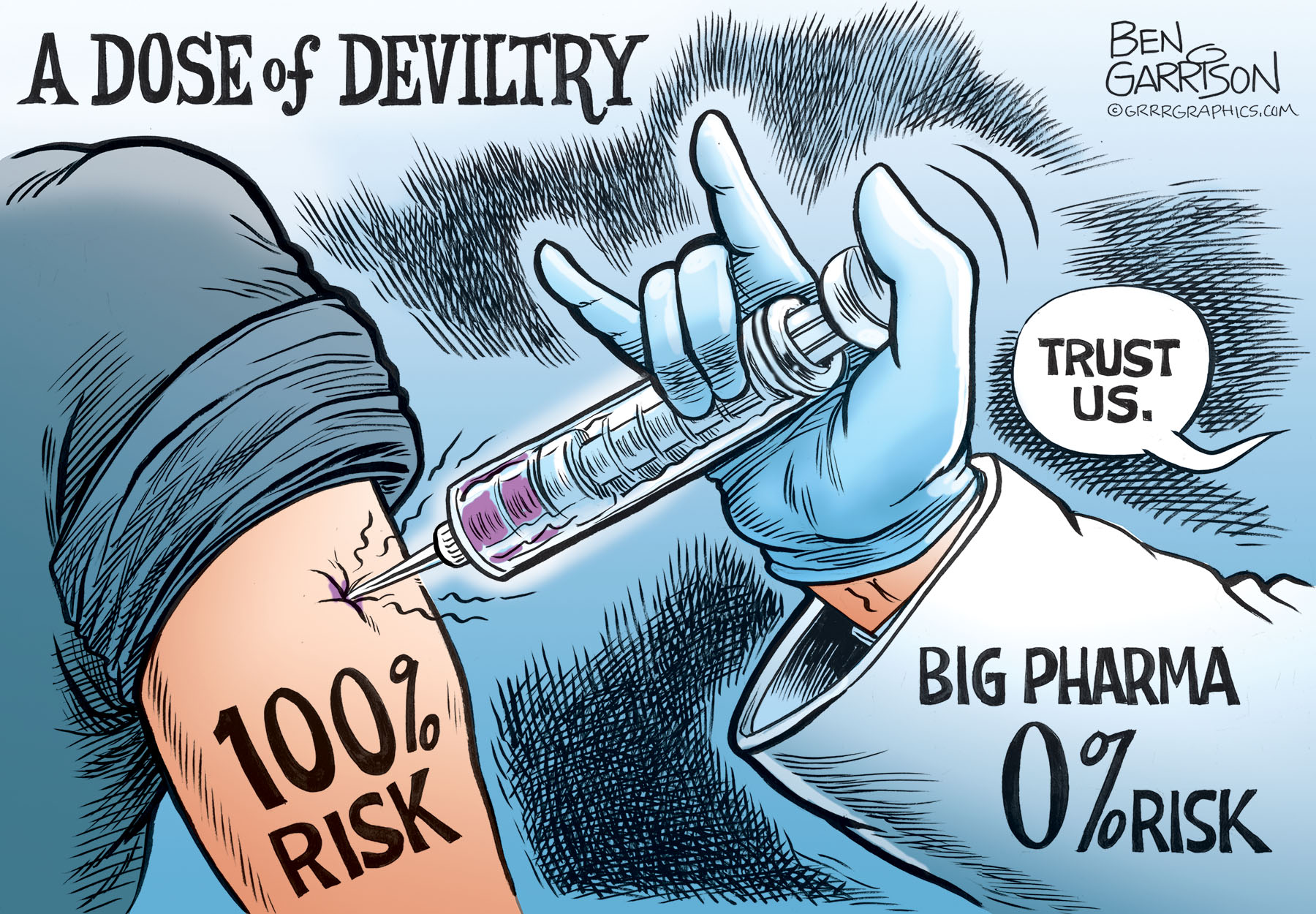 ---
Australian billionaires propose plans for privately run quarantine camps | Added February 20
A former World Health Organization epidemiologist has warned against outsourcing the operation of Australian quarantine facilities to the private sector after two billionaires proposed building facilities near their privately owned airports.
Lindsay Fox, whose company Linfox owns Avalon airport, has proposed using nearby vacant land to house 400 caravans or cabins for returned travellers. The airport's chief executive, Justin Giddings, said the proposal was being discussed with the state government and local council, and that he was happy to discuss either leasing the land to the government or the company building the facility itself.
The proposal comes less than a week after Wagner Corporation, which owns the Wellcamp airport near Toowoomba, said it would build and operate a 1,000-person quarantine hub.
---
Barber in London who blackened windows to avoid detection has been shut down | Added February 20
Brent council's enforcement team has been cracking down on businesses that are flouting coronavirus restrictions.
Last month they were forced to take action against a barbershop in the borough that tried to "blacken out" its shop windows to avoid detection.
The special team, deployed to support businesses in adhering to coronavirus restrictions, checked just under 9,000 shops in January with the majority complying to the rules, but a few, like the barbershop, were caught breaching lockdown rules.
---
WaPo: Millions of jobs probably aren't coming back, even after the pandemic ends | Added February 20
Millions of jobs that have been shortchanged or wiped out entirely by the coronavirus pandemic are unlikely to come back, economists warn, setting up a massive need for career changes and retraining in the United States.
The coronavirus pandemic has triggered permanent shifts in how and where people work. Businesses are planning for a future where more people are working from home, traveling less for business, or replacing workers with robots. All of these modifications mean many workers will not be able to do the same job they did before the pandemic, even after much of the U.S. population gets vaccinated against the deadly virus.
Microsoft founder-turned-philanthropist Bill Gates raised eyebrows in November when he predicted that half of business travel and 30 percent of "days in the office" would go away forever. That forecast no longer seems far-fetched. In a report coming out later this week that was previewed to The Washington Post, the McKinsey Global Institute says that 20 percent of business travel won't come back and about 20 percent of workers could end up working from home indefinitely. These shifts mean fewer jobs at hotels, restaurants and downtown shops, in addition to ongoing automation of office support roles and some factory jobs.
---
CHD: Critics Must Be Silenced for Billionaires to Keep Profiting From Pandemic | Added February 20
From Children's Health Defense:
On Feb. 15, the Jeff Bezos-owned Washington Post published a Feb. 11 Associated Press article applauding the censorship of those who criticize the government's pandemic response policies.
The lockdown has netted Bezos $70 billion since its start. If you are Bezos, a permanent lockdown is a goldmine.
Bill Gates, meanwhile, has made $20 billion from the lockdown he previously war-gamed and then cheer-led. His strategy has included emasculating the independent media — the most likely sources of the sort of vigorous journalism that might otherwise scrutinize his self interest in the polices he helped successfully engineer for the rest of us.
---
Microsoft News article spreads fear of covid-19 variant that "escapes" antibodies | Added February 20
Thank you to Loreen Costa.
An additional irritating thing is that no one is talking about T-cell and other immune system functionality.
It's all about these antibodies which are triggered; yet the system is more subtle and finely tuned than that. It seems to me the downfall of vaccine tech is that it's relying on such a limited cause/effect response and missing the synergies of the system.
From Microsoft News Business Insider:
This newly reported variant carries a mutation known as E484K.
This mutation was also found in the fast-spreading B.1.1.7 variant, which was first detected in the UK; the B.1.351 variant, which was first found in South Africa; and the B.1.1.28 variant, which was first identified in Brazil.
The fear is that this mutation could help the vaccine escape from neutralizing antibodies.
Ravi Gupta, a clinical-microbiology expert from the University of Cambridge, said that apart from the E484K, the variant also carried another mutation "that likely helps it escape from our antibodies," The Irish Times reported.
---
Data Disaster: A Call for an Investigation Into the CDC's Conduct During COVID-19 — watch Wednesday's free online event from Stand for Health Freedom | Added February 20
From Stand for Health Freedom:
In March 2020, the CDC abruptly changed how death certificates were recorded. While this might seem like a mere formality, the CDC only made this change for one type of death — COVID-19 — and circumvented multiple federal laws to do so.
Join our panel of experts — researchers, doctors, lawyers, medical ethicists, educators and lawmakers — as they take an in-depth look at the CDC's actions and the dire consequences they've had on all of American society. This includes unending lockdowns, school and business closures, an increase in suicides and mental health issues, economic hardship and despair, loved ones being forced to die all alone, and many more atrocities that have been inflicted on individuals in the name of "protecting public health."
---
CBS News: Third shot may be needed to combat new coronavirus variants, Bill Gates says | Added February 19
A third dose of coronavirus vaccine may be needed to prevent serious cases of new variants of the disease, Bill Gates said Tuesday. The billionaire philanthropist's comments come amid to the growing concern that current vaccines are less effective against the South African and Brazilian variants.
"The discussion now is do we just need to get a super high coverage of the current vaccine, or do we need a third dose that's just the same, or do we need a modified vaccine?" Gates told "CBS Evening News" anchor and managing editor Norah O'Donnell.
"All five of the companies that have U.S. vaccines are looking at making that modification and adding that in so that people who've already had two shots might need to get a third shot," he said. "I think it's reasonably likely that we will have a tuned vaccine just to make absolutely sure that as these variants hit the U.S. that they're not escaping from vaccine protection."
---
Japan reportedly finds another strain of the coronavirus | Added February 19
Japan confirmed a new variant of COVID-19, and an infection cluster emerged at a Tokyo immigration facility, presenting new challenges as the country tries to overcome a third wave of the pandemic.
The new variant has been found in 91 cases in the Kanto area of eastern Japan and in 2 cases at airports, Chief Cabinet Secretary Katsunobu Kato told reporters on Friday. The government is raising surveillance against mutant varieties as they may be more resistant to vaccines, which Japan started to distribute this week.
"It may be more contagious than conventional strains, and if it continues to spread domestically, it could lead to a rapid rise in cases," Kato said.
---
Eric's interview with Kevin McKernan and Nobby Rajesh Malhotra | Added Feb. 19
.
---
NPR claims "homebound kids" are responsible for mere 165 flu cases this flu season | Added February 19
Thank you to the Planet Waves research team for commentary.
But incredibly, masks and social distancing measures do not stop MN980947.2.
Because supersmart novel virus variants don't respect containment measures! Only the old, dumb boomer flu viruses do.
Can no one in the NPR listening audience see the extreme data manipulation in this?
This past summer, public health officials sounded warnings about the dangers of an impending flu epidemic on top of the coronavirus pandemic.
Yet this year's flu season has been exceptionally mild.
During the 2019-2020 flu season, some 400,000 people were hospitalized for the flu, with 22,000 deaths, according to the Centers for Disease Control and Prevention. Last week — just ahead of the season's usual peak — the CDC had recorded just 165 flu-related hospitalizations since October.
"Flu has been essentially nonexistent," Dr. William Schaffner, infectious disease specialist at Vanderbilt University, said in an interview with Weekend Edition.
The mild season has benefitted from measures like masks and social distancing, he said. It helps too that, last year, a record number of people got a flu shot.
But Schaffner says there's more to it: Kids — habitual superspreaders — are staying home.
---
Covid marshals in London break up gatherings and pay visits to businesses | Added February 19
The marshals were reintroduced on December 17 when Enfield and the rest of London were placed into Tier 4 restrictions.
These marshals patrol high streets and some parks to break up gatherings, offer advice to businesses and refer any premises breaking the rules to Enfield Councils Environmental Health and Trading Standards officers for follow up and, if necessary, enforcement action.
---
Sweden and France stop vaccinating in some areas because of side effects | Added February 19
In parts of Sweden, vaccination with Astrazeneca's vaccine has been stopped for the time being. According to the public broadcaster SVT, the reason for this is the accumulation of side effects among hospital staff. According to the report, 100 out of 400 people suffered from side effects. These were mainly fever. "We are stopping the administration until further notice to investigate the whole thing and to prevent staff shortages," commented Magnus Johansson, medicines manager for the Swedish region of Sörmland.
The company Astrazeneca told the Bild newspaper: "At present, the reported reactions are what we would expect based on the findings from our clinical trial programme." Fever as a side effect was already stated in advance by Astrazeneca as a relatively common, but mild and quickly transient side effect.
According to the report, side effects include transient local and systemic reactions such as pain and tenderness at the injection site, mild to moderate headache, fatigue, chills, fever, malaise and muscle aches. However, in tolerability studies before the British-Swedish vaccine was licensed, fever as a side effect had only occurred in ten percent of cases. In the province of Sörmland, however, the side effect occurred in 25 percent (100 out of 400 vaccinated people) in the hospital in question.
AND
According to the public broadcaster France 3, a hospital near Rouen in France has also stopped vaccinating employees. Over the weekend, the Red Cross hospital in Bois-Guillaume near Rouen suspended staff vaccinations after seven out of 20 employees went on sick leave following the first dose of Astrazeneca, it said. "It is normal for reactions to occur after a vaccination, but this number of side effects is disproportionately high," senior physician Bruno Legallicier told France 3. France 3 is France's second-largest public broadcaster and third-largest overall.
---
The Independent: Fauci awarded $1m Israeli prize for public health career and 'speaking truth to power' during pandemic | Added February 19
Dr Anthony Fauci was among recipients of the Dan David Prize, recognising his career in public health and "speaking truth to power" during the coronavirus pandemic, according to the awards organisation.
The director of the National Institute of Allergy and Infectious Diseases at the US National Institutes of Health "is the consummate model of leadership and impact in public health," the awards committee said in a statement.
The prize, associated with Tel Aviv University, awards three $1 million prizes for "achievements having an outstanding scientific, technological, cultural or social impact on our world."
Ten per cent of the prize money is set aside for academic scholarships in each winner's field.
---
Controversial "human challenge trial" to begin in the UK — the world's first | Added February 18
Britain will become the first country to deliberately infect healthy volunteers with the coronavirus, now that the country's ethics body has approved a "human challenge trial."
The effort, funded by the British government, aims to accelerate scientific understanding of vaccines and treatments.
The first stage will begin within the month and see up to 90 adults, age 18 to 30, exposed to the coronavirus "in a safe and controlled environment" to gauge the smallest amount of virus needed to cause infection, the government said in a statement Wednesday.
The government has said that in subsequent stages, which will require further approval, it hopes to quickly assess vaccines and conduct head-to-head comparisons.
---
In reply to FDA denying his petition of Pfizer's covid-19 vaccine trials, Connecticut pathologist asserts that FDA has "misled the public" | Added February 18
From Children's Health Defense:
Pfizer's announcement in November 2020 that clinical trials showed its COVID-19 vaccine was "95% effective" prompted Dr. Sin Hang Lee, a Connecticut pathologist, to question Pfizer's methodology and petition the U.S. Food and Drug Administration (FDA) to require accurate counts of COVID-19 cases in the Pfizer/BioNTech COVID-19 mRNA vaccine trial before granting the vaccine Emergency Use Authorization (EAU).
As The Defender reported in November, Lee, who is director of Milford Molecular Diagnostics, said:
"Until an accurate count of COVID-19 cases in the vaccinated and placebo groups has been determined for vaccine efficacy evaluation, we are asking the FDA to stay its decision regarding the emergency use authorization for this vaccine."
Lee's request was rejected by the FDA on Dec. 11, the same day the agency approved Pfizer's vaccine for emergency use. On Feb. 8, Lee filed an amended reply.
Here's the sequence of events as they unfolded:
---
NYT: The Biden administration pledges a nearly $200 million "down payment" for tracking virus variants, as lawmakers push for billions. | Added February 18
As lawmakers push for billions of dollars to boost the nation's efforts to track coronavirus variants, the Biden administration announced on Wednesday a new effort to ramp up this work, pledging nearly $200 million in federal funding to better identify the new threats as they emerge.
Calling the $200 million a "down payment," the White House said that the investment will result in a threefold increase in the number of positive virus samples that labs can sequence jumping from around 7,000 to around 25,000 each week.
But that goal still remains aspirational, as the Centers for Disease Control and Prevention and its lab partners are still far from hitting the weekly 7,000-sample mark.
---
Brooklyn waitress fired for vaccine hesitancy | February 18
Jacobson emphasized that she was not an anti-vaxxer, but rather has been planning and trying to have a child for about a year. She said she was concerned that getting the vaccine would delay her hopes of having children even further.
"My husband and I just got married, and were planning on starting to try to have children in August," Jacobson said. "It's already been postponed, I would hate for something to happen and me get the vaccine and we have to hold off a few more years."
She said that the restaurant initially told her getting the vaccine was not required. But just days ago, she said the tavern changed course, telling her in an email she received Monday that they respected her decision but "we have implemented this policy to maintain a safe working environment."
The email to Jacobson then stated that getting the shot was mandatory, and that "at this time your employment will be terminated. We are sad to see you go."
---
The Web of Players Trying to Silence Truth — read more from Mercola | Added February 17
Any strategy that successfully manipulates public opinion is bound to be repeated, and we can now clearly see how the tobacco industry's playbook is being used to shape the public narrative about COVID-19 and the projected post-COVID era.
In 2011, after many years of raising awareness regarding genetically modified organisms (GMOs) and industrial agriculture, we decided we needed a new game plan. Educating people through our newsletter was great, but we realized the best way to expose Monsanto — a leading GMO advocate and patented seed owner at the time — was to get them to engage directly and ensure national attention.
To that end, Mercola.com funded the signature gathering in California that initiated Proposition 37, the right to know what's in your food by ensuring proper GMO labeling. We spent more than $1 million for the Prop 37 initiative, plus several million dollars more for GMO labeling initiatives in other U.S. states in the following years.
This initiative forced Monsanto to engage with the public directly to defend their toxic products and dangerous business practices, all while receiving national coverage in the process.
---
Court in Netherlands rules parliament should have been consulted before January curfew | Added February 17
Judges in The Hague have ruled that the curfew must be lifted immediately because of its impact on personal freedom. The case was brought by anti-coronavirus campaign group Viruswaarheid.
The court ruled that a curfew has such a far-reaching impact on the right to free movement and on privacy that it requires 'extremely careful decision making'.
However, for the introduction of the curfew, the government used emergency powers legislation which does not require the consent of parliament. The court said that parliament should have been consulted because there was no 'special urgency' – to introduce the curfew when it did.
---
As the pandemic ushered in isolation and financial hardship, overdose deaths reached new heights — read more from STAT news | Added February 17
Among the unrelenting death statistics flowing from the CDC last month, one grim non-Covid-19 statistic stood out: 81,003 deaths. That's the number of people who died from drug overdoses in the 12-month period ending last June: a 20% increase and the highest number of fatal overdoses ever recorded in the U.S. in a single year.
The drug deaths started spiking last spring, as the coronavirus forced shutdowns, and more recent statistics from cities throughout the U.S. and Canada show the crisis has only deepened. In Colorado, overdose deaths were up 20% through the end of last year, and those involving fentanyl doubled; British Columbia officials reported nearly five overdose deaths per day in 2020, a 74% increase over the previous year; and a study released this month showed emergency room overdose visits increased up to 45% during the pandemic, even as total ER traffic slowed markedly.
---
Kitten in Seoul is considered to be city's first case of covid-19 in a feline | Added February 17
Officials in Seoul said they found their first case of covid-19 in a cat on Monday shortly after offering free tests to pets in the South Korean capital.
Experts say there's no evidence cats or dogs can transmit the coronavirus to humans, but they have nevertheless placed the cat in isolation for 14 days. The animal was tested after having symptoms of vomiting and decreased activity, and after the family it lives with were all found to have contracted covid-19, officials said.
AND
In an online briefing last week, disease control official Park Yoo-mi reminded people to keep their pets "at least two meters away from people and other animals when walking them."
---
JP on The Great Reset | Added February 16
---
NY school district closes after staff gets sick with side effects from vaccine | Added February 16
The Sandy Creek school district closed today after numerous staff members reported feeling ill after the second vaccine, district officials said.
Superintendent Kyle Faulkner told Syracuse.com | The Post Standard that health care provider ConnectCare came to the district to give teachers, staff, substitutes, aides, bus drivers and others the Moderna vaccine.
More than half the employees received the first shot a month ago, and the second injection was Wednesday, Faulkner said.
Of those, at least one-third reported feeling ill including fever and other symptoms, Faulkner said.
"We are a small district, and we had so many folks down and out today that we didn't have enough people to staff the schools,'' Faulkner said. "Some people get pretty sick with the second shot."
---
Gov. Cuomo acknowledges withholding data on NY nursing home covid deaths | Added February 16
New York Governor Andrew Cuomo acknowledged on Monday that his office should not have withheld data on COVID-19 nursing home deaths from state lawmakers, the public and press – falling short of an apology a senior aide made to lawmakers last week.
Cuomo said at a press conference that "lessons were learned' in not releasing the data and that things "should have been done differently."
"The last thing I wanted to do was aggravate a terrible situation," said Cuomo, a third-term Democrat. "There were people's requests, press requests that were not answered in a timely manner."
---
NYT: Britain begins quarantining travelers in hotels, seeking to keep out new virus variants. | Added February 16
People flying into England from South Africa, Brazil and 31 other countries deemed by Britain to be hot spots for coronavirus variants will be required starting Monday to complete a 10-day quarantine in a government-sanctioned hotel, costing nearly $2,500 for a single adult. Travelers from elsewhere are required to quarantine at home for 10 days.
Scotland is requiring all international air passengers, no matter where from, to isolate on arrival in a government-sanctioned hotel.
The compulsory quarantined hotel stays, which include meals, security guards and virus testing, bring Britain in line with similar requirements in places that have been praised for their virus response, such as Australia, New Zealand, Hong Kong and Singapore.
---
Death of young surgeon who received covid-19 shot is blamed on 'delayed immune response' to covid | Added February 15
A young orthopedic surgeon with OrthoSouth who died early Monday, Feb. 8, may be the nation's first case of an adult who died of a delayed immune response to COVID and had received the vaccine.
Dr. J. Barton Williams died early Monday at Baptist Memorial Hospital-Memphis. He was 36.
What we think so far is that he suffered from multi-system inflammatory syndrome (MIS)," said Baptist infectious disease expert Dr. Stephen Threlkeld.
The syndrome, more common in children, often looks and acts like Kawasaki disease, which causes inflammation in the blood vessels.
AND
"The only way we know that he had been infected was that he did have the antibody," Threlkeld said.
The antibody in Williams' blood was the natural infection, not from the vaccine.
An official cause of death has not yet been determined.
"There is still information to be gathered," Threlkeld said. "There is an autopsy pending, and we are working closely daily with the CDC.
"We want to be sure there is no indication that there is any relationship to the vaccine at this point," he said.
---
The New Normal requires a NEW Response — read more at Offguardian | Added February 15
Recently a prominent Covid-skeptic on Twitter announced their willingness to start a political party or "movement" to oppose lockdowns.
Several people expressed support.
I understand the good intention behind this idea, but we at OffG consider it a major misdirection of energy – and we said so.
We got a flurry of replies from Marxists and socialists telling us people need to 'organise' if the New Normal is to be defeated.
Well, yes, I agree. But what does 'organise' mean in an age of fake 'consensus', rigged elections and pseudo-Left fascism?
---
Surprise! There's lots of money to be made with mRNA technology and many plans in the works for more than covid vaccines | Added February 15
Bancel calls the way covid-19 arrived just as messenger RNA technology was ready an "aberration of history."
In other words, we got lucky.
AND
There is one application in addition to vaccines, however, where brief exposure to messenger RNA could have effects lasting years, or even a lifetime.
In late 2019, before covid-19, the US National Institutes of Health and the Bill and Melinda Gates Foundation announced they would spend $200 million developing affordable gene therapies for use in sub-Saharan Africa. The top targets: HIV and sickle-cell disease, which are widespread there.
Gates and the NIH didn't say how they would make such cutting-edge treatments cheap and easy to use, but Weissman told me that the plan may depend on using messenger RNA to add instructions for gene-editing tools like CRISPR to a person's body, making permanent changes to the genome. Think of mass vaccination campaigns, says Weissman, except with gene editing to correct inherited disease.
AND
There are fantastic fortunes to be made in mRNA technology. At least five people connected to Moderna and BioNTech are now billionaires, including Bancel. Weissman is not one of them, though he stands to get patent royalties. He says he prefers academia, where people are less likely to tell him what to research—or, just as important, what not to. He's always looking for the next great scientific challenge: "It's not that the vaccine is old news, but it was obvious they were going to work." Messenger RNA, he says, "has an incredible future."
---
NY Post: Mindless lockdowns destroy lives — and our Constitution | Added February 15
Whatever the health benefits of these diktats (and many are questionable), they have been handed down with shocking disregard for the costs: strokes uncared for, cancers left undetected, psychological anguish (especially among young adults), skyrocketing domestic abuse and harm to children from lack of in-person schooling. Unemployment from lockdowns, meanwhile, will cause 890,000 additional US deaths over the next 15 years, according to a recent study.
Lockdowns also inflict great harm upon liberty. Governments overrode the rights to meet, work, speak, worship or organize. Bureaucracies decided which businesses could open and which should die.
---
Okay, four things…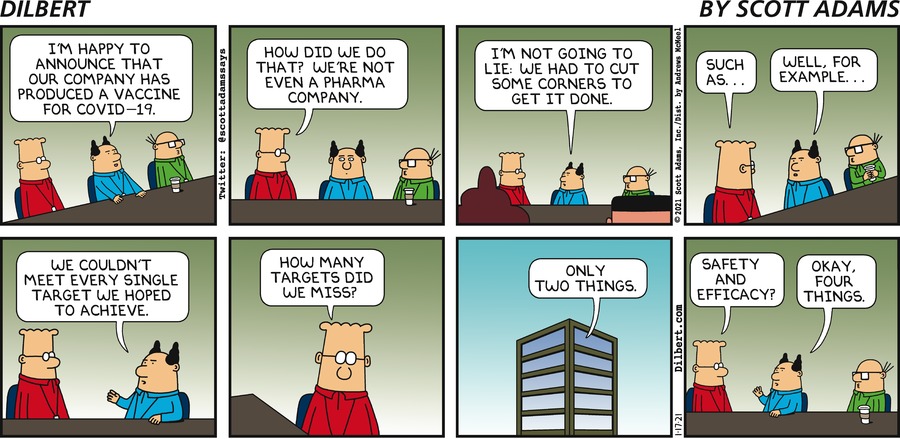 ---
'High-value' business travellers to be exempt from quarantine in England | Added February 15
Senior company executives are among travellers set to be exempt from Covid-19 quarantine restrictions for international arrivals in England, meaning they will not have to self-isolate for up to a fortnight.
Recently signed elite sportspeople, performing arts professionals, TV production staff and journalists will also not have to abide by quarantine restrictions if arriving from a country outside of England's travel corridor from 4am on Saturday.
Announcing the move on Twitter, the transport secretary, Grant Shapps, said "high-value business travellers" would be exempt from quarantine rules in an effort to boost the economy, "subject to specific criteria being met".
---
FSN: New report says arsenic, other metals consistently contaminate baby foods | Added February 15
A new congressional report has revealed highly dangerous levels of arsenic and other poisons in baby food. It also reveals that Walmart, Campbell Foods, and Sprout Organic Foods refused to cooperate with the subcommittee's investigation.
"Nurture, Beech-Nut, Hain and Gerber cooperated with the subcommittee's investigation, despite the fact that doing so exposed their reckless disregard for the health of babies," says the 59-page report released yesterday by the U.S. House of Representatives.
"With that in mind, the subcommittee questions why Walmart (Parent's Choice), Sprout Organic Foods, and Campbell (Plum Organics) would refuse to comply with the investigation. None of them produced testing results or specific testing standards and Sprout never even responded to the Subcommittee's repeated inquiries.
"The subcommittee is greatly concerned that these companies might be obscuring the presence of even higher levels of toxic heavy metals in their baby food products than their competitors' products."
---
WSJ: CDC Presses K-12 Schools to Reopen | Added February 13
Federal health and education officials urged the nation's elementary and secondary schools on Friday to reopen safely as soon as possible, saying they can operate by strictly adhering to safety precautions to reduce the risk of Covid-19 transmission in classrooms and in their communities.
In new guidelines for schools, the U.S. Centers for Disease Control and Prevention said students, teachers and staff should be required to wear masks at all times and should maintain distances of at least 6 feet from one another as much as possible, with students divided into small groups that don't mix with one another.
---
Lockdowns are a Self-Fulfilling Prophecy — read more from OffGuardian | Added February 13
I have chosen to write this text in addition to our two earlier contributions because of the development of the "second wave" which came afterward, and in reaction to the current relentless accumulation of non-pharmaceutical interventions (NPIs, also called corona, "social" or lockdown measures).
These are characterized by separation/isolation of human beings through the application of masks, distance maintenance between people, stay-at-home orders and business closures.
An important study in Frontiers in Public Health on the data delivered by 160 countries has found no correlation between death rate and stringency of lockdown measures[1].
Another study showed no significant benefits of stay-at-home order and business closure on epidemic case growth[2].
---
Politico: Top Republicans call for Cuomo's ouster following nursing home revelation | Added February 13
New York Republicans assailed Gov. Andrew Cuomo's administration on Thursday night in response to new revelations about his stonewalling the release of information about nursing home deaths, with several calling for him to resign or be impeached.
The New York Post reported that top gubernatorial staffer Melissa DeRosa told Democratic state legislators in a meeting on Wednesday that the administration "froze" when asked to release data about the number of nursing home residents who had died of Covid-19. A March directive from Cuomo calling on nursing homes to admit patients who tested positive for the coronavirus has been blamed for contributing to high death rates.
---
Over 9,000 virus patients sent into NY nursing homes — read more from AP| Added February 13
More than 9,000 recovering coronavirus patients in New York state were released from hospitals into nursing homes early in the pandemic under a controversial directive that was scrapped amid criticism it accelerated outbreaks, according to new records obtained by The Associated Press.
The new number of 9,056 recovering patients sent to hundreds of nursing homes is more than 40% higher than what the state health department previously released. And it raises new questions as to whether a March 25 directive from Gov. Andrew Cuomo's administration helped spread sickness and death among residents, a charge the state disputes.
---
Jon Rappoport: "Never-before-seen strange COVID symptoms"? Try using logic | Added February 13
UPDATE: one of the "strange and unique" COVID symptoms, cited to prove "the virus must be the cause," is loss of the sense of smell. Try this. On a search engine, type in, "Mayo Clinic, loss of smell, causes." You'll find a long list of conventional explanations. [1] Nothing new or unique…
Recently, I published an article explaining why people are dying without the presence of a virus. It's the great COVID re-labeling scam. [2]
All sorts of traditional lung problems are re-packaged as "COVID."
---
FDA allows Moderna to increase vaccine supply in each vial | Added February 13
The Food and Drug Administration has informed the drugmaker Moderna that it can put up to 40 percent more coronavirus vaccine into each of its vials, a simple and potentially rapid way to bolster strained supplies, according to people familiar with the company's operations.
While federal officials want Moderna to submit more data showing the switch would not compromise vaccine quality, the continuing discussions are a hopeful sign that the nation's vaccine stock could increase faster than expected, simply by allowing the company to load up to 14 doses in each vial instead of 10.
---
Dr. Scott Jensen compares official data of flu and covid-19 death counts | Added February 13
Scott Jensen (21:28): It strikes me, John, that we can make a significant difference if right now we said nobody gets to do a PCR test unless they do influenza A and B right alongside of it; so we would get that data and then also say and nobody gets to do a PCR test that cycles more than 33 times.
---
DW: Germany set to stay in lockdown for fear of virus mutations — draft document | Added February 12
German officials are considering lifting some measures in the coming weeks, but the shutdown will continue for now, DW learned on Tuesday. Federal and state representatives are set to announce their decision tomorrow.
"Considering the virus mutations, the steps to lift the restrictions must come carefully and gradually in order to avoid risking the successful curbing of infections," Germany's top officials are expected to say, according to a draft statement obtained by DW.
The document foresees the country continuing its shutdown until March.
The authorities see reopening of day care centers and schools as a priority, the document states. They remain "optimistic that all citizens would be offered vaccination by the end of summer at the latest."
---
RFK Jr. banned from Instagram | Added February 12
Instagram on Wednesday took down the account of controversial anti-vaccine activist Robert F. Kennedy Jr.
"We removed this account for repeatedly sharing debunked claims about the coronavirus or vaccines," a spokesperson for Facebook, which owns Instagram, said in a statement.
Kennedy, the son of late former US Attorney General, US Senator and presidential candidate Robert F. Kennedy, has repeatedly spoken out against vaccines. He has lobbied Congress to give parents exemptions from state requirements that mandate they vaccinate their children. The lifelong Democrat downplays his anti-vaccine views, though, by saying that he is actually in favor of safe vaccines and noting that all of his children have been vaccinated.
Kennedy's Facebook page, with more than 300,000 followers, was still active at the time of publication. The company spokesperson said there were no plans to take down that page "at this time."
---
Temple University study links lockdowns to rising gun violence in Philly | Added February 12
In a timely and eye-opening new study, researchers at Temple University found a correlation between measures taken by the City of Philadelphia to combat COVID-19 and the surge in gun violence.
A team led by Dr. Jessica Beard, assistant professor of surgery and director of trauma research at Lewis Katz School of Medicine, wanted to know why they were seeing such a huge spike in gun violence patients.
"It was in March actually that we saw a significant and sustained increase, nearly double of our violence in the City of Philadelphia," said Dr. Beard.
Using public data from the Philadelphia police, from January 2016 through November 26, 2020, they found an alarming correlation.
"This research pretty empirically shows that the increase or the uptick in gun violence happened following the enactment of the containment policies," said Dr. Beard.
---
NYT (finally) reports on vaccine passports | Added February 12
Among governments and those in the travel industry, a new term has entered the vocabulary: vaccine passport.
One of President Biden's executive orders aimed at curbing the pandemic asks government agencies to "assess the feasibility" of linking coronavirus vaccine certificates with other vaccination documents, and producing digital versions of them.
---
117-year-old French nun reports she didn't know she was sick after testing positive for covid-19 | Added February 11
A 116-year-old French nun who is believed to be Europe's oldest person has survived COVID-19 and is looking forward to celebrating her 117th birthday on Thursday.
The Gerontology Research Group, which validates details of people thought to be 110 or older, lists Frenchwoman Lucile Randon — Sister Andre's birth name — as the second-oldest known living person in the world.
French media reported that the nun tested positive for coronavirus in mid-January in the southern French city of Toulon. But just three weeks later, she is considered recovered.
"I didn't even realise I had it," she told French newspaper Var-Matin.
---
Los Angeles school district students to be required to take covid vaccine to attend class in-person | Added February 11
ONCE A coronavirus vaccine is widely available for children, immunization will be required for students in Los Angeles to attend classes, the district's superintendent said.
"The short answer is yes," Austin Beutner, head of the country's second-biggest school system, said Monday in answering a question about whether a vaccination will be necessary to come back to campus. "No different than students being vaccinated for measles and mumps or tested for tuberculosis before they come on campus. That's the best way we know to keep all on the campus safe."
The matter-of-fact admission marks the first acknowledgement from the head of a major school system that the vaccination is likely headed to the list of required school immunizations.
"Families will always have the option for a child to stay in online learning and, therefore, not be on campus," Beutner added, "but to go back to campus, yes."
---
Concerns over lipid nanoparticles, used in Pfizer's and Moderna's covid-19 vaccines, led Moderna to abandon the technology in 2017| Added February 11
Story at-a-glance
Moderna and Pfizer's COVID-19 vaccines use lipid nanoparticles that contain polyethylene glycol (PEG) to deliver mRNA to your cells
This experimental mRNA technology and its lipid nanoparticle-based delivery system have never been approved for use in a vaccine or drug
Significant concerns have been raised over the technology, including the lipid nanoparticles, and Moderna actually abandoned it in 2017 after studies revealed a high rate of adverse effects
Experts have questioned whether LNPs are safe, as research shows they readily enter the brain and may trigger immune reactions
The first dose of COVID-19 vaccine may prime the body to have an immune reaction to LNPs, such that when the second dose is received, a stronger likelihood for adverse events exists
The PEG found in both Pfizer's and Moderna's vaccines could also be causing allergic reactions and anaphylaxis
---
NYT: The CDC Says Tight-Fit Masks or Double Masking Increases Protection | Added February 11
First, show us the data of these laboratory experiments.
Second, where are the clinical trials that would test how this hypothesis holds up in the real world?
Wearing a mask — any mask — reduces the risk of infection with the coronavirus, but wearing a more tightly fitted surgical mask, or layering a cloth mask atop a surgical mask, can vastly increase protections to the wearer and others, the Centers for Disease Control and Prevention reported on Wednesday.
New research by the agency shows that transmission of the virus can be reduced by up to 96.5 percent if both an infected individual and an uninfected individual wear tightly fitted surgical masks or a cloth-and-surgical-mask combination.
AND
Dr. Brooks cautioned that the new study was based on laboratory experiments, and it's unclear how these masking recommendations will perform in the real world (the experiments used three-ply surgical and cloth masks). "But it's very clear evidence that the more of us who wear masks and the better the mask fits, the more each of us benefit individually."
---
CHD: 501 Deaths + 10,748 Other Injuries Reported Following COVID Vaccine, Latest CDC Data Show | Added February 11
From Children's Health Defense:
As of Jan. 29, 501 deaths — a subset of 11,249 total adverse events — had been reported to the Centers for Disease Control and Prevention's (CDC) Vaccine Adverse Event Reporting System (VAERS) following COVID-19 vaccinations. The numbers reflect reports filed between Dec. 14, 2020, and Jan. 29, 2021.
VAERS is the primary mechanism for reporting adverse vaccine reactions in the U.S. Reports submitted to VAERS require further investigation before confirmation can be made that an adverse event was linked to a vaccine.
As of Jan. 29, about 35 million people in the U.S. had received one or both doses of a COVID vaccine. So far, only the Pfizer and Moderna vaccines have been granted Emergency Use Authorization in the U.S. by the U.S. Food and Drug Administration (FDA). By the FDA's own definition, the vaccines are still considered experimental until fully licensed.
---
EXCLUSIVE! Planet Waves FM Interview with In-Silico Virus MN980947.2 | Added February 10
.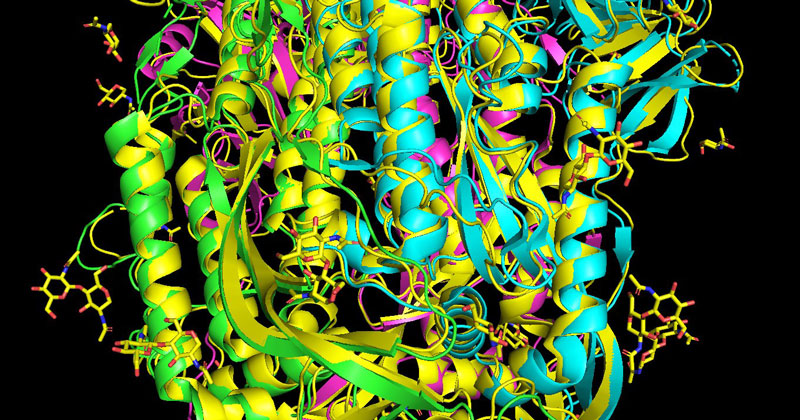 ---
---
---
NYT: A Few Covid Vaccine Recipients Developed a Rare Blood Disorder | Added February 10
One day after receiving her first dose of Moderna's Covid vaccine, Luz Legaspi, 72, woke up with bruises on her arms and legs, and blisters that bled inside her mouth.
She was hospitalized in New York City that day, Jan. 19, with a severe case of immune thrombocytopenia — a lack of platelets, a blood component essential for clotting.
The same condition led to the death in January of Dr. Gregory Michael, 56, an obstetrician in Miami Beach whose symptoms appeared three days after he received the Pfizer-BioNTech vaccine. Treatments failed to restore his platelets, and after two weeks in the hospital he died from a brain hemorrhage.
It is not known whether this blood disorder is related to the Covid vaccines. More than 31 million people in the United States have received at least one dose, and 36 similar cases had been reported to the government's Vaccine Adverse Event Reporting System, VAERS, by the end of January. The cases involved either the Pfizer-BioNTech or Moderna vaccine, the only two authorized so far for emergency use in the United States.
---
Man dies 25 minutes after receiving covid shot in NY, without showing signs of allergic reaction | Added February 10
Health officials confirmed early Monday that a man died shortly after getting the COVID-19 vaccine Sunday morning at the Jacob Javits Convention Center in Manhattan.
The man collapsed as he was leaving the Hudson Yards vaccination site, New York State Health Commissioner Howard Zucker said.
On-site security and first responders rushed to his side within seconds, however the man died at a local hospital a short time later, according to Zucker.
---
Facebook increases censorship and expands categories of covid-19 'misinformation' in name of preventing 'immediate and long-term physical health harms' | Added February 10
Facebook said Monday it will take more action against anti-vaccine misinformation posted on the network, focusing in particular on false claims regarding the coronavirus.
Beginning immediately, users, groups and pages that repeatedly spread known COVID-19 falsehoods, as detailed in an ever-expanding list, may see themselves banned from the platform.
Facebook added four categories to the list Monday, explicitly banning claims that COVID-19 is human-made or manufactured; that vaccines are not effective at preventing the disease they are meant to protect against; that it's safer to get the disease than to get the vaccine; or that vaccines are toxic, dangerous or cause autism.
AND
The company also plans to tweak its search feature so users seeking out vaccine misinformation will instead be redirected to more "authoritative" results. On Instagram, which is owned by Facebook, anti-vaccine accounts should expect to be down-ranked "in the coming weeks," the company said in a blog post.
"This is based on guidance from public health organizations that pervasive misinformation about COVID-19, and vaccines more broadly, is contributing to COVID-19 vaccine hesitancy that could have immediate and long-term physical health harms for people around the world," the spokesperson said.
AND
In October, Facebook earned praise after it banned ads "that discourage people from getting a vaccine." Yet the site nevertheless continued to run anti-vaccination ads, including signing off on new ads, after the ban went into effect, only removing them after an inquiry from HuffPost.
---
CHD: Immunologist: Pfizer, Moderna Vaccines Could Cause Long-Term Chronic Illness | Added February 10
From Children's Health Defense:
Back in 1999, leading U.S. Food and Drug Administration (FDA) official Dr. Peter Patriarca contended that modern advances in vaccine technology were rapidly "outpacing researchers' ability to predict potential vaccine-related adverse events." Patriarca mused that this could lead to "a situation of unforeseen and unpredictable vaccine outcomes."
In a new research article published in Microbiology & Infectious Diseases, veteran immunologist J. Bart Classen expresses similar concerns and writes that "RNA-based COVID vaccines have the potential to cause more disease than the epidemic of COVID-19."
---
NPR: WHO: 'Very Unlikely' Coronavirus Leaked From Lab, More Study Needed To Trace Source | Added February 10
Note — we at Covid19 News have chased down the "lab release" numerous times, and it's our position that lab release is very unlikely as well, unless you're talking about a computer lab. The "virus" being used in the "test" comes off of the computer of Christian Drosten and is an in-silico production. It does not contain live virus, nor does it test for a virus. The test is irrelevant. Once you understand this, you understand the pandemic.
Last week, the WHO team visited the Wuhan Institute of Virology, which specialized in studying coronaviruses found in bats. Former President Donald Trump and his senior officials promoted a theory without evidence that the novel coronavirus had leaked from the institute.
"It was very unlikely that anything could escape from such a place. And we also know that when lab accidents happen they are of course extremely rare," said Embarek, a Danish expert in food safety and animal diseases.
Yet the team's findings, still to be published in a WHO report, leave many unanswered questions.
---
WHO media briefing from Wuhan on COVID-19 mission – 9 February 2021 | Added February 10
This video of the media briefing is also on the World Health Organization's website.
---
Reuters reports recent fall in covid-19 case count without noting WHO's updated instructions for PCR use in early January | Added February 9
On January 13, 2021, the World Health Organization issued updated IFU (instructions for use) regarding polymerase chain reaction, calling for stricter interpretations of the test results; these include requiring a second test if a result differs from the clinical presentation of the patient, as well as requiring reporting of cycle threshold levels.
January 13, 2021 was just under four weeks ago.
The United States reported a 25% drop in new cases of COVID-19 to about 825,000 last week, the biggest fall since the pandemic started, although health officials said they were worried new variants of the virus could slow or reverse this progress.
New cases of the virus have now fallen for four weeks in a row to the lowest level since early November, according to a Reuters analysis of state and county reports. The steepest drop was in California, where cases in the week ended Feb. 7 fell 48%. Only Oregon, Puerto Rico, Arkansas and Vermont saw cases rise. (Open tmsnrt.rs/2WTOZDR in an external browser to see a state-by-state graphic.)
---
Business Insider: Booster shots are likely in the UK this fall to combat coronavirus variants — a sign vaccines may become an annual affair | Added February 9
Thank you to Loreen Costa.
Of course this would have to follow the pattern set by flu vax; the discussion early on in spring 2020 regarding the natural immunity gained by the previously sick as "temporary" was the first pawn. The fear mongering about variant strains — as if the virus has a will unique among pathogens — is the next level.
As long as we're in the paradigm that decades of virologists have invested in, corona viruses will always need new vax design and regular application to meet public health standards.
What I find most maddening is that the lessons we could learn from an honest and widely shared analysis of what we've done to farming and food security vis a vis industrialization — most especially the ever increasing reliance on soil- and pollinators-killing petrochemical inputs — are not often enough being applied to the environment of our very bodies. All sorts of so-called environmental organizations should be very much capable of discussing the analogous truths — but don't. It's like selective blindness.
Britain is likely to deploy booster shots for coronavirus vaccines in the fall — and annual vaccinations after that — as scientists and public health officials race against the spread of new, more contagious variants of the virus, two government ministers said.
In an interview with Sky News Monday, the junior health minister, Edward Argar, said that like the flu vaccine, coronavirus injections may need to be "tweaked" and "updated" every year to deal with new mutations and variants.
"This is a much more severe virus that has killed a lot more people than, for example, seasonal flu," Argar said of coronavirus. "Every year with the flu vaccine, researchers update it. They look at new variants, they look at new mutations and they tweak and update that vaccine to make sure it's effective against those new variants."
---
GMWatch: GMO spin doctors are using coronavirus vaccines to promote GM crops | Added February 9
Charles hates GM. Will he spurn this vaccine? ran a headline in the Sunday Times to an article that declared, "Pfizer shows us genetic modification could protect humanity from Covid-19." Its author, Dominic Lawson, lambasts the heir to the UK throne for his well known opposition to GM crops, and claims that it is politics, rather than science, that can "obstruct or even deny society the full benefits of scientific breakthroughs. This is true of genetic modification more widely."
Lawson's thesis is somewhat undermined by his record as a rightwing idealogue who has long argued against the scientific consensus on climate change. There's also the little matter of the Pfizer vaccine being chemically synthesised rather than genetically engineered. In other words, contrary to Lawson's claim, the Pfizer vaccine is not in any sense "GM".
But Lawson is far from the only GM spin doctor trying to use vaccines for COVID-19 as a validation of GM crops and animals. Lawson's sometime ally Mark Lynas is at it too, albeit with a tad more accuracy as regards the Pfizer vaccine, using his perennial gimmick of smearing all GM crop critics as anti-science.
---
Lawsuit Updates: This Will Make Your Day! — learn more from Pam Popper | Added February 9
---
Female genital mutilation is increasing as a result of covid-19 school closures | Added February 8
The number of girls subjected to female genital mutilation (FGM) is believed to have gone up due to the COVID-19 pandemic, experts have told Euronews.
UNICEF estimates that coronavirus-related schools closures and disruptions to aid programmes mean a further two million girls are now at risk of being circumcised before the end of the decade, bringing the total number to 70 million.
AND
Reports UNICEF has received from community-based workers have warned that in some communities the people who facilitate FGM have evolved and started doing household outreaches and "actively looking for girls to circumcise", Maksud said.
This, coupled with the diminished presence of protection and social workers due to containment measures and the closures of schools – which are a major protection factor for girls as the majority of FGM is carried out during school holidays – has led to the increase.
Rising poverty is another factor.
"We know in some countries there is a correlation between FGM and child marriage," Maksud explained, with FGM seen as raising the girl's value.
---
Coronavirus doctor's diary: We're getting self-harming 10-year-olds in A&E — read more at BBC | Added February 8
The pandemic has had a deep impact on children, who are arriving in A&E in greater numbers and at younger ages after self-harming or taking overdoses, writes Dr John Wright of Bradford Royal Infirmary.
Children are a lost tribe in the pandemic. While they remain (for the most part) perplexingly immune to the health consequences of Covid-19, their lives and daily routines have been turned upside down.
From surveys and interviews carried out for the Born in Bradford study, we know that they are anxious, isolated and bored, and we see the tip of this iceberg of mental ill health in the hospital.
Children in mental health crisis used to be brought to A&E about twice a week. Since the summer it's been more like once or twice a day. Some as young as 10 have cut themselves, taken overdoses, or tried to asphyxiate themselves.
There was even one child aged eight.
---
Due to shot's ineffectiveness against variant, South Africa halts rollout of AstraZeneca's Covid-19 vaccine | Added February 8
South Africa is halting its rollout of the AstraZeneca-University of Oxford Covid-19 vaccine, the country's minister of health said Sunday, following a new analysis that suggests the shot "provides minimal protection" against mild disease caused by the new coronavirus variant circulating in South Africa.
Two top virologists advising the government said during a press conference that the pause was necessary. They said South Africa would institute a new process in which vaccines are initially studied in a research phase to try and determine that each vaccine reduces Covid hospitalizations in South Africa despite the widespread new variant there.
---
NBC: Two U.S. cruise lines announce Covid vaccination mandate for guests, crew | Added February 8
"Vaccination requirements for both our guests and crew is the most prudent next step to ensure that we are providing the safest cruising experience possible," John Waggoner, CEO and founder of American Queen Steamboat Company, told Condé Nast Traveler.
Passengers will have to present verified documentation that they have been fully vaccinated before they are allowed on the ship. Crew members will be required to show proof either at the time they are hired or prior to embarking on a trip.
Cruises were halted after the Centers for Disease Control and Prevention issued a no-sail order in the country. The order was lifted at the end of October.
American Queen Steamboat Company and Victory Cruise Lines are set to resume sailing beginning in April with a number of safety protocols in place including pre-boarding testing, a mask requirement in public spaces and temperature checks.
The companies said these safety measures will continue after its vaccination requirement.
---
Interview with Bobby Rajesh Malhotra, second co-author of the Corman-Drosten Retraction Demand | Added February 7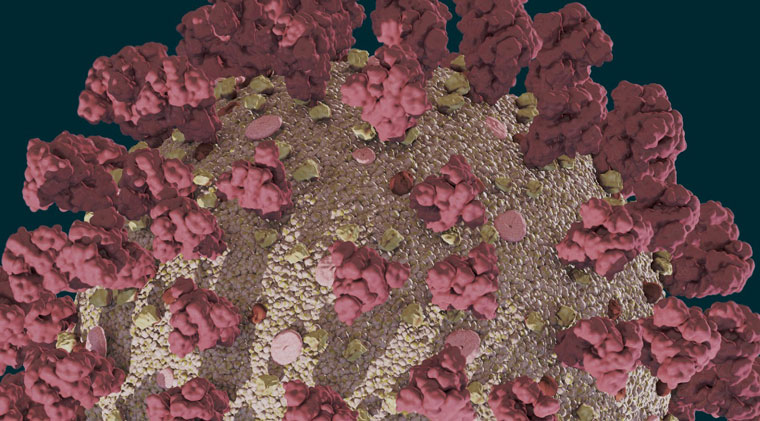 What does "in silico production" mean?
Malhotra: This is the theoretical production of virus fragments and protein parts. The whole thing suddenly seemed Spanish to me. Added to this was the problem of primary patient isolates. The lab was just busy isolating and sequencing 1,000 Austrian samples. In the process, more and more mutations were coming out. I wondered how there could be so many mutations in a country cluster all at once. It was quite unrealistic. The day came when I was told that my employment contract would not be renewed (4th quarter 2020). That was more or less the starting signal for me — to become even more critical (laughs). On a day when I was very upset, I created a mega thread on Twitter with 124 tweets. In "Corona Ausschuss Nr. 22", Corona Committee №22, Prof. Dr. Ulrike Kämmerer had explained the problem of Drosten PCR tests. I linked this with my knowledge and tried to explain it for the beginner on Twitter — a mixture of corruption, bioinformatics and the PCR problem. This thread pretty much hit home.
---
Investigations underway following Virginia woman's death hours after she recieved Pfizer shot | Added February 6
State and federal agencies are investigating a Gloucester woman's death that happened a couple of hours after she received a coronavirus vaccination, says Dr. Danny Avula, the state's vaccine coordinator.
Drene Keyes, 58, died after getting a first dose of the Pfizer-Biontech vaccine Saturday in the town of Warsaw. Keyes waited 15 minutes after the shot to be observed by health care providers on site, but soon after experienced vomiting and trouble breathing. She was taken to VCU Tappahannock Hospital, where she died.
Avula said he learned about her death immediately. The case is under investigation by the Office of the Chief Medical Examiner and the U.S. Centers for Disease Control and Prevention.
"They're looking for patterns, they're looking for a causation versus just a correlation based on time," he said.
---
OffGuardian: You Never Know | Added February 6
The other day I called my homie, Big Danny, and asked what he thought was gonna make all this COVID madness go away.
"A comet hitting the earth, and the human race starting all over again," he said.
"Besides that."
"A meteor."
Danny and I have often spoken about Earth's history of cosmic catastrophes, tales of lost worlds and end times shared by virtually every culture on the planet, how history works in cycles, as the Hopis, among others, have expounded. How the knowledge of the First Nations is as scientific as anything that has come afterward.
A little background before I plow ahead.
---
Forbes Attacks Mercola – Gives One Hour to Respond — read more at Mercola.com| Added February 5
Forbes runs a hit piece on me and other vaccine safety advocates, questioning whether we should have received federal PPP loans given our views on vaccines
The argument that we should not receive federal assistance "given our views on vaccines" is as authoritarian as it gets, which is perhaps what one should expect, given that Forbes is owned by a Chinese company
Forbes received a PPP loan in the amount of $8,036,000 in April 2020, which raises a far more obvious and reasonable question: Why are American taxpayers subsidizing a Chinese-owned media company?
Evidence shows Forbes has, since being bought up by a Chinese media investment company in 2014, lost its editorial independence
The PPP non-story was twisted into a supposed "scandal" by yet another propaganda machine: the U.K.-based Center for Countering Digital Hate, which is openly calling for deplatforming anyone who raises questions and concerns about COVID-19 vaccines
---
TribLive: Voters to decide fate of reducing governor's emergency powers | Added February 6
Pennsylvania voters will be able to decide in the May 18 primary election the fate of the Republican-backed proposed constitutional amendment to rein in the governor's power to extend future emergency disaster declarations beyond 21 days without approval by state legislators.
AND
The proposed amendment from would reduce the current 90-day limit on a governor's emergency declaration to just three weeks. Any extensions would have to be approved by the General Assembly, and would not be subject to a veto by the governor.
---
WHYY.org: Conspiracy theorists in the family? We want to hear from you. | Added February 5
Welcome to the new Red Scare.
Conspiracy theories burst onto center stage in recent months, fueling the January 6 insurrection, undermining confidence in our democracy, and hampering the response to the coronavirus pandemic. Election conspiracists, COVID-truthers and QAnon adherents have seen their numbers swell as social media makes it easier than ever to become radicalized online.
Do you have a family member who you can no longer relate to because they have gone down the rabbit hole in one of these worlds? We want to hear your story. A reporter may follow up to learn more about the real world consequences of online radicalization.
---
Corbett Report: Citizens for Free Speech | Added February 6
Patrick Wood joins us to discuss a new non-profit organization he has founded to help combat the threat to free speech: Citizens for Free Speech. With 26,000 members, the CFFS seeks to activate people at the local level and teach them how to better communicate their ideas and combat the threats to fundamental freedoms that are facing us during this generated crisis.
---
WSJ: Johnson & Johnson Asks U.S. Regulators for Emergency Approval of Its Covid-19 Vaccine | Added February 5
Johnson & Johnson JNJ 0.93% asked U.S. regulators on Thursday to authorize the emergency use of its Covid-19 vaccine, setting the stage for a potential third vaccine to become available in the U.S. within weeks.
J&J's move follows last week's release of results from an international clinical trial showing that a single shot of the vaccine was 66% effective at preventing moderate and severe Covid-19 disease. In the U.S. portion of the trial, the vaccine was 72% effective at preventing disease.
---
Conflating "Protection" with "Immunity" Propagates Vaccine Misinformation | Added February 5
Thank you Loreen Costa.
"One Pfizer/BioNTech jab gives '90% immunity' from Covid after 21 days" says the February 3, 2021 headline in The Guardian.
From there the story goes on to describe the debate between two research efforts regarding the "protection" offered by the first dose and the timing of the second does of the Pfizer experimental mRNA product.
The problematic quote comes from UK researcher Prof Paul Hunter, describing his analysis of data previously presented by Israeli researchers:
"We found that the vaccine effectiveness was still pretty much zero until about 14 days after people were vaccinated. But then after day 14 immunity rose gradually day by day to about 90% at day 21 and then didn't improve any further. All the observed improvement was before any second injection."
The confusing language then continues: "This shows that a single dose of vaccine is highly protective, although it can take up to 21 days to achieve this."
By casually interchanging these important words, it seems we are to understand that "protection" is the equivalent of "immunity" — and yet we know from the published trial results that this is a false and misleading premise.
We know this because the Pfizer trial — like the Moderna trial — was only successful in demonstrating a reduction in the severity of symptoms in those participants in the vaccination arm who were ultimately designated as "PCR positive" for the virus, thus protecting those infected with the SARS-COV-2 virus from the worst outcome of the covid-19 disease process.
There was no aspect of the trials which would indicate neither a reduction of infection nor the disruption of transmission to others. Hence, no indication that any immunity was generated.
Drs. Yeadon and Wodarg blew this whistle immediately as the trial designs were made available in the fall of 2020 and called for an investigation of fraud.
It is also notable that efforts to launch actual research regarding whether the experimental mRNA technology would in any way disrupt infection or transmission never got off the ground.
But here we are, reading a headline in The Guardian which passed editorial muster — but seems to have forgotten — or ignored — such facts. Or maybe the editors simply forgot to check the dictionary entry for the word "immunity" ?
---
After CDC mandate, SEPTA refrains from fining, arresting, or removing those who don't wear masks | Added February 5
As a new federal mask mandate goes into effect this week, SEPTA will maintain its relaxed mask enforcement, where riders are requested to wear masks but won't face removal or arrest.
The soft approach sets the authority apart from other transit agencies in the region.
Riders on New York's Metropolitan Transportation Authority and the Port Authority of New York and New Jersey can face $50 fines for flouting their mask policies. On Amtrak, such passengers are subject to federal penalties, can be denied boarding or be removed, and potentially banned from future travel.
The Centers for Disease Control and Prevention's mask mandate that went into effect Tuesday authorizes transit operators to turn away unmasked riders and remove those who refuse to comply.
People at transportation hubs and boarding locations like bus stops fall under the federal mandate as well, the order stipulates.
But SEPTA riders who don't mask up can expect a talking to, said spokesperson Andrew Busch.
"If you don't have a mask on you can expect to hear about it," Busch said.
---
Viral Inequality: From Jeff Bezos to the struggle of Indian Farmers — read more at OffGuardian | Added February 5
Mukesh Ambani, India's richest man and head of Reliance Industries, which specialises in petrol, retail and telecommunications, doubled his wealth between March and October 2020. He now has $78.3bn. The average increase in Ambani's wealth in just over four days represented more than the combined annual wages of all of Reliance Industries' 195,000 employees.
The Oxfam report states that lockdown in India resulted in the country's billionaires increasing their wealth by around 35 per cent. At the same time, 84 per cent of households suffered varying degrees of income loss. Some 170,000 people lost their jobs every hour in April 2020 alone.
The authors also noted that income increases for India's top 100 billionaires since March 2020 was enough to give each of the 138 million poorest people a cheque for 94,045 rupees.
The report went on to state:
…it would take an unskilled worker 10,000 years to make what Ambani made in an hour during the pandemic…and three years to make what Ambani made in a second."
---
CHD: Bill Gates and Neo-Feudalism: A Closer Look at Farmer Bill | Added February 5
From Children's Health Defense:
Bill Gates has quietly made himself the largest owner of farmland in the United States. For a man obsessed with monopoly control, the opportunity to also dominate food production must seem irresistible.
"Gates has a Napoleonic concept of himself, an appetite that derives from power and unalloyed success, with no leavening hard experience, no reverses." — Judge Thomas Penfield Jackson, presiding judge in the Gates/Microsoft antitrust-fraud case
The global lockdowns that Bill Gates helped orchestrate and cheerlead have bankrupted more than 100,000 businesses in the U.S. alone and plunged a billion people into poverty and deadly food insecurity that, among other devastating harms, kill 10,000 African children monthly — while increasing Gates' wealth by $20 billion. His $133 billion fortune makes him the world's fourth wealthiest man.
---
A Tale of Two Januaries | Added February 5
---
Switzerland rejects AstraZeneca's Covid-19 vaccine, citing insufficient data | Added February 4
Switzerland has refused to approve the AstraZeneca Covid, vaccine with regulators raising concerns over insufficient test data and arguing 'new studies' are needed.
It comes after France, Sweden and Germany advised against administering the jab to those over 65 and Emmanuel Macron claimed it was 'almost ineffective' for the age bracket.
That is despite Oxford data published this week suggesting the jab is 76 per cent effective after just one dose, and may also prevent 67 per cent of infection.
British Prime Minister Boris Johnson has also weighed in, saying the jab is 'is very good and efficacious' in all age groups.
Continental objections to the jab come amid a furious row between the EU and AstraZeneca over lagging supply, which has seen newly-unshackled Brexit Britain storm ahead in its immunisation roll-out.
---
STAT News: Kids don't need Covid-19 vaccines to return to school | Added February 4
The notion is out there that public school students should not return to in-person learning until they've been vaccinated. That proposition worries me. Here are five reasons why schools can and should open at 100% capacity before a vaccine for those under age 16 is available.
AND
The Covid-19 pandemic has harmed children — not because they have fallen ill from the virus, for the most part, but by the choices societies have made to protect adults who are vastly more likely to suffer from the disease. In many places, kids have already lost a year of school, development, and life. A vaccine for kids will not happen in the short term, and emergency regulatory pathways for one or more of them may not be appropriate. The risk and benefit will need scrutiny.
We must not keep the lives of children on hold waiting for what might never come. As Vladimir Kogan and I argue elsewhere, schools should open now after the impacts to teachers, parents, society, and schools are taken into consideration.
---
WaPo: House vote unlocks partisan path for Biden coronavirus relief bill | Added February 4
In debate on the House floor, Republicans took turns criticizing Democrats and Biden for choosing to go down a partisan path after Biden campaigned on promises to make bipartisan deals and unify the nation. They criticized his relief package as a liberal wish list disguised as a covid relief bill.
"Democrats in Washington are setting up a partisan process to have the vice president cast the decisive vote in the Senate on an array of radical policies," said Rep. Jason Smith (R-Mo.), top Republican on the House Budget Committee. "Their plans are to try to use this pandemic to seize more government control of your life."
Democrats countered that Republicans have not offered solutions to meet the needs of the country at a time of continued high unemployment and with more funding for vaccines urgently needed as variants of the coronavirus emerge.
---
Your weekly reminder of what's wrong with the use of PCR testing | Added February 4
From Organic Consumers Association:
2. Did You Know that a positive test result doesn't mean you are infected?
• PCR tests have a high false positive rate when used with a high cycle threshold.
• PCR testing cannot distinguish between the identification of genetic material from a "live" SARS-COV-2 virus vs. the genetic material from a dead (noninfectious) virus
• A positive SARS-COV-2 PCR test result cannot be used to measure the 'viral load' in the body.
• A positive SARS-COV-2 PCR test also cannot be used to explain whether a sufficient "viral load" is present for the virus to be transmitted from one person to the other.
• PCR testing cannot be used to definitively identify whether the SARS-COV-2 virus, or other viruses and bacteria, is the cause for a person's symptoms.
---
NPR: U.S. Cuts $231 Million Deal To Provide 15-Minute COVID-19 At-Home Tests | Added February 4
The Biden administration has made a $231.8 million deal with an Australian company to boost availability of the first at-home rapid test for the coronavirus which causes COVID-19 that is available without a prescription. The test, made by Ellume, can send results to a smartphone within 15 minutes of receiving a sample.
The Food and Drug Administration gave emergency authorization to Ellume's rapid test in December, after it showed 96% accuracy in a U.S. clinical study. Those trials included both adults and children of ages 2 years and older.
---
Awaken with JP: Dictator Newsom Ends California Lockdown!?! What You Need To Know | Added February 4
---
Chinese government stands to gain database of Americans' DNA through Covid-19 tests | Added February 3
For all the polarization that grips Washington, here's a source of rare consensus: the emerging threat of China's push to acquire our health care data, including the DNA of American citizens. U.S. officials tell us the communist regime's aggressive collection of our most personal information presents a danger both to national security and our economy.
As alarm bells ring across agencies, parties, and presidential administrations, different branches of government have taken action over the past year to stem the tide of our medical data flowing to China. The quest to control our biodata – and, in turn, control health care's future – has become the new space race, with more than national pride in the balance. Our investigation begins with an unsolicited and surprising proposal that came from overseas at the onset of the COVID crisis.
---
France's health authorities will not recommend AstraZeneca's Covid-19 vaccine to people over 65 in light of insufficient data from clinical trials | Added February 3
France will only administer the AstraZeneca coronavirus vaccine to people under age 65, President Emmanuel Macron said Tuesday after the government's health advisory body cited a lack of sufficient data about its effectiveness in older people.
The decision could shake up the French vaccination strategy, because the country has prioritized nursing home residents and people over 75. France had counted on the AstraZeneca vaccine for a large part of its upcoming inoculations, until the company announced delays affecting countries around Europe and the world.
"For this AstraZeneca vaccine, we will not propose it to those older than 65," Macron told TF1 television Tuesday night. Instead, the vaccine the British-Swedish company developed with Oxford University will be given to medical personnel under 65, individuals with health vulnerabilities or those facing high exposure, he said.
---
Phantom Virus: In search of Sars-CoV-2 — read more at OffGuardian| Added February 3
Even the Robert Koch Institute and other health authorities cannot present decisive proof that a new virus named SARS-CoV-2 is haunting us. This alone turns the talk of dangerous viral mutations into irresponsible fearmongering and the so-called SARS-CoV-2 PCR tests definitely into a worthless venture.
---
According to US government, vaccination sites will be off limits for immigration arrests | Added February 3
The U.S. government says that it will not be making routine immigration enforcement arrests at COVID-19 vaccination sites.
Vaccination sites will be considered "sensitive locations" and generally off limits for enforcement actions, the Department of Homeland Security said in a statement Monday.
The statement said that arrests would only be carried out under "the most extraordinary of circumstances."
It was the latest example of a softer tone on immigration from President Biden, whose administration has quickly moved to review or reverse major immigration policies of the Trump administration.
---
Politico: Biden administration to begin shipping vaccine doses directly to pharmacies | Added February 3
The Biden administration said Tuesday it will begin distributing a limited number of Covid-19 vaccine doses directly to retail pharmacies across the nation.
Many pharmacies are already administering vaccine doses that have been allocated to states. Under the new program, the federal government would ship doses directly to pharmacies. The new pharmacy initiative — which is aimed at broadening access to vaccines generally — is separate from an ongoing federal program to have Walgreens and CVS vaccinate residents of long-term care facilities.
---
Pam Popper on the World Health Organization's updated guidance on PCR tests as of January 2021 | Added February 3
---
Delta Airlines to launch the first domestic digital identity test, linking biometrics with travelers' passports | Added February 2
Delta Air Lines is launching the first domestic digital identity test in the United States. The Atlanta-based carrier shared this week that the move helps it provide a touchless curb-to-gate experience for its customers.
According to a press release seen by Simple Flying, Delta passengers passing through Detroit Metropolitan Wayne County Airport now have the opportunity to go through this new process. The airline has partnered with the Transportation Security Administration (TSA) to introduce this facial recognition system for domestic travelers using a digital ID made up of a traveler's passport number and TSA PreCheck membership.
From February, domestic passengers will be able to use the digital ID, which is validated by facial recognition technology, to move through Detroit's Edward H. McNamara Terminal's dedicated TSA PreCheck domestic checkpoint.
---
Mass vaccination site at Dodger Stadium briefly shut down amid protests | Added February 2
Dodger Stadium's mass COVID-19 vaccination site was temporarily shut down Saturday afternoon when about 50 protesters gathered at the entrance, frustrating hundreds of motorists who had been waiting in line for hours.
The Los Angeles Fire Department closed the entrance to the stadium — one of the largest vaccination sites in the country — for about an hour starting just before 2 p.m. as a precaution, officials said. Several LAPD officers also responded to the scene; a spokeswoman for the department said no arrests were made.
---
Reuters: Two million Australians in lockdown after one coronavirus case found | Added February 2
About 2 million Australians begun their first full day of a strict coronavirus lockdown on Monday following the discovery of one case in the community in Perth, capital of Western Australia state, but no new cases have since been found.
---
CDC issues mask order on domestic travel | Added February 2
The Centers for Disease Control and Prevention has issued an order requiring travelers in the United States to wear masks as part of a new initiative aimed at stemming outbreaks of the coronavirus.
According to the 11-page order issued on Friday, travelers entering and transiting throughout the country will be required to wear face coverings in all transportation hubs, which the C.D.C. defines as including any "airport, bus terminal, marina, seaport or other port, subway station, terminal, train station, U.S. port of entry or any other location that provides transportation."
The language of the order largely puts the onus on transit operators to enforce the rule.
---
President of Tanzania cautions against adopting coronavirus vaccines too quickly | Added February 1
Tanzanian President John Magufuli has warned his health ministry against rushing to adopt COVID-19 vaccines, suggesting the vaccines may not be safe or effective.
In a speech Wednesday in Western Tanzania, Magufuli expressed doubt about vaccines produced by Western countries.
"If the white man was able to come up with vaccinations, then vaccinations for AIDS would have been brought, tuberculosis would be a thing of the past, vaccines for malaria and cancer would have been found," said the president.
Magufuli directed the Ministry of Health to adopt a vaccine only after it is certified by Tanzanian experts.
He said Tanzanians must not be used as guinea pigs in vaccine trials.
---
Covid strain differences | Added February 1
People with the highly contagious UK strain of COVID-19 are less likely to report sky-high fevers than those with the original illness, according to a study released Wednesday.
But patients with the newer virus variant report suffering from a sore throat, aching muscles and fatigue more often, according to the survey, released by Britain's Office for National Statistics.
Symptoms of the new strain differ from the three main ones associated with the original COVID-19 virus — fever, continuous cough and loss of smell or taste, the UK Sun reported, citing the survey and health officials.
"People testing positive compatible with the new UK variant were more likely to report any symptoms and the classic symptoms, but were less likely to report loss of taste and smell," the Office for National Statistics said in the survey. "There was no evidence of difference in the percentages reporting gastrointestinal symptoms."
---
CBS: COVID-19 variants will soon outnumber cases of original strain, Fauci says | Added February 1
Dr. Anthony Fauci said Friday that new variants of the coronavirus that were initially found in the United Kingdom, South Africa and Brazil — and have since been identified in the United States — are expected to persist and eventually outnumber cases of the earlier strain of the virus.
"We will continue to see the evolution of mutants," Fauci, the nation's leading infectious diseases expert, said at a news briefing Friday.
The variant first identified in the U.K. has now been found in 29 U.S. states, according to Dr. Rochelle Walensky, director of the Centers for Disease Control and Prevention. Highly contagious variants first identified in South Africa and Brazil have also been found stateside.
Fauci said vaccinating "as many people as we can, as quickly as we can," is the best defense against new variants. "The virus has a playing field to mutate," he said, explaining that the virus cannot mutate if it is not given the chance to replicate.
"The virus will continue to mutate and will mutate for its own selective advantage," he said. If COVID-19 is prevalent in a community, it is only a matter of time before the virus mutates as it is given ample "opportunity to adapt."
AND
"The fundamental principle of getting people vaccinated as quickly and as efficiently as you possibly can will always be the best way to prevent the further evolution of any mutant. Because when you do that you prevent replication, and replication is essential for mutation."
In addition to vaccinating as many people as possible with the current vaccines from Pfizer and Moderna, Fauci said federal health officials and companies developing vaccines will need to remain "nimble" in order to produce versions aimed at variants.
"We as a government, the companies, all of us that are in this together, will have to be nimble to adjust readily to make versions of the vaccine that actually are specifically directed towards whatever mutation is actually prevalent at any given time," he said.
---
OffGuardian: Is the NHS overwhelmed by incoming COVID-19 patients? | Added February 1
A woman was arrested in her home after she posted a video of herself wandering around an apparently empty Gloucestershire Royal Hospital. The video appears to conflict with the impression left by the mainstream media: that hospitals are full with COVID-19 patients and can't cope.
It appears to conflict with the reports of doctors and nurses who are insisting that they are indeed busy and are working overwhelmingly long shifts to keep up with the added stress caused by COVID-19. So what's going on?
The answer appears to be complicated. Here's a summary of the situation according to the data:
Hospitals are overwhelmed but not due to an influx of COVID-19 patients.
They are overwhelmed because the NHS is already overwhelmed and has reduced bed capacity and are sending people home who test positive for COVID-19.
The number of people with COVID-19 in hospitals is large but the number of people coming into hospitals with COVID-19 is about the same (a bit worse) as a bad flu season.
---
Dr. Stefan Lanka on the use of computers to construct genetic sequences of viruses | Added February 1