By Sarah Taylor
This week, we are back to the Eight of Swords, at centre. It feels, over the weeks, that there has been a lack of clarity, which has caused confusion and a consequent sense of feeling trapped. This feeling of being trapped is one that is self-induced: as if you cannot get out of the machinations of your mind, as if you are rendered helpless by thought patterns that keep you bound in one place.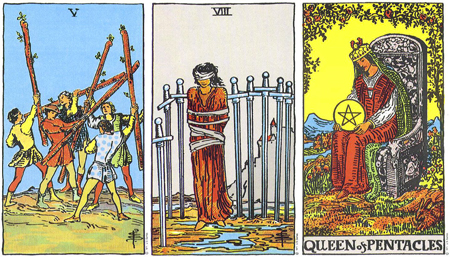 But this is not really the truth, which is embodied in the Eight of Swords itself. The woman is a prisoner of her own making. No-one is holding her prison in the wall of her imagination. Not even her bonds are true shackles — although that doesn't make them any less compelling or, from one vantage point at least, hard to remove.
The key here is that it is she who is responsible for removing them. In other words, it is you who are responsible for removing a particular set of circumstances in which you have a sense of confusion and/or powerlessness. And although swords are associated with thoughts, it might be that your environment itself — your physical circumstances — may feel imprisoning.
But it is your mind that also offers the way out. It seems to be one of those situations where, if you were simply to step away and free your arms with a few shakes, and remove your blindfold, then you would have a new vantage point. From there, you might wonder what it was that was really holding you back in the first place.
The nature of this confusion is implied in the card to the woman's right — or on the left of the spread. It is the one that she is currently most associated with, both in terms of her proximity to it and her body language.
The Five of Wands also refers to confusion — this time, energetic. There seems to be too many aspects trying to work together to achieve an outcome, but no leadership. Too many followers, and no-one in charge.
That leadership is offered in the shape of the Queen of Pentacles. You see, what the five men in the Five of Wands are trying to construct is a pentagram. Theirs is a disorganised attempt to make something material out of their desire to create. They are being stymied, in this instance, by the noise and restrictions of their thought patterns.
But the Queen already has what they are attempting to fashion from their confusion. She sits facing the Eight of Swords, holding a pentacle in her lap. She has no need to jockey for position. Embodying as she does the receptive, individuated feminine (to the King's active masculine), she quietly acknowledges her authority, at ease in an environment structured around natural law, and resting in her own power.
The similarity of the Queen's dress to that of the woman at centre suggests the possibility of who the figure in the Eight could become if she were to understand her true nature, and extricate herself from those thoughts and beliefs that no longer serve her: that she has no authority, that she is not already empowered to change her mind and liberate herself.
What are you not seeing? Are you really as powerless as you feel? Do you perhaps already have what you are striving to attain? Fall quiet and listen to the wisdom within. Go out into nature and keep your ears and eyes open; feel yourself a vital part of what is right here, right now. You can believe in your own ability to shape your reality in a way that is more attuned to who you really are.
The Queen may be silent; it is her presence that has something to offer you, and it is yours to hold.
Astrology/Elemental correspondences: Five of Wands (Saturn in Leo), Eight of Swords (Jupiter in Gemini), Queen of Pentacles (the watery aspect of earth)
If you want to experiment with tarot cards and don't have any, we provide a free tarot spread generator using the Celtic Wings spread, which is based on the traditional Celtic Cross spread. This article explains how to use the spread.
————–
Have you tried the Planet Waves premium membership? Sign up for a six-month membership and receive weekly and monthly horoscopes, plus more.