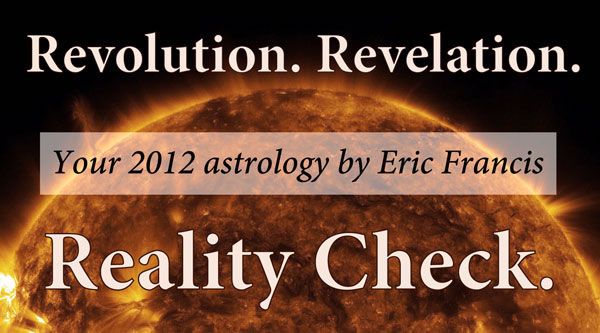 Audio clip: Adobe Flash Player (version 9 or above) is required to play this audio clip. Download the latest version here. You also need to have JavaScript enabled in your browser.
Dear Friend and Reader:
This is a special edition of Planet Waves FM that is devoted to the top five events of 2012 — a year, and indeed a phase of history like nothing we've ever experienced. This audio series an introduction to the 2012 annul edition of Planet Waves, which provides detailed readings for each of the 12 signs — Revolution. Revelation. Reality Check. It is on sale to subscribers only at this point — and has become a runaway bestseller.
In this year's annual, the first topic I cover is Uranus square Pluto, an aspect we've been writing about constantly at Planet Waves. That's the miraculous astrology that has resulted in Arab Spring, the uprisings in Wisconsin and Ohio and finally the worldwide Occupy movement. Just how is it possible that the world seemed lazy, apathetic and ready to let anyone do anything to us, and then suddenly We, the People were rising up and not taking any bullshit? The answer can be found in astrology; Uranus-Pluto aspects are the most revolutionary of them all, and we get to live through one new through 2015. In this segment I explain the aspect and its basic energy, and describe some of the most personal manifestations it may have for you.
If you're not a subscriber, you will see information in this space offering Revolution. Revelation. Reality Check. on a per-sign basis; subscribers can currently purchase all 12 signs at a special discount. To get that, all you need to do is sign up for any subscription at all — recurring, three months, six months or a year. You can do that here, first option, top left. Remember — the annual reading is NOT included in a subscription, but being a subscriber entitles you to a substantial discount that will pay for the subscription.
Enjoy the recording — your comments are welcome below.
Lovingly,