By Len Wallick
Peace like a river ran through the city / Long past the midnight curfew / We sat starry-eyed / We were satisfied"
— Paul Simon
Overnight tonight for most of us (2:51 AM EDT) we experience a New Moon when Luna and the Sun exact their monthly conjunction. This time the location is very close to the middle of Taurus, a fixed Earth sign. It means that we are also very close to the second cross-quarter of the year, the halfway point in Sol's journey between the first degree of Aries (Vernal Equinox) and the first degree of Cancer, which corresponds to the first day of Summer in the Northern Hemisphere. That's two meaningful events taking place at nearly the same time. Whether In the context of what the planets are doing, or not, the theme for astrology and your everyday life is one of reconciliation.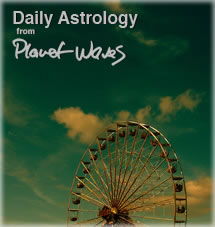 Nearly all conjunctions have three features. A new beginning, a merging of energies and the potential to overlook something right under our noses. When the luminaries conjoin we do not see the Moon for a few days. Shortly thereafter they begin dividing their time, with the Sun providing the light of day and Luna illuminating the night, growing first larger, then smaller before merging again to begin a new cycle. This cycle is called a lunation and each one is very much like a reincarnation for the Moon.
The personality of any given lunar incarnation is set in the beginning, when the Moon returns to be one with the Sun and is hidden from our view. The sign and degree where the convergence takes place are the primary contributors to that character. Taking place at the midpoint between seasons, the nature is conciliatory, with one luminary figuratively and literally meeting the other half way.
That's what reconciliation is about. It creates the foundation for a new beginning. It is a restoration of harmony, balance and consistency. It is not usually found, it is made. It does not require capitulation, nor does it seek to dominate. It is not acquiescence, it is a mutual satisfaction. Sun and Moon merging energies in such a way symbolically indicates an opportunity for everyone to actually do something very much the same in their own lives.
The place to begin is, as a conjunction would have it, literally right under our noses (and behind them). Reconciliation begins in our hearts and minds. In places out of sight, very much like the New Moon, we can return from the cycles of our life's journey and join with our inner source of light and life. It may take a little time, a bit of solitude. It is often a good thing to get outdoors and walk or sit among the beings who spend all of their time in witness to the sky. However it is done, the result is the same. Assuming you're able to get there, it is a feeling of refreshment and renewal, a new beginning for an old soul. There is no time like the present.
Offered In Service