Among the many articles I haven't got around to writing yet is one about the high school I attended — John Dewey High School in Brooklyn, NY. Dewey was a radical place, and in many ways was responsible for bringing out who I am. It was a noncompetitive learning environment, with an open campus. That is to say, no grades, no gates. It was one of the first schools with a modular scheduling system: flexibility of scheduling, students choosing their entire academic schedule, with the day including enough free time to leave at the end of the day with no homework.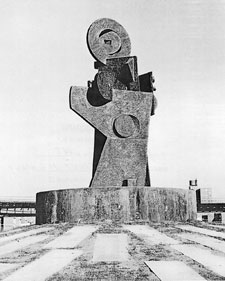 We had no sports teams (only intramural sports), and the money we saved went into academic resource centers where there were always teachers on call to help with homework. There was no reason to fail. Dewey had 11 publications at the time I went there; I was editor in chief of one, Gadfly (the official social science journal). This was a high school with a graduating class of 800 located in south Brooklyn.
I'm sitting in Staten Island, NY at a table right now with a bunch of Dewey grads, mostly from the 1970s, and one from my class: Ed Unneland, who was senior editor of Gadfly. I've got myself mixed up with this crew, helping create the 41-year all class reunion.
In the decades since I graduated, I've grown to appreciate what a radical experiment Dewey was. Over the years the concept got watered down; grades were instated; the campus was closed and students can no longer wander out. Yet many thousands of students were influenced by the experience of being treated as adults starting at age 14. Though there were no grades, our grads went to the best universities in the country, and disproportionate number have emerged as movers and shakers in the world: people with initiative, unafraid of ideas, able to take leadership.
I've volunteered for a few different roles in this event, including co-coordinating publicity. If you're a journalist and you've picked up this article in Google (which is my intention), or if you're a Dewey grad, please drop me an email at use this mail link.