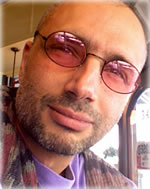 Oh wait I nearly forgot — it's my turn to write the blog today! And it's audio day. Okay then, it's time to get busy. I'll be back in a little while with a new weekly audio bulletin covering Chiron in Pisces and the Sun in Taurus. Check back by 11 am EDT.
Meanwhile, I've been granted 15 minutes of world fame by Madame Arcati, one of England's top psychics and most successful entertainment bloggers — here is her interview with me, just posted a few minutes ago. You don't get press like this every day.
If you're visiting from the Madame's blog and would like an introduction to my writing, here is my Planet Waves April monthly horoscope, [sample of premium content — here is how to subscribe] and here is a excellent little eBook called It's Not About Sex, It's About Self that will introduce you to my theory of sex and astrology.
Madame Arcati, many thanks to you.
Back in a bit with some Sound Waves.