By Betty Dodson
One of the world's foremost and few advocates of conscious masturbation, Dr. Betty Dodson is an erotic pioneer who "came of age" in the Sixties and Seventies. She's the author of several books, anddirector of many educational DVDs geared toward liberating sexuality for women. She has been one of Eric's sexuality and art mentors since the mid-1990s. This article was written on the occasion of her 79th birthday last year.
There is little doubt that feminism lost ground with the last two generations of young women. I believe one reason for this has been mainstream feminists' focus on rape, incest, and violence against women and girls. It's time to rescue sex from violence. We need to acknowledge sexuality as the life force that allows us to procreate and fuels our creative impulses through repeated experiences with pleasure.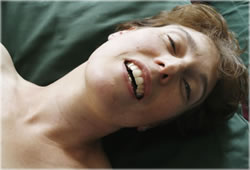 This is one of the many reasons we're so excited about launching Betty Dodson Online with Carlin Ross. Our new website intends to establish a feminist theory of sexual pleasure that will revitalize the Women's Movement. Since Carlin is in her mid-thirties and I'm in my late seventies, we have the advantage of pursuing an intergenerational dialogue on sexuality and feminism. Together with our online community, we will explore what it means to be a sexually empowered woman by asking: "What does fucking like a feminist mean to you?"
In 1972, I stated the following in my first feminist manifesto that later became Liberating Masturbation: a Meditation on Selflove in 1974: "Among the many issues involved in the liberation of women, the two major fronts in my own personal liberation have been economics and sexuality. Ultimately they are not separable, not as long as the female genitals have economic value instead of sexual value for women."
Today I'd say it differently — money and sex are not separable as long as women look to men and marriage to secure our futures.