Editor's note: This week's column on sex and relationships comes to us courtesy of "Psychology Tomorrow," the website edited by Stanley Siegel, LCSW. Siegel first came to Planet Waves' attention in 2012; his article about the shared values of sex workers and therapists coincided with our coverage of 1992 QB1 and the idea of "Thresholders." — Amanda
By Michael Picucci PhD, MAC, SEP
Most people in the "recovery" or "therapy" process yearn for sexual healing. I make this statement as a therapist and as a human being who has facilitated myself and many others on the journey.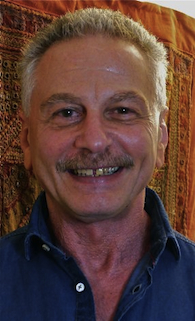 Sexual healing is the shame-free revisiting of complex sexual histories, limitations and perceptions combined with new awareness, understanding, and compassion. In the process of this rejuvenation, we learn how to merge our spiritual and sexual energies. The "sexual-spiritual split" is a culturally induced, deep psychic schism that haunts relationships and precludes emotional fulfillment. Resolving this powerful inner conflict is necessary for true body, mind and spirit connections.
These guidelines can be used to illuminate and focus a core healing journey that is central to having life mastery, which is the awareness of aliveness, sensual pleasure and contentment.
Five graceful guidelines for sexual healing:
1. Increase body awareness
2. Share sexual history
3. Dialogue in relationship
4. Create 'Fusion Exercises'
5. Rediscover adolescent awkwardness
1. Body Awareness. Introduce yourself to the possibility of bringing full body awareness and energy to your sexual regions. Some of us have depleted energy levels and a diminished sense of aliveness in our pelvic area and a fullness of energy in our heart region. Others feel constricted with their heart energy while having an intense pelvic charge. This is particularly evident in early intimacy and bonding. Because of this culturally fragmented energy disbursement in the body, sexual motivation usually has more to do with feelings like neediness, escape from other feelings, and proving one's self-worth, than feelings of pure pleasure and the normal desire for interconnectedness.
For many, pleasure can only be realized in highly charged scenarios. Often they are avoided because they are dangerous and/or self-destructive. Some of us are just fearfully frozen. Others become frustrated at a perceived lack of ability to negotiate the complexities. Many repeat unfulfilling patterns again and again. Whatever one's history may be, the following exercises have proven helpful in energizing and awakening sexual aliveness.