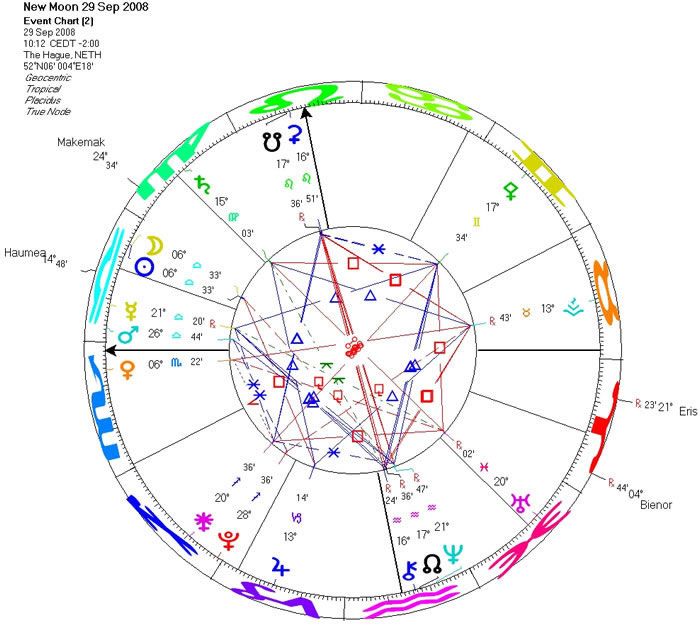 Dear Friend and Reader:
AT THE LIBRA New Moon early Monday morning (in USA time zones), the overall emphasis of the sky remains in the sign of balance and justice, as the world seems to need these things more than ever. While Venus has changed signs and moved into Scorpio, it's forming an exact semisextile aspect (30 degrees) to the lunation in Libra. Mercury and Mars are still in Libra with the Sun and Moon. Mercury is now retrograde (through Oct. 15). The newest member of the dwarf planet category, Haumea, is in Libra, too. Haumea is in wide conjunction with the New Moon.
Venus and Mars are in mutual reception, each occupying one another's signs. Traditional astrology cautions that both are weakly placed in their signs; Venus is in its detriment in Scorpio, and Mars is in its detriment in Libra. The two planets are bound in an energy cycle that currently seems difficult to break free from. This is a fitting image of the locked-in pessimism associated with the global economic crisis currently unfolding.
The Libra New Moon is six degrees opposite the Aries Point, which you may already be familiar with. This is a degree of the zodiac that merges the personal and political spheres of life. Indeed, there can seem to be no difference as the world crashes into the living room or into your iPhone screen.
On Sept. 17, 2008, a trans-Neptunian minor planet previously known as 2003 EL61 was classified as the fifth dwarf planet in our solar system and named Haumea, after the goddess of childbirth and fertility in Hawaiian mythology. It's interesting that we have Venus and Mars, the original planets of sex, in difficult positions, as we commemorate a New Moon conjunct a planet associated with reproduction.
In ancient times and for many today, Venus and Mars are also associated with commerce and prosperity, ruling the signs Taurus and Scorpio. Libra (the second home of Venus) fits into the picture because of its association with partnership, upon which commerce is built.
The New Moon always corresponds to a Full Moon two weeks later, and the Full Moon that's coming arrives with enormous impact. It's on the eve of Mercury stationing direct in Libra, but more to the point, it's closely conjunct Eris, a planet named for the goddess of discord. The next two weeks build to some extremely unusual developments, and I say that knowing that the past few weeks have been very strange, leaving many people with an enormous feeling of uncertainty and instability. We will see the first real results of the $700 billion bailout package currently being negotiated (and allegedly finalized) at the time of the New Moon.
Sound astrological advice would be to take a wait and see approach. Conserve resources and avoid making important decisions till the many, many facts destined to emerge Oct. 14-15 make themselves known.
In this article, we've mentioned the dwarf planets. Here is some background information on the ongoing process of defining and naming them.
To read more, you must be a registered user. Registration is free.
If you are already registered, please login Here!