Dear Taurus Reader (or Friend of a Taurus):
The 2012 audio reading for Taurus, is a high-energy, loving, inspired look at your astrology over the next year — or the astrology of your favorite bull in your life (you know how much they love gifts!). This is a special year for Taurus, due to the Venus transit of the Sun. Nothing like this again will happen until 2117 (not 2017, but a century later).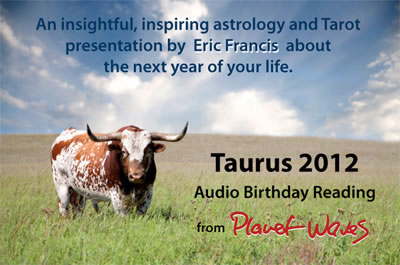 Venus being the planet that represents you, this must mean something — and you can probably feel that something arriving in your life. It is indeed time for a change, though this is change on a cellular level, a re-creation of who you are. The Venus transit of the Sun describes someone who is bolder, more assertive and better able to tap your creative potential. This is the you who can shine out in the world, and who is bold enough to welcome some glory and excitement into your life. There is a message in this transit about finding your voice, valuing who you are, and a beautiful, mysterious end to the way that two values systems have competed for your loyalty.
The transit of Venus is a cosmic gift that will help you get clear about what's important to you, what you want and what you want to be doing. There's no need to worry about 'getting this right'. Rather, what you're being called to do is approach the future with an open mind, willing to let go of what is not working to make room for what is — when the time comes. I also describe the influence of Jupiter in your sign, as something that facilitates change — as well as Jupiter's entry into Gemini as the onrush of new ideas and priorities.
To read more, you must be a registered user. Registration is free.
If you are already registered, please login Here!