Hello dear readers! Yes, I had an unexpected break last week. It was a 6 Kame/Death day, Sept. 8, 2014, and there was a very big solar flare and Full Moon trine Mars and Saturn.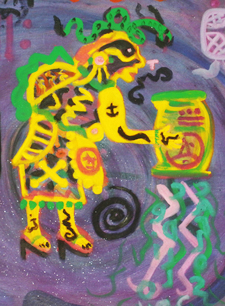 My computer was just one of many things that got fried and died last week. This is all good as we learn to appreciate letting go of things that no longer serve us and prepare for our new lives we are co-creating with the universe.
Last Wednesday, Sept. 10, 2014, Obama also tried to announce another 'war' we are supposed to start against the ISIS group of terrorists WE armed, ostensibly to fight Bashar Assad's army in Syria.
Fortunately, his announcement came during a time that Venus is descending from its position as the Morning Star — what the ancient Maya described as diving into the Sun — and she will be behind the Sun on Oct. 25, 2014, (Muharram, Islamic New Year).
So even though the announcement came on a strong Venus energy day, 8 Qanil/Rabbit, that energy will not be sustainable. In contrast, Venus was very prominent as the Morning Star on Sept. 11, 2001.
According to an article by John Major Jenkins written in 1995, a new 104-year Venus cycle began on April 3, 2001, which was 1 Ahau/Sun. Venus rose as the morning star that day and remained so through Sept. 11, 2001, when she was still very prominent in the morning sky.
I held a 1 Ahau/Sun "Xochiquetzal" fire ceremony March 22, 2011, in San Marcos, Texas. Because of the importance of this day in the Venus cycle, I believe the name of one of the hero twins of the Popol Vuh myth cycle, Hunajpu, translates as "1 Ahau." Venus is being born from the head of the Sun! Now I understand why 1 Ahau is known to the Aztecs as Xochiquetzal's (Flower maiden's) day.