This week we move into a new treceña from 13 Quej/Deer on Aug. 20, 2014, to 1 Qanil/Rabbit on Aug. 21, 2014. This current treceña, along with the current uinal (20-day cycle) and tzolkin (260-day cycle), all end on 13 Ahau/Sun Sept. 2, 2014. Of course it all begins again the next day!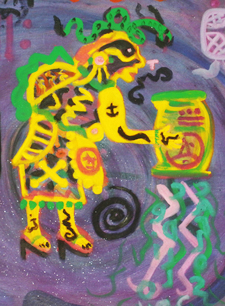 The treceña (13 day-cycle) that is passing has clearly been a magic portal of transformation for the Earth. If we needed more proof of the infinite value of every individual soul on this planet, the deaths of just two individuals shocked the world in totally unexpected ways.
An 18-year-old unarmed man in Ferguson, Missouri, named Michael Brown — never heard of before by anyone outside his family and small community — shot to death by a police officer; and a beloved comedian and actor, Robin Williams, who chose to take his own life.
The death of Michael Brown happened on 2 Ajmac/Owl, a day of duality in justice. After a frightening week of protests in Ferguson was met by a militarized police force, there was a significant moment of clarity and balance on 7 Imix/Crocodile, Aug. 14, 2014. On that day, the governor of Missouri put the Missouri Highway Patrol — led by Captain Ronald Johnson, a Ferguson native — in charge of security.
A new slogan for world peace has emerged from the protestors holding up their hands and chanting, "Hands up; don't shoot!" I believe this will work in Gaza, Ukraine, and everywhere there is turmoil, we just need to get the word out — although as Martin Luther King Jr. explained and experienced*, 'working' may still involve violence and struggle along the road to changing the dominant world paradigm.
Take some time to look within this 1 Rabbit day, Thursday. Venus is tired; she needs some beauty rest or watch out! Try to stay in your hovel. The warrior goddess transforms into the Cosmic Sun over the next 13 days.
To read more, you must be a registered user. Registration is free.
If you are already registered, please login Here!