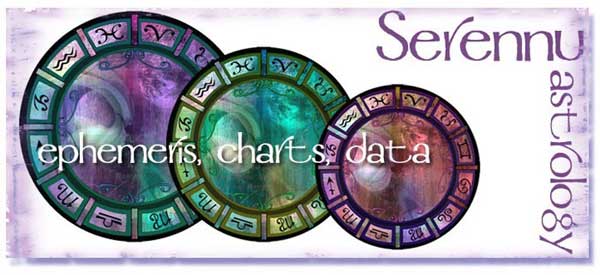 There's a website that I use every day that I want to tell you about. It's created by my old friend Tracy Delaney, a fiery fish who lives in Wales. The site is called Serennu.com, and it's a feat of both astrological thought and advanced programming.
The heart of the website is an ephemeris of the minor planets. An ephemeris is a tool that tells you the positions of the planets on any given day. There are several of these on the Internet, though none so thorough as this one. The Serennu ephemeris lists the classical planets and routine points such as the lunar nodes. Then it lists the dwarf planets (Pluto, Ceres, Eris and others in that group), the centaurs (Chiron, Nessus, Pholus and a dozen others in this group), the uraninan points (the hypotheticals used by uranian astrologers), a number of trans-Neptunian planets (Sedna, Varuna, Quaoar), and finally, about 50 key asteroids.
Serennu will tell you the past, current or future positions of all these points. And it calculates aspects between many slow-moving points, a service that I am sure is unavailable anywhere else. When, exactly, was the conjunction of 1992 QB1 and Eris? The only place to find that out is Serennu.
To read more, you must be a registered user. Registration is free.
If you are already registered, please login Here!