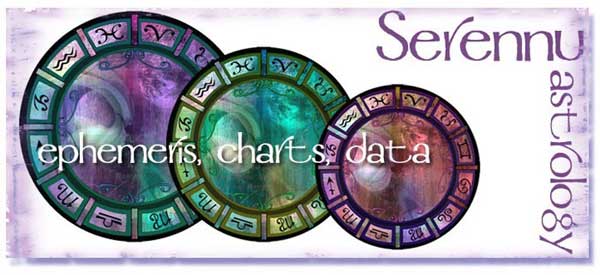 There's a website that I use every day that I want to tell you about. It's created by my old friend Tracy Delaney, a fiery fish who lives in Wales. The site is called Serennu.com, and it's a feat of both astrological thought and advanced programming.
The heart of the website is an ephemeris of the minor planets. An ephemeris is a tool that tells you the positions of the planets on any given day. There are several of these on the Internet, though none so thorough as this one. The Serennu ephemeris lists the classical planets and routine points such as the lunar nodes. Then it lists the dwarf planets (Pluto, Ceres, Eris and others in that group), the centaurs (Chiron, Nessus, Pholus and a dozen others in this group), the uraninan points (the hypotheticals used by uranian astrologers), a number of trans-Neptunian planets (Sedna, Varuna, Quaoar), and finally, about 50 key asteroids.
Serennu will tell you the past, current or future positions of all these points. And it calculates aspects between many slow-moving points, a service that I am sure is unavailable anywhere else. When, exactly, was the conjunction of 1992 QB1 and Eris? The only place to find that out is Serennu.
Tracy also lists Mercury retrograde dates (including the dates for Mercury coming in and out of shadow phase), eclipses, and many other features. As a professional astrologer doing both interpretations for the public, for events and for individuals, I find this website indispensable. There's also a color matching feature for web developers that to my knowledge is totally unique.
All of this was programmed by Tracy at her kitchen table. She was a database programmer back before it was cool to be one, and she discovered a knack for making these ephemeris programs work in an easy and presentable way. There are lots of other features as well. I suggest that you not be intimidated by the amount of information — that is, how many planets she lists — but rather cast the ephemeris for your birthdate and look for the positions in your chart. If you do careful Google searches you will be able to find delineations for many of the points on Planet Waves, or on Serennu. Tracy is the most skilled delineator I've ever worked with, and I say that having worked with many of those considered leaders in the field.
Serenu offers excellent programming and is one of the hottest, most valuable open secrets on the astrology Internet.