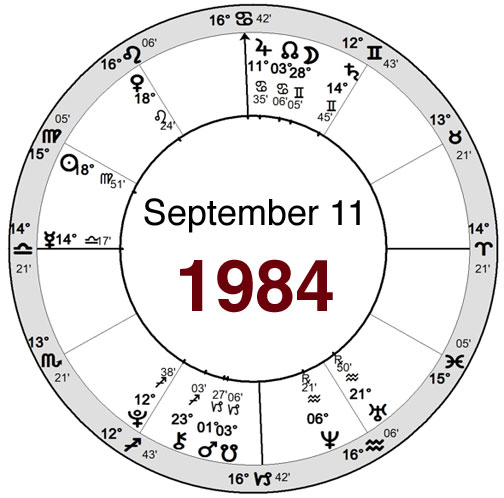 In our own day they are not fighting against one another at all. The war is waged by each ruling group against its own subjects, and the object of the war is not to make or prevent conquests of territory, but to keep the structure of society intact. The very word 'war', therefore, has become misleading. It would probably be accurate to say that by becoming continuous war has ceased to exist."

George Orwell, 1984
WHEN 9-ELEVEN WENT DOWN, we can be sure that astrologers all over the world ran (not walked) across the house, typed the data into their computers and had a look at the chart. For those who speak the language of astrology, it's a remarkable horoscope, and I'm going to do my best to relay my interpretation of the chart to you, which is more or less what I came up with in the first week after the event.
I'm going to use only the most basic elements of traditional astrology. I'll keep it slow and simple. All the glyphs you need are in red, below. Our chart is set for 8:46 am EDT, Sept. 11, 2001 in Manhattan, when Flight 11 hit the North Tower. That was the beginning of this event, from an astrological standpoint; this event is the reason for casting the chart.

The first thing we notice about the chart is that Mercury is rising. See him down there exactly on the eastern horizon on the left side of the chart, the little guy with horns? Remarkably, this planet is occupying the very degree rising, which it does for just four minutes each 24 hours. This placement makes Mercury prominent, extremely powerful and the star of the show. Mercury is the messenger of the gods, the planet of communication in a culture that is based on media. This chart is about a message, which is being delivered so clearly and with such force that it will reach every person and change world history. In Libra, we could say there is some message of justice or of balance.
To read more, you must be a registered user. Registration is free.
If you are already registered, please login Here!