Set amidst much other astrology, Friday, Nov. 1 was the fourth of seven exact square aspects between Uranus and Pluto. This a rare series of outer planet aspects that spans from June 2012 through March 2015, and have effects that spread at least three or more years on either side.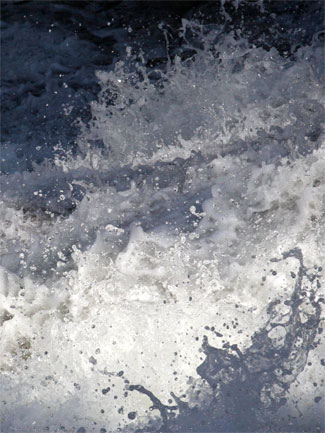 Photo by Eric Francis.
After watching this approach for many years (I've been reporting on this since at least 2009), we are now at the center point of that series of aspects; which is another way of saying at a turning point in the 2012-era. In many ways, the Uranus-Pluto square is a last, best hope — astrologically, anyway — that enough people will wake up so that we can turn around the problems that are threatening humanity and the planet itself.
Clustered around this meeting of two distant planets (Uranus, with an 84-year orbit, and Pluto, with a 250-year orbit) are Mercury retrograde in Scorpio, Mars opposite Chiron and a powerful eclipse of the Sun conjunct Saturn. These aspects describe the need for introspection, polarized clarity of vision, the need for action and a sober statement about a limit on how short a human lifetime is: an eclipse in Scorpio conjunct Saturn, the old Grim Reaper himself.
The astrology describes both personal material and collective material and as usual these days, the many places they intersect. Looked at one way, the problems of the world are nothing more than our collective problems projected into a gigantic relational system. The dysfunction of government reflects the neuroses and crises of our families.
The sensation of Uranus-Pluto and the 2012 era is similar to a lot of potent astrology going off — everything all at once. It's difficult to know what to prioritize, or how exactly to handle it, since most of our problems are unprecedented. To give one example, there is a major crisis brewing at Fukushima Reactor 4, where 1,500 fuel rod assemblies are dangling in a building that cannot withstand any further seismic activity. Nobody has ever tried to remove that much nuclear fuel from a damaged, contaminated structure before.
The world is being overrun with genetically modified foods, which are being revealed as increasingly dangerous, but which also seem unstoppable. Is that not the metaphor for our lives at this time in history — what affects us profoundly that we cannot control and can barely influence?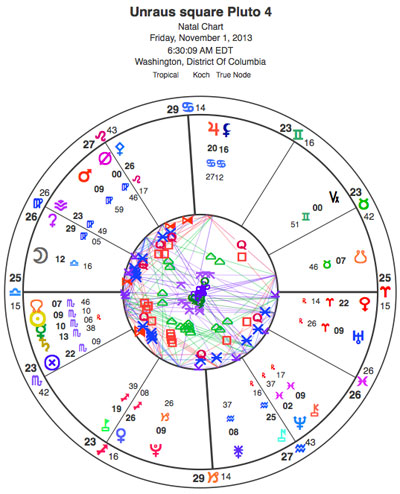 Full chart for the fourth exact contact of the Uranus-Pluto square this Friday. Notice all the planets with a bold "09″next to them (and with numbers close to that). Those are all planets in aspect to each other this week, and in aspect to the Uranus-Pluto square.
The Uranus-Pluto square set amongst so many other cosmic events is saying to focus on what matters. Take the time to consciously prioritize. Remember that knowledge and thought are useless if they don't lead to decisions and to action. As you have no doubt noticed, it's not easy to focus, and we live with the sensation of time running out of control.
That's nothing more than an invitation to use our minds, remember our priorities, filter out what we know does not matter, and most of all, to honor the passage of time. It is true that all kinds of quantum phenomena are available, perhaps to advanced yogis, 33rd degree Masons and miracle workers; we, however, live in the world of time, and we need to honor time boundaries and focus on efficiency of thought and action.
There are often progressive gains and progress made when Uranus and Pluto get together, but there are two things to consider. One is that is humans, not the planets, who make things happen. The other is that these gains are often fragile. They are subject to disruption, subversion and outright attack. They must be respected and built on, or they are for naught.
The astrology that's happening now will never come this way again. Other things will — but what we have now is a special opportunity for our truly unusual, critical, beautiful moment. Time is fleeting, and if we don't focus on healing, madness does indeed take its toll.