NOTE TO READERS: We have removed "Covid19 News" as a top level tab on this website. Please bookmark this page. Or, you may navigate to it through the dropdown under Planet Waves FM above, or via the front page of PlanetWaves FM.


Welcome to Covid19 News, updated Monday through Friday by 11 am. We are published by the nonprofit Chiron Return and edited by Eric F. Coppolino, Melissa DeGasperis with additional research by Claudia Mansbach, Cindy Ragusa, Ro Dann, Loreen Costa and others. We also publish Planet Waves FM. If you in any way appreciate or depend on this service and can do so, please make a donation tax deductible in the U.S. If you have something to report, please send to editors@planetwaves.net.
MASTER COVID TIMELINE | Important Late 2020 Events | PCR Greatest Hits | How Safe is Too Safe? | The Private Idaho Virus | First Year Guests on Planet Waves FM — Not Bad for an Astrology Podcast!

---
State Department officials: circumstantial evidence suggests 'covid' leaked from lab | added March 31
State Department officials considered a lab accident to be the most likely cause of covid in the pandemic's early months and worried that international virologists may help with a coverup, according to a 2020 memo obtained by U.S. Right to Know.
"Origin of the outbreak: The Wuhan labs remained the most likely but least probed," reads the topline. The memo is written as a BLUF — "bottom line up front" — a style of communication used in the military. The identity of the author or authors is unknown.
In response to questions from a reporter, a State Department spokesperson referred U.S. Right to Know to an inconclusive 90-day review by the intelligence community in 2021. "BLUF: There is no direct, smoking-gun evidence to prove that a leak from Wuhan labs caused the pandemic, but there is circumstantial evidence to suggest such is the case," the memo reads.
---
HHS to reassess how fast track approved drugs are marketed to consumers | added March 31
Hot on the heels of backlash of the accelerated approval of Biogen's Alzheimer's drug Aduhelm, the Department of Health and Human Services' (HHS') FDA is looking to rethink and redirect how these speedier approvals are marketed to consumers.
Most patients probably assume the drug they've been prescribed has gone through a long and arduous process before getting that all-important FDA green light. Of course, that's not the case with an accelerated approval. Not surprisingly, most pharma companies don't call attention to the fact that the drug has received this fast track when advertising to the consumer.
The HHS found while some DTC websites did include disclosures about accelerated approval—often using similar wording as the indications and uses section from approved labeling—others, of course, did not.
---
U.S. health care system could face major disruptions as 'covid' pandemic comes to an end | added March 31
When the end of the covid-19 pandemic comes, it could create major disruptions for a cumbersome U.S. health care system made more generous, flexible and up-to-date technologically through a raft of temporary emergency measures.
Winding down those policies could begin as early as the summer. That could force an estimated 15 million Medicaid recipients to find new sources of coverage, require congressional action to preserve broad telehealth access for Medicare enrollees, and scramble special covid-19 rules and payment policies for hospitals, doctors and insurers.
There are also questions about how emergency use approvals for covid-19 treatments will be handled. The array of issues is tied to the coronavirus public health emergency first declared more than two years ago and periodically renewed since then. It's set to end April 16 and the expectation is that the Biden administration will extend it through mid-July. Some would like a longer off-ramp.
---
China calls on essential workers to sleep by their desk during lockdown | added March 31
China's banks and investment firms are calling on essential staff to live at the office this week to avoid any trading disruption during Shanghai's massive covid lockdown.
A person familiar with the matter told CNN Business that traders and fund managers were being offered between 500 and 2,000 yuan ($78 to $314) per night to camp out at work, with some companies placing folding beds under workers' desks. Other firms have also provided staff with sleeping bags, food and toiletries to get by.
Much of Pudong "is doing it," the source added, referring to Shanghai's financial district, which is home to more than 1,000 financial institutions, and China's leading stock exchange — which is continuing to operate as normal. Zhong Ou Asset Management, a Chinese firm that says it has $98 billion in assets under management, said that several of its investment directors and fund managers had begun staying overnight earlier this month to ensure operations continued as the pandemic "began to escalate" in Shanghai.
---
Back by popular demand: Peter Duesberg's harassment at the hands of Anthony Fauci | added March 31
At the suggestion of Paul Tortorici, I am re-publishing my profile of Peter Duesberg. Paul listened to Jon Rappoport's riveting account of his first encounter with the HIV battle, and wrote me to ask if I would publish this again.
It is now de rigeur among "virology is a sham" converts to throw Duesberg to the scrapheap of history, but I insist they are both myopic and ungenerous in their assessments. I'm too drained to even cite who I'm speaking of. But this is definitely a trend that has been trending for about 25 years and is peaking yet again.
Duesberg stands accused now of doing "more harm than good" as he did not dismantle (they say) the paradigm of virology, (only blew up everything he ever encountered in there, one fake virus claim after another.) I'll speak for myself and say that I was there, for all of it. Peter Duesberg never once spoke of being somebody who "saved lives." (No real scientist speaks like that.)
---
New study reveals Ivermectin doesn't reduce 'covid' hospitalization | added March 31
The anti-parasitic ivermectin doesn't reduce the risk of hospitalization from covid-19, according to a study published in the New England Journal of Medicine.
The study serves as more evidence for what health professionals have been saying for much of the pandemic: the cow and horse de-wormer shouldn't be used to treat covid. In the large study, researchers in Brazil studied more than 1,300 patients, half of which received ivermectin and the other half a placebo.
In their conclusion, the authors said, "Treatment with ivermectin did not result in a lower incidence of medical admission to a hospital due to progression of covid-19 or of prolonged emergency department observation among outpatients with an early diagnosis of covid-19."
---
Dr. Zelenko on Pfizer's agenda to eliminate doctors who offer alternative 'covid' treatments | added March 31
Dr. Zelenko on the Stew Peters Show: https://www.bitchute.com/video/2elHNJwVNh8w/
If you think his story is far-fetched, you probably don't know (since "our free press" has never mentioned it) that scores of holistic doctors wound up prematurely dead, from 2015 to 2018, their passing allegedly due either to "suicide" or some freak accident. This was reported only by Erin Elizabeth on Health Nut News, as here: https://www.healthnutnews.com/84th-holistic-doctor-found-dead-murdered-in-home-police-asking-for-help/.
And that wave of untimely deaths had been preceded by the sudden and untimely deaths of over 100 microbiologists—a fact laughed off as "conspiracy theory" by propaganda vectors like the Boston Globe, even though (or, rather, because) it's indisputable: https://prepareforchange.net/2016/02/20/list-of-over-100-dead-microbiologists/
---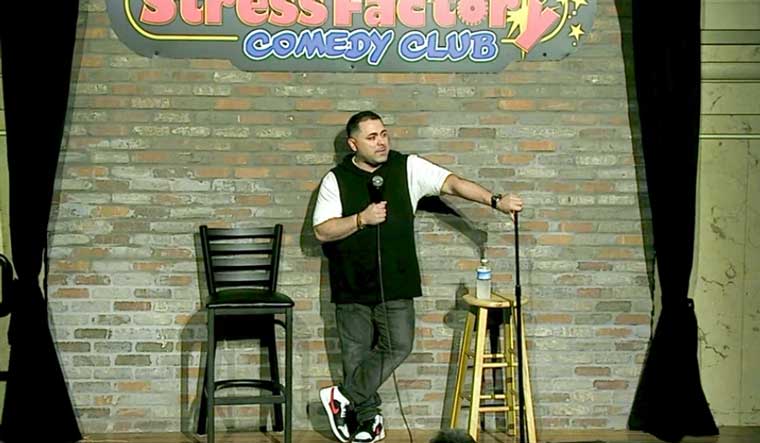 People have got to chillax for real | added March 31
Anthony takes a scientific approach to test if masks actually work by passing gas. A woman with two masks and a welding shield was not impressed…
---
Bruce Willis ends acting career due to neurological brain disorder | added March 31
Bruce Willis' decision to end his acting career of more than four decades after a recent aphasia diagnosis has put a spotlight on the somewhat rare disorder.
Aphasia describes a neurological condition that affects a person's ability to communicate verbally or through writing. It affects an estimated 2 million people in the U.S., and nearly 180,000 acquire it every year, according to the National Aphasia Association. Willis' daughter Rumer Willis posted Wednesday on Instagram that the condition has affected her father's "cognitive abilities."
"As a result of this and with much consideration Bruce is stepping away from the career that has meant so much to him," the post said. Rumer Willis' mother, the actor Demi Moore, also shared the statement.
---
'Covid' fact check number 15: we know all the associated risks of an experimental drug | added March 31
Yesterday morning, celebrity doctor Sara Kayat appeared on GB News to defend the UK government's decision to "offer" coronavirus vaccinations to children between the ages of 5 and 11.
In standing up for the policy, Dr Kayat made the following statement: "It's important we remind parents that the [Joint Committee on Vaccination and Immunization] have looked into all of the data, they've told us the benefits far outweigh the risks. The risks are extremely low, and the risks of covid much higher."
Is this true? Let's take the statements in reverse order. Are the "risks of covid much higher than the risks of the vaccine?" They have literally no way of knowing. But since covid's survival rate for children is something like 99.9998%, does it even really matter? Do the benefits of the vaccine "far outweigh its risks"? Again, they have literally no way of knowing.
---
Fully vaxed cruise ship docks with multiple positive 'covid' cases | added March 30
A Princess Cruises ship arrived in California Sunday with multiple passengers and crew members aboard who tested positive for covid-19. The company's ship, the Ruby Princess, docked in San Francisco after a 15-day Panama Canal cruise.
The cruise sailed from Fort Lauderdale, Florida, to Cartagena, Columbia; Puerto Amador and Puntarenas, Panama; and Cabo San Lucas, Mexico, before arriving in San Francisco, a spokesperson for Princess Cruises told ABC News.
Everybody aboard the ship was fully vaccinated and had to provide proof of a negative covid test before boarding. The spokesperson would not disclose how many guests and staff tested positive but said all the cases were either mild or asymptomatic.
---
NIH deleted CCP virus genetic sequence information at Wuhan Institute of Virology, shows FOIA documents | added March 30
National Institutes of Health (NIH) documents obtained by a nonprofit watchdog in a federal court suit reveal that the agency deleted CCP virus genetic sequencing information from the Wuhan Institute of Virology at the Chinese lab's request.
The Arlington, Virginia-based Empower Oversight Whistleblowers and Researchers (EO) obtained, as a result of a Freedom of Information Act (FOIA) request and lawsuit, more than 230 pages of documents dating from 2020 that include emails, memoranda, and other correspondence among and between the lab and multiple NIH officials.
The CCP virus, also known as the novel coronavirus, was first detected in China in late 2019, before it spread worldwide. Since the first death from the virus in the United States was reported in January 2020, more than 1 million Americans, and in excess of 6 million globally have reportedly succumbed to the virus.
---
FDA approves second Pfizer-BioNTech or Moderna 'covid' booster shot for people 50 years and older | added March 30
The U.S. Food and Drug Administration has authorized Americans who are 50 years and older to receive a second booster of the covid-19 vaccine from either Pfizer-BioNTech or Moderna.
The authorization makes millions more Americans eligible for a fourth dose. Currently, the U.S. urges two primary shots followed months later by a booster dose for everyone age 12 and older. The second booster approved Tuesday for those 50 and up should be administered at least four months after the previous booster, the FDA said.
A fourth dose had only been recommended for people with severely weakened immune systems, who need three doses to begin with for the best chance at any protection. The agency said this especially fragile group also can get an additional booster, a fifth shot.
---
BioNTech's quarterly profits reach billions as 'covid' vax demands soar | added March 30
BERLIN (AP) — BioNTech, the German pharmaceutical company that teamed with Pfizer to develop the first widely used covid-19 vaccine, on Wednesday reported strong quarterly earnings growth on pandemic-fueled demand.
The company posted net profit of nearly 3.2 billion euros ($3.6 billion) for the final three months of 2021, up from 367 million euros in the same period the previous year. Earnings per share rose to 12.18 euros from 1.43 euros a year ago.
"Our 2021 covid-19 vaccine revenues were significantly influenced by the extraordinary circumstances of the ongoing pandemic," Chief Financial Officer Jens Holstein said in a press release. Vaccinations with the Pfizer-BioNTech vaccine, marketed as Comirnaty, started in December 2020. BioNTech, based in the city of Mainz near Frankfurt, said about 2.6 billion doses of the vaccine had been delivered last year.
---
Taylor Hawkins' body flown back to U.S., Foo Fighters cancel tour | added March 30
The casket carrying the body of Foo Fighters drummer Taylor Hawkins, who was found dead Friday at a hotel in Colombia, was seen being loaded onto the band's plane for the somber flight back to the US, photos show.
The chartered Boeing 757 took off from Bogota and landed in Los Angeles on Tuesday night, according to the Daily Mail, which published the images from the El Dorado International Airport. Gus Brandt, the tour manager, remained in Colombia after the other band members returned to the US a day after the 50-year-old musician was found dead at the Four Seasons Casa Medina, the outlet reported.
On Tuesday, the Foo Fighters announced that they have canceled their remaining shows in light of the untimely death. "We're sorry for and share in the disappointment that we won't be seeing one another as planned," they said. "Instead, let's take this time to grieve, to heal, to pull our loved ones close, and to appreciate all the music and memories we've made together. With Love, Foo Fighters."
---
Persistent heart damage found in adolescents after 'covid' shots, according to children's hospital study | added Mar. 30
A new peer-reviewed study shows more than two-thirds of adolescents with covid-19 vaccine-related myopericarditis had persistent heart abnormalities months after their initial diagnosis, raising concerns for potential long-term effects.
The findings, published March 25 in the Journal of Pediatrics, challenge the position of U.S. health agencies, including the Centers for Disease Control and Prevention (CDC), which claim heart inflammation associated with the Pfizer and Moderna mRNA vaccines is "mild."
Researchers at Seattle Children's Hospital reviewed cases of patients younger than 18 years old who presented to the hospital with chest pain and an elevated serum troponin level between April 1, 2021, and Jan. 7, 2022, within one week of receiving a second dose of Pfizer's vaccine.
---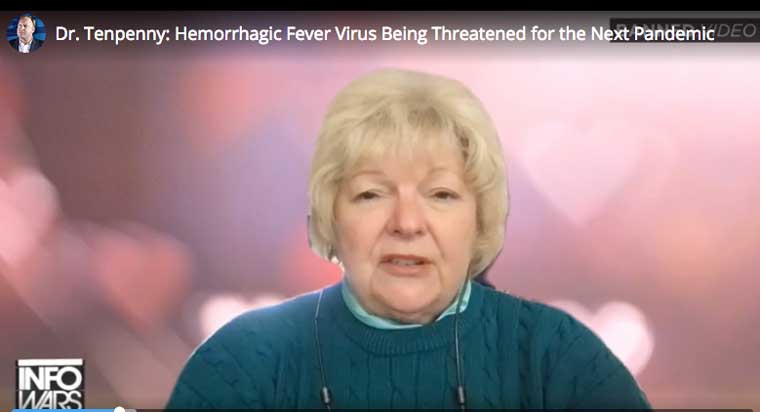 Dr. Tenpenny speaks on a potential new virus being planned by globalists | added March 30
Dr. Sherri Tenpenny joins The Alex Jones Show to break down what she sees for the future of humanity under medical tyranny rule, namely how the medical establishment may roll out deadly hemorrhagic fever viruses for Great Reset's next pandemic plot.
---
Europe approves AstraZeneca 'Evusheld' injections to prevent 'covid' as vax alternative | added March 30
British-Swedish pharmaceutical company AstraZeneca announced on Monday its antibody drug Evusheld, which is taken pre-emptively to prevent covid-19, has been approved in the European Union.
The treatment, administered in two injections, can be taken by adults and adolescents above the age of 12. In clinical trials, the drug reduced the risk of developing symptomatic covid-19 by 77% compared to the placebo, the company said in a statement.
Unlike other antibody treatments, which are used after someone contracts covid-19 to prevent severe illness, Evusheld would be used as an alternative vaccination for people who had a weak immune response to existing covid-19 vaccines or for whom vaccination is not recommended, such as the immunocompromised.
---
Federal health minister fears wave of unvaxed Ukrainian refugees entering Germany | added March 30
Federal health minister Karl Lauterbach has expressed fears about a wave of unvaccinated Ukrainian refugees entering Germany. Lauterbach joined other public officials in voicing concern over "huge vaccination gaps" amongst Ukrainians.
Only around 35 per cent of Ukrainians have had a covid-19 jab and many were given the Chinese Sinovac version, which isn't recognized in Germany. Lauterbach's suggestion that vaccination may become a condition of providing asylum would correlate with his previous support for mandatory vaccinations for Germans
Part of the concerns appear to relate to the agenda to force a mandatory vax on Germans, a process that would possibly be derailed by a large influx of unjabbed Ukrainians.
---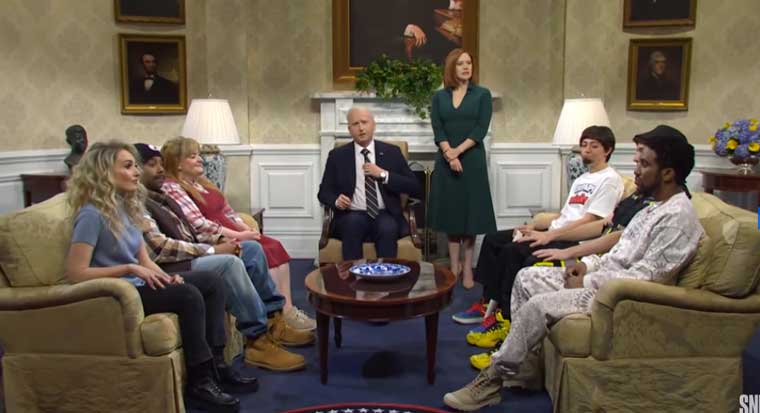 White House meets with top TikTok creators for advice on how to end war | added March 30
President Biden (James Austin Johnson) holds a meeting with TikTok's top creators for advice on how to solve the Ukraine crisis.
---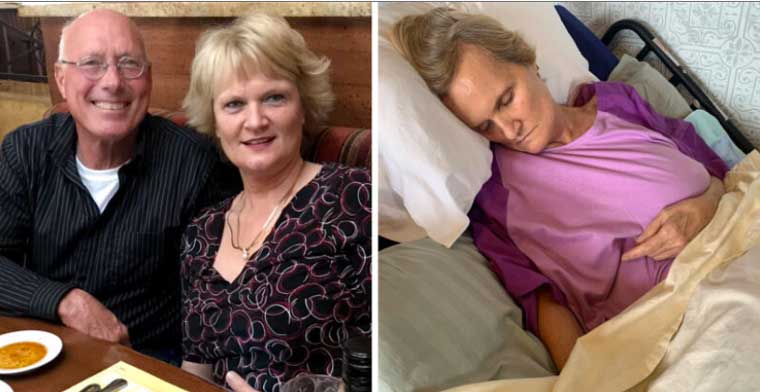 Healthy 60 year-old woman dies from degenerative brain disorder after receiving Pfizer 'covid' shots | added March 29
Editor's Note: Around March 7, 2022, brain damage linked to 'covid' was being reported in mainstream news headlines. Here is one article published from NBC regarding long-term effects of 'covid' on the brain. — mmd
Jennifer Deason Sprague, a healthy 60-year-old woman from Missouri, died Feb. 21, five months after receiving her second dose of Pfizer's covid-19 vaccine.
Jennifer died from Creutzfeldt-Jakob Disease (CJD), a fatal degenerative brain disorder. In an exclusive interview with The Defender, Richard Sprague said his wife received the first dose of Pfizer on Aug. 29, 2021, and her second dose on Sept. 21, 2021.
Although he remained unvaccinated, Sprague said his wife got the vaccine because she worked for the Perkins Restaurant Corporation, which required employees to get the shot. "I told her to just lie about it and if they asked for a vaccination card, then she should ask them to make everyone show proof they had the shot," Sprague said. "She felt bad lying about it, so she went ahead and got it."
Four days after the second dose, Jennifer experienced her first episode of a "sudden strange event she couldn't explain," while she and her husband were at a dinner theater.
---
Heart inflammation in adolescents found months after 'covid' inoculation | added March 29
Heart abnormalities were detected in some adolescents months after covid-19 vaccination, according to a study. Researchers at Seattle Children's Hospital reviewed cases of patients younger than 18 who went to the hospital with chest pain and elevated serum troponin levels, two key markers of heart inflammation, within a week of getting a second dose of Pfizer's covid-19 vaccine.
While 35 patients fit the criteria, 19 were excluded for various reasons, including receiving care in another state after the initial visit. Cardiac imaging of the remaining 16 patients, performed three to eight months after they were first examined, showed 11 had persistent late gadolinium enhancement, a heart abnormality, though at lower levels than months earlier.
The follow-up imaging also revealed abnormal global longitudinal strain, a measure of heart function, in three-quarters of the patients, with little change from the initial examinations, as well as "significantly improved" measures of blood pumping and no detected regional wall motion issues, another abnormality.
---
Biden administration to offer 'covid' shots to migrants at Mexican border | added March 29
The Biden administration will offer covid-19 vaccines to migrants taken into custody at the US-Mexico border, according to two sources familiar with the planning, and confirmed by the Department of Homeland Security, as officials prepare for an influx of migrants.
The plan, which had earlier been a source of tension at the White House, could extend to thousands of migrants encountered at the US southern border. The Department of Homeland Security will be able to initially provide up to 2,700 vaccines per day, it said in a notice to Congress obtained by CNN, increasing to 6,000 daily by the end of May.
The decision comes as the Biden administration reassesses a Trump-era pandemic emergency rule, known as Title 42, that has allowed authorities to turn away migrants arrested at the border for more than two years.
---
FDA recalls common stomach medicine for possible contamination | added March 29
Ten lots of three oral drugs shipped to hospitals, nursing home and clinics nationwide have been recalled for "microbial contamination and failure to properly investigate failed microbial testing." That's in the FDA-posted recall alert from Plastikon Healthcare, manufacturer of the medications for the Major Pharmaceuticals brand.
Here's what you need to know. A microbial contamination was found. Using the above drugs "could result in illness due to intestinal distress, such as diarrhea or abdominal pain," the recall alert says.
"Individuals with a compromised immune system have a higher probability of developing a wide-spread, potentially life-threatening infection when ingesting or otherwise orally exposed to products contaminated by micro-organisms."
---
FDA may soon authorize second 'covid' booster jab for 50 and older, experts agree not for everyone | added March 29
Everyone 50 and older could soon be eligible for an additional covid-19 vaccine at least four months after their booster shot. According to multiple reports, the Food and Drug Administration is likely to approve that extra shot as soon as Tuesday, as a hedge against a surge of infections – either from the BA.2 variant or another to come.
Some health experts questioned the focus on a fourth dose when many people still haven't had earlier doses, when cases are near historic lows and before there's solid data supporting the need for another shot and for whom.
"There are people who will benefit from a fourth shot, but the real gap is getting first, second and third shots to people over 65," said Dr. Tom Frieden, a former director of the Centers for Disease Control and Prevention. "That really is the bigger risk right now."
---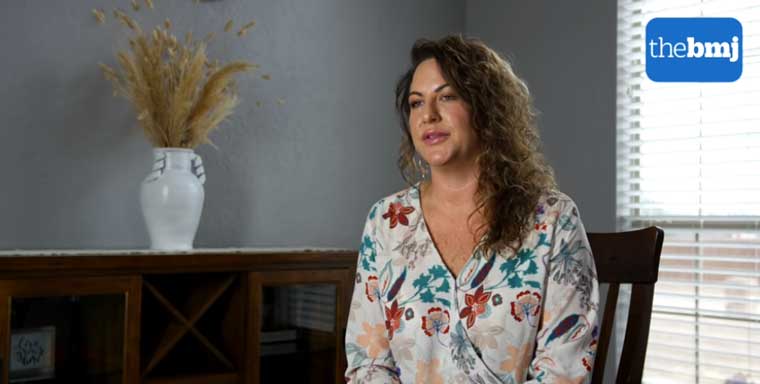 Researcher on Pfizer 'covid' vax clincal data trials exposes data integrity and patient safety concerns | added March 29
For researchers who were testing Pfizer's vaccine at several sites in Texas during that autumn, speed may have come at the cost of data integrity and patient safety.
A regional director who was employed at the research organisation Ventavia Research Group has told The BMJ that the company falsified data, unblinded patients, employed inadequately trained vaccinators, and was slow to follow up on adverse events reported in Pfizer's pivotal phase III trial.
Staff who conducted quality control checks were overwhelmed by the volume of problems they were finding. After repeatedly notifying Ventavia of these problems, the regional director, Brook Jackson, emailed a complaint to the US Food and Drug Administration (FDA). Jackson has provided The BMJ with dozens of internal company documents, photos, audio recordings, and emails.
---
Cheektowaga woman arrested for selling fake 'covid' vax cards to undercover investigator | added March 29
CHEEKTOWAGA, N.Y. (WIVB) — A Cheektowaga woman appeared in Cheektowaga Town Court Monday for a felony hearing, after she was arraigned in Clarence Town Court on March 11, on a forgery charge. She is said to have attempted to sell fake vaccine cards to an undercover investigator.
Kaiyah Heinrich, 24, was charged with one count of criminal possession of a forged instrument in the second degree, a Class D felony. The NYS Department of Health reportedly received information that Heinrich was selling fraudulent covid-19 vaccination cards over Facebook, which spurred the investigation.
On March 10, Heinrich allegedly sold two fake cards to an undercover investigator on Thruway Plaza Drive in Cheektowaga. Her felony hearing was adjourned and she is set to return to court on May 17 at 9 a.m., where she faces a maximum of seven years in prison if convicted. She remains released on her own recognizance.
---
Denmark adds 'covid' extremism as a domestic terrorist threat | added March 29
COPENHAGEN, Denmark — Denmark's domestic security on Tuesday designated pandemic-linked "antigovernmental extremism" as a menace for the first time ever.
The agency, known by its Danish acronym PET, said in its annual assessment that although this type of extremism is not "a significant driving force for the terrorist threat" in the country, it does make the situation "more complex." PET said the menace which expresses the need to use violence against elected representatives, had appeared in connection with the covid-19 pandemic.
Michael Hamann, head of PET's Center for Terror Analysis that analyzes the threat of terrorism against Denmark and Danish interests abroad, said the vast majority of instances where authorities were heavily criticized for their handling of the pandemic unfolded peacefully.
---
WHO studies reports of hearing loss due to 'covid' shots | added March 29
The World Health Organization is examining rare reports of hearing loss and other auditory issues following covid-19 vaccinations. In a newsletter posted on its website, the international public health agency said that it has been made aware of sudden hearing problems, particularly tinnitus, or ringing of the ears, that may be associated with covid vaccines.
The WHO reported 367 cases of tinnitus and 164 cases of hearing loss globally among people who had received a covid-19 vaccine, usually within a day of the shot. That's out of more than 11 billion doses of covid vaccine given worldwide, so the hearing problems seem to be extremely rare.
People who reported tinnitus ranged in ages from 19 to 91, and nearly three-quarters were women. The reports came from 27 countries, including Italy, the United Kingdom and the United States. More than a third were reported among those working in the health care industry.
---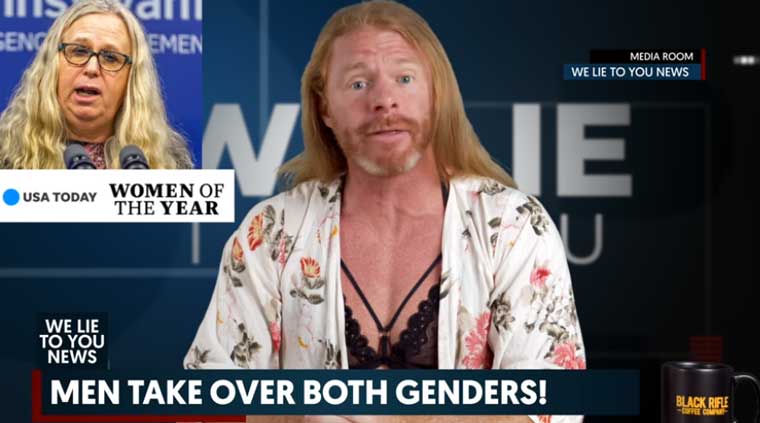 Congrats to the "woman" of the year | added March 29
Brought to you by 'We Lie to You News'. How is this empowering women? Transhumanism isn't such a 'conspiracy theory' after all.
---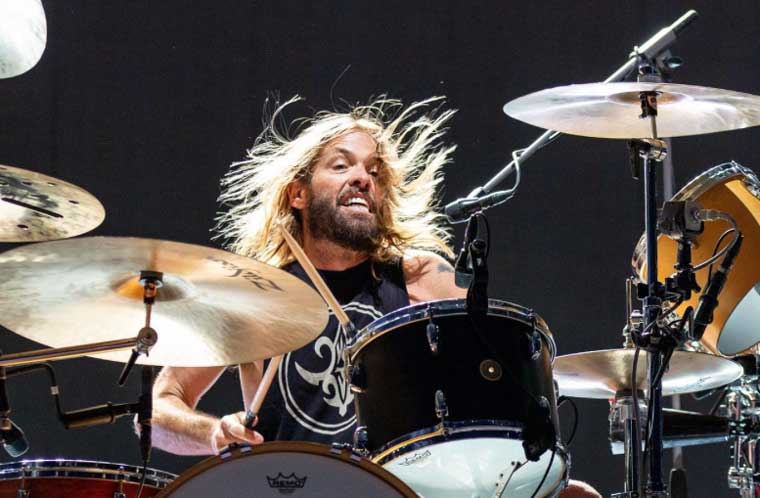 Legendary Foo Fighter Taylor Hawkins dies at 50 after reporting chest pain | added March 28
Editor's Note: Taylor Hawkins was labeled an "anti-vaxer" for raising concerns over vaccine ties to autism. Here is a YouTube video of Dave Grohl speaking about how the band was required to receive the 'covid' shots in order to perform. — mmd
Taylor Hawkins, for 25 years the drummer for Foo Fighters and best friend of frontman Dave Grohl, has died during a South American tour with the rock band. He was 50. There were few immediate details on how Hawkins died, although the band said in a statement Friday that his death was a "tragic and untimely loss."
Colombia's Prosecutor's Office released a statement Saturday saying toxicological tests on urine from Hawkins' body preliminarily found 10 psychoactive substances and medicines, including marijuana, opioids, tricyclic antidepressants and benzodiazepines. It did not provide a cause of death and investigations are continuing.
Foo Fighters had been scheduled to play at a festival in Bogota, Colombia, on Friday night. Hawkins' final concert was Sunday at another festival in San Isidro, Argentina.
---
Coming Friday: Taylor Hawkins opposition to vax and ethical concerns of mandating experimental shots | added March 28
On this coming Friday's edition of Planet Waves FM, we will consider what happened to Taylor Hawkins, the immensely talented drummer of the Foo Fighters. As you may recall, this was the band that led the way with the first-ever allegedly 100% vaccinated concert at Madison Square Garden.
We are reading that Hawkins was an avowed anti-vaxxer and believed that vaccines cause autism. While this is, in theory, controversial, can you argue both sides of the issue?
Can anyone who does not like this idea? The press is calling him an "AIDS denialist," and I know what that translates to: someone who is aware that the virus model of HIV and AIDS does not stand up to scrutiny. Anyway, why would that particular position matter? And what killed Hawkins, a 50-year-old superathlete drummer?
---
Supreme Court rules against NAVY seals application to drop discriminatory vax mandates | added March 28
Editor's Note: Meanwhile in NYC just last week, Mayor Eric Adams stated the city will allow all professional athletes and performers back to work due to a high unemployment rate. Is this a political issue or a health one? — mmd
WASHINGTON — The Supreme Court on Friday restored the Navy's ability to consider the vaccination status of 35 of its service members in decisions about where they should be assigned or deployed.
The court's brief, unsigned order gave no reasons, which is typical when the justices act on emergency applications. The court's three most conservative members — Justices Clarence Thomas, Samuel A. Alito Jr. and Neil M. Gorsuch — dissented.
In a concurring opinion, Justice Brett M. Kavanaugh said courts should not second-guess military officials. "The Navy has an extraordinarily compelling interest in maintaining strategic and operational control over the assignment and deployment of all Special Warfare personnel — including control over decisions about military readiness," he wrote.
---
FDA tells eight states to end 'covid' treatment due to efficacy concerns | added March 28
U.S. drug regulators have directed health care workers in eight states to stop using a COVID-19 treatment because it may not be effective against an Omicron coronavirus subvariant that's rising in prevalence.
The Food and Drug Administration (FDA) said sotrovimab, a monoclonal antibody used to treat COVID-19, can no longer be used in Connecticut, Maine, Massachusetts, New Hampshire, New Jersey, New York, Rhode Island, and Vermont. Providers in Puerto Rico and the Virgin Islands also have been told to stop using stotrovimab.
Regulators believe that the treatment, which was given emergency use authorization in May 2021, "is unlikely to be effective against the BA.2 subvariant," the FDA said in a statement. BA.2 is a subvariant of Omicron, a variant of the CCP (Chinese Communist Party) virus, the pathogen that causes COVID-19.
---
Highly vaxed Manhattan sees uptick of 'covid' cases as 'BA.2 subvariant' spreads through city | added March 28
The BA.2 subvariant of Omicron is making the rounds across New York City, driving infection rates particularly higher in Manhattan — where most residents are vaccinated against COVID-19.
Ten of the 15 areas of New York City with the highest 7-day positivity rates between March 18-24 are in Manhattan, which has continually led the city in vaccinations, according to the city's Department of Health and Mental Hygiene. More than 95% of all Manhattan residents got at least the first dose, while 82% are fully vaccinated. Close to half of all residents (46%) also got a booster shot, the highest rate in the city.
Of course, being vaccinated against COVID-19 does not guarantee one will avoid infection. It does, however, increase the chances that an infected person experiences only mild symptoms rather than a more severe case that requires hospitalization.
---
China begins largest lock down operation in Shanghai since start of pandemic | added March 28
BEIJING — China's biggest city Shanghai began a two-stage lockdown Monday as authorities attempt different strategies to maintain growth, while trying to control the country's worst Covid-19 outbreak since the pandemic began.
Shanghai, a city of 26 million people on the southeastern coast of China, is a hub for finance and international business in the country. The city is also home to the world's largest container-shipping port. The Shanghai Stock Exchange remains in operation. The exchange announced Sunday night that stock issuance applications and other paperwork can be done online, with deadline relaxations as needed.
The city-wide lockdown measures include orders to work from home as well as the suspension of public transit and ride hailing, Shanghai city announced Sunday night. Previously, only specific neighborhoods had faced temporary lockdowns to control pockets of outbreaks.
---
Elon Musk tests positive for 'covid' again: "How many gene changes before it's not 'covid' anymore"? | added March 28
Elon Musk said Monday he appears to have caught COVID-19 "again." "How many gene changes before it's not COVID-19 anymore?" the Tesla and SpaceX CEO said on Twitter. "I supposedly have it again (sigh), but almost no symptoms."
Musk didn't say whether or not he'd taken a test to confirm his apparent infection. He said in November 2020 he'd received a positive COVID-19 test. Before then, he spent months criticizing public health measures aimed at curbing the spread of the coronavirus, promoting misinformation about COVID-19 such as insisting it wasn't very deadly, and baselessly casting doubt on the effectiveness of vaccines.
"The coronavirus panic is dumb," Musk tweeted on March 6, 2020. In May 2020, he sent Tesla employees back to work in defiance of local shelter-in-place orders, which he described as "fascist" and "forcible imprisoning." Musk said in a December 2021 interview with TIME that he and his family were vaccinated because "the science is unequivocal."
---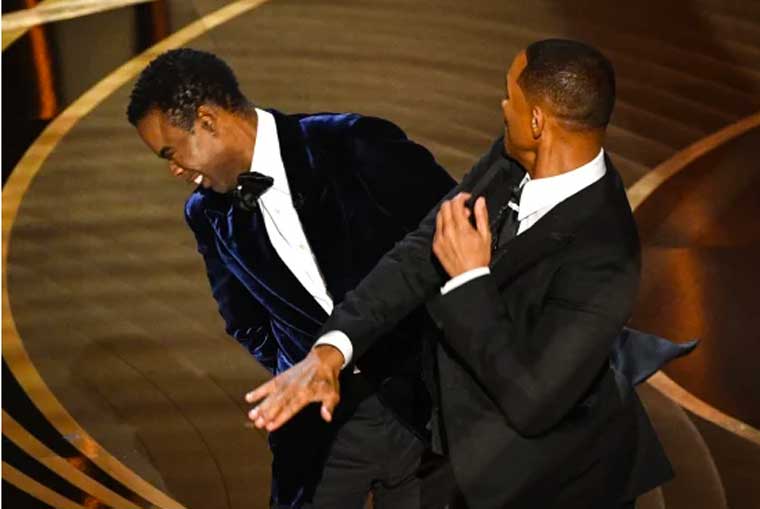 Will Smith slaps Chris Rock: when a joke takes a bad turn | added March 28
It's all fun and games until someone gets hurt. Will Smith's wife, Jada Pinkett Smith was diagnosed with an auto-immune condition, alopecia in 2018 that causes hair loss. This was made public many times over the last few years.
---
New Zealand drops vax mandates for some workforce, cites high vax rates and better data | added March 28
New Zealand will do away with vaccine passes and vaccine mandates for some of the workforce in early April, in a major loosening of the country's tough Covid-19 restrictions.
The prime minister, Jacinda Ardern, announced the changes on Wednesday morning, citing high vaccination rates, better data to identify which environments are high risk, and modelling that suggests the country's Omicron outbreak would peak in early April.
The country reported 20,087 new cases on Wednesday, 960 people in hospital and a further 11 deaths, bringing the total number of Covid-19 deaths since the start of the pandemic to 210. New Zealand has officially recorded more than 500,000 cases of Covid-19 – nearly all of them during the Omicron wave – but modellers expect the true figure could now could be as high as 1.7 million.
---
This week in the 'new normal': contagious shots and bad masculinity | added March 28
Our successor to This Week in the Guardian, This Week in the New Normal is our weekly chart of the progress of autocracy, authoritarianism and economic restructuring around the world.
1."contagious vaccines": Scientists are apparently working on the next generation of vaccine tech: contagious vaccines. That's right stage two in the war on the unvaccinated is here. Sorry, not the war the on the unvaccinated, the war on pandemics. Because this is absolutely about protecting public health, and not at all a way to get around people refusing to take experimental vaccines.
Even the name is misleading, because in reality a "contagious vaccine" is essentially a disease. Perhaps a genetically modified disease, perhaps a "weakened strain" of a disease, but a disease nonetheless. In essence, they are openly planning to deliberately infect people with a lab-modified disease and hope it spreads immunity.
---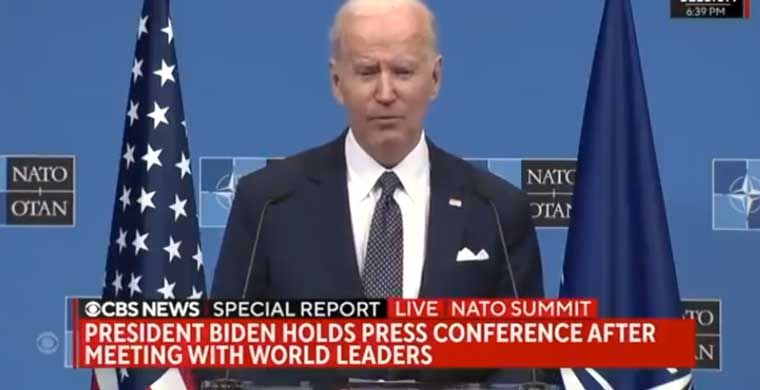 Biden: "Food shortages are real and coming" | added March 26
Editor's Note: Montana's Department of Agriculture warns people about planting seeds and advises to only use seeds from "licensed and dealers and nurseries". This is an example to steer people away from taking action in their own gardens by growing food. — mmd
Bread & circuses keep the masses asleep…and they are taking away the bread. As Biden announces food shortages are coming — prompting many to go stock up, and likely necessitating food rationing — two massive attacks are being perpetrated against our food supply: a "bird flu" epidemic is sweeping Europe and the US, again fueled by PCR tests, forcing mass depopulation of poultry & "backyard flocks."
And farms contaminated with PFAS are being shut down as it is finally revealed that the "Biosludge" applied to farms (including organic!) was the equivalent of salting the Earth to destroy food production. In this Ice Age Farmer broadcast, Christian breaks it down and explores what is going to happen next: a great awakening.
---
Florida health department says CDC erroneously changed the state's 'covid' data | added March 26
The Florida Department of Health (DOH) alleged Friday that the Centers for Disease Control (CDC) erroneously changed the state's covid-19 data without contacting the agency and didn't respond to calls to correct the problem. Jeremy Redfern, press secretary for the state health agency, said that the DOH transmits covid-19 data, including deaths, to the CDC several times per week.
Last week, the CDC removed 72,277 covid-19 deaths from its nationwide tracker after discovering a so-called "coding logic error" that counted deaths from 26 states that weren't linked to covid-19, the illness caused by the CCP (Chinese Communist Party) virus. As a result, the CDC tracker's all-time tally reported childhood deaths from covid-19 dropped 24 percent after the switch.
However, Redfern told the National Review that the CDC made a mistake when it removed those death figures. Of the 72,277 covid-19 deaths that were removed by the agency, about 20,000 were Florida deaths that the state previously had told the CDC were actually covid-19-related.
---
Kansas senate votes to allow 'covid' countermeasures like Ivermectin and child vax exemptions | added March 26
TOPEKA, (KSNT)— The Kansas Senate passed a controversial measure dealing with alternate coronavirus treatments and child vaccinations early Thursday morning.
After a long night of debate and final action votes, the 21 senators voted in favor of the plan and 16 against. Senate Substitute for HB 2280 would authorize the prescriptions of off-label drugs for coronavirus treatment, like ivermectin. It would also allow parents to skip out on child vaccination requirements for any vaccine.
Some Republican lawmakers are backing the plan, but some democrats and health officials worry that passing the measure could have dire consequences. In an interview with Kansas Sen. Cindy Holscher, D-Overland Park, said that it could potentially lead to the spread of dangerous diseases. "Mumps, measles, polio…We put people at risk as far as bringing those back," Holscher said.
---
Roughly a third of 'covid' positive patients reported peripheral neuropathy, says a new study | added March 26
Nearly a third of people who tested positive for covid-19 in the first year of the pandemic suffered from peripheral neuropathy as a result, according to a study conducted at Washington University.
The research, which was published in the peer-reviewed PAIN journal, was conducted on people who tested for covid on the Washington University campus over a period of 90 days. Peripheral neuropathy is a condition in which damage to the nerves causes numbness, weakness and pain. It can be either a short-term or long-term condition.
The study consisted of people who tested positive and were put in the study group and people who tested negative who were put in the control group with a ratio of 1:2. in total, the study consisted of 1,556 people. Among those who tested positive and were diagnosed with neuropathy, one in 16 reported persistent symptoms two weeks after infection and lasting up to 90 days after testing positive.
---
Breakthrough study finds microplastics in human blood | added March 26
In the first study of its kind, researchers in the Netherlands identified the presence of microplastic particles in human blood. The study, published Thursday in Environment International, found a "quantifiable mass" of plastic particles in the blood samples of 17 of 22 — or 80% — of the study's volunteer participants.
Microplastics are small plastic pieces less than five millimeters long. According to the National Oceanic and Atmospheric Administration, they come from a variety of sources, including from larger plastic debris that degrades into smaller and smaller pieces. Microbeads, a type of microplastic, are very tiny pieces of manufactured polyethylene plastic found in health and beauty products, such as some cleansers and toothpaste.
According to the study, the blood samples analyzed by researchers contained four high-production-volume polymers: polyethylene terephthalate (PET), polyethylene (PE) and polymers of styrene, and poly(methyl methacrylate) (PMMA).
---
U.S. small businesses suffer tax pressures amid 'covid' woe | added March 26
Small businesses that have been buffeted by the pandemic, inflation and shipping woes have another challenge to add to their plate: taxes. Tax season can be complicated for everyone, but as the April 18 filing deadline looms, small-business owners, contractors, entrepreneurs and others face a raft of ever-changing rules and regulations.
Plus, many are dealing with delayed returns and refunds from prior tax periods. The Internal Revenue Service has warned of a backlog and says more delays are to be expected.
"It's worse this year than last year," said Gene Marks, owner of The Marks Group, a small business consulting firm in Bala Cynwyd, Pennsylvania. "It seems to get worse every year, and this year definitely worse than it's been in prior years."
---
Fauci finally admits 'covid' natural immunity ' | added Mar. 26
Yes, Fauci has never worried about consistency or even contradicting himself one day to the next, often without explanation. Too often his doling out "the science" has felt like performance art. Still, the record is that Fauci and all his compatriots either downplayed or denied natural immunity for two years. That has been the source of vast confusion.
In fact, this might have been the most egregious science error of the entire pandemic. It amounted to giving the silent treatment to the most well-established point of cell biology that we have. It was taught to every generation from the 1920s until sometime in the new century when people stopped paying attention in 9th-grade biology class.
After the pandemic broke, Fauci said nothing on this topic for a year and a half. The John Snow Memorandum, written to counter the Great Barrington Declaration, claimed "there is no evidence for lasting protective immunity to SARS-CoV-2 following natural infection." Mandates and passports have excluded it. Academic, medical, and corporate enforcers have generally refused to recognize it.
---
Biden administration to offer second 'covid' booster jab to elderly despite efficacy concerns | added March 26
The Biden administration is reportedly planning to give Americans ages 50 and up the choice to receive a second covid-19 booster dose of the Pfizer-BioNTech or Moderna vaccines.
The New York Times said Friday that the move would be made without "recommending outright" that the group get one, citing "several people familiar with the plan." However, the publication noted that "major uncertainties have complicated the decision," including how long the protection from the second booster would last, as well as how to present the White House's overall goal to the public.
Politico reported Wednesday that the booster could be recommended for adults 65 and older and that health officials have reviewed recent data showing vaccine effectiveness waning.
---
Shanghai rules out a 'covid' lock down to protect economy | added March 26
The daily lives and businesses of Shanghai residents should not be neglected by authorities as they battle a surge in omicron cases in China's bustling east coast metropolis, prominent epidemiologist Zhang Wenhong said on Thursday.
In a post on Weibo, the director of Huashan Hospital's department of infectious diseases called for authorities to ensure residents' livelihoods, keep medical channels open and protect private businesses as the city works to keep the outbreak under control.
In future, maintaining a normal life should be stressed as much as the "dynamic zero-covid" policy, Zhang said. Shanghai is currently battling its worst outbreak since the coronavirus pandemic emerged in 2020. As tough control measures were put into place, there were complaints from the public that patients could not get timely treatment at hospitals and that they were inconvenienced when residential compounds were locked down.
---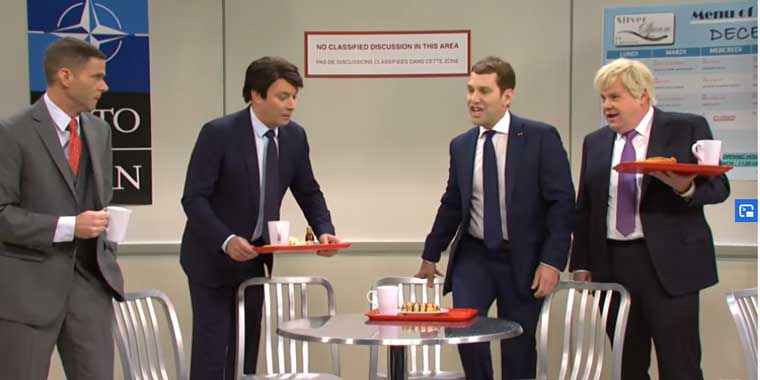 NATO cafeteria, where all the 'cool kids' sit | added March 26
Foreign leaders (Jimmy Fallon, Paul Rudd, James Corden) that were caught making fun of President Trump (Alec Baldwin) at the NATO summit continue their taunting in the cafeteria.
---
Biden administration seeks $22.5 billion in additional funding to provide 'covid' boosters for all, despite pushback from lawmakers | added March 25
White House officials said Monday Congress must allocate another $22.5 billion in covid-19 pandemic relief to avoid imminent cuts to treatment and vaccine availability.
The request came despite pandemic relief payments of almost $178 billion made directly to healthcare providers since March 2020. "Right now, we don't have enough money for fourth [covid vaccine] doses, if they're called for," said Jeff Zients, White House coronavirus coordinator during an episode of "In The Bubble With Andy Slavitt," recorded Monday and shared with The Washington Post.
"We don't have the funding," said Zients, "if we were to need a variant-specific vaccine in the future." The White House last week released a statement detailing the consequences if Congress doesn't provide additional covid relief funding.
---
China continues "severe and complex" zero 'covid' policy| added March 25
TAIPEI, Taiwan — China continues to battle its worst covid-19 outbreak, driven by the omicron variant, with health officials on Friday calling the situation "severe and complex."
The country has counted more than 56,000 cases since March 1, according to national health officials, who gave a press briefing Friday. More than half of those cases have been recorded in northeastern Jilin province and include asymptomatic cases as well. The numbers do not include Hong Kong, which tracks its covid-19 data separately.
China continues striving to "achieve dynamic zero-covid in the short term, as it is still the most economical and most effective prevention strategy against covid-19," said Wu Zunyou, an infectious disease expert at China's Center for Disease Control.
---
NYC mayor: pro athletes and performers no longer need to be 'covid' vaxed amid high unemployment rate | added March 25
Professional athletes and performers working in and based in New York City will no longer be required to show proof of vaccination against the coronavirus, Mayor Eric Adams of New York City said Thursday, linking the decision to the city's high rate of unemployment and the need to keep employees working.
"We're going to make sure we're healthy," he said at a news conference at Citi Field, home of the Mets, where he was joined by executives of the Mets and the Yankees. "And being healthy is not only physically healthy, it's economically healthy."
The policy change means that Kyrie Irving, the Nets' star point guard who has refused to get vaccinated, will be able to take the floor at Barclays Center in Brooklyn for the first time this season. It also applies to performers based in New York City.
---
Australia to ditch pre-flight 'covid' testing for fully vaxed international arrivals in April | added March 25
Health authorities have given the green light for a "winter jab" to become available for millions of high-risk Australians, and pre-flight testing for arrivals will be scrapped under significant changes to living with the virus.
The federal health minister, Greg Hunt, announced international arrivals will no longer need to be tested for covid-19 prior to travel after 17 April when the government's biosecurity emergency determination lapses.
Hunt said international arrivals would still need to be fully vaccinated to enter Australia and wear masks on flights. Hunt also announced that on Friday the Australian Technical Advisory Group on Immunisation (Atagi) had officially recommended a second booster shot for adults 65 years and over, Indigenous Australians 50 years and over, as well as aged care and disability residents.
---
Free 'covid' tests to end for the uninsured | added March 25
For millions of Americans without health insurance, the costs of covid-19 testing and treatment will no longer get covered. A need for more money has ended the program allowing the government to pay for uninsured Americans' covid-19 tests and treatment, according to the Health Resources & Services Administration.
The program was first established under President Donald Trump, The Associated Press reported. The Uninsured Program stopped accepting and processing such claims on March 22 at 11:59 p.m. Eastern time, the agency said. Additionally, the costs of covid-19 vaccines won't get covered under the program as of April 5 at 11:59 p.m. Eastern.
"Doctors, nurses, pharmacists, labs, and other healthcare providers will no longer be reimbursed for tests, treatments, and vaccinations for people without health insurance," one senior White House official said March 15.
---
Two year reflection: the lessons of 'covid' applied to the Ukraine war | added March 25
Yesterday marked exactly two years since the UK went into our first lockdown, just "three weeks to flatten the curve". Several months later the lockdown stopped. Then it started again around Christmas.
There was never, ever, any justification for the lockdown. Lockdowns don't work to halt the spread of disease, even if they did "covid" was never enough of a threat to justify one, and the destructive knock-on effects on public health and the economy make the cure worse than the disease.
We don't need to go into the details of that now. It's all well-established at this point. More importantly – it was well-established before the lockdowns began. From the moment covid was first mentioned in the press, it was obvious it was more smoke and mirrors than anything else.
---
Dr. Elizabeth Eads: millions are geting AIDS from 'covid' vax aftermath | added March 25
Dr. Elizabeth Eads is on the frontline of medicine, treating patients who have been injected with the experimental CV19 so-called "vaccines." Dr. Eads is now seeing first-hand Acquired Immunodeficiency Syndrome, commonly referred to as AIDS. Let that sink in. Dr. Eads explains, "Yes, we are seeing vaccine related acquired immunodeficiency in the hospital now from the triple vaxed. It is a vax injury, and we are not really certain how to treat this.
We are kind of throwing the kitchen sink at it. We are trying to use everything we can think of to boost up the CD4 and CD8 counts and reverse this collapse or calamity of this immune collapse. It's very stunning." Dr. Eads says it is particularly bad in the double CV19 vaxed and boosted.
She calls the third injection "The Kill Shot, the Money Ball or whatever you want to call it. It is just devastating to the immune system, and I'll tell you why. If you look at the recent Stanford study, and I am just going to read a couple of sentences from the Stanford study: 'The spike protein in the CV19 vaccines that everyone is talking about is called the Lentivirus.
---
White House to host annual "Easter Egg Roll' for first time since start of 'covid' pandemic | added March 25
WASHINGTON — The Biden administration announced Thursday that it will host the White House Easter Egg Roll this year — the first time in three years since the coronavirus pandemic.
The Easter Egg Roll will take place on April 18 on the South Lawn. The annual event was canceled last year due to the ongoing coronavirus pandemic. The event was called off in March 2020 under the Trump administration due to covid-19.
The White House also announced that it will continue the annual tradition of opening the White House gardens and South Grounds for public tours. The Spring Garden Tours will be on April 9 and April 10 between 10 a.m. ET to 4:30 p.m. ET each day. The announcements come as several Washington, D.C. institutions are resuming public tours.
---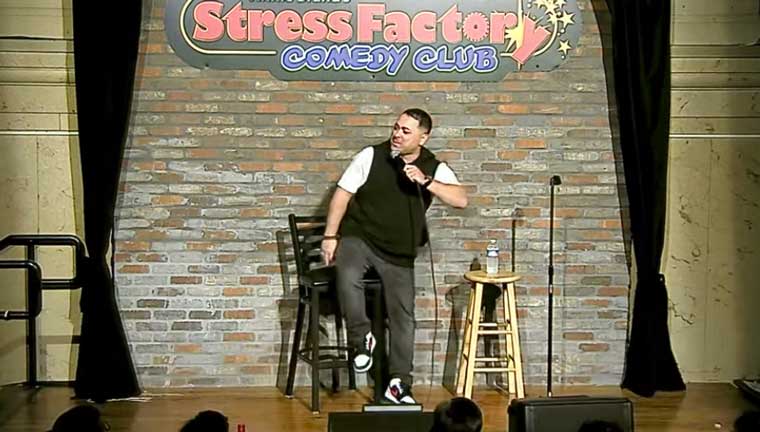 When Italians get 'covid' | added March 25
Mangia Mangia. Four slices of pizza later and we still can't taste anything. Oh mio dio.
---
Senator Rand Paul introduces 'Fauci amendment' to prevent future health dictatorship | added March 25
In an op-ed for Fox News, Paul noted that the action "would eliminate Dr. Fauci's position as NIAID director," as well as "divide his power into 3 separate institutes." Paul explained that "Each of these three institutes will be led by a director who is appointed by the president and confirmed by the Senate for a five-year term."
The Senator added that "This will create accountability and oversight into a taxpayer-funded position that has largely abused its power and has been responsible for many failures and misinformation during the covid-19 pandemic."
"No one person should have unilateral authority to make decisions for millions of Americans," Paul urged, adding that his amendment could "ensure that ineffective, unscientific lockdowns and mandates are never foisted on the American people ever again."
---
The 'covid' mystery of Africa's low death and infection rates | added March 24
KAMAKWIE, Sierra Leone — There are no Covid fears here.
The district's covid-19 response center has registered just 11 cases since the start of the pandemic, and no deaths. At the regional hospital, the wards are packed — with malaria patients. The door to the covid isolation ward is bolted shut and overgrown with weeds. People cram together for weddings, soccer matches, concerts, with no masks in sight.
Sierra Leone, a nation of eight million on the coast of Western Africa, feels like a land inexplicably spared as a plague passed overhead. What has happened — or hasn't happened — here and in much of sub-Saharan Africa is a great mystery of the pandemic.
The low rate of coronavirus infections, hospitalizations and deaths in West and Central Africa is the focus of a debate that has divided scientists on the continent and beyond. Have the sick or dead simply not been counted? If covid has in fact done less damage here, why is that? If it has been just as vicious, how have we missed it?
---
Zimbabwe renews mass 'covid' vax drive for school children aged 12 and above | added March 24
HARARE, Zimbabwe — Zimbabwe has launched a new covid-19 vaccination campaign that includes jabbing children aged 12 and above to rescue a drive faltering due to vaccine hesitancy and complacency.
This week schools in the southern African country have become vaccination zones with children in school uniforms lining up to get the injections. Many parents say they support the vaccination drive to prevent schools from becoming centers of infection, although others remain skeptical.
"Let them get vaccinated, it will save us a lot of trouble. Maybe it will stop the constant closures of schools … the online lessons drain us each time the schools are closed," said Helen Dube, a parent walking her 12-year-old daughter to a school in the crowded Chitungwiza town, about 30 kilometers (19 miles) southeast of the capital, Harare.
---
Madeleine Albright, first female U.S. secretary of state dies from cancer | added March 24
Madeleine Albright, the first woman to serve as the U.S. secretary of state, died Wednesday, her family said in a statement. She was 84. Albright died of cancer, her family said, adding that she was "surrounded by family and friends" at the time. "We have lost a loving mother, grandmother, sister, aunt and friend," the statement said, as well as a "tireless champion of democracy and human rights."
President Joe Biden remembered Albright as "a force for goodness, grace, and decency—and for freedom." She "defied convention and broke barriers again and again," Biden said in a statement. He ordered flags to be flown at half-mast in her honor until March 27.
Then-President Bill Clinton named Albright the U.S. ambassador to the United Nations shortly after he was inaugurated in 1993, and nominated her as the secretary of state three years later. She was confirmed in 1997 by a vote of 99-0. At the time, she was the highest-ranking woman in the history of the U.S. government.
---
'Omicron' subvariant BA.2 to dominate U.S., Fauci doesn't expect a surge | added March 24
Omicron's more contagious subvariant, BA.2, has more than doubled in prevalence over the past two weeks in the U.S. and now represents more than 34% of Covid-19 infections that have undergone genetic sequencing, according to data published by the Centers for Disease Control and Prevention this week.
BA.2 has been steadily growing as a proportion of the covid variants circulating in the U.S. since Feb. 5, when it represented about 1% of genetically sequenced virus samples, according to the CDC.
BA.2 probably already accounts for 50% of new infections in the U.S. because many people are taking tests at home that aren't picked up in the official data, according to Ali Mokdad, an epidemiologist at the Institute for Health Metrics and Evaluation at the University of Washington.
---
Navy exceeds 650 people fired for refusing mandated 'covid' drug jabs | added March 24
The Navy separated an additional 108 sailors in the past week, bringing the total covid-19 vaccine refusal separations to 652. The majority of separations are among active-duty sailors, according to the Navy's weekly update. The Navy separated 101 active-duty sailors since March 16.
Of the 620 active-duty separations of sailors, 522 had fewer than six years of service, while 98 had more than six years, Lt. Travis Callaghan told USNI News in an email. This does not include 22 separations of sailors who were in their first 180 days. The highest rank separated was chief petty officer, Callaghan said. No active-duty officers have been separated.
The Navy also separated seven reservists. The Navy continues to have the second-highest number of covid-19 vaccine-related separations among the services, behind the Marine Corps. The Air Force, which has the third most, has separated a total of 222 airmen due to refusal to get vaccinated against covid-19, according to the air service's most recent update.
---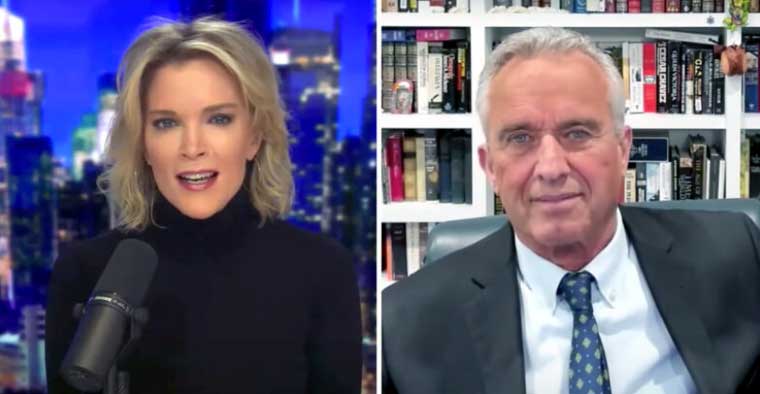 Megyn Kelly interviews RFK, Jr. about big pharma, vax efficacy, and the Kennedy family | added March 24
Robert F. Kennedy, Jr., chairman and chief legal counsel of Children's Health Defense, joined journalist and attorney Megyn Kelly on "The Megyn Kelly Show" in what she calls her longest interview ever.
Kelly called the four-hour interview "an important conversation about public health, the agencies in charge and whether we have been getting the protection we deserve from those we fund with our tax dollars."
Part 1 of the conversation — a two-hour segment titled "Fauci, Vaccines, and Big Pharma's Power" — is a deep dive into Kennedy's positions, achievements and personal history, and how these connect to his views on the environment and politics. Kelly and Kennedy discussed Big Pharma, tech censorship, Bill Gates, covid-19, Kennedy's new book, "The Real Anthony Fauci" and what Kelly called "the global war on democracy and public health."
---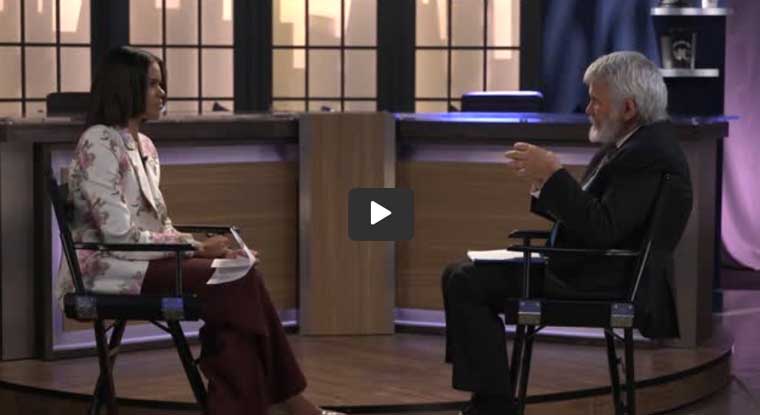 Dr. Robert Malone reveals 'covid' vax side effects data on fertility and health | added March 24
In part 1 of this bombshell exclusive, Candace sits down with Dr. Robert Malone to discuss the effects of the vaccine on women's fertility, the corruption of Big Pharma and the truth about how medical data is manipulated. This is the interview that Big Tech doesn't want you to see.
I hope you enjoy this two-part interview of two intellectual giants, Candace Owens with Dr. Robert Malone, inventor of the mRNA and DNA vaccine core platform technology. They discuss some of the most important issues facing humanity today. In their nearly four-hour discussion, they touch on everything from covid-19 shots' effects on fertility to the "red line" that's been crossed — referring to targeting children with social pressure and coercion to get jabbed.
Malone has been thrust into the spotlight for speaking out about the risks of covid-19 shots, with his words going viral before quickly being erased from YouTube and Twitter. It doesn't matter if what he's saying is true; if it creates "vaccine hesitancy," it will be censored. Toward that end, Malone has been targeted by the media and labeled an "anti-vaxxer," which is ironic since he's received covid-19 shots.
---
Biden administration warns fourth 'covid' jab not in the budget | added March 24
The Biden administration warned Wednesday that second covid-19 vaccine booster shots — or a new type of vaccine, if needed — will not be free and readily available to the general public, if and when they are authorized, without additional funding from Congress.
There will, however, be enough supply for seniors and immunocompromised Americans. "We do have sufficient current inventory of vaccines, both at states and pharmacies and other access points around the country and in our central inventory for fourth doses if they're called for this spring for our most vulnerable, including seniors," White House covid-19 response coordinator Jeff Zients said in response to a question from CNN during Wednesday's briefing.
"Where we do not have sufficient doses is later in the year if the science dictates that all Americans should get a booster, or if there's a need for a new formulation of the vaccine, a variant-specific vaccine, for example, then we will not have sufficient supply," Zients added, calling the situation "completely unacceptable."
---
Tufts Medical Center reports no 'covid' hospitalizations in ICU for first time since March 2020 | added March 24
BOSTON — For the first time since the dawn of the pandemic, one Boston-area hospital said Thursday it has no covid-19 patients in the intensive care unit. Tufts Medical Center first admitted a covid-19 patient to the ICU on Mar. 23, 2020 — 731 days ago.
As of Thursday morning, a Tufts spokesperson said the hospital was caring for nine covid-19 patients but none were in the ICU. Statewide, the Department of Public Health reports that 80% of all available ICU beds are occupied.
In Boston, 86% of all ICU beds are occupied. DPH does not provide details on how many of the ICU and regular hospital beds are occupied by covid-19 cases.
---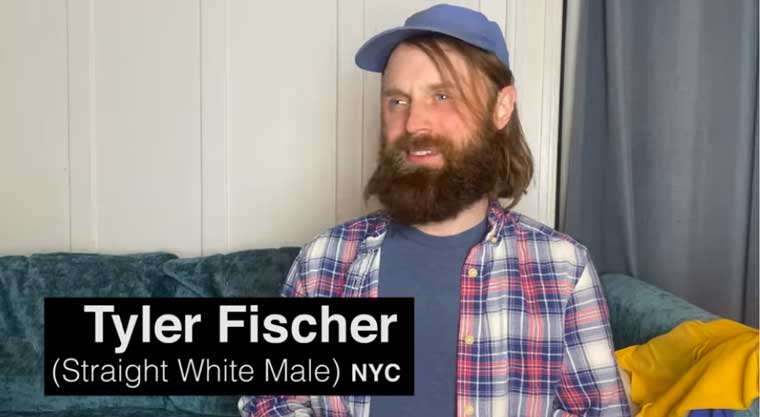 How do you define a woman? | added March 24
In this video Tyler attempts to define a woman and gets cancelled. He isn't a biologist after all…
---
Pfizer recalls blood pressure drug containing high levels of cancer causing nitrosamines | added March 23
Editor's Note: Nitrosamines are formed when nitrates have been added to processed meats, bacon, cold cuts or inside our intestines when diets are high in red meat and there are sources of nitrates. A comprehensive look into the carcinogen can be found on Physicians Committee for Responsible Medicine website. — mmd
Pfizer Inc. is recalling a blood pressure drug because of elevated levels of a potential cancer-causing impurity. The company warned consumers on Monday of several tainted lots of Accuretic and two other versions of the drug — quinapril and hydrochlorothiazide tablets – because of the presence of a nitrosamine above the Acceptable Daily Intake level.
"Nitrosamines are common in water and foods, including cured and grilled meats, dairy products and vegetables. Everyone is exposed to some level of nitrosamines," according to the Food and Drug Administration. It adds: "These impurities may increase the risk of cancer if people are exposed to them above acceptable levels over long periods of time." The medications are prescribed for the treatment of hypertension to reduce the risk of cardiovascular events, primarily strokes and myocardial infarctions.
The recall is voluntary, according to the company, and the company says that as of Monday, it has not received any reports of adverse events related to the drugs. "Although long- term ingestion of N-nitroso-quinapril may be associated with a potential increased cancer risk in humans, there is no immediate risk to patients taking this medication," it says.
---
NYC schools will lift mask mandate for 2-4 years-olds April 4 if 'covid' cases remain low | added March 23
NEW YORK (PIX11) — Children between the ages of 2 and 4 in New York City's public schools and day care centers will need to keep wearing masks at least through the end of the month, Mayor Eric Adams announced Tuesday.
The mask mandate, which has been the focus of protests by parents, will be lifted on April 4 as long as covid-19 cases and hospitalizations do not increase in the coming weeks, the mayor said.
"I have always said that the science will guide us out of the pandemic, and because we have followed the data, we are winning the fight against covid-19. New York City is currently in a low-risk environment," Adams said in a statement. The mayor said the decision to wait until April will allow for "sufficient time" to evaluate covid data and "make sound decisions for our youngest New Yorkers."
---
Ukraine government uses wartime to expand digital control | added March 23
The Ukrainian government in 2020 launched Diia, a digital app that combines identity card, passport, license, vaccination record, registrations, insurance, health reimbursements and social benefits.
That was before Russia's Feb. 24 invasion of Ukraine. Now, it appears the Ukraine government is expanding Diia, illustrating how digital apps can be employed during wartime. In Ukranian, the word "Diia" means "action," but it's also an acronym in that language, standing for "The State and Me."
Ukraine's deputy prime minister and minister of digital transformation, Mykhailo Fedorov, first announced the app on Sept. 27, 2019, under the auspices of the "State in a Smartphone" project. Officially launched Feb. 6, 2020, Diia is intended to combine all public services into one app, which operates as a "digital state."
---
Zelensky invokes 'emergency powers' to suppress all media and political opposition | added March 23
[Mar. 20, 2022] On Saturday and Sunday, Ukrainian President Volodymyr Zelensky invoked his emergency powers under martial law to suppress several opposition political parties and implement a "unified information policy." In an address to the nation delivered Sunday, he announced a temporary ban on "any activity" by 11 political parties.
The ban includes the Opposition Platform – For Life party, which holds 43 seats in Ukraine's national parliament and is the largest opposition party. Opposition Platform – For Life is a pro-Russia party, but on March 8, party leader Yuriy Boyko demanded that Russia "stop the aggression against Ukraine," according to Ukrainian outlet LB.
That same day, Viktor Medvedchuk, who was accused of treason against Ukraine in May and escaped from house arrest shortly after the invasion began, was removed from his post as the party's co-chair. Russian President Vladimir Putin is godfather to Medvedchuk's daughter.
---
Eighty seven percent of 'covid' deaths among vaccinated in Hong Kong had Chinese jabs | added March 23
About 87 percent of vaccinated Hong Kong people who died from the latest wave of covid-19 outbreak had taken China-made vaccines, local media reported, citing official data. But most deaths occurred among those who were not vaccinated.
Ming Pao, a local newspaper, said it conducted an analysis of data from the Hospital Authority of 5,167 out of overall 5,400 local death cases in the latest omicron-driven outbreak. It found that 71 percent of those who died were unvaccinated. Among the 1,486 vaccinated people who died from covid-19, almost 1,300 of them—87 percent—had received at least one dose of the CoronaVac vaccine developed by China's Sinovac firm, a March 20 report showed.
In comparison, only 12 percent died after getting BioNTech's Comirnaty vaccine, according to the paper. The Hong Kong government, without naming the media, said later that day that such a report was "misleading." It said that about 88 percent of the 5,435 fatalities did not receive two doses of covid-19 vaccines. It provided further data on the city's current virus figures, but this did not include information about what vaccines those who died who were fully vaccinated took.
---
White House press secretary Jen Psaki tests positive for 'covid' again, will not travel to Europe | added March 23
WASHINGTON (AP) — White House press secretary Jen Psaki said Tuesday that she is positive again for covid-19 and will not accompany President Joe Biden to Europe this week for urgent meetings with world counterparts on Russia's invasion of Ukraine.
Biden tested negative on Tuesday, she said. Psaki's reinfection follows recent positive tests for Vice President Kamala Harris' husband and Ireland's prime minister, who was in the nation's capital last week for a series of in-person celebrations of St. Patrick's Day with Biden and other officials.
The scares happened as the Biden administration tries to help the United States ease back into its pre-pandemic patterns, even as cases climb in Europe due to a new, more contagious variant of the omicron strain of the coronavirus.
---
Moderna reports 'covid' shot generates strong immune response for children | added March 23
Moderna said Wednesday its covid-19 vaccine generated a strong immune response and was generally well-tolerated in kids ages 6 months up to 6 years.
The drugmaker said two 25-microgram doses of the vaccine, a quarter of the dose given to those 18 and older, produced an antibody response similar to what was seen in a clinical trial of adults. For the approximately 6,900 children in the trials, the majority of side effects were "mild or moderate," and no cases of a rare heart condition called myocarditis were reported, the company said.
Protection against infection from the omicron variant of the coronavirus was low. For children ages 6 months to 2 years, efficacy was 43.7 percent, and in children ages 2 to 6, it was only 37.5 percent. Moderna said the majority of the infections were mild. There were no cases of severe illness, hospitalization or death.
---
Hillary Clinton tests positive for 'covid', says grateful to be 'fully vaxed' | added March 23
Former Secretary of State Hillary Clinton announced Tuesday that she tested positive for the coronavirus. "Well, I've tested positive for covid," Clinton, 74, wrote in a tweet. "I've got some mild cold symptoms but am feeling fine."
Clinton, who is fully vaccinated, said she is "more grateful than ever for the protection vaccines can provide against serious illness" and asked her followers to "get vaccinated and boosted if you haven't already!" In another tweet, Clinton noted that her husband, former President Bill Clinton, 75, tested negative and is also in quarantine until the "household is fully in the clear."
"Bill tested negative and is feeling fine," she wrote. "He's quarantining until our household is fully in the clear. Movie recommendations appreciated!" Angel Ureña, a spokesman for Bill Clinton, wrote in a tweet that the former president "is feeling well and will continue to be tested in the coming days."
---
Ten reasons to question the "Putin versus Davos" narrative | added March 23
The recent Russian invasion of Ukraine has garnered a lot of attention from both the mainstream and alternative media. There are plenty of theories floating around about what's really going on, the true reason behind the invasion and the true motives and allegiances of Russian President, Vladimir Putin.
Among this entangled mess of assertions, ill-conceived opinions and downright false assumptions is a certain theory that has gained traction in alt media circles, and that is the idea that Putin is some kind of saviour, and that his moves in Ukraine represent an attack against the Western, globalist elite.
When I first saw this claim circulating on the web, the immediate thought that came to my mind is that this must have originated with the QAnon crowd. You see, in the Q-niverse, Vladimir Putin is one of the good guys and he is given the same messiah status as the God-king himself, Donald Trump.
---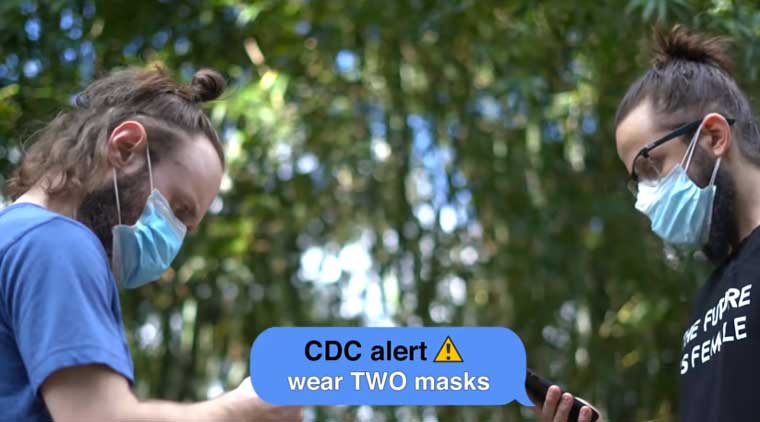 When you comply with everything CDC says | added March 23
Let's keep remembering how our biology and common sense are both inherent…
---
Editor in Chief: 'covid' is digital content | added March 22
The presence of the internet made it possible to create and scale "covid" and "the virus." Without digital there would never have been "covid." First, digital provides the necessary disconnection from the body to blur the distinction between "sick" and "well." Digital had transformed us long before the new "content" of the alleged virus.
Out of body, robotic thinking provided the ground — and the bald insensitivity — to separate people from one another, isolate them, abandon infirm and elderly relatives, and cast off children and parents from holiday celebrations — all due to "contrived" (using CDC's term) virus that was spreading via digital code and being "detected" by a digital device. The term "viral" is one of the most used and abused words of the 21st century. Pertaining to "popularity," a term of the digital age exclusively. First recorded use in this context was in 1999.
Digital technology provided the means to create "in silico" (contrived, digital) sequences and then claim to test for them, initiating a new, alternative form of being "diagnosed" when a person is perfectly healthy. Digital provided the means to distribute the phony PCR codes, based on those sequences, worldwide in a matter of hours, rapidly creating the illusion of an "outbreak" in every country that nobody would have noticed otherwise. Digital provided the proliferation of the PCR device in every institution. Digital provided the means and the incentive to "test, track and trace."
This is a crucial motive behind the whole "covid" trip. Digital provided the apparatus to pump the paranoia and warnings out around the clock for two years, in people already weekend and transformed by robotic, binary thinking. The nonstop conflicting reports, all in digital format, enhanced the disassembly of reasoning — true "doublethink". Digital allowed for the ongoing, easy censoring of viewpoints that threatened the narrative.
Finally, digital provides the means for Moderna to claim that it's mRNA platform is like an app or operating system — that being a fantastic thing — because people now believe that they too are digital devices subject to upgrades. Without digital, there would not have been "covid." Covid IS digital.
— efc
---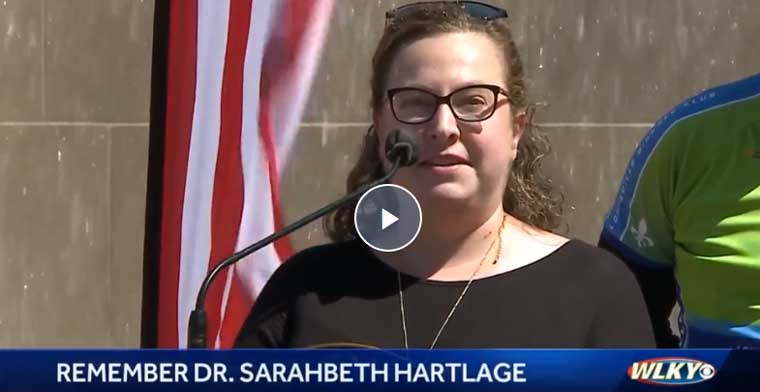 Louisville's lead coordinator of mass 'covid' vax campaign dies unexpectedly | added March 22
LOUISVILLE, KY. — A prominent leader in Louisville's health department, who became a familiar face during the height of covid-19, has died unexpectedly.
Dr. SarahBeth Hartlage helped lead the fight against the virus as associate medical director. She helped spearhead the LouVax site at the Kentucky Exposition Center, among many other things that helped Louisvillians during the pandemic. She was also often on Mayor Greg Fischer's regular covid-19 briefings providing important updates.
We haven't heard how she died, but a statement from colleague Dr. Sarah Moyer, Director, Louisville Metro Department of Public Health and Wellness, her death was "sudden and unexpected."
Here's her whole statement: "We are stunned and deeply saddened by the sudden and unexpected passing of Dr. SarahBeth Hartlage. Our hearts and prayers are with her family as well as the many employees, partners and volunteers who have worked closely with her over the past two years. We are so grateful for the opportunity to have known and worked with her. As a result of her leadership, knowledge and planning, thousands of our Louisville residents received life-saving covid-19 vaccines."
---
March 8-14, 2022: In memory of all those who died suddenly | added March 22
Horse racing advocate, Downs champion, dies unexpectedly on March 10, 2022. Keep me posted, were the last three words Darren Dunn texted to Harvey Warner on Wednesday. Dunn, the CEO of Assiniboia Downs, was down in Arizona recruiting horsemen for the upcoming racing season.
Warner, board chair of the Manitoba Jockey Club, which operates the Downs, was back in Winnipeg. Both men were excited about the prospect of a post-pandemic, "normal" season at the 64-year-old track on the west edge of Winnipeg. "He sent me a text message that he was experiencing chest pains," an emotional Dunn recalled on Thursday. "And out of an abundance of caution he wanted to go to Grace Emergency to get it checked out, which of course I assured him made good sense."
A few hours later, another MJC board member called Dunn to tell him Warner had died. In his mid-seventies and the picture of health, the man who led the charge to save the sport in Manitoba nearly 30 years ago and was the face of it ever since was gone.
---
Rafael Nadal: "When I try to breathe it's painful, like a needle all the time inside" | added March 22
Indian Wells, California: Hours from playing in the biggest final of his young career, Taylor Fritz was in severe pain. The prospect of having to withdraw against Rafael Nadal nearly had him in tears. His coach urged him not to potentially risk damaging his sore ankle further. Fritz stubbornly refused to bow out.
His faith in himself paid off. Fritz upset Nadel 6-3, 7-6 (5) on Sunday to win the BNP Paribas Open and snap the 21-time major champion's 20-match winning streak this year. "It was a complete non-issue, didn't feel it at all, didn't hinder me at all," said Fritz, who tweaked his ankle late in his semi-final win over No. 7 seed Andrey Rublev. Blue medical tape could be seen above his high sock, and he had it numbed before the final.
Nadal had his own health issue. The Australian Open champion came into the match bothered by painful breathing that he first experienced in a three-set semi-final win. He took two medical timeouts during the final. The first one came after he lost the first set. Nadal went inside with a trainer after tapping his upper left chest. He got treatment on court after falling behind 5-4 in the second set.
---
Tinnitus reported as rare 'covid' vax side effect, CDC finds no evidence of cause and effect | added March 22
It was the shock of a loud whistle that almost caused Gregory Poland to veer off the road as he was driving home after getting his second covid-19 vaccine. "It startled me," said Poland, who is 66 years old. "I thought it was a dog whistle going off right next to me."
It was not a dog whistle; it was a piercing sound his brain conjured up for an unknown reason. Poland suspects it may have been a side effect of the vaccine. That was one year ago. The noise, he said, has been unrelenting ever since. For the record, neither Poland nor the medical community at large can prove that the mRNA covid vaccine that he received had anything to do with his sudden onset of tinnitus, a condition that is often described as a ringing, buzzing or hissing noise in one or both ears.
It can be constant or intermittent. The Centers for Disease Control and Prevention, and vaccine manufacturers, have investigated anecdotal reports of tinnitus through programs such as the Vaccine Adverse Event Reporting System, or VAERS, following covid vaccination, but have found no evidence of cause and effect.
---
Rural southern U.S. states face crumbling health care systems due to 'covid' pandemic | added March 22
By the time covid-19 hit Haywood County, it was too late to prepare. The rural county in the Tennessee delta, near the Mississippi River, had its health care system ground down in the years leading up to the pandemic: Ever since the 84-year-old Haywood County Community Hospital closed its doors in 2014, the numbers of doctors and other health care professionals dwindled.
Residents who once were on a first-name basis with their care professionals were left to book appointments at facilities miles from where they'd raised their families and grown older. Haywood County — with its flat land and fertile soil, generations of proud farmers but low per capita income of about $22,000 — is something of a poster child for rural America.
It's also a prime example of the decline of rural health care — and how rural areas are suffering disproportionately in the worst public health crisis in a century. Some of the biggest disparities in the covid-19 crisis aren't just among red states and blue states, or Black, white and Latino populations; they're between rural and urban communities.
---
Disney Shanghai temporarily shuts down amid 'covid' surge | added March 22
Disney will temporarily close its resort in Shanghai from Monday in response to China's rising numbers of covid cases, the company announced.
The move reflected the growing restrictions on travel and entertainment across China as the government tries to stamp out the emerged of the Omicron variant of the coronavirus under its strict "zero covid" policy. The country is facing its worst covid-19 surge since the coronavirus first emerged in the city of Wuhan. On Saturday, it reported its first deaths from the virus in more than a year.
The Shanghai Disney Resort, which includes Shanghai Disneyland, Disneytown and Wishing Star Park, said any decision on a reopening date would be made after consulting with the local authorities. Shanghai Disneyland closed as the virus spread throughout China in early 2020 and reopened in May that year.
---
Judge rules eleven year olds must have parental consent for 'covid' shots | added March 22
The U.S. District Court for the District of Columbia on March 18 issued an order granting a preliminary injunction prohibiting the mayor of the District of Columbia, the D.C. Department of Health and D.C. public schools from enforcing the D.C. Minor Consent for Vaccination Amendment Act of 2020 (D.C. Minor Consent Act) until further order of the court.
"This is a major legal victory for children, parental rights and informed consent," said Rolf Hazlehurst, senior staff attorney for Children's Health Defense (CHD) who argued the case.
"Government overreach such as this has dire implications for children's health and the constitutional rights of citizens," Hazlehurst said. The D.C. Minor Consent Act allows children 11 and older to consent to vaccinations without their parents' knowledge or consent. The law specifically targets children whose parents have religious exemptions for their children.
---
We're coming for you: Sicilians demand inclusion in 'Sex Big Shots' book | added March 22
To Whom it May Concern:
My name is Don Guiseppe Palermo, Jr. You probably don't know me, cause guys like me usually keep a low profile and we don't have a Twitter. But every now and then you have to make your voice known, you know? You can't just shut up when it really matters. So it's time for the bird to tweet.
I represent a bunch of other guys like me who will remain in the shadows for now. You don't need to know who they are, it's better that way. I am their spokesman. What I say, they say, so I suggest you listen, because these guys don't take any bullshit, okay just a little, not so much, but that's it. Okay?
---
This week in the 'new normal': getting vaxed for a virus you never knew you had | added March 22
1. Epstein Barr – the next big vaccine push? Epstein-Barr is the virus which causes glandular fever (mono, for our American readers). It is one of the most common viruses in the world, almost never fatal, and the vast majority of infections are asymptomatic.
Nevertheless, they want to vaccinate against it. A Guardian article from just this morning asks "Can we vaccinate against Epstein-Barr, the virus you didn't know you had?". They don't stop and ask why you would need to vaccinated against a virus you don't even know you had.
They've been working on EBV vaccines for decades, but now – the article claims – the new mRNA technology developed for covid vaccines will finally make it possible. There are already three in early stages of production. So, returning to my earlier question, why do they need to vaccinate against a virus most people never even realise they have? Well, not because it's a dangerous disease – it specifically isn't – but because it is "associated" with deadly diseases.
---
"The People's Convoy" for medical freedom will continue to protest until mandates drop | added March 21
WASHINGTON (7News) – Truckers with The People's Convoy announced they will not be in the D.C. area Sunday, after protesting in the area for more than two weeks.
The convoy continued its protests Saturday. On Friday, part of the convoy took to the 14th Street Bridge and other parts of downtown DC, while others went to Silver Spring. Since last month, the District has been monitoring the group. The city has been using additional resources to ensure that the demonstration isn't too disruptive.
"To make sure if there are any threats of any of these truckers coming downtown, that we can make sure we're protecting our residents," Rodriguez said. Drivers faced major delays again last week heading into the District due to a demonstration related to a trucker convoy and related police operations.
---
US Army announces first soldiers fired for refusing 'covid' shot, few religious exemptions granted | added March 21
The U.S. Army last week announced the separations of three soldiers who refused to take the covid-19 vaccine, the first time the military branch has discharged troops over the mandate.
The Army also said that so far had it relieved six of its leaders, two of whom were battalion commanders. It also issued 3,251 reprimands for soldiers who refused the vaccine, according to a March 18 statement. "As the Army accesses and discharges Soldiers and continues to refine data tracking processes, the vaccination percentages will vary slightly," the Army said in a statement. Army officials didn't respond by press time to a request by The Epoch Times for comment.
Currently, the Army has 4,397 temporary vaccine exemptions, including pending requests for a permanent medical exemption or a religious accommodation, according to the statement. A spokesperson for the U.S. Army told American Military News that the three soldiers who were discharged were the first to be separated for refusing the vaccine.
---
Military doctor punished for granting 'covid' medical exemptions to soldiers shows court documents | added Mar. 21
A major in the U.S. Army Medical Corps was punished for granting service members medical exemptions to the military's covid-19 vaccine mandate, and his Texas medical license is under investigation, court documents show.
Dr. Samuel Sigoloff, a plaintiff in a lawsuit challenging the military's mandate, detailed in a new court motion a series of disciplinary actions taken against him. Sigoloff's declaration is included in the 140-page appendix to the motion.
Sigoloff is one of several of the plaintiffs in the lawsuit who requested exemptions for medical reasons. Some of the reasons plaintiffs listed included pregnancy or being part of high-risk "special populations." The lawsuit, originally known as Doe et al. v. Austin, was filed by 18 members of the military, against the U.S. Department of Defense (DOD) and the U.S. Food and Drug Administration (FDA).
---
'Covid' pandemic takes staggering mental health toll on young Australians | added March 21
One in four young Australians thought about suicide over the past two years and 15 per cent attempted self-harm, according to a poll of 16- to 24-year-olds.
Experts called for urgent action to tackle the nation's deepening youth mental health crisis as the exclusive survey for The Age and The Sydney Morning Herald revealed the magnitude of the pandemic's toll on young people. Eighty-two per cent of those surveyed said they had experienced mental health issues during covid-19.
Young Australians have taken the biggest psychological hit – a separate poll found significantly fewer adults aged 25 and over (49 per cent) reported mental health issues. Those aged 16 to 24 were most likely to report symptoms of anxiety (75 per cent) and depression (62 per cent), while 36 per cent identified eating disorder symptoms, binge-eating being the most common.
---
Hong Kong to ease strict 'covid' countermeasures amid rising criticism over excessive control | added March 21
HONG KONG — Hong Kong plans to relax some anti-covid-19 measures next month, lifting a ban on flights from the U.S. and eight other countries, reducing quarantine time for arrivals from abroad and reopening schools.
The moves, announced on Monday by Chief Executive Carrie Lam, could quiet some criticism from residents who have become increasingly frustrated with the city's stringent measures, some of which have been in place for over two years. The flight ban would be lifted starting April 1, while hotel quarantine for arrivals could be cut to seven days from 14 if residents tested negative, Lam told a news briefing. She had previously said measures would be in place until April 20.
Schools would resume face-to-face classes starting April 19, after the Easter holidays, while public venues including sports facilities would also reopen starting April 21, she said. Hong Kong's border has effectively been shut since 2020 with very few flights able to land and hardly any passengers allowed to transit, effectively isolating a city that had built a reputation as a global financial hub.
---
Fauci: U.S. unlikely see another 'covid' surge, vax and prior infection seem to prevent severe illness | added March 21
Chief White House medical adviser Anthony Fauci said on Sunday that he does not think the U.S. will see another surge in covid-19 cases due to the spread of a new omicron variant, even though cases are rising in Europe and Asia due to the strain.
Fauci said while appearing on ABC's "This Week" that the new omicron strain is about 50 to 60 percent more transmissible than the first omicron strain, adding that it could take over as the dominant strain in the U.S. However, he noted that the strain does not appear to cause more severe illness or evade immune responses from vaccination or prior infection.
"Hopefully, we won't see a surge. I don't think we will. The easiest way to prevent that is to continue to get people vaccinated. And for those who have been vaccinated, to continue to get them boosted, so that's really where we stand right now," said Fauci, though he acknowledged the U.S. will likely see an "uptick" in cases.
---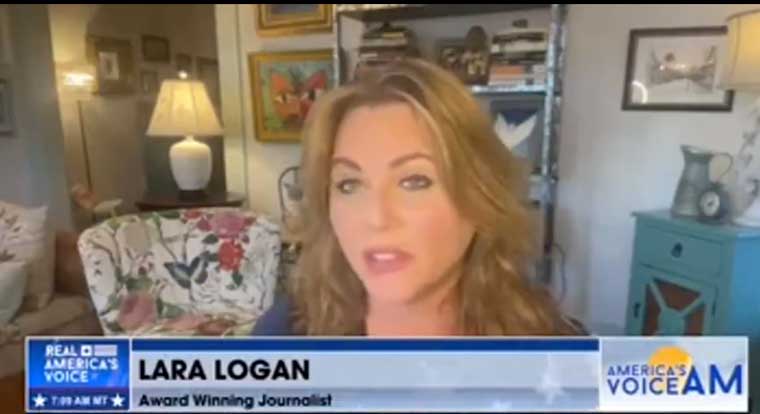 Award winning war journalist, Lara Logan drops truth bombs on Ukraine war | added March 21
We'd all know a lot more about the (taboo) history she mentions if we had a REAL free press (and schools set up to educate their students, not indoctrinate them).
---
Fully 'covid' boosted Justice Clarence Thomas hospitalized with 'flu-like symptoms' | added March 21
Supreme Court Justice Clarence Thomas was admitted to Sibley Memorial Hospital in Washington, DC, on Friday evening "after experiencing flu-like symptoms," the court's public information office said Sunday evening, but he does not have covid-19.
"It is not covid related. The Justice does not have covid," a spokesperson for the Supreme Court said. "He underwent tests, was diagnosed with an infection, and is being treated with intravenous antibiotics," the court's press release said.
"His symptoms are abating, he is resting comfortably, and he expects to be released from the hospital in a day or two. Justice Thomas will participate in the consideration and discussion of any cases for which he is not present on the basis of the briefs, transcripts, and audio of the oral arguments," it added.
---
Austria re-introduces 'covid' mandates two weeks after eliminating due to surge in cases | added March 21
VIENNA (Reuters) – Austria is reintroducing a requirement that face masks be worn in supermarkets, banks and post offices because of an increase in coronavirus infections in recent weeks, Chancellor Sebastian Kurz said on Tuesday.
Austria went into lockdown early in its outbreak in mid-March and began loosening its restrictions a month later, even scrapping the requirement to wear face masks in shops and schools on June 15.
Face masks are still required on public transport, in hospitals and pharmacies and at hairdressers. While the number of daily infections here was regularly well under 50 in May and June, it has increased in the past three weeks – it was over 100 almost every other day this month.
---

Fauci explains why we need more 'covid jabs | added March 21
Will it ever be okay to let our guard down against 'covid'? Listen how ridiculous it is to think an infinite number of drug jabs are the answer.
---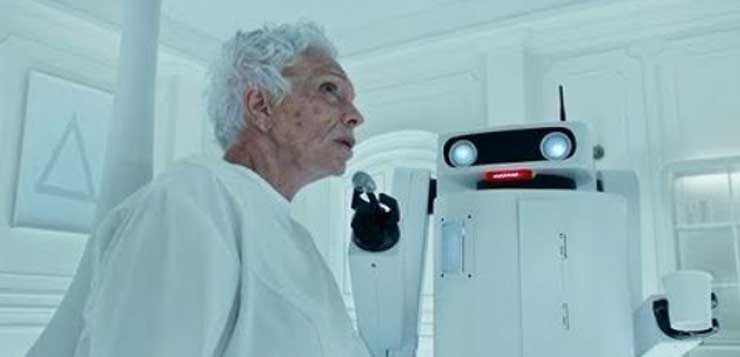 New commercial campaign straight from a dystopian nightmare | added March 19
Editor's Note: Halo-Top 'Eat the Ice cream' video first aired in 2017. On Tuesday night however, the ice cream company launched a campaign with four twisted commercials that target children getting a glimpse at just how miserable adults are today. Could this be setting the stage for more installation of robotics in our society? There is an antidote, Enlightened ice cream. — mmd
Once upon a time—or, to be more specific, up until the Seventies—commercial advertising tended to present the product as your ticket of admittance into an old-fashioned human paradise, where everyone was lovely, all your animal desires would be deliciously fulfilled, and all your social longings satisfied.
Thus, back then, the allure of advertising was nostalgic and utopian, (falsely) promising that this Big Mac or Hershey Bar, Chevrolet or Cadillac, Coke or Pepsi (or whatever), would take you straight to Heaven.
From the Thirties, on the other hand, advertising also often promised to release us from a certain all-too-human Hell—of rejection, isolation, shame, embarrassment, due to your (unless you buy the product now) Bad Breath, Body Odor, dandruff, "unsightly wrinkles" or whatever other sign of your foul, failing body might forever cut you off from Everybody Else, and leave you all alone for all eternity.
---
BREAKING NEWS — Senate approves making it daylight all the time | added March 19
The Senate gave itself a pat on the back earlier this week when senators voted without objection to make Daylight Saving Time permanent.
"The good news is if we can get this passed, we don't have to keep doing this stupidity anymore," said Sen. Marco Rubio, R-Fla., of his legislation to end the need to annually change the clocks in March and November.
However, America tried this before — and the country hated it. In the early 1970s, America was facing an energy crisis so the government tried an experiment. Congress passed a law to make Daylight Savings Time permanent year round, but just for two years. The thinking was more sunlight in the evening would reduce the nation's energy consumption.
---
Facts matter: Pfizer documents reveal 158K 'covid' vax adverse reactions, 1.2K fatalities in first three months | added March 19
[Mar. 11, 2022] Just a few days ago, the FDA finally released its first batch of 10,000 pages of documents related to its authorization of the Pfizer vaccine. And within these documents, there is a breakdown of not only the number of fatalities but also the number of adverse reactions that people experience during the first three months of the vaccine rollout.
However, due to certain redactions within these documents, it's unclear what percentage of the overall vaccination rate that represents. However, we were able to find a proxy and calculate it for ourselves.
Meanwhile, while I was in Florida about a week ago, I took the unique opportunity to sit down with Congressman Greg Steube and we discussed how, moving forward, America can deal with the many threats that we face both externally as well as domestically.
---
CDC reports lower numbers of 'covid' related deaths than previously recorded, blames glitch in algorithm | added Mar. 19
The U.S. Centers for Disease Control and Prevention reported 966,575 deaths from covid-19 on Friday after it corrected the data earlier this week, which reduced the death tallies in all age-groups, including children.
The health agency, in a statement to Reuters, said it made adjustments to its Covid Data Tracker's mortality data on March 14 because its algorithm was accidentally counting deaths that were not covid-19-related. The adjustment resulted in removal of 72,277 deaths previously reported across 26 states, including 416 pediatric deaths, CDC said.
The reduction cut the CDC's estimate of deaths in children by 24% to 1,341 as of March 18. Children accounted for about 19% of all covid-19 cases, but less than 0.26% of cases resulted in death, according to the American Academy of Pediatrics, which summarizes state-based data.
---
Fauci: new surge in 'covid' cases is possible | added March 19
White House adviser Anthony Fauci is warning that covid-19 infection rates are likely to rise in the next few weeks in the United States after their dramatic drop following the omicron variant's rapid spread across the country.
"I would not be surprised if in the next few weeks we see somewhat of either a flattening of our diminution or maybe even an increase," Fauci said on the ABC News podcast "Start Here," ABC News reported. "Whether or not that is going to lead to another surge, a mini surge or maybe even a moderate surge, is very unclear because there are a lot of other things that are going on right now," he added.
Cases have fallen heavily across the nation over the last two months, with the average number of new cases totaling just over 30,000. Fauci's prediction is based on the United Kingdom, where cases have slightly started to go up, although "their intensive care bed usage is not going up, which means they're not seeing a blip up of severe disease," Fauci added.
---
Eleven million acres of U.S. waterways deemed "impaired" and excessively polluted | added March 19
More than 700,000 miles of America's rivers, streams and creeks and more than 11 million acres of lakes, ponds and reservoirs are so excessively polluted that they are classified as "impaired," according to a new report by the Environmental Integrity Project (EIP).
The tally means that more than 50% of assessed river and stream miles and 55% of lake acres are so heavily polluted or otherwise impacted that they are not safe for swimming and fishing or as drinking water sources. The same is true for a quarter of assessed bay and estuary square miles, according to the report.
The figures may be a vast understatement of the pollution problem as about 73% of river and stream miles have not been studied in more than six years. Regardless, they underscore a significant failure by the U.S. Environmental Protection Agency (EPA) and state regulators to enforce the Clean Water Act, enacted 50 years ago.
---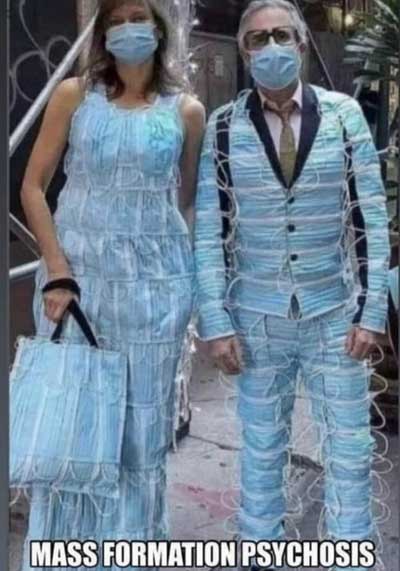 ---
China reports two 'covid' related deaths while millions under lockdown | added March 19
BEIJING — China's health authorities reported two covid-19 deaths on Saturday, the first since January 2021, as the country battles its worst outbreak in two years driven by a surge in the highly transmissible omicron variant.
The deaths, both in northeastern Jilin province, bring the country's coronavirus death toll to 4,638. Both fatalities occurred in elderly patients and were the result of their underlying conditions, Jiao Yahui, an official with the National Health Commission, told a news briefing on Saturday. One of them had not been vaccinated for covid-19, she said.
The majority of new 2,157 community transmissions reported Saturday came from Jilin. The province has imposed a travel ban, with people needing permission from police to travel across borders. Nationwide, China has reported more than 29,000 confirmed cases since the beginning of March.
---
New NYC health commissioner advises indefinite masking for toddlers until vaxed, contradicts mayor | added March 19
During his first press conference, the city's new health commissioner made the case for maintaining mask mandates for young children. This contradicts Mayor Eric Adams' promise this week, assuring parents their kids wouldn't have to wear masks much longer.
Dr. Ashwin Vasan says until city children are old enough to get vaccinated, the masks stay on. "I think it's indefinite at this point. People who have tried to predict the future in this pandemic have had egg on their face, and I'm not going to do that today," Vasan said.
He said he didn't reach that conclusion easily. "As a father of a two and a half year old and two other older kids, I want to keep them as safe as possible. I would love nothing more than to send my son to daycare without a mask. But as a scientist, and as a doctor, and an epidemiologist, I want to keep him safe," Vasan said.
---
Ukraine war: meltdown of a global food system | added Mar. 19
On Monday, 14 March, UN Secretary-General Antonio Guterres warned of a "hurricane of hunger and a meltdown of the global food system" in the wake of the crisis in Ukraine.
Guterres said, "Food, fuel and fertilizer prices are skyrocketing. Supply chains are being disrupted. And the costs and delays of transportation of imported goods – when available – are at record levels." He added that this is hitting the poorest the hardest and planting the seeds for political instability and unrest around the globe.
Poorer countries had already been struggling to recover from the lockdowns and the closing down of much of the global economy. There is now rising inflation and interest rates and increased debt burdens. Ukraine is the world's largest exporter of sunflower oil, the fourth largest exporter of corn and the fifth largest exporter of wheat. Together, Russia and Ukraine produce more than half of the world's supply of sunflower oil and 30% of the world's wheat.
---
#CashFriday to prevent controls inherent in digital currency | added March 18
As the saying goes, "money makes the world go around," but today's battle of digital currencies, inflation, and paper currency has humanity at a tipping point between freedom and fascism.
The pandemic and accompanying lockdowns have been wildly successful, creating the right environment for total control of society, health, money, and food. Huge portions of the population, influenced by fear and mind control, are in complete submission. Every aspect of life and how it functions is now approaching Mr. Global's grasp.
Why the need for total control? Who knows…. People like Catherine and Dr. Joseph Farrell have spent decades trying to figure it out; no doubt they are close. The reality is, however, that we have no more time to figure out why. Humanity is in the middle of the train tracks, and the train is coming through the tunnel and toward us at full force.
---
Hochul extends 'covid' state of emergency through April 15 | added March 18
NEW YORK (WKBW) — New York Governor Kathy Hochul has extended the state's covid-related state of emergency through April 15. According to the governor's office, the extension gives the state the flexibility to troubleshoot hospital capacity issues and it will be reassessed in 30 days. The declaration, which can be found here, says the following:
"WHEREAS, New York continues to experience COVID-19 transmission, with the rate of new COVID-19 hospital admissions remaining at over 100 new admissions a day; WHEREAS, the SARS-CoV-2 variant known as Omicron, determined a variant of concern by the World Health Organization and the Centers for Disease Control and Prevention, is known to be highly-transmissible and to necessitate that persons have additional doses of vaccines for optimal protection;
WHEREAS, the state must pursue a coordinated approach to ensure hospital capacity statewide is able to meet regional needs; WHEREAS, the State government must support the municipalities and counties in their efforts to facilitate and administer vaccinations and tests for COVID-19, and to prevent the virus from continuing to spread at such rates;
---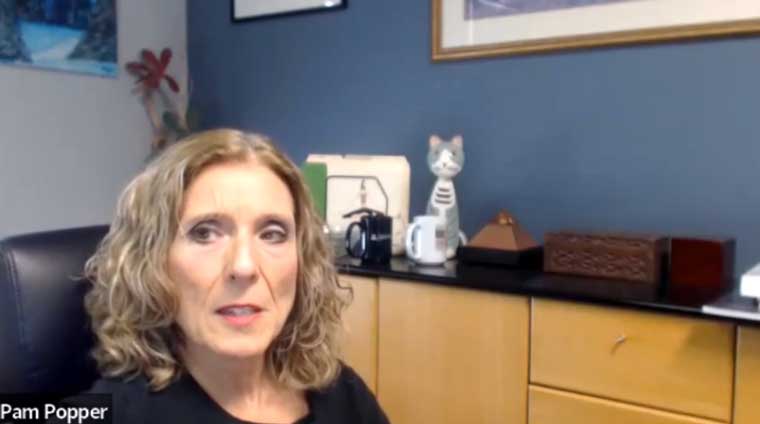 Pam Popper discusses proposed federal guidelines on issuing medical mandates | added March 18
Founder and President of Wellness Forum Health Pam Popper, discusses the guidelines of federal medical regulations. Some of these proposed regulations include the CDC having authority to issue at will 'federal isolation quarantine or conditional release orders' to individuals who are confirmed or suspected to have a communicable disease.
---
Canada to end mandatory 'covid' testing for fully vaxed travelers | added March 18
Traveling to Canada soon? There's a good chance you won't need to worry about a pre-departure coronavirus test. Canada's Minister of Health Jean-Yves Duclos announced Thursday that the country would no longer require fully vaccinated travelers to show a negative pre-departure coronavirus test to enter the country starting April 1 at 12:01 AM EDT. Tourists will not need a booster shot to be considered fully vaccinated.
The announcement comes as Canada's covid-19 case counts begin to settle after the latest covid-19 surge driven by the highly-contagious omicron variant. The country recorded more than 35,000 cases in the past week, a fraction of the record high weekly count of 268,181 recorded in January, according to Johns Hopkins data.
"We are in a much better position today than in 2020," Duclos said. "High vaccination rates and strong adherence to public health measures have pushed us through the peak of the omicron wave."
---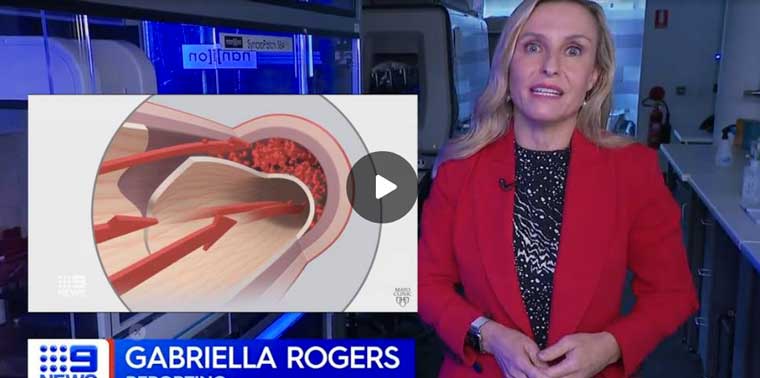 Australia media blames "genetic defect" for massive heart attacks and death | added March 18
Editor's Note: If the video is lagging (which can happen due to censorship, etc.), you can also watch it on banned video here. — mmd
News 9 Australia tries to blame the massive heart attacks and death happening in young people to a 'genetic defect'. Keep watching and you will learn what is actually happening.
---
UK coroners confirm two people died due to blood clots from AstraZeneca 'covid' shot | added March 18
UK coroners in two separate cases this week concluded individuals who received AstraZeneca's covid-19 vaccine died from blood-clotting disorders caused by the vaccine.
Kim Lockwood, a 34-year-old mother from South Yorkshire, died in March 2021 of a catastrophic brain bleed nine days after getting the AstraZeneca shot. Lockwood complained of an excruciating headache eight days after getting the vaccine. Her condition quickly deteriorated and she was pronounced dead 17 hours after being admitted to the hospital.
South Yorkshire Coroner Nicola Mundy, calling Lockwood "extremely unlucky," recorded the cause of death as vaccine-induced thrombotic thrombocytopenia (VITT). Separately, a Sheffield County inquest on Monday concluded Tom Dudley, a 31-year old father of two who received the Astra-Zeneca vaccine on April 27, 2021, died of a vaccine-induced brain hemorrhage on May 14, 2021.
---
Planet Lockdown documentary exposes control mechanisms used during 'covid' crisis | added March 18
Editor's Note: The documentary can be viewed on YouTube here. — mmd
Prior to 2020, if you heard the term "lockdown" you might think of something that happens in a prison — not in a free society. This mechanism of control has since become commonplace — not among prisoners but among the free — with repercussions that are only beginning to be understood.
The film Planet Lockdown explores this unprecedented time in history, speaking with epidemiologists, scientists, doctors and other experts to uncover the real motives behind the increasing totalitarian control taking over the globe. Already banned by Facebook and YouTube, the film starts at the beginning of the pandemic, when we were told lockdowns were necessary to "flatten the curve."
This was supposed to be a short-term, 15-day event in the U.S., but the narrative soon changed to ongoing restrictions. As Michael Yeadon, Ph.D., a former vice-president and chief scientific adviser of the drug company Pfizer and founder and CEO of the biotech company Ziarco, now owned by Novartis, explained, people have historically quarantined the sick, but quarantining healthy people, as has occurred for the past two years, has no scientific backing or historic precedence.
---
Moderna seeks FDA amendment under 'emergency use' to approve second booster dose | added March 18
Moderna announced Thursday that it's asked the US Food and Drug Administration for authorization for a second covid-19 booster shot for everyone 18 and older.
Moderna is seeking an amendment of the FDA's emergency use authorization for its covid-19 vaccine to allow a fourth vaccine dose for any adults who've gotten an initial booster of any of the authorized or approved vaccines. "The request to include adults over 18 years of age was made to provide flexibility for the U.S. Centers for Disease Control and Prevention (CDC) and healthcare providers to determine the appropriate use of an additional booster dose of mRNA-1273, including for those at higher risk of covid-19 due to age or comorbidities," the company said in a news release.
"This submission is based in part on recently published data generated in the United States and Israel following the emergence of omicron." On Tuesday, Pfizer and BioNTech, makers of the other mRNA covid-19 vaccine used in the US, submitted a request to the FDA for EUA of an additional booster of their covid-19 vaccine, but that application was only for adults 65 and older.
---
New 'covid' variant BA.2 spreads quickly across New Jersey | added March 18
A new covid variant is spreading quickly across New Jersey a month after it was first detected in the state, new data released this week shows.
The BA.2 variant appears to be on its way to becoming the dominant covid strain in the region, having more than doubled in prevalence in only a week, according to the U.S. Centers for Disease Control. On Thursday, Gov. Phil Murphy said he expects cases to rise in New Jersey due to surges seen in parts of Asia and Europe. But he said he doesn't expect to reinstate "universal statewide mandated protective measures."
It is unclear how much of an impact BA.2 will have on New Jersey and whether it is as severe as prior strains. BA.2 is considered a "sublineage" of the highly transmissible omicron variant called BA.1, which was responsible for the surge that hit New Jersey hard from mid-December through mid-January.
---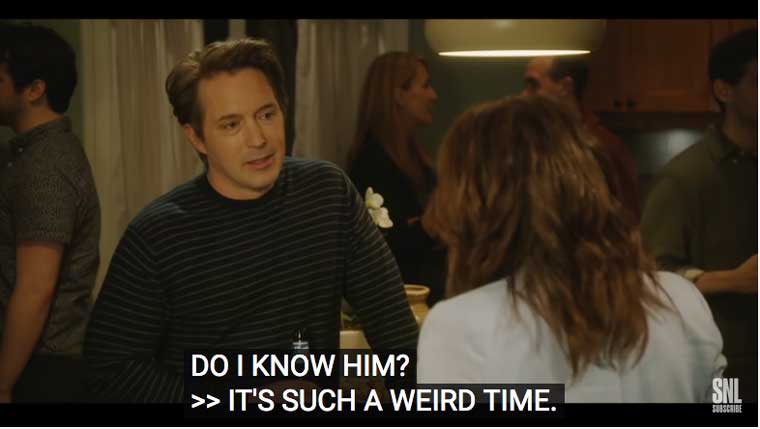 Post-quarantine convos in a brave new world | added March 18
Let's keep it cool and have the convos that count. Not about how many drug jabs we got, but about taking a stand against tyrannical control in a brave new world.
---
NY Gov. Hochul pushes more illegal medical mandates disguised as emergency use regulations, take action today | added March 17
Editor's Note: Uniting NYS has put together information on how to oppose these regulations through direct action. A Zoom meeting with Senator Shelley Mayor is scheduled for today, March 17, 2022 at 4 pm EST. Learn more about it here. — mmd
Hochul is pushing through her Department of Health, yet again, more illegal "regulations". They are actually laws disguised as regs. No, she is not allowed to do this. Yes, she keeps doing it anyway.
Here are the new ones: Required C19 testing = the Department of Health can force you or your children to test if you/they are have not gotten the C19 shot. Criminal penalties and civil penalties up to $1,000 per occurrance. Schools required to report all positive C19 tests = your child's school (including pre-schools) will be required to report all positive C19 tests to the Department of Health.
Other egregious regs we have previously reported that Hochul is still pushing through are: Permanent mask mandate = now they can make everyone wear a mask whenever they please. Forced quarantine camps = they can remove you or your loved ones from your home and force you to go to a location they choose, for however long they choose. Right of entrance and inspection = they can come into your home or other place and examine anyone in there, and you cannot stop them.
---
Cambodia drops mandatory 'covid' testing to bolster a falling economy | added March 17
Cambodia has dropped all testing for covid-19 and reintroduced its pre-pandemic visa-on-arrival system in a bid to resuscitate its economy, especially sectors like tourism.
Prime Minister Hun Sen said easing the entry requirements for international travelers would attract investment, business and tourism to the kingdom. "It will also reduce nose pain from taking the covid-19 test," he said. "Undergoing a covid-19 test is costly as it requires test kits and personal protective equipment."
Hun Sen announced a reopening of the country in November, but restrictions remained as the omicron variant of the disease — more contagious but less deadly — emerged. Foreign investment has collapsed to a trickle and the pandemic to date is expected to cost around six million jobs in the informal economy, which analysts say accounts for about 80 percent of Cambodia's GDP, drawn from a population of 16.5 million people.
---
Scientists research 'covid' and diabetes connection after 11 year-old's blood sugar "off the charts" | added March 17
CROWN POINT, Ind. (AP) — When their 11-year-old son started losing weight and drinking lots of water, Tabitha and Bryan Balcitis chalked it up to a growth spurt and advice from his health class. But unusual crankiness and lethargy raised their concern, and tests showed his blood sugar levels were off the charts.
Just six months after a mild case of covid-19, the Crown Point, Indiana, boy was diagnosed with Type 1 diabetes. His parents were floored — it didn't run in the family, but autoimmune illness did and doctors said that could be a factor.
Could his diabetes also be linked with the coronavirus, wondered Nolan's mom, a respiratory therapist. Turns out scientists in the U.S. and elsewhere are asking the same question and investigating whether any connection is more than a coincidence. It's clear that in those who already have diabetes, covid-19 can worsen the condition and lead to severe complications. But there are other possible links.
---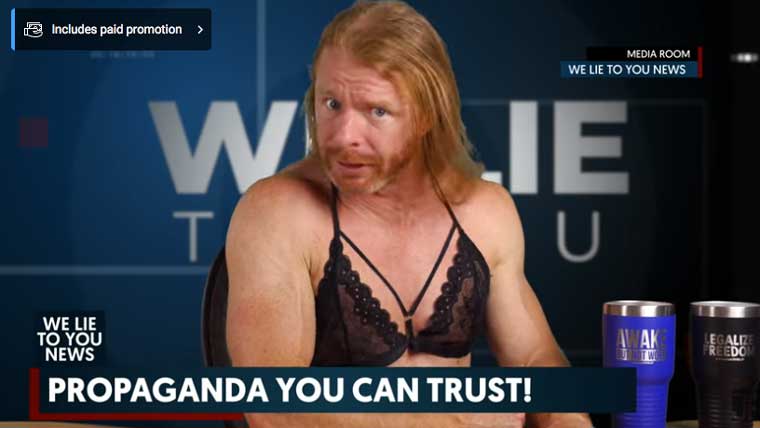 Where in the world did Fauci go? | added March 17
After two years of appearing weekly in headlines, Anthony Fauci has disappeared. Where has he gone?
---
Scalise calls on Fauci to testify at upcoming House Select Subcommittee hearing on 'covid' | added March 17
House Minority Whip Steve Scalise (R-La.) invited top infectious diseases doctor Anthony Fauci to testify alongside other administration officials at an upcoming hearing about moving beyond the current covid-19 crisis.
The House Select Subcommittee on the Coronavirus Crisis is holding a hearing on March 30 featuring other top administration health officials, including Centers for Disease Control and Prevention Director Rochelle Walensky and Surgeon General Vivek Murthy.
Fauci was not included among the witnesses. Scalise, the panel's ranking member, said the committee has not heard from Fauci directly since a briefing on July 29, 2021. "Notably, you are missing from this esteemed witness panel, despite being the Chief Medical Advisor to President Biden and the Director of the National Institute of Allergy and Infectious Diseases," Scalise wrote in a letter to Fauci.
---
Biden's 'covid' emergency coordinators to be replaced by Dr. Ahish Jha | added March 17
WASHINGTON — President Joe Biden's covid-19 coordinator Jeff Zients and his deputy Natalie Quillian are leaving the administration next month, the White House announced Thursday. They will be replaced by Dr. Ashish Jha, the dean of the Brown University School of Public Health.
Zients, an experienced manager and government executive, was brought on by Biden before he took office to devise and execute a " wartime" federal government response to the coronavirus pandemic, including shoring up supply and distribution of vaccines, therapeutics and tests.
His departure comes as the White House is shifting its posture from one of confronting an emergency to nudging Americans back to normalcy as the nation learns to live with a less-severe virus that is likely to remain endemic. The latest national covid-19 strategy, released by Zients and his team earlier this month, outlined a strategy to allow people to resume their usual activities safely after two years of pandemic disruptions.
---
Fourth 'covid' jab offers little to no protection, shows new study | added March 17
The fourth coronavirus vaccine has shown to offer little protection against the virus, a new study released by Sheba Medical Center has shown.
The study, published by The New England Journal of Medicine, examines the efficacy of the fourth coronavirus vaccine from Pfizer and Moderna. The interim results released show that the vaccine offers little to no protection against contracting the virus when compared to young and healthy individuals vaccinated with three doses.
However, the vaccine did prove to provide moderate protection against symptomatic infection among young and healthy individuals in comparison to those inoculated three times.
---
Exposed: toxic neurological effects of Mercury poisoning from eating fish | added March 17
Editor' Note: Anthony William, known as the medical medium, talks extensively about toxic heavy metals and how to safely detox them out the body. Since Anthony is not funded by mainstream medical research and science, the only proof of the protocols working are the millions of people who feel better. — mmd
People fishing along the banks of the White River as it winds through Indianapolis sometimes pass by ominous signs warning about eating the fish they catch.
One of the risks they have faced is mercury poisoning. Mercury is a neurotoxic metal that can cause irreparable harm to human health — especially the brain development of young children. It is tied to lower IQ and results in decreased earning potential, as well as higher health costs.
Lost productivity from mercury alone was calculated in 2005 to reach almost $9 billion per year. One way mercury gets into river fish is with the gases that rise up the smokestacks of coal-burning power plants. The U.S. Environmental Protection Agency (EPA) has had a rule since 2012 limiting mercury emissions from coal-fired power plants. But the Trump administration stopped enforcing it, arguing that the costs to industry outweighed the health benefit.
---
Ireland's prime minister tests positive for 'covid' while attending D.C. event | added March 17
Ireland's prime minister tested positive for covid-19 on Wednesday before he interacted with President Joe Biden at a Washington gala. Biden briefly interacted with the Irish Taoiseach, Micheál Martin, at the Ireland Funds Gala, where both leaders were masked, a source familiar with the situation said.
Their interaction did not meet the 15-minute close contact definition, the source said. Martin left the event after the positive covid test was returned and is not experiencing symptoms, the source said.
Martin was among several hundred people at Wednesday's event. He had been scheduled to participate in several events with Biden on Thursday, St. Patrick's Day. They include a bilateral meeting, a Friends of Ireland luncheon and a shamrock presentation at the White House, according to Biden's public schedule for Thursday.
---
Australia to lift 'covid' cruise ban for first time in two years | added March 17
On the basis of medical advice, the Australian Government will not renew the ban on international cruise ships arriving and departing from Australian ports, when the current determination expires on April 17.
In March 2020, following the global spread of covid-19, the Australian Government took an important step to protect the Australian community from covid-19 by banning the entry of large international cruise vessels into Australia under the Biosecurity Act 2015.
It has been highly effective in preventing and controlling the entry, emergence and spread of covid-19 in Australian territory. National Cabinet has confirmed the positive progress by the eastern states and the cruise industry to develop appropriate health protocols and common guidelines to support a safe return to cruising.
---
A look into counterinsurgency, PSYOPS, and military origins of the internet | added March 16
As the digital revolution was underway in the mid-nineties, research departments at the CIA and NSA were developing programs to predict the usefulness of the world wide web as a tool for capturing what they dubbed "birds of a feather" formations. That's when flocks of sparrows make sudden movements together in rhythmical patterns.
They were particularly interested in how these principles would influence the way that people would eventually move together on the burgeoning internet: Would groups and communities move together in the same way as 'birds of a feather, so that they could be tracked in an organised way? And if their movements could be indexed and recorded, could they be identified later by their digital fingerprints?
To answer these questions, the CIA and NSA established a series of initiatives called Massive Digital Data Systems (MDDS) to directly fund tech entrepreneurs through an inter-university disbursement program. Naming their first unclassified briefing for computer scientists 'birds of a feather,' which took place in San Jose in the spring of 1995.
---
Thailand paid 45 million to 'covid' vax injured while U.S. has given zero compensation | added March 16
Editor's Note: The National Vaccine Injury Compensation Program does not apply for 'covid' jabs since the Public Readiness and Emergency Preparedness Act enables the government to respond with countermeasures during so called 'health emergencies' without liability. In other words, the over million cases now of 'covid' vax injuries reported on VAERS have been completely ignored while medical mandates demand people take an experimental drug at their own risk. — mmd
Thailand's National Health Security Office (NHSO) as of March 8 has paid 1.509 billion baht (the equivalent of $45.65 million) to settle covid-19 vaccine injury compensation claims.
The payouts were made to 12,714 people, including family members of some people who died as a result of the vaccine. An additional 891 claims are pending. A total of 15,933 claims have been filed since the start of the compensation program on May 19, 2021. Of the 2,328 complaints that were rejected, 875 are being appealed.
The figures released on March 9 represent a continued increase in claims approved by Thailand's NHSO. As of Dec. 26, 2021, only 8,470 claims had been approved for compensation. The vaccines being administered in Thailand are primarily the British-Swedish AstraZeneca vaccine, and the Chinese-made Sinovac vaccine.
---
Pfizer and BioNTech seek FDA approval of fourth 'covid' jab for seniors | added March 16
Pfizer and BioNTech submitted an application to the US Food and Drug Administration for emergency use authorization of an additional booster dose of their covid-19 vaccine for adults 65 and older who have gotten a booster dose of any of the authorized or approved vaccine, the companies said Tuesday.
The submission is based on two data sets from Israel. "Both data sets showed evidence that an additional mRNA booster increases immunogenicity and lowers rates of confirmed infections and severe illness," the companies said in a news release.
The first data set cited in the release was an analysis of records for more than 1.1 million adults 60 and older by the Israeli Ministry of Health that showed a decreased rate of infection and severe illness after a second booster. The participants had no known history of covid-19 and were eligible for an additional booster.
---
FDA recalls 'covid' tests due to false positives | added March 16
The maker of a certain brand of covid-19 tests has issued a recall because the tests are not authorized, cleared or approved by the U.S. Food and Drug Administration (FDA).
LuSys Laboratories recalled three test types: a saliva antigen test, a nasal antigen test and an IgG/IgM antibody test. These tests were at the center of an FDA safety memo earlier this year, in which the agency warned people to stop using LuSys Laboratories' tests because there was likely a high risk of false results.
The FDA said the company did not provide appropriate validation data to show that the tests can perform accurately, meaning "there is a risk of potential false negative, false positive, and misinterpretation of results from these tests." The FDA believes these tests were distributed for use in laboratories and for at-home testing. The FDA said the tests were distributed from June 2020 through July 21, 2021.
---
China shuts down Dongguan factory amid 'omicron' surge, permits essentials for quarantined residents | added March 16
BEIJING — China's worst covid-19 outbreak since the initial wave of the pandemic worsened Tuesday with a major factory city ordering production halts.
Recent outbreaks in 28 provinces have infected more than 15,000 people and stem primarily from the highly transmissible omicron variant, China's National Health Commission said Tuesday, according to state media. China has 31 province-level regions. Although the northern province of Jilin accounts for most of the cases, the latest outbreak has hit major cities such as the financial center of Shanghai and technology manufacturing hub Shenzhen.
On Tuesday, Dongguan city in the southern province of Guangdong ordered employees of businesses to work from home and locked down residential areas, permitting only necessary activities such as buying groceries and taking virus tests. The city took a targeted approach to production halts. In industrial parks that haven't reported cases, businesses can maintain basic production under stringent virus control measures. Factory workers often live in dormitories near their workplace.
---
Fully boosted second gentleman Doug Emhoff tests positive for 'covid' | added March 16
WASHINGTON (AP) — Second gentleman Doug Emhoff has tested positive for covid-19, the White House announced Tuesday. Vice President Kamala Harris tested negative, but is curtailing her schedule as a result of her husband's positive test.
Harris spokesperson Sabrina Singh said Harris would not participate in a planned Equal Pay Day event on Tuesday evening at the White House with President Joe Biden "out of an abundance of caution." Harris, in a tweet Tuesday evening, said, "Doug is doing fine and we are grateful to be vaccinated and boosted." She added, "I have tested negative and will continue to test."
Biden and Harris appeared together Tuesday afternoon and mingled with lawmakers at an event marking the signing of a $1.5 trillion government funding measure. "He's feeling very well, I'm told," Biden said Tuesday evening at the event, noting Harris had to skip. "Let's send her our love," he told attendees.
---
JP Morgan lifts ban on unvaxed employees outside of NYC | added March 16
U.S.-based multinational financial institution JPMorgan Chase & Co. has announced it will lift its ban on hiring individuals due to their unvaccinated status against covid-19. In a memo obtained by Bloomberg News, JPMorgan said it will also end mandatory testing for unvaccinated employees by April 4, and the company's mask mandate will become voluntary for both vaccinated and unvaccinated staff.
JPMorgan's memo also noted that the company's New York City employees are still required to follow the city's vaccination requirements. The mandate will be required unless the city lifts its vaccine order, according to Bloomberg News.
---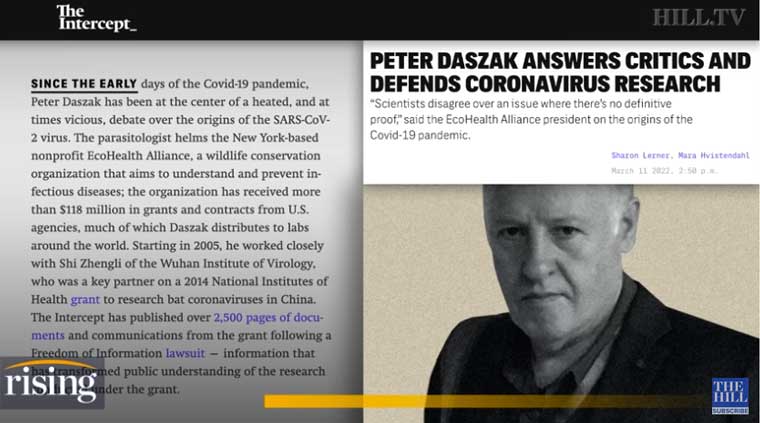 Ryan Grim breaks down Peter Daszak's new interview on gain of function lab leaks | added March 16
Peter Daszak has been the scientist at the center of gain of function 'conspiracy theories' that 'covid' leaked from the Wuhan Institute of virology. In this video investigative reporter, Ryan Grim explains how in 2018 Daszak applied to Defense Advanced Research Agency (DARPA) to fund a project that would work to insert Furin Cleavage Sites into the spikes of SARS related viruses. Apparently the research was never funded, however the question still remains if any of this was ever performed.
---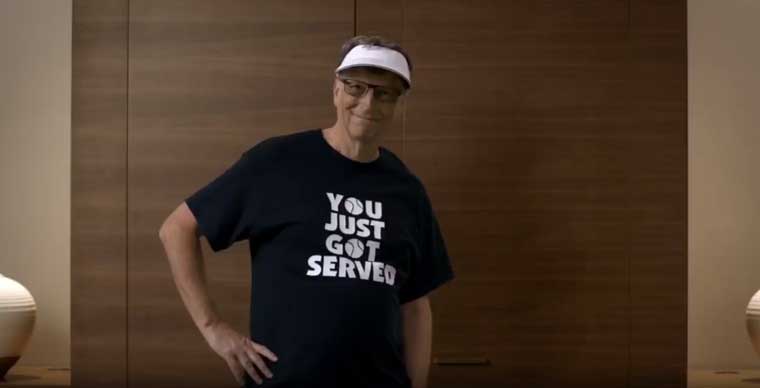 Bill Gates in "hit me with your best shot" | added March 16
This video recalls Bill Gates' make-over as a really wacky guy and Great Humanitarian (unthreateningly clad in pastel sweaters)—a rehabilitation that successfully erased his ill repute as a monopolistic pig and psychopathic brat. (For an honest look at Bill Gates' character, see Paul Allen's memoir Idea Man.)
If high school and college students were taught how to spot, and see through, propaganda (as opposed to learning not to question it), they'd see that Gates was sanctified by those displays of manic goofiness and philanthropic faux-concern in much the same way that John D. Rockefeller, Gates' predatory role model, was "redeemed" of his unpleasant public image (which had been worsened by the Ludlow Massacre), thanks to the propaganda skills of Ivy Lee (who went on serve as a consultant to the Nazis).
---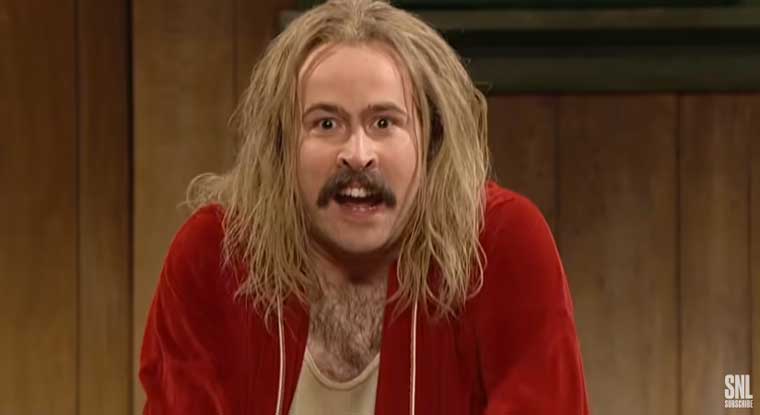 Good morning meth maniacs | added March 16
Editor's Note: Let's not forget that Fentanyl drug manufactured by the FDA is reported to be the leading cause of death ages 18-45 years old. How come the government isn't so concerned about that? — mmd
Until recently, meth head "JJ was the mayor." Seriously, crack is whack and so are governments who mandate every single human being take experimental drugs as the only miracle cure.
---
CEO of German health company fired for releasing 'covid' vax injury data | added March 15
The CEO of one of Germany's largest health insurance companies was abruptly fired last month after he released data suggesting German health authorities are significantly underreporting covid-19 vaccine injuries.
The data, released by Andreas Schofbeck of BKK/ProVita, have since been scrubbed from the company's website. Schofbeck, who noticed an unexpected jump in vaccine-related health insurance claims, in February notified the Paul Ehrlich Institute (PEI) — the German equivalent of the Centers for Disease Control and Prevention (CDC) — that BKK billing data indicated the PEI was underreporting adverse events to covid vaccines.
In his letter to the PEI, Schofbeck wrote:
"If these figures are extrapolated to the whole year and to the population in Germany, probably 2.5-3 million people in Germany have received medical treatment for vaccination side effects after Corona vaccination."
---
GivesSendGo to refund "Freedom Convoy" donors, claims Canadian government attempting to seize and redistribute the funds | added March 15
GiveSendGo, the Christian crowdfunding platform that raised millions for Freedom Convoy protesters in Ottawa last month after GoFundMe canceled their campaign, announced on Thursday that it was forced to refund donations after a Canadian court order blocked the distribution to organizers and threatened to seize the cash.
The platform said it was refunding donors because the Canadian government was trying to seize the funds. "The Canadian government has criminalized the receiving of funds from the Canadian trucker campaigns and now are trying to seize the funds to redistribute," GiveSendGo said in statement shared on Twitter. "In order to protect our Givers and the intended purpose of their gifts, funds not already transferred to the recipients from the 'Freedom Trucker Convoy' campaign will be refunded."
The government of Ontario on Feb. 10 was granted its requested court order freezing access to millions of dollars of funds donated through GiveSendGo to benefit truckers and other demonstrators protesting vaccine mandates and other coronavirus-related restrictions on Ottawa's Parliament Hill.
---
Massive conflicts of interest at the National Institute of Health | added March 15
Editor's Note: Dr. Freda Lewis-Hall interviews Fauci about his career and the public-private partnerships that allowed for the creation of Operation Warp Speed and the rapid deployment of a 'covid' jab. — mmd
One of the primary vehicles for kickbacks and fraud seems to be foundations associated with federal agencies. This article will highlight and expose yet another way we are being conned and manipulated by examining the Foundation for the National Institutes of Health (FNIH), whose board is plastered with major Big Pharma players.
This raises serious questions about conflicts of interest, seeing how the foundation oversees the distribution of hundreds of millions of dollars — unregulated funds that typically go right back into the coffers of the drug industry. It's a very clever strategy to extract even more funds from the American taxpayers.
This conflict of interest also, at least in part, helps explain the actions of Dr. Anthony Fauci, director of the National Institutes of Allergy and Infectious Diseases (NIAID) and now-retired director of the NIH, Dr. Francis Collins. Both have gone out of their way to protect the makers of covid shots and dismiss evidence that SARS-CoV-2 was created in and escaped from a lab.
---
Children in China diagnosed with leukemia after 'covid' shots | added March 15
After receiving her first dose of the covid-19 vaccine, Li Jun's 4-year-old developed a fever and coughs, which quickly subsided after intravenous therapy at the hospital. But after the second shot, the father could tell something was wrong. Swelling appeared around his daughter's eyes and did not go away.
For weeks, the girl complained about pains on her legs, where bruises started to emerge seemingly out of nowhere. In January, a few weeks after the second dose, the 4-year-old was diagnosed with acute lymphoblastic leukemia. "My baby was perfectly healthy before the vaccine dose," Li (an alias), from China's north-central Gansu Province, told The Epoch Times. "I took her for a health check. Everything was normal."
He is among hundreds of Chinese that belong to a social media group claiming to be suffering from or have a household member suffering from leukemia, developed after taking Chinese vaccines. Eight of them confirmed the situation when reached by The Epoch Times. Names of the interviewees have been withheld to protect their safety.
---
'Omicron' subvariant cases on the rise across Europe, health officials monitoring 'BA.2' | added March 15
LONDON — Covid cases are rising in Europe, with an increasing number being attributed to the prevalence of a "stealth" subvariant of the omicron strain.
Covid cases have increased dramatically in the U.K. in recent weeks, while Germany continues to mark record high daily infections with more than 250,000 new cases a day. Elsewhere, France, Switzerland, Italy and the Netherlands are also seeing covid infections start to rise again, aided and abetted by the relaxation of coronavirus measures and the spread of a new subvariant of omicron, known as BA.2.
Public health officials and scientists are closely monitoring BA.2, which has been described as a "stealth" variant because it has genetic mutations that could make it harder to distinguish from the delta variant using PCR tests, compared with the original omicron variant, BA.1.
---
Nets player Kevin Durant calls on NYC Mayor to figure out irrational vax mandates | added March 15
Kevin Durant is calling on New York City Mayor Eric Adams to figure out what the Brooklyn Nets feel is a confusing vaccine mandate that now allows Kyrie Irving to attend but not play in their home games.
Irving was a spectator at Barclays Center for the first time this season Sunday, sitting across from the Nets bench for Brooklyn's 110-107 victory over the New York Knicks. Durant scored a season-high 53 points, then took aim at Adams with his postgame comments, even saying the mayor just wanted attention.
"It's ridiculous. I don't understand it at all," Durant said. Irving has been unable to play this season because he is not vaccinated against the coronavirus. Up until this week, proof of vaccination was required for fans to attend an event in the arena.
---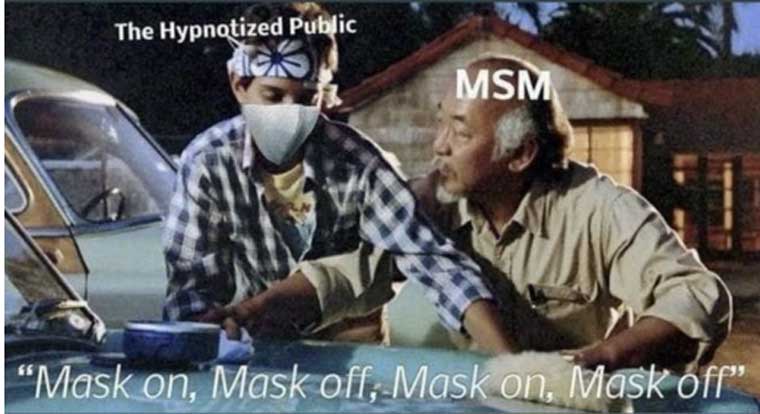 So how exactly are people supposed to take 'covid' seriously when the inconsistent narrative is constantly contradicting itself?
"You Trust The Quality Of What You Know, Not Quantity." — Mr. Miyagi
---
Nun sues D.C. Mayor over unconstitutional vax mandates | added March 15
Editor's Note: Update: Two days after filing a lawsuit for unconstitutional medical mandates, Sister Deidre "Dede" Byrne — a board-certified surgeon and a retired colonel in the U.S. Army won and received a religious exemption for 'covid' drug shot. — mmd
Sister Deidre "Dede" Byrne — a board-certified surgeon and a retired colonel in the U.S. Army — has filed a lawsuit against the District of Columbia for refusing to grant her a religious exemption from the city's covid-19 vaccination edict.
During an interview with Fox News, attorney Christopher Ferrara of the Thomas More Society, which is representing Byrne, claimed his client has sought and been denied a legitimately filed exemption from the vaccine rule, explaining that, as a Roman Catholic, she "can have nothing to do with abortion-connected vaccines."
The Johnson & Johnson covid-19 vaccine was developed using the PER.C6 cell line, which was derived from human embryonic retinal cells, originally extracted from the retinal tissue of an 18-week-old fetus aborted in 1985. In developing their vaccinations, both Pfizer-BioNTech and Moderna tested their respective inoculations using the HEK293 cell line, which was originally extracted in 1973 from the kidney of an aborted human embryo.
---
Beware of tyrannical governments' push for digital currency | added March 15
The government wants your money. It will beg, steal or borrow if necessary, but it wants your money any way it can get it.
The government's schemes to swindle, cheat, scam, and generally defraud taxpayers of their hard-earned dollars have run the gamut from wasteful pork barrel legislation, cronyism and graft to asset forfeiture, costly stimulus packages, and a national security complex that continues to undermine our freedoms while failing to making us any safer.
Americans have also been made to pay through the nose for the government's endless wars, subsidization of foreign nations, military empire, welfare state, roads to nowhere, bloated workforce, secret agencies, fusion centers, private prisons, biometric databases, invasive technologies, arsenal of weapons, and every other budgetary line item that is contributing to the fast-growing wealth of the corporate elite at the expense of those who are barely making ends meet—that is, we the taxpayers.
---
Ten signs the Ukraine war is part of the global reset agenda | added March 15
Welcome to the second phase of the Great Reset: war.
While the pandemic acclimatised the world to lockdowns, normalised the acceptance of experimental medications, precipitated the greatest transfer of wealth to corporations by decimating SMEs and adjusted the muscle memory of workforce operations in preparation for a cybernetic future, an additional vector was required to accelerate the economic collapse before nations can 'Build Back Better.'
I present below several ways in which the current conflict between Russia and Ukraine is the next catalyst for the World Economic Forum's Great Reset agenda, facilitated by an interconnected web of global stakeholders and a diffuse network of public-private partnerships. The war between Russia and Ukraine is already causing unprecedented disruption to global supply chains, exacerbating fuel shortages and inducing chronic levels of inflation.ips.
---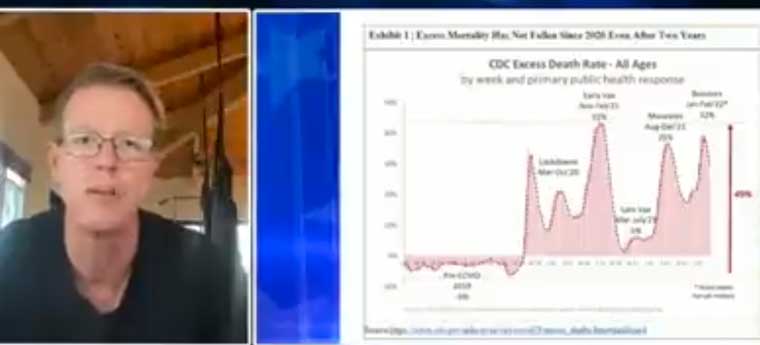 Edward Dowd on the 84 percent death increase after 'covid' shots | added March 14
Eric's Comments: If someone wants to explain why this is acceptable, give it your best shot. I don't understand why there is not more outrage, unless either nobody knows, or in the spirit of 1984, death = life.
In this video, Edward Dowd shares CDC data about excess mortality broken down by age. It shows the millennial age group 25-44 years-old experienced an 84 percent increase of death when the mandates and boosters hit in the fall 2021.
---
CDC data shows jump in hospitalizations among 'covid' vaxed | added March 14
[Feb. 24, 2022] Covid-19 case and hospitalization rates increased among people who got a covid-19 vaccine following the emergence of the omicron virus variant, according to newly published data from the Centers for Disease Control and Prevention (CDC).
According to the data, which is submitted to the CDC by health departments across the country, the covid-19 case rate in fully vaccinated people rose by more than 1,000 percent between Dec. 11, 2021, and Jan. 8, 2022. Fully vaccinated refers to people who received two doses of the Moderna or Pfizer covid-19 vaccines, or the single-dose Johnson & Johnson vaccine.
The CDC doesn't count a person as fully vaccinated until 14 days have elapsed from his or her final shot. The case rate among those who also received a booster dose skyrocketed as well, rising some 2,400 percent between the same dates.
---
Fully boosted Barack Obama tests positive for 'covid,' says he's grateful to be vaxed | added March 14
Former President Barack Obama said on Sunday that he had tested positive for the coronavirus, though he's feeling relatively healthy and his wife, Michelle, tested negative.
"I've had a scratchy throat for a couple days, but am feeling fine otherwise," Obama said on Twitter. "Michelle and I are grateful to be vaccinated and boosted."
Obama encouraged more Americans to get vaccinated against the coronavirus, despite the declining infection rate in the U.S. There were roughly 35,000 infections on average over the past week, down sharply from mid-January when that average was closer to 800,000.
---
Pfizer CEO says a fourth jab for waning 'covid' immunity will be necessary | added March 14
Most people will need to get a fourth covid-19 vaccine dose to be protected from the virus, the head of Pfizer said on Sunday. "It is necessary for most" people, CEO Albert Bourla said during an interview on CBS's "Face The Nation" when asked if Americans can expect to get annual covid booster shots every fall.
The regimen of two initial doses plus a booster is not able to protect against variants and wanes too quickly in strength, Bourla conceded — making additional shots inevitable.
"Right now, the protection that you're getting from the third [shot], it is good enough — actually quite good for hospitalizations and deaths — it's not that good against infections, but doesn't last very long," he said.
---
Hospitals no longer need to report 'covid' cases according to Health and Human Services | added March 14
Since the World Health Organization announced a pandemic, multiple organizations began tracking data, including the number of people who were sick with covid-19, in the hospital with or had died from it.
As I have written, later the number of "cases" was reported. These were people who had a positive PCR test and did not necessarily have symptoms. Whistleblowers working with attorney Thomas Renz, who is investigating hospital abuses, have reported that hospitals are incentivized to admit PCR positive patients, prescribe remdesivir, place patients on ventilators and include covid on death certificates.
All told, some believe hospitals could receive up to $100,000 for each patient who meets all the incentivized criteria. Of course, "fact" checkers immediately jumped on that claim in an effort to "debunk" what they call "false" information.
---
France lifts most 'covid' vax and mask mandates after decline of hospitalizations | added March 14
PARIS — France lifted most covid-19 restrictions on Monday, abolishing the need to wear face masks in most settings and allowing people who aren't vaccinated back into restaurants, sports arenas and other venues.
The move had been announced earlier this month by the French government based on assessments of the improving situation in hospitals and following weeks of a steady decline in infections. It comes less than a month before the first round of the presidential election scheduled on April 10.
But in recent days, the number of new infections has started increasing again, raising concerns from some scientists it may be too soon to lift restrictions. The number of new infections have reached more than 60,000 based on a seven-day average, up from about 50,000 a week before.
---
China halts business among worst 'covid' outbreak since pandemic in 2020 | added March 14
BEIJING — Mainland China is facing its worst covid-19 outbreak since the country clamped down on the pandemic in 2020, with major cities rushing to limit business activity.
Shenzhen, the biggest city in the manufacturing hub of Guangdong province, told all businesses not involved with essential public services to suspend production or have employees work from home for a week starting Monday.
The production halts include Apple supplier Foxconn, which said in a statement to CNBC its factories in the city would remain closed until notified by the government. The city, sometimes called China's "Silicon Valley," has shut public transportation and begun a third city-wide round of testing. Shenzhen has reported more than 400 confirmed cases since late February.
---
Discussion: "Ukraine is a continuation of 'covid' by another means" | added March 14
Perspective host Jesse Zurawell is joined by our very own Kit Knightly to discuss the ongoing conflict in Ukraine.
Their discussion covers the importance of context in countering propaganda, the role the entertainment industry plays in spreading "the message", how the war in Ukraine is used to push the same agenda that drove the covid "pandemic" and much, much more.
---
Protestors demand more media coverage of ongoing "Freedom Convoy" near DC | added March 14
About 20 people from Philadelphia and its suburbs gathered Friday afternoon in front of the Fox 29 offices on Market Street in Old City to demand more media coverage of a small but ongoing trucker protest taking place outside Washington.
Different convoys began making the cross-country drive in late February to demand an end to the national emergency first declared by former President Donald Trump in 2020 because of covid-19 and most recently renewed by President Joe Biden.
The convoy protesters, who have a wide range of demands, are also calling for an end to vaccine mandates for health-care workers and the military. "This isn't really against Fox at all," said Lynn Landes, an organizer with Philly Freedom Coalition. "It's more just to draw attention that this story needs to be covered more fully, and don't give up on this story."
---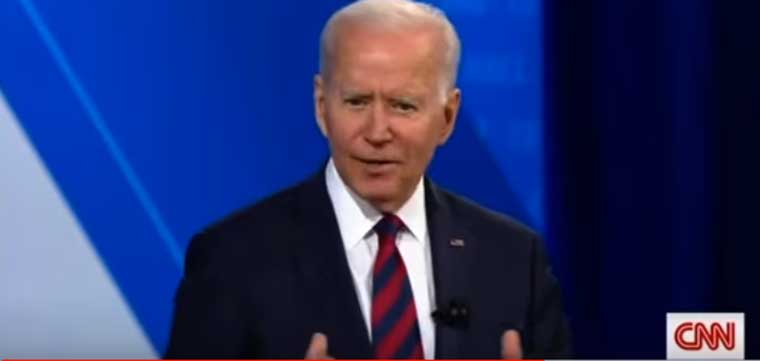 Biden says you won't get 'covid' if vaxed | added March 14
It's funny how Biden mentioned vaxed people would not get 'covid' or be hospitalized at all considering how many thousands of people have contracted the so-called virus after being jabbed. Even bought and paid for media networks like CNN call this wishful thinking. Regardless of your view on vaccines, we hope you stay safe and make informed intuitive decisions that will not jeopardize your health or that of those you love dearly.
---
New edition of Planet Waves FM:: Global village news and debunking PCR test accuracy | added March 12
We begin with a report from Ukraine, though It has been another week of over-the-top "covid" news, including Democratic political strategists setting "pandemic" policy, the revelation of CDC's admission of a "contrived virus," a campaign to normalize cardiac events, and a discussion of Pfizer's corporate personhood.
On Planet Waves FM this week (which usually posts at 10 pm or before) you will get an earful if you choose to listen. I'll begin with a Ukraine report from our reporter and former refugee, Cate Ryzhenko. We have another reporter who is now on her way to Romania to do relief work as a medic and midwife — with any luck, we shall hear from her next week.
As I predicted months ago, the Jupiter conjunct Nessus revelations continue. Here is some of what I'll have for you this week. The federal government spent $1 billion bribing the media to stick to the vaccine narrative. Who got the money? According to a Freedom of Information Act (FOIA) request filed by The Blaze Media: ABC, CBS, and NBC, Fox News, CNN, MSNBC, New York Post, the Los Angeles Times, the Washington Post, and digital media companies like BuzzFeed News and Newsmax — and hundreds of local newspapers and TV stations.
---
Seven year old dies from cardiac arrest 13 days after Pfizer 'covid' shot | added March 12
The Centers for Disease Control and Prevention (CDC) today released new data showing a total of 1,168,894 reports of adverse events following covid vaccines were submitted between Dec. 14, 2020, and March 4, 2022, to the Vaccine Adverse Event Reporting System (VAERS). VAERS is the primary government-funded system for reporting adverse vaccine reactions in the U.S.
The data included a total of 25,158 reports of deaths — an increase of 331 over the previous week — and 203,888 reports of serious injuries, including deaths, during the same time period — up 3,557 compared with the previous week.
Excluding "foreign reports" to VAERS, 783,282 adverse events, including 11,505 deaths and 75,286 serious injuries, were reported in the U.S. between Dec. 14, 2020, and March 4, 2022.
---
FDA grants exemption of CRISPR gene editing technology on cattle; GE cows won't be regulated | added March 12
Editor's Note: FDA is required by law to ensure that all GE animals do not trigger unexpected allergies in people that consume them or harm the environment and other animals. Act to end unregulated CRISPR technology on The Center For Food Safety website. — mmd
Following a safety review, U.S. food regulators said short-haired cattle produced through gene editing can be raised for meat production. Meat from the cattle could be available for purchase in as little as two years, said the Food and Drug Administration.
The so-called PRLR-SLICK cattle join a short list of gene-edited animals approved by the FDA for human consumption, including Aqua Bounty's GMO salmon and a pig whose meat lacks the sugar that causes some people to have allergic reactions to red meat.
"We expect that our decision will encourage other developers to bring animal biotechnology products forward for the FDA's risk determination in this rapidly developing field, paving the way for animals containing low-risk IGAs (intentional genomic alterations) to more efficiently reach the marketplace," said Steven Solomon, director of the FDA Center for Veterinary Medicine.
---
Factors to consider for inoculating children with an experimental drug jab | added March 12
For parents who are contemplating whether their child should receive a covid-19 vaccine, Dr. Joseph Fraiman, an emergency medicine physician, says they should ask the following two questions to help them decide. "The first thing that you want to do for harm/benefit analysis [is to ask], is there a mortality benefit for these vaccines for your child," Fraiman said at a roundtable discussion hosted by Republican Gov. Ron DeSantis on March 7.
Experts say that children are at much lower risk of severe disease and death from covid-19 compared to other age groups. "The majority of studies haven't been able to find a single healthy child who's died from covid. The studies that say they have found them, they can't confirm that they were healthy children," Fraiman said.
Researchers of three studies, two have been peer-reviewed and published, found that there were 25 deaths from covid-19 in children younger than 18 in England between March 2020 and February 2021—a mortality rate of about 2 for every million children in that age group. Of the 25 deaths attributed to covid-19, 15 had a life-limiting condition.
---
White House warns: "severe consequences" to 'covid' response after Congress strips funding | added March 12
The White House on Wednesday warned of "severe consequences" for the country's covid-19 response after Congress stripped funding to fight the virus out of a government funding package.
The Biden administration warned that without the additional funding, testing capacity will start declining this month, potentially requiring months of ramp up if a new variant causes another surge.
In May, the supply of monoclonal antibody treatments will run out, and in September, the supply of antiviral pills like Pfizer's highly-effective Paxlovid will be exhausted. The White House previously noted orders need to be placed well in advance.
---
Michigan drops quarantine for unvaxed after 'covid' exposure' | added March 12
Many unvaccinated and vaccinated Michiganders no longer need to quarantine for 10 days if exposed to covid-19, including school-age kids — as long as they're willing to wear a mask and follow other safety protocols — according to new guidance from the state health department.
Masks are also no longer strongly recommended at licensed child care centers or "enrichment programs," although guidance still notes they can prevent the spread of covid-19.
The updated guidance from the Michigan Department of Health and Human Resources and Department of Licensing and Regulatory Affairs is the latest move by the state to ease safety requirements, reflecting ongoing improvement in pandemic trends and recent updates from the U.S. Centers for Disease Control and Prevention.
---
China faces record breaking 'covid' cases; mayors dismissed while millions lockdown | added March 12
BEIJING — Two mayors have been dismissed in northeastern China, and Shanghai has closed its school system and shifted to online instruction, as a coronavirus outbreak in mainland China gathers speed.
China's National Health Commission announced on Saturday that another 1,524 locally transmitted coronavirus cases had been detected in provinces across mainland China. That was up from 1,100 cases reported a day earlier, and a couple hundred cases per day a week ago.
Though China suffered heavy loss of life when covid-19 first emerged in the city of Wuhan more than two years ago, it has had much more success than any other large country in controlling the virus since then. The surge in cases in the past few days, fueled by the omicron variant, still leaves China far below the daily case count of about 35,000 in the United States, which has less than a quarter of China's population.
---
WHO confirms emergence of new 'covid' variant "deltacron" | added March 12
The World Health Organization this week confirmed the emergence of a new covid-19 variant dubbed "deltacron" – a hybrid strain that combines both the delta and omicron variants.
At a press conference Wednesday, Dr. Maria Van Kerkhove, WHO's technical lead for covid-19, said cases have been reported in Denmark, France and the Netherlands, but noted the levels of detection are "very low." Cases have been identified in at least 17 patients, according to Reuters.
Since many instances haven't been confirmed, it's too early to know how transmissible deltacron infections will be or if they will cause severe disease, Philippe Colson, a researcher who published a report regarding three cases in France, told Reuters.
---
Why 'covid' vaccines are not being called out for heart disease | added March 12
This past week saw two high-profile Australians – cricketer Shane Warne and Labour senator Kimberley Kitching – both die of sudden heart attacks aged 52.
As such, heart disease is back in the headlines. Again. We predicted in our new-years post that explaining heart attacks would be a big part of 2022's news cycle, and only three months in it has been a torrent. It actually started in December of 2021, with medical doctors theorising that the stress and anxiety of dealing with covid was going to cause a huge spike in heart problems due to "post-pandemic stress disorder".
Before the end of January, the media were reporting that aortic stenosis was actually massively under-diagnosed and we could see up to 300,000 new cases of heart disease or damage in the near future. At the beginning of February, a new reason was added to the list. As energy prices began to spike – do remember, that happened before the war – we were told the increased cold and stress could also cause heart disease.
---
Let's use logic and keep an open mind when over a million adverse reactions to 'covid' drug jabs are reported.
---
Massachusetts to drop number of deaths attributed to 'covid' by 3,700 cases | added March 11
Editor's Note: On the working 'covid' chronology it is noted how on March 24, 2020 the CDC changed the rules for the first time in 17 years, allowing many causes of mortality to be counted as 'covid'. — mmd
The Massachusetts Department of Public Health announced Thursday it will soon change which deaths are attributed to covid-19 — a shift that will result in several thousand fewer deaths in the state's official, overall count.
On Monday, when the reclassification takes hold, that total will drop by 3,700 deaths, as 4,081 previously counted deaths are removed, according to a statement from the DPH. Additionally, the department will add approximately 400 deaths to the total, deaths that were "not previously counted but identified through a manual process of matching death certificates with medical records," officials said.
The criteria change will bring Massachusetts into conformity with guidance for identifying covid deaths from the Council of State and Territorial Epidemiologists. The council, in collaboration with the U.S. Centers for Disease Control and Prevention, issued a recommendation in late 2021 that states adhere to a uniform standard for how they count virus-related fatalities.
---
United Airlines allows exempt unvaccinated employees to return to work this month | added March 11
United Airlines, citing a steep decline in covid-19 cases, told staff Thursday that it will allow unvaccinated workers to return to their jobs starting March 28, a shift from a company that had one of the country's strictest inoculation mandates.
Last August, United said it would require U.S. employees to be vaccinated against covid or face termination. More than 96% of United's roughly 67,000 U.S. workers were vaccinated, the company said. In January, CEO Scott Kirby said the company didn't have any covid deaths among unvaccinated workers over the past eight weeks, despite a surge in cases of the omicron variant, which has since subsided.
United had said the roughly 2,200 workers who received exemptions on medical or religious grounds would go on unpaid leave or be moved to non-customer-facing roles. For example, unvaccinated flight attendants couldn't work their regular jobs. Roughly 200 employees were fired for not being vaccinated or having an accommodation and will not be asked back.
---
Students forced into quarantine seek help online for access to drinking water and bathrooms | added March 11
Hong Kong (CNN) China is fighting its biggest covid-19 outbreak since the early days of the pandemic, with discontent spreading on social media after one university cluster left students reportedly without access to bathrooms or drinking water.
The country reported 1,100 new locally-transmitted cases on Thursday — which, though nowhere near the level seen in other nations, is considered high by China's standards. It marked the highest daily total since the virus emerged in Wuhan in 2020, prompting alarm among local and national leaders. Throughout the pandemic, China has adhered to a strict zero-covid policy that aims to stamp out all outbreaks and chains of transmission using a combination of border controls, mass testing, quarantine procedures and lockdowns.
Authorities fell back on these familiar tactics as cases began surging around the country last week, imposing targeted lockdowns for residents in high-risk areas and mandatory quarantine for close contacts.
---
5G radiation causes "microwave syndrome" and health risks, according to new Swedish study | added March 11
In the first study of its kind, Swedish researchers found 5G radiation causes typical symptoms indicative of "microwave syndrome." The study, published in the journal Medicinsk Access, also confirmed that non-ionizing radiation — well below levels allowed by authorities — can cause health problems.
According to the study, a 5G base station installed on the roof of an apartment building caused extremely high levels of non-ionizing radiation in the apartment of the two persons living just below the station. Within a few days of exposure, the residents of the apartment developed symptoms of microwave syndrome. After moving to a place with lower radiation, the symptoms quickly decreased or disappeared.
Measurements before and after the installation of the 5G installation showed that switching to 5G led to an increase in radiation from 9 milliWatts/m2 to a maximum of 1,690 milliWatts/m2 — high enough for both acute and long-term health effects.
---
WHO advises Ukraine to destroy deadly pathogens in labs | added March 11
The World Health Organization advised Ukraine to destroy high-threat pathogens housed in the country's public health laboratories to prevent "any potential spills" that would spread disease among the population, the agency told Reuters on Thursday.
Biosecurity experts say Russia's movement of troops into Ukraine and bombardment of its cities have raised the risk of an escape of disease-causing pathogens, should any of those facilities be damaged. Like many other countries, Ukraine has public health laboratories researching how to mitigate the threats of dangerous diseases affecting both animals and humans including, most recently, covid-19. Its labs have received support from the United States, the European Union and the WHO.
In response to questions from Reuters about its work with Ukraine ahead of and during Russia's invasion, the WHO said in an email that it has collaborated with Ukrainian public health labs for several years to promote security practices that help prevent "accidental or deliberate release of pathogens."
---
Reality check: Fast jabs are not possible | added March 11
Neatly nestled behind the Ukraine headlines plastered all over the front pages, this past week has seen the World Health Organization meeting to discuss the global legislation to empowering the WHO to combat "future pandemics". The first consultation was held on March 1st. The EU passed a motion authorizing the bloc to negotiate such a treaty on March 3rd. Nobody knows exactly what the hypothetical international regulations – dubbed the "Pandemic Treaty" – would entail, but there are hints.
It's almost certainly going to involve some kind of international vaccine passport, possibly based on the SMART Health Cards currently rolling out all across the US. It's also interesting to note that this treaty is being developed in parallel to the UK "reforming" their Human Rights Act 1998 into a new "UK bill of rights" which seeks to prevent the "abuse" of "rights culture" and place a new emphasis on "social responsibility".
However, the specifics will remain a mystery until the final proposal is published later this year. One thing we do know though, is that a big part of the proposed "strengthening" of our pandemic response will be increased funding and resources for developing vaccines even faster than the covid vaccine.
---
March 1-7, 2022: No cause "sudden deaths" around the world | added March 11
Canada —— Prominent Liberal strategist and author John Duffy has died
Duffy served as a volunteer adviser to former prime minister Paul Martin, working with Martin on the 2003 leadership campaign and in the 2004 and 2006 federal elections. March 4, 2022 Prominent Liberal strategist and author John Duffy has died [at 59], eliciting tributes from across the Canadian political spectrum.
Jake's Take | Ontario icon Eric Grove leaves a hole as big as his heart. March 3, 2022. I had just pulled into my parking spot at Ashland High School when my phone started to buzz. I was there to watch a district championship girls basketball game after spending the morning at a wrestling meet so I was in the middle of a non-stop kind of day.
On the other end of the phone call was former Ontario junior varsity coach Tim Henige. I hadn't heard from him in a while and thought he wanted to chat about the tournament trail area teams were on. So, I answered joyfully. But he was on the other end to deliver some terrible news. "Grover died," Henige said with a shaky voice.
---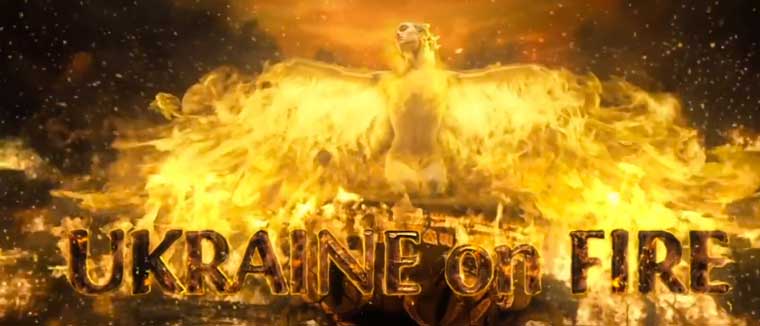 Censored: "Ukraine on Fire" by Oliver Stone | added March 11
After being censored on YouTube, Oliver Stone has released his 2016 film to the public, covering Ukraine's complex history and build up to the political unrest we see today Ukraine.
Across its eastern border is Russia and to its west-Europe. For centuries, it has been at the center of a tug-of-war between powers seeking to control its rich lands and access to the Black Sea. 2014's Maidan Massacre triggered a bloody uprising that ousted president Viktor Yanukovych and painted Russia as the perpetrator by Western media. But was it? "Ukraine on Fire" by Igor Lopatonok provides a historical perspective for the deep divisions in the region which lead to the 2004 Orange Revolution, 2014 uprisings, and the violent overthrow of democratically elected Yanukovych.
Covered by Western media as a people's revolution, it was in fact a coup d'état scripted and staged by nationalist groups and the U.S. State Department. Investigative journalist Robert Parry reveals how U.S.-funded political NGOs and media companies have emerged since the 80s replacing the CIA in promoting America's geopolitical agenda abroad.
---
Biden signs executive order on oversight of cryptocurrency | added March 11
President Joe Biden on Wednesday signed an executive order on government oversight of cryptocurrency that urges the Federal Reserve to explore whether the central bank should jump in and create its own digital currency.
Treasury Secretary Janet Yellen said the effort would "promote a fairer, more inclusive, and more efficient financial system" while countering illicit finance and preventing risks to financial stability and national security.
The Biden administration views the explosive popularity of cryptocurrency as an opportunity to examine the risks and benefits of digital assets, said a senior administration official who previewed the order Tuesday on the condition of anonymity, terms set by the White House. Under the executive order, Biden also directed the Treasury Department and other federal agencies to study the impact of cryptocurrency on financial stability and national security.
---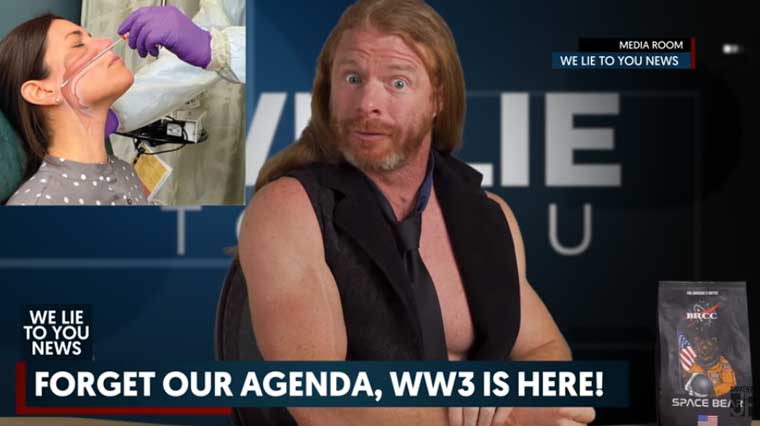 Kamala Harris gives update on Ukraine | added March 11
Tune in for the latest update on everything that is going on with Ukraine and Russia explained by Kamala Harris. Plus Putin, Biden, and Elon Musk weigh in. The breaking news you can't miss.
---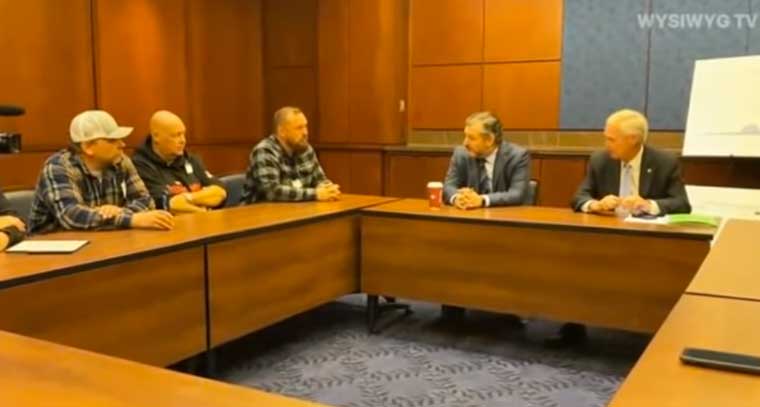 Sen. Ron Johnson meets with "The People's Convoy" over tyrannical enforcement of medical mandates | added March 10
Editor's Note: The entire meeting can be viewed here on YouTube. — mmd
WASHINGTON (WLUK) — As truckers circle the Beltway in protest of the government's handling of the pandemic for a third day, organizers of the "People's Convoy" met with lawmakers, including Sen. Ron Johnson, R-Wisconsin. They voiced their frustrations about covid-19 mandates imposed.
Workplace vaccine mandates and other measures meant to limit the spread of covid-19 were among the topics brought up in Tuesday's meeting between the People's Convoy leaders and lawmakers.
"Our 'demands,' if you wanna say, have been pretty clear – end the State of Emergency, end the vaccine mandates and let's start holding both our elected and unelected officials accountable for their actions that led to this," said the People's Convoy organizer Brian Brase. The group's movement has recently gained the attention of Republicans, like Sens. Ron Johnson and Ted Cruz, R-Texas.
---
CDC admits no isolate of 'covid' virus used in PCR testing | added March 10
They confess: they had no virus when they concocted the test for the virus; they "contrived" a model by pretending to find what they wanted to find; it's called a self-fulfilling prophecy. This is the con and the crime that drove millions of lives, and economies, into ruin.
Quiz: If an agency of the federal government revealed they had no basis for constructing a diagnostic test that was used on millions of people; but the test was the cornerstone of a national lockdown; and the lockdown drove the economy off a cliff; and destroyed millions of lives; however, NOW, that agency says, they DO have a basis for the test; would you buy what they're selling? If your answer is yes, you're in good company; the company I call Blind, Ignorant, Denialist, Hoaxing Journalists. The CDC issued a document that bulges with devastating admissions. The release is titled, "07/21/2021: Lab Alert: Changes to CDC RT-PCR for SARS-CoV-2 Testing." It begins explosively:
"After December 31, 2021, CDC will withdraw the request to the U.S. Food and Drug Administration (FDA) for Emergency Use Authorization (EUA) of the CDC 2019-Novel Coronavirus (2019-nCoV) Real-Time RT-PCR Diagnostic Panel, the assay first introduced in February 2020 for detection of SARS-CoV-2 only. CDC is providing this advance notice for clinical laboratories to have adequate time to select and implement one of the many FDA-authorized alternatives."
---
CDC acknowledges vaccine induced auto immune disease syndrome (VAIDS) from 'covid vaccines' | added March 10
As of this weekend, almost all employees of CDC know that the vaxx causes VAIDS (vaccine induced auto immune disease syndrome) or new HIV crisis as has been 100% scientifically confirmed. They are demanding that the CDC leadership makes major public news conference announcement by March 10th stating this, or the employees will whistleblow to news agencies everywhere by march 11th.
Get ready for a shock to the system like never seen before. CDC just released this… HIV Cluster Detection and Response Coincidentally all this HIV/AIDS shit popping up after the vax.
HIV cluster detection and response (CDR) identifies communities affected by rapid HIV transmission so that public health agencies can identify where HIV prevention and treatment services and programs are urgently needed and tailor them to the communities' specific needs. The detection part of CDR identifies increased HIV transmission, which is only one part of the intervention. The response part of CDR is a comprehensive and customizable framework to identify and address gaps in HIV-related services delivered to people experiencing rapid transmission.
---
World Health Organization detects latest 'covid' variant "deltacron" | added March 10
A potential new covid variant, a combination of the Delta and Omicron variants – you can call it "Deltacron" – has been identified. The World Health Organization said Wednesday the new covid-19 combination has been detected in France, the Netherlands and Denmark. It's also been found in the U.S., according to a new report soon to be published on research site MedRxiv and viewed by USA TODAY.
The San Mateo, California-headquartered lab Helix, which works with the Centers for Disease Control and Prevention to track covid-19, sequenced 29,719 positive covid samples collected Nov. 22, 2021, to Feb. 13, 2022, from across the U.S., according to the research team, which included the University of Washington Medical Center and testing company Thermo Fisher Scientific.
Researchers found two infections involving different versions of Deltacron, resulting from the combination of Delta and Omicron genetic material. Twenty other infections had both the Delta and Omicron variants, with one case having Delta, Omicron and Deltacron.
---
Ulster county plans 'covid' memorial | added March 10
KINGSTON, N.Y. – Ulster County Executive Pat Ryan announced Tuesday the formation of a commission to develop a memorial honoring front-line workers and "memorializing the lives of Ulster County residents lost to covid-19."
Tuesday marked the two-year anniversary of the first reported covid-19 case in Ulster County. Ryan has appointed 22 members to the Covid-19 Commemoration Commission, which has been tasked with "citing and curating a permanent monument in Ulster County to tell the story of the response and impact of the pandemic, and to highlight how the entire community rallied and supported each other during the course of this once-in-a-century pandemic," according to a press release from Ryan's office.
"Through the darkness of the pandemic, we witnessed countless moments of heroism, compassion, and service throughout our community," Ryan said in the release.
---
Africa to sell Pfizer's antiviral 'covid' pills; Kenya signs Moderna deal for first mRNA facility | added March 10
Africa's top public health agency has signed a memorandum of understanding with Pfizer to bring supplies of the pharmaceutical firm's Paxlovid antiviral covid-19 pills to the continent.
"The memorandum of understanding is with the legal office at the AU [African Union]", John Nkengasong, director of the Africa Centres for Disease Control and Prevention (CDC) told an online media briefing on Thursday.
The agency is a unit of the African Union. The announcement comes within days of Moderna signing a deal with Kenya to build its first mRNA facility and a statement by South African drugmaker Aspen to sell, package and distribute Johnson & Johnson covid-19 vaccines.
---
Washington State Board of Health votes against 'covid' vax mandates for students K-12 grade | added March 10
An advisory group convened by the Washington State Board of Health voted against requiring covid vaccines for students from kindergarten to 12th grade in the state's schools, the Seattle Times reported.
In a split decision — seven against, six in favor and four undecided — the group voted to recommend against adding the vaccine to the state's administrative code when it presents its findings to Washington's Board of Health in April.
Following the formal presentation of the group's findings to the Board of Health at its next meeting, scheduled for April 13, the board will be expected to approve or reject the recommendation. The all-volunteer group initially was convened by the state's Board of Health last fall, with a mandate to ascertain whether the covid vaccine would meet the scientific criteria required in order to be added to Washington's list of required K-12 immunizations.
---
Moderna begins phase 2 clinical trial for experimental bivalent 'omicron' fall booster | added March 10
Shares of Moderna Inc. MRNA, -2.58% were down 1.9% in premarket trading on Thursday after the company said it began dosing patients in a Phase 2 clinical study assessing its experimental bivalent omicron-specific booster.
This booster candidate has two components: an omicron-specific booster, and the covid-19 vaccine, which is based on the original strain of the virus. "Our goal has been to remain ahead of the virus, and we are committed to generating and sharing data with public health authorities as they prepare for the fall booster season," Moderna CEO Stéphane Bancel said in a news release.
The study will enroll 375 adults at 20 sites in the U.S. Moderna is also testing a standalone omicron-specific booster candidate in a separate study. Moderna's stock has tumbled 43.9% so far this year, while the broader S&P 500 SPX, -1.02% is down 10.2%.
---
A Syrian "chemical attack" in Ukraine? | added March 10
Over the past two weeks, media headlines worldwide have been dominated by the Russian military intervention in Ukraine – launched in response to almost nine years of Western provocations.
These provocations began with the CIA and MI6 orchestrated Euromaidan colour revolution in November 2013, following then-President Viktor Yanukovych's decision to suspend an EU trade deal.
This coup would, in turn, lead to the predominantly ethnic Russian Donetsk and Luhansk People's Republics in the eastern Donbass region breaking away from Kiev's control in April 2014. The catalyst for this secession being the anti-Russian far-right sympathisers that would make up the Western-backed post-Maidan government of Petro Poroshenko.
---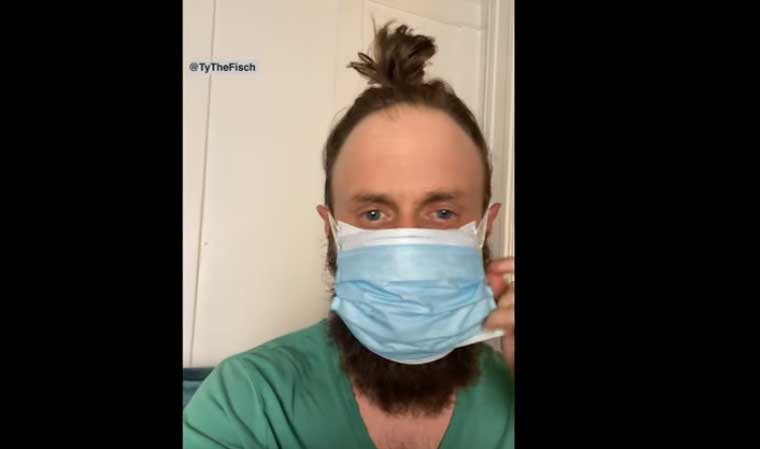 When mask mandates are finally lifted | added March 10
Let's keep peeling back the layers and uncovering what's right in front of our faces…
---

Biden administration paid media a billion dollars to advertise 'covid' drug jabs | added March 9
The Biden administration paid nearly the entire corporate media, including so-called "conservative" media outlets, with taxpayer dollars to engage in a massive campaign to push only positive coverage about covid shots while censoring any negative information, without disclosing it to their audiences. This is a serious breach of journalistic ethics.
Congress appropriated $1 billion in fiscal year 2021 for the secretary of health to spend on activities to "strengthen vaccine confidence in the United States." Then hundreds of news organizations were paid by the federal government to advertise for the shots as part of a comprehensive media campaign by the U.S. Department of Health and Human Services (HHS). The "Covid-19 Public Education Campaign," a "national initiative to increase public confidence in and uptake of covid-19 vaccines," was created with the goal of having "trusted messengers and influencers" speak to news organizations to "provide factual, timely information and steps people can take to protect themselves, their families, and their communities."
This information was revealed in response to a Freedom of Information Act (FOIA) request filed by Blaze Media. This request uncovered that the HHS purchased advertising on TV, radio, in print, and on social media to build "vaccine confidence." Media networks including ABC, CBS, NBC, Fox News, CNN, Newsmax, MSNBC, New York Post, Los Angeles Times, Washington Post, BuzzFeed News and hundreds of local newspapers and TV stations were collectively responsible for publishing countless articles and video segments promoting the covid shots as effective and safe.
---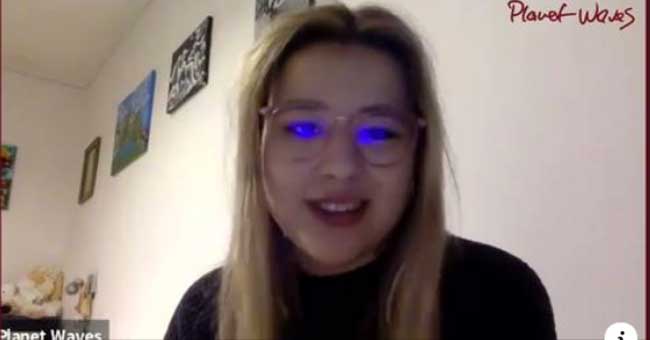 Evacuating Kiev: latest report on the scene | March 9
In this edition, Planet Waves video editor Kateryna Ryzhenko describes her trip out of Kiev, to the city suburbs, across western Ukraine and into Poland over the past week.
---
Pfizer begins phase 2 and 3 clinical trials of 'covid' antiviral, Paxlovid in children ages 6-17 years-old | added March 9
The study will evaluate the safety and efficacy of the treatment in children who have Covid-19 symptoms and a confirmed infection, who are not hospitalized and who are at risk of severe disease. Paxlovid is already authorized by the US Food and Drug Administration for high-risk people 12 and older who weigh at least 88 pounds, but that decision was made based on data from clinical trials that did not include people under the age of 18.
The latest results from those adult trials showed that Paxlovid cut the risk of hospitalization or death by 89% if given to high-risk adults within a few days of their first symptoms, according to Pfizer. If given within the first five days of symptoms, the efficacy was similar: 88%.
The authorization includes those 12 and up based on modeling that shows it would have similar effects in children as in adults if they were a certain weight, but Pfizer said in its release that the data from the new trial "will provide further support for the dose recommendations in this population, as well as potentially expand the indication to younger age groups and lower weights."
---
Cardiologist Dr. Peter McCullough on alarming results of early 'covid' vax studies | added March 9
How safe are covid-19 vaccines? Should everyone be taking them? Are people who get vaccines more likely to get covid-19? Can genetic material in the vaccines be incorporated into the human genome? These are some of the unknown questions that researchers around the world are currently investigating.
With more initial findings and hypotheses now released to the public, a group of free speech and information advocates last week during a presentation in Pennsylvania gave their "uncensored" take of the current science. They are currently traveling around the United States sharing concerns about how public health policy and debate throughout the covid-19 pandemic has been handled.
The speakers were Dr. Peter McCullough, a renowned cardiologist whose own research is highly-cited; Dr. Bryan Ardis, a chiropractor; attorney Thomas Renz; and Steve Kirsch, a Silicon Valley philanthropist who supported early efforts searching for covid-19 treatments in medicines already on the market. They were invited by the "Lions for Liberty," a group of Penn State University students, faculty, and staff that sprang up in response to the university's pandemic mitigation policies that require employees to get vaccinated for covid-19.
---
Fauci says a return to normal will happen when 'covid' resembles the flu | added March 9
But a new report released on Monday says this action is premature, at least in the U.S., considering covid-19 deaths are still 10 times higher than those from the flu.
"Make no mistake, the United States is far from a normal situation," states the 136-page report, drafted by 53 scientists, doctors, and public health experts. "The shift to the next normal should not induce complacency, inaction, or premature triumphalism." The report, led by former Biden transition team covid-19 advisory board member Ezekiel J. Emanuel, says going into March 2022 the U.S. was still experiencing 35,000 hospitalizations per day and 12,000 deaths per week from covid. The only greater killers in the U.S. are heart disease and cancer.
The country would normally tolerate only 1,150 deaths a week from the flu or respiratory illnesses caused by RSV (respiratory syncytial virus) before putting in place emergency mitigation efforts, the report noted, calling the number of deaths from covid-19 "intolerable."
---
Global 'covid' deaths on the decline, according to World Health Organization | added March 9
LONDON (AP) — The number of new coronavirus cases and deaths globally have continued to fall in the past week, the World Health Organization said Wednesday, with only the Western Pacific reporting an increase in covid-19.
In its latest report on the pandemic issued on Wednesday, the U.N. health agency said new covid-19 infections dropped by 5% in the last week, continuing a declining trend that started more than a month ago. Deaths were also down by 8% and have been falling globally for the last two weeks.
Only the Western Pacific saw a rise in coronavirus cases, reporting a 46% increase. In the last week, Hong Kong has been recording about 150 deaths per day, giving it the world's highest death rate per 1 million people, according to data from Oxford University.
---
Dr. Ryan Cole discusses natural immunity and rare alarming cancer trends after 'covid' vax | added March 9
[Feb. 4, 2022] Dr. Ryan Cole- Alarming Cancer Trend Suggests Covid-19 Vaccines Alter Natural Immune Response AMERICAN THOUGHT LEADERS JAN JEKIELEK https://www.theepochtimes.com/epochtv "We're seeing an alteration of the innate immune response," says pathologist Dr. Ryan Cole, founder of Cole Diagnostics.
In recent months, Cole said he started seeing a number of disturbing trends under the microscope: the appearance of a childhood disease in adults and an uptick in rare cancers. Other doctors have echoed his observations, he says, but rigorous studies are not being conducted. "You cannot find that for which you do not look," he says.
We also take a look at what factors impact how an individual fares with covid-19. America has a vitamin D crisis, which is essential to a functioning immune system, Cole says. "This is a public health message that is so critical, because so goes your vitamin D level, so goes your overall ability to fight off not just covid, but any virus in any viral season."
---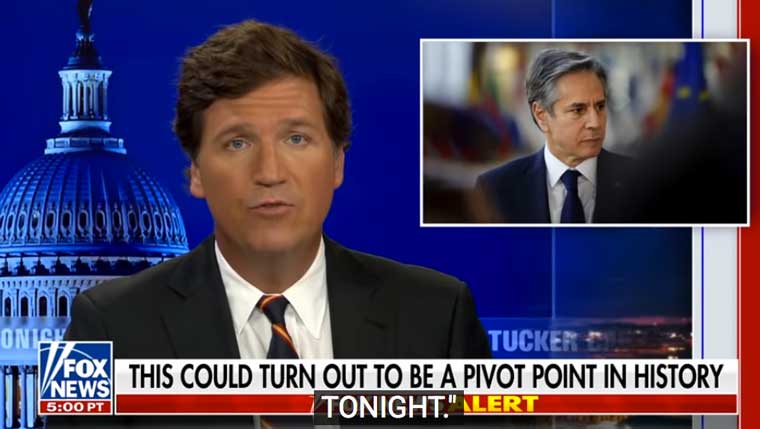 Tucker: we are at 'war with Russia' | added March 9
Fox News host reflects on the U.S. response to the Russian invasion of Ukraine on 'Tucker Carlson Tonight.' He missed the moral panic of #metoo but heck that is getting old…
---
Feds continue to offer free 'covid' tests | added March 9
"Today, I want you to know that if you've already ordered free tests, you can now order another round, shipped directly to your home and for free, so we're prepared no matter what covid-19 brings," he said. The tests are available from the federal website at covidtests.gov.
Each household can order a total of eight tests. If an order was already made for four in January when the program launched, another order can be placed for four more. Biden first discussed the move at his State of the Union address last week, as well as the "Test to Treat initiative," which will ensure people can get tested at a pharmacy and receive antiviral pills on the spot at no cost if they are positive.
"And, if Congress provides the funds we need, we'll have new stockpiles of tests, masks and pills ready if needed," he said. Nearly half of the 500 million free tests the administration made available to the public remained unclaimed in late February.
---

The 'covid' narrative is crumbling | March 9
Does the term 'fully vaccinated' need to be redefined and is it time for governments and the CDC to recognize natural immunity? Its funny how regardless of 'the science' the CDC and world governments fail to recognize natural immunity against 'covid'.
---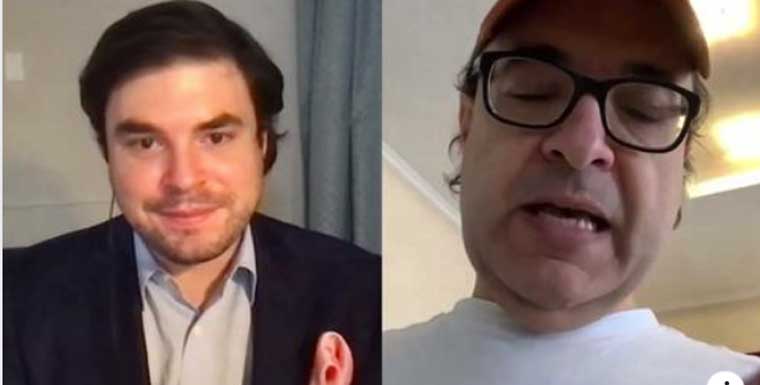 Eyewitness account to the war in Ukraine | added March 8
A full interview with Gonzalo Lira, an eyewitness to the war in Ukraine, is now available. Mr. Lira shares his experience witnessing automatic gunfire in Kiev, seeing a Russian airstrike outside his window, and being targeted by Ukrainian nationalists furious about his outspoken views.
Seconds after the recording ended, while I was still on the Skype call with him, another massive Russian airstrike occurred outside his window. After I posted clips from this interview on Twitter, he contacted me and said he was on the run after men in military clothing came to his apartment looking for him.
---
Supreme Court rejects NYC school employees' bid to ban 'covid' vax mandate | added March 8
The Supreme Court has turned down a bid by New York City school employees who sought to block the city from firing them for not complying with a covid-19 vaccine mandate.
A majority of justices denied the request, which had been referred to the full court by Justice Neil Gorsuch, a Trump nominee. As is typical in such cases, the composition of the votes wasn't released. The city's Department of Education in 2021 ordered all employees to get a covid-19 vaccine, with limited exceptions on medical or religious grounds.
Fifteen workers sued the department, alleging they were wrongfully suspended instead of being granted religious exemptions. The way the exemption applications were handled, the suit said, violated the U.S. Constitution. The workers asked the nation's top court to step in and issue a preliminary injunction while a circuit court panel weighed whether to overrule earlier decisions on the applications.
---
Florida becomes first state to recommend against vax for children | added March 8
Florida's surgeon general on Monday said "healthy" children should not get Covid-19 vaccines. In a roundtable featuring Gov. Ron DeSantis and the state surgeon general, Dr. Joseph Ladapo announced that "the Florida Department of Health is going to be the first state to officially recommend against the covid-19 vaccines for healthy children."
The reasons for that guidance, DeSantis and Ladapo said, have to do with lingering questions about the vaccines' potential health risks for young people. In rare cases, mRNA vaccines have been linked to myocarditis, an inflammation of the heart muscle, among young men and teenage boys.
However, neither Ladapo nor DeSantis offered details on what qualifies a child as "healthy" nor the specific age group to which they were referring. The Florida Department of Health declined to immediately comment on Ladapo's pronouncement, saying it would make a more complete statement later Monday. But as of Tuesday morning, it had yet to offer further detail on the matter.
---
'Covid' cases linked to accelerated aging of the brain, according to a new study | added March 8
People who have even a mild case of covid-19 may have accelerated aging of the brain and other changes to it, according to a new study. The study, published Monday in the journal Nature, is believed to be the largest of its kind. It found that the brains of those who had covid-19 had a greater loss of gray matter and abnormalities in the brain tissue compared with those who didn't have covid-19.
Many of those changes were in the area of the brain related to the sense of smell. "We were quite surprised to see clear differences in the brain even with mild infection," lead author Gwenaëlle Douaud, an associate professor of neurosciences at the University of Oxford, told CNN in an email.
Douaud and her colleagues evaluated brain imaging from 401 people who had covid-19 between March 2020 and April 2021, both before infection and an average of 4½ months after infection.
---
Canadian "Freedom Convoy" organizer, Tamara Lich released on bail | added March 8
A judge has ruled one of the main organizers of the so-called Freedom Convoy can be released from jail, on the condition she leave Ottawa, reversing a decision made last month.
Tamara Lich, 49, was behind a now-halted GoFundMe campaign that raised more than $10 million to support the protest in Ottawa, which became a weeks-long occupation. She was arrested Feb. 17 and charged with counselling to commit mischief shortly before the major push by police to clear out the remaining protesters who occupied downtown Ottawa streets.
Lich remained in custody and was denied bail on Feb. 22, but then appealed, leading to a March 2 bail review hearing. The original judge said she was not convinced Lich would go home and stop her alleged counselling.
---
FDA delays response to contaminated baby formula that killed two infants | added March 8
A growing number of parents are outraged after they say their infants were exposed to powdered baby formula contaminated with Salmonella Newport and Cronobacter sakazakii — a germ that causes rare but serious infections in babies.
The U.S. Food and Drug Administration (FDA) said five cases of infection in infants — two of which resulted in death — are linked to three widely sold brands of formula manufactured at a plant in Sturgis, Michigan.
The three brands, Similac, Alimentum and EleCare — all manufactured by the medical device maker Abbott Nutrition — were recalled after five babies were hospitalized between September 2021 and January 2022. According to Politico, all three brands are "major players" in the baby formula market, with Similac being a "top supplier to the WIC program, which provides millions of low-income parents with formula and nutritious food staples."
---
Parents angry over 'covid' medical mandates | added March 8
President Biden told the country on Tuesday it was safe to go back to their normal lives in his State of the Union address, saying shutdowns of schools and business are no longer necessary because of widely available vaccines, tests and new treatments.
"I know you're tired, frustrated and exhausted," Biden empathized. For suburban Connecticut moms like Amelia Fogarty and Caroline Montero, it's too little, too late. In recent months both women have become more engaged in politics than at any other point in their lives, pushing back against local mask mandates — primarily supported by Democratic elected officials — that until recently required their children to wear masks at school.
Born and raised a Democrat, Fogarty recently switched parties and plans to vote Republican this November over this issue. It's cost her friendships and strained some family ties.
---
Puerto Rico drops 'covid' travel restrictions | added March 8
Puerto Rico this week is dropping nearly all travel-related covid-19 restrictions for domestic travelers from the U.S. as case counts on the island continue to fall.
Starting Thursday, domestic visitors from the U.S. will no longer need to show proof of vaccination or a negative coronavirus test to enter. Masks will no longer be required in indoor or outdoor venues, with some exceptions, Governor Pedro Pierluisi announced Monday. Certain areas, such as health facilities, will still require face coverings.
Officials recommend that people continue to wear masks indoors when the vaccination status of others is unknown. Travelers will also still need to wear a mask on the plane ride to Puerto Rico because the U.S. federal mask mandate is in effect until at least March 18.
---
"The new normal" in political theatre | added March 8
On Friday Canadian Prime Minister Justin Trudeau appeared at a meeting of Toronto's Ukrainian community – sans mask, but bearing Ukraine ribbon – to deliver a stern warning: we need to be aware of "slippage" in our democracies.
Justin says – "leaders are becoming more authoritarian". And he's right – Less than three weeks ago he invoked the Emergencies Act to criminalise peaceful protest and then seize and/or freeze the private property of people who had done nothing but donate money to peaceful protesters.
Justin says – "countries are allowing too much misinformation and disinformation" And he's right – The Canadian establishment reported that the Freedom Convoy was full of white supremacists who were stealing food from homeless shelters and being funded by "foreign agents". None of that was ever proven true.
---

Introducing a new good 'covid' variant | added March 8
Not every 'covid' variant is bad to the bone.
---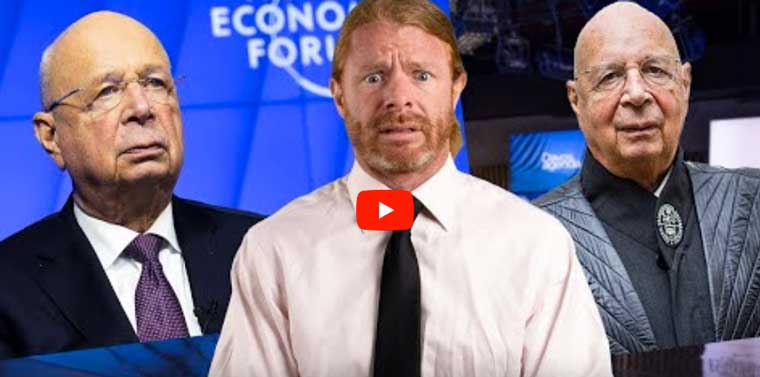 Is Klaus Schwab really the most dangerous man in the world? | added March 7
Pinky and Dr Evil? Klaus Schwab is bringing you the great reset. And not only will it be great, it'll be a fantastic reset. The folks at the World Economic Forum are busy helping protect you from climate change and disease. Yet some people still ask, is Klaus Schwab the most dangerous man in the World? Get the full picture along with everything they don't want you to know in this video.
---
"The People's Convoy" rounds D.C. beltway in protest of mandates | added March 7
The "People's Convoy," a group of hundreds of trucks, cars and SUVs protesting the government's response to the pandemic, plans to leave the Hagerstown Speedway on Monday about 9:30 a.m. and head to the Capital Beltway for a second day of demonstrations in the D.C. area, an organizer said.
Organizer Brian Brase said the group, which circled the Beltway twice on Sunday, aimed to loop around once Monday. He said the group plans to occupy two lanes instead of one as an "escalation." They will drive the minimum legal speed limit, he said.
Authorities across the D.C. region have monitored the group and warned drivers about potential traffic problems in coming days. Some officials have encouraged drivers to avoid the Beltway when possible. The group plans to stay at the speedway until "at least" Saturday, Brase said, adding that "hopefully this is all over by Wednesday." He did not disclose the group's plans for the rest of the week.
---
Feds give tech companies until May 2 to release 'covid misinformation' data, bill introduced in Congress to make 'misinformation' a crime | added March 7
Two news stories this week reveal how the federal government plans to treat covid "misinformation" as a crime, and what role tech companies will play in rounding up the "criminal."
This is truly frightening. Two U.S. Senators this week introduced a bill to provide tech companies cover via legislation that could make it possible for Congress to "legalize" censorship and criminalize First Amendment rights to freedom of speech.
Here's a press release describing the bill: U.S. Senators Ben Ray Luján (D-N.M.) and Chris Murphy (D-Conn.), both members of the U.S. Senate Committee on Health, Education, Labor and Pensions, on Wednesday introduced legislation to counter the threat that misinformation and disinformation pose to public health as evidenced by the widespread false narratives throughout the covid-19 pandemic.
---
Heart defects could raise greater risk for severe 'covid' illness | added March 7
People who were born with a heart defect have a nearly doubled risk for severe covid-19 illness or death and need to get vaccinated, wear masks and take other steps to protect themselves, researchers report. Those patients at the highest risk for severe covid-19 were 50 and older, men, and those with other health conditions such as heart failure, pulmonary hypertension, Down syndrome, diabetes or obesity, according to the study.
"People with heart defects should be encouraged to receive the covid-19 vaccines and boosters and to continue to practice additional preventive measures for covid-19, such as mask-wearing and physical distancing," said study author Karrie Downing. She's an epidemiologist at the U.S. National Center on Birth Defects and Developmental Disabilities and the Covid-19 Response Team at the U.S. Centers for Disease Control and Prevention.
"People with heart defects should also consult with their health care teams about additional steps to manage personal risks related to covid-19, given the significantly increased risk of severe infection and serious complications," Downing added.
---
Moderna's patented genetic material found in 'covid virus', lab leak theory plausible | added March 7
[Feb. 25, 2022] The lab leak theory as the origin of covid became even more plausible when scientists on Thursday announced they had found genetic material owned by Moderna in the virus' spike protein.
A team of scientists identified a 19-nucleotide-long RNA sequence found in the virus's furin cleavage site matching a 19-nucleotide sequence in a genetic segment owned and patented by Moderna in February 2016 — four years before the pandemic began. The research was published on Feb. 21, in Frontiers in Virology.
The furin cleavage site is the part of the virus that makes it so good at infecting people and distinguishes it from other coronaviruses. It's the furin cleave site that have led some scientists to believe the virus could not have been acquired naturally. According to BioSpace, SARS-CoV-2 is the only coronavirus that carries 12 unique amino acids that can be activated by a protease enzyme called furin.
---
Bayer exec. admits mRNA shots are cell and gene therapy | added March 7
A speech made last year by a Bayer executive mentioning that messenger RNA (mRNA) vaccines are gene therapy is gaining traction on social media for the second time since it was initially posted online in October 2021.
Stefan Oelrich, a member of the Board of Management of Bayer and head of the Pharmaceuticals Division, gave a speech at the World Health Summit focused on biotechnological innovation. He said his company is "really taking that leap … in cell and gene therapy." "Ultimately, the mRNA vaccines are an example for that cell and gene therapy," Oelrich said at the event's opening in Berlin.
"I always like to say, if we had surveyed two years ago in the public—'would you be willing to take gene or cell therapy and inject it into your body?'—we probably would have had a 95 percent refusal rate," he added. The pandemic has given the pharmaceutical industry innovation opportunities that may have not been possible before, Oelrich said.
---
Rochelle Walensky admits CNN's report of "95 percent covid vax effectiveness" was wishful thinking | added March 7
Here's the CDC director going very easy on herself, and on her worse-than-useless agency, for what she represents as wishful thinking, in having readily swallowed CNN's report of 95% "vaccine" effectiveness. Note too her disingenuous lament that "nobody said" anything about certain variants possibly eluding the "vaccine," or about the "waning" impact of the shots.
For more on the CDC's lethal fraudulence, check out this eye-popping overview of "common myths" about the "vaccines," and, contrarily, "the facts" about the latter. As anyone who's reasonably well-informed will see at once, all those "myths" are (in fact) facts, while all those "facts" are (in fact) lies—an absolute inversion of the truth, as in George Orwell's Nineteen Eighty-Four, with (of course) the signal difference that the latter is satire, whereas the former comes to us as "health guidance" from the US government.
I happened on this catalog of deadly falsehoods just after reading of a new study, out of Sweden, finding that the Pfizer "vaccine" enters liver cells, where it's converted into DNA.
---
Family law superior court judge sets precedence with 'covid' evidence | added March 7
A recent decision in Family Law Superior Court has set "the precedent we've been waiting for", according to Julie Ponnesse. The Honourable Mr. Justice A. Pazaratz has broken the trend in Canada's judicial system of dismissing controversial covid-19 cases on grounds that they go against the institutional narrative.
"What's crucial about it is not just that the judge ruled in favour of the parent who wants not to vaccinate her children but the comments he makes about how we have lost the ability to think critically and ask questions in the courtroom," Ponnesse explains.
"He also states clearly that decisions must be based on admissible evidence vs judicial notice of government statements. He is also a very well respected family law Superior Court judge and so this is the precedent we have been waiting for, in some sense, that subsequent cases can rely on!"
---
Broadway keeps 'covid' mask and vax mandates through April | added March 7
Broadway will maintain its mask and vaccine policies through April despite Mayor Eric Adams rolling back many covid-19 mandates starting Monday.
"Our current guidance is through April 30, and we are scheduled to update that guidance on April 1," Broadway League president Charlotte St. Martin said in a statement. "Discussions are held weekly on our protocols and at this point, there is no change to our guidance." The statement echoes a similar sentiment expressed by the Broadway League last month, when Gov. Kathy Hochul dropped the indoor dining mask mandate as a result of low covid infection rates.
When asked whether dropping the indoor mask mandates would apply to the Great White Way, Adams left it up to theater officials. "Broadway will make their determination and we'll respect that, but we're lifting our mandates," he said. Broadway shows returned to New York in September after being shuttered for nearly two years due to the pandemic.
---
Vaxed singer and TV host, Roslan Shah collapses on live talk show | added March 7
KUALA LUMPUR: Singer, actor, emcee and television host Roslan Shah fell "flat on his face" while being interviewed live on TV3 today. Roslan, 52, who is recuperating at a private hospital, collapsed during the live telecast of popular women's talk show Wanita Hari Ini (WHI) at Sri Pentas, Bandar Utama, Petaling Jaya around noon.
He was being interviewed by WHI co-hosts Hawa Rizwana and Fatin Hamimah, on the topic of outspoken people or "loose cannons" when he suddenly began to cough and feel dizzy. Roslan subsequently fell off his seat, head first, to the shock of Fatin, Hawa and the production team. The live programme was temporarily stopped as studio staff helped revive Roslan.
A doctor on duty in the studio promptly examined Roslan and found that his blood pressure was high. Consequently, the production team called an ambulance which took Roslan to the nearest hospital.
---
We are all Ukrainian | added March 5
Tonight on Planet Waves FM (usually posts by 10 pm ET), I will open with the place where the devastation in Ukraine meets the People's Convoy in the United States. The reason I believe we are so upset about what is happening in Ukraine is we could be next, and not only that, we have all just experienced a bombing and land mine campaign most of us didn't know was happening.
We will have latest update from our friend and video editor Cate Ryzhenko, who is currently making her way across Ukraine toward Poland. We will hear from the World Health Organization and the Board of Education of Orange County, California on the matter of the "vaccine" killing children, in particular, young athletes.
I'll discuss the recent sketch on Saturday Night Live making fun of how it's nearly impossible to tell the truth at the dinner table, out of fear that you might lose all your friends.
---
"The People's Convoy" freedom mission to arrive in Washington, D.C. over weekend | March 5
WASHINGTON COUNTY, Pa. — The People's Convoy continues its route across America. Truck drivers and supporters passed through Washington County and the greater Pittsburgh area, carrying a message of what they are calling American pride and unity. More than 100 people watched from an overpass, chanting and cheering to show their support.
Supporters say the Convoy's purpose is to highlight America's need to fully re-open and remove covid restrictions. They say too much has been lost over the last two years and high ranking officials have overstepped boundaries.
According to the official website, "The People's Convoy will abide by agreements with local authorities, and terminate in the vicinity of the DC area, but will NOT be going into DC proper." DC is their final stop. The convoy is scheduled to arrive Saturday.
---
'Covid' mRNA gene transfer vax technology poses unintended health consequences | added March 5
Editor's Note: The Townsend Letter which is a leading publication on the examination of holistic medicine, has an article worth reading on the detriments of denying adverse vaccine reactions and loss of consent. — mmd
MIT scientist Stephanie Seneff's paper, "Worse Than the Disease: Reviewing Some Possible Unintended Consequences of mRNA Vaccines Against COVID-19," published in the International Journal of Vaccine Theory, Practice and Research in collaboration with Dr. Greg Nigh, is still one of the best, most comprehensive descriptions of the many possible unintended consequences of the mRNA gene transfer technologies incorrectly referred to as "covid vaccines."
December 9, 2021, their paper was reprinted in the Townsend Letter, the Examiner of Alternative Medicine. Seneff, Ph.D., a senior research scientist at MIT who has been conducting research at MIT for over five decades, has spent a large portion of her career investigating the hazards and mechanisms of action of glyphosate.
Her attention was diverted to the science of mRNA gene transfer technologies in early 2020, when Operation Warp Speed was announced. As noted in her paper, many factors that lacked precedent, yet were being implemented at breakneck speed.
---
Newly released Pfizer 'covid' vax clinical trial data shows 1,291 adverse side effects | added March 5
The FDA was forced by a judge to release clinical data on the covid vaccines back in January and so 55,000 pages of documents were just released. The FDA had originally wanted to hide the data for 75 years and release it in 2096 because, of course, the FDA is basically engaged in a criminal conspiracy.
The covid vaccines should never have been approved. This was obvious from the very beginning when animal trials were skipped in the Trump Administration's ill-fated "Operation War Speed." And now it's undeniably true. We have the clinical data, and it's horrific.
Hiding out in one appendix is the clinical data for Pfizer's vaccine — which lists 1,291 adverse side effects in alphabetical order. Let's give you just the bad things that can happen to people who took the Pfizer vaccine that start with the letter "a" to enjoy.
---
NYC Mayor Eric Adams announces next phase of 'covid' pandemic recovery | added March 5
New York City Mayor Eric Adams today announced several changes to covid-19 pandemic restrictions that will continue to protect the health and safety of all New Yorkers, while simultaneously boosting the city's economic recovery.
In the face of quickly declining covid-19 cases and hospitalizations and more than 17 million doses of vaccines administered, Mayor Adams announced the suspension of the Key to NYC program and the removal of indoor mask mandates in city public schools for K-12 students.
"Two years ago, New York City was the epicenter of the pandemic, but thanks to New Yorkers getting vaccinated and getting boosted we have made tremendous progress," said New York City Mayor Eric Adams.
---
Pakistan sends women-led teams door-to-door to vaccinate the hesitant | added March 5
KARACHI, Pakistan – A doctor gives a pep talk to some two dozen women sitting in a hall of a medical center. "We've got Pfizer. We've got Moderna. We've got Sinovac," says Dr. Kishwar Tanwir, who oversees vaccinations in the Pehlwan Goth district of the Pakistani city of Karachi.
The women were about to go door-to-door to offer covid-19 jabs on a recent February day – part of some 13,000 teams led by women that were dispatched across the southern province of Sindh to vaccinate some 12 million people over the age of 12.
This dramatic intervention by the Sindh government aims to vaccinate a cohort they have struggled to reach: some 25% of residents who have not had their first dose, despite vaccines being widely available for the past year through supplies provided by the U.N.-backed COVAX program, the U.S. and China.
---
Biden claims gun making sole US industry that can't be sued: doesn't mention vax manufacturers | added March 5
President Biden during Tuesday's State of the Union address falsely claimed the billion-dollar gun manufacturing industry is the only industry in the U.S. that can't be sued — when in fact, vaccine makers in the U.S. have total liability protection for injuries or deaths caused by covid vaccines.
"Repeal the liability shield that makes gun manufacturers the only industry in America that can't be sued," Biden said. "These laws don't infringe on the Second Amendment. They save lives."
CNN fact-checked Biden's claim and said it was "false." "Gun manufacturers are not entirely exempt from being sued, nor are they the only industry with some liability protections," CNN said. "Under the 2005 Protection of Lawful Commerce in Arms Act, gun manufacturers cannot be held liable for the use of their products in a crime."
---
Consumerism shifts in a grave new world | added March 5
The Frankfurt School predecessor and Marxist author Walter Benjamin was fascinated by the curious transformations of capitalism from the mid-to-late 1800s, when Marx wrote, to the early 20th century of Benjamin's day.
In the industrial era Marx observed, commodities were primarily viewed as raw materials and basic goods. Marx focused on production. By Benjamin's time commodities had been transformed into "objects of consumption." Objects of desire, in other words. Benjamin had discovered something: consumerism had been born as a primary driver of capitalist production. Commodity fetishism had fundamentally changed, coming to resemble the consumption-driven manias we see today.
Benjamin's biographer called the evolving commodity fetishism, "a delusional expression of collective utopian fantasies and longings." With the advent of advertising, consumer packaged goods lifted capitalism to new heights. Benjamin witnessed a sea-change. And yet what has happened since Benjamin's death in 1940 has been nearly as convulsive as that which the German philosopher saw.
---
White House says 'covid' bank account empty as it sends billions to Ukraine war relief | added March 5
"From the covid side, the bank account is empty," covid-19 deputy coordinator Natalie Quillian said. "We're in conversations with lawmakers about how to secure the funding, but it's urgently needed." Some of the consequences could be felt later this month.
"This is an urgent request and this is what is at stake in our fight against covid," White House press secretary Jen Psaki told reporters on Friday. A request sent to Congress from the Office of Management and Budget (OMB) seeks $22.5 billion in immediate covid-19 response needs with an ask for $10 billion to provide support to Ukraine following Russia's invasion.
"I urge the Congress to address these critical and urgent needs as part of a comprehensive government funding bill ahead of the March 11th funding deadline," OMB acting Director Shalanda Young said in the Wednesday letter, noting that "additional needs may arise over time" due to the "rapidly evolving situation in Ukraine."
---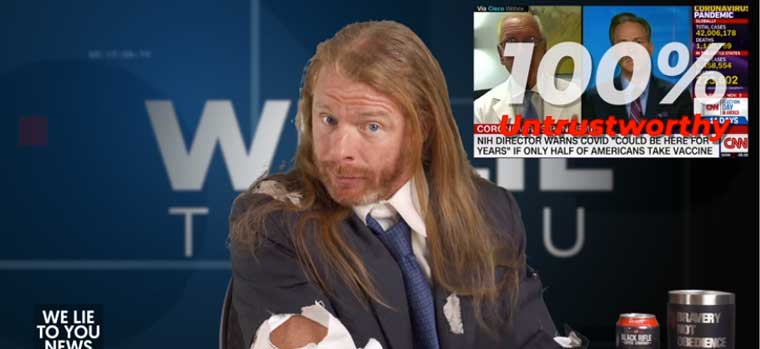 What the media wants you to know about Ukraine and Russia | added March 5
Ukraine and Russia, here's what the media wants you to think! As Putin and Russia unjustly invade Ukraine, why are they doing it? The brave Ukrainians are fighting Russian soldiers. Will they succeed? Should the US send military troops over to help protect Ukraine's democracy?
---
Biden's 'America the Beautiful' conservation initiative includes funding for toxic turf playgrounds | added March 4
The Biden administration's "America the Beautiful" initiative aims to conserve at least 30% of lands and oceans by 2030 in an effort to bolster the economy and "tackle the climate and nature crises" while addressing "inequitable access to the outdoors."
But the plan may not be all it's cracked up to be. A closer look by investigative journalist Paul D. Thacker reveals the nationwide "conservation" effort includes subsidies for chemical grass playgrounds that contain a mix of harmful substances — including heavy metals and per- and polyfluoroalkyl substances or PFAS.
Thacker points out that in 2021, the National Park Service announced it will use grants — which contribute to Biden's "America the Beautiful" initiative — to install artificial turf in America's parks. Most of the projects are "in low-income neighborhoods which offer little outdoor recreation," Thacker said.
---
U.S. Surgeon General requests 'covid misinformation' data from tech platforms | added March 4
President Biden's surgeon general on Thursday formally requested that the major tech platforms submit information about the scale of covid-19 misinformation on social networks, search engines, crowdsourced platforms, e-commerce platforms and instant messaging systems.
A request for information from the surgeon general's office demanded that tech platforms send data and analysis on the prevalence of covid-19 misinformation on their sites, starting with common examples of vaccine misinformation documented by the Centers for Disease Control and Prevention.
The notice asks the companies to submit "exactly how many users saw or may have been exposed to instances of covid-19 misinformation," as well as aggregate data on demographics that may have been disproportionately exposed to or affected by the misinformation.
---
Multiple freedom truck convoys protesting mandates converge en route to Washington | added March 4
MONROVIA, Indiana—Several trucker convoys comprising thousands of vehicles converged in Monrovia, Indiana, and held a rally late on March 2 before continuing their trip toward Washington, D.C., to protest against covid-19 restrictions and mandates.
"The People's Convoy," which set off from California on Feb. 23, rolled through multiple states including Arizona, Texas, Oklahoma, and Missouri before arriving in Indiana. The convoy has two more stops to go—Ohio and Maryland—before reaching Washington, where organizers hope to arrive around March 5.
The group was inspired by trucker convoys in Canada that made global news headlines for protesting against covid-19 restrictions. It's hard to quantify exactly how many people are directly participating in the People's Convoy, not to mention the many thousands more who've gathered along the roads and on overpasses across the country to cheer them on.
---
LA county formally lifts indoor masks and proof of 'covid' inoculation mandates | added March 4
Los Angeles County formally lifted its indoor mask-wearing mandate Friday after it was reclassified by the Centers for Disease Control and Prevention Thursday as having "low" covid-19 activity.
Masking in most indoor public spaces — such as restaurants, movie theaters, gyms and nail salons — will not be required. Patrons will also not have to provide proof of vaccination.
However, a city of L.A. ordinance that took effect Nov. 8 remains in effect, requiring people over age 12 to show proof of vaccination before patronizing indoor restaurants, gyms, entertainment and recreational facilities, personal care establishments, some city buildings and mega-events with 5,000 or more attendees.
---
Rheumatoid arthritis drug could help severe 'covid' patients | added March 4
A drug used to treat rheumatoid arthritis could help to save the lives of patients with severe covid, researchers have found, and they say its benefits can be seen even when it is used on top of other medications.
Experts involved in the Randomised Evaluation of Covid-19 Therapy (Recovery) trial say baricitinib, an anti-inflammatory drug taken as a tablet, can reduce the risk of death from severe covid by about a fifth. However, they add that when the impact of other medications used alongside the drug are also taken into account, the risk of death could be lowered by well over 50% – although the figure will vary from patient to patient.
Advertisement
"What we have now is a suite of drugs which tackle the immune system at different levels, and slightly different ways, which depending on the patient and their circumstances, and their other illnesses and so on, can be used either alone or in combination and further reduce the risk of death," said Prof Sir Martin Landray, a joint chief investigator of the trial at the University of Oxford.
---
NFL players' union suspends all 'covid' counter measures | added March 4
The NFL and NFL Players Association have suspended all leaguewide covid-19 protocols effective immediately, pausing two years of largely successful efforts to play through the pandemic.
Teams received a memo Thursday morning detailing the decision, which was "based on current encouraging trends regarding the prevalence and severity" of the coronavirus. Many of the league's most severe protocols had been dropped by the end of the 2021 season, including mandatory testing for asymptomatic players and staff, requirements to wear contact tracing devices and distancing limitations in weight rooms and cafeterias.
There is no football activity underway at club facilities at this point in the offseason, and the earliest it can begin is April 4 for teams that have hired new coaches. But Thursday's change will still affect coaches and other staff members who are attending this week's scouting combine in Indianapolis or who work year-round in local markets.
---
Florida Gov. Ron DeSantis encourages mask removal calling it 'covid' theatre | added March 4
Irked by the sight of high school students wearing masks at his press conference Wednesday, Gov. Ron DeSantis encouraged them to remove the facial coverings, calling their use "covid theater."
"You do not have to wear those masks," DeSantis said in video captured by WFLA News Channel 8, Tampa's NBC station. "Please take them off. Honestly, it's not doing anything. We've gotta stop with this covid theater. So if you wanna wear it, fine, but this is ridiculous."
DeSantis then shakes his head in apparent frustration before launching into the press conference at the University of South Florida, which he visited to tout $20 million in funding for cybersecurity training. At least two students removed their masks at the governor's request, according to the video.
---
Economic restructuring and liberty lockdowns | added March 4
Remember how the notion of freedom was spun by the ideologues of neoliberalism for decades prior to covid? The freedom to consume. The freedom to make money. The freedom to be plunged into poverty and debt.
Platitudes about "individual responsibility" and "standing on your own two feet". A relentless ideological attack on the state and collective responsibility. The doctrine of "no such thing as society" Thatcherism.
Ideologically, at least, the individual and 'the market' were paramount. But in reality, of course, there was no genuine rolling back of the state: its machinery was used differently to facilitate the needs of global capital while attacking the labour movement. In all this 'freedom', there was never much talk in the mainstream political and media narrative about the plight of the poor or workers who felt the brutal effects of the brave new world of neoliberal capitalism.
---
Anna Sorokin sues ICE for denied 'covid' booster jab | added March 4
Anna Sorokin — the fake German heiress who swindled thousands of dollars from friends, hotels, banks and other businesses — joined a class-action lawsuit accusing jailers of wrongfully denying covid vaccines to inmates.
Anna Sorokin, also known as Anna Delvey, who is the subject of the popular Netflix series "Inventing Anna," said she caught covid-19 because Immigration and Customs Enforcement refused her multiple requests for a booster shot, according to the lawsuit, filed by the American Civil Liberties Union.
Sorokin, 31, is among four named plaintiffs in the civil action filed Tuesday in Washington, D.C., against ICE, acting Director Tae Johnson, ICE's parent agency, the Department of Homeland Security, and Homeland Security Secretary Alejandro Mayorkas. Sorokin said she received the one-dose Johnson & Johnson vaccine in April. "Ms. Sorokin has made multiple requests for a booster shot," according to the lawsuit. "She never received a response."
---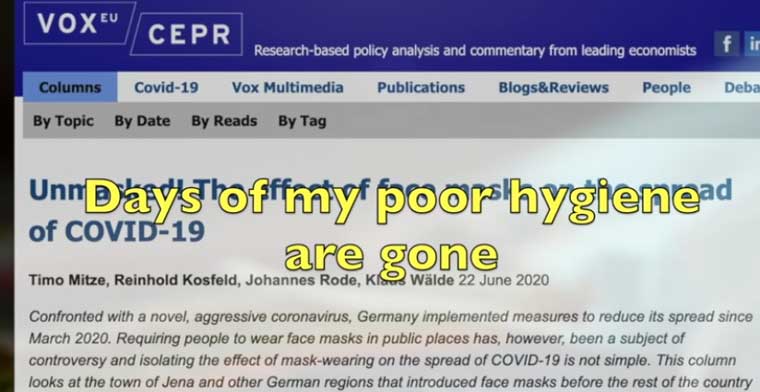 Masks will not go on | added March 4
'Covid' Titanic parody song of Céline Dion's 'My Heart Will Go On' although the masks are gone…
---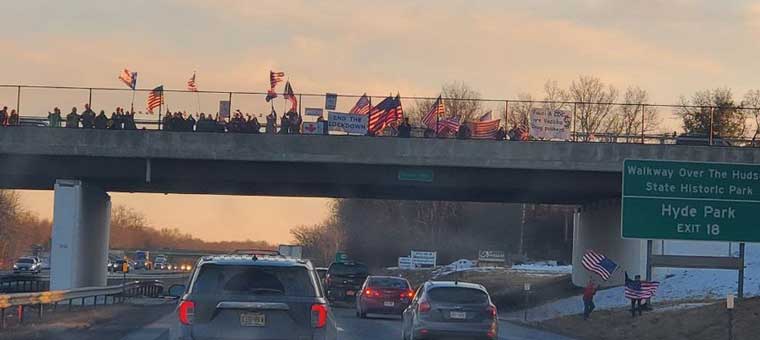 NY freedom supporters gather as the Northeast contingent of "The People's Convoy" travels to D.C. | added March 3
Eric's comments: People's Convoy on I-87 South, the New York State Thruway, passes Spring Lake, just south of Kingston, at about 5 pm. We were joined by members of the Spring Lake Volunteer Fire Department, who were "there to protect us, not for political reasons." They brought a big American flag, which helped us feel safe.
The 'People's Convoy' is growing as it rolls across the country, collecting support along the way to Washington. The Northeast convoy traveled through Central New York as it moves south to join up with the original line that began in California.
"Putnam and Dutchess County ready to roll," Anthony Scarfone shared on Facebook, along with a picture of the long convoy line. People gathered on a New York overpass to salute the Convoy that consisted of two groups from Rochester and Syracuse.
"Moments before the convoy passed by a bald eagle was spotted circling above us," George Sturek shared on Facebook along with a picture of people showing support, holding American flags. The People's Convoy began in California on Wednesday, February 23, and is expected to arrive in Washington DC on Saturday, March 5 to demand an end to covid-19 mandates.
---
Vaxed man says wife died from adverse reaction to J&J shot | added March 3
BEND, Ore. — Monica Melkonian wanted the Johnson & Johnson covid vaccine. It was only one shot and then she would be protected against the virus. So she was thrilled when the vaccination clinic at the Deschutes County Fair & Expo Center on April 7 had her first choice.
But on April 13, Melkonian started experiencing headaches, a sharp pain behind her left eye. That same day federal health officials announced a pause in the use of the J&J vaccine after learning that six people had developed a rare blood-clotting disorder following their shots.
Despite her ongoing headaches, she and her husband, Stan Thomas, spent the next Saturday working around their home. He hung a ceiling fan in their garage where he works on motorcycles. She spent the day pulling weeds. They walked their lot identifying the projects they wanted to complete that summer. Late into the evening, they soaked in their hot tub, drinking champagne and margaritas, eating strawberry shortcake. They watched the moon rise and the stars come out in the dark Central Oregon sky.
---
Oregon to lift unlawful 'covid' vax mandates for state employees | added March 3
PORTLAND, Ore. — While Oregon's indoor mask mandate lifts in ten days, the vaccine requirement for state employees will remain in place for at least the rest of the month.
Governor Kate Brown's emergency orders for covid-19 do not lift until April 1, according to a spokesperson with her office. The governor said she made the decision to rescind the covid-19 States of Emergency on April 1 based on how Oregon's virus case numbers and hospitalizations are dropping rapidly as the omicron variant recedes.
New employees who start after April 1 won't have to show proof of vaccination. The governor's office says about 98% of state workers are either vaccinated or received an exception.
---
FDA issues warning of false results risk for three at-home 'covid' tests | added March 3
The Food and Drug Administration has issued warnings to the public about three different at-home covid-19 tests, saying that the testing kits have not been authorized by the FDA and that they could pose a risk of false results.
According to a series of press releases, the FDA has warned Americans not to use certain tests from three different companies.
ACON Laboratories "Flowflex SARS-CoV-2 Antigen Rapid Test (Self-Testing)" : This test is packaged in a dark-blue box, and has not been authorized, cleared or approved by the FDA for distribution and use in the United States.
---
Biden asks Congress for $32.5 billion dollars of 'covid' and Ukraine relief | added March 3
Washington — The Biden administration is asking Congress to add at least $10 billion in new spending for humanitarian assistance and military operations related to Ukraine — a sharp uptick in requested spending from just a few days ago.
Two people familiar with the request confirmed the figures to CBS News. The new spending is part of a broader ask that includes a $22.5 billion request for spending related to the covid-19 pandemic and work to prepare for future pandemics.
Shalanda Young, acting director of the Office of Management and Budget, made the formal request for supplemental funding for "critical assistance" to Ukraine and the response to covid-19 in a letter to House Speaker Nancy Pelosi sent late Wednesday.
---
Truth on 'covid' deaths is coming out | added March 3
Early on in the covid pandemic, people suspected that the deaths attributed to the infection were exaggerated. There was plenty of evidence for this. For starters, hospitals were instructed and incentivized to mark any patient who had a positive covid test and subsequently died within a certain time period as a covid death.
At the same time, we knew that the PCR test was unreliable, producing inordinate amounts of false positives. Now, the truth is finally starting to come out and, as suspected, the actual death toll is vastly lower than we were led to believe.
In the video above, Dr. John Campbell reviews recent data released by the U.K. government in response to a Freedom of Information Act (FOIA) request. They show that the number of deaths during 2020 in England and Wales, where covid-19 was the sole cause of death, was 9,400. Of those, 7,851 were aged 65 and older. The median age of death was 81.5 years.
---
In memory of all those who "died suddenly" | added March 3
Steve Fonyo, who lost his leg to cancer as a child and ran a marathon across Canada to raise millions for cancer research, has died.
He was 56. Fonyo's niece Melody Kruppa said he had what appeared to be a seizure in a hotel room in Burnaby, B.C., on Friday and paramedics could not revive him. The cause of death was not clear and the family will have to wait until Tuesday or Wednesday for the coroner to assess the body due to the long weekend, Kruppa said.
Ontario's police watchdog is investigating an incident involving Brantford Police (BPS) and a suspect found dead following a traffic stop at Rawdon and Grey Streets early Wednesday. "A traffic stop was initiated, however the vehicle fled, failing to stop for police," Robin Matthews-Osmond, Brantford police's communications manager, said in a release.
---
'Rebranded' Maryland military lab found to handle dangerous pathogens | added March 3
The Army's premier biolab changed its mission statement after a 2014 report by high-ranking officials concluded its work has become less useful since its Cold War heyday and no longer delivers medical products for service members.
The report, which had not been previously released, was obtained through a state public records request by U.S. Right to Know. The challenges at the U.S. Army Medical Research Institute of Infectious Diseases, or USAMRIID, come to light at a time of fierce debate about the degree to which research on novel pathogens contributes tangible benefits.
Scientists with different theories about the covid-19 pandemic's origins have been tangled in arguments over whether certain work on dangerous pathogens can help predict pandemics or poses unacceptable risks.
---
New Zealand faces explosion of 'omicron' variant case numbers | added March 3
WELLINGTON, New Zealand — For much of the past two years, covid-19 was a phantom presence in New Zealand, a plague experienced mostly through news reports from faraway lands. Now, suddenly, it has become a highly personal threat.
New Zealand is being walloped by a major outbreak of the omicron variant, with the virus spreading at what may be the fastest rate in the world. On Thursday, the country reported 23,194 new cases, a once unthinkable number in a small island nation of about five million people where the record daily case count before the current wave was in the low hundreds.
The explosion in cases has come as the government, under political pressure, loosened its strict regulations meant to prevent the spread of the virus, and as the highly transmissible omicron reduced the effectiveness of the controls that remained.
---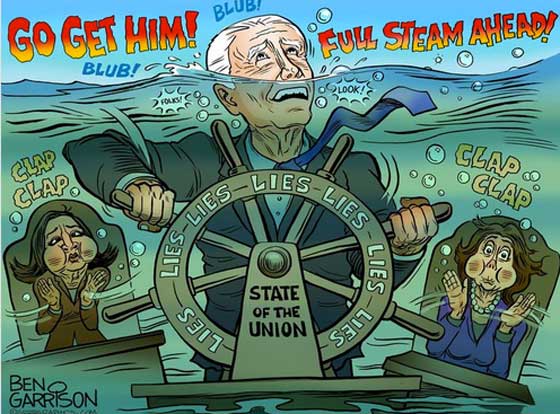 Garrison, not taking any shit | added March 3
---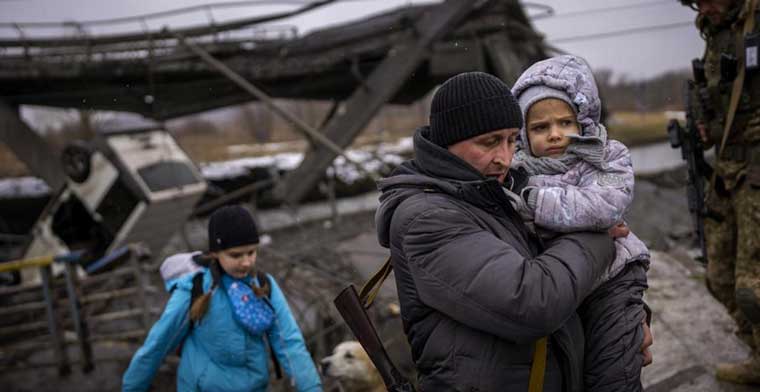 Russia escalates attack on Ukrainians even as both sides prepare to talk | added March 2
KYIV, Ukraine (AP) — Russia renewed its assault Wednesday on Ukraine's second-largest city in a pounding that lit up the skyline with balls of fire over populated areas, even as both sides said they were ready to resume talks aimed at stopping the new devastating war in Europe.
The escalation of attacks on crowded cities followed an initial round of talks between outgunned Ukraine and nuclear power Russia on Monday that resulted in only a promise to meet again. It was not clear when new talks might take place — or what they would yield. Ukraine's leader earlier said Russia must stop bombing before another meeting.
Seven days into the war, roughly 874,000 people have fled Ukraine and the U.N. refugee agency warned the number could cross the 1 million mark soon. The overall death toll was not clear, but Ukraine's State Emergency Service said more than 2,000 civilians have died. It was impossible to verify that claim.
---
Judge unseals whistleblower lawsuit with 400 pages of exhibits over Pfizer's 'covid' vax trials | added March 2
A whistleblower lawsuit alleging fraud during Pfizer's covid vaccine trials is moving forward, after a district court judge unsealed the complaint, including 400 pages of exhibits. Brook Jackson in January 2021 sued Pfizer and two companies the drugmaker contracted with to work on the trials: Ventavia Research Group and ICON PLC.
Jackson worked for Ventavia for a brief period in 2020 before being fired after she filed a complaint with the U.S. Food and Drug Administration (FDA) over alleged improprieties she observed during the vaccine trials. She also gave The BMJ a cache of internal company documents, photos and recordings highlighting alleged wrongdoing by Ventavia.
Jackson filed the complaint in the U.S. District Court, Eastern District of Texas, Beaumont Division, under the False Claims Act. The lawsuit includes several charges of fraud and retaliation on the part of both Ventavia and Pfizer. The complaint remained under seal until Feb. 10, when U.S. District Court Judge Michael Truncale ordered it unsealed.
---
Pfizer's mRNA 'covid' vax enters human liver cells and converts to DNA, according to Swedish researchers | added March 2
The messenger RNA (mRNA) from Pfizer's covid-19 vaccine is able to enter human liver cells and is converted into DNA, according to Swedish researchers at Lund University. The researchers found that when the mRNA vaccine enters the human liver cells, it triggers the cell's DNA, which is inside the nucleus, to increase the production of the LINE-1 gene expression to make mRNA.
The mRNA then leaves the nucleus and enters the cell's cytoplasm, where it translates into LINE-1 protein. A segment of the protein called the open reading frame-1, or ORF-1, then goes back into the nucleus, where it attaches to the vaccine's mRNA and reverse transcribes into spike DNA.
Reverse transcription is when DNA is made from RNA, whereas the normal transcription process involves a portion of the DNA serving as a template to make an mRNA molecule inside the nucleus. "In this study we present evidence that covid-19 mRNA vaccine BNT162b2 is able to enter the human liver cell line Huh7 in vitro," the researchers wrote in the study, published in Current Issues of Molecular Biology. "BNT162b2 mRNA is reverse transcribed intracellularly into DNA as fast as 6 [hours] after BNT162b2 exposure."
---
FEMA advises survivors to mask up, socially distance in the event of nuclear holocaust | added March 2
While the potential for Russia's invasion of Ukraine to spark a world-ending nuclear conflagration has knocked the pandemic off most front pages, federal bureaucrats seem determined to prove that they can focus on two crises at once.
On Sunday, Based Politics' Brad Polumbo reported that the Federal Emergency Management's (FEMA) ready.gov webpage for nuclear explosions encourages for people to mask and socially distance should they be hunkering in a bunker with members outside of their own households. Should one hear a warning of an imminent nuclear attack, FEMA's website encourages people to shelter inside the nearest building, preferably one made of brick or concrete, and as far away from windows as possible.
"When you have reached a safe place, try to maintain a distance of at least six feet between yourself and people who are not part of your household," continues the agency's webpage. "If possible, wear a mask if you're sheltering with people who are not a part of your household."
---
Americans can order another round of free 'covid' tests, says Biden | added March 2
Editor's Note: Poison centers in the U.S. have warned about a chemical found in 'covid' at-home tests called sodium azide posing a threat to health. —mmd
Washington (CNN) Americans can order additional free at-home covid-19 tests supplied by the US government starting next week. "If you already ordered free tests, tonight, I'm announcing you can order another group of tests.
Go to Covidtest.gov starting next week and you can get more tests," President Joe Biden said during his Tuesday State of the Union address.
In January, the government launched its effort to provide free rapid antigen tests to any household that requested them through that website or by calling 800-232-0233. There was a limit of four tests per residential address.
The website now says every home in the US can order an additional set of four tests starting next week. The President had announced in December his plan to make half a billion tests available to Americans by mail, as the omicron variant was surging across the US.
---
"The People's Convoy" rolls through Springfield en route to D.C. | added March 2
Editor's Note: The transcontinental convoy anticipates arrival into Washington on Saturday, March 5th. For live updates you can text the word 'DRIVER2022' to 313131. — mmd
American flags waved in the wind as a 15-mile convoy, made up of hundreds of truck drivers, passed through Springfield on Interstate 44 Monday morning.
The People's Convoy leaders are calling themselves a "peaceful and unified transcontinental movement" of truck drivers, according to a news release. The convoy, which began its travels in Adelanto, California on Wednesday, Feb. 23, is on its way to the Capital Beltway, an interstate highway that surrounds Washington D.C. They anticipate arriving Saturday.
The group wishes to protest in favor of re-opening the country by "lifting all mandates and ending the state of emergency" related to the covid-19 pandemic. The U.S. Department of Defense recently approved the use of 700 National Guard members and 50 large tactical vehicles to help amid concerns of major traffic disruptions in the Washington D.C. area.
---
Biden announces 'covid' "test to treat" aimed at providing patients with new antiviral meds | added March 2
WASHINGTON — President Biden, looking to usher the nation out of the coronavirus crisis into what some are calling a "new normal," used his State of the Union address Tuesday night to sketch out the next phase of his pandemic response, including a new "test to treat" initiative aimed at providing patients with new antiviral medications as soon as they learn they are infected.
With caseloads declining across the country, the coronavirus — perhaps the biggest challenge of the first year of Mr. Biden's presidency — took a back seat in the speech to Russian aggression in Ukraine and the economy. Still, the president did not miss an opportunity to give himself a pat on the back for the latest covid-19 trends.
"I know you're tired, frustrated and exhausted," Mr. Biden said, adding: "But I also know this: Because of the progress we've made, because of your resilience and the tools that we have been provided by this Congress, tonight I can say we are moving forward safely, back to more normal routines."
---
Hawaii lifts 'covid' restrictions for state entry | added Mar. 2
Hawaii is lifting its strict covid-19 entry requirements on March 26, Gov. David Ige announced Tuesday. Travelers will no longer need to show proof of a covid-19 vaccine or a negative covid-19 test to bypass a mandatory quarantine.
The five-day quarantine, which has applied to those who don't show vaccine proof or a negative test, is going away, too. The state is keeping its indoor mask mandate, however. The changes under the state's Safe Travels program, which was introduced in October 2020 to reopen the top tourism destination, apply to domestic travelers.
And they come less than six weeks after the state was considering tightening restrictions by adding a covid-19 booster requirement. That idea was publicly nixed on Feb. 8 and Ige said at the time that the other restrictions would be revisited. "In making this decision, we considered declining covid-19 case counts in Hawai'i, the continental U.S. and Europe," Ige said at the time.
---
WHO moves forward on global vax passports | added March 2
Countries all over the world are totally scrubbing their covid measures, mask mandates and social distancing rules. The CDC has changed their guidance on vaccine doses, and said people don't need to wear masks anymore. Boris has done the same, and (some) of the UK's emergency powers are going to expire soon.
It seems like covid is over, and the good guys won, right? Well, not exactly. The pandemic narrative may be fading away, but certainly not without a trace. Covid might be dying, but vaccine passports are still very much alive.
This week, while the eyes of the world are fixed on Ukraine and the next wave of propaganda, the World Health Organization is launching an initiative to create a "trust network" on vaccination and international travel.
---
SNL 'covid' dinner discussion | added March 2
And… Saturday Night Live in 2022 has caught up with Planet Waves in April 2020. A group of friends discuss mask mandates, vaccines and 'covid' over dinner.
---
Russian invasion of Ukraine brings serious health threats amid rising 'covid' and 'polio' cases , experts warn | added March 1
Russia's invasion of Ukraine brings a host of serious threats to public health beyond the military violence itself, experts warn. The conflict could make it difficult for people with conditions like diabetes or cancer to get treatment, and it may increase the spread of infectious diseases, including covid-19, as people gather in shelters or flee the country.
Ukraine is coming off its largest spike in covid cases yet — its seven-day average hit a record of 37,408 on Feb. 10, according to an NBC News tally. Less than 40 percent of the population had been vaccinated as of Feb. 15.
What's more, Ukraine has been trying to control a polio outbreak since October. Two children with paralytic polio have been identified, and 19 more were identified as infected with the virus but did not develop paralysis.
---
WHO plans new "multi-lateral pandemic treaty" for 2024 | added March 1
[Feb. 26, 2022] In December of last year, the World Health Organization (WHO) announced plans for an "international treaty on pandemic prevention and preparedness".
According to the Council of Europe's website, an "intergovernmental negotiating body" has been formed, and will be holding its first meeting next week, on March 1st.
The aim is to "deliver a progress report to the 76th World Health Assembly in 2023" and then have the proposed instrument ready for legal implementation by 2024.
None of this should come as much of a surprise, the signs have all been there. If you've been paying attention you could probably predict almost everything that will be in this new legislation.
A paper titled "Multilateralism in times of global pandemic: Lessons learned and the way forward" was published by the G20 in December 2020.
---
Twenty-one year old med student severely injured by Pfizer vax awaiting compensation from government | added March 1
[Feb. 25, 2022] A family whose 21-year-old son developed a life-threatening reaction to Pfizer's covid vaccine has been waiting six months to learn if the U.S. government's Countermeasures Injury Compensation Program (CICP) will help cover their son's medical bills.
The CICP program, which operates under the federal Health Resources and Services Administration, provides compensation for serious injuries or death caused by certain medications, medical devices and vaccines, including covid vaccines. The family of Kartik Bhakta in August 2021 submitted a claim on behalf of their son. So far, the claim has been ignored. Bhakta, a second-year pre-med student described as a "genius" by his father, was severely injured after his first Pfizer shot.
According to hospital records, Bhakta suffered from an extremely rare life-threatening adverse reaction to the vaccine. Within two hours of his first dose, Bhakta experienced nausea and vomiting. He then developed back pain, a severe rash, tinnitus, eye problems, kidney failure, deafness and neuropathy. He spent three months in the hospital.
---
"The People's Convoy" caravans through Illinois despite state police warnings | added March 1
The People's Convoy will caravan through Illinois on Tuesday despite a harsh warning from state police discouraging protesters and threatening legal action for traffic disruptions.
'A planned event designed to impede normal traffic flow is dangerous to the innocent motoring public,' Col. Margaret McGreal, of the ISP Division of Patrol, told WGN.
'Those who choose to participate in events that intentionally endanger the public and violate Illinois law will be subject to the enforcement of applicable laws and could potentially be held liable for traffic crashes occurring as a result of their actions.' Kris Young, who is the admin for the group's Facebook page, reiterated that the convoy will continue it's route through the Prairie State and along the Dan Ryan Expressway regardless of the warning.
---
NY lifts mask mandate statewide due to dramatic drop in 'covid' cases, says Gov. Hochul | added March 1
NEW YORK (AP) — New York's statewide masking requirement in schools will be lifted by March 2, Gov. Kathy Hochul said Sunday, citing a dramatic drop in covid-19 infections and new federal guidelines.
Hours later, New York City Mayor Eric Adams said he's considering lifting vaccine mandates on restaurants, bars and theaters by early next week if infections and hospitalizations continue their downward trend.
A mask mandate on the city's approximately 1 million schoolchildren could also be lifted, Adams said in a statement. The decision won't come until Friday, following a full week of classes after students in the country's largest school system return from a weeklong vacation, he said. The pair of announcements signaled an important turning point for the city and state, once an epicenter of the global pandemic.
---
Hong Kong considers lockdown as 'covid' case numbers surge | added March 1
HONG KONG — Hong Kong reported a record 34,466 new coronavirus infections Monday as deaths continued to climb, as authorities assess the possibilities of locking down the city.
Hong Kong is grappling with a coronavirus surge driven primarily by the omicron variant. Daily cases have more than quadrupled from a week ago, when the city reported over 7,500 infections.
"Once every three days the case number will double," said Albert Au, principal medical and health officer of the city's Centre for Health Protection during a daily virus briefing. "We think that the number will continue to climb."
---
Pfizer 'covid' jab found ineffective against 'omicron' for children ages 5 to 11, according to new data | added March 1
The effectiveness of the Pfizer/BioNTech covid-19 vaccines for children waned quickly during the omicron surge, especially among children ages 5 to 11, but was still protective against severe disease, according to new data from the New York State Department of Health.
Within one month of being fully vaccinated, effectiveness of the Pfizer shots against infection caused by the omicron variant fell from 68% to just 12% in the youngest children eligible to get the shots: those 5 to 11 years old. Effectiveness against hospitalization in that age group was higher but also dropped substantially, falling from 100% in early December to just 48% by the end of January.
"The data are not surprising as the vaccine was developed in response to an earlier covid-19 variant and reduced effectiveness of 2 doses against the omicron variant has been seen to some degree with all vaccines and ages," New York State Health Commissioner Dr. Mary Bassett said in a statement posted online.
---
Nearly half of Biden's 500 million free at home 'covid' tests are unclaimed | added March 1
Nearly half of the 500 million free covid-19 tests the Biden administration recently made available to the public still have not been claimed as virus cases plummet and people feel less urgency to test.
Wild demand swings have been a subplot in the pandemic, from vaccines to hand sanitizer, along with tests. On the first day of the White House test giveaway in January, covidtests.gov received over 45 million orders. Now officials say fewer than 100,000 orders a day are coming in for the packages of four free rapid tests per household, delivered by the U.S. Postal Service.
Still, the White House sees the program as a step toward a deeper, yet more elastic, testing infrastructure that will accommodate demand surges and remain on standby when cases wane. "We totally intend to sustain this market," Dr. Tom Inglesby, testing adviser to the covid-19 response team, told The Associated Press. "We know the market is volatile and will come up and down with surges in variants."
---
Philadelphia's 'covid' vax requirement for all workers delayed indefinitely | added March 1
Philadelphia's covid-19 vaccine mandate for all city employees has been put on hold once again to provide non-compliant workers with additional time to get vaccinated or submit an exemption request.
An arbitration panel overseeing Philly's implementation of its coronavirus vaccine requirement ruled that non-compliant employees cannot be put on leave until further notice, the city said Monday. The indefinite stay applies to all union-represented city workers due to the agreements that the city has negotiated with its labor unions. All covid-19 testing and masking requirements for unvaccinated workers remain in effect.
Consequences for city employees who refuse to get vaccinated and submit a request for a medical or religious exemption are expected to be finalized in the coming days, the panel said. The decision to delay Philly's covid-19 vaccine rule for all city employees was made because the Fraternal Order of Police is still compiling data on vaccinated and unvaccinated officers, the panel said.
---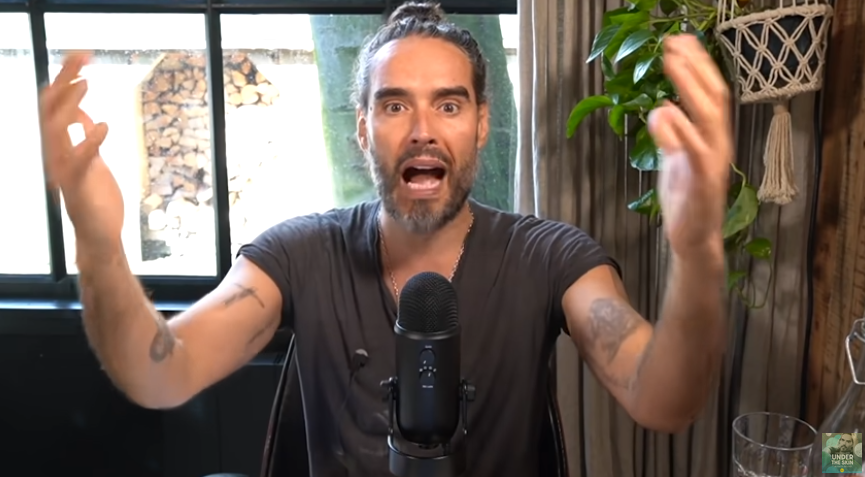 World Economic Forum does run the world | added March 1
As the WEF pushes a digital ID that proposes monitoring online behaviour, purchases, biometrics, and more – are we heading towards our own social credit system? Russel Brand also performs a pretty impressive impersonation of WEF founder Klaus Schwab.
---