Your Autumn Reading by Eric Francis:


Empathy-Pathos: A Study in Venus Retrograde
In this reading, I will review Mars retrograde and the recent eclipses, and open up the territory of Venus and its unusual way of resonating and emoting. We'll explore approaches to the masculine and feminine attributes of Venus, as well as the introspective and expressive aspects of Venus through the retrograde process.
Learn more... | Pre-Order now!
Subscribe to Our Daily Horoscope & Almanac!
The Four Winds Report includes the Eric Francis daily horoscope, a daily birthday reading,
and many other features. Sign up free!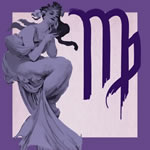 Virgo This Week (Aug. 23-Sep. 22) -- You will have your most meaningful moments alone over the next few days, so make sure you designate space and time where you can be quiet and receptive. This may take a little extra effort here in the digital deluge. A few evenings, a day, a 24-hour span with no interruptions will do you good. Even if you can plan a whole evening with nothing structured, nothing capping your time and no special reason to get up the next morning -- that, by the way, is how to have a "free" evening. Then bring your journal and a candle and let your mind open up. Let yourself drift to the place where you can feel how creative your thoughts are. Swim within to the spot where you contact your ability to experience feelings and make choices on so deep a level you can feel yourself healing, harmonizing and designing. As Dr. Arroway's father said, small moves, Ellie. Small moves.