INTELLIGENCE: Your 2019-2020 Annual by Eric Francis
How can we tap into our ability to find creative solutions to problems? How can we envision, design and create a better future than the one we seem to be heading for? How can we handle our personal growth in a way that is sensitive and efficient? The answer is intelligence.
Learn more... | Pre-Order now!
Subscribe to Our Daily Horoscope & Almanac!
The Four Winds Report includes the Eric Francis daily horoscope, a daily birthday reading,
and many other features. Sign up free!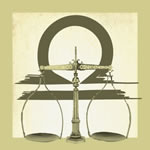 Libra This Week (Sep. 22-Oct. 23)
-- Venus seems to be inviting you to view the world in all its rich complexity and nuance; to notice the subtle interplay in the colors of the sunset, to hear the movements of sound and rhythm in music, to see and feel the endless variety in permutations of the human character. It's very easy to look at any issue simplistically, in binary terms; however, the reality tends to be rather different. Try to view any topic under discussion from as many perspectives as possible, and comprehend likewise the multiple layers of feeling and thought underpinning your own response. This is seeing things as they really are. Get your full Libra reading by Eric here.