INTELLIGENCE: Your 2019-2020 Annual by Eric Francis
How can we tap into our ability to find creative solutions to problems? How can we envision, design and create a better future than the one we seem to be heading for? How can we handle our personal growth in a way that is sensitive and efficient? The answer is intelligence.
Learn more... | Pre-Order now!
Subscribe to Our Daily Horoscope & Almanac!
The Four Winds Report includes the Eric Francis daily horoscope, a daily birthday reading,
and many other features. Sign up free!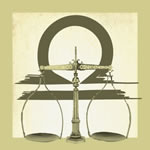 Libra This Week (Sep. 22-Oct. 23)
-- You might have finances on your mind, which would be appropriate. The essence of your success is understanding your mutual needs with the people around you, and you're getting a lesson in that now. I explain this often: doing business means dependably providing something that people want or need, in exchange for money. It really is that simple, though of course you must be dependable, and maintain a structure that supports your enterprise. That is where most people fall short. They typically need the structure to already be there, and tend to neglect the necessary maintenance. In our time and in our society, we have many options available that did not exist recently. For example, 20 years ago, it was a big deal to accept credit cards; now anyone can. This and many other innovations have made it easier to do business. What has made it more difficult is a collapse of certain mental structures, ethical structures and motivation. These, you must supply. Get your full Libra reading by Eric here.