| 

Cancer and Cancer Rising — Sign Description

Get free astrology updates via SMS! Text ericfrancis to 41411.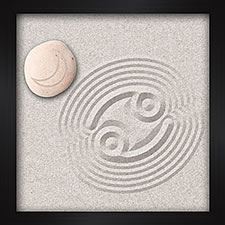 Cancer This Week (June 21-July 22)
-- There's no predicting most other people right now. The best you can do is work with existing people in your life to focus their most basic commitments to you, and to keep the lines of communication open. Whether they will show up for more is anyone's guess. The best thing you can do is to keep your own house in order, which means honoring your top priorities. The less you count on people right now, the better. Nobody is truly self-sufficient, though it's possible to be less dependent on others, and to focus those dependencies on people or businesses that have proven themselves to be reliable partners. At the moment it may seem like you're treading water, or trying to hold things together. Take it lightly. This won't last forever, and soon enough you will be focusing on the next great thing you are ready to accomplish. For now, conserve your energy, do what's necessary and stay right with yourself.