Your Autumn Reading by Eric Francis:


Empathy-Pathos: A Study in Venus Retrograde
In this reading, I will review Mars retrograde and the recent eclipses, and open up the territory of Venus and its unusual way of resonating and emoting. We'll explore approaches to the masculine and feminine attributes of Venus, as well as the introspective and expressive aspects of Venus through the retrograde process.
Learn more... | Pre-Order now!
Subscribe to Our Daily Horoscope & Almanac!
The Four Winds Report includes the Eric Francis daily horoscope, a daily birthday reading,
and many other features. Sign up free!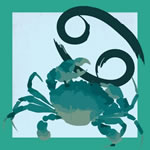 Cancer This Week (June 21-July 22)
-- You are gradually learning the ways of power. And the first law of power is that influence is preferable, requiring much less energy, being subtler and overall more effective. It's based in the realm of ideas rather than of force. And rather than applying new amperage, influence carries itself along the existing pathways of mind and society and colors both experience and perception. This is the medium to be working with now. Consider the value in every contact you have with others. Recognize that you are making an impression. Rather than letting that hamper you in any way, or back off because you don't want to stand out, be aware of the basic psychic conductor you are, and let your ideas flow. The feeling you're reaching for is akin to the experience of meeting a dog or cat: you open your heart and allow them to feel how friendly you are.