NEW!
The Sacred Space of Self: View Your Cancer Sample Videos
Mars is now retrograde in Aquarius
There is some astrology coming: unpredictable, powerful and potentially challenging. It could shake up the social order, encouraging you to break out your individuality amid the tribal environment. Mars retrograde will shuffle your thinking -- your preconceptions and ideas about how things are -- and give you something tangible to consider, something real and immediate.
The Sacred Space of Self
, Eric's 2018 spring reading, explores these themes in an easy-to-follow, optimistic, motivational way.
Read more... | Order Spring Reading!
Subscribe to Our Daily Horoscope & Almanac!
The Four Winds Report includes the Eric Francis daily horoscope, a daily birthday reading,
and many other features. Sign up free!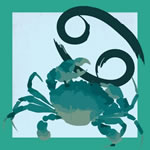 Cancer This Week (June 21-July 22)
-- The season of eclipses in your birth sign, which comes around approximately once every nine years, began last week. This is likely to be an important period of transformation in your understanding of yourself and your closest relationships. We often inadvertently imbibe ideas from our elders (and those in our present lives who represent them) who had particular views on who we were, and who we should be. The current set of eclipses may give you a way to subvert what might feel like an immovable diktat. There is no such thing; as an adult, you have ultimate control of your personal narrative. Find the one that's real.