| 

Cancer and Cancer Rising — Sign Description

Get free astrology updates via SMS! Text ericfrancis to 41411.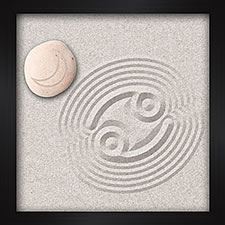 Cancer This Week (June 21-July 22)
-- A close partner is likely to provide you with information that you are looking for. You're more inclined to trust only what you personally discover, though what you learn is close enough to count as such. What you discern from any source, you still must consider and assimilate. You seem determined to take your life in a new direction. You seem obsessed by your need for trust rather than fear to direct you, and that's the way you're being guided. One result will be a new sensation of emotional freedom, like you have your options open and have space available to stretch out and explore. Let that need, rather than attachment, guide you. As you open up, you'll be called in the direction of your deepest passion. Give yourself permission to follow: to be in love with life, in love with your potential and in love with yourself.