| 

Scorpio and Scorpio Rising — Sign Description

Get free astrology updates via SMS! Text ericfrancis to 41411.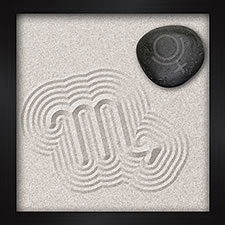 Scorpio This Week (Oct. 23-Nov. 22)
-- The challenge you face is nothing more or less than stating your needs honestly. That's all that stands between you, your deeper pleasure, and honest commitment. You need to defend your point of view or what you want; you don't need to be demanding. You merely need to be real. That may be challenging enough because you must work your way through some denial or emotional fog. You may need to override your concern that being honest did not work well in the past. I would propose that the real sticking point is guilt: that if some negativity enters the equation, it's because you feel bad about making your needs known. That guilt has a way of messing up the vibes. It's not necessary; though stepping beyond it can take some courage, and learning how not to feel guilty about not feeling guilty. Keep it simple; love will guide you past all of that.