Your Autumn Reading by Eric Francis:


Empathy-Pathos: A Study in Venus Retrograde
In this reading, I will review Mars retrograde and the recent eclipses, and open up the territory of Venus and its unusual way of resonating and emoting. We'll explore approaches to the masculine and feminine attributes of Venus, as well as the introspective and expressive aspects of Venus through the retrograde process.
Learn more... | Pre-Order now!
Subscribe to Our Daily Horoscope & Almanac!
The Four Winds Report includes the Eric Francis daily horoscope, a daily birthday reading,
and many other features. Sign up free!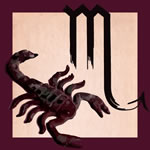 Scorpio This Week (Oct. 23-Nov. 22)
-- Venus in Scorpio emphasizes the female from an angle that our society tends to deny entirely: the biological, hormonal, instinctual, pheromone-based level of existence. We spend a lot of time, energy and money trying to blot this out, cover its scent, and pretend it does not influence us, and try to substitute it with something wrapped in plastic. The extended visit of Venus to your sign associated with the forthcoming Venus retrograde, which extends through early January, presents you with an opportunity to go deeper into your awareness of this dimension of who you are. Retrogrades ask questions more than they make statements. They point us toward the past rather than toward the future. And most of all, retrogrades point us within ourselves, on a quest for some deeper inherent reality. This is about the need to disconnect from the outer landscape and reconnect inwardly, and upgrade your self-awareness and self-value. This is about you and your interests, not others, or their business.