| 

Scorpio and Scorpio Rising — Sign Description

Get free astrology updates via SMS! Text ericfrancis to 41411.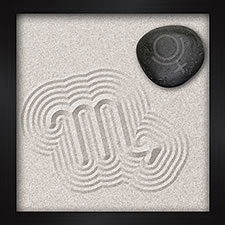 Scorpio This Week (Oct. 23-Nov. 22)
-- Are you living your past desires, or your present ones? I mean this in two areas of your life: sexual relationships, and your creative aspirations. Go back to age 16 and ask yourself what you wanted. Then pick a date halfway between then and now, and ask yourself what you wanted. Now consider what you want today -- and whether you're satisfied with your life. If you're not, I would propose that you need some new desires; some new goals; some new reasons to be alive. You're in a perfect position to update your files: to determine that certain older objectives and reasons for being no longer serve you, and to come up with some new ones (which you probably already have). Then you need to be brave enough, and take yourself seriously enough, to do something about it. To have progress, you must welcome change. There are two parts to that: goodbye, and hello.