NEW!
The Sacred Space of Self: View Your Scorpio Sample Videos
Mars is now retrograde in Aquarius
There is some astrology coming: unpredictable, powerful and potentially challenging. It could shake up the social order, encouraging you to break out your individuality amid the tribal environment. Mars retrograde will shuffle your thinking -- your preconceptions and ideas about how things are -- and give you something tangible to consider, something real and immediate.
The Sacred Space of Self
, Eric's 2018 spring reading, explores these themes in an easy-to-follow, optimistic, motivational way.
Read more... | Order Spring Reading!
Subscribe to Our Daily Horoscope & Almanac!
The Four Winds Report includes the Eric Francis daily horoscope, a daily birthday reading,
and many other features. Sign up free!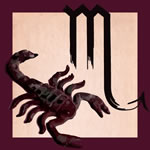 Scorpio This Week (Oct. 23-Nov. 22)
-- Mars retrograde has precipitated something of an internal revolution for you, helping you to see and understand alternative perspectives to beliefs you have perhaps held firm for a long time. This may feel unsettling; however, it's a process vital to personal growth for anyone. As the eclipse zone prepares to move into your place of spirituality and higher learning, give yourself the space to change your viewpoint -- especially in the direction of greater compassion and of thinking in more dimensions. You may find whole new ways of being that you hadn't previously considered, or possibly even imagined.