NEW!
The Sacred Space of Self: View Your Aries Sample Videos
Mars is now retrograde in Aquarius
There is some astrology coming: unpredictable, powerful and potentially challenging. It could shake up the social order, encouraging you to break out your individuality amid the tribal environment. Mars retrograde will shuffle your thinking -- your preconceptions and ideas about how things are -- and give you something tangible to consider, something real and immediate.
The Sacred Space of Self
, Eric's 2018 spring reading, explores these themes in an easy-to-follow, optimistic, motivational way.
Read more... | Order Spring Reading!
Subscribe to Our Daily Horoscope & Almanac!
The Four Winds Report includes the Eric Francis daily horoscope, a daily birthday reading,
and many other features. Sign up free!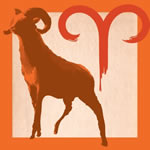 Aries This Week (March 20-April 19)
-- Self-discovery is ultimately a process of trial and error; while society as it is now seems loath to forgive the latter part of that formula, false starts and restarts are a factor in being human. You are outside your comfort zone and feeling your way around this unfamiliar territory; this is how people grow. Consider any blunders or scrapes as learning experiences. Also, note that the answer to the question of who you are cannot be crowd-sourced. Friends, family, lovers and the spider in the corner of the ceiling can offer their thoughts, and you can by all means listen; remember, though, that you have the casting vote.