Your Autumn Reading by Eric Francis:


Empathy-Pathos: A Study in Venus Retrograde
In this reading, I will review Mars retrograde and the recent eclipses, and open up the territory of Venus and its unusual way of resonating and emoting. We'll explore approaches to the masculine and feminine attributes of Venus, as well as the introspective and expressive aspects of Venus through the retrograde process.
Learn more... | Pre-Order now!
Subscribe to Our Daily Horoscope & Almanac!
The Four Winds Report includes the Eric Francis daily horoscope, a daily birthday reading,
and many other features. Sign up free!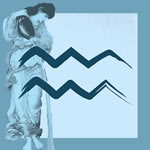 Aquarius This Week (Jan. 20-Feb. 19)
-- Mars has re-entered your sign after a few weeks in Capricorn at the end of its recent retrograde. This will give you an opportunity to reframe certain issues that you've been confronted by all spring and summer. To reframe means to see something in a new context, and maybe look at it in a new way, in a different light, and from another angle. Make sure you do all of these things actively. They might happen on their own, though at minimum you must actively bring your awareness and perception, and take a light touch on judgment. This especially includes self-judgment, which you may have a tendency to do a little more harshly than usual. There are many days when it might seem difficult to proceed in a spirit of love. Yet that option is always available, and will feel good and be the most helpful to everyone.