| 

Aquarius and Aquarius Rising — Sign Description

Get free astrology updates via SMS! Text ericfrancis to 41411.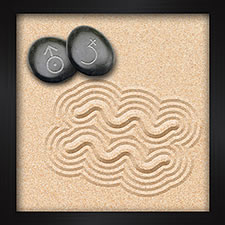 Aquarius This Week (Jan. 20-Feb. 19)
-- Do not, repeat, do not let anxiety get the best of you. Your chart suggests you may be worrying to the point of obsession. This may not be about anything in particular; it may be what shrinks call generalized anxiety. While I cannot describe the astrology fully in this short space, it involves the dog-and-pony show going on in your adjoining sign Capricorn (perhaps read this week's Cap reading for additional insight). Relax and feel the passage of time. Remind yourself that you're an intelligent, hardworking person who has the adult power to solve any problem you might become aware of. Keep in mind that as one born under the sign Aquarius, the keynote of your sign is cooperation. That means being open to helping others, and being open to assisting when you can. Your community is your most vital resource. This is true of everyone, but each of the signs has its special theme, and this is the theme of your sign. Work that for all it's worth.