NEW!
The Sacred Space of Self: View Your Pisces Sample Videos
Mars is now retrograde in Aquarius
There is some astrology coming: unpredictable, powerful and potentially challenging. It could shake up the social order, encouraging you to break out your individuality amid the tribal environment. Mars retrograde will shuffle your thinking -- your preconceptions and ideas about how things are -- and give you something tangible to consider, something real and immediate.
The Sacred Space of Self
, Eric's 2018 spring reading, explores these themes in an easy-to-follow, optimistic, motivational way.
Read more... | Order Spring Reading!
Subscribe to Our Daily Horoscope & Almanac!
The Four Winds Report includes the Eric Francis daily horoscope, a daily birthday reading,
and many other features. Sign up free!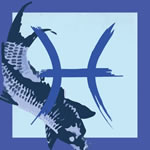 Pisces This Week (Feb. 19-March 20)
-- You don't need to think of the concept of seeking pleasure and fun as an impossible or hopelessly extravagant luxury. We all need these things in our lives. While some will no doubt turn pale with horror at the very thought, you can get busy eating, drinking and being merry. In case you actually need an excuse, remember that most people are brought up amid a miasma of existential guilt and shame. Accepting your right to enjoy life is a way of hacking that code, and paving the way for a more reasonable way of being. Loving life means loving all that lives; and there is nothing the world needs more of at this moment.