INTELLIGENCE: Your 2019-2020 Annual by Eric Francis
How can we tap into our ability to find creative solutions to problems? How can we envision, design and create a better future than the one we seem to be heading for? How can we handle our personal growth in a way that is sensitive and efficient? The answer is intelligence.
Learn more... | Pre-Order now!
Subscribe to Our Daily Horoscope & Almanac!
The Four Winds Report includes the Eric Francis daily horoscope, a daily birthday reading,
and many other features. Sign up free!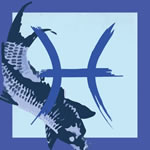 Pisces This Week (Feb. 19-March 20)
-- Keep doing what you must in order to maintain your wellbeing, emotional and physical; this is a crucial yet often underrated factor in spiritual and personal development. Take sufficient time to yourself, and continue to be discerning about the company you keep; you would benefit from those with whom you foster your most intricate relationships being wise, cordial and helpful. Most especially, their presence should improve your self-esteem and confidence rather than denting it. This is also a useful principle to apply to food: try to consume what nourishes and sustains you, rather than makes you groggy or moody. Get your full Pisces reading by Eric here.