NEW!
The Sacred Space of Self: Taurus, Leo, Scorpio, Aquarius
Sample Videos
Chiron in Aries: The Challenge of Individuating
Chiron is now in Aries, for the first time since 1977. This is about the quest for individuality in the most deeply personal way: the cultivation and growth of your soul. There are challenges associated with doing this, which I plan to address eloquently and in a way that you will find reassuring and helpful.
Read more... | Get Instant Access!
Pisces and Pisces Rising — Sign Description
Subscribe to Our Daily Horoscope & Almanac!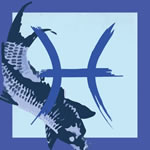 Pisces This Month (Feb. 19-March 20)
-- Amidst all the tossing and turning that is life on the planet in its current state, you are being called to consider your long-range vision for yourself. As a Pisces, you're already blessed with the wide view, the long view, and the cosmic perspective. So it's likely that you've been considering your next direction for a while now. Based on a study of your ruling planets, Jupiter and Neptune, this is likely to take three forms. One is your notion of your sexuality, which is intimately mingled with your cosmology. Second is where you want to travel. Have you gone anyplace for a while? Jupiter in Scorpio is encouraging you to take a trip sometime soon, and also to dust off your list of places you absolutely must visit. Third is where you're heading professionally. When Jupiter enters Sagittarius later in the year, it will enter your 10th house of reputation and success. You may not exactly feel like your star is rising at the moment, though a lot will unfold over the next six months, and you will be in a position to actualize some of your dearest aspirations. You must know what they are in order for that to happen. They're the ones that might seem too good to be true, or the ones your parents said were impossible. That's the place to begin -- and soon.