NEW!
The Sacred Space of Self: View Your Libra Sample Videos
Mars is now retrograde in Aquarius
Chiron is now in Aries, for the first time since 1977. This is about the quest for individuality in the most deeply personal way: the cultivation and growth of your soul. There are challenges associated with doing this, which I plan to address eloquently and in a way that you will find reassuring and helpful.
Read more... | Get Instant Access!
Subscribe to Our Daily Horoscope & Almanac!
The Four Winds Report includes the Eric Francis daily horoscope, a daily birthday reading,
and many other features. Sign up free!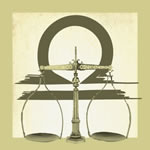 Libra This Month (Sep. 22-Oct. 23)
-- Your role in your community is expanding, evolving, changing: whatever word you like. Yet this may be accompanied by a temporary dimming of the light, and an experience of discontinuity. There is a shift of some kind happening, one that you cannot exactly control, but you can assess and evaluate. Use this to your advantage. In times of change, you can make adjustments to your position and your purpose that will scarcely be noticed by others, but which will make a big difference for you. In essence, a solar eclipse in Leo is about realigning your relationship to your community, however you define that. You may want to do more. You may want to do less. You may want to be a more private person, or a more public one. The change you make will feel natural and at the same time, like a little stretch, or a push, or a leap. It's not as far as it may seem, and you have the advantage of a wrinkle in time to shorten some of the distance between you and where you're going. While you're doing this, make sure of one thing: that you plan for the economics to work out in your favor. This is not merely a marketing project, but one of establishing a new deal. Do this openly, outwardly and wholly transparently. Your value is established. You must trust in this fact, and work with it, and bank on it.