| 

Libra and Libra Rising — Sign Description

Get free astrology updates via SMS! Text ericfrancis to 41411.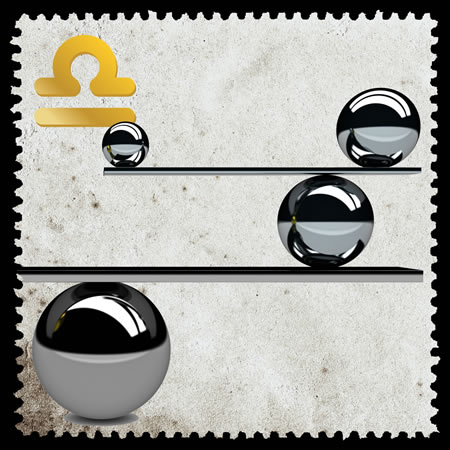 Libra This Month (Sep. 22-Oct. 23)
-- Summer is when your career tends to thrive, and this summer will be a particularly bold example. However, for that to happen, you're going to need to balance recreational time with productive time in an efficient equation. One is gong to feed the other, and it'll be healthy of you to motivate yourself to work with both the promise and the reality of a life worth living. First, you must master the art of being able to set up and get work done anywhere -- measured in productivity and tasks accomplished rather than in time spent doing things. That will mean being task-focused: keeping a schedule and making sure that you're flexible enough to handle the usual bumps and wobbles of daily business. If you notice yourself fighting with any of your business equipment, upgrade it; time is precious and frustration is pointless. On the recreational side, you'll need to do things like plan a late start on the day after you're planning a late night out. Then see how that goes. One last detail: you will need to enlist others in supporting you. Most people have jobs that they can turn off and leave behind. You have some professional calling in which you're deeply invested, and which is depending on you. Gently involve everyone in that process, whether this involves respecting your space and time, or assisting you directly.