| 

Cancer and Cancer Rising — Sign Description

Get Free Daily Astrology Updates!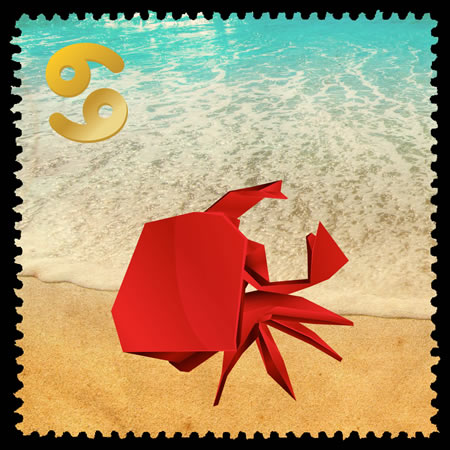 Cancer This Month (June 21-July 22)
-- Your astrological sign (or rising sign) is one ideally suited for the art and craft of writing. Though I've never seen this in a book, it's obvious from study of your solar chart, which emphasizes the sign Virgo right where it's needed most, the 3rd house of communications. Virgo has been bristling for many weeks, and it's especially strong now, with Mercury retrograde wrapping up, with the Sun present, and with Venus and Mars approaching. In recent history, computer programmers emerged as the most powerful people. In the world that's rising, people who can write coherently, with accuracy, and with a touch of elegance will possess a skill that's on the level of alchemy. It doesn't matter if you don't consider yourself a professional writer; devote yourself to learning how to express yourself in written language, and to do so well. This can only come with daily practice. This would include writing letters, emails and stories where you reread, revise and proofread three to five times. What we call writing is 90% thinking; and most of the time, that happens in the revision process. This is something entirely different from our dominant world of tweets and social posts, which are like popcorn compared to the nourishing, potent effects of crafted sentences, paragraphs and essays. The harder this is for you, the more you need to do it.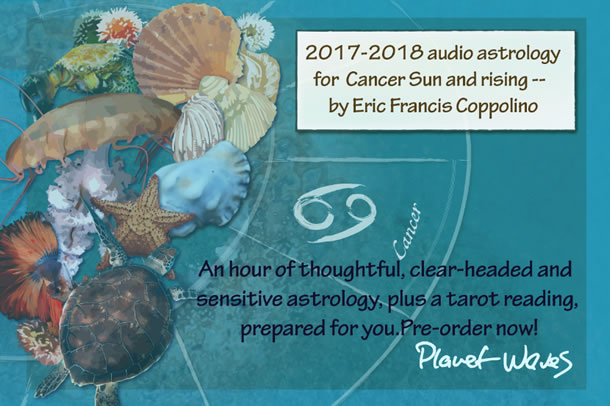 Astrology can help you. In the right hands, astrology can provide you with a new perspective on your life. My readings are designed to help you consider all of your possibilities, your greatest potential, and to help you see your problems in a new light. I'm about to record the Cancer reading for you.
If you order now, you'll get the best pre-order price of $33. Shortly before publication, it'll be $44 and then the final price will be $55.
These readings condense 22 years of my counseling experience, nonstop reflection on the human condition and lots of excellent astrology. They are in plain talk, easy to follow, and paced gently. They are some of my best work; these readings are an invention. And you can have all the benefits. I plan to do this reading next week -- earlier than usual, so get on board before the next two price increases.
Here's how to pre-order
.
If you're seeking a private consultation, here's that link.
In the Shadow of the Moon -- 2017 Midyear Reading by Eric Francis
In the Shadow of the Moon, the exciting 2017 Midyear Reading by Eric Francis, has just been published. The video readings for all 12 signs cover the Great American Eclipse of Aug. 21 and well beyond. We'll be increasing the price again very soon, so don't hesitate to order your copy here. You can also now choose your individual signs here.