| 

Cancer and Cancer Rising — Sign Description

Get Free Daily Astrology Updates!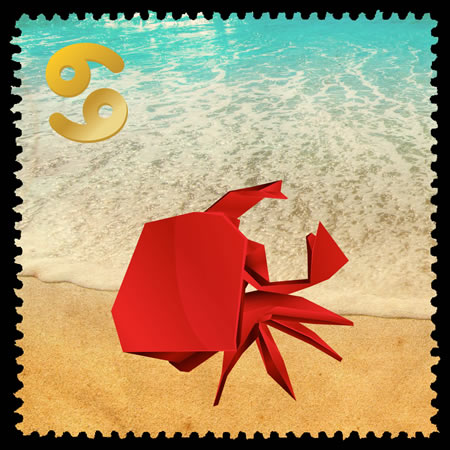 Cancer This Month (June 21-July 22)
-- You can make great strides on the financial front this month, if you cast aside all vestiges of status seeking. You have a mission; you have a purpose; you are fortunate, as such. And financial success is indeed part of that. Yet it cannot be the first thing on your mind. There's something I keep telling young people, which is that something is not worth doing if it's not worth doing for free. This may seem outrageous, but only to someone who had never experienced getting paid handsomely for something that violates their principles, that lacks integrity, or that they simply hate doing. This is the trap of working for money, and sooner or later, everyone who works for money falls into it. Therefore, pay attention to what you know is actually relevant. Focus on the quality of your work, and most of all, on the pleasure of being active and productive. Take all of your relationships to the human level; there are no "professional relationships," there are merely encounters where the primary seeming purpose is related to one's mission in life. Certain developments over the next seven weeks will guide you into seeking deeper connection to what matters to you the very most. You will not be able to ignore this; there's no point even trying. Go right into the question. When you discover the truth, hold it gently, live it boldly and keep searching.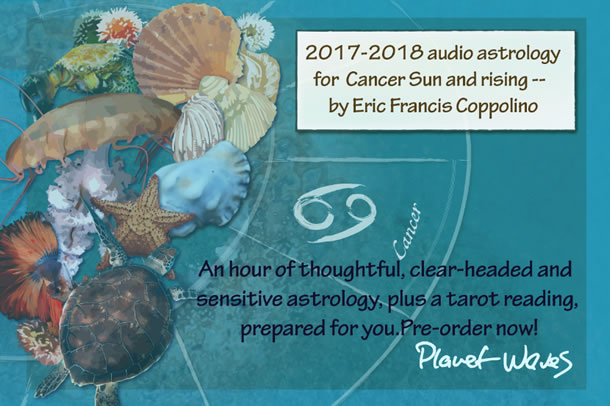 Astrology can help you. In the right hands, astrology can provide you with a new perspective on your life. My readings are designed to help you consider all of your possibilities, your greatest potential, and to help you see your problems in a new light. I'm about to record the Cancer reading for you.
If you order now, you'll get the best pre-order price of $33. Shortly before publication, it'll be $44 and then the final price will be $55.
These readings condense 22 years of my counseling experience, nonstop reflection on the human condition and lots of excellent astrology. They are in plain talk, easy to follow, and paced gently. They are some of my best work; these readings are an invention. And you can have all the benefits. I plan to do this reading next week -- earlier than usual, so get on board before the next two price increases.
Here's how to pre-order
.
If you're seeking a private consultation, here's that link.
In the Shadow of the Moon -- 2017 Midyear Reading by Eric Francis
Just in time for the Great American Eclipse of Aug. 21, 2017, you'll have access
to a helpful, excellent video astrology reading. These will be done by sign and
rising sign; each reading is about half an hour. You can pre-order now for the
best price: $66 for all 12 signs. The price for all 12 will gradually increase in $11
increments over the next few weeks, capping out at $111 once we publish,
which should be Aug. 1.