NEW!
The Sacred Space of Self: Taurus, Leo, Scorpio, Aquarius
Sample Videos
Chiron in Aries: The Challenge of Individuating
Chiron is now in Aries, for the first time since 1977. This is about the quest for individuality in the most deeply personal way: the cultivation and growth of your soul. There are challenges associated with doing this, which I plan to address eloquently and in a way that you will find reassuring and helpful.
Read more... | Get Instant Access!
Aquarius and Aquarius Rising — Sign Description
Subscribe to Our Daily Horoscope & Almanac!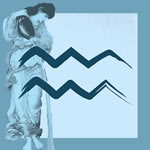 Aquarius This Month (Jan. 20-Feb. 19)
-- This summer, Mars will be retrograde in Aquarius: significant news for anyone with a major placement there, be it Sun, Moon, rising sign or cluster of planets. One challenge you may face is how to use your energy appropriately. You need to know where to apply your will, your time and your money, and where to back off. You need to decide when to fight and when to walk away. Most of all, you must decide what you want. This is the real question wherever Mars is prominent. Though our society seems to be all about fulfilling desire, that's not really true, so far as I have observed. It's true in the context of what we think we're allowed to want, within narrow parameters. It's true in the context of what we think is not going to 'offend' others who are not actually involved or affected. So one project for you is to notice yourself experiencing desire, and then notice how you respond to peer pressure, both from outside yourself and in terms of what you think others might think. Observe when you find yourself playing to rules and, worse, going against your own values in order to please someone else, in theory or in reality. Should you feel like this is potentially dangerous territory, you have some protection. The Moon's South Node will be hanging around Mars all summer long.