NEW!
The Sacred Space of Self: Taurus, Leo, Scorpio, Aquarius
Sample Videos
Chiron in Aries: The Challenge of Individuating

Chiron is now in Aries, for the first time since 1977. This is about the quest for individuality in the most deeply personal way: the cultivation and growth of your soul. There are challenges associated with doing this, which I plan to address eloquently and in a way that you will find reassuring and helpful.

Read more... | Order Spring Reading!


Virgo and Virgo Rising — Sign Description | Subscribe to Our Daily Horoscope & Almanac!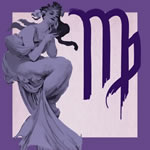 Virgo This Week (Aug. 23-Sep. 22) -- You've gone through a good few options trying to solve a particular problem, or get a result on some project where you've got a leadership role. If you haven't had the results you want, now is the time to dust off the options you were saving for last. They won't be valid for long, and you currently have an opening to try something unusual. Here are a few tips, though. The most important factor in this equation is your devotion, so what works is likely to be an extension of what you have already been doing. That, or it will depend on what you've learned so far. Second, less effort, energy, influence or input is preferable to using more. It's a little like adding salt to broth: start with a little, and then if necessary add a little more. The idea with salt is you want just barely enough to do the job. You don't want salt soup. Whatever it is you're using is more potent than you think, and will have effects beyond what you're anticipating.