INTELLIGENCE: Your 2019-2020 Annual by Eric Francis
How can we tap into our ability to find creative solutions to problems? How can we envision, design and create a better future than the one we seem to be heading for? How can we handle our personal growth in a way that is sensitive and efficient? The answer is intelligence.
Learn more... | Pre-Order now!
Subscribe to Our Daily Horoscope & Almanac!
The Four Winds Report includes the Eric Francis daily horoscope, a daily birthday reading,
and many other features. Sign up free!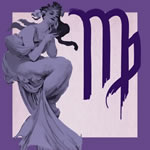 Virgo This Week (Aug. 23-Sep. 22) -- You have a lot to say, and I suggest you say it before you explode. Contrary to current popular mythology, this is not all about rage and disadvantage. You have many observations of the world, you have actual ideas, you have helpful knowledge to share. Don't be overly dramatic about this. Writing on a napkin is a good start; capture ideas from emails; if you post a reply to an article, capture the text, and begin to develop it. Most ideas seem small at first; as any successful writer will tell you, the craft is in the development and expression, and this is an organic process. I suggest you not chase the big payoff, but rather recognize how subtle true originality really is. Therefore, to engage your creativity and expressiveness, you will need to be patient. And you will need to be circumspect: look at your situation from many angles, from close to the ground, from above, from all around, and in different kinds of light. The truth is not a thing. It's a point of contact. Get your full Virgo reading by Eric here.