NEW!
The Sacred Space of Self: View Your Virgo Sample Videos
Mars is now retrograde in Aquarius
There is some astrology coming: unpredictable, powerful and potentially challenging. It could shake up the social order, encouraging you to break out your individuality amid the tribal environment. Mars retrograde will shuffle your thinking -- your preconceptions and ideas about how things are -- and give you something tangible to consider, something real and immediate.
The Sacred Space of Self
, Eric's 2018 spring reading, explores these themes in an easy-to-follow, optimistic, motivational way.
Read more... | Order Spring Reading!
Subscribe to Our Daily Horoscope & Almanac!
The Four Winds Report includes the Eric Francis daily horoscope, a daily birthday reading,
and many other features. Sign up free!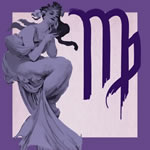 Virgo This Week (Aug. 23-Sep. 22) --

Certain feelings and past scenarios we've not quite dealt with can have a habit of returning to visit us from time to time. If that happens, remember that you're not alone in this experience, and also that you've come through all the challenges you previously faced. Human beings are far more resilient than we often give ourselves credit for; being a mutable sign native, you have this gift in spades. If something of this sort emerges, resist the urge to shove it back under the metaphorical carpet; rather, treat this as an opportunity to find a lasting and positive resolution. You will reach the other end if you keep going.