NEW!
The Sacred Space of Self: Taurus, Leo, Scorpio, Aquarius
Sample Videos
Chiron in Aries: The Challenge of Individuating

Chiron is now in Aries, for the first time since 1977. This is about the quest for individuality in the most deeply personal way: the cultivation and growth of your soul. There are challenges associated with doing this, which I plan to address eloquently and in a way that you will find reassuring and helpful.

Read more... | Order Spring Reading!


Libra and Libra Rising — Sign Description | Subscribe to Our Daily Horoscope & Almanac!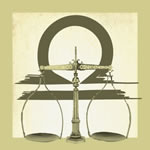 Libra This Week (Sep. 22-Oct. 23)
-- When the goal of relationships is stability, many factors can shake them up. If you allow space for your intimate experiences to bend, flex and be transient, you may find that they flow more smoothly and are less subject to the various surprise factors of the world. This approach is not an easy one at first; though, in the end, you will discover that it's really all about going with the flow. Accept the fact that people grow and evolve. Accept that you change, and that the seasons change. In any event, a development this week that may seem to change your plans contains a gift. Take any opportunity to focus inwardly rather than on another person. You are far more independent than you imagine yourself to be, and the key to your happiness will be experiencing your freedom with compassion for yourself and for others.