INTELLIGENCE: Your 2019-2020 Annual by Eric Francis
How can we tap into our ability to find creative solutions to problems? How can we envision, design and create a better future than the one we seem to be heading for? How can we handle our personal growth in a way that is sensitive and efficient? The answer is intelligence.
Learn more... | Pre-Order now!
Subscribe to Our Daily Horoscope & Almanac!
The Four Winds Report includes the Eric Francis daily horoscope, a daily birthday reading,
and many other features. Sign up free!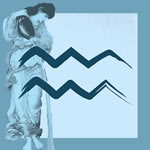 Aquarius This Week (Jan. 20-Feb. 19)
-- You are struggling to let go of certain personality tendencies, and I suggest you give yourself credit for succeeding quite well so far. If you could go back in time and slip into your self-concept of 18 months ago, you would see what I mean. You have made much more room for you to be who you are; you're likely to feel more liberated and free to make choices as a result. Yet this has not exactly been a passive process, particularly this year. Part of how you learn who you are is to assert yourself. People who do not bump, scrape, grind and in some way make contact with one another do not find out who they are. Avoiding conflict is the surest way to avoid enlightenment, growth, maturity or this elusive thing known as adulthood. This does not mean whacking people on the head or picking needless fights. Rather, you've discovered that it's necessary for you to stand up to challenges, and to stand up for yourself. And that, in fact, has been enlightening. Get your full Aquarius reading here.