NEW!
The Sacred Space of Self: Taurus, Leo, Scorpio, Aquarius
Sample Videos
Chiron in Aries: The Challenge of Individuating

Chiron is now in Aries, for the first time since 1977. This is about the quest for individuality in the most deeply personal way: the cultivation and growth of your soul. There are challenges associated with doing this, which I plan to address eloquently and in a way that you will find reassuring and helpful.

Read more... | Order Spring Reading!


Aquarius and Aquarius Rising — Sign Description | Subscribe to Our Daily Horoscope & Almanac!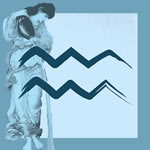 Aquarius This Week (Jan. 20-Feb. 19)
-- You have two main learning processes in motion, at the moment. One is an incremental reassessment and re-evaluation, of a particularly intense kind, that spans the second half of the year. Then you have going on the kind of growth that comes in jolts, sometimes by surprise, often arriving in unexpected ways. Both are related to the same process, which is about challenging what you take for granted. This will push you to the edge of your confidence, and to the outer limits of your comfort zone. That's just where you want to be, hanging around on the edges of your reality, and venturing into the unknown any chance you get. Sometimes you will be drawn there, sometimes you will get lost and end up there, and sometimes you will be pushed. So you may as well hang out with all that is unfamiliar, and learn to love the feeling because being in this place offers you so much.