INTELLIGENCE: Your 2019-2020 Annual by Eric Francis
How can we tap into our ability to find creative solutions to problems? How can we envision, design and create a better future than the one we seem to be heading for? How can we handle our personal growth in a way that is sensitive and efficient? The answer is intelligence.
Learn more... | Pre-Order now!
Subscribe to Our Daily Horoscope & Almanac!
The Four Winds Report includes the Eric Francis daily horoscope, a daily birthday reading,
and many other features. Sign up free!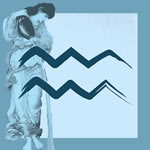 Aquarius This Week (Jan. 20-Feb. 19)
-- If you feel yourself getting caught up in a heated discussion, try to take a step back and cool off, until you regain your equilibrium. There are certainly times when anger or passion are appropriate responses, though in the arena where such conversations are normally taking place, it can be difficult to avoid wasting energy on an argument that ultimately goes nowhere. Similarly, engaging in these forums is a neat method of distracting oneself from one's personal journey and healing process. Try to ensure that your intellect holds the reins as much as possible, and don't hesitate to withdraw from a debate if you need to. Get your full Aquarius reading here.