INTELLIGENCE: Your 2019-2020 Annual by Eric Francis
How can we tap into our ability to find creative solutions to problems? How can we envision, design and create a better future than the one we seem to be heading for? How can we handle our personal growth in a way that is sensitive and efficient? The answer is intelligence.
Learn more... | Pre-Order now!
Subscribe to Our Daily Horoscope & Almanac!
The Four Winds Report includes the Eric Francis daily horoscope, a daily birthday reading,
and many other features. Sign up free!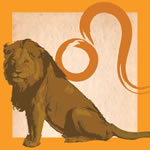 Leo This Week (July 22-Aug. 23)
-- In almost all the consequential choices we make, and a good many of the lesser ones, there is an ethical element: a decision as to whether we obey our ego, or listen to our higher beliefs and impulses. There is, unfortunately, no metric for determining which is which; one way to suss this out in a specific case is to weigh up each option and see how it makes you feel. That will help you trace where the ideas originate, based on similar choices you've made in the past. Try to keep an ear out in general for the voice of your conscience -- which is not, by the way, the same thing as guilt -- and consider the guidance it offers. Get your full Leo reading by Eric here.