NEW!
The Sacred Space of Self: Taurus, Leo, Scorpio, Aquarius
Sample Videos
Chiron in Aries: The Challenge of Individuating

Chiron is now in Aries, for the first time since 1977. This is about the quest for individuality in the most deeply personal way: the cultivation and growth of your soul. There are challenges associated with doing this, which I plan to address eloquently and in a way that you will find reassuring and helpful.

Read more... | Order Spring Reading!


Leo and Leo Rising — Sign Description | Subscribe to Our Daily Horoscope & Almanac!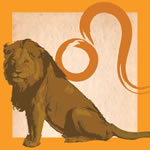 Leo This Week (July 22-Aug. 23)
-- You need to find a balance between being spontaneous and being consistent. This is easily enough done, if you understand where you need to apply one method or the other, and then add a dash of the opposite. For example, certain elements of your relationships require that you keep all of your promises; yet there is almost always room for negotiation and a fresh approach. Professional situations may call for constant dependability and consistency, yet benefit from trying a bold idea that's never been attempted locally. The way you'll know doing something different is the right idea is that it will only seem a little unusual, a bit interesting, or like you've never heard of anything quite like it before -- and still make sense. In most areas of your life, you thrive on consistency. That will still work brilliantly, as long as you experiment on a regular basis.