INTELLIGENCE: Your 2019-2020 Annual by Eric Francis
How can we tap into our ability to find creative solutions to problems? How can we envision, design and create a better future than the one we seem to be heading for? How can we handle our personal growth in a way that is sensitive and efficient? The answer is intelligence.
Learn more... | Pre-Order now!
Subscribe to Our Daily Horoscope & Almanac!
The Four Winds Report includes the Eric Francis daily horoscope, a daily birthday reading,
and many other features. Sign up free!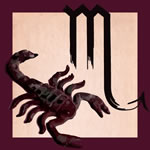 Scorpio This Week (Oct. 23-Nov. 22)
-- Friday is the peak of Venus retrograde -- what's called the interior conjunction of Venus and the Sun. (Technically, the word is 'inferior' but I've amended that.) This looks like some kind of revelation, a discovery, or a breakthrough. The essence is taking ownership of something you thought belonged to someone else. There are different ways to describe this -- such as "calling in a projection." This is not an easy concept to understand, though the simplest way to say it is being accountable for feelings that you thought belonged to someone else, or that you assigned to someone else when they were really yours. It's about doing something that is most definitely not in style right now, which is being fully responsible for what you feel, for how you perceive the world, and for understanding your own motives. Essentially, you are looking for something you have not revealed to yourself, or admitted to yourself. It won't be hard to find. This is not about them; it's about you. Get your full Scorpio reading by Eric here.