NEW!
The Sacred Space of Self: Taurus, Leo, Scorpio, Aquarius
Sample Videos
Chiron in Aries: The Challenge of Individuating

Chiron is now in Aries, for the first time since 1977. This is about the quest for individuality in the most deeply personal way: the cultivation and growth of your soul. There are challenges associated with doing this, which I plan to address eloquently and in a way that you will find reassuring and helpful.

Read more... | Order Spring Reading!


Scorpio and Scorpio Rising — Sign Description | Subscribe to Our Daily Horoscope & Almanac!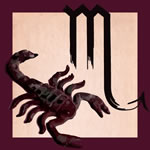 Scorpio This Week (Oct. 23-Nov. 22)
-- The whole world is struggling to feel safe now, even people who are facing no specific threat of danger. We might well ask where this is coming from and what we can do about it. These are themes it will help you to focus on, at the most personal level. One of the most significant elements of what "Scorpio" means is that there's a deep integration of your mental patterns and your emotions. Sometimes it's difficult for you to tell the difference, as they morph into one another so seamlessly. Yet this calls for extra discernment, which you now have access to with Mars slowing down to a station-retrograde, conjunct the South Node. When you identify a pattern, notice how it manifests first, as a mental or emotional phenomenon. Then find the counterpart. If something is an idea, find and consider the corresponding emotion. If something shows up as an emotion, identify the corresponding idea. This will make it easier to morph, adapt and grow.