INTELLIGENCE: Your 2019-2020 Annual by Eric Francis
How can we tap into our ability to find creative solutions to problems? How can we envision, design and create a better future than the one we seem to be heading for? How can we handle our personal growth in a way that is sensitive and efficient? The answer is intelligence.
Learn more... | Pre-Order now!
Subscribe to Our Daily Horoscope & Almanac!
The Four Winds Report includes the Eric Francis daily horoscope, a daily birthday reading,
and many other features. Sign up free!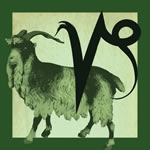 Capricorn This Week (Dec. 22-Jan. 20)
-- As part of a culture steeped in the Abrahamic tradition and infused with Greco-Roman values, pretty much everyone in the West is brought up in fear of that nebulous beast known as sin. In an orthodox sense, this is a concept that goes far beyond that of actually harming people: it includes natural human impulses and feelings that we all sometimes have, such as pride in our achievements, or desire, which has the effect of making us all guilty in some form. Whatever your personal beliefs, or whatever you might think of such ideas, perhaps ask yourself how far you can benefit from an ideology that operates mainly through shame. Get your full Capricorn reading here.