NEW!
The Sacred Space of Self: Taurus, Leo, Scorpio, Aquarius
Sample Videos
Chiron in Aries: The Challenge of Individuating

Chiron is now in Aries, for the first time since 1977. This is about the quest for individuality in the most deeply personal way: the cultivation and growth of your soul. There are challenges associated with doing this, which I plan to address eloquently and in a way that you will find reassuring and helpful.

Read more... | Order Spring Reading!


Capricorn & Capricorn Rising — Sign Description | Subscribe to Our Daily Horoscope & Almanac!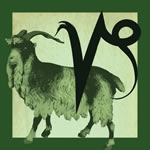 Capricorn This Week (Dec. 22-Jan. 20)
-- You're in the midst of a much deeper re-evaluation of yourself than you may imagine. It will become easier to see once Mars stations retrograde later this month, though the process is well underway. The focus is your 2nd house, which covers three themes, mainly: your perception of your talents and resources; your self-esteem; and your available cash. Think of these things not only as being related, but potentially as one and the same thing. Work on one and you are working on another. The focus right now is on unlearning. You were taught many things about yourself -- most of them by example before you were old enough to filter it out -- that simply were not true. So you must go on a hunt for all those things. You don't need to look for love; only for the thoughts, ideas and habits that block your awareness of love's presence.