NEW!
The Sacred Space of Self: View Your Pisces Sample Videos
Mars is now retrograde in Aquarius
There is some astrology coming: unpredictable, powerful and potentially challenging. It could shake up the social order, encouraging you to break out your individuality amid the tribal environment. Mars retrograde will shuffle your thinking -- your preconceptions and ideas about how things are -- and give you something tangible to consider, something real and immediate.
The Sacred Space of Self
, Eric's 2018 spring reading, explores these themes in an easy-to-follow, optimistic, motivational way.
Read more... | Order Spring Reading!
Subscribe to Our Daily Horoscope & Almanac!
The Four Winds Report includes the Eric Francis daily horoscope, a daily birthday reading,
and many other features. Sign up free!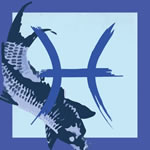 Pisces This Week (Feb. 19-March 20)
--

Reviewing and re-organizing your daily routine involves a number of factors. The big overall question, of course, is whether your plans work for you. Included in that is the consideration of efficiency: to borrow from Occam's razor, the simplest solution is usually the right one, so ponder where you might remove or reduce steps. Another factor is whether you have, or can access, the resources to carry all this through. Luckily, this process is unlikely to establish traditions that are set in stone and last until they become superstitions. You're free to experiment, to change direction and to take as long as you need.