NEW!
The Sacred Space of Self: Taurus, Leo, Scorpio, Aquarius
Sample Videos
Chiron in Aries: The Challenge of Individuating

Chiron is now in Aries, for the first time since 1977. This is about the quest for individuality in the most deeply personal way: the cultivation and growth of your soul. There are challenges associated with doing this, which I plan to address eloquently and in a way that you will find reassuring and helpful.

Read more... | Order Spring Reading!


Pisces and Pisces Rising — Sign Description | Subscribe to Our Daily Horoscope & Almanac!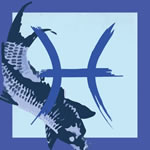 Pisces This Week (Feb. 19-March 20)
-- The Sun is about to move into the area of your solar chart associated with pleasure and play, which I reckon will not just come as good news, but come with good news. You can take this approach and apply it to your whole life. You're in a position where you can have fun doing just about everything. The way to do that is to take a creative approach to whatever you've got going on. If there are some areas of your life that don't respond to a creative approach, particularly certain matters associated with what you think of as your job, you need to push that; or you may want to consider being in a different line of work. Doing this will require creativity, which you have in abundance all the time -- and especially now. And you might take as your mantra something my Aunt Josie loved to say: Nothing attempted, nothing gained.