INTELLIGENCE: Your 2019-2020 Annual by Eric Francis
How can we tap into our ability to find creative solutions to problems? How can we envision, design and create a better future than the one we seem to be heading for? How can we handle our personal growth in a way that is sensitive and efficient? The answer is intelligence.
Learn more... | Pre-Order now!
Subscribe to Our Daily Horoscope & Almanac!
The Four Winds Report includes the Eric Francis daily horoscope, a daily birthday reading,
and many other features. Sign up free!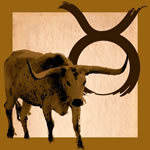 Taurus This Week (April 19-May 20) -- Uranus in your sign may already be working its influence in your life. At times this can feel exhilarating; at others, downright unsettling. At heart, Uranus has a knack for bringing the unexpected, and waking us out of complacency or stagnation, much like cats do in the morning with their unsuspecting humans: you might want to stay in bed, but that cat is going to get her breakfast. The accompanying challenge is to make the best out of each day even when things don't quite go as planned, which will likely take practice. Over the coming months, you'll have the opportunity to get used to this new way of being. Get your full Taurus reading by Eric here.