NEW!
The Sacred Space of Self: Taurus, Leo, Scorpio, Aquarius
Sample Videos
Chiron in Aries: The Challenge of Individuating

Chiron is now in Aries, for the first time since 1977. This is about the quest for individuality in the most deeply personal way: the cultivation and growth of your soul. There are challenges associated with doing this, which I plan to address eloquently and in a way that you will find reassuring and helpful.

Read more... | Order Spring Reading!


Taurus and Taurus Rising — Sign Description | Subscribe to Our Daily Horoscope & Almanac!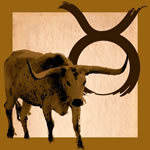 Taurus This Week (April 19-May 20) -- For you, a creative approach usually begins with the details. Some like to sketch their idea in broad strokes. Some like to use a drafting pencil. Just be aware that any idea you come up with will go through many revisions, so you can hang loose and keep your ideas flowing. With Uranus in your birth sign, the unexpected is your best friend. You might experience a revelation as a flash of light, which will give you a glimpse of a possible future. Look carefully and remember the details, and don't expect that particular light to come back on. You will get one opportunity to look and to see. Turn your head from left to right and notice what is on the periphery of your vision. Then, take special care to begin manifesting your intentions immediately. Whatever you discover this week will expire sooner than you think if you don't put it into tangible form.