INTELLIGENCE: Your 2019-2020 Annual by Eric Francis
How can we tap into our ability to find creative solutions to problems? How can we envision, design and create a better future than the one we seem to be heading for? How can we handle our personal growth in a way that is sensitive and efficient? The answer is intelligence.
Learn more... | Pre-Order now!
Subscribe to Our Daily Horoscope & Almanac!
The Four Winds Report includes the Eric Francis daily horoscope, a daily birthday reading,
and many other features. Sign up free!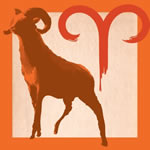 Aries This Week (March 20-April 19)
-- It will help if you're unusually open and conversant about things you usually keep quiet about. That would include all the taboo subjects, but particularly revealing the truth about your desire nature. A group of planets in Scorpio is about to be joined by the Sun on Tuesday morning, which will illuminate the angle of your solar chart where you have plenty to talk about, but might be least inclined to open up. What you may be sensing is that if you talk about what's on your mind, and what you're experiencing emotionally, you are inviting change. This would include change to some of what you think are your deeply held values, and a degree of rearrangement in the dynamics of your relationships. Yet this is movement that will come no matter what, whether you're secretive or coy or reluctant to share -- or whether you open up and reveal your innermost reality. It's just a matter of how much choice and influence you have, though that takes courage. Get your full Aries reading by Eric here.