NEW!
The Sacred Space of Self: Taurus, Leo, Scorpio, Aquarius
Sample Videos
Chiron in Aries: The Challenge of Individuating

Chiron is now in Aries, for the first time since 1977. This is about the quest for individuality in the most deeply personal way: the cultivation and growth of your soul. There are challenges associated with doing this, which I plan to address eloquently and in a way that you will find reassuring and helpful.

Read more... | Order Spring Reading!


Aries and Aries Rising — Sign Description | Subscribe to Our Daily Horoscope & Almanac!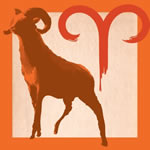 Aries This Week (March 20-April 19)
-- You must trust your intuition this week. No matter what other sources of information you have -- and you should have plenty of them -- in the end, your final choice must be about acting on what you deeply understand to be right. This is as obvious as magnetism. You might actually experiment with magnets and remind yourself what this feels like: opposite poles attract, the same pole repels -- and this is as easy to feel as hot or cold, wet or dry. It's true there are nuances and subtle points to the situation, and these need to be taken into account. Yet, in the end, a decision must be made; and you are the one to make it. One thing you're divorcing yourself from is the need to be popular, or seen to be trendy. Following, joining, or any form of true believership is especially toxic these days.