NEW!
The Sacred Space of Self: Taurus, Leo, Scorpio, Aquarius
Sample Videos
Chiron in Aries: The Challenge of Individuating

Chiron is now in Aries, for the first time since 1977. This is about the quest for individuality in the most deeply personal way: the cultivation and growth of your soul. There are challenges associated with doing this, which I plan to address eloquently and in a way that you will find reassuring and helpful.

Read more... | Order Spring Reading!


Cancer and Cancer Rising — Sign Description | Subscribe to Our Daily Horoscope & Almanac!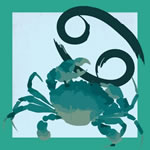 Cancer This Week (June 21-July 22)
-- We are now in the final approach to the summer solstice, when the Sun enters your birth sign. This is the longest day of the year, and that fact has something to do with you. You were born at the noontime of the solar year, and you have it in you to live boldly, and to live for purposes beyond your own personal needs. You will be getting information as if by chance over the next few days; and, as the Sun makes its opposition to the Galactic Core from Sunday into Monday, you may find yourself having insights that you know will make your life easier. Keep a pad and pencil handy, and write clearly. The thing about the galactic door is that it closes as easily as it opens, and it does not leave a paper trail. You have to do that yourself, and these will be ideas well worth knowing and using.