NEW!
The Sacred Space of Self: View Your Cancer Sample Videos
Mars is now retrograde in Aquarius
There is some astrology coming: unpredictable, powerful and potentially challenging. It could shake up the social order, encouraging you to break out your individuality amid the tribal environment. Mars retrograde will shuffle your thinking -- your preconceptions and ideas about how things are -- and give you something tangible to consider, something real and immediate.
The Sacred Space of Self
, Eric's 2018 spring reading, explores these themes in an easy-to-follow, optimistic, motivational way.
Read more... | Order Spring Reading!
Subscribe to Our Daily Horoscope & Almanac!
The Four Winds Report includes the Eric Francis daily horoscope, a daily birthday reading,
and many other features. Sign up free!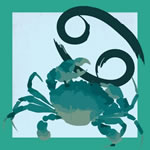 Cancer This Week (June 21-July 22)
--

A lot of people get into trouble financially simply because they don't know the extent or limits of their funds. If you're not clear on your own circumstances, this would probably be an excellent time to find out, particularly if you're considering committing substantial resources to anything. If you find accounts challenging to understand, get hold of someone who can help, whether a professional or a trusted friend. Have them explain to you exactly what is available and what, if anything, you owe. The more you know, the more thoroughly you can plan ahead, and it'll likewise be far easier to avoid spending too much.