INTELLIGENCE: Your 2019-2020 Annual by Eric Francis
How can we tap into our ability to find creative solutions to problems? How can we envision, design and create a better future than the one we seem to be heading for? How can we handle our personal growth in a way that is sensitive and efficient? The answer is intelligence.
Learn more... | Pre-Order now!
Subscribe to Our Daily Horoscope & Almanac!
The Four Winds Report includes the Eric Francis daily horoscope, a daily birthday reading,
and many other features. Sign up free!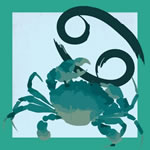 Cancer This Week (June 21-July 22)
-- Though life on the planet is way too chaotic for people such as yourself who genuinely value peace and quiet, good things are happening. And you will get the benefit as long as you remain open and available, which can be challenging in our particular moment. So you will need to keep your signals clear, and be sensitive to when you're being offered something, and when you're being asked for something. Even though those may seem like opposites, they do have one thing in common, which is the potential to get an exchange going. That will present you with an opportunity both to offer and to receive, and it will be helpful if you are able to do both as a conscious act. You have plenty to offer, and that's the side of the equation to focus on. Any creative enterprises you might involve yourself in over the next few weeks will thrive, so do what you can to give those space, time and love, i.e., tune your guitar, or carry your sketchbook. Get your full Cancer reading by Eric here.