INTELLIGENCE: Your 2019-2020 Annual by Eric Francis
How can we tap into our ability to find creative solutions to problems? How can we envision, design and create a better future than the one we seem to be heading for? How can we handle our personal growth in a way that is sensitive and efficient? The answer is intelligence.
Learn more... | Pre-Order now!
Subscribe to Our Daily Horoscope & Almanac!
The Four Winds Report includes the Eric Francis daily horoscope, a daily birthday reading,
and many other features. Sign up free!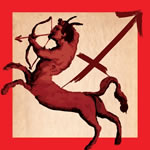 Sagittarius This Week (Nov. 22-Dec. 22)
-- There are plenty of problems in the world that need fixing, and thus plenty of causes you could take up. However, be discerning in your choice of where to devote significant portions of your energy. In particular, watch for language or imagery designed to sway the emotions rather than engaging you in rational dialogue. You need clear information on the issues, and it's perfectly okay to decide that you don't know enough and need to learn more, or to examine possible flaws in an argument, however well-intentioned. Your own experience of the world is also a perfectly valid, if not intrinsically complete, source of data. Get your full Sagittarius reading here.