INTELLIGENCE: Your 2019-2020 Annual by Eric Francis
How can we tap into our ability to find creative solutions to problems? How can we envision, design and create a better future than the one we seem to be heading for? How can we handle our personal growth in a way that is sensitive and efficient? The answer is intelligence.
Learn more... | Pre-Order now!
Subscribe to Our Daily Horoscope & Almanac!
The Four Winds Report includes the Eric Francis daily horoscope, a daily birthday reading,
and many other features. Sign up free!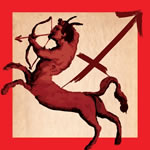 Sagittarius This Week (Nov. 22-Dec. 22)
-- You will be able to unravel a mystery this week, something that may have puzzled or even vexed you for a long time. This has been brewing as if in the next room, though seemingly nowhere in sight. You will, therefore, need to look, listen and feel in the subtle dimensions of your awareness: your dreams, your intuition (which is never fearful), your fears (as separate from intuition), and something or someone that was lost that's now manifesting in some way, including as the ability to let go or some signal that it is time to let go. Notice how you feel upon awakening, as much as you might focus on the content of a dream. Consider the notion of "lost love," how you have responded to relationships changing in the past, and how you may have held on to your feelings. You are more sentimental than it may seem from the outside, though now is the time not for sentiment but rather for emotional honesty. That will give you some freedom to be yourself. Get your full Sagittarius reading here.