NEW!
The Sacred Space of Self: Taurus, Leo, Scorpio, Aquarius
Sample Videos
Chiron in Aries: The Challenge of Individuating

Chiron is now in Aries, for the first time since 1977. This is about the quest for individuality in the most deeply personal way: the cultivation and growth of your soul. There are challenges associated with doing this, which I plan to address eloquently and in a way that you will find reassuring and helpful.

Read more... | Order Spring Reading!


Sagittarius and Sag. Rising — Sign Description | Subscribe to Our Daily Horoscope & Almanac!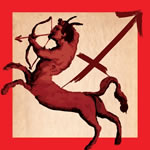 Sagittarius This Week (Nov. 22-Dec. 22)
-- You have an opportunity to complete something that you left unfinished earlier in the year. Not only that; you have the extra resources you need to get it done. I suggest you take a minimalist approach. Plenty has changed since you set down whatever this project is, and -- if you size that up -- you will see that the effort will not be nearly as daunting as it seemed earlier in the year. It would seem that most of your focus would be best invested in gaining an understanding of where you stand, particularly in the context of previous generations who faced something similar and just could not pull it off. You are not them; you don't have their debilities, and you have many extra abilities and resources that they never even dreamed of. Most significantly, you know yourself a lot better, or you have the specific goal of doing so. That is the key.