Your Autumn Reading by Eric Francis:


Empathy-Pathos: A Study in Venus Retrograde
In this reading, I will review Mars retrograde and the recent eclipses, and open up the territory of Venus and its unusual way of resonating and emoting. We'll explore approaches to the masculine and feminine attributes of Venus, as well as the introspective and expressive aspects of Venus through the retrograde process.
Learn more... | Pre-Order now!
Subscribe to Our Daily Horoscope & Almanac!
The Four Winds Report includes the Eric Francis daily horoscope, a daily birthday reading,
and many other features. Sign up free!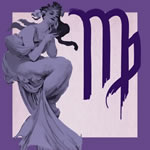 Virgo This Month (Aug. 23-Sep. 22) -- One of your challenges involves seeking pleasure without guilt. This issue might be the very bane of your Virgo Sun or rising sign, and presently a variety of factors are conspiring to iron the wrinkles and work out the kinks. The idea, though, is to seek pleasure not just without guilt, but also without getting lost in fantasy. This can be a challenging place to explore, as so many factors are involved, and it's one reason why getting lost in your work is one of the easiest things for you to do. And that, in fact, counts as a form of pleasure, though you need more. There's an art of doing things for their own sake, such as stamp collecting, or sex. The concept here is to subvert any notion of obligation, which is the lighter side of guilt. Do things that appeal to the child in you, remembering that kids are often motivated by something seeming like the thing to do at the time. If it's a selling point, this will work well for your productivity and creativity, though you will get the best result when you stick to "art for art's sake" territory. This will serve your relationships, too. With Neptune and Nessus creeping across your 7th house, your human encounters need a point of orientation, and beauty would serve well as one. The tantric principle I'm working with, though, is to avoid the realm of fantasy, and to stay grounded in your senses. This will activate a more tangible aspect of your imagination, which translates to tapping creativity more freely and more easily.