INTELLIGENCE: Your 2019-2020 Annual by Eric Francis
How can we tap into our ability to find creative solutions to problems? How can we envision, design and create a better future than the one we seem to be heading for? How can we handle our personal growth in a way that is sensitive and efficient? The answer is intelligence.
Learn more... | Pre-Order now!
Subscribe to Our Daily Horoscope & Almanac!
The Four Winds Report includes the Eric Francis daily horoscope, a daily birthday reading,
and many other features. Sign up free!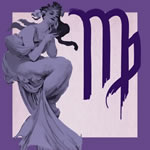 Virgo This Month (Aug. 23-Sep. 22) -- It's been an overwhelming year, perhaps even heavy, though help is on the way. Jupiter joins Mercury in your 4th house of grounding, home and family this week, to stay for a year. This will take some pressure off your mind, and help you prioritize what matters the most for you. That includes taking care of yourself, and it also covers resolving old material -- drawing an "end to the matter" (borrowing from ancient astrology) in several important things related to your family, especially on your father's side. The two are related: the living well bit, and the one about resolving the past. Resolved might not be the right word; displaced is a better concept, since what is old and dysfunctional must, in a sense, be outdone by something noticeably better and more worthwhile. This must start with where you call home. Jupiter through the 4th is what I think of as the "feather your nest" transit: making your home space acceptable to your physical body. Take the time to make small improvements, eat better-quality food, and do what you must do to feel confident. It matters less where you are, and more how you feel, no matter where you may be. The persistent challenge will be emotionally honesty. Listen to the stories you tell yourself, and check the facts. Make sure you're correct, and that the elements of your version of events add up to something that makes sense.