NEW!
The Sacred Space of Self: View Your Virgo Sample Videos
Mars is now retrograde in Aquarius
Chiron is now in Aries, for the first time since 1977. This is about the quest for individuality in the most deeply personal way: the cultivation and growth of your soul. There are challenges associated with doing this, which I plan to address eloquently and in a way that you will find reassuring and helpful.
Read more... | Get Instant Access!
Subscribe to Our Daily Horoscope & Almanac!
The Four Winds Report includes the Eric Francis daily horoscope, a daily birthday reading,
and many other features. Sign up free!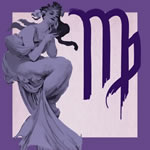 Virgo This Month (Aug. 23-Sep. 22) -- There's a whole chapter of A Course in Miracles devoted to "the fear to look within," and there are many other references throughout the work to this issue. The situation, as described by this particular work of spiritual psychology, involves some potentially wrenching anxiety about what you might find in there. This stands as a barrier between you and yourself, a kind of primal fear to see yourself for who you are. To embrace your own power of witness, though, you need to set this fear aside, and enter your own self-awareness courageously. Let me be the next person to remind you that shadow is only a temporary blockage or absence of illumination, and you contain a river of light, the source of which is beyond you. Yet it's possible to block one's view of the entire universe merely by wearing a blindfold. So remove any blocks to your vision, which in this case would be the willingness to see, and dive into your reality and notice where you emerge. Let the world vanish for a moment: the one made of petty fears, squabbles, disputes, and misunderstandings created by ignorance. You are also unraveling a struggle that was created by falling for some pressure to conform to what other people believe. Let a greater world open up, which you will recognize mainly by your own peace of mind. This is a journey, and it may require daily meditation or communing with nature or with your artwork. Yet if you dependably give yourself some time and space beyond the mundane world, and focus inwardly, you will arrive within.