NEW!
The Sacred Space of Self: Taurus, Leo, Scorpio, Aquarius
Sample Videos
Chiron in Aries: The Challenge of Individuating
Chiron is now in Aries, for the first time since 1977. This is about the quest for individuality in the most deeply personal way: the cultivation and growth of your soul. There are challenges associated with doing this, which I plan to address eloquently and in a way that you will find reassuring and helpful.
Read more... | Get Instant Access!
Libra and Libra Rising — Sign Description
Subscribe to Our Daily Horoscope & Almanac!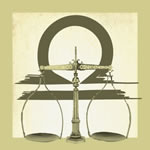 Libra This Month (Sep. 22-Oct. 23)
-- You have resources: important ones, which can get you through anything. For years now, you've been drilling down into the ground, establishing your independence and your stability. It's time for you to put this all together and step into the challenges you are the most eager to engage. This will mean letting go of old goals and coming up with new ones -- or acknowledging the desire you've been toting around for years on end. Take them out of your bag and put them on the table. Open your secret box of ideas you want to develop. Get out your bucket list and pick three items, and do them soon. This may all feel risky, like you have to acknowledge something deep and urgent in order to take the step and bring yourself to a new place. You may feel like you have to violate every rule you think you have to live by. You may need to go against the grain of what your friends think is right, particularly those who are engaged in some kind of creative profession. Often they are more bound by convention than they let on, and that is precisely what you are ready to challenge. Set out to do the thing you want to do the most, especially if you think it's impossible. Then you'll feel a lot better.