NEW!
The Sacred Space of Self: Taurus, Leo, Scorpio, Aquarius
Sample Videos
Chiron in Aries: The Challenge of Individuating
Chiron is now in Aries, for the first time since 1977. This is about the quest for individuality in the most deeply personal way: the cultivation and growth of your soul. There are challenges associated with doing this, which I plan to address eloquently and in a way that you will find reassuring and helpful.
Read more... | Get Instant Access!
Cancer and Cancer Rising — Sign Description
Subscribe to Our Daily Horoscope & Almanac!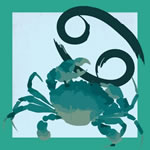 Cancer This Month (June 21-July 22)
-- This phase of your life is about clearing debris out of the way. You're chief of the karma squad, and your mission is to wrap up old business so that you have the freedom to live the life you want. This can be intense work, though it is satisfying, and it gets results. The more integrity you have, the better you will feel, so this is a process of building your strength and learning how to feel good. One issue you will want to track closely involves the way that you allow others to set the terms of your most intimate relationships. It's as if you feel you must live up to some community standard about what is supposedly right and wrong regarding how you relate to others. However, once you have established mutual consent with your partners, nobody else needs to be involved with your commitments or process of making decisions. And to the extent that you are, the discussion would rightly include how you feel; all matters related to sex; and having a grounded understanding of your financial situation. It's OK if one person contributes more than the other, as long as everyone is cool with that. And, in all matters where intimate partners are concerned, strive to be transparent. The book Radical Honesty by Brad Blanton (the original, not any derivatives) will serve you well.