INTELLIGENCE: Your 2019-2020 Annual by Eric Francis
How can we tap into our ability to find creative solutions to problems? How can we envision, design and create a better future than the one we seem to be heading for? How can we handle our personal growth in a way that is sensitive and efficient? The answer is intelligence.
Learn more... | Pre-Order now!
Subscribe to Our Daily Horoscope & Almanac!
The Four Winds Report includes the Eric Francis daily horoscope, a daily birthday reading,
and many other features. Sign up free!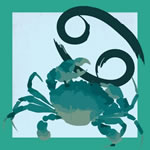 Cancer This Month (June 21-July 22)
-- Many of the questions of your life involve who is willing to take responsibility for what. These, of course, begin with you. And your perspective is subjective, from your point of view. You see the world as you see it, and you're mature enough to know that other people see the world differently. However, to get anything done, different people have to agree on what needs to happen and what to do about it -- and this is currently leading to a global crisis. This is starting to feel a little like what's called a Texas League hit -- a fly ball that lands between two outfielders, who both either thought the other one had it, or were afraid to collide. Yet there is much more going on. These days, taking a little responsibility implies taking total responsibility. We are told, over and over, that failure to do our part (recycle, conserve fuel, vote) will result in global disaster. For many people, potentially you, this weighs heavily on their conscience. Yet we also know that our individual actions don't really matter, because the world and its problems are so big. People are more likely to think they will win the Powerball than they are to develop a technological or spiritual breakthrough that solves some seemingly insurmountable world problem. In fact, it would seem that most people need heaps of encouragement to think they might solve a personal problem. I am here to tell you that you are part of the solution, and that it doesn't involve your recycling bin. It involves making a discovery about how you relate to others, and how people relate to one another.