Your Autumn Reading by Eric Francis:


Empathy-Pathos: A Study in Venus Retrograde
In this reading, I will review Mars retrograde and the recent eclipses, and open up the territory of Venus and its unusual way of resonating and emoting. We'll explore approaches to the masculine and feminine attributes of Venus, as well as the introspective and expressive aspects of Venus through the retrograde process.
Learn more... | Pre-Order now!
Subscribe to Our Daily Horoscope & Almanac!
The Four Winds Report includes the Eric Francis daily horoscope, a daily birthday reading,
and many other features. Sign up free!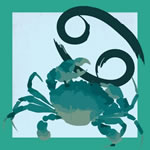 Cancer This Month (June 21-July 22)
-- The past few months have certainly been a walk along the edge. And this has been no ordinary cliff-side stroll. You have been treading, in true shamanic style, the boundary between life and death, self and other, individual and collective, real and imaginary. You have been exploring the strange region where fear meets desire. You have, if this journey has gone well, learned how to assert yourself, and how to submit and surrender. You cannot do one without being able to do the other; the total dynamic is what counts. For the next 10 weeks, you will get to reassess everything you've learned. In some ways, you will get a do-over, which means you will get a second chance to make things right. Through this phase, which consists of Mars traversing the entirety of Aquarius, your 8th solar house, you will need to depend on friends and allies, particularly ones who have emerged recently. The thing to focus on is mutual interest, not self-interest. There are many elements of your life experience that feed directly into a collective reality. There are many facets of social reality that influence your life. Your role is to work the connections; to weave the reality you want to be part of; and to establish common ground. This is done slowly, and persistently; with care, and with patience.