INTELLIGENCE: Your 2019-2020 Annual by Eric Francis
How can we tap into our ability to find creative solutions to problems? How can we envision, design and create a better future than the one we seem to be heading for? How can we handle our personal growth in a way that is sensitive and efficient? The answer is intelligence.
Learn more... | Pre-Order now!
Subscribe to Our Daily Horoscope & Almanac!
The Four Winds Report includes the Eric Francis daily horoscope, a daily birthday reading,
and many other features. Sign up free!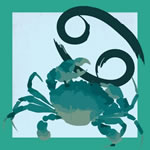 Cancer This Month (June 21-July 22)
-- The Nov. 7 Scorpio New Moon looks like it might open some doors in your erotic life. Usually horoscope writers couch this in the term "romantic," and I am specifically not talking about that: I'm talking about a form of sexual intimacy that's much deeper than "romance" and which will require a corresponding risk, and at the same time, promise you something much deeper in the way of fulfillment. Yet in our era, this whole region of eroticism is the one that is most often shunned and eschewed. It's treated like it does not exist, yet nearly everyone is drawn to some deeper realm of their desire, even if it slips in for a brief visit as you're waking up, appears in your dreams, or shows up in intimate moments when you're not expecting it. There is a taboo on knowing who you are. This is rarely called what it is, though it's engaged by connecting with your deepest and potentially most secret desires. The alternatives are things like aggression, sleepwalking or frustration, and none of those are especially appealing. The astrology of the past six months may seem to have warned you off going too deep, or taking too many risks. Yet based on the most elemental makeup of your nature, you will want to get back in the water again. Be conscious about it, and please keep it real -- not digital.