NEW!
The Sacred Space of Self: View Your Cancer Sample Videos
Mars is now retrograde in Aquarius
Chiron is now in Aries, for the first time since 1977. This is about the quest for individuality in the most deeply personal way: the cultivation and growth of your soul. There are challenges associated with doing this, which I plan to address eloquently and in a way that you will find reassuring and helpful.
Read more... | Get Instant Access!
Subscribe to Our Daily Horoscope & Almanac!
The Four Winds Report includes the Eric Francis daily horoscope, a daily birthday reading,
and many other features. Sign up free!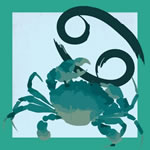 Cancer This Month (June 21-July 22)
-- Your ethics are your values. Your values are your ethics. Your value is what is right and true for you, and that is the basis of your existence. In reality, you can have no other, so trim away everything in your life that is no longer reflective of your actual being, and emphasize what supports you from your core. What you focus on will grow. Therefore, feed the tree that is at the center of your being, and spend a lot of time in its shade, and feeling its love. Think of this as learning how to value yourself. When your value in yourself is strong, you are strong. Yet in truth, we're talking about something that's one of the greatest challenges for nearly everyone, in our time in history: establishing self-trust, self-respect, and the primacy of your existence above all else. For someone as service-oriented as you are, it may be helpful to think of this as being the only way you can be of assistance to others. Yet at the moment, this must be secondary: let that be OK. Allow your central purpose in existing to be the organizing principle of your life. If you can do this for a while, you will find real freedom. You will liberate inner resources, and you will get to decide how to allocate them. It is clear from recent events that the winds of change are blowing, for you and for the world around you. In such a time, you need a clear point of orientation. And that would be what you know to be right and true.