Your Autumn Reading by Eric Francis:


Empathy-Pathos: A Study in Venus Retrograde
In this reading, I will review Mars retrograde and the recent eclipses, and open up the territory of Venus and its unusual way of resonating and emoting. We'll explore approaches to the masculine and feminine attributes of Venus, as well as the introspective and expressive aspects of Venus through the retrograde process.
Learn more... | Pre-Order now!
Subscribe to Our Daily Horoscope & Almanac!
The Four Winds Report includes the Eric Francis daily horoscope, a daily birthday reading,
and many other features. Sign up free!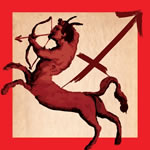 Sagittarius This Month (Nov. 22-Dec. 22)
-- Many events of the summer and autumn will start to make sense early next year. Until then, you will need to be patient, but don't bide your time: use your time well. The primary theme in your charts for the foreseeable future involves confidence. Despite the freewheeling reputation of your sign, you tend to rely on tradition as a foundation: for example, established values, methods and structures. And at the moment, those are the very things that are shifting, grinding and at times collapsing. While you may be losing something in terms of an ability to have expectations, you are gaining freedom from the past. This particularly involves your family and its values, which have had a way of being the foundational layer of your own. What you are discovering is that you've carved out your own way of doing things, your own beliefs, and your own values, going back a long time. Now, you're in the process of claiming the progress you've made, and acknowledging that you are in fact different from your predecessors in substantial ways -- one of them being that you're much happier than they were. There's a reason for that, which is yours to discover. Along the way, consider this: any tradition that does not grow, evolve, and develop is dead. To be relevant, helpful and meaningful, tradition must travel with us travelers, as a living companion.