NEW!
The Sacred Space of Self: Taurus, Leo, Scorpio, Aquarius
Sample Videos
Chiron in Aries: The Challenge of Individuating
Chiron is now in Aries, for the first time since 1977. This is about the quest for individuality in the most deeply personal way: the cultivation and growth of your soul. There are challenges associated with doing this, which I plan to address eloquently and in a way that you will find reassuring and helpful.
Read more... | Get Instant Access!
Sagittarius and Sagittarius Rising — Sign Description
Subscribe to Our Daily Horoscope & Almanac!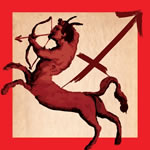 Sagittarius This Month (Nov. 22-Dec. 22)
-- One of the most serious problems the world is facing is the deterioration of literacy. This has effects on every level; because literacy is about our ability to reason, to record the past, to express new ideas and, most significantly, to have a sense of right and wrong. Once words and syntax lose their meaning, it's not long before we're losing our minds, and our collective grip on reality. That, if you look closely at the world, is exactly what's happening. You depend on literacy, in its widest sense, to keep your bearings. The structure of ideas matters to you. Logical flow matters to you. What things mean in the context of one another matters to you. We are all experiencing the impact of "new media," an environment where a tweet might be thought to replace a book and, therefore, a flimsy idea might be thought to replace a solid and tangible one. You will be doing some adapting of your thought process to this new environment, though don't get too swept up in the tides of change or alleged progress. Remember that, at heart, you are a traditionalist. Progress is all well and good, as long as there is some solid core of respect for the nuances of thought, for ideas that matter, and for the human condition. Said another way, progress is no excuse for disrespect.