INTELLIGENCE: Your 2019-2020 Annual by Eric Francis
How can we tap into our ability to find creative solutions to problems? How can we envision, design and create a better future than the one we seem to be heading for? How can we handle our personal growth in a way that is sensitive and efficient? The answer is intelligence.
Learn more... | Pre-Order now!
Subscribe to Our Daily Horoscope & Almanac!
The Four Winds Report includes the Eric Francis daily horoscope, a daily birthday reading,
and many other features. Sign up free!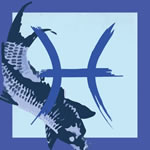 Pisces This Month (Feb. 19-March 20) -- Your deepest fears rarely come true, and no matter what you've experienced this year, that remains a fact of existence. It's now time to focus your life in the most productive and constructive ways. Jupiter entering Sagittarius this week crosses the midheaven angle of your solar chart, which will open up a world of possibilities you've never quite imagined. Yet you will need to rise above your own anxiety in order to take full advantage of this yearlong transit. This is not just the fear of things going wrong; most of what concerns you is lack of confidence. Neptune in your sign (an ultra-longterm visitor) can feel like a massive hole where your courage should be. So that's the element to work with. The thing to remember is that courage is earned, not bestowed. That happens through conscious trial and error; doing what you're not supposed to do; saying what you're not supposed to say; and attempting what you think is considerably beyond your potential. Jupiter's first point of contact in Sagittarius will be a square to Nessus in your sign, which represents an opportunity to overcome some debility inflicted on you by your family, or someone who abused your trust. The second will be an extended square aspect to Neptune, which seems destined to inform you that you genuinely know what is true and right for you. Let time prove your theory, rather than letting someone else disprove it.