INTELLIGENCE: Your 2019-2020 Annual by Eric Francis
How can we tap into our ability to find creative solutions to problems? How can we envision, design and create a better future than the one we seem to be heading for? How can we handle our personal growth in a way that is sensitive and efficient? The answer is intelligence.
Learn more... | Pre-Order now!
Subscribe to Our Daily Horoscope & Almanac!
The Four Winds Report includes the Eric Francis daily horoscope, a daily birthday reading,
and many other features. Sign up free!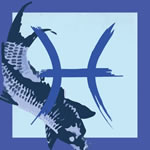 Pisces This Month (Feb. 19-March 20) -- One result of cosmic movements the past four seasons has been a tremendous release of pent-up energy. This does not always work to one's advantage -- earthquakes, tsunamis, fires and melting ice caps are also energy being set loose. Usually, unless energy is harnessed, it turns destructive. How did you do in this regard? Were you able to direct the flow of events in a constructive way? There was one other effect: now you know something that you didn't know before. And while there is no turning back the clock to some previous time or situation, you possess both awareness and opportunities you didn't have before. You have a clear space to work with, and some extra bandwidth, because so much pressure has been released. You also have a new sense of both inner and outer reality. This is valuable information, and you would be well served to put it into some form you can remember. Work with the new social order of your life, rather than trying to reconstruct the old one. This corresponds to changes within your awareness that no longer align with the past. However, you will need to create a new world that is based on your newly revised inner reality. There are people you don't know who you will soon meet. There are places you've never been, where it's time to visit. There are things you've never imagined that you will soon be doing. Remember, though: how you are seen is not who you are. Reality transcends image.