NEW!
The Sacred Space of Self: View Your Pisces Sample Videos
Mars is now retrograde in Aquarius
Chiron is now in Aries, for the first time since 1977. This is about the quest for individuality in the most deeply personal way: the cultivation and growth of your soul. There are challenges associated with doing this, which I plan to address eloquently and in a way that you will find reassuring and helpful.
Read more... | Get Instant Access!
Subscribe to Our Daily Horoscope & Almanac!
The Four Winds Report includes the Eric Francis daily horoscope, a daily birthday reading,
and many other features. Sign up free!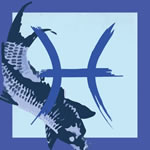 Pisces This Month (Feb. 19-March 20)
-- You set the terms of your existence. I recognize that we live in a universe of many forces acting upon one another. Right now, the primary thing acting on you is an internal factor, described as retrograde Mars in your 12th house, and a potent eclipse conjunct Mars two weeks ago. This is a description of an inner condition or circumstance, either resulting in the illusion of an outer one, or describing how your power over an outer circumstance can be gained through inner mastery. It is not an easy position to be in, to command the role of what A Course in Miracles calls "the dreamer of the dream." Even the most sincere efforts to take responsibility for one's life and one's choices can be fraught with peril and seeming failure. And as many have noted, the theory that "you create your own reality" is dangerous, especially when someone is in a tight spot, involving something they cannot control. Yet the Mars retrograde process talks about something you can influence through your awareness. The tone of Mars retrograde is about to change, as it re-enters Capricorn on Aug. 13, and something that is now veiled or difficult to access emerges where you can work with it. This involves your commitment to your values and your ethics. It involves your commitment to your work. You live by one set of rules, no matter what you may do.