INTELLIGENCE: Your 2019-2020 Annual by Eric Francis
How can we tap into our ability to find creative solutions to problems? How can we envision, design and create a better future than the one we seem to be heading for? How can we handle our personal growth in a way that is sensitive and efficient? The answer is intelligence.
Learn more... | Pre-Order now!
Subscribe to Our Daily Horoscope & Almanac!
The Four Winds Report includes the Eric Francis daily horoscope, a daily birthday reading,
and many other features. Sign up free!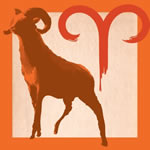 Aries This Month (March 20-April 19)
-- Certain professional aspirations seem destined to take off, and take you interesting places. Yet you must not be led by ambition, blind or otherwise. Rather, guiding forces such as ethics and wisdom will serve you much better. That's a lot to ask these days, when it appears we live on crumbling structures, of intellect, of identity, and of tradition. There now no longer seems like a right way to do things; a right way to live. This is part of a larger problem where it looks like nothing actually matters. However, in times of radical change and instability, such as we live in now, you must have a code that you live by. At the moment, the focus of astrology is on the responsibility and reputation angle of your chart, which is Capricorn (your solar 10th house). There are two seemingly competing drives at work. One says push all limits and don't worry about the rules. The other says keep your focus, respect boundaries, and use a traditional approach. Included here is honoring the flow of time, and not being in too big of a rush to make something happen. You will do better following this approach. The rapid-action placement (Pholus in Capricorn) will be a factor no matter what. It's a kind of accelerant, in the sense of both time and fire. Under those conditions, it's essential that you be able to apply the brakes and maintain some control over your own development. Other factors are guiding you to tap into the wisdom of your spiritual path, and remember that there is a difference between right and wrong, and that difference matters.