INTELLIGENCE: Your 2019-2020 Annual by Eric Francis
How can we tap into our ability to find creative solutions to problems? How can we envision, design and create a better future than the one we seem to be heading for? How can we handle our personal growth in a way that is sensitive and efficient? The answer is intelligence.
Learn more... | Pre-Order now!
Subscribe to Our Daily Horoscope & Almanac!
The Four Winds Report includes the Eric Francis daily horoscope, a daily birthday reading,
and many other features. Sign up free!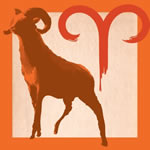 Aries This Month (March 20-April 19)
-- It may seem to you like everything is up for negotiation, but nobody knows what they want, and certain individuals keep changing their mind. The scenario looks a little like this: first, someone seems to want what you want, then they want something else. Then they have to think about that more carefully, owing to something their mother said. You may be left feeling like someone you care about makes no sense at all, which does not make it easy to relate. Fairly recently, though, you were in a similar dynamic, where you had little clue what you wanted, or needed, except that it was clear you needed your space to think independently and not be beholden to commitments, at least for as long as you needed to sort yourself out. Others may be less bold than you are about this need, which all people have. Someone more timid might try to persist with a policy of people-pleasing, while at the same time trying to do what is right for them -- and never shall the two be reconciled. I suggest you make room in your life for people to make their own decisions, just as you need to do. Open up space for this, and do your best not to take things personally. Easier said than done, and worth working toward.