NEW!
The Sacred Space of Self: Taurus, Leo, Scorpio, Aquarius
Sample Videos
Chiron in Aries: The Challenge of Individuating
Chiron is now in Aries, for the first time since 1977. This is about the quest for individuality in the most deeply personal way: the cultivation and growth of your soul. There are challenges associated with doing this, which I plan to address eloquently and in a way that you will find reassuring and helpful.
Read more... | Get Instant Access!
Aries and Aries Rising — Sign Description
Subscribe to Our Daily Horoscope & Almanac!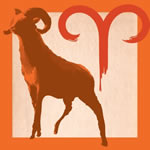 Aries This Month (March 20-April 19)
-- If you have ever suspected that you are different from others in some significant way, this will be the summer when you test your theory. First, your ruling planet Mars will be retrograde in Aquarius, the sign of groups. This presents a picture of you doing your thing your way, and seeing how others respond. Your purpose here is not to shock anyone or to stir the pot; your purpose is to be yourself. This will teach you how to handle yourself in public situations, and build your confidence. You will learn how to extinguish gossip. Go through this consciously and you will emerge in a position of social leadership. You are empowered by Chiron, newly in your sign: the planet of healing and also of individuality. Chiron will teach you to be a maverick: a person who does what you know is right, no matter what the current trend may dictate. Mars retrograde is what you might call a short-term experiment. Chiron is a long-term visitor to your sign, and you will be using the results of the Mars retrograde experiment for the decade or so that Chiron is in your life. Prepare by paying especially close attention to social situations. Listen to what people are saying, though never repeat it. If you must, go directly to the source, or seek to debunk rumors promptly. The truth is all that matters.