NEW!
The Sacred Space of Self: View Your Aries Sample Videos
Mars is now retrograde in Aquarius
Chiron is now in Aries, for the first time since 1977. This is about the quest for individuality in the most deeply personal way: the cultivation and growth of your soul. There are challenges associated with doing this, which I plan to address eloquently and in a way that you will find reassuring and helpful.
Read more... | Get Instant Access!
Subscribe to Our Daily Horoscope & Almanac!
The Four Winds Report includes the Eric Francis daily horoscope, a daily birthday reading,
and many other features. Sign up free!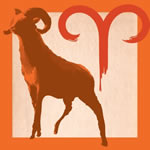 Aries This Month (March 20-April 19)
-- You may not consider yourself a creative force of nature, though the time has come to not just experiment with that notion, but to step into it like you're boarding a vessel of light. Your chart has Leo in the vibrant, illuminated 5th place: the art studio of the zodiac, the creative space where the spark of life is transacted from one person to the next, and one generation to the next. This is more than a physical space; it's like a transport beam that will carry you, through your own creative process, from one experience to the next, from this phase of your life to the next, from your current idea about yourself to the next. Yet there is one requirement, which is your full participation in your own existence. You must admit that you are connected to core source, which is within you. You personally are not that source, nor do you want the burden of being so. Yet you contain it, and can access your strength as a source of energy that feels distinctly like who you are at your best. Bring the small willingness to engage with the strength that you contain. This strength is one and the same as your sexual energy. Saturday's eclipse may come with a temporary dimming of the light, as if you're resetting yourself, reforming your personality, or preparing to take some great inner risk. Do not hold your breath. Rather, keep breathing.