NEW!
The Sacred Space of Self: View Your Taurus Sample Videos
Mars is now retrograde in Aquarius
Chiron is now in Aries, for the first time since 1977. This is about the quest for individuality in the most deeply personal way: the cultivation and growth of your soul. There are challenges associated with doing this, which I plan to address eloquently and in a way that you will find reassuring and helpful.
Read more... | Get Instant Access!
Subscribe to Our Daily Horoscope & Almanac!
The Four Winds Report includes the Eric Francis daily horoscope, a daily birthday reading,
and many other features. Sign up free!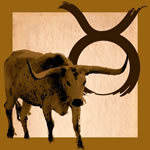 Taurus This Month (April 19-May 20) -- Where is home? Who is home? What is family, and where do you fit into the constellation of your own world? The answers to those questions are changing, and if you're living consciously, so will the questions themselves. Think of these things in the widest sense you can imagine: not, for example, your immediate relatives or your neighborhood, but rather that you live on a planet orbiting a star, somewhere in the deeps of space and time. In such a formative moment of your life, you need perspective, broad enough to contain ideas you might not normally experience. I say experience because with Uranus in your birth sign, ideas are less likely to come floating along as little concepts you can pluck from the air and scribble down, but as full-on confrontations with existence. You may suddenly come face to face with vast new possibilities for yourself. You may wake up to the experience of needing to liberate yourself from the world that you currently inhabit, with the accompanying feeling of thunder in your heart. As one born under the sign Taurus, you value stability above all else, and yet you have fire within you. Make room for new possibilities, and welcome them. Some of those will be revelations for how to transform your current existence into something on another level entirely, as if you've suddenly solved some vexing puzzle.